This post may contain affiliate links, meaning if you book or buy something through one of these links, we may earn an affiliate commission at no additional cost to you. Learn more
Embark on a culinary adventure of flavor, wonder, and awe courtesy of these European foods, and experience this vast and diverse continent in a completely new light.
From the crystal waters of the Mediterranean to the rustic forests of the Carpathians, wholesome and spellbinding food can be found in abundance throughout Europe, no matter what lake, mountain, village, or city you're gracing.
With 25 mouthwatering dishes to discover, we have plenty of ground to cover. So buckle up, and get ready for a whirlwind tour of European food that will stimulate the senses and tantalize you to what to find out more.
European Food
Eastern European Food
1 – Romania – Sarmale
Nothing says Romanian cuisine quite like sarmale. A recipe that includes all macronutrients and then some, sarmale is a heartwarming dish very popular during wintertime but also eaten all year long.
There are two main versions of sarmale: stuffed cabbage and stuffed vine leaves. Stuffed cabbage, or cabbage rolls, are the most popular, but the stuffing is the same also for the vine leaves version. They are filled with minced pork, rice, onions, tomato, and spices, and cooked for a long time. Sarmale are best served with polenta and topped with fresh sour cream.
Discover more Romanian foods and Romanian desserts.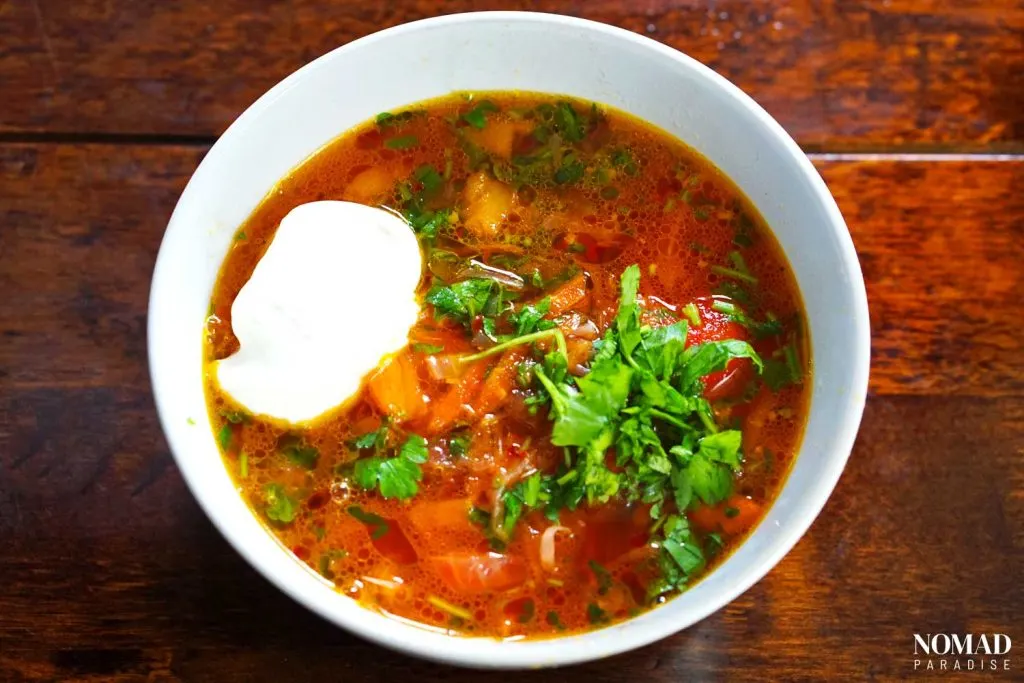 Borscht is a very common dish all over Eastern Europe, not only in Ukraine. However, Ukraine is considered the home country of beetroot borscht, and every region has its own recipe.
Aside from beetroot, which is common to all recipes, borscht can be made with different types of stock and various meats, from beef and pork to poultry, lamb, or mutton. The vegetables also vary depending on the region.
In Chernihiv, borscht is made with zucchini, beans, and apples, while in Lviv, the dish is enhanced with the addition of Vienna sausages. But no matter where you go in Ukraine, you'll certainly find borscht in abundance.
Discover more Ukrainian foods.
Read more: Borcht Recipe
3 – Russia – Pelmeni
Pelmeni is one of the most beloved traditional dishes in Russia, and it comes in different varieties depending on the region. Pelmeni are dumplings, made with unleavened dough from flour and water, and filled with either minced meat or mushrooms.
In colder regions, it's common to find pelmeni filled with venison, while in other regions, they are filled with pork, lamb, or beef. The dumplings are served with a topping of sour cream and dill, or vinegar sauce.
Discover more Russian foods and Russian desserts.
Discover more Eastern European foods, including Moldovan foods and Bulgarian foods.
Central European Food
4 – Poland – Pierogi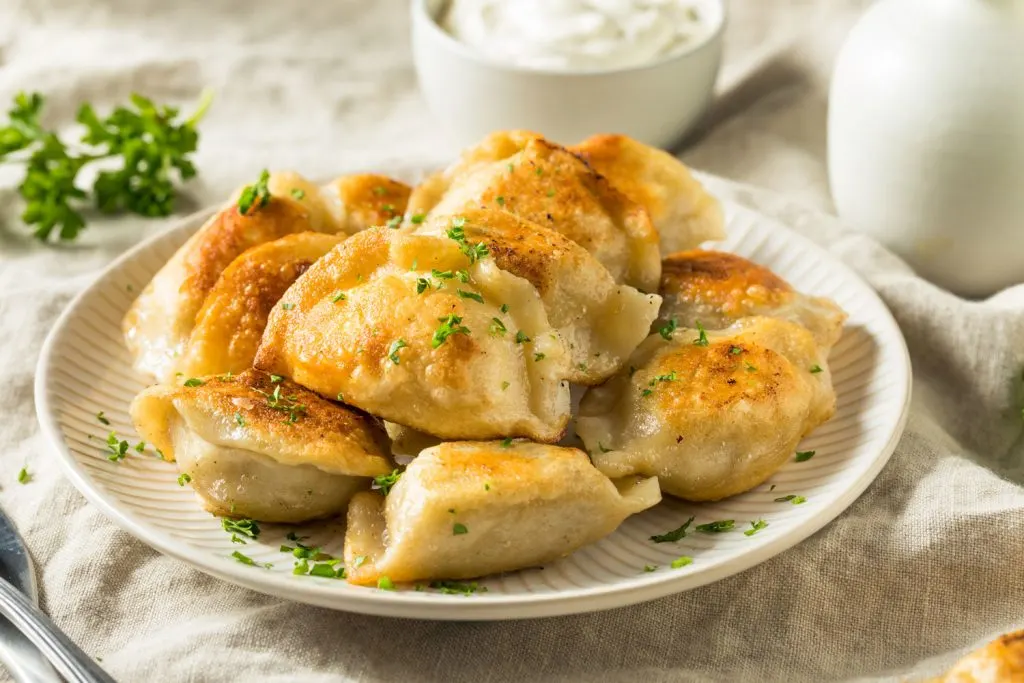 Quite similar in some ways to Russian pelmeni, pierogi are wholesome Polish dumplings. The dough used is similar to pelmeni, but pierogi have many different fillings.
You can have pierogi filled with potatoes, cheese, sauerkraut, mushrooms, ground meat, and more. The most popular versions are pierogi ruskie (potato and cheese), pierogi z kapustą i grzybami (with mushrooms and sauerkraut), and pierogi z mięsem (with meat).
You also have plenty of choices when it comes to toppings, from melted butter or sour cream to crispy bacon or caramelized onions.
And, for a sweet treat, you may also want to try the sweet version of pierogi, filled with sweet cheese or fruits, and topped with whipped cream or sweet sour cream.
Discover more Polish foods and Polish desserts.
5 – Slovakia – Bryndzové Halušky
Slovakian dumplings, despite their name, are, in fact, very different from other Eastern European dumplings. This traditional dish is made with small potato dumplings, similar to Italian gnocchi (halušky), and soft sheep cheese (bryndza).
The dish can be topped with smoked bacon, chives, or spring onions. You can find this traditional dish all over Slovakia. If you're looking for true Slovak comfort food, Bryndzové halušky is a great choice.
Discover more Slovak foods.
6 – Hungary – Goulash
When in Hungary, goulash is a must-try dish. The recipe has gained popularity in many other countries, but it's originally from Hungary and is a symbol of the country.
Goulash can be made as a soup or a stew, with beef, veal, pork, or lamb. The main ingredient, aside from the meat, is paprika, which gives the dish its bright red color.
Goulash also contains potatoes, a recent addition to the original recipe, and a variety of vegetables like carrots, peppers, celery, or parsley root. Nowadays, you can find many different varieties of goulash, including vegetarian options.
Discover more Hungarian foods and Hungarian desserts.
7 – Czech Republic – Vepřo Knedlo Zelo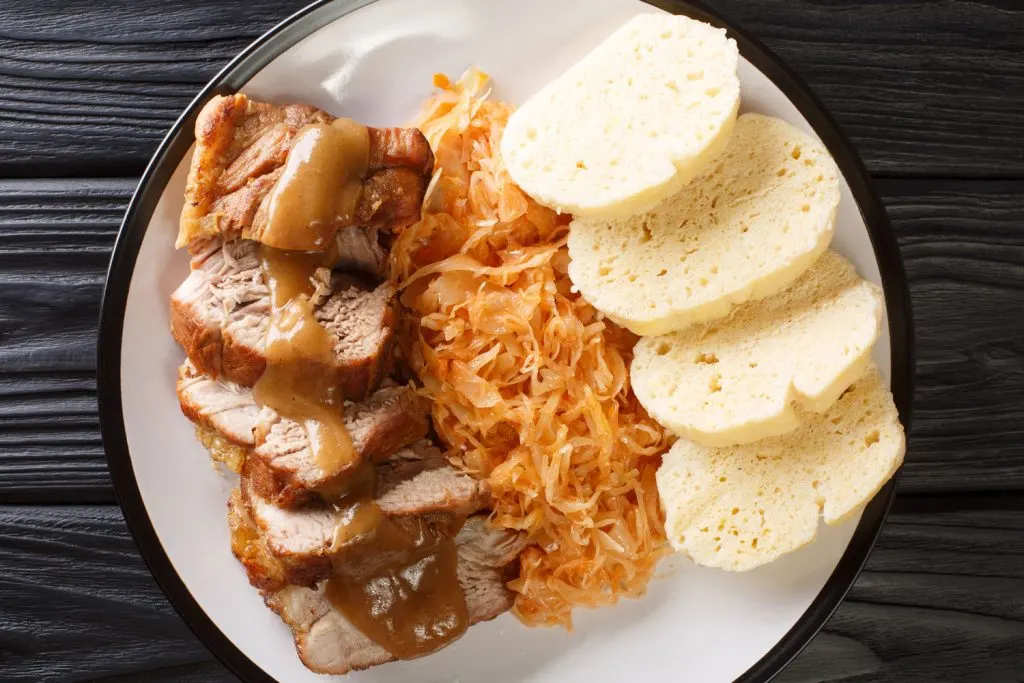 The traditional, must-try dish in the Czech Republic is Vepřová Knedlíky Zelí, shortened to Vepřo Knedlo Zelo. The name translates to roast pork, dumplings, and sauerkraut, and it's a filling and heartwarming dish.
If you're looking to try some authentic Czech food, this should be a top priority, and you'll find it in most restaurants. If you like beer, a cold Czech pilsner is the locals' drink of choice to go with this meal.
Discover more Czech foods.
8 – Austria – Schnitzel
The Wiener Schnitzel is the staple food of Austrian cuisine. A thin, veal cutlet, breaded and fried, schnitzel is the definition of comfort food, especially when eaten with a side of potatoes, either mashed, fried, or boiled.
While the original Wiener Schnitzel must be made of veal by law, you'll also find a pork variation. If the menu says for Wiener Schnitzel vom Schwein or Schnitzel Wiener Art, it means it's not the original veal schnitzel. Whichever you choose, you won't be disappointed!
Discover Austrian desserts.
9 – Germany – Currywurst
One of the most renowned German foods is actually a popular fast-food dish, consisting of sliced German sausage, Bratwurst, topped with ketchup and curry powder.
The sausage is first steamed, and then either fried or grilled, and it's usually served with fries. Though it may not be the most refined food, it's representative of German cuisine and is very popular in Berlin and Hamburg. Currywurst is commonly sold at fast-food stands as street food and is very popular at fairs and local celebrations.
Discover more German foods.
10 – Switzerland – Fondue
A perfect representation of Switzerland's mix of cultures, fondue is a wondrous mix of different cheeses melted together. The fondue is served in a communal pot called 'caquelon', placed over a small stove, or 'réchaud'.
Alongside the variety of cheeses, the fondue usually contains white wine, garlic, and cornstarch. The dish is traditionally consumed by dipping pieces of bread in the melted cheese. Depending on the region you visit, you'll find different varieties of fondue.
Discover more Swiss foods.
Discover another Central European cuisine – Slovenian cuisine.
Western European Food
11 – Netherlands – Stamppot
This traditional Dutch dish consists of mashed potatoes mixed with other vegetables, served with various types of meat. Stamppot translates to 'mash pot', and aside from potatoes, it can contain sauerkraut, endive, kale, spinach, carrot, and onion, or other vegetables.
It is commonly served with smoked sausage, although bacon, pork chops, and other types of meat are also common. Stamppot is mainly served during the winter, so if you're visiting the Netherlands when the weather is cold, be sure to seek out this beloved and comforting Dutch classic.
Discover more Dutch foods.
12 – France – Soupe à l'oignon
One of the most traditionally French recipes is onion soup. Made with meat stock and caramelized onions, and served with either croutons or grated cheese on top, onion soup has a rich history in France.
Different types of onion soups date back to Roman times, and, initially, were considered poor people's food. The modern recipe became popular in France in the 18th century, and it remains one of the most famous dishes in France. You may have the soup as a first course, or even as a main meal, due to its filling nature.
Discover more French foods.
13 – Belgium – Moules-frites
When in Belgium, you simply have to try their fries, and what better way to eat them than alongside some fresh mussels? Moules-frites is a simple yet delightful dish of mussels and fries and is the national dish of Belgium.
The mussels in moules-frites can be cooked in different ways, with the most popular being marinated in white wine, or steamed. The recipe often includes butter and celery, shallots, or leeks.
Mussels are usually served in the same pan used to cook them, while the fries come separately. This dish is, in fact, so popular, you'll find moules-frites in almost every restaurant in Belgium.
Discover more Belgian foods.
14 – England – Fish 'n' Chips
If you visit any part of England, be sure to find a local 'chippy', which is British for the fish-and-chips shop, and try a portion of fried fish, most often cod, in crispy batter with a side of thick-cut chips – not fries – for a truly authentic taste of British cuisine.
This dish has an old tradition in England and plays an integral role in popular English culture. Even Charles Dickens mentioned fish and chips in his novels.
To be truly British, tartar sauce is the perfect pairing for your battered fish, while you should always request your chips be dowsed in vinegar. There is simply nothing like enjoying a bag of fish and chips on a promenade bench, overlooking the beautiful British coastline.
Discover more British foods, Welsh foods, and Scottish foods.
15 – Ireland – Irish Stew
What else should you eat in Ireland if not Irish stew? The national dish in Ireland, this rich and wholesome stew is made with lamb or mutton, and a mixture of root vegetables.
The original Irish stew simply consisted of potatoes and onion, while other variations also have carrots or turnips. The stew must be slow-cooked for hours, so the meat is tender enough, and if you want to eat this dish like a true local, pair it with a glass of Guinness stout.
Discover more Irish foods.
Nordic Food
16 – Iceland – Kjötsúpa
Nothing beats a piping hot soup to warm yourself up after a day of sightseeing Iceland's awe-inspiring landscapes! Kjötsúpa is a delicious lamb soup, and although simple in its preparation, it's a heartwarming dish, especially during cold seasons.
Alongside pieces of lamb or mutton, the soup contains potatoes, and a mix of root vegetables such as carrots, parsley, or parsnip. Kjötsúpa means 'meat soup', but for a long time, lamb was the main type of meat eaten in Iceland, so there was no need to specify.
17 – Sweden – Köttbullar
The famous Swedish meatballs are not just something to eat when shopping at IKEA. In Sweden, Köttbullar is considered a national dish, and you'll find several varieties, served with different side dishes and sauces.
Usually, Swedish meatballs are made from a mix of ground pork and beef, breadcrumbs or potatoes, milk or water, eggs, and seasoned with salt and pepper.
The most popular way to serve them is with a side of mashed potatoes, a traditional cream sauce called gräddsås, sweet lingonberry sauce, and pressed cucumber. When in Sweden, this is without question a must-try dish.
Discover more Swedish foods and Swedish desserts.
18 – Norway – Fårikål
Fårikål has been Norway's national dish since 1972. It is a dish of mutton and cabbage, seasoned and boiled together until the meat becomes so tender that it falls off the bone.
Fårikål is a simple meal, usually prepared at the beginning of autumn, and often served with a side of whole boiled potatoes. The dish is so important to Norwegian culture that each year, on the last Thursday of September, Norway even celebrates Fårikål Feast Day.
Discover more Norwegian foods and Norwegian desserts.
19 – Denmark – Smørrebrød
You don't have to spend too long in Denmark to notice these tiny open-faced sandwiches, topped with a variety of colorful and inviting ingredients. Smørrebrød translates to 'butter and bread', and as the name suggests, it's a slice of buttered bread, usually rye, that can be topped with cold cuts, fish, spreads, and various garnishes.
Among the most popular toppings are pickled herrings, cheese, boiled eggs, salmon, and roast beef, paired with different vegetables and seasoning. There are many variations to choose from, so be sure to try at least a few.
Discover more Danish foods.
Discover Baltic foods, including Estonian cuisine, Latvian cuisine, and Lithuanian cuisine.
Southern European Food
20 – Italy – Pizza
While Italy may be filled with beautiful landscapes and famous landmarks, let's admit it, you go there for the food, especially pizza!
You can obviously eat pizza all over Italy, but you should go to Naples if you want to try some of the country's iconic pizza. From a classic Margherita to seafood toppings, you'll have plenty of choices for every taste, including vegetarian, and even vegan options.
Try a Capricciosa if you like your pizza topped with many ingredients, or a Four Cheeses if you're a big fan of cheese. When in Rome, try pinsa, a variety of pizza with a special dough made from a mix of regular, soy, and rice flours.
Read more:
A true staple of Greek cuisine is, without a doubt, moussaka. This iconic Greek food is a dish of minced meat and eggplant layers, topped with a layer of custard or béchamel sauce, oven-baked and served hot.
While the original recipe is made with eggplant, there are variations with zucchini, potatoes, or mushrooms. Although the dish is also popular in other countries like Egypt, Turkey, Albania, and Bulgaria, Greek moussaka is arguably the most well-known globally. The most common moussaka recipe used today was first created by the Greek chef Nikolaos Tselementes in the 1920s.
Discover more Greek foods and Greek desserts.
Read more: Greek Cypriot-Inspired Moussaka (Eggplant "Lasagna") Recipe
22 – Spain – Paella
An iconic and must-try dish amid the heat and flair of Spain is paella. Although it is considered by many outside of the country to be Spain's national dish, paella is in fact traditional of Valencia.
Nowadays, you'll find many variations all over Spain, but the original dish remains Paella Valenciana. Aside from the rice, which is the main ingredient in all paella varieties, Paella Valenciana contains green beans, peas, rabbit and chicken meat, and a type of butter beans called garrofó.
The intense yellow color comes from the use of saffron, although turmeric or calendula can also be used instead. The name paella comes from the pan it's cooked in, called 'paella' or 'paellera'. Aside from the Valenciana, you can also try seafood paella (paella de marisco) or mixed paella, with both meat and seafood, throughout Spain.
Discover more Spanish foods and Spanish desserts.
23 – Portugal – Bacalhau
When in Portugal, it's impossible not to come across some type of bacalhau. Codfish is probably the most famous Portuguese food, and it can be cooked in hundreds of ways!
Some of the most popular Portuguese recipes include Bacalhau com Natas (made with cream and onions), Bacalhau à Brás (fried with shredded potatoes, eggs, and onion), or simple Bacalhau no Forno (baked in the oven).
Depending on the Portuguese regions you visit, you'll find many local variations of this classic Portuguese dish. You can even try a quick snack with pastéis de bacalhau, a wonderous dish of deep-fried codfish croquettes.
Discover more Portuguese foods.
24 – Croatia – Pašticada
Originally from the Dalmatia region in Croatia, pašticada consists of braised beef, served with either gnocchi or some type of fresh pasta. The preparation of the dish takes a long time, as the beef must be marinated overnight in wine vinegar with garlic, cloves, carrots, and bacon.
Once prepared, the meat is then cooked for several hours with onions, parsley root, prunes, tomato sauce, wine, herbs, and prošek, a sweet Croatian wine. Although the original dish is widely considered to be Dalmatinska pašticada, you will find different variations all over Croatia.
Discover more Croatian foods.
25 – Bosnia and Herzegovina – Ćevapi
A dish that you'll find all over the Balkans with small differences, ćevapi, or ćevapčići, is considered a national dish in Bosnia and Herzegovina.
Ćevapi look like small sausages without a casing and are made with a mix of ground beef with different types of seasoning, which can vary depending on the region. Ćevapi are grilled and served either in a flatbread with chopped onions, tomatoes, or sour cream or on a plate with a side of flatbread and different vegetables.
Discover more Bosnia and Herzegovina foods.
European Food Summary
Europe's beauty, innovation, and splendor know no bounds, and as these European foods go to show, no matter where you travel to Europe, a little culinary magic is never too far away from you.
So much diversity is packed within this relatively small continent, that within the space of an hour or two, you can find yourself in a completely different city, culture, or geographical region.
Make food an integral part of your visit to any country in Europe, and use these beloved dishes to inspire you to discover more about the cuisine, no matter where you travel to.
Food plays an integral role in European history, culture, and identity, and the spectrum of what is on offer to you is truly mind-blowing when you start to delve a little deeper. You're in for quite the treat, no matter where your travels in Europe take you!
You Might Also Like to Read
Save and Pin for Later
Planning a trip to Europe soon? Keep this wonderful compilation of European dishes on hand by saving it to one of your Pinterest boards.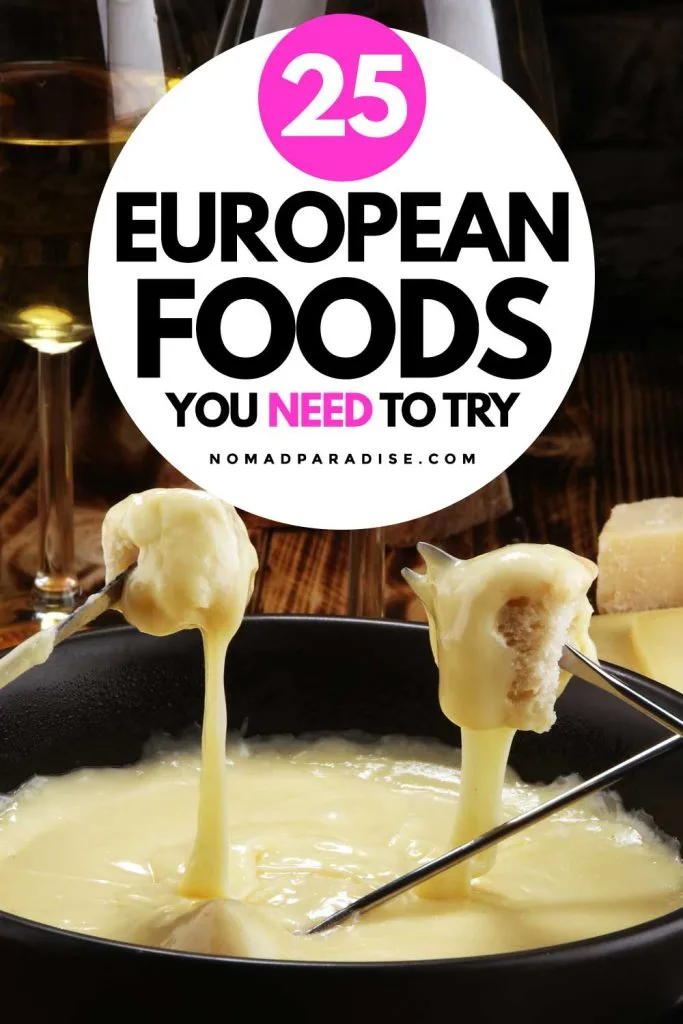 Author: Roxana Fanaru is a Rome-based journalist and writer, who has a wealth of experience writing in the lifestyle and travel spaces. Romanian-born, she has traveled extensively across Europe for the last two decades.
Images licensed via Shutterstock