This post may contain affiliate links, meaning if you book or buy something through one of these links, we may earn an affiliate commission at no additional cost to you. Learn more
I've been asked by so many people over the years, 'where is Moldova?' And then people are shocked to hear Moldova is in Europe of all places.
Located in Eastern Europe, between Romania and Ukraine, Moldova is a very small country that generally is not on many people's travel itineraries.
If you're lucky enough to visit Moldova, Moldovan food is something you definitely must try. Moldovan people are very welcoming, and they generally express this hospitality with lots of Moldovan food and wine!
Moldovan cuisine draws inspiration from Romania, Russia, Ukraine, Poland, Greece, and various other countries. Like many Eastern European cuisines, Moldovan cuisine is heavy in meat, potatoes, and other vegetables.
Traditionally, Moldovan foods have been a bit too bland for many Americans. The past few years have seen a heavier Western food influence in the country, with more Western-style restaurants.
While many people consider Moldovan food delicious, if you try it and it's not for you — worry not, there are many western-influenced restaurants in Chisinau, the capital of Moldova.
14 Traditional Moldovan Food Recipes and Moldovan Dishes to Try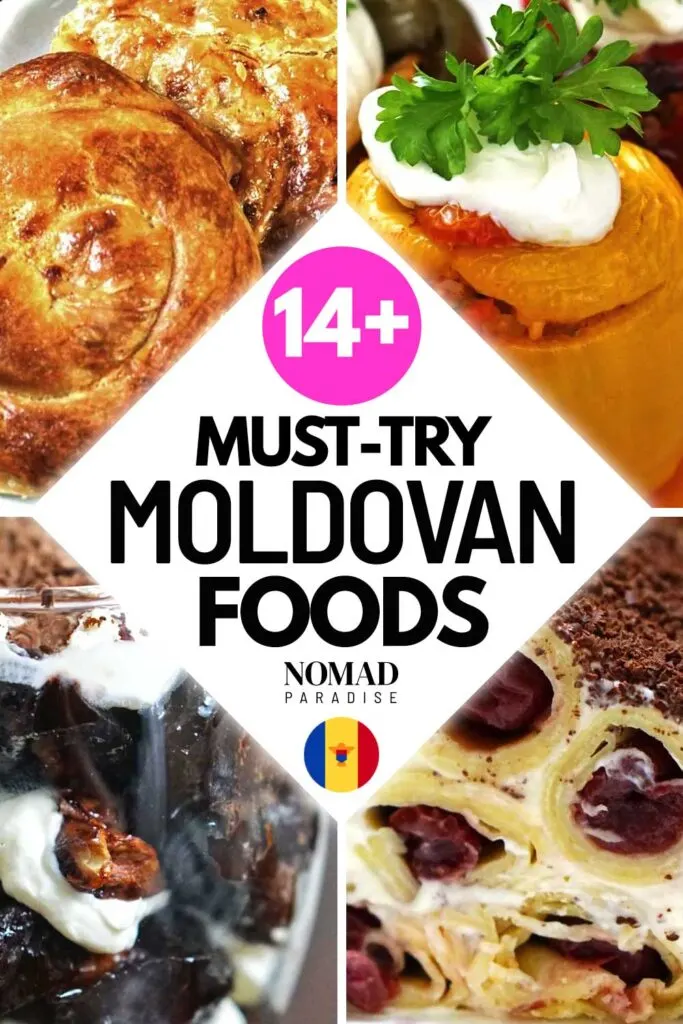 Under the expert guise of local Olga, here are the top 14 Moldovan foods you must try if you're planning a visit to Moldova!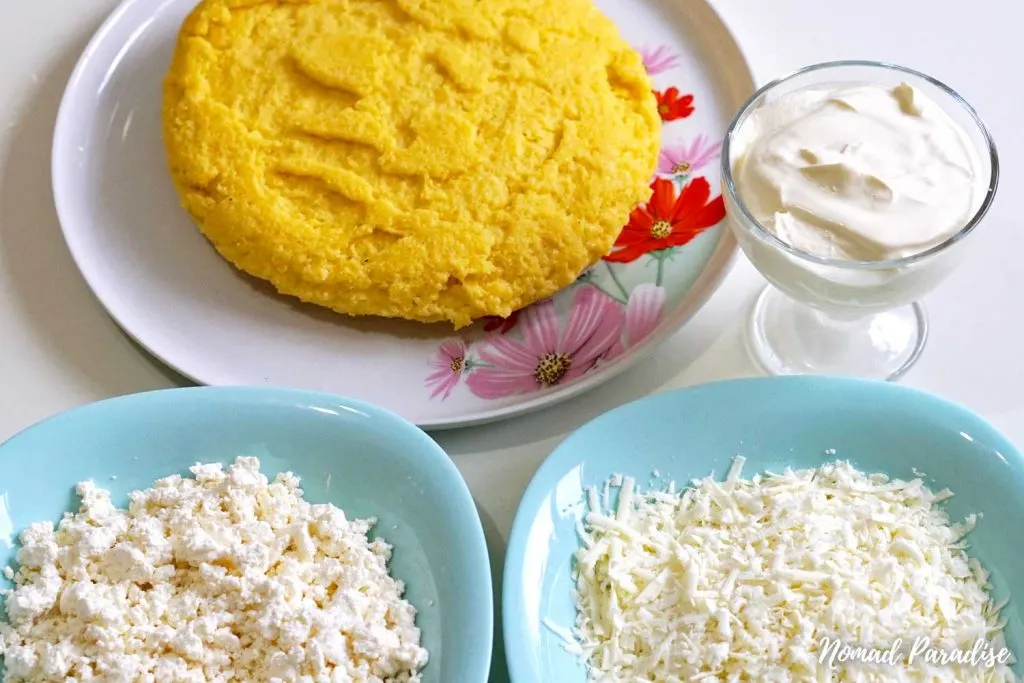 Without a doubt, 'mămăliga,' or polenta, is Moldova's best-known and most traditional dish. Polenta is made from corn flour, to which a little butter is added.
It is generally served with sheep's cheese or cottage cheese and sour cream. For gourmet lovers, you can also order traditional pork stew that goes well with this dish.
In the countryside, my grandparents used to eat this every day. They would also make 'mujdei de usturoi,' which is a sauce made with garlic, oil, water, and vinegar.
They would take a bit of 'mămăligă,' dip it in this sauce, and then, dip it in the sheep cheese and sour cream. This combination doesn't seem too appetizing to most foreigners, but many Moldovan people love it!
The younger generation doesn't eat polenta daily as our grandparents used to, but it remains Moldova's most traditional food.
Read more: Mamaliga Recipe
Moldovan pies are a close second when it comes to most traditional Moldovan foods. And unlike mămăliga, pies have retained their popularity among young people.
People still bake Moldovan pies at home, but you can also find numerous pie shops and restaurants, as well as many shops that deliver pies to your door.
There are several types of pies you shouldn't miss. For a savory taste, try the cheese pies, cabbage pies, and potato pies.
And for those with a sweet tooth, try the cherry pies, apple pies, and pumpkin pies.
Read more: Sour Cabbage Pies Recipe
3. 'Sarmale' – Stuffed Cabbage Rolls
'Sarmale' or stuffed cabbage rolls are one of those dishes that feature heavily in the cuisine of many Eastern European countries.
In Bulgarian cuisine, they're called 'sarmi.' In Ukrainian cuisine — 'holubtsi.' In Polish cuisine — 'golabki.' They feature in Macedonian cuisine, Serbian cuisine, Croatian cuisine, Lithuanian cuisine, Russian cuisine, Romanian cuisine, and others.
In Moldova, no holiday or party is complete without these Moldovan stuffed cabbage rolls.
These are cabbage rolls stuffed with rice and minced pork or chicken, along with chopped onion and carrots that are slowly simmered. Unlike in some other cuisines, in Moldovan cuisine, they are served with big dollops of sour cream!
Sometimes, they are made with grapevine leaves rather than cabbage leaves. Both versions are delicious, and you should try them both!
Try it: Stuffed Grape Leaves Recipe
4. 'Ardei Umpluți' or 'Chiperi Umpluți' – Stuffed Bell Peppers
Stuffed bell peppers have the same ingredients as stuffed cabbage rolls (rice, vegetables, and meat), but the taste is completely different.
This is due to the fact that the peppers are sweet. During cooking, they give the rice a specific aroma.
They are also served with sour cream (sidenote: have you picked up on the fact that sour cream is a staple of Moldovan cuisine?). Most foreigners love this dish, so it's highly recommended you try it.
Zeama is a traditional Moldovan soup. It is similar to a chicken noodle soup, but its taste is usually a little sour.
The ingredients that go into this soup generally consist of chicken, chopped vegetables (such as onions, carrots, bell peppers, and potatoes), and homemade noodles.
The sour notes are achieved by adding 'borș acru de casa' (a liquid ingredient most people buy rather than make at home that consists of fermented wheat or barley bran) or lemon juice.
Zeama is usually served with sour cream, bread, and spicy chili peppers, depending on your taste preferences.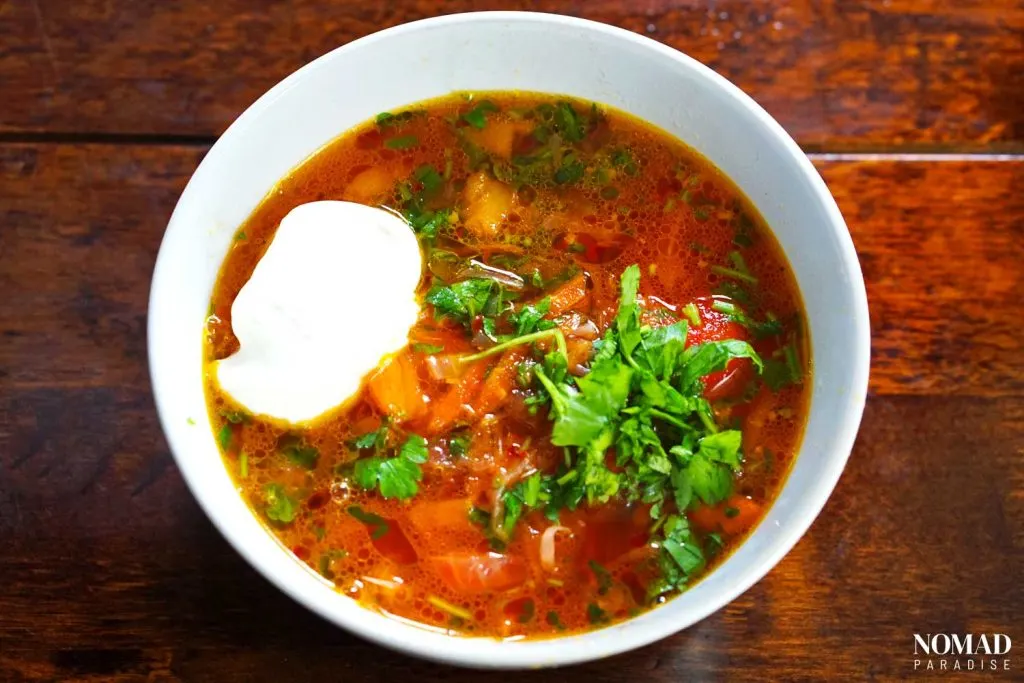 Outside of Eastern Europe, borscht is probably most associated with Ukrainian cuisine.
It is, however, very popular in most of Eastern Europe and some other countries, including in Belarus, Estonia, Latvia, Lithuania, Poland, Russia, Romania, and of course, Moldova.
In Moldova, borscht is another beloved soup, after 'zeama'. While 'zeama' (discussed above) has a sour taste and a light color, borscht is a little more on the sweeter side with a deep, rich red color.
Its main ingredient is the beetroot, which gives it that iconic deep red color. To the beetroot soup, Moldovans add various combinations of vegetables. These include carrots, onions, potatoes, cabbage, and tomatoes.
Borscht can also contain meat. Traditionally, however, the vegetable recipe is popular in homes across the country.
Borscht is usually served with sour cream and bread. The rich flavor of all vegetables combined makes it a great dish for wintertime.
Read more: Borsch Recipe
7. 'Colțunași cu brânză' or 'Chiroște' – Cheese Dumplings
In Moldova, cheese dumplings come in two varieties. The first is 'colțunași harnici,' which, if translated literally, means 'hard-working dumplings.'
The second is 'colțunași lenoși,' which translated means 'lazy dumplings.' Funnily enough, the names really come from the fact that hard-working dumplings require more effort and take longer to prepare than lazy dumplings.
'Colțunași harnici' generally consist of homemade unleavened dough wrapped around a filling of cheese. The dough packets are cooked by boiling them in salted water for a few minutes.
In more modern variations of this recipe, you can find various fillings (not just cheese), including sweet jams inside.
'Colțunași lenoși' or lazy dumplings are made by mixing all the ingredients (cheese, eggs, sugar, butter, and flour) and shopping the resulting dough, cutting them into small pieces.
Read more: Lazy Dumplings Recipe (Coltunasi Lenosi)
The dumplings are then cooked in salted water for a few minutes.
Both versions of cheese dumplings in Moldova are served with a lot of high-quality sour cream. At this point, I feel I should just nickname Moldovan cuisine the 'Sour Cream Cuisine!'
8. 'Tort Smetanik' – Madonna Honey Cake
Although originally a Russian cake, in Moldova, tort smetanik has become quite popular over time. It is a beloved dessert, and people commonly serve it at birthdays, weddings, and other parties.
You can also buy it in most grocery stores, bakeries, or restaurants. It is a Moldovan dessert enjoyed in households throughout the country.
This multiple-layer cake, topped with a tangy white frosting, is so delicate and moist that it will just melt in your mouth.
One of the main ingredients in the cake filling is sour cream. The sour cream is then sweetened with sugar and flavored with some vanilla.
Related: Russian Honey Cake / Medovik / Smetannik Recipe
Gugutsa's hat is a hearty and indulgent Moldovan dessert. It consists of stacked crepes, layered with sour cherries and glazed with whipped cream.
The crepes are layered to form a pyramid, then sprinkled with dark chocolate flakes from above.
Gugutsa's hat is a much-loved cake, and it's one of the top Moldovan foods. Try a slice of this 5-star elegant cake with a cup of coffee, and you won't regret it.
Read more: Cusma lui Guguta (Crepes with Sour Cherries) Recipe
10. 'Frigărui' – Grilled Kebabs
For meat lovers, a great Moldovan food you'll enjoy is the grilled kebab. This Moldovan kebab skewers tender grilled meat and vegetables together.
Cooked on a wood or charcoal fire on a terrace, these delicious kebabs are ideal for gatherings and afternoons during the summer.
11. 'Chifteluțe cu piure' – Meatballs with Mashed Potatoes
Meatballs are very popular in many Balkan countries' cuisines, so it's no surprise that chifteluțe cu piure is one of the country's simplest and most loved comfort foods.
In this dish, the meatballs are cooked in an extremely tasty tomato sauce. Paired with mashed potatoes, they make a great combination.
The meatballs are made from minced chicken, beef, or pork. Chifteluțe cu piure is commonly served with a salad of fresh vegetables.
Read more: Delicious Moldovan Pirjoale / Russian Kotleti Recipe
12. 'Răcitura' – Meat Jelly
Răcitura comes from a Romanian word meaning 'cold,' which is why it is served as a cold dish. Personally, I think it's an acquired taste.
Despite growing up in Moldova, I never particularly liked this dish, and not a lot of Westerners love it either. However, most Moldovan people love it. If you want to try something different, go for it!
In Moldova, the meat jelly is generally made from a rooster that is cooked in a broth of garlic, spices, and vegetables.
After cooking the broth on low heat, the broth is poured into individual plates along with the meat and vegetables and allowed to cool for several hours until the jelly forms.
Pește prăjit is a tasty Moldovan seafood dish. This fish dish is usually made with Crucian carp, a river fish with plenty of nutrients.
To make this dish, the fish is first coated with cornflour. Each fish is then fried in oil until fully cooked.
It is usually served with polenta (mămăliga) and garlic, oil, and vinegar sauce ('mujdei') we talked about above. It is a delicious way to enjoy Crucian carp.
Read more: Moldovan Easy Whole Fried Fish Recipe
For anyone looking for a lighter dessert to Madonna cake or Guguta's Hat cake, prunes with walnuts are a worthy choice.
Generally liked by people who prefer healthier foods, this dessert is made of prunes that are soaked in a cognac or wine syrup.
The prunes are filled with walnuts and served in glass cups and glazed with whipped cream.
Read more: Walnut-Stuffed Prunes Recipe
Moldovan Foods Summary
While maybe one of Eastern Europe's lesser-known cuisines, there is no doubt that Moldovan food offers a wide range of tastes and flavors.
From piping hot stews to rich, decadent cakes, it is clear to see how much love and passion is poured into Moldovan cuisine by cooks and chefs throughout the country.
These 14 traditional Moldovan foods you should certainly try when you visit Moldova. There is so much delicious food to get excited about in this wonderful country.
You Might Also Like to Read:
Save and Pin 'Best Moldovan Foods' for Later
Planning a trip to Moldova? Want to keep this article of delicious Moldovan foods in a place you'll remember? Save this article and pin it to one of your Pinterest boards. That way, you'll be able to easily find it in the future.
Contributor: Olga is a freelance writer from Moldova. She is deeply passionate about Moldovan cuisine and regularly cooks traditional and modern Moldovan dishes in her home kitchen.
Images licensed from Shutterstock