This post may contain affiliate links, meaning if you book or buy something through one of these links, we may earn an affiliate commission at no additional cost to you. Learn more
Curious about Romanian food? This lesser-known cuisine takes from a range of Balkan and Ottoman influences to create some truly delicious foods.
Whether you're planning to visit Romania or want to bring a taste of Romania to your home, here are 20 most popular Romanian foods you simply have to try.
20 Traditional and Popular Romanian Foods
Romanian Mains and Appetizers
1 – Ciorba de Burta (Traditional Tripe Soup)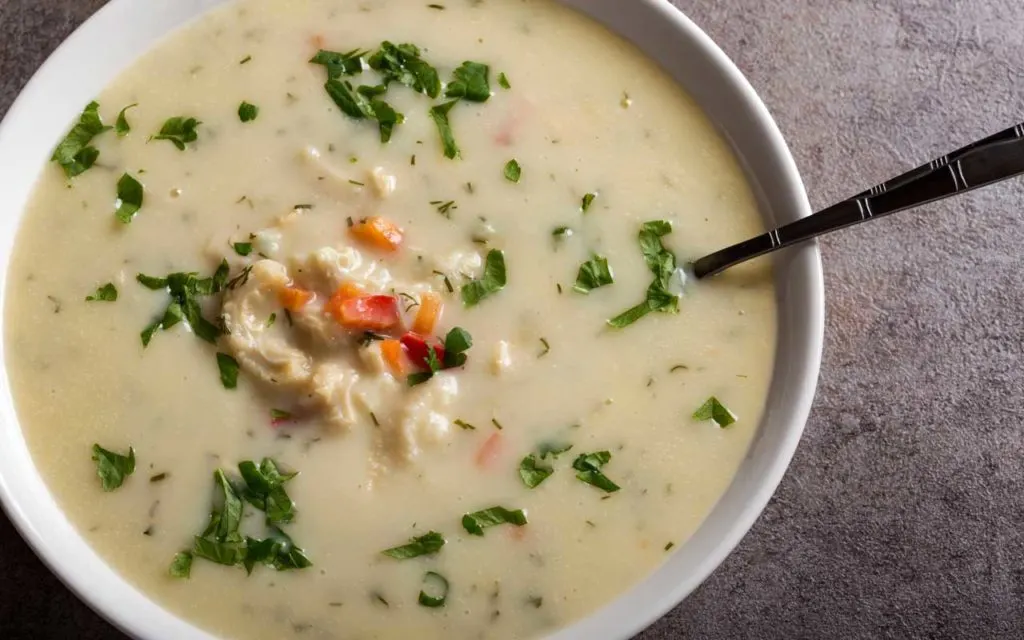 Nothing sums up the warmth and togetherness of European cuisine quite like a hearty, rich soup. Romanian cuisine is no different.
Ciorba de burta is a tripe soup. At its core, this wholesome soup is powered by the intense flavor of lamb or beef tripe or beef bones.
Tripe is washed thoroughly so that it's lilly-white and ready for cooking. Once in the pot, a selection of delicious vegetables is added.
It's common to add the vegetables whole, to simply flavor the broth. In time, both the vegetables and the tripe are removed, strained, then cut and added back in.
Traditionally, Romanians will add many of their beloved native vegetables. These include carrots, celery, onion, and parsnip.
Once cooked, ciorba de burta soothes the stomach with a delightful fusion of meaty and earthy flavors. It's loved by millions across Eastern Europe.
Ciorbe, or sour soups, are very popular in Romania. Hailing from the north, Radauti Soup is a delicious, creamy soup named after the city it was first cooked in, Radauti.
Ciorba Radauteana's magical flavor is fueled by garlic and lemon, prominent in the creamy broth.
Romanian soups use many different types of meat. A tender chicken breast or pair of thighs is the meat of choice for Radauti soup.
Many different vegetables can be used. Traditionally, Romanians use carrots, celery, parsnip, and onion in the Radauti recipe.
Make sure you try this flavorful Romanian dish in local restaurants, particularly in the north.
Read more: Romanian Chicken Soup with Sour Cream (Ciorba Radauteana)
Meaning 'little ones', a wonderful name in its own right, Mititei have been sizzling on open fires and grills in Romania for centuries.
Mititei's explosive taste comes from the sheer number of ingredients at the preparation stage.
Firstly, ground beef, lamb, and pork are all mixed together. Bicarbonate of soda (baking soda) is also added to the mititei/mici. Once the mighty meat base is in place, spices are liberally added to the mixture.
Many wonderful flavors go into the Romanian mititei. These include coriander, garlic, thyme, and even paprika.
Once the mixture is full of flavor, it's rolled into sausage-shaped cylinders, which are often put in the fridge to rest overnight. They are then popped directly onto a grill, with no casing.
Legend has it Romanian mititei were first cooked in Lipscani, Bucharest, by a chef who had run out of sausages. To keep his customers happy, he simply rolled out the filling and put it straight on the grill.
Mititei goes hand-in-hand with a serving of hot, crispy fries, and a handful of pickles. Truly moreish.
Read more: Mici / Mititei Recipe (Romanian Grilled Ground Meat Rolls)
Sarmale are bitesize pockets of delicious meat and rice fillings, wrapped in cabbage leaves.
The concept of wrapping food inside leaves dates back to the Ottoman Empire. Sarmale is rooted deep in the historic cuisine of many Balkan and Middle East countries.
Romanian sarmale is largely enjoyed at big celebrations, like weddings, and throughout the holidays.
Sour cabbage is the key ingredient of Romania's twist on this popular dish. Many other leaves have been used in other countries, including grape leaves and pickled cabbage.
Rice, caramelized onions, and plenty of ground pork provide the hearty filling, which pairs beautifully with the sour, soft cabbage.
Sarmale can be eaten on their own or as part of a larger dish. It's a true bedrock of Romanian cuisine and a dish enjoyed across the country.
Try it: Stuffed Grape Leaves Recipe
Zacusca is an incredibly rich and delicious vegetable spread. Families across Romania prepare batches of zacusca for safekeeping during the autumn harvest.
Roasted eggplant provides a hearty foundation on which this delightful spread is made.
Once roasted, tomato, gogoșari (Romanian bell peppers), and sauteed onions are all added to the spread.
For extra depth, bay leaves are added to give the spread a spicy kick. Other native vegetables, such as carrots or celery, are also commonly added.
Zacusca is the perfect spread for a soft, thick-cut slice of bread. It's a true staple of Romanian cuisine, and families will make enough to last several months through the winter.
Read more: Zacusca Recipe (Roasted Eggplant and Bell Pepper Spread from Romania and Moldova)
Another food that triggers nostalgia and childhood memories for Romanians from all generations is mamaliga.
Mamaliga is a beautifully simple porridge, originally a food prepared by peasants in the poorest regions of Romania.
Through the years, this historic recipe became commonplace in households across the country.
Now, it's even emerged as a delicacy in high-end Romanian restaurants.
Its striking yellow color comes from the yellow maize flour used in the recipe. This unique type of maize is native only to Romania and a handful of other countries.
Known as polenta in European countries like Italy, mamaliga is an incredible testament to the resourcefulness of Romanians.
A simple dish that warms the stomach and touches the heart, it pairs wonderfully well with a dollop of sour cream or soft cheese.
Read more: Mamaliga Recipe
7 – Salata Boeuf (Boeuf salad)
Salata boeuf is another Romanian food that's prepared largely for holidays and celebrations, like Christmas and Easter.
Its name means 'beef salad', but there is so much more to this traditional Romanian recipe.
Salata boeuf essentially combines the fusions and textures of potato salad, with juicy, tender cuts of meat.
Stewing beef is a surefire choice for a delicious salata boeuf. But, beef isn't the only meat used.
Turkey, chicken, and even pork loin all work well in this salad.
Diced potatoes, peas, chopped carrots, and plenty of pickles are all bound together with sizeable dollops of mayonnaise and mustard.
The tangy mustard and sharp pickles offset wonderfully with the succulent meat. This is a salad you'll remember for a long time.
Salata boeuf is another Romanian food that brings friends and families of all generations together.
Read more: Rustic Olivier Salad (Potato Salad) Recipe You Need to Try
8 – Slaninuta Afumata cu Boia (Smoked Bacon)
Slaninuta afumata cu boia is a darling of Romanian cuisine. Romanians have been curing and perfecting dried meats for generations.
The cuts of pork are cured and smoked using techniques that help maximize the meat's storage time.
This allowed Romanians to keep meat through the long winters and feed their families.
Slaninuta afumata cu boia has a high-fat content and is a delicacy that is something of a dying art in Romania.
If you stumble across a local restaurant or escape to the rural areas of the country, see if you can find this iconic smoked meat dish.
9 – Salată de Icre (Roe Salad)
Salată de icre is a light and zingy appetizer that goes hand-in-hand with a thick cute slice of soft bread.
Prepared largely for celebratory feasts, the name translates to 'roe salad', as the core ingredient is a tender cut of fresh pike or carp roe.
Roe is mixed with both sunflower and olive oil, while a freshly squeezed lemon or lime helps add a generous kick of zest.
Along with diced onion, the ingredients are then either mixed or blended to become a fluffy, flavorsome spread.
Simple to make and bursting with fresh, zingy flavor, roe salad is a much-loved addition to any feast or family meal.
Enjoyed as a cold, refreshing summer dip, salata de vinete pays homage to one of Romania's most important vegetables: eggplant.
The key to unlocking this spread's incredible flavor is in the preparation of the eggplant.
Romanians will choose one of three ways to prepare them. The first is to grill them on the grill outside until the skin chars and the insides fold in.
As most people in the cities don't have backyards and barbecue grills, they may roast them on the stove, in foil, until the skin chars and the flesh softens. Or, they'll bake them in the oven, for a sweeter flavor.
Once the eggplants are prepared, simply peel the skin. The soft flesh of the eggplant can then either be blended or cut into small pieces.
Finally, mix with vegetable oil and chopped onions, and you have a rich and creamy salad spread perfect for a warm summer's day.
Read more: Eggplant Salad (Salata de Vinete) Recipe
11 – Placinte (Romanian Pies)
Who doesn't love a warm, hearty pastry pie oozing with a soft, delicious filling? Placinte come in many flavors and are a bedrock of authentic Romanian cuisine.
Popular throughout Romania, Moldova, and Ukraine, you can pick up placinte in a wide range of local bakeries.
Traditionally, placinte are round in shape and filled with soft cheese, like feta. But over time, the recipe has evolved to include plenty of other delicious fillings.
Cabbage, potato, and ricotta are all beloved savory pies. And if you're feeling a sweet treat pastry, try the apple, sour cherry, or various other fruit fillings.
Biting through that thick pastry crust to an oozing river of cheesy goodness is a moment you'll cherish for a long time.
Placinte are a truly delicious Romanian food that generations of Romanians have loved and continue to fall in love with.
Read more: Sour Cabbage Pies with Homemade Dough Recipe (Plăcinte cu Varză)
12 – Frigarui (Romanian Kebab)
With Turkey just a boat ride across the Black Sea, it was inevitable that the kebab would eventually embed itself into Romanian cuisine.
Romanian frigarui, however, is a leaner take on the shish kebab, using a delicious array of native Romanian vegetables to enhance the flavor.
Traditionally, frigarui skewers tender chunks of seasoned chicken and sliced vegetables. Today, you can find them with succulent pork, beef, or crispy bacon too.
Skewered between sizeable chunks of peppers, mushrooms, tomatoes, and onions, frigarui are commonly grilled, giving them a delicious smoky flavor.
Street vendors in the big cities across the country serve this beloved Romanian food.
And if you're lucky enough to get invited to a local's gathering or feast, you'll no doubt find these culinary treats sizzling away over an open fire.
13 – Chiftele (Traditional Meatballs)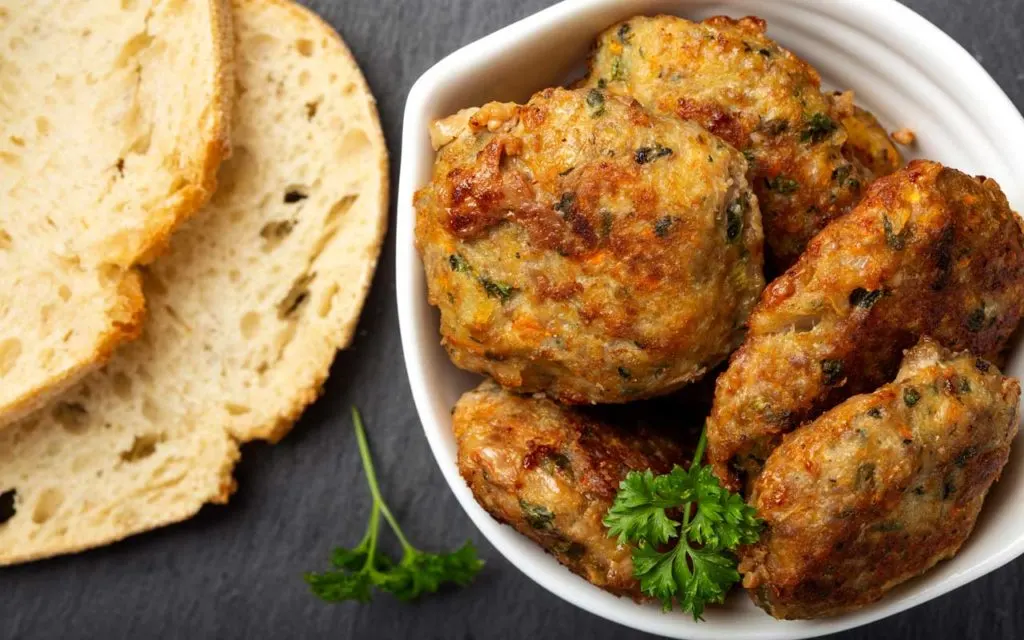 Chiftele are another example of the Ottoman Empire's palpable influence on Romanian cuisine.
These delicious meatballs are rolled into flattened, rounded cake-like shapes, rather than the conventional sphere.
Chiftele traditionally mix minced pork with mashed potatoes and various spices.
Once the mixture has been rolled and separated, each meatball is fried for a smokey, spicy taste.
Served with pilaf rice or potatoes, chiftele are a Romanian food brimming with flavor. It's not to be missed!
14 – Tochitura Moldoveneasca (Moldovan Stew)
Tochitura Moldoveneasca is a deliciously filling stew that brings together many classic Romanian and Moldovan staples.
The stew itself coats fried beef or pork in a rich tomato sauce, and it is a recipe commonly served at local restaurants.
The traditional recipe, however, dating back generations, is cooked without tomato sauce.
Instead, the stew is made of a range of succulent meats and organs, like liver, smoked sausages, and pork fat.
Tochitura Moldoveneasca is served with a sizeable dollop of everyone's favorite mamaliga, fried eggs, and a soft slice of sheep cheese.
This is a beloved Romanian food, rooted deep in the country's history. If you see it at any local restaurant, you should definitely try it.
Romanian Desserts
They say good things come in small packages. Papanasi, a delicious Romanian and Moldovan dessert, plays a testament to that statement.
Papanasi are essentially cheese doughnuts. They start out life as soft balls of dough, and they are fried once they hit the pan.
The real magic of papanasi is their cheese filling. Delicate soft cheeses like urda are commonly used. For some, cow's cheese is preferred.
Papanasi also have a unique shape. Rather than hollowed like traditional doughnuts, a sphere of dough is added to the top instead.
Like fat fried snowmen, the doughnuts are served smothered in sour cream and drizzled with sour cherry jam.
Outrageously tasty, this is one of the most popular Romanian desserts you'll have to try!
Read more: Papanasi Recipe (Sweet Cheese Doughnuts from Romania with Love)
16 – Strudel cu Dovleac (Traditional Romanian Pumpkin Strudel)
Central and Eastern Europe is home to some utterly scrumptious strudel recipes. It's, therefore, no surprise Romania brings a wonderful recipe to the table.
Pumpkin is used in a wide range of Romanian foods. In the autumn, pumpkins are harvested across the country by the truckload.
Vertuta gives you the soothing, crunchy texture of strudel loved by so many, and balances it with a warm and sweet pumpkin flavor.
Brought to Romania via the Austrian Habsburg Empire, it was inevitable pumpkin would find its way into this deliciously sweet pastry.
One of the oldest strudel recipes on file uses turnip, so Europeans have never been too afraid to get creative with this recipe!
Buy vertuta from any local bakery. The taste is truly divine.
Feeling adventurous? The sheer number of flavors packed into cornulete will raise the eyebrows of even the mildest of foodies.
Cornulete are native to both Romania and Moldova. Traditionally, they were a treat prepared for celebratory holidays, like Christmas.
Like croissants in appearance, cornulete are much smaller. And my, do they pack an explosion of flavor.
The creativity starts with the pastry. Romanians love to aromatize it with either vanilla or rum extract and add a little lemon for some extra kick.
The pastry is then packed with ingredients. Turkish Delight, cinnamon, chocolate, sour cherries, walnuts, and jam, among others, are all used in the recipe.
Cornulete are beautifully presented and taste heavenly. This is a Romanian food you have to try at any bakery or gathering.
Read more: Cornulete (Crescent Cookies) Recipe
18 – Cozonac (Sweet Bread)
Holidays are a great time to visit Romania. Cozonac, a rich, sweet bread, is another Romanian food prepared for holidays and special occasions.
Cozonac is very much a 'pass-the-parcel' of historical foods. Brought to Europe from Ancient Egypt by the Greeks, it was then introduced to the Romans.
At each adoption, more delicious ingredients were added. Now, the origins of today's Cozonac are firmly rooted in Romania and Bulgaria.
A dough base is made from flour, milk, eggs, butter, salt, and sugar. From there, Romanians love to get creative.
Many sweet and alluring flavors are added to the dough. These include walnuts, raisins, orange, lemon, and rum or vanilla extract.
That iconic swirled pattern is a result of re-flattening the dough, then assembling the loaf, once the extra ingredients have been added.
Once baked, Cozonac hooks you with a sweet smell, soft texture, and fruit-infused taste. It's a bread like no other and a celebrated Romanian food.
19 – Mucenici (Sweet Dough Rolls)
Mucenici is a Romanian dessert with a fascinating biblical connection.
The dessert is named after the Romanian holiday of Mucenici. This Christian feast is a tribute to the Forty Matyrs of Sebaste.
In 320, forty Roman soldiers were executed near Sebaste by Emperor Licinius, who had been persecuting Christians of the East for several years.
Their martyrdom has been recounted for centuries, and thus led to the festival of Mucenici.
This is why the dough is twisted into a figure of eight, to symbolize the human form of the martyrs.
Once ready, the dough is boiled in bubbling water that contains nuts and lashings of cinnamon. This water symbolizes the lake to where the martyrs were sent.
These wondrous treats are then sprinkled with crushed nuts and drizzled in honey to finish. This is a must-try Romanian dessert.
20 – Tuica (Romanian Plum Brandy)
Our list of Romanian foods is vibrant and delicious. But one integral drink of Romanian cuisine brings them all together, and that's tuica.
This strong and soothing plum-based spirit has been fermented in Romanian villages for centuries.
Tuica is only consumed before food. It's served in a singular shot glass and should be sipped rather than downed. However, I have seen quite a few people down it.
Across villages and rural communities in Romanian, tuica is a drink used to hold toasts, instead of wine.
Making the perfect tuica is a delicate process that involves fermenting freshly picked plums for up to two months, then distilling in a brass still using wood or charcoal fires.
At 40-60% alcohol strength, tuica generates quite the taste! Its striking taste warms your insides like a well-fueled winter fire.
Whether you're eating at a restaurant or at home with loved ones, it's a perfect companion with countless Romanian dishes.
Read more: Romanian Desserts You Need to Try
Romanian Food Summary
Flavorsome and incredibly filling, Romanian cuisine is one that takes influence from many countries, while staying true to its agricultural roots.
From Turkish to Greek, Austrian to Slavic, there's a diverse spread of influences generating some utterly moreish flavors.
From sour ciorbas to steaming hot stews, aromatic pastries to fruit brandys, Romanian food has a little something for everyone.
If you visit Romania, try to eat off the beaten path, or at restaurants in rural areas. Recipes practiced and perfected by the elder generations are a true culinary delight.
So, one final time, here's the full list of all Romanian foods covered in this article for reference.
Be sure to have this list of Romanian food handy when you visit so that you can try one or more of these popular and traditional foods.
Papanasi (Romanian Donuts)
Strudel cu Dovleac (Traditional Romanian Pumpkin Strudel)
Cornulete (Crescent Pastries)
Cozonac (Sweet Bread)
Mucenici (Sweet Dough Rolls)
Ciorba de Burta (Traditional Tripe Soup)
Ciorba Radauteana (Radauti Soup)
Mici / Mititei (Romanian Meat Rolls)
Sarmale (Cabbage Rolls)
Zacusca (Romanian Vegetable Spread)
Mamaliga (Polenta)
Salata Boeuf (Boeuf Salad)
Slaninuta Afumata cu Boia (Smoked Bacon)
Salata de Icre (Roe Salad)
Salata de Vinete (Eggplant Salad Spread)
Placinte (Romanian Pies)
Frigarui (Romanian Kebab)
Chiftele (Traditional Meatballs)
Tochitura Moldoveneasca (Moldovan Stew)
Tuica (Romanian Plum Brandy)
You Might Also Like to Read
Save and Pin for Later
Keen to explore Romania's wonderous cuisine at home or on a future trip to Romania? You can save this article to one of your Pinterest boards with our pins below.
---