This post may contain affiliate links, meaning if you book or buy something through one of these links, we may earn an affiliate commission at no additional cost to you. Learn more
These chicken recipes from around the world will inspire you to serve up a memorable chicken dinner this evening.
Chicken is used all over the world in so many creative and delicious ways. From the Romanian mountains to the Argentinian coastline, join me on an adventure to discover chicken dishes the whole family can fall in love with.
Be sure to keep this page bookmarked because I plan to add more recipes as I make them.
Chicken Recipes from Around the World (Easy to Make at Home this Fall)
Chicken Kyiv is arguably Ukraine's most well-known dish outside of the region. You may have tried store-bought versions, but this family recipe gives you everything you need to make it at home.
This recipe covers rolls of tenderized chicken with herby butter stuffing in a flour, egg, and breadcrumb coating. The coated and stuffed chicken is then baked to crispy, golden perfection. Serve it with creamy mashed potato, crispy fries, roasted vegetables, or buttery corn on the cob for a deeply satisfying dish.
Read more: Chicken Kyiv Recipe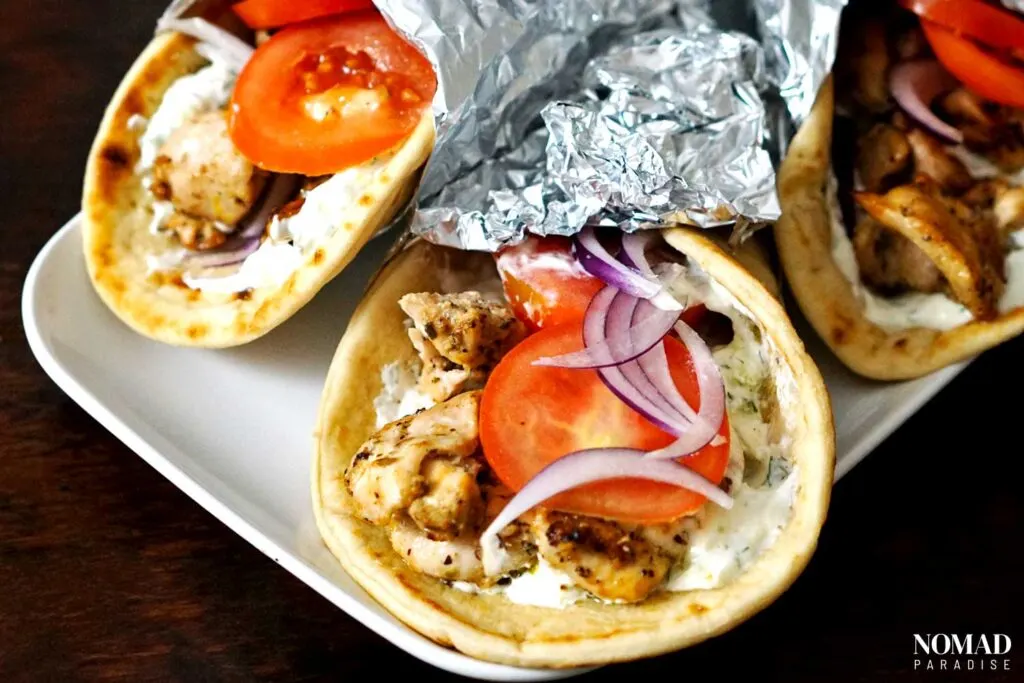 Souvlaki-like dishes have been eaten by the Greeks for thousands of years. You won't have to travel far in Greece before you hear the sound of sizzling skewered meat over a hot grill.
My recipe coats the chicken in a creamy yogurt, lemon, herb, and olive oil dressing. Once the chicken is grilled and succulent, you have two choices. You can either serve it skewered with fries and vegetables or in a warm pita with homemade tzatziki and chopped vegetables.
Read more: Greek Chicken Souvlaki
If you need a nourishing dish this winter, this Romanian chicken soup recipe is a worthwhile choice.
Named Ciorba Radauteana after the mountainous region in the north, this soup has been prepared for centuries. It is a creamy soup made with chicken, root vegetables, egg, various herbs and seasonings, and sour cream. Serve it with fresh bread, crunchy pickles, or hard-boiled eggs when the weather gets cold.
Read more: Romanian Chicken Soup with Sour Cream (Ciorba Radauteana)
Moldovan zeama, a chicken noodle soup, takes so many Moldovans back to childhood. It is a wholesome soup made by slow-cooking a whole chicken in an aromatic broth of chunky vegetables, herbs, tomato passata, and a secret ingredient known as Borș acru, or bran, a liquid ingredient used in Romanian and Moldovan cooking.
The egg noodles are prepared separately and then added to the broth. The soup is traditionally served in a large pot or serving bowl, with fresh vegetables and cold cuts.
Read more: Zeama (Chicken Noodle Soup) Recipe
Chicken Milanesa is an Argentinian favorite, introduced to South America by Italian settlers. Based on veal Milanese, it is similar to an escalope or chicken schnitzel.
My recipe covers tenderized chicken breast in a herby breadcrumb, egg, and flour coating, then fries it in oil until golden and crispy. You can keep things traditional by serving it with French fries to make Milanesa con papas fritas, a classic dish reminding most locals in Argentina of childhood.
Or, shake things up and try it with fresh salads, pasta, or in a toasted baguette with egg, vegetables, and mayo.
Read more: Chicken Milanesa Recipe
Keep things simple with my Latin American-inspired stuffed avocado recipe. Palta Rellena con Pollo is especially popular in Peru and Chile, and typically consists of halved avocados with a chicken salad stuffing served on a bed of greens.
Creamy, crunchy, and very juicy, you can also try it with tuna, too, if you're looking for variations.
Read more: Latin American Stuffed Avocado (Palta a la Reina/Palta Rellena) Recipe
Chicken Vesuvio brings the roaring passion of Chicagoan cuisine to your own home. Closely associated with the city's Italian-American population, the dish is believed to have been named after the famous volcano in Naples.
I believe it's aptly named, because the dish delivers some intense flavor. At its simplest, Chicken Vesuvio is a tray bake of skin-on, bone-in chicken pieces cooked in a white wine and olive oil sauce. Fresh herbs, garden peas, and lemon can all be added to enhance the flavor. It is crispy, juicy, and when cooked just right that chicken melts in the mouth!
Read more: Rich and Juicy Chicken Vesuvio Recipe
This delicious crispy chicken burger I made at 'Be My Recipe' puts a homemade spin on the American-style breaded chicken burger.
The chicken is coated in a parmesan-lemon-basil sauce and nestled between a toasted brioche bun with crisp lettuce and juicy tomato slices. Serve it with classic burger pairings, like French fries and milkshake, and put a big smile on everyone's face.
Read more: Crispy Chicken Burger
Summary
What I love about this article is the wide variety of different types of dishes. You have soups, fillings for wraps and vegetables, and chicken cooked in plenty of delicious coatings.
No matter where you are in the world, you're never too far from a tasty chicken dish. People from all walks of life have used this meat in so many resourceful ways for thousands of years.
I'm confident this selection of recipes will inspire you in the kitchen tonight. Let me know in the comments which dish you made and how it went down with your family or friends.
Other chicken recipes I love (and plan to add to this recipe round-up) include the following:
Chicken Satay
Soto Ayam
Coxinha
Chicken Adobo
Chicken Biryani
Piri Piri Chicken
Let me know what other chicken dishes from around the world you enjoy and want to see in this round-up!
You Might Also Like to Read
Save and Pin for Later
Pin this article to one of your dinner ideas or global foods recipe boards. Next time you buy chicken at the supermarket or the local butcher, you can reference this roundup to get inspired.