This post may contain affiliate links, meaning if you book or buy something through one of these links, we may earn an affiliate commission at no additional cost to you. Learn more
Whether you're looking for inspiration, or just tired of salads being an afterthought when it comes to tasty food, our salad recipes from around the world will open your mind and deepen your palate with delicious combinations and refreshing fusions from all four corners of the globe.
Salads have been one of mankind's trusted staples for thousands of years and can be found in pretty much any world cuisine in so many different forms and variations.
Salads are often not only nutritious, due to the vegetables, herbs, and spices used, but are very quick to assemble, often requiring no cooking or lengthy preparation.
Be it for a complementary side, or a light, refreshing lunch to enjoy in the summer heat, our salad recipe rundown is a great place to get those creative culinary juices flowing and stoke your excitement for one of the world's most popular and loved dishes.
Salads from Around the World (with Recipes)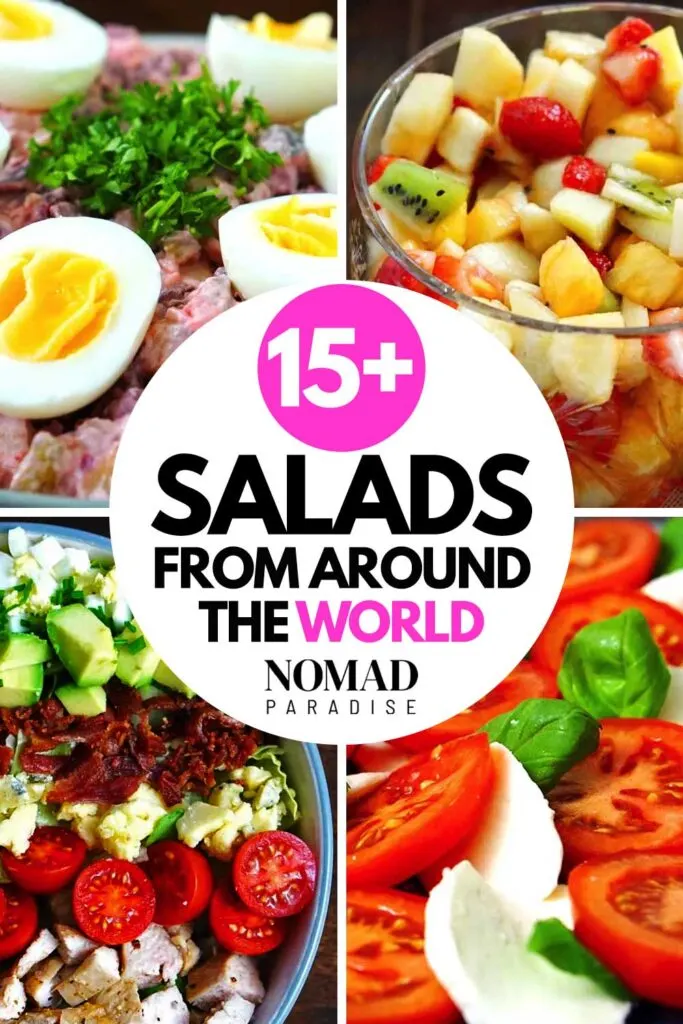 We will continue to add new and beloved recipes from all over the world to this list, so feel free to bookmark this page and come back every few months to see what exciting new salads we've added to the list.
Refreshing Salads
A Levantine staple, and hugely popular in the likes of Lebanese cuisine, fattoush salad delivers a sumptuously satisfying combination of crunchy and juicy goodness.
The salad is traditionally made from fried or toasted khubz, a flatbread popular in Arabic cuisines, mixed with plenty of greens and fresh vegetables, among which cucumber, tomatoes, and radish are common inclusions.
Dressed with a sweet and sour blend of varying combinations of oil, lemon juice, sumac, and/or pomegranate molasses, fattoush salad is ideal for anyone who loves refreshing, nutritious salads, and longs for a little bread-based crunch to go with the greens and moisture.
Read more: Fattoush Salad Recipe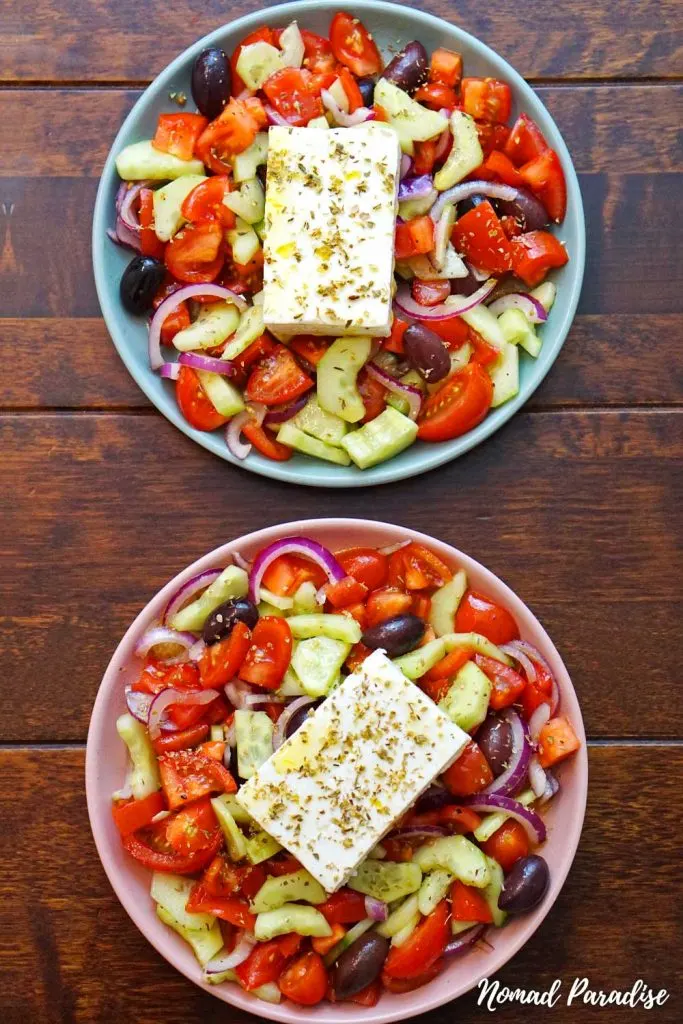 Known as a farmer's breakfast or lunch in Greece, due to the humble ingredients used, horiatiki (Greek salad) is a wonderfully textural salad, placing a slab of creamy-yet-crumbly feta cheese on a bed of juicy tomatoes, crisp cucumber, crunchy onion, and fleshy olives, coated in a dressing of earthy olive oil and seasoned with salt and oregano.
Greek salad is a true meld of classic Mediterranean flavors, and if you close your eyes as soon as those earthy, herby aromas hit, you can easily imagine yourself dining al fresco outside a white Greek villa with the sun bathing the cobbled street that runs next to your diner table.
Read more: Greek Salad Recipe (Horiatiki)
If you love herby, zesty, and acidic flavors, tabbouleh, a renowned Levantine and Middle Eastern meze that is especially popular in Lebanese cuisine and Syrian cuisine, needs to be added to your must-try list.
Our recipe, which closely follows Lebanese and Syrian tabbouleh, coats a hefty dose of finely chopped parsley, tomato, and onion mixed with bulgar wheat in a zesty dressing of olive oil and lemon juice.
Garnished with lemon slices, and served as a meze with plenty of other dishes, such as pita or baba ganoush, tabbouleh delivers a deep, intense, and herby flavor like no other salad.
Read more: Tabbouleh Salad Recipe
A classic example of the simplicity of Italian cooking, Caprese salad is a fresh 5-ingredient salad that is as beautiful as it is moist and juicy.
Consisting of sliced mozzarella and tomatoes, topped with fresh basil, a drizzle of olive oil, and a generous sprinkle of salt, Caprese salad is refreshing and comforting and can be ready in five minutes or less.
Perfect as a centerpiece for a dinner party or celebration, its green, white, and red colors, as with Pizza Margherita, symbolize the Italian flag. So if you want to put on an Italian-themed night, or are inviting Italian family or guests over, this salad is a great place to start.
Recipe: Caprese Salad Recipe
So many foods provide a unique insight into a life that has long passed us by, and that is very much the case for traditional Panzanella. When prepared in its original form, this simple salad is an honest, humble representation of the resourcefulness of farmers and peasants from the regions of Tuscany and Umbria, many generations ago.
Traditionally, panzanella was a salad of stale bread that had been soaked in water (sometimes with vinegar) overnight, and mixed with chopped onion and tomato once dried. Modern takes on the recipe, including ours, toast or fry the bread, rather than soak it, to give the salad a welcome crunch to balance the moisture.
Plenty of modern Panzanella recipes have added a range of ingredients, from herbs like basil to olive oil and vinegar dressings. However, traditionalists will always argue that, in its purest form, you only need bread, tomatoes, and onions to make a 'real' Panzanella.
Read more: Panzanella Salad Recipe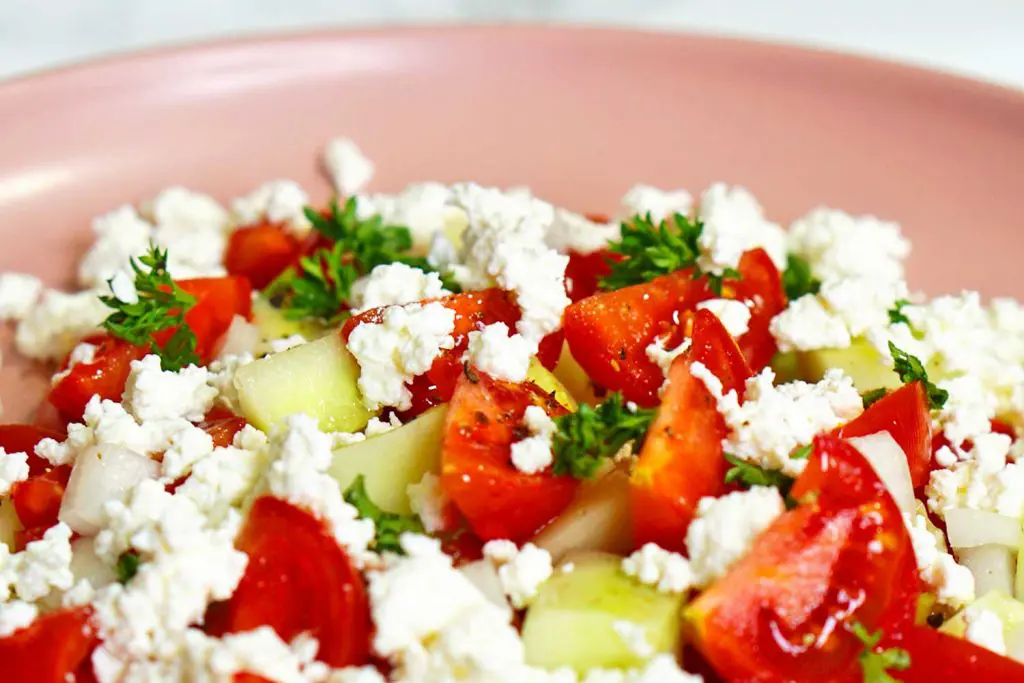 A dish loaded with crunchy, crumbly, and juicy goodness, Shopska salad is a culinary treasure in Bulgarian cuisine: so much so, the salad colors of red, green, and white symbolize the Bulgarian flag.
Also popular in North Macedonia, Serbia, and found in similar variations throughout Southeast Europe, authentic Bulgarian Shospka is simple to assemble. It consists of chopped tomatoes and peppers (the red), and chopped onions and cucumbers (the green), topped with a white farmer's cheese, or sirene, lightly dressed with sunflower oil, and seasoned according to preference.
Our recipe takes heavy influence from traditional Shopska salad, with a few alterations, and is perfect for a simple, cold salad to enjoy as a light lunch, or to nourish you throughout the summer.
Read more: 10-Min Easy Shopska Salad Recipe
Need a showstopper of a salad to serve up on a hot summer's day that's sweet, refreshing, and loaded with flavor? Give our fruit salad recipe a try and watch how many smiles it puts on faces.
Prolific throughout several Mediterranean countries and also popular in South American cuisines, including Argentinian cuisine, the variations of this fruit salad are wild and vast.
Our recipe is a mouthwatering blend of diced summer and tropical fruits, soaked in a citrussy dressing of orange and lime juice. It is brimming to the edge of the bowl with sweet, tart, and juicy goodness!
Read more: Macedonia de Frutas (Fruit Salad) Recipe
Looking for simple and creative ways to use spare cucumber you may have in the refrigerator? Polish mizeria puts the spotlight on this often overlooked and neglected ingredient in a salad that is as simple to make as it is breathtakingly refreshing.
Traditional mizeria is a dish of thinly sliced (or sometimes grated) cucumber and either sour cream or kefir, mixed with sugar for sweetness, lemon juice for activity, and various herbs such as dill for freshness. It is a staple of Polish cuisine, and hugely popular in countries with large Polish communities.
Served chilled, this crisp and creamy salad is the ideal remedy for cooling off in the hot summer sun out on the patio. You can mix up a large batch in minutes, and enjoy it for lunch, as a side, or just as a snack when you're feeling peckish but want to keep things simple.
Read more: Mizeria Recipe (Polish Cucumber Salad)
A salad that delights and comforts with its crunch, acidity, freshness, and aroma, Israel's national salad is another classic example of the popularity of diced vegetable salads across Levant and the Middle East.
The fine dicing of the vegetables is a measure of quality of the salad and is the marker used by kibbutz chefs. While an Israeli salad will vary depending on region, it commonly consists of diced onion, cucumber, tomato, and pepper, along with other ingredients, soaked in a lemon juice and/or olive oil dressing.
You can enjoy it for breakfast with yogurt and za'atar, a traditional spice mixture, mop up those juices at lunch with a few slices of fresh pita bread, or add tahini and sumac for some heat and earthiness at dinner.
Read more: Israeli Salad Recipe
Satisfyingly crisp and refreshing, Persian shirazi salad is an incredibly versatile dish. Eaten on its own during the sweltering Iranian summers, as a side to combat the heat and spice of kebabs and stews, and all-year round as a starter or side, shirazi salad is one of Persian cuisine's most popular dishes.
Traditionally, it is a dish of Persian cucumber, tomato, and onion, all of which have to be finely diced for an authentic salad. These ingredients are bound by a juice known as ab-ghooreh, or verjuice, a traditional sour (or unripe) grape juice. Sometimes, this juice is substituted for lemon or lime juice.
The salad is finished with dried mint and left to sit for at least an hour to let those flavors meld. Additional ingredients, such as olive oil, salt, pepper, and other herbs like dill or sumac, can be used in variations of this salad.
Read more: Shirazi Salad Recipe
Its name meaning 'local' or 'of the country' is the perfect way to describe this simple yet colorful salad that brings together diced or chopped cucumber, tomatoes, and onions, coated in a dressing of oil and white vinegar and finished with a good handful of herbs and spices.
Bearing similarities to several Arabic, Levant, and Middle Eastern salads, salata baladi differs in the dicing of the vegetables, which are not as fine as the likes of Israeli or Shirazi salad, and its dressing, which brings white vinegar into the mixture, unlike in other salads that use different juices.
Each mouthful is fresh and nutritious, with a satisfying balance of juiciness and crunch. If you need a lighter dinner, or a refreshing lunch to cool you down in the summer heat, as many Egyptians eat it for, this can quickly become a trusted go-to on your menu.
Read more: Egyptian Salad Recipe (Salata Baladi)
Hearty Salads
Look hard enough, and you will find some form of potato salad in pretty much any cuisine across the world. Olivier salad, with its deep history, fresh, earthy flavors, and creamy, filling texture, is one of Europe's most popular styles of potato salad. It is found in Russia, Eastern Europe, and the Baltics.
While its variations are vast and plentiful, depending on region, a standard Olivier salad usually binds diced potatoes, tender hard-boiled eggs, sweet garden peas, and plenty of nutritious root vegetables in a generous amount of thick mayonnaise.
Meat versions that include some type of diced meat, ham, or sausage are also popular. If you need a salad that packs plenty of heart, with some fresh, comforting flavor, keep a big bowl of this salad in the refrigerator, ready for when you and the family are hungry.
Read more: Rustic Olivier Salad (Potato Salad) Recipe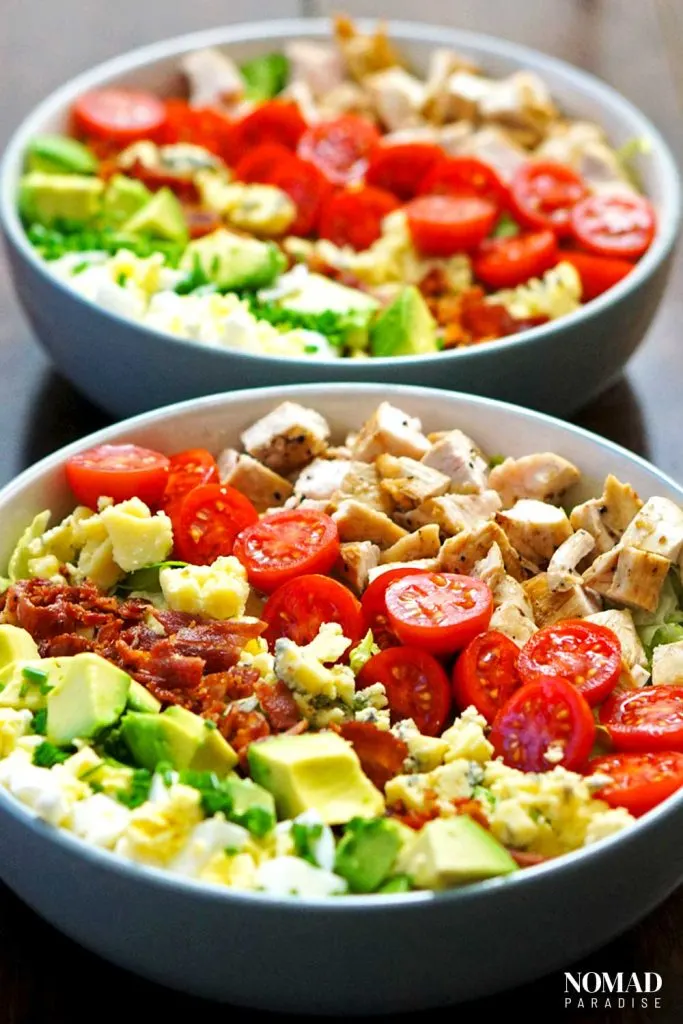 If you love your salads absolutely loaded with different ingredients, textures, and flavors, California's favorite salad, the Cobb salad, could very much be the dish for you.
Often mesmerizing to lay eyes on because of its assembly, a classic Cobb salad consists of diced or chopped bacon, chicken, avocado, tomatoes, blue cheese, hard-boiled egg, and chives, neatly arranged in rows over a bed of four greens: Romaine lettuce, iceberg lettuce, watercress, and endive.
There is so much to unpack when it comes to this dish. Each mouthful is crispy and soft, sweet and salty, earthy and herby, and so much more. While its origin is hotly debated to this date, and many people have their own take on what is deemed traditional, everyone is very much in agreement of how delicious this West Coast wonder is!
Read more: Cobb Salad Recipe
A vibrant salad that dazzles when it catches the eye, there is definitely plenty of substance to go with the style when it comes to Estonian cuisine's beloved rosolje.
While recipes will vary on preference, the dish is known as a beet and potato salad, and gets its eye-popping pink color from the use of beetroot.
Variations of this dish are common across the Baltics and Scandinavia, and our Estonian-inspired recipe brings a foray of flavors to the fold, including flaky and salty herring and crunchy pickle, coated in a creamy dressing of mayonnaise and mustard and topped with halved boiled eggs. It'll get your dinner guests chatting for weeks on end, that's for sure!
Read more: Beet and Potato Salad Recipe (Rosolje)
The wonderfully named 'herring under a fur coat' is as much an artistic masterpiece as it is a filling and flavorsome salad.
With its bold presence and bands of color, this Russian and Baltic favorite consists of several layers of ingredients. It has a base of soft potato, on which sits a thick layer of diced herring, to which several other layers of different chopped or diced vegetables, including carrot and beetroot, are added.
Creamy mayonnaise binds the layers together, and the dish is finished with a topping of crumbled egg yolk and herbs, such as parsley, for decoration.
This truly is a showpiece salad, so it should come as no surprise it's commonly prepared for holidays and celebrations. Along with Russian and Baltic cuisines, you'll also find this dish in many Eastern European cuisines, and it even reaches Central Asia in Kazakh cuisine.
Read more: Herring Under a Fur Coat Recipe (Seledka pod Shuboi)
If you love a generous dose of sharpness, sweetness, and acidity in your salads, vinegret is a dish you can assemble and try in no time at all.
Renowned for its deep red tones, vinegret is another classic example of the popularity of beetroot-based salads in Russia, the Baltics, Scandinavia, and Eastern Europe.
Our recipe takes influence from authentic vinegret, dicing earthy carrot, sweet beetroot, acidic pickle, and soft potato and mixing them with a sharp and zesty lemon juice and oil vinegarette.
Read more: Vinegret Recipe
Salad Recipes from Around the World Summary
Salads tell you so much about a cuisine. They showcase the fresh, staple ingredients of the country, pay homage to the resourcefulness and creativity of everyday people, and fuel populations throughout the day with their accessibility and simplicity.
Despite all the dishes on our list being classed as salads, they are all so different, flavorful, and utterly unique in their own right.
We are so excited to continue adding to this list as we explore and try different salads from all over the world, including Asian cuisines, African cuisines, European cuisines, South American Cuisine, and North and Central American cuisines, so be sure to keep coming back for more. For now, enjoy the colors, textures, and flavors of these classic dishes, and give them a try at home.
You Might Also Like to Read
Save and Pin for Later
Looking for salads to add to your own menu, or to impress friends and family coming over for dinner? Keep this article for safekeeping by saving it to one of your word foods Pinterest boards.