This post may contain affiliate links, meaning if you book or buy something through one of these links, we may earn an affiliate commission at no additional cost to you. Learn more
Whether you're washing down a seafood platter or looking for a sippable tipple to enjoy under the warm Mediterranean sun, these Portuguese drinks will not only quench your thirst, but they'll also charm your palate with their fruity, floral, and refreshing flavors.
With breathtaking vineyards located throughout the country, and many Portuguese beverages granted DOC status, enjoying a drink in Portugal, no matter what your preferred beverage, promises to be a truly unique experience.
So before you take a seat outside a cozy tasca on the sun-bathed cobbles and pick up the drinks menu, take a closer look at our top picks from the country's wild and refreshing choice of beverages, all sampled on our visit to Portugal and see if any take your fancy.
Portuguese Drinks
Terms
Before we get started, I just wanted to quickly clue you in on two abbreviations you will see throughout this rundown:
DOC or PDO – Protected Destination of Origin – Awarded by the European Union, Portuguese products with PDO status are protected by EU law, meaning they are only produced in a certain geographical location using particular ingredients and processes, such as wine and cheese, among others.
VR – Vinho Regional – Similar to DOC but essentially a second-tier status, along with IPR status, Vinho Regional is like the French Vin de pays, where the classification and protection is more for the region rather than a specific product. Generally, DOC is seen as top level, which has international recognition, then IPR, which has a regulating body but not so much the international recognition, and then VR, which is more of a blanket classification for products in a certain region.
Wine
1. Vinho Verde
While the Minho province in the north was dissolved in 1976, Vinho Verde wine is a fitting legacy for this gorgeous part of northern Portugal, which today is enjoyed all over Portugal.
Literally meaning 'green wine,' the name in Portuguese actually translates to 'young wine', as the wine is typically on the shelves no later than six months after the grape harvest.
Vinho Verde is not itself a specific type of wine, but a DOC referring to the type of production of such wines in the historic Minho region, which today comprises nine subregions that all exclusively make this delicious style of wine.
Vinho Verde wines are most commonly white (roughly 86%), but red and rosé are also produced in the region. Naturally, tastes will vary depending on the brand, but a classic white Vinho Verde is crisp and light, and not really sweet but more so floral, due to the grapes used.
While it isn't classed as a sparkling wine, it does have more than a little fizz, and sipping a cold, crisp glass of Vinho Verde under the summer sun overlooking the water, mark my words, is one of the most refreshing things you can do during your Portuguese adventure.
2. Madeira Wine
The Madeira Islands have a love affair with winemaking dating back centuries, so it should come as no surprise that Madeira, classified as a fortified wine, is one of Portugal's most adored and desired styles of aperitif and dessert wines.
Incredibly, one of the key features of producing Madeira, using heat to oxidize the wine, happened by accident, when winemakers discovered the taste of a returned shipment of wine had been considerably altered due to the harsh, hot conditions the wine was subjected to throughout the sea voyage.
Today, winemakers use processes a little more convenient, shall we say, than sending shipments of wine off for several month-long sea voyages, but the aging through heat process is what gives Madeira its rich, indulgent, often caramel-laced flavor profiles. The wine is aged either in barrels housed in warm rooms, a process called canteiro, or heated in tanks, a process called estufagem, which accelerates the caramelization process.
Madeira comes in a wide range of styles, ranging from dry to rich, and all bring some gorgeous, luxurious flavor profiles to the tongue, with notes of walnut, peach, citrus, coffee, and burnt caramel among the most common.
Because of its sweetness and richness, this really is a wine for fancier occasions, like ordering a glass with dessert as you enjoy one of your last evenings in Portugal watching the sunset from a rooftop restaurant.
3. Port Wine
Very much the darling wine of the stunningly beautiful Duoro Valley region in the north, Port wine is typically most closely associated with its lusciously velvety and sweet red variety, which is a much-loved dessert wine.
Traditional Portuguese port is protected under DOC status, and traditionally aguardente (see under 'spirits' in this article), a Portuguese grape spirit, is added to slow fermentation and add increase the alcohol content, making Port wine a fortified wine.
Many styles of Port wine can be tried, but they will generally fall into either the ruby category, which are stored in steel or concrete tanks before bottling to stop exposure to air, or tawny, which are matured in wooden barrels, hence oxidative aging comes into play.
Ruby Port is generally smoother, and known for its berry and chocolatey notes, while Tawny Port is more likely to bring nutty, spiced, and caramel notes to the foray. The lesson common port rosé, with its fruity notes, and white port, which is lighter and citrussy, are two variations to look out for.
If you visit Porto, you should absolutely visit the port wine cellars, where you can see how they store the wine and enjoy this rich Portuguese favorite. It should always be drunk chilled and accompanied by plenty of indulgent Portuguese desserts!
4. Douro DOC Wine
While we're marveling at the luscious green terraced slopes of the Douro, a deeper dive into the wines the region is home to is not just a worthwhile idea; it's absolutely necessary!
There's no doubt that Port wine is the star of the region and the product the Duoro Valley is most closely associated with. But during the 1950s, the production of a wine called Barca Velha inspired port makers to try their hand at making non-fortified wines, and today the region produces as much non-fortified wine, known as 'Duoro wines', as it does fortified.
Split into three regions, Baixo Corgo, the rainiest, Cima Corga, and Douro Superior, the hottest, the red wines in particular from the Duoro are dense and full-bodied, with dark fruit flavors laced with herbal and spiced notes, sometimes with a smokey quality due to some of the wines aging in oak, Burgundy-style.
The region uses over 80 varieties of grape, so you can find reds, whites, and rosé across the spectrum, from light and fruity to smooth and silky. However, a deep, fruity red or sweet port wine from the Duoro can quickly become your trusted companion for steak night, cheese boards, and dessert out on the porch for an evening with a luxurious feel.
5. Setúbal VR Wine
A key characteristic of the wines from the Setúbal region, south of Lisbon, is the aging in oak, as in the Duoro, often for several years at a time. This gives many Setúbal wines a distinctive spicy aroma, while notes of the likes of nutmeg, clove, and cinnamon find their way into the flavor.
Within the Setúbal region, there are two key areas, both renowned for different styles of wine. Palmela DOC is best known for its deep, layered red wines, while Setúbal DOC is best known for its sweet fortified wines, and in particular, Moscatel de Setúbal.
Made from Muscat grapes, Moscatel de Setúbal is a classification of wine that is made from 85% or more of Muscat grape. These styles of wine are renowned for their sweetness, often delighting the palate with notes of citrus, plum, and candied orange, among others, while their aromas are floral and fruity.
These sweet wines are best enjoyed chilled, and their lightness and fruitiness make for the ideal companion in the afternoon sun.
6. Alentejo VR Wine
Alentejo is a large VR region, covering a huge swathe of the southeast of Portugal. Within the region, there are eight sub-regions, with some areas classified at DOC level under an Alentejo DOC designation.
Due to the sheer size of the region, it is difficult to define specific characteristics of the wine, as white, red, and rosè are all made in Alentejo. However, the Alentejo DOC red wines from the region are very much responsible for putting the region on the wine map.
The red wines typically come from the south of the region, where the climate is hotter. Traditionally, the red wines from this region were less sweet and more earthy, with fruity aromatic notes. The more modern wines, however, are richer and more fruity in taste, and many attribute wine production in the Alentejo to be one of the key drivers in putting Portuguese wines on the world map over the last few decades.
7. Lisboa VR Wine
The hugely diverse Lisboa VR region is our last stop on our wine tour, and the region is home to no fewer than 9 DOC status subregions. In short, there are plenty of high-quality wines to be found in the region.
Hugging the Atlantic coast and covering a broader geography means that Lisboa VR wine is incredibly varied, covering a spectrum from rich, concentrated red wines to light, citrussy, aromatic white wines.
The scale doesn't just cover variety, either. Prices differ vastly throughout the region, and not only can you find expensive, high-end wines, but also a wide range of very affordable products, ideal for casual drinking and hosting friends when you want to keep things simple and not pull out all the stops.
Related: 18 Most Popular Portuguese Foods You Simply Must Try
Spirits
8. Ginjinha (Ginja)
That first fiery, sweet-yet-sour hit with a distinctive cherry-laden after-burn is a feeling you won't forget in a hurry, and that's why Ginjinha, or Ginja, is one of the must-try liquors when you visit Portugal.
Ginjinha is essentially a liquor of aguardente (see below) infused with sour cherries, and mixed with sugar and other spices, such as cinnamon, served in shot glasses, often with a few sour cherries for good measure from the bottle, to an adoring population of Portuguese, especially in the likes of Lisbon and the Algarve.
In fact, the best way to try this liquor is by going to a Ginjinha bar, of which some of the most famous can be found in Lisbon. These tiny little bars that you can walk into off the street only serve Ginjinha in shot glasses, and you can even buy the liquor from these bars, as we did from Ginjinha Sem Rival, which has been serving this Portuguese favorite since 1890.
Thought that was impressive? A Ginjinha Espinheira, pictured below, has been around since 1840!
9. Licor Beirão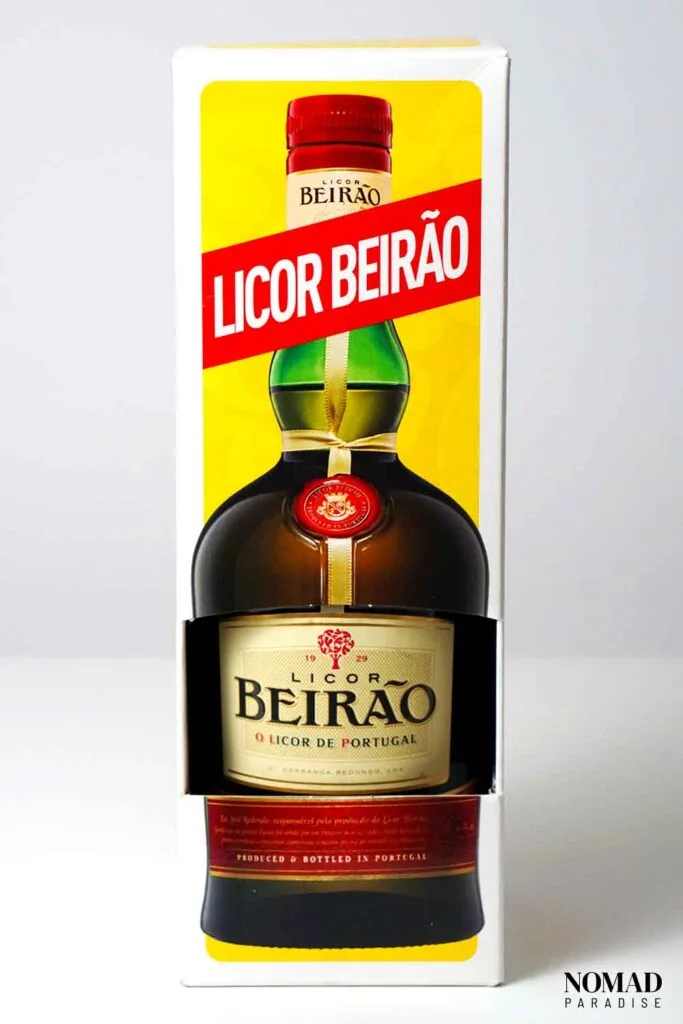 Ginjinha may be deeply embedded in Portuguese culture, but when it comes to volume, the wonderfully complex and aromatic Licor Beirão is, to this day, Portugal's most popular spirit.
Initially a medicinal drink in the early 1900s, entrepreneur José Carranca Redondo saw a recipe for success in 1940. He bought both the plant and the heavily guarded recipe, and from there, propelled the drink to huge mainstream popularity in the 1960s, which has continued to this day.
Beirão is made from the double distillation of various seeds and herbs that come from even the furthest-reaching parts of the former Portuguese Empire, from Brazil all the way to India.
The result is a syrup-like liquor with a gorgeous amber hue, that delivers a mildly sweet and intense yet refreshing flavor, with strong notes of mint, laced with undertones of spices like cinnamon.
10. Aguardente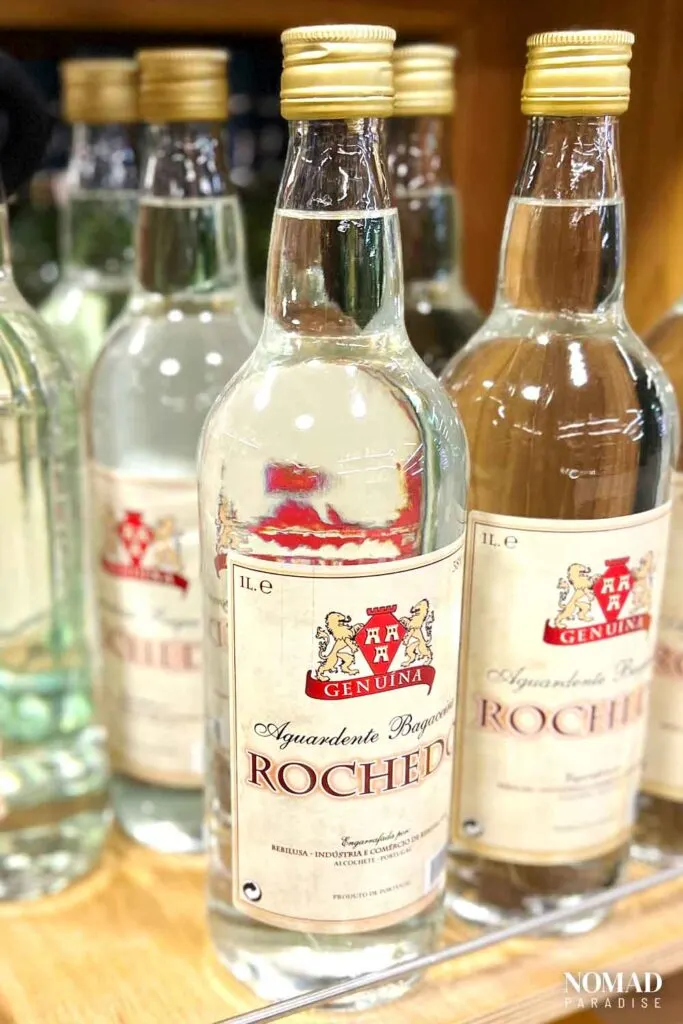 Portuguese aguardente packs some real firepower, and as we've already explored in our list, is used in a number of different beverages, including fortified wines, to add plenty of warmth and strength.
There are several varieties, one of the most common being Aguardente bagaceira, typically made from leftover grape pomace. Others are found throughout Portugal, including Azores-based Aguardente Medronho, distilled from arbutus berries, which are found throughout the Mediterranean.
Known for its fruity aroma and intense yet somewhat smooth taste, you can even have aguardente in your espresso – just ask for 'café com cheirinho,' meaning 'coffee with a little scent'.
Related: Rich and Tasty Portuguese Grilled Chorizo (Chourico Assado) Recipe
11. Licor 35 Pastel de Nata
Head on over to our must-try Portuguese foods, and you'll see Pastél de Nata is first to be featured —and for good reason — because the Portuguese have a deep love affair with this gloriously eggy custard tart dating back to the 1830s.
Hence, it shouldn't come as much of a surprise that fusing the custard and vanilla flavors with a cream-based liquor was always going to be a winning combination.
The eggy creaminess with notes of cinnamon and the glorious butteriness of the liquor replicate the pastry well.
In a similar style to Baileys and other cream liquors, you really can enjoy a glass of this unique liquor on its own, because of its sweetness and intensity. However, add it to your coffee or order a glass with dessert to really get the fireworks going.
12. Maciera
Named after José Guilherme Macieira, who was heavily influenced by Cognac and the winemaking practices in the region, Macieira is a Portuguese brandy that is renowned for its quality and has been a firm favorite since its inception in 1885, over 130 years ago.
Macieira has a gorgeous golden brown hue and is very smooth, while its distillation from grape wine and aging in oak barrels not only give the brandy a wonderful aroma but also lace the sweet, balanced flavor with hints of vanilla and caramel, which accompany the fruity notes beautifully.
Served at room temperature, Macieira is deep without being too strong or intense, and the sweetness makes it the perfect drink to relax and unwind with in the evening when the sun is setting.
Beer
13. Super Bock
While the artisans and the craft brewery seekers among you may be seeking a beer with less of a mass market status, to get a grasp of the beer scene in Portugal, you simply cannot ignore the country's two most popular beers: Super Bock and Sagres. Walk into pretty much any bar, and you will find one or the other on tap.
This is because up until 1974, no foreign companies were allowed to try to break into the Portuguese beer market, meaning two breweries, Super Bock and Sociedade Central de Cervejas, pretty much owned the entire market. Even though those restrictions were relaxed, those two companies still have the lion's share of the trade to this day.
Super Bock is brewed by the Super Bock Group brewery, which has been making one of two of the country's most popular brands of beer since 1927. Today they produce several varieties of Super Bock, including a stout and a Belgian abbey ale, but the classic drink, and the one you'll most commonly find on top, is Super Bock Original.
This pilsner is light and crisp, with malty notes and low bitterness. Not only is it incredibly refreshing when drunk ice cold, but it's also very inexpensive.
Hence, you can see why it is such a popular drink to enjoy in the Portuguese sun, whether you're socializing outside a bar or dining al fresco overlooking the water.
14. Sagres
On the other side of the coin, you have the beer that has been made by Sociedade Central de Cervejas since 1934: Sagres.
As with Super Bock, there are several types of Sagres beer, including the dark, German-influenced Sagres Preta, and the stronger, auburn beer Sagres Bohemia. Sagres, the pale lager, is the flagship drink of the brand, and the one you'll likely see on tap in the bars and restaurants.
Sagres is mildly bitter, with a balanced malt flavor and subtle citrussy, fruity notes. As with Super Bock, it is light, crisp, and refreshing, and ideal for drinking in the sun, be you dining on the riverfront, having a picnic in the park, or watching the football at a bar with outdoor seating.
The conversation of which is better is hotly debated to this day, and every Portuguese person will have their personal favorite. I was once told that Super Bock was the drink of the north, and Sagres the south, but after spending time in both Porto and Lisbon, they both very much have an influence in each city.
Non-Alcoholic
15. Bica
Especially in Lisbon, coffee culture is growing by the day, and there are plenty of quirky, artisanal coffee shops that use techniques and beans from all over the world.
However, to keep things traditionally Portuguese, if you go to a Portuguese tasca, restaurant, coffee shop, bakery, or bar and say "um cafe", you'll get what's known as bica, which is essentially a Portuguese espresso.
Bica is served in little cups, known as demitasse, and has a smooth, creamy texture, with a rich, sharp, and slightly chocolatey flavor.
As with Italian espresso, it's all about serving coffee at its purest and strongest. Pastries are a big part of the Portuguese breakfast, so be sure to order bica at the bakery to balance the sweetness.
16. Galão
Enjoy taking your coffee with milk? Order a galão, which is a bica served with foamed milk in a tall cup, and essentially your Portuguese take on a caffè latte.
Summary
Whether you're chowing down on a buttery tart in a busy bakery, or taking in the sunset views from a rooftop bar, you are always going to need a drink to match the occasion by your side.
These Portuguese drinks showcase some of the finest wine, coffee, liquor, and beer on offer in the country, bringing a whole manor of natural ingredients to the lips and the tongue in wild and wonderful ways.
Particularly if you're a wine drinker, there is so much to discover and savor, no matter where you are going in Portugal. The drinks of the country play a big part in Portuguese culture, and our list, covering some of the most iconic, is barely the tip of the iceberg.
You Might Also Like to Read
Save and Pin for Later
Keep these Portuguese drinks for safekeeping by saving this article to one of your Pinterest boards, ready for when you travel to Portugal.