This post may contain affiliate links, meaning if you book or buy something through one of these links, we may earn an affiliate commission at no additional cost to you. Learn more
Fusing classic sweet Mediterranean flavors with a wide array of global influences, these Portuguese desserts are sure to put a smile on your face as you grace aroma-filled bakeries and cozy eateries throughout Portugal.
The desserts of Portugal dazzle with their beauty and delight with their flavor while playing an integral role in making the country's cuisine so rich and scrumptious. Let's delve in together and discover the sweeter side of Portuguese food through twenty-five must-try desserts as recommended by a local.
Portuguese Desserts
1. Aletria
Aletria was brought to the Iberian Peninsula by the moors around the 8th century – something you could have hinted at by the first two letters of the word. Today, it is made and enjoyed in both Portugal and Spain.
It is a dessert made of a very thin type of pasta, condensed milk, and eggs. The top of the dessert is decorated with crossed lines of cinnamon, which are way harder to replicate than it may seem!
Alteria is a delicious dessert, renowned for its sumptuously soft texture, that has its place at every Christmas table in Portugal!
Related: Best Spanish Desserts (with Recipes) to Try
2. Arroz-Doce
Arroz-doce, which translates to "sweet rice," is a typical dessert in many countries around the world. It originated in Asia and was incorporated into the Portuguese tradition through the merchants that traveled between the two continents.
The dish consists of rice that is boiled in milk with sugar. Usually, lemon zest and a cinnamon stick are added, while cinnamon powder is always sprinkled on top.
At first glance, you may mistake it for Aletria, as the pulpy texture and rich flavors are similar. You can even think of arroz-doce as a tasty gluten-free alternative!
3. Baba de Camelo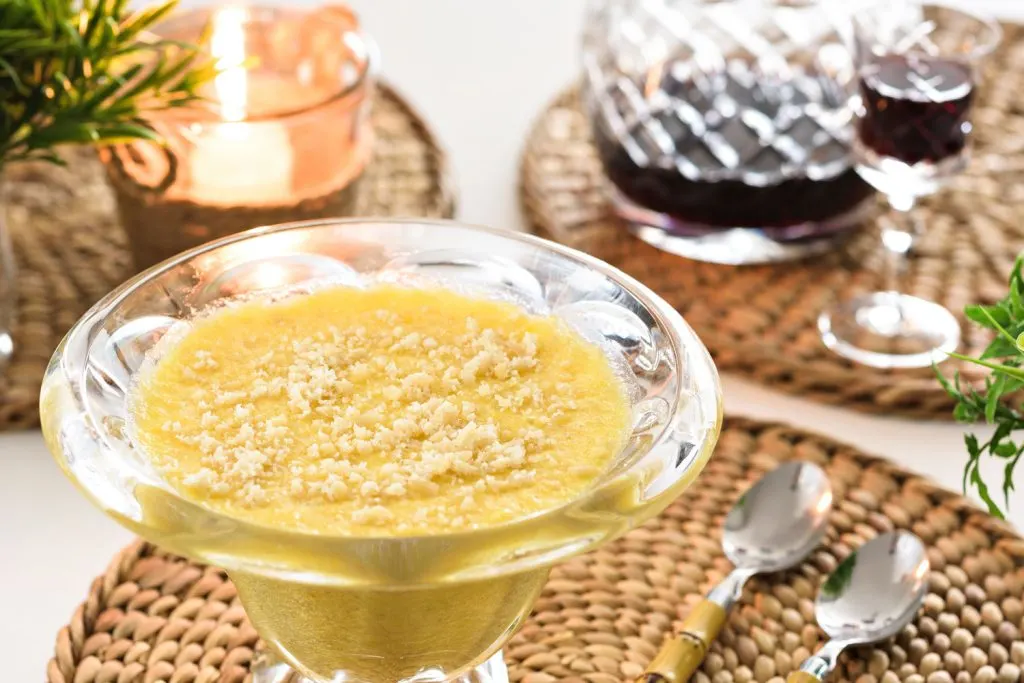 There is an urban myth around this typical dessert – or, more specifically, how its bizarre name, "Camel's drool," came to be.
It is said that someone received a few unexpected guests for dinner, and not having a dessert prepared, she put together a dish from what she had in the cupboard, which was simply sugar, eggs, and condensed milk. The result was a silky-smooth gold-colored mousse.
Fearing it was too simple and not plentiful enough for everyone at the dinner party, she baptized it with a not-so-mouth-watering name in hope that some guests would refrain from eating it… but to no avail!
4. Bola de Berlim
The famous Bola de Berlim came to Portugal from Germany after the Second World War. It consists of sweet flour dough that is deep fried before it is filled with a Portuguese classic: a sweet and bright yellow filling made from milk, sugar, flour, eggs, butter, vanilla, and lemon, called "creme de pasteleiro."
The curious thing about the fluffy Bola de Berlim is that, even though you can find it at every pastry shop in the country all year round, it is largely eaten at the beach during the hot summer months.
5. Bolo de Bolacha
This coffee-flavored biscuit cake is such a hugely popular traditional dessert in Portugal that you'll be hard-pressed to find a restaurant that doesn't have its own version on the menu.
Even though nowadays there are plenty of variations that will make you crave this sweet treat even more, the original Bolo de Bolacha is a cake made of "Maria" biscuits, eggs, butter, sugar, and barley coffee.
The result is a rich cake, not too sweet, with a delightfully soft crunch to it. It is the perfect snack to enjoy with tea in the afternoon or at sunset.
6. Doce Fino do Algarve
This exquisite albeit peculiar dessert is arguably the best-looking of all of the featured dishes on this list. Its marzipan exterior and use of sugar and egg whites all contribute to a Portuguese dessert blessed with alluring decadence.
Typical from Algarve, the southern region of Portugal, the Doce Fino is, in fact, modeled and painted by hand! And yes, it tastes as good as it looks. In fact, as a proud "Algarvian", I dare say – it actually tastes even better!
7. Dom Rodrigo
The Dom Rodrigo is another renowned dessert from the Algarve region. It is a dish of egg threads, almonds, eggs, water, sugar, and cinnamon, mixed to create a visually stunning globe of golden threads that are usually served on colored metallic paper.
Also called "Angel's hair", it is a moist, sweet, and light dish, and a wonderful choice to follow a rich and hearty main meal.
8. Espera-maridos
A dessert born in Trás-os-Montes, the north of Portugal, believed to have been invented in the past by wives while waiting for their husbands to come home from work, hence the name "waiting-for-the-husbands."
It is incredibly easy to make since it only needs two ingredients: sugar and eggs. Despite its simplicity, the dessert is incredibly wholesome. The yolks give it the creamiest texture, and the egg whites a rich fluffiness. It's hard to stop yourself from going back for more!
9. Jesuíta
Jesuíta is another pastry with an origin connected to the convents. The center of this mouthwatering treat is made of puff pastry, intertwined with yolk cream filling, while the top is made of a sugar glaze.
It's a very crispy dessert with a sweet creamy filling that counterbalances the infinite layers of the puff pastry.
10. Molotof
The Molotof is a popular Portuguese dessert that is featured on practically every restaurant menu in the country, despite its very un-Portuguese name. The story goes that the original name of this pudding was Malakof, a fortress conquered by a French General who ended up with the title of Lord Malakof.
Invented during the war, because of food scarcity, the Molotof is a pudding made only of egg whites and caramel. Hence, this is one of the airiest, lightest, fluffiest puddings you'll probably ever try. In fact, this is what I imagine eating a cloud would taste and feel like!
11. Ovos Moles
"Ovos Moles" are largely associated with Aveiro, a city in the center of Portugal. The dish was originally made, like so many desserts in Portugal, by the hands of nuns that had to work with the little that they had when it came to making food, not putting any food to waste.
In this particular case, egg whites were used in convents to iron the priests' habits (religious dress), and not wanting to waste the yolks, they cooked them, added sugar, and voilà – the yolk cream filling was born!
The outside shell is made of communion wafers, which makes for a crunchy bite before the joy of the super creamy filling.
12. Pão de Deus
Literally meaning "God's Bread", this Portuguese sweet bread is inspired by the Brazilian All Saint's Day. The Pão de Deus filling consists of butter, sugar, milk, flour, eggs, a little lemon, and a touch of rum
Its top, meanwhile, is made from eggs, sugar, and coconut. It is served with cheese, ham, or jam, and it is hugely popular for breakfast or an afternoon snack for many Portuguese families.
13. Pão de Ló de Ovar
Renowned for its vibrant golden-yellowish color, Pão de Ló is, in fact, classed as a cake, even though "pão" translates to "bread". A close cousin of the sponge cake, the Pão de Ló is arguably even spongier. It is made from a simple mixture of egg yolks, sugar, and plain wheat flour.
Even though there are several varieties of this dessert in Portugal alone, the Pão de Ló de Ovar is the most famous version. It is very light and fluffy, with a soft interior that oozes out when the cake is cut open.
14. Papo de Anjo
The Papo de Anjo, much like "Ovos Moles" and several other desserts, was the product of a need to do something with the egg yolks that were left after the nuns ironed the priests' habits (religious dress) with egg whites and not waste valuable resources.
In this case, the egg yolks are whipped into a mixture that doubles in size. The mixture is then baked and boiled in sugar syrup, to which rum, vanilla, or an orange peel are added.
Moist, fluffy, and wonderfully sweet, Papo de Anjo is another classic example of how many Portuguese dishes were the result of resourceful and creative cooking with minimal ingredients.
15. Pastel de Feijão
The Pastel de Feijão might be one of my absolute favorites on this list. Its main ingredient of white beans may raise eyebrows, but paired with almonds, this is a dessert that is sure to surprise and delight.
Sweet and soft on the inside, the outside shell is made out of a crunchy dough pastry, usually sprinkled with powdered sugar. It's the perfect pairing for tea or coffee in the afternoon.
16. Pastel de Nata
This is arguably the ex libris of Portugal when it comes to desserts, and the one every tourist knows they have to try! The only possible reason for a cafe not to have "Pastéis de Nata" is that they are already all sold out.
The original recipe of this dessert – to this day, a well-kept secret – belongs to a shop in Belém, and only the Pastéis de Nata that come from that store can be called "Pastel de Belém". The line to buy them there stretches out to the street, but I assure you it is worth the wait since they are sold straight out of the oven.
The dough is crunchy and crispy, with a rich filling made out of eggs and milk – the "nata" – which is super creamy and smooth, finished with a dusting of cinnamon and powdered sugar.
17. Pêras Bêbedas
"Drunk pears" may at first sound comical, but when you learn that this is a dish of peeled pears boiled in Port Wine and sugar, with the addition of lemon zest, a cinnamon stick, and star anise, you quickly realize it's aptly named!
After about thirty minutes of boiling, the pears are so tender and soft that you can cut them with a spoon. The combined flavors of the fruit with the sweetness of the Port wine make this dessert so light and irresistible that you may find yourself getting multiple servings, as well as a little tipsy from the inclusion of Porto's iconic beverage.
18. Pudim Abade de Priscos
Pudim Abade de Priscos is a luscious pudding that will forever live in my memory not only because it is exquisite, but also because it is my dad's favorite dessert and the one our family ate every year on his birthday.
As the inventor of this recipe said, "It's easy to make but hard to get right!" The base is made from egg yolks, caramel, Port wine, and, unexpectedly, bacon! The hardened yet extremely delicate jelly-like texture provides a rich, sweet bite that just melts in your mouth.
19. Pudim Flan
Flan pudding is recognized all over the world and is a dessert that has been enjoyed at dinner tables for many centuries. It is a wholesome pudding made from milk, vanilla, and lemon zest, covered in sweet caramel to finish.
The flan makes for a simple and sweet creamy pudding that everyone – from child to elder – enjoys and loves. That is if you can grab it, as this dish is notoriously wobbly!
20. Rabanadas
Rabanadas are essentially Portuguese and Brazilian takes on classic French toast.
In Portugal, they are a traditional Christmas Eve dessert made of wheat bread, usually from a baguette, which is sliced, dunked in milk, then in whipped eggs, and finally fried in cooking oil. It is usually served with sugar syrup and cinnamon.
Related: Brazilian Desserts You Need to Try
21. Salame de Chocolate
Even though this dish is called "salami," it does not contain any meat; only a truly mouthwatering combination of chocolate, butter, eggs, biscuits, and sometimes, Port wine. Some variations also add nuts and hazelnuts.
It is always made in a semi-cylinder shape, wrapped with metallic paper. Each bite is full of earthy, chocolaty goodness, with the biscuit adding a perfect layer of crunch to complement the creamy, rich texture of the salami.
Chocolate salami is a dessert common in many cuisines around the world. For a Lithuanian version of chocolate salami, check out our Tinginys chocolate salami recipe.
22. Tarte de Amêndoa
The star ingredient of this beloved pie is almond, which is used in countless Algarvian recipes since the almond tree grows very successfully in the Algarve region.
But the stand-out feature of this delectable dessert is the filling is made with laminated almond, giving it the look of a teenager's messy and rebel hair. Sugar, butter, and milk are added to complete the crispy filling. The tender outside part is made of flour, sugar, butter, milk, and eggs.
23. Torta de Azeitão
Torta de Azeitão is renowned for its sumptuously creamy texture and gloriously beautiful yellow exterior. The dish consists of egg yolk, sugar, water, lemon, and cinnamon.
One bite into this rich, soft dessert treats you to a burst of yolk cream, oozing from the roll like a river of flavor. Stunning to lay eyes on, this is a Portuguese dessert you simply have to try.
24. Toucinho do Céu
This vibrant golden-yellowish deliciously-looking dessert is, incredibly, called "Bacon from heaven." Yes, we already know that the fried, salty bacon is as good as it gets, but wait until you try this absolutely mouth-watering delicacy!
Made from a mixture of egg yolk and boiled sugar, ground almonds, and sometimes black-seed squash jam, this dish got its name from the secret ingredient: bacon.
A truly melt-in-mouth dessert, Toucinho do Céu is simply a must-try dish when in Portugal. It's aptly named, I can assure you!
25. Travesseiro de Sintra
The distinguished Travesseiro de Sintra is just one of the many reasons so many tourists visit the utterly gorgeous town of Sintra with its marvelous villa every year.
This beautiful dessert is made from puff pastry, with an almond and yolk cream filling, and shaped just like a "travesseiro," or "pillow." Dream about it all you want; just don't sleep on it!
Portuguese Desserts Summary
Humble ingredients, creamy, melt-in-mouth textures, and unapologetically sweet flavors all help elevate Portuguese desserts to a level of indulgence few cuisines in the Mediterranean can match.
When visiting Portugal, be sure to seek out as many of these delightful sweet dishes as you can in bakeries and restaurants across the country. You won't be disappointed!
You Might Also Like to Read
Save and Pin for Later
Keep this delicious list of Portuguese desserts on-hand for a future trip to Portugal by saving this article to one of your foodie travel Pinterest boards.
Contributor: Catarina Castro Neves is a Portuguese translator and ghostwriter with a deep passion for music, food, and Portuguese culture.