This post may contain affiliate links, meaning if you book or buy something through one of these links, we may earn an affiliate commission at no additional cost to you. Learn more
Bring plenty of Brazilian flair, color, and magic into your home kitchen with these popular Brazilian desserts, and give your dinner party guests a sweet culinary experience like no other.
Authentic Brazilian desserts bring plenty of wondrous flavors to the table, including guava, coconut, and papaya. Some are highly decadent, and others pay homage to generations of flavorful, resourceful cooking, using only a handful of ingredients.
Vibrancy, passion, and eye-opening flavors come through in the sweeter side of Brazilian cuisine. There is so much diversity and dishes for all tastes and preferences.
Together, let's take a rich, sweet, and colorful tour of Brazilian cooking through 18 of the country's most celebrated desserts.
Popular Brazilian Desserts with Recipes
1. Brigadeiro (Brazilian Fudge Balls)
The creation of renowned confectioner Heloisa Nabuco de Oliveria, brigadeiro is known as the 'truffle of Brazil,' and it is one of the country's most celebrated desserts.
These delightful orbs of chocolate are smooth, chewy, and totally addictive. They are made from a simple mixture of cocoa powder, butter, and sweet condensed milk.
To finish, brigadeiros are coated in chocolate sprinkles. They are placed in little decorative cupcake cups and line bakery windows across Brazil.
2. Bolo de Rolo (Cake Roll)
A strikingly beautiful Brazilian dessert, bolo de rolo is sure to delight friends and family at parties and celebrations. This is a dessert born to take the spotlight.
Bolo de rolo resembles a Swiss roll in appearance. Hailing from Pernarnbuco, it is a sweet, spongy cake made of a simple batter that is then covered in layers of goiabada.
Goiabada is a very sweet paste of guava and sugar, and it helps give the dessert its glorious, bright color.
Simple to make at home, eat a mouthful of bolo de rolo is spongy, highly sweet, and full of guava goodness. It emblemizes the flair and color of Brazil so beautifully.
Get a Bolo de Rolo Recipe Here
3. Pave (Layered Dessert)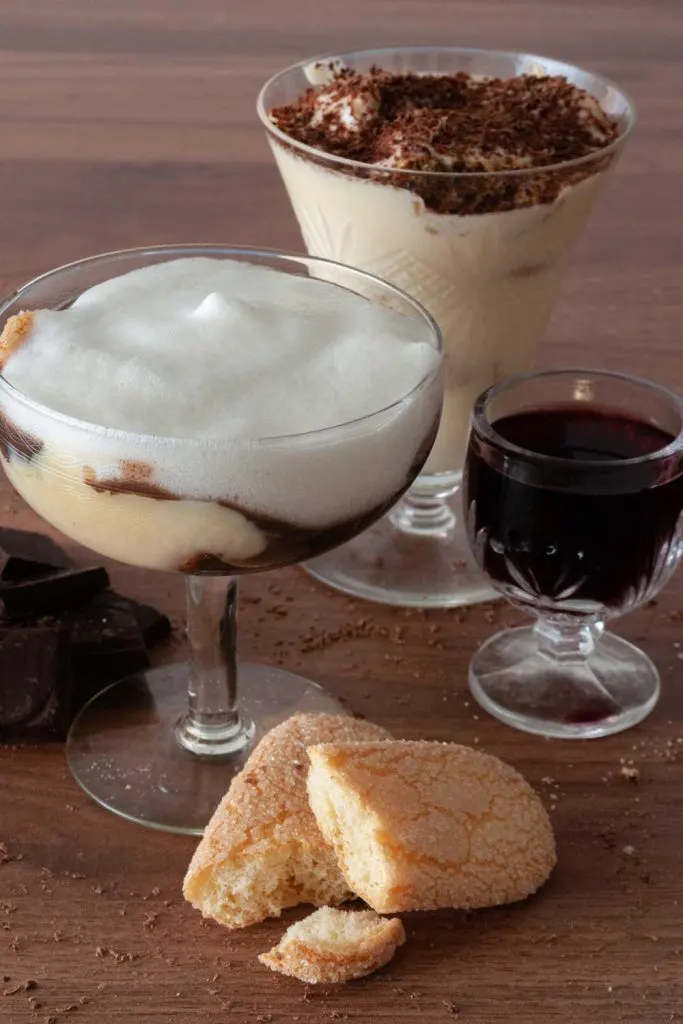 Lovers of tiramisu will quickly develop a yearning for pave. A diverse and beloved recipe, pave is a layered cake stacked in the same way as tiramisu.
The bottom layer is a rich, creamy layer of condensed milk and other simple ingredients. The second layer adds the body, using ladyfinger biscuits soaked in cocoa, milk, and a little cognac for a kick.
The top layer is traditionally a thicker layer of whipped cream, topped with a wide range of delicious goodies. From chocolate to pineapple, there are so many sumptuous Brazilian pave recipes out there. It is a heavenly dessert of so much flavor and texture.
4. Pudim de Leite (Flan)
A close relative to Spanish flan, pudim de leite explodes with creaminess and sweetness. Its smooth yellow body sparkles against the light, while its dark golden top jiggles like jelly.
Pudim de leite is so simple to make. It is perfect for anyone who loves rich desserts and the sweet taste of caramel.
Its egg tart custard body requires only a few simple ingredients, which makes it the ideal dessert to quickly whip up for children's parties, gatherings, or holiday celebrations.
Get a Pudim de Leite Recipe Here
5. Brazilian Carrot Cake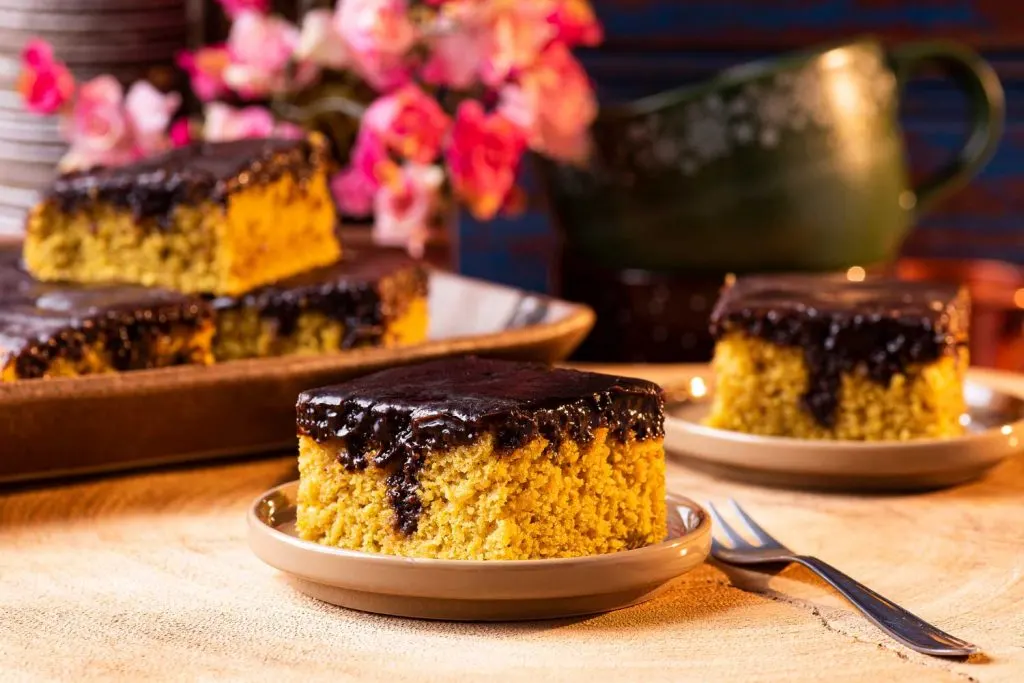 Few desserts widen the eyes and water the mouth quite like Brazilian carrot cake. This is the perfect cake to serve guests in the afternoon or enjoy with a hot coffee while watching the sunset out on the front porch.
The body of the cake is a simple mixture of eggs, sugar, flour, and peeled carrots, which, once baked, gives you a cake with richness and mild sweetness.
It is topped with a viscous layer of chocolate glaze. The sight of the warm, orange body and the thick, dark chocolate glaze oozing slowly over the edge is enough to have any dessert lover diving in with a silver fork!
Get a Brazilian Carrot Cake Recipe Here
6. Arroz Doce (Sweet Rice Pudding)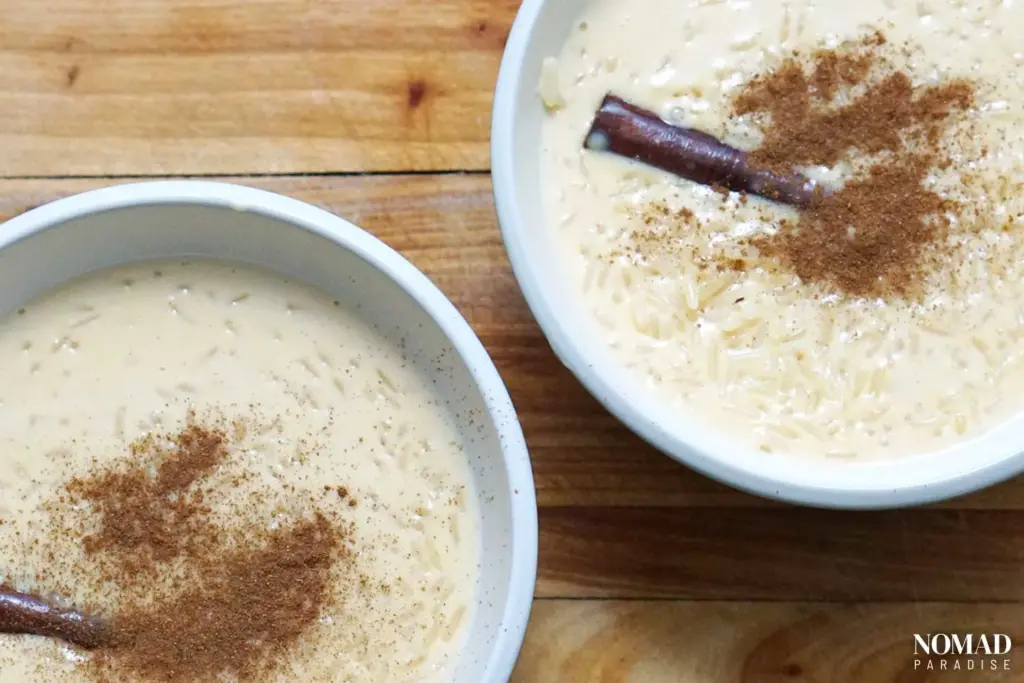 Originating from Portugal, arroz doce is a Portuguese-Brazilian take on the globally popular rice pudding. Thick, filling, and creamy, this is a dessert of Brazil that is effortless to make and becomes more comforting with every mouthful.
Made from a simple mixture of rice, milk, sugar, eggs, and lemon, arroz doce collides a rich, almost custard-like consistency with a sweet, lemon-laced flavor.
Due to the shorter grain rice used, arroz doce is often much thicker and creamier than other versions. If you're looking for a quick, wholesome dessert to whip up for friends or family, arroz doce is definitely worth trying.
7. Cocada (Baked Coconut)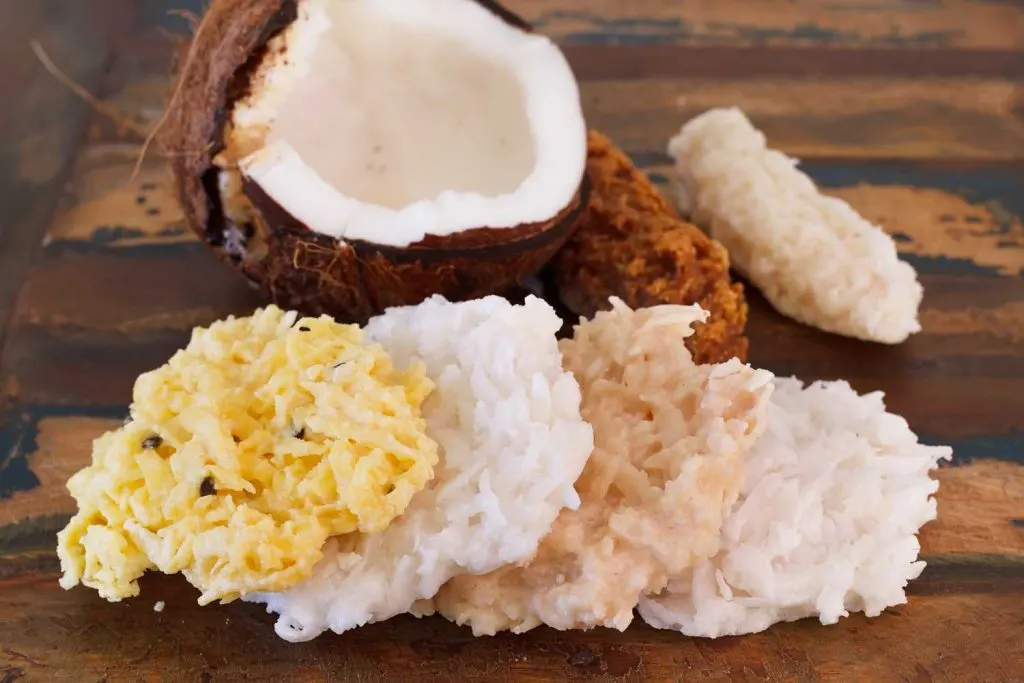 Cocadas are the ideal show-stopper dessert to wow friends, family, and kids at big gatherings, parties, and celebrations.
These delicate, beautiful little orbs of love and color are incredibly simple to make. They are baked from a mixture of egg and shredded coconut, and each and every chewy, ultra-soft bite brings with it a glorious explosion of coconut-laced sweetness.
Cocadas are colored with food colorings, making them a dessert that can wow children and adults alike. This is the perfect Brazilian grab-and-go candy to bring joy and color to any celebration or party.
8. Creme de Papaya (Papaya Cream)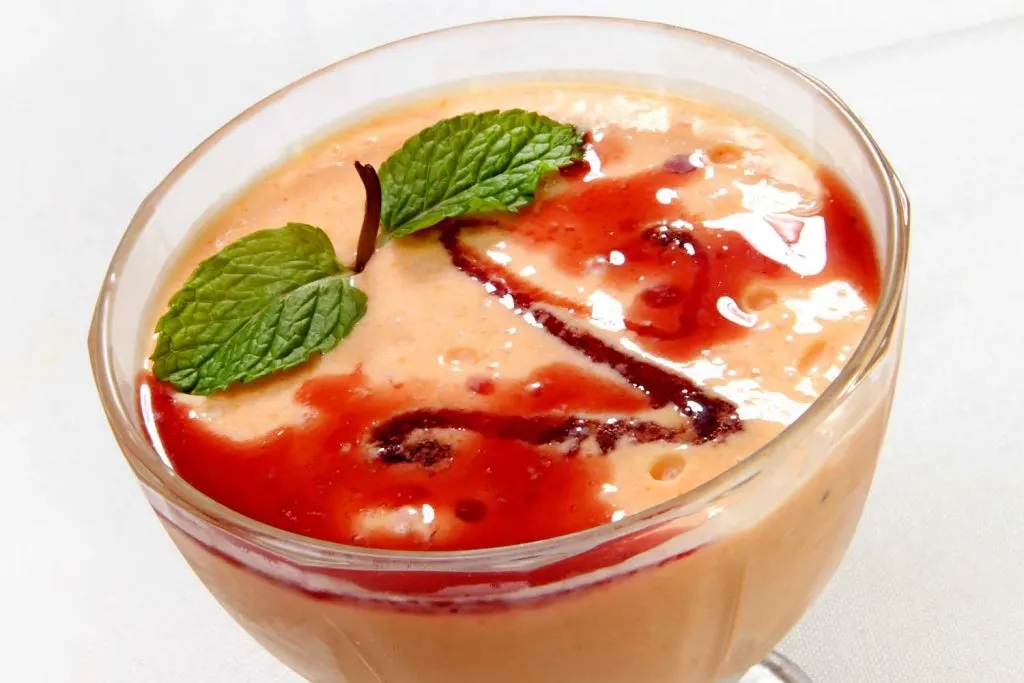 If you're looking for an effortless way to bring the buttery texture and sweetness of papaya into your home kitchen, Brazil's beloved creme de papaya is the perfect way to do it.
Wildly popular in Brazil during the 1990s, this refreshing dessert can be prepared in under five minutes. It is a creamy, luscious fusion of blended papaya and vanilla ice cream, with a drop of creme de cassis, a sweet Brazilian liquor, added once the mixture is thick and creamy.
Serve this to dinner guests on a warm summer's evening on the porch or in the garden, and they will be begging you to make dinner parties a weekly event!
Get a Creme de Papaya Recipe Here
9. Beijinho (Coconut Brigadeiro)
If brigadeiros got the tastebuds tingling, you should definitely consider serving authentic beijinhos at an upcoming birthday party.
Beijinho is essentially a coconut-flavored variant of brigadeiro. Made from a wholesome mixture of condensed milk and coconut, topped with sugar and grated coconut, this is a party candy not to be missed out on.
Meaning 'little kiss,' beijinho is beautiful to behold and brings together a softness, creaminess, and sweetness that so many dessert lovers will fall in love with.
Read more: Beijinhos Recipe
10. Quindim (Custard Tart)
Breathtakingly simple and gorgeous to lay eyes on, quindim is a custard tart dessert popular throughout Brazil.
It is chiefly made from an easily prepared mixture of sugar, coconut, and egg, and commonly prepared in a ring mold, giving it the allure of a colorful jelly.
Its color is vibrant, its exterior glossy, and its texture soft and sumptuous. Eyes will roll from your kids or guests if you serve up this wonderfully simple and delightful Brazilian treat.
11. Romeo and Juliet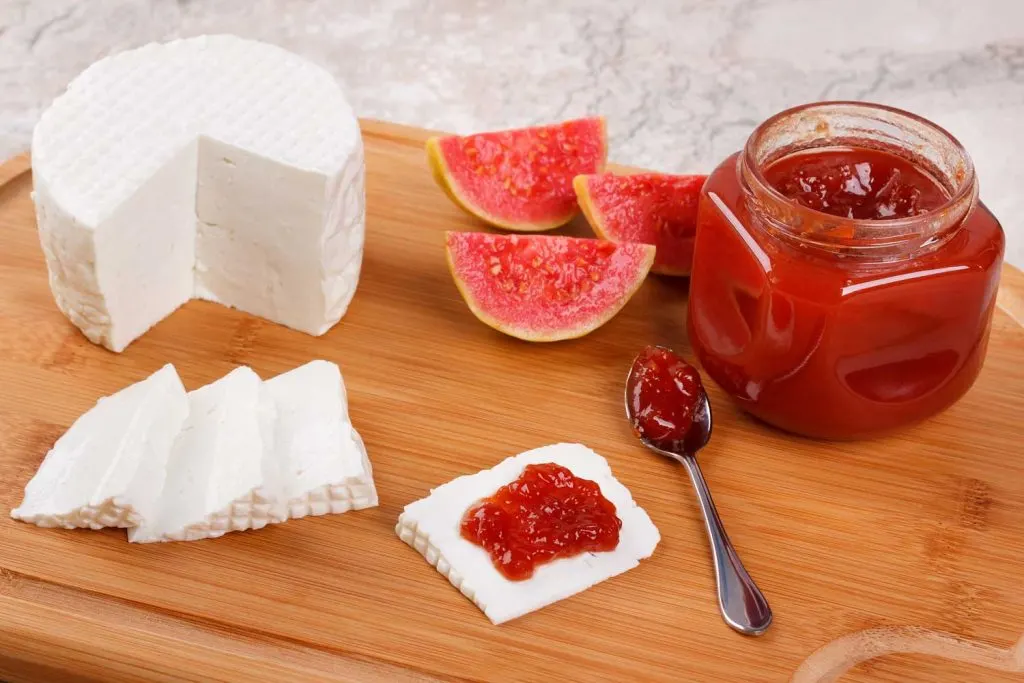 A culinary reflection of the timeless Shakespearean romantic tragedy, Romeo and Juliet is the perfect combination of Brazilian-inspired sweet and salty flavors.
This simple dish arranges slices of queijo minas, a mildly salty cheese from the Minas Gerais region, and slices of tart and sweet goiabada, or guava paste.
The flavor combinations are common throughout Brazilian cooking. But in this dish, they are literally placed side-by-side, often held with a toothpick.
Ideal as an appetizer, this is a wonderful way to introduce curious minds to Brazilian cooking and some of the tastes and flavors to expect.
12. Rabanada (French Toast)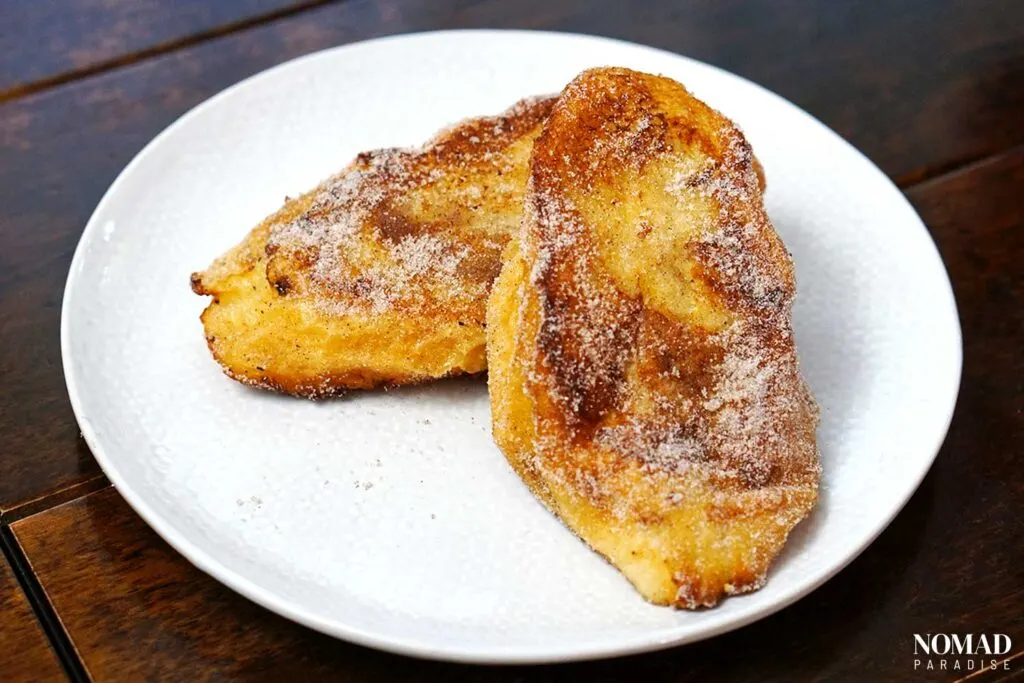 Brought to Brazil via Portugal and Spain, rabanada is a rich and delicious take on the classic French toast, traditionally a food prepared and eaten throughout the Holy Week, just before Easter.
Today, rabanada is enjoyed all year round as a snack or a wholesome dessert. It is easy to prepare, soaking leftover bread in a creamy, milky mixture of condensed milk, eggs, and milk, among other ingredients overnight, before pan frying until golden brown the next day.
The fried, crispy crusts give the toast plenty of depth, while the soft, chewy center unleashes the vanilla and cinnamon-infused sweetness and an almost custard-like taste.
It is an utterly divine take on French toast and ideal for brunches with friends and family.
13. Acai Bowl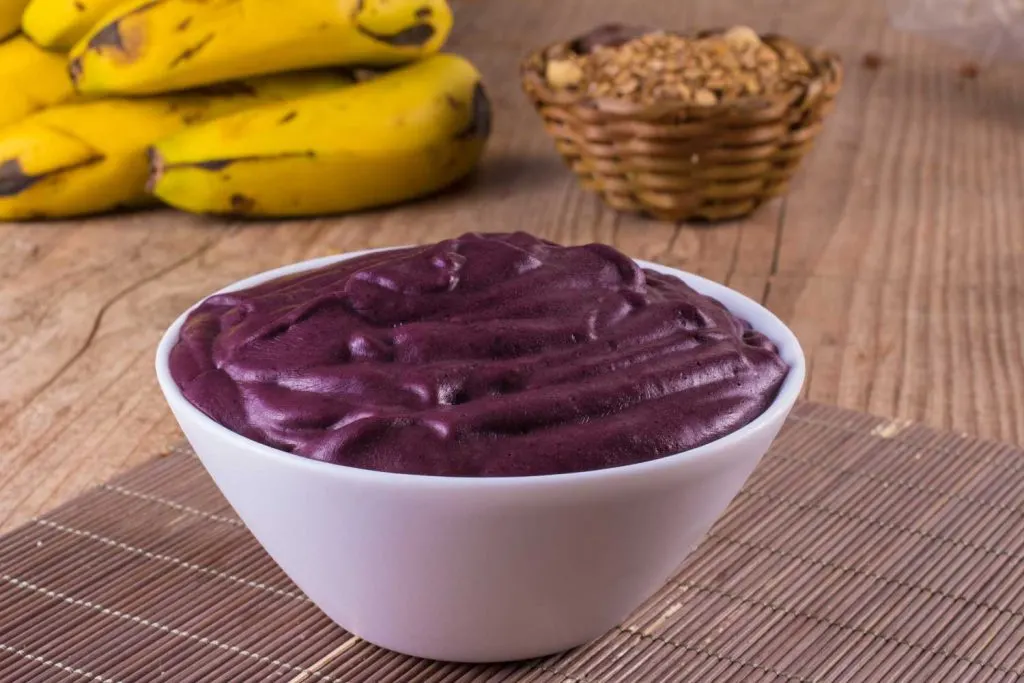 Generally desserts are not renowned for their nutritional value, but the tart, sweet, and refreshing Brazilian acai bowl very much bucks this trend.
Acai berries grow in the rainforests of Brazil and form the key ingredient in this highly sweet, fruity, and flavor-packed dessert.
From bananas to agave, there is no shortage of fruit or juices you can add to the body of acai bowls to make them flavorsome and filling. It is also common to top each bowl with nuts and fruits such as sliced bananas.
Thinned with milk and juices, the deep red color and the smooth ridges of blended acai alone are enough to entice you in with a spoon. This is a Brazilian dessert that is going straight on your Instagram, that's for sure!
14. Bolinho de Chuva (Raine Scones/Beignets)
The beautifully named bolinho de chuva, meaning 'rain scone,' will take like heaven to lovers of donuts and other fried pastries.
Made from a humble mixture of egg yolks, milk, flour, and baking powder, Brazilian bolinho de chuva is a great choice of sweet snack for guests at holiday celebrations or to bring to parties and potlucks.
The name 'rain scone' refers to the shape the batter forms when it first hits the sizzling oil it is fried in. Once ready, these crispy on the outside and soft on the inside pastries are coated in powdered sugar or cinnamon.
Utterly indulgent, bolinho de chuva are a simple way to bring Brazilian cooking into your home without the need for native ingredients.
Get a Bolinho de Chuva Video Recipe Here
15. Cuscuz Doce (Sweet Couscous Tapioca Pudding)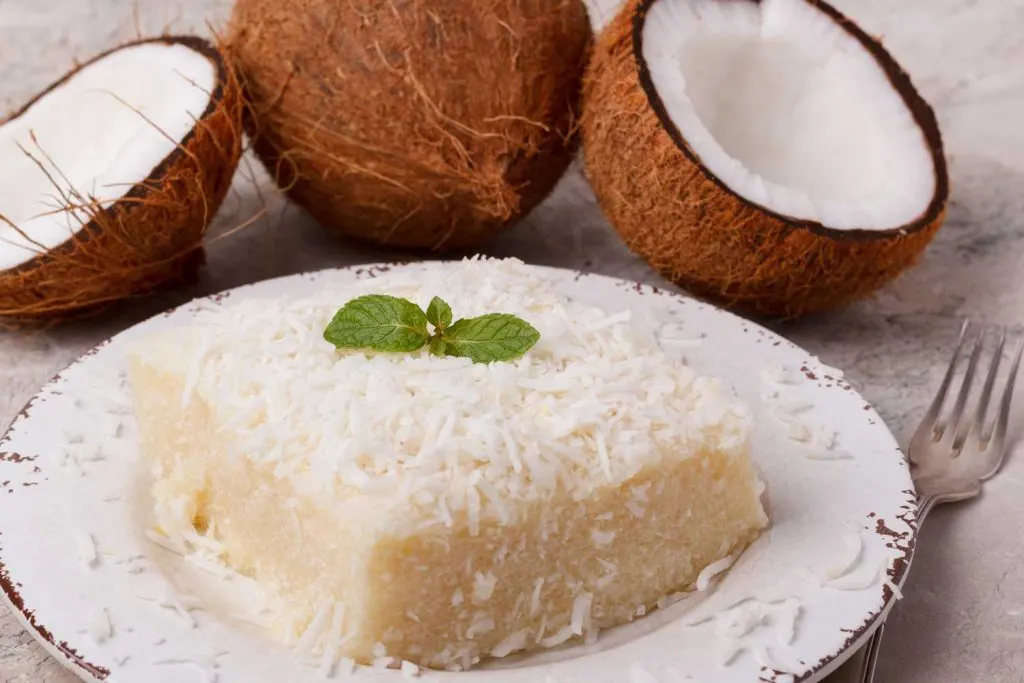 A dessert that truly embodies the resourcefulness and diversity of generations gone by, cuscuz doce is a wholesome, filling dessert, prepared by Brazilian families during the winter, for warmth and comfort.
Its core ingredient is tapioca, a starch from the cassava root. This is boiled in water with milk, sugar, grated coconut, milk, and condensed milk, to create a sweet, wholesome pudding.
Topped with grated coconut for elegance and additional sweetness, cuscuz doce, while sadly from an era of slavery in Brazil, today lives on as one of the country's most comforting and beloved dessert dishes.
If you can source tapioca, this is a simple and plentiful dessert you can make at home to feed a large gathering of guests or family.
16. Curau de Milho (Corn Pudding)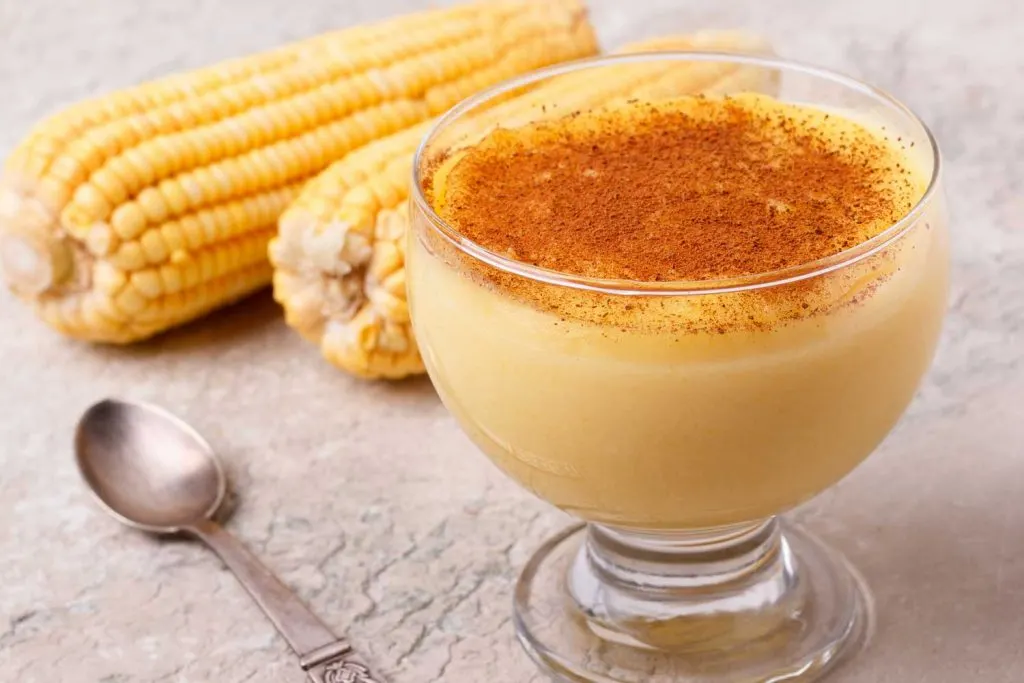 Corn is one of Brazil's most important crops. So it should come as no surprise that this colorful, celebrated food has found its way into some of the country's sweeter dishes.
Brazilian corn pudding makes corn the star of the show in this hearty, simple dessert. Traditionally squeezed with milk to extract the juice, today Brazilian chefs blend the corn mixture, then sieve it to extract the starch-dense liquid.
Once strained, the liquid is cooked with condensed milk and butter, forming a viscous, creamy pudding that is both sweet and starchy.
Topped with cinnamon, curau de milho can be served both warm, like a sweet porridge, or chilled, like a rice pudding.
Get a Curau de Milho Recipe Here
17. Sonho (Brazilian Cream Donut)
With a crispy exterior, and a soft, light, and airy inside, sonhos are a Portuguese-Brazilian fried dough treat that you and your guests simply need in your lives.
The word 'sonho' means 'dream' in English, and these beloved desserts are aptly named. A donut with a difference, traditionally the dough, once fried, is filled with a rich, thick cream that oozes onto the tongue with every bite.
Topped with sugar, sonhos can bring a generous amount of sweetness and comfort to any home gathering, both intimate and large.
18. Goiabada (Guava Jam)
One half of the much-loved Romeo and Juliet, goiabada is a simple Brazilian dessert that has deep historical importance and is wildly popular throughout the country.
It utilizes one of Brazil's most plentiful fruits, the guava. Essentially, goiabada is a fruit conserve of red guava and sugar. A product of colonial Brazil, it is very simple to make.
Today, this deep red fruit dessert is used in a wide variety of ways across Brazil. Be it in drinks, savory, or sweet dishes, guava jam is incredibly diverse and one of Brazil's most popular foods.
Brazilian Desserts Summary
Brazil may not be renowned for its delightful, sweet dishes, but I'm sure you'll agree it should be after taking a closer look at those desserts.
The color, flair, and innovation of Brazilian cuisine come through in each and every one of those dishes. For those looking for inspiration, there's plenty to be drawn from the country's wide array of desserts.
So, give your guests and loved ones plenty to get excited about, and elevate your next holiday feast or get-together with some of these beloved traditional Brazilian desserts, perfect for everyone's sweet tooth, as listed below:
Brigadeiro (Brazilian Fudge Balls)
Bolo de Rolo (Cake Roll)
Pave (Layered Dessert)
Pudim de Leite (Flan)
Brazilian Carrot Cake
Arroz Doce (Sweet Rice Pudding)
Cocada (Baked Coconut)
Creme de Papaya (Papaya Cream)
Beijinho (Coconut Brigadeiro)
Quindim (Custard Tart)
Romeo and Juliet
Rabanada (French Toast)
Acai Bowl
Bolinho de Chuva (Raine Scones/Beignets)
Cuscuz Doce (Sweet Couscous Tapioca Pudding)
Curau de Milho (Corn Pudding)
Sonho (Brazilian Cream Donut)
Goiabada (Guava Jam)
You Might Also Like to Read
Save and Pin for Later
Excited to bring the sweetness and allure of Brazilian cuisine into your humble abode. Keep this list of Brazilian desserts for safekeeping by saving this article to one of your recipes or international foods Pinterest boards.