This post may contain affiliate links, meaning if you book or buy something through one of these links, we may earn an affiliate commission at no additional cost to you. Learn more
Discover a scrumptiously rich and sweet side to one of the Mediterranean's most celebrated cuisines with these Turkish desserts, and bathe your senses in a rippling sea of flavor and texture like no other.
Turkish food mesmerizes with its composition while delighting with its flavor combinations. This certainly rings true in the sweeter side of this cuisine, with so many alluring, colorful, and sumptuous dishes to choose from.
Together, let's unearth more than a few hidden gems on this truly unique culinary adventure, and see a totally different side to Turkish cooking through 23 of the country's most popular desserts to try.
Turkish Desserts
1 – Sütlaç (Rice Pudding)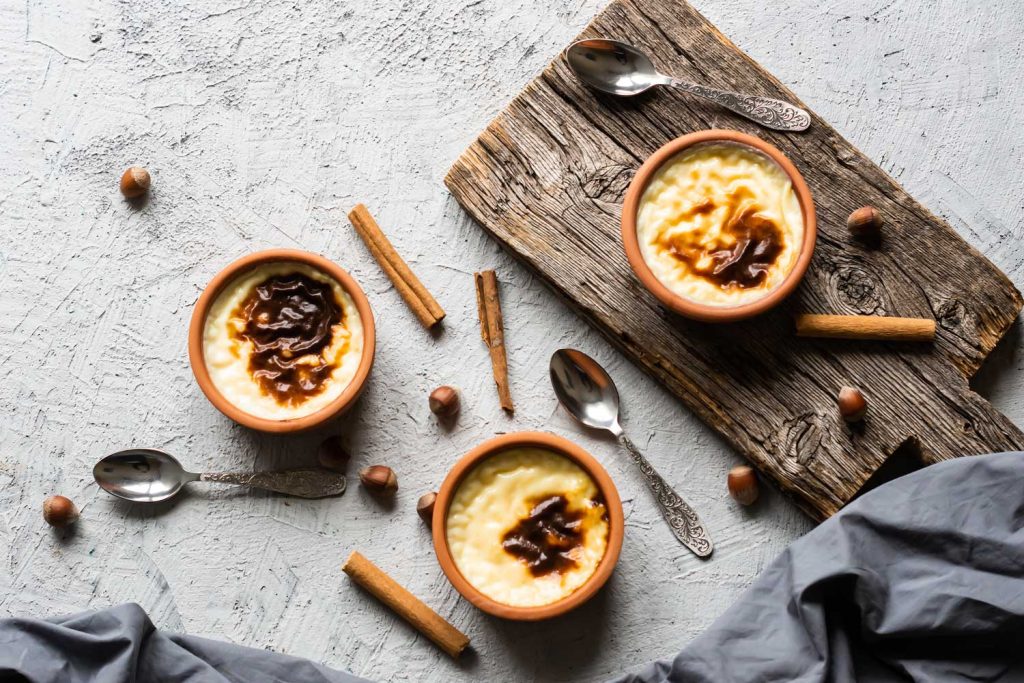 Essentially Turkish rice pudding, sutlac is arguably the most famous of the milk-based desserts in Turkish cuisine. Its core ingredients are milk, sugar, and rice, but its taste is traditionally elevated with cinnamon or vanilla. Renowned and loved for its smooth texture, if you're trying this dessert at home, be sure to add a sprinkle of grated orange peel into the mixture.
Although this may not be the most common way to try this dessert, I personally like to add a spoonful of pomegranate to get a zestier flavor with each and every mouthful.
2 – Baklava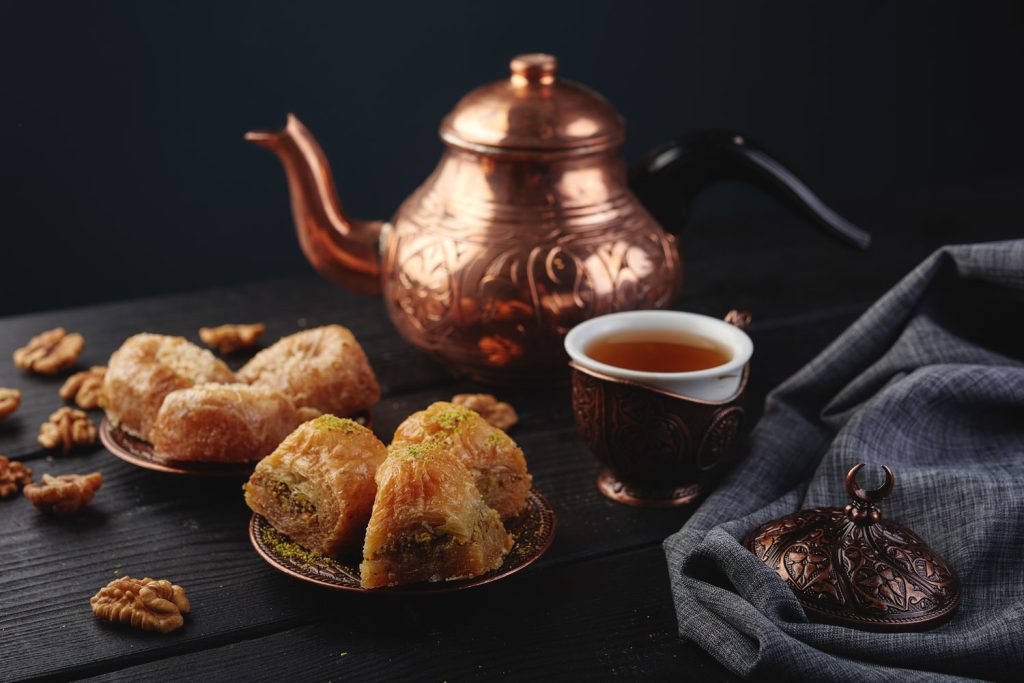 This infamous dessert comes with many questions; do you prefer it with pistachios or walnuts, homecooked or store made, dry or with extra syrup, or in the shape of a diamond or carrots? And that's just the tip of the iceberg.
Traditionally baklava is oven-baked and consists of up to forty layers of delicate, translucent pastry, topped with a layer of finely chopped nuts (ground pistachios or crushed walnuts) and butter. Once out of the oven, it is sizzled and soaked with a sweet traditional syrup.
Its preparation is so mesmeric in fact, if you get a chance to watch how Turkish baklava made, be sure to make it your next reel on Instagram!
3 – Sütlü Nuriye (Milky Nuriye)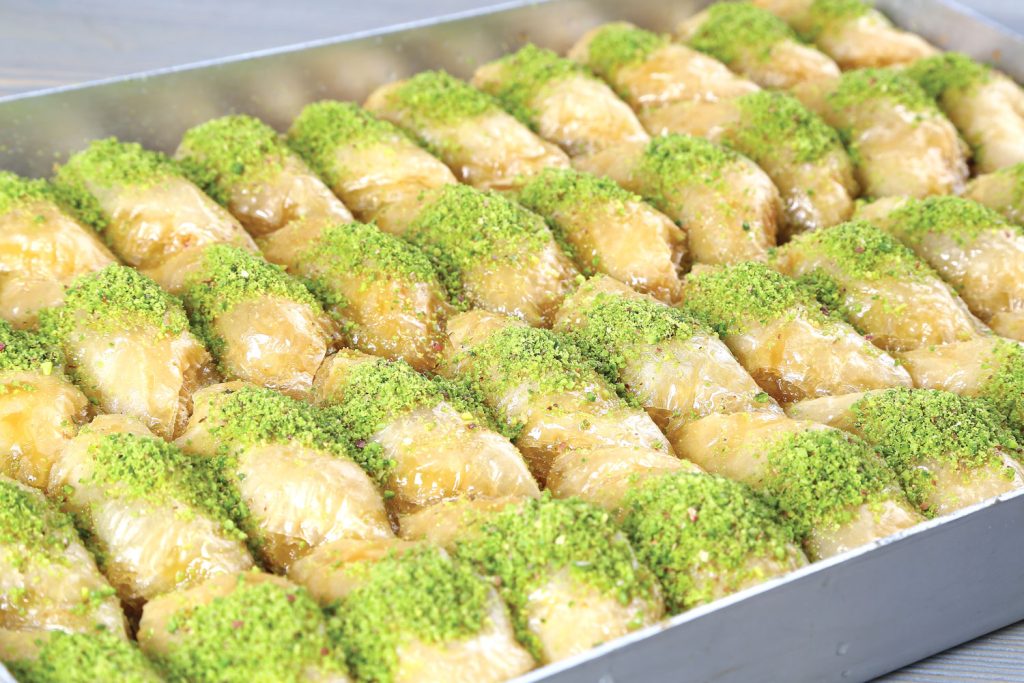 Milky Nuriye is a guilt-free version of baklava and a beloved traditional Turkish dessert. While keeping all the taste and ingredients of baklava, it is cooked with sugar-added milk instead of syrup. It's softer, moist, and arguably lighter on the taste buds than baklava.
Therefore, while you can only eat two or three pieces of baklava in one go, due to its richness, I can assure you that you can and will have much more milky Nuriye! How is that not good news for a cheat day?
4 – Şekerpare (Sugar Cookie)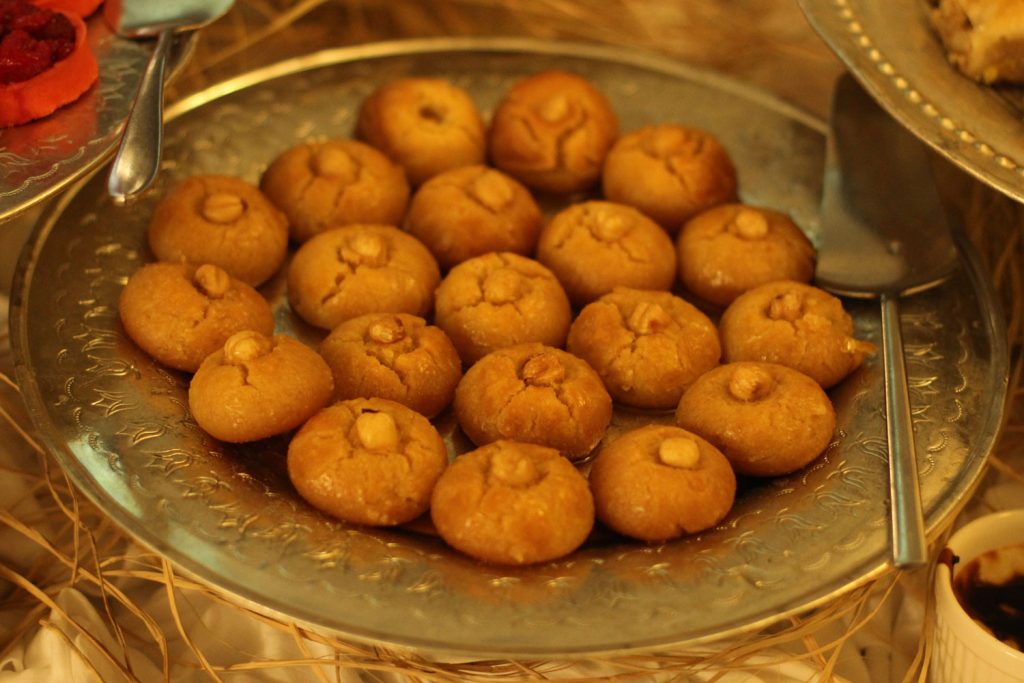 Şekerpare is a sweet treat adored by both kids and adults throughout Turkey. You only need to sink your teeth into one once, and you'll instantly understand why.
This blissful almond and semolina cookie, soaked in sugar syrup with a cute little nut or almond nestled on top, both looks beautiful and sounds idyllic. The syrup softens the cookie, and texturally it feels as though you're eating a sumptuously soft mash of sugar, rather than a cookie.
It is one of the sweetest dishes in Turkish cuisine, and pairs perfectly with a dollop of cottage cream, which balances the sweetness of the sugar.
5 – Aşure (Noah's Ark Pudding)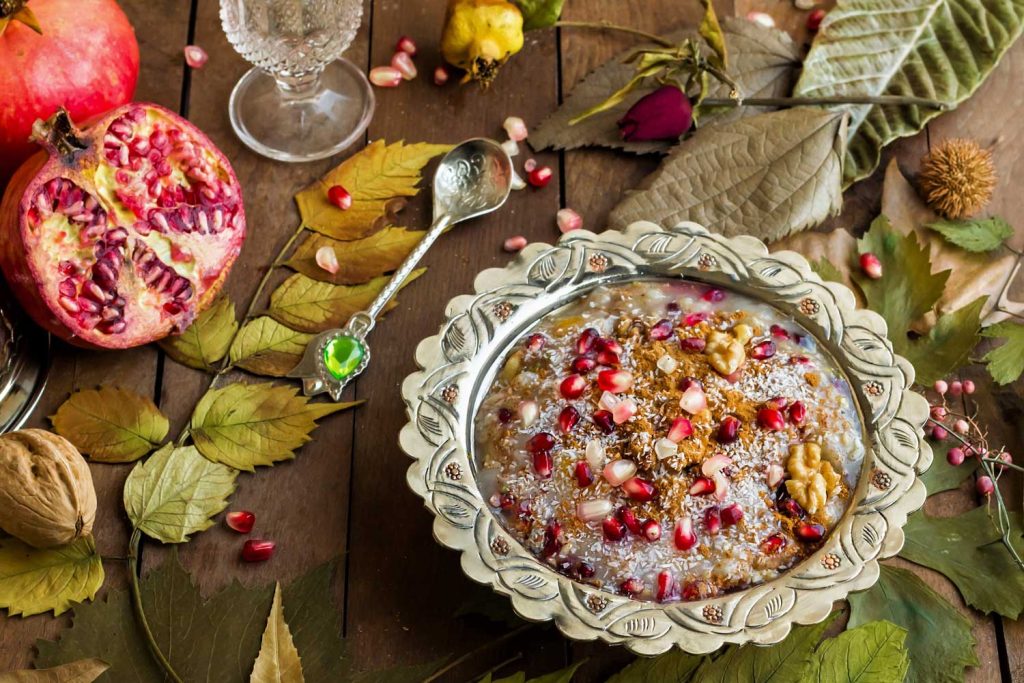 A commemorative dessert, it is believed that this is the dish Noah and his family prepared once Noah's Ark docked on Mount Ararat. With their supplies severely depleted, they gathered what they had left, such as grains and fruit, and cooked these remaining ingredients together, in a simple and wholesome pudding.
A dish that Turks prepare with deep passion and pride, to this day the pudding is cooked to mark this occasion. While the ingredients used in aşure vary from household to household, you will commonly find beans, chickpeas, chopped fruit, dried fruits, and nuts in this dish, which when cooked has a similar consistency to a thick, nutritious porridge.
Additionally, I love to add a generous pinch of cinnamon, pomegranate, and dried apricot to the pudding, giving each mouthful a little extra sharpness and spice.
6 – Güllaç (Rose Pudding)
While a dish somewhat fading in popularity in modern times, in a cuisine of rich sweetness, güllaç is one of the most breathtakingly refreshing dishes to try in Turkey.
Güllaç is essentially a milk pudding. It is comprised of starch and water-based sheets, soaked in a generous amount of sweetened milk and rose water. It is commonly served topped with pomegranate and pistachio.
Undoubtedly one of the lightest and most refreshing Turkish desserts, it is commonly consumed during the month of Ramadan. However, in my humble opinion, I believe this traditional dessert should be eaten all year round!
7 – Hoşmerim (Dairy Halva)
Halva, a crumbly, fudge-like dessert commonly made from nut butter or seeds, is a hugely popular dish in many Levant and Middle Eastern cuisines. If this rich and textural treat speaks to your soul, then you're bound to find a place in your heart for Hoşmerim.
Hoşmerim, or cheese halva, is a type of halva made from milk, sugar, semolina, eggs, and rennet. Relatively unknown on a global scale, this style of halva gives you the crumbly, fudge-esque textural delights, while offering a more sweet and savory flavor profile.
Commonly served topped with cinnamon, my personal recommendation is to try it with homemade strawberry jam. This combination is a real game-changer, I can assure you!
8 – Sakızlı Muhallebi (Gummy Pudding)
"Sakiz" means both "mastic", a resin from a unique type of Mediterranean tree, and "gum" in Turkish, which are both equally applicable to this delicious and aromatic pudding.
Simple to prepare, this pudding is made from a mixture of butter, milk, vanilla, flour, and mastic, topped with a sprinkle of cinnamon.
Although called a gummy pudding, the texture of this pudding is anything but stretchy and sticky. Instead, it is sumptuously soft and creamy, and the light glistens against its surface as it wobbles.
Easily found in almost any Turkish bakery, this wholesome dessert is my absolute favorite to enjoy as an after-dinner treat throughout the cold Turkish winters, due to its comforting and filling nature. It's arguably one of the best Turkish desserts you'll try.
9 – Cezerye (Turkish Jelly Tots)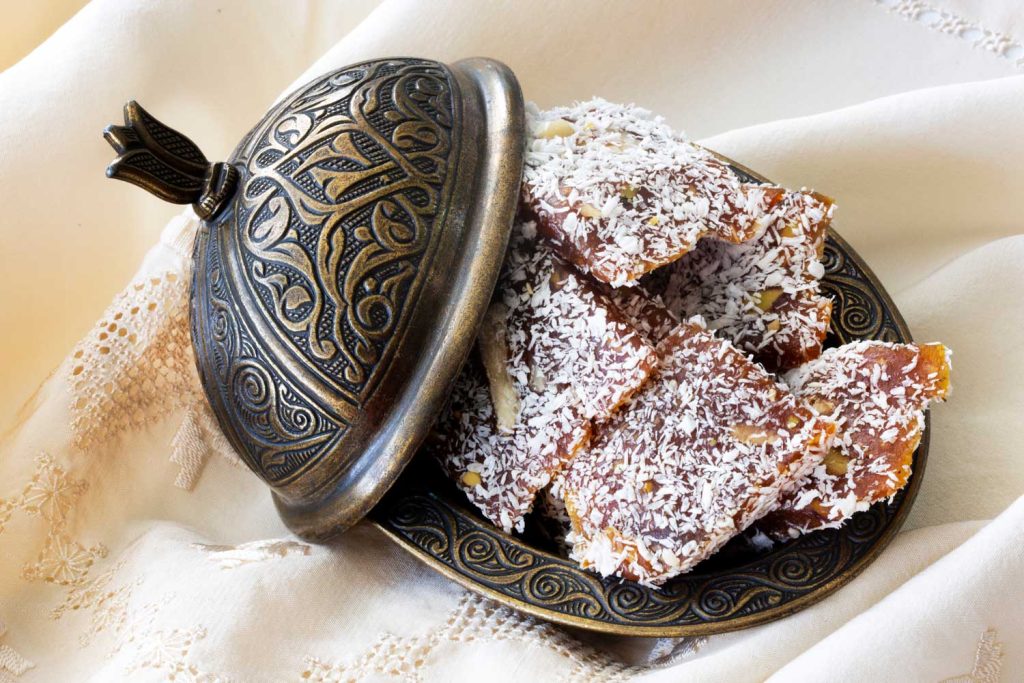 Meaning "carrots" in Arabic, while this simple vegetable may not be the first thing you think of when it comes to rich, sweet treats, I assure you there is far more to this beloved candy than its name implies.
Cezerye combines carrot, coconut, walnut, and hazelnut or pistachio, melding them into a sweet, thick paste that is hardened, then cut and served either as chunks and pieces or packaged as candy bars.
Packed with sweet and nutty goodness, these candies are enjoyed throughout the day in Turkey and are commonly eaten as an energizing afternoon snack.
10 – İrmik Helvası (Semolina Halva)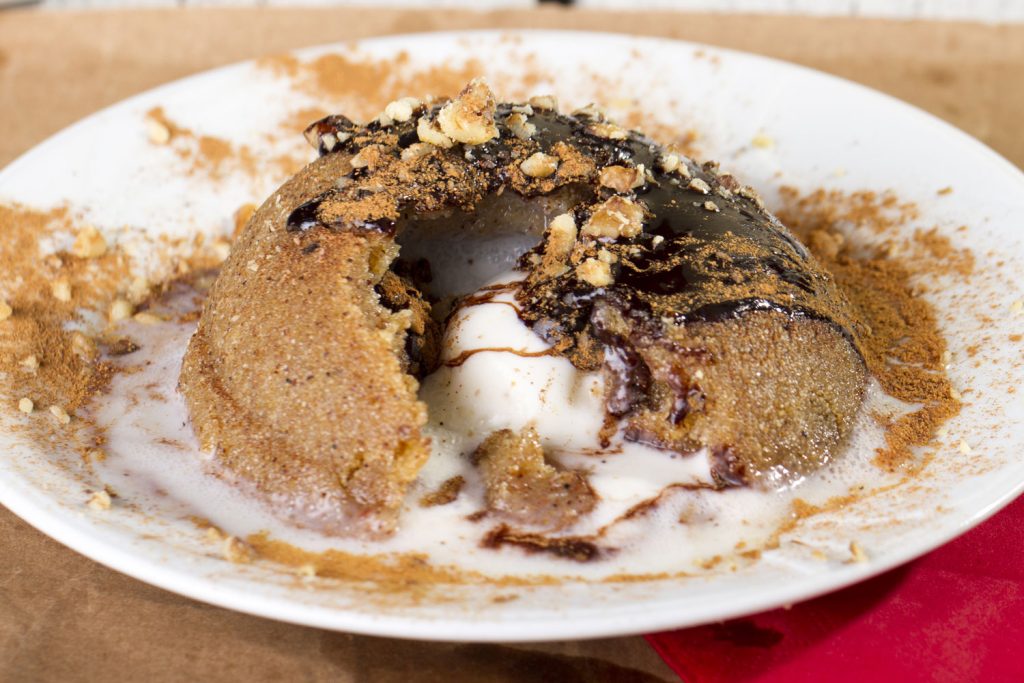 It's time to put halva in the spotlight again, and this time in the form of semolina halva. This vastly popular dessert is a common sight at kebab shops and restaurants and is traditionally served at wakes in Turkey.
It is made from semolina, butter, sugar, milk, and pine nuts, commonly topped with cinnamon. Its often enjoyed with a scoop or two of ice cream, either on the side or placed beneath the hot serving of semolina halva.
Semolina halva served with cinnamon and ice cream is a heavenly combination and, no doubt, one of the country's most beloved desserts.
11 – Un Helvası (Flour Halva)
Those seeking a treat with plenty of sweetness should look no further than un helvasi. Made from a simple mixture of flour, sugar, and milk, this dish proves that even basic ingredients, when combined in the right way, can yield truly delicious results.
Once the ingredients have been mixed, they are added to a hot pan and stirred until the texture thickens to become dough-like in consistency.
Once cooked, the mixture is removed from the pan and shaped into cookie-like balls, that can be enjoyed topped with various ingredients, such as crumbled pistachio.
Enjoyed with a cup of hot aromatic tea, this is the ideal sweet treat to enjoy as an afternoon snack as you take some time to relax and watch the world go by.
12 – Kabak Tatlısı (Pumpkin Dessert)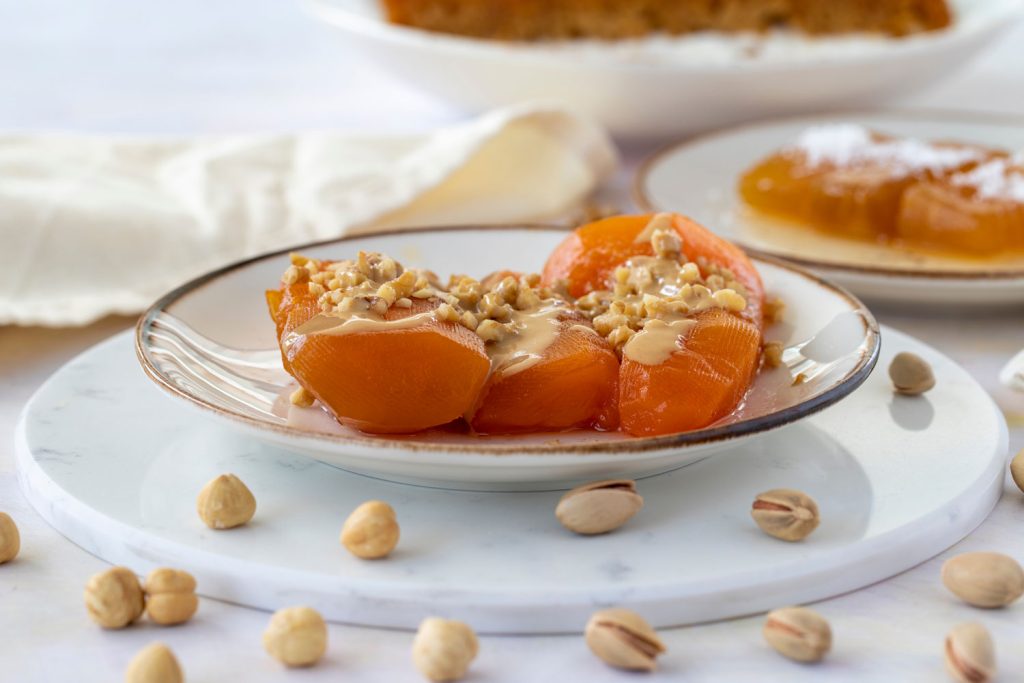 Pumpkin-based sweet dishes don't just have to be enjoyed during the American and European holiday season, as is the case with kabak tatlisi.
This sumptuously soft Turkish pumpkin dessert of cooked pumpkin and sugar melts in the mouth and can be served topped with tahini, nuts, or clotted cream, among others.
This dish was always a staple we enjoyed during New Year celebrations with my family growing up, and I highly recommend you try making it at home for Thanksgiving or the festive season if you don't get to try it in Turkey.
13 – Demir Tatlısı (Fried Batter with Iron Moulds)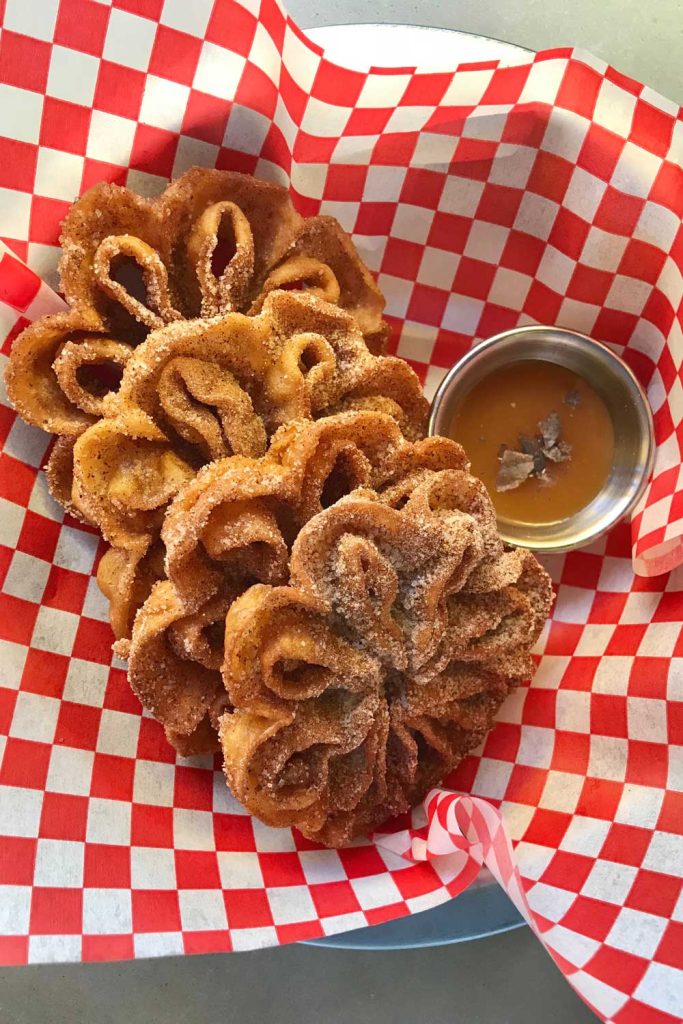 Made from a batter of yogurt, eggs, sugar, salt, and lemon, the decadence of these fried delights alone will have you staring with longing through the window of Turkish bakeries and sweet shops, let alone their taste.
The dessert's intricate, beautiful floral shape is created by filling an iron mold with the batter, which is then fried until golden brown and crispy.
Finally, the flower-shaped treats are soaked in syrup and commonly served with a glass of deliciously hot Turkish tea.
14 – Lokum (Turkish Delight)
Arguably the Turkish dessert with the biggest celebrity status due to its popularity worldwide, Turkish delight promises an utterly unique culinary experience if you have never tried it, both in taste and texture.
Made from a base of starch, gel, and sugar, the flavors available to try are vast and mind-boggling, including so many different fruits and nuts. These soft, sweet, and sticky cubes are commonly covered in sugar or coconut shavings.
This delicacy can be found in airports, convenience stores, and candy shops not just in Turkey, but all over the world. Most Turks agree that this fabulous and hugely popular Turkish dessert should always be enjoyed with a cup of piping hot and strong Turkish coffee.
15 – Revani (Semolina Cake in Syrup)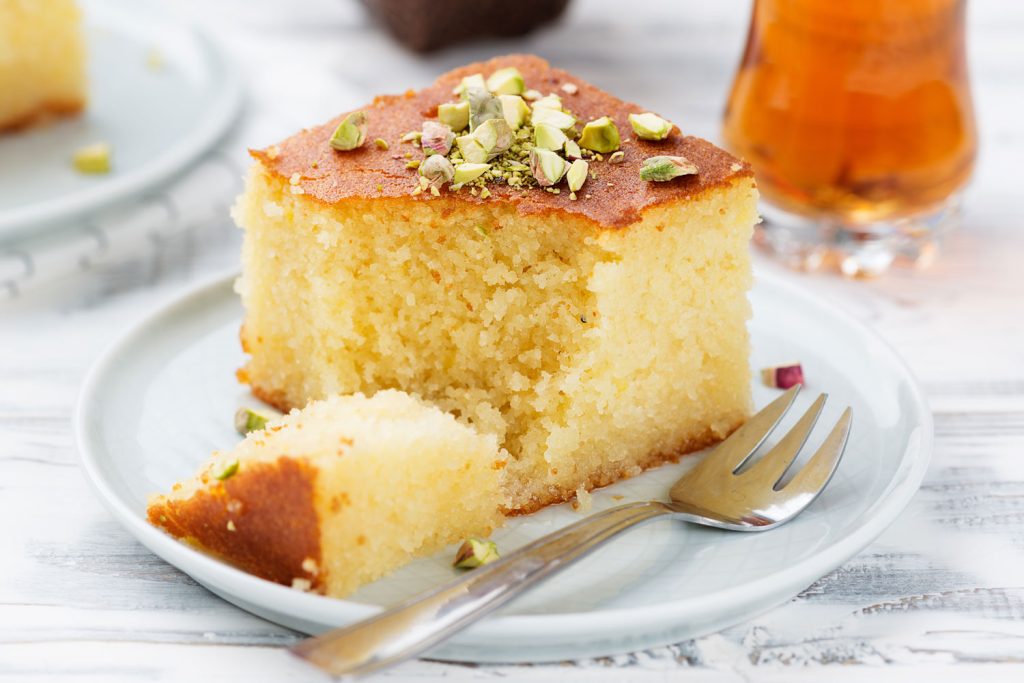 Revani is sure to put a smile on your face if you loved your baked dishes. This vanilla and semolina cake, once baked, is soaked in traditional Turkish syrup, adding a generous layer of sweetness to the hearty and fragrant base.
Despite its appearance, the base of this cake is deceivingly soft, meaning every mouthful simply melts upon touching the tongue as it unleashes a tide of wonderfully sweet syrup, laced with vanilla.
To truly enjoy a slice of this Turkish favorite, be sure to order it served with a side of cottage cream, which compliments the semolina base wonderfully.
16 – Kadayıf (Angel's Hair Dessert)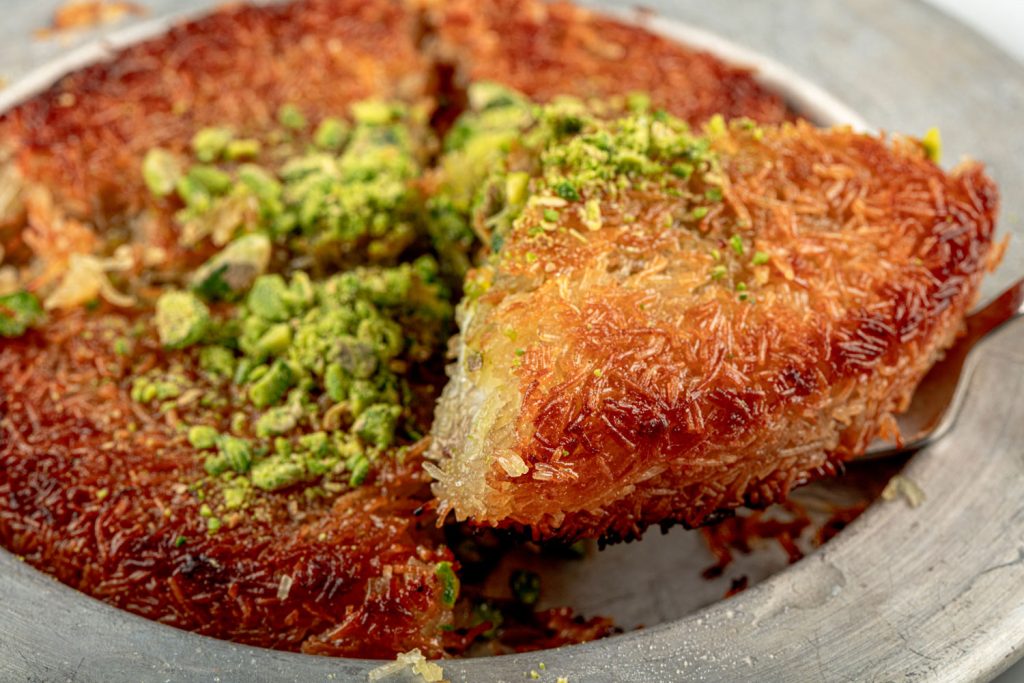 Don't be fooled by its poetic name, as kadaifi, or angel's hair, is far from being an innocent dessert! It is a dish of special kadaifi noodles and pistachios or walnuts, baked in the oven and finished with a generous drizzle of traditional lemon syrup.
Many Turks enjoy a slice of this delicious cake with a dollop of cottage cream. When it comes to the question of pistachios or walnuts, I personally prefer the pistachio version, but walnut kadaifi is just as delicious.
Consumed with a glass of cold milk, a slice of this unique and wonderous Turkish dessert is enough to get you hooked, no questions asked.
17 – Tulumba (Fried Dough with Syrup)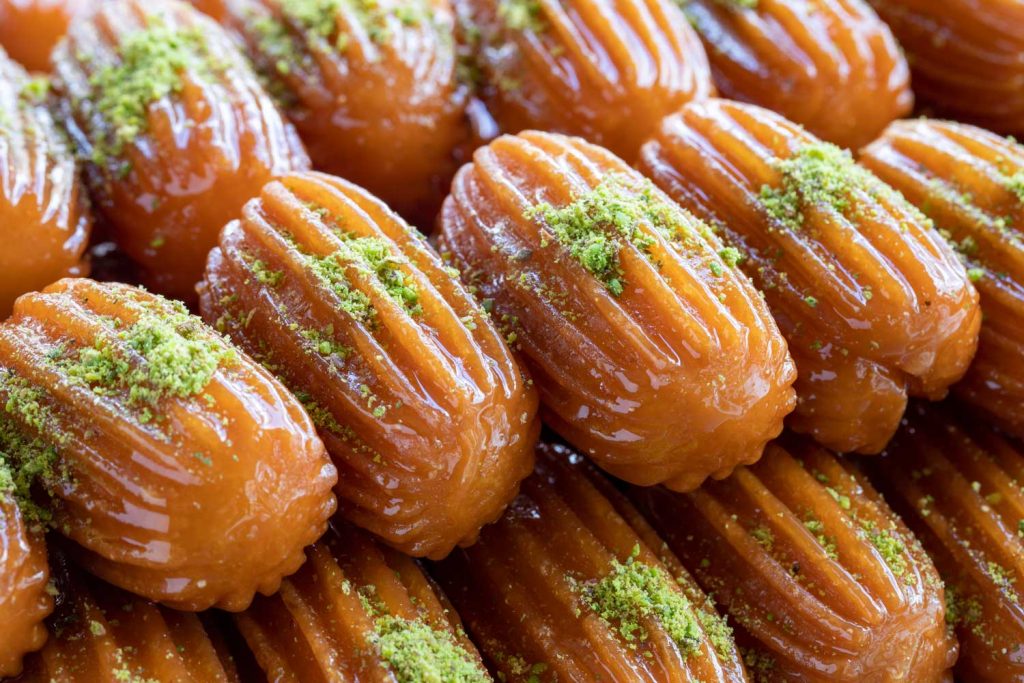 I tried my first ever tulumba in the smallest little candy shop, and I was instantly blown away by how such a simple fried pastry can taste so rich, sweet, and utterly divine.
This dessert is made from a simple donut batter and white wine vinegar and is deep-fried in batches before being soaked in syrup. The first bite has plenty of crunches, but once you break through that outer shell, a delightful mouthful of syrup and soft batter releases from the dough.
Tulumba is the go-to sweet gift for dinner parties or a Sunday family visit, so be sure to keep your eyes peeled for it in local bakeries if you are invited to a local's place for lunch or dinner.
18 – Pişmaniye (Turkish Cotton Candy)
Made from flour, butter, and pulled sugar, Turkish cotton candy feels soft in the mouth and melts immediately as it touches your tongue.
A popular Turkish delicacy, today many versions of Turkish cotton candy are available to try in candy shops and food markets across Turkey. Personally, I'd highly recommend trying pistachio before any other flavor.
19 – Dilber Dudağı (Lady Lips Dessert)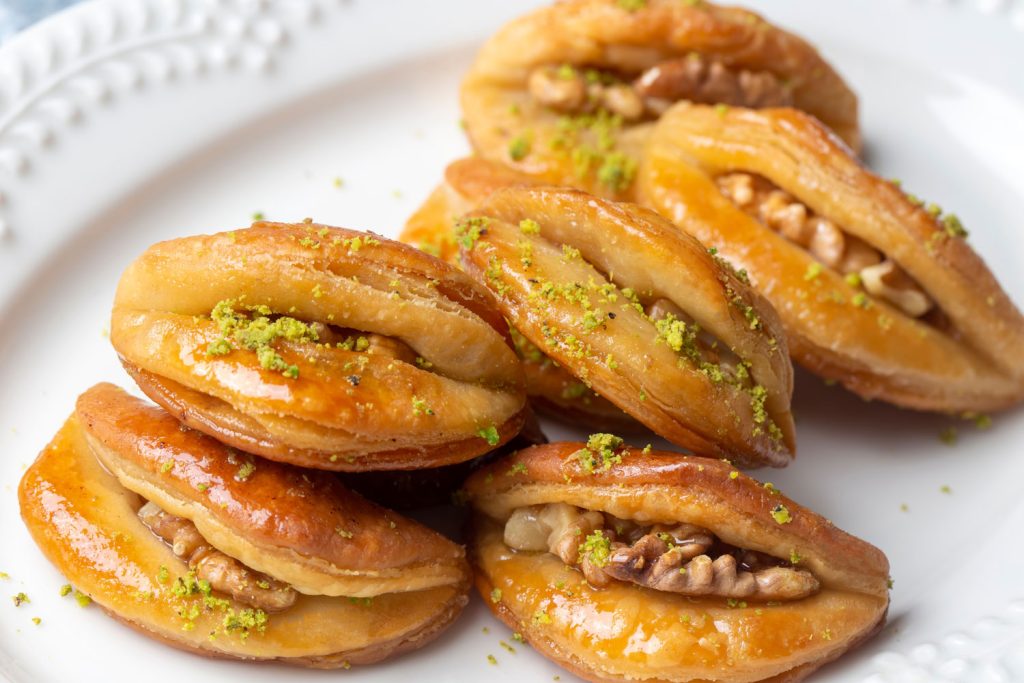 There are no prizes here for guessing where this unique Turkish dessert got its name from! But look past the connotations of the name, and you have one of Turkey's most sumptuous desserts, oozing with sweetness and brimming with flavor.
Lady lips are made of a simple dough of milk, butter, egg, four, yogurt, sugar, water, and a touch of lemon zest, and it's drizzled in syrup once prepared, in a similar vein to many desserts of the Ottoman cuisine. Once the dough has been rolled and folded, it is filled with various nuts, including pistachios and walnuts.
Lady lips is not the only dessert with a name of a sexual nature in Turkish cuisine. It is in good company with dishes such as Hanımgöbeği, or "lady's navel", and Vezir Parmağı, or "visier's fingers".
20 – Kemalpaşa (Kemal Pasha Dessert)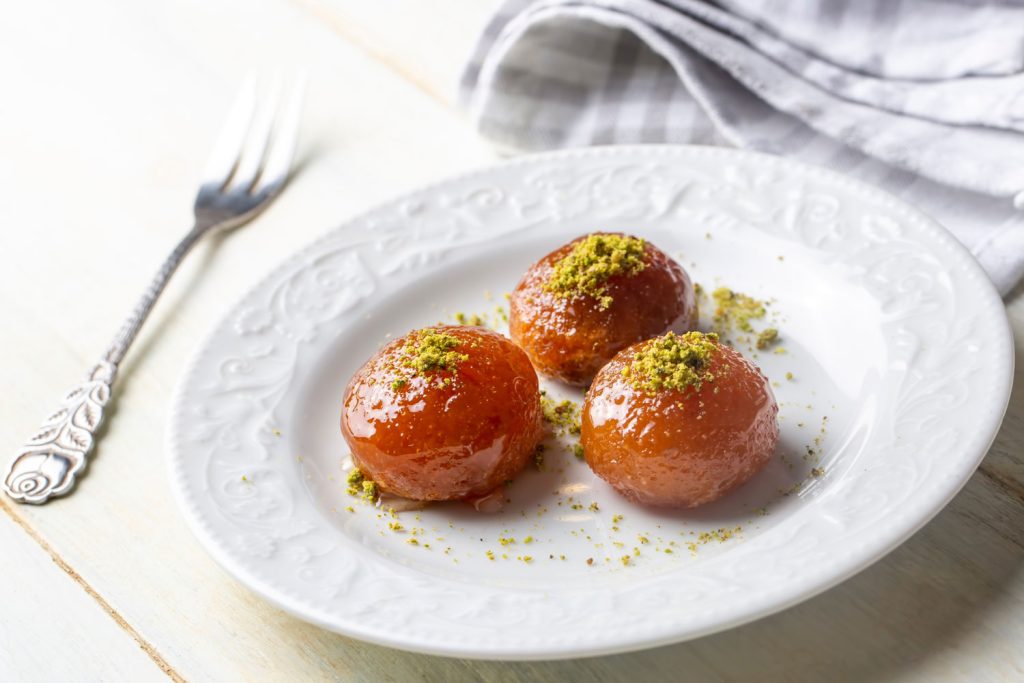 Taking its name from the founding leader of Turkey, Kemalpaşa is a dessert that lives up to its name. Spoon-sized balls of Kemalpaşa are made from a similar mixture to that of Şekerpare, but without almonds.
This dish is tender and moist and tastes and feels like a lighter version of Şekerpare in both its size and density. Served with a dollop of cottage cream, you are very much in for a treat with this Turkish favorite.
21 – Osmanlı Macunu (Turkish Toffee Paste – Ottoman Paste)
Very much a beloved Turkish street food, what's fascinating about these toffee-like Turkish candies, aside from their bright colors, is the range of interesting flavors on offer.
Herbs and spices including bergamot, mint, cinnamon, mastic, and rose, along with the likes of lemon, are all flavors of Ottoman paste you can try.
When wandering through Turkish towns and cities, keep your eyes peeled for food vendors carrying a tray of these colorful candies, skewered with sticks, and be sure to give it a try.
22 – Maraş Dondurması (Turkish Ice Cream with Salep)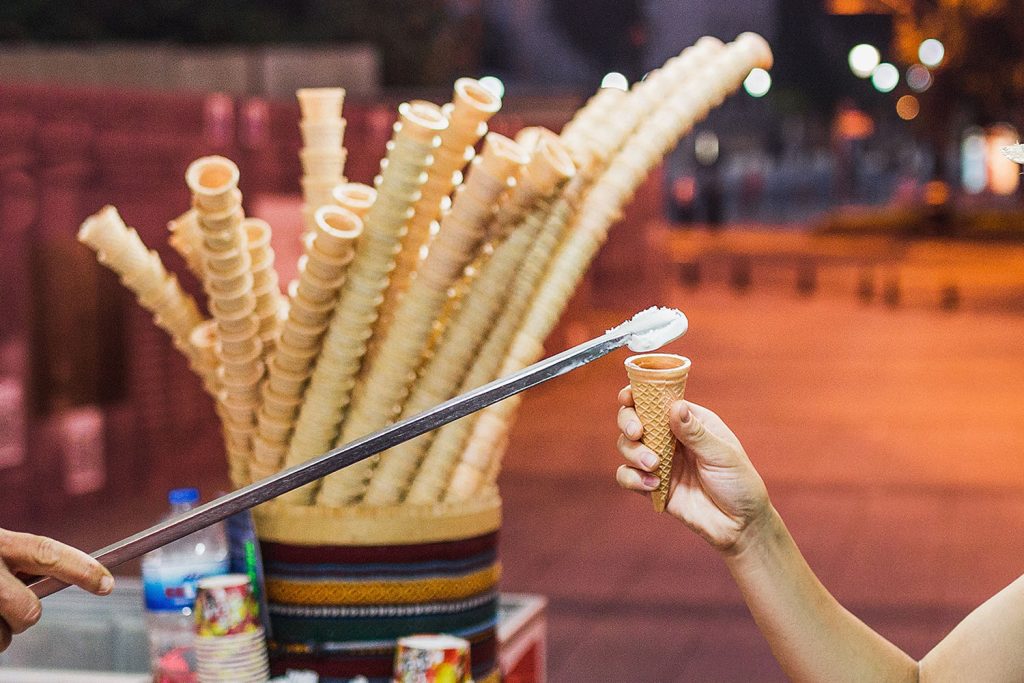 Turkish ice cream has always been a source of intrigue for tourists, courtesy of ice cream parlors' fun and odd serving style. You may have seen the videos of people trying to catch a scoop of ice cream from the end of a long stick, being mercilessly swung back and forth by a vendor.
The use of salp powder in Turkish ice cream helps give it its unique and stretchy texture, and a wide range of delicious flavors lay in wait if you dare to embrace this one-of-a-kind style of ice cream.
23 – Acıbadem Kurabiyesi (Turkish Almond Cookie)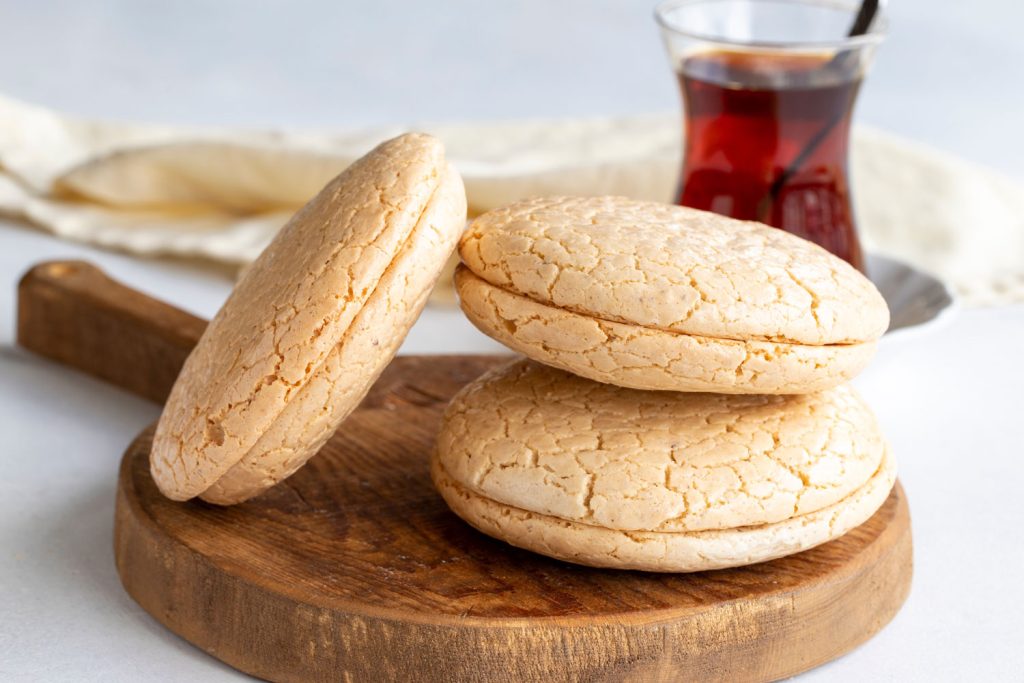 Almond cookies are similar in texture to French macaroons, they are made from a mixture of almonds, sugar, and egg whites, with other ingredients added depending on preference.
The first bite treats you to a generous amount of crunch, but beyond the hardened shell, each mouthful quickly softens, unleashing the sweetness of the sugar and the strength and purity of the almonds.
Turkish almond cookies can be found in stores across the country, each with their own slightly different flavors and textures, making it a real joy to try as many different cookies as you can.
Growing up, I always remember coming home to fresh boxes of almond cookies my parents had bought from the bakery, and their wonderful aroma luring me in from the moment I opened the front door.
Turkish Desserts Summary
A world of abundant richness, sweetness, and texture awaits when you turn your culinary curiosity to the flavors and combinations of Turkish desserts.
Turkey's love affair with great food extends far beyond its mezes and iconic main dishes, and you'll find that same love, passion, and attention to detail plentiful in all of the Turkish cuisine's sweeter dishes.
With some dating as far back as the reign of the Ottoman Empire, these popular Turkish desserts offer so much joy and flavor, especially if you have a sweet tooth!
Be sure to look in bakeries and candy stores wherever your travels in Turkey take you, as I guarantee you'll be able to find plenty of these delicious desserts to try.
You Might Also Like to Read
Save and Pin for Later
Heading to the heat and magic of Turkey soon? Keep these must-try desserts for safekeeping, by pinning this article to one of your foodie travel boards.
Author: Hazal Erdil is a lawyer, translator, and content writer with a deep passion for food & travel. She writes about Turkish cuisine, travel, legal, and business matters.
Images licensed via Shutterstock