This post may contain affiliate links, meaning if you book or buy something through one of these links, we may earn an affiliate commission at no additional cost to you. Learn more
If you're visiting Turkey soon, and want to learn more about Turkish food, you've come to the right place. Our in-depth guide takes a closer look at the history behind Turkish food and puts the spotlight on 24 delicious traditional Turkish foods.
Whether you want to cook them at home or order them at a Turkish vendor or restaurant, there's a wide range of Turkish foods on this list even the most casual of food will be able to find rich taste and pure joy in. Cutlery at the ready, because it's about to get sensual and delicious in here!
Introduction to Turkish Food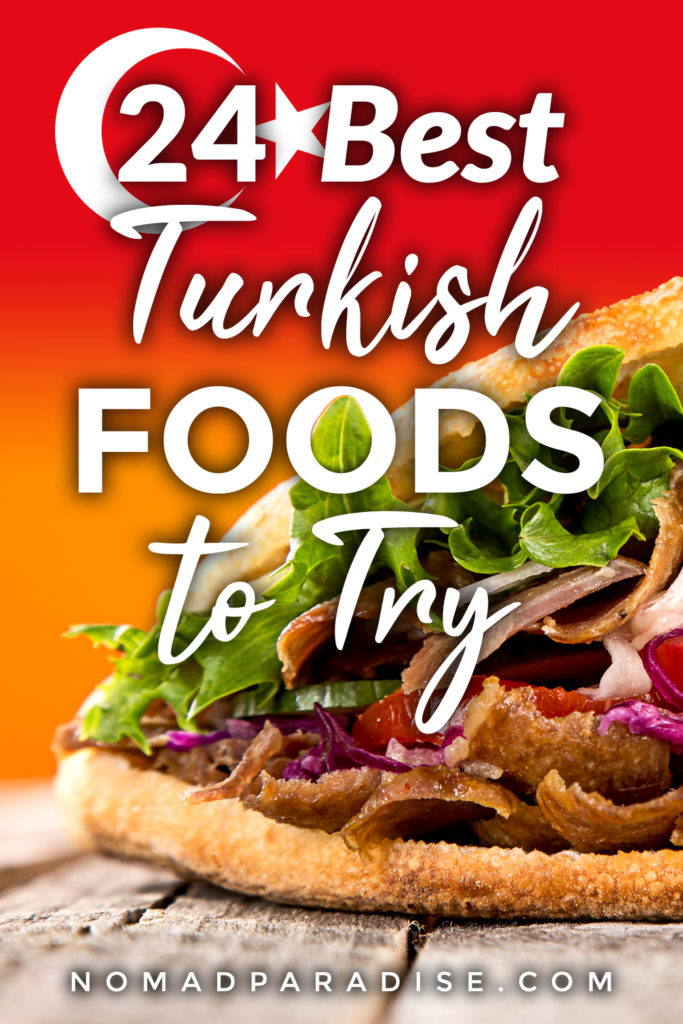 Turkish food and Turkish cuisine are often both rich and savory, a true fusion and refinement of Middle Eastern, Central Asian, Greek, and Eastern European cuisine. The country's vast array of specialties has, in turn, influenced the cuisines both in neighboring countries and countries across the globe.
Turkish cuisine includes a mouth-watering combination of indulgent mezes, fresh vegetables, seasoned meat, and sweet, sticky pastries. It incorporates some of the tastiest foods in the Mediterranean, which is an excellent place to start when building a world-class cuisine!
Few countries can fuse both Asian and European cuisine in such a wonderful way, but Turkey does it exceptionally well. So much so, we felt it a crime not to take a closer look at Turkish food and make it one of our top Travel Foods for travelers far and wide.
So, if you're ready and rearing to go, let's get close and personal with 24 Turkish cuisine delights you simply must try when you visit the vast and beautiful country of Turkey.
24 Traditional Turkish Foods You Simply Must Try
1 – Manti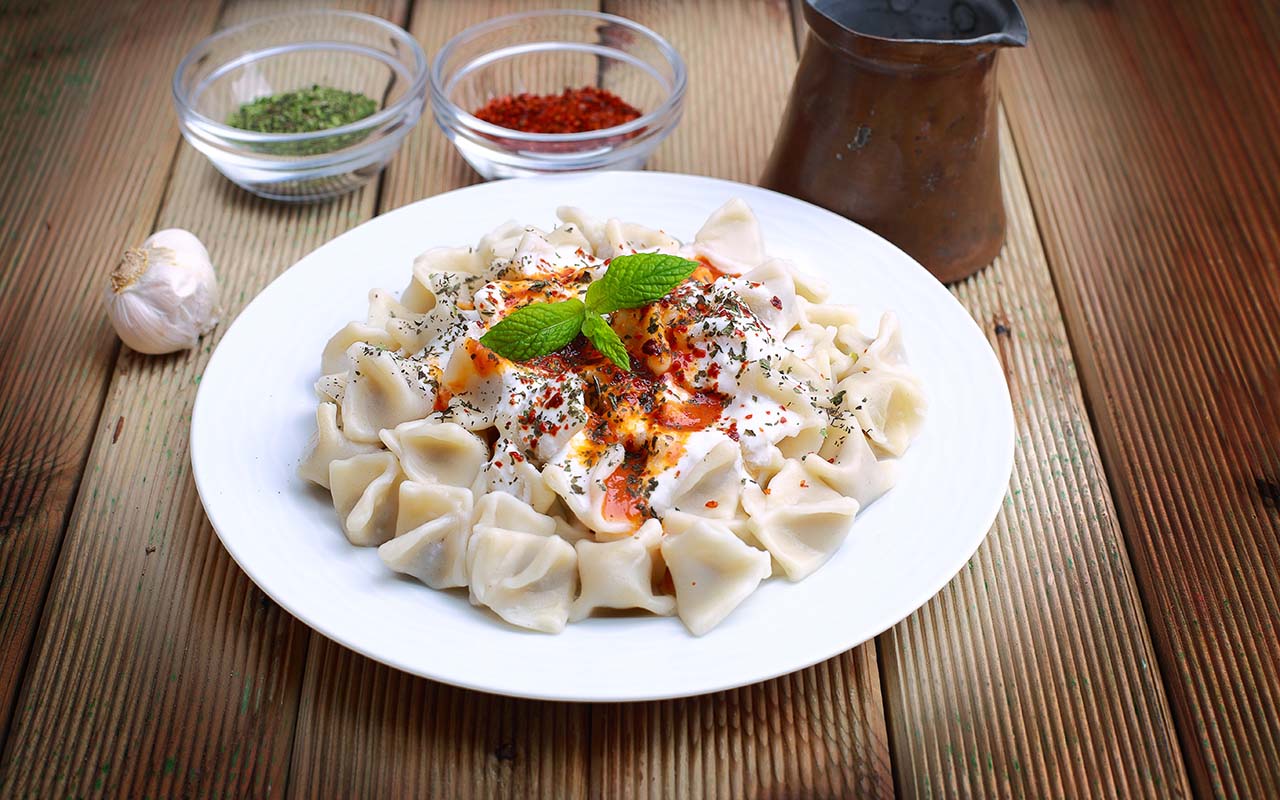 Manti is the Turkish version of the Italian ravioli, but with a unique taste and texture. The miniature ravioli are fried or boiled dumplings with lamb or beef, seasoned with a wide range of spices. The spiced ground meat is simply delicious, and it pairs excellently well with the garlic tomato sauce.
It's usually served with butter or yogurt, and accompanied with different spices. As Turkish food goes, it's a delicious place to start.
2 – Kofte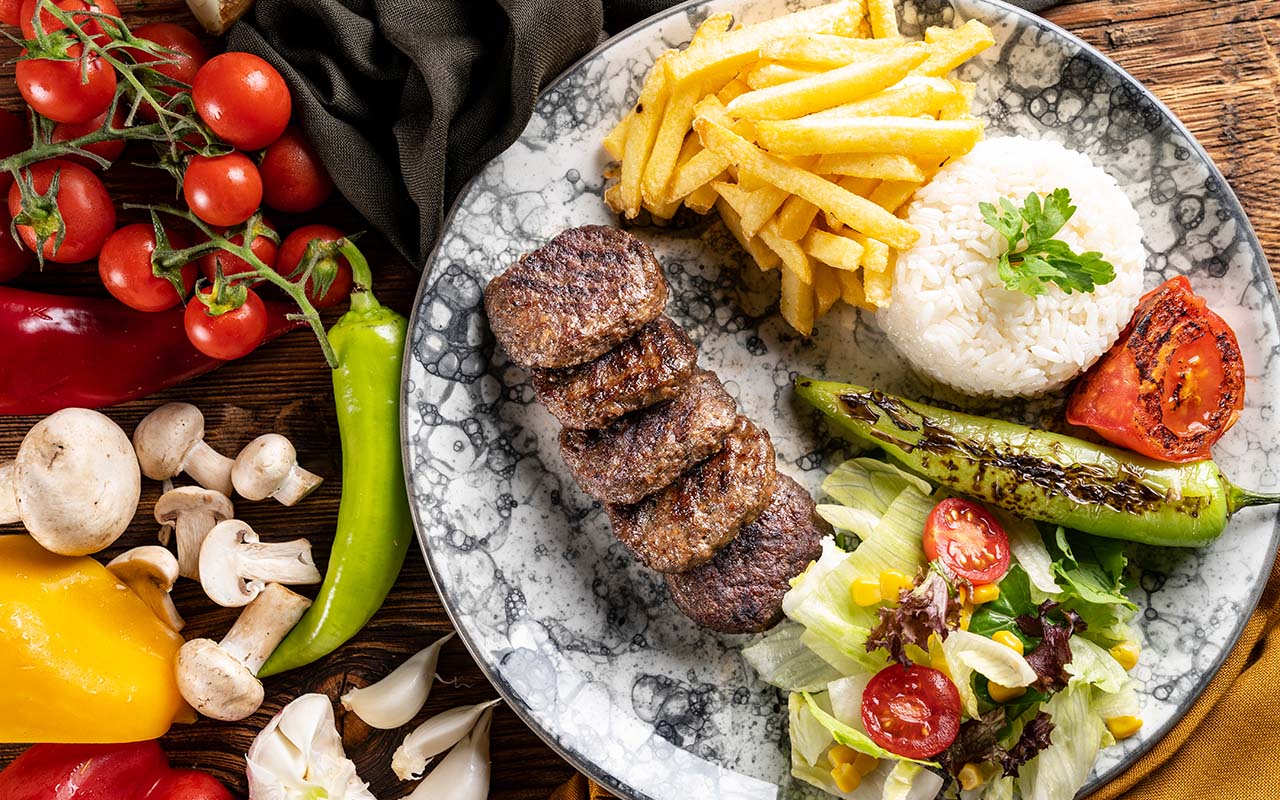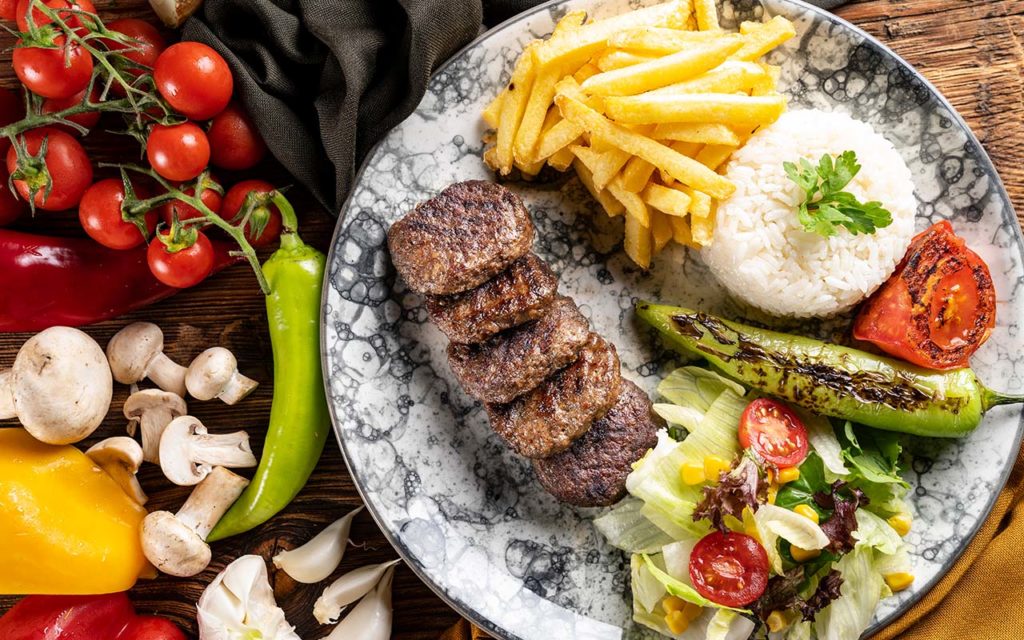 This Turkish food and country staple is, at the core, Turkey's version of meatballs. It's a common part of the meze platters. They are patties or balls made with lightly cooked lamb, or beef served in various ways.
For example, you can find them in casseroles, coated in egg and fried, over salads, in sandwiches, or plain with yogurt. You can often find them wrapped in pita bread with some salad. Each version requires different spices and additional ingredients. They come in different sizes.
There's even a vegetarian version made with chickpeas and vegetables. Kofte is a Turkish food that can pander to a diverse range of palettes and people.
3 – Lahmacun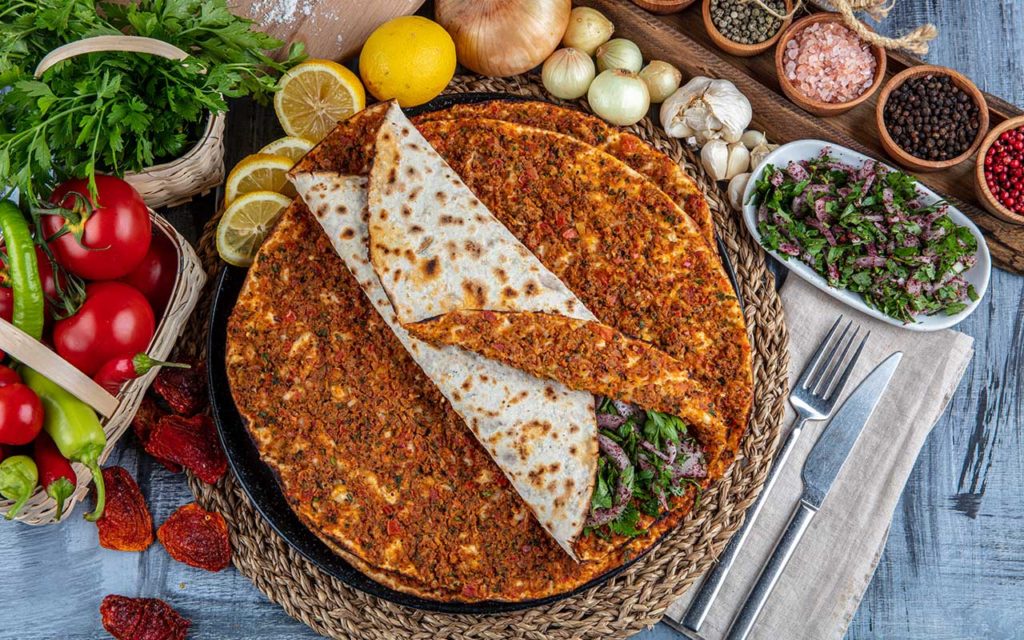 Lahmacun is a Turkish take on pizza, and it's really popular across the country as street food. It consists of a crispy flatbread spread with seasoned minced meat. The seasonings can be of any kind of salad, drizzled in lemon juice. It can be pulled apart, folded in half, or wrapped. It's a Turkish food full of flavors due to the different Mediterranean spices.
The flatbread is always freshly baked. There are some varieties of Lahmacun that are spiced with the addition of sour pomegranate syrup or ground nuts.
4 – Sis Kebabs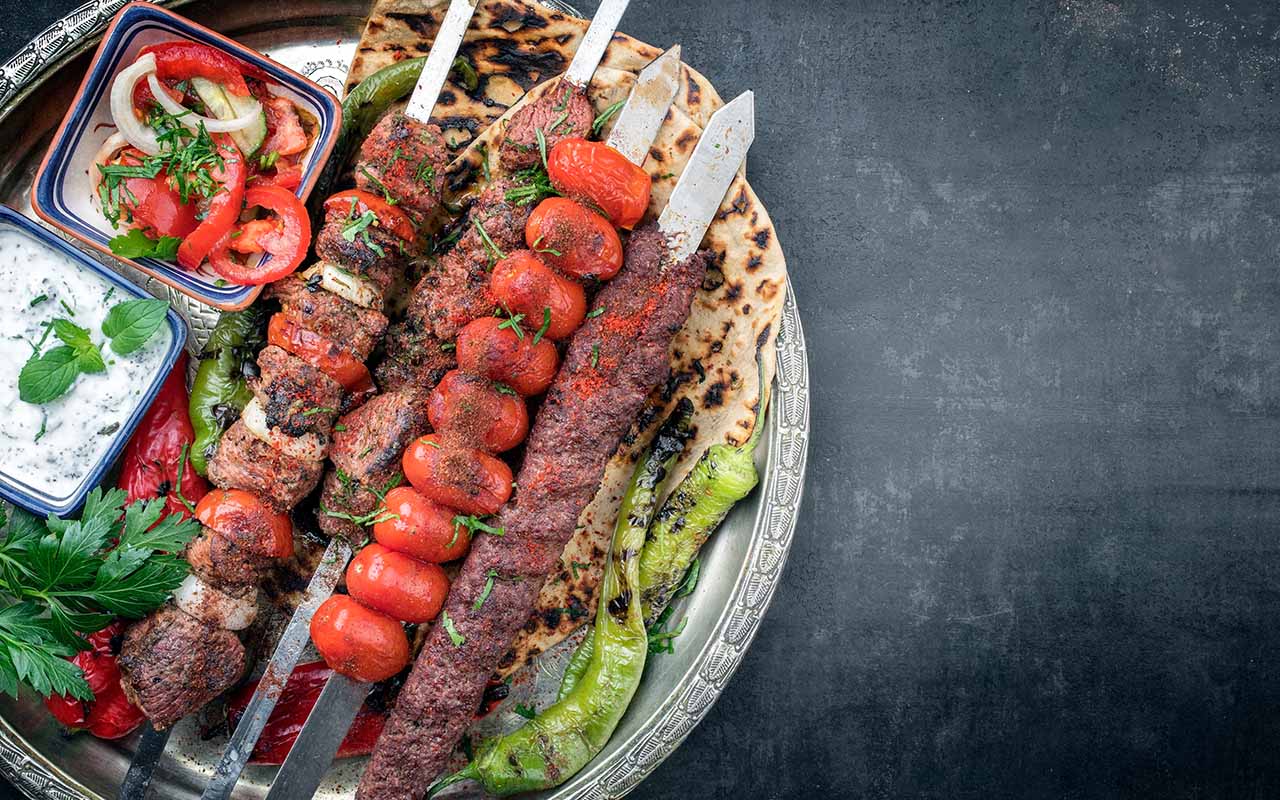 Sis Kebabs are popular not only across Turkey but also throughout the world. This Turkish food is a skewered meat cooked on hot charcoals. It consists of perfectly cooked, marinated skewered lamb or beef cubes usually served with salad, tomato sauce, and yogurt. Sis kebabs are best enjoyed hot out of the charcoal. They are savory, tender, and delicious.
Sis Kebabs form one of the cornerstones of Turkish cuisine, and Turkish people have brought this delightful dish to cities and countries all over the world.
5 – Mercimek Corbasi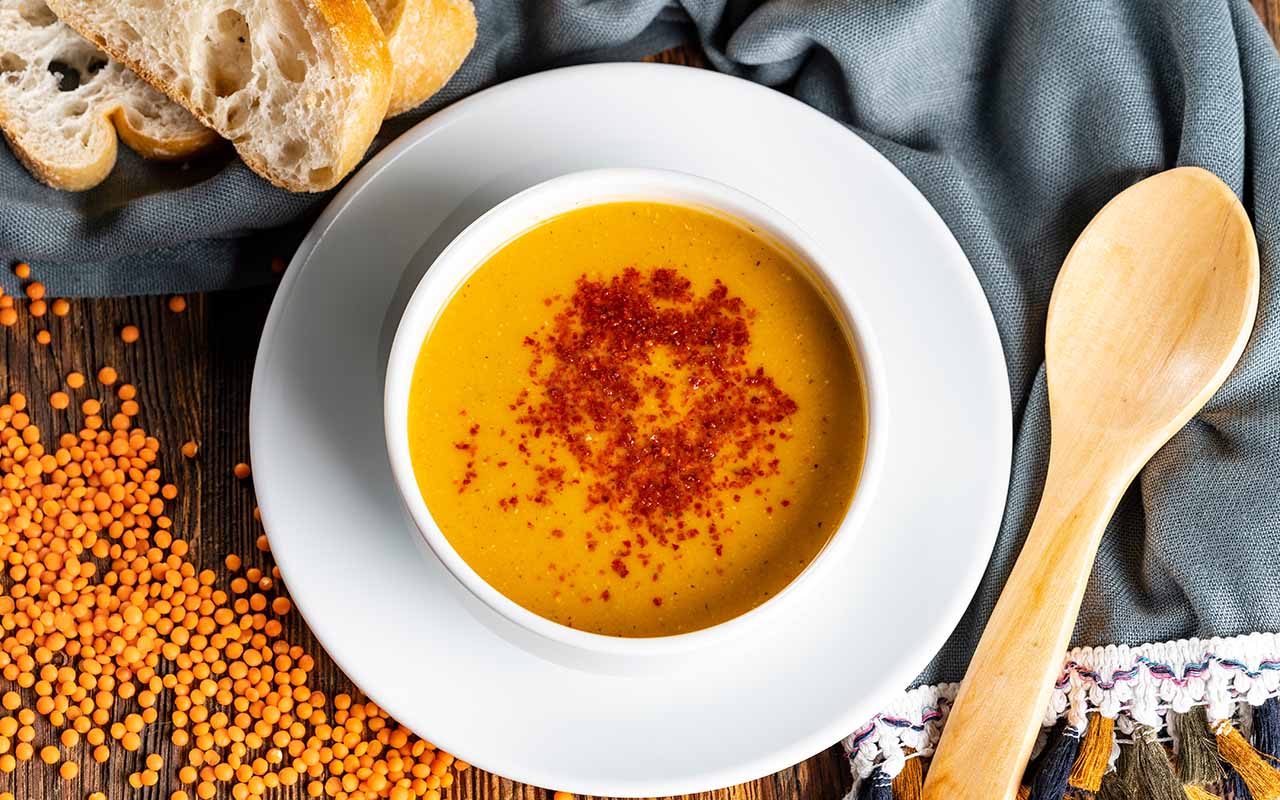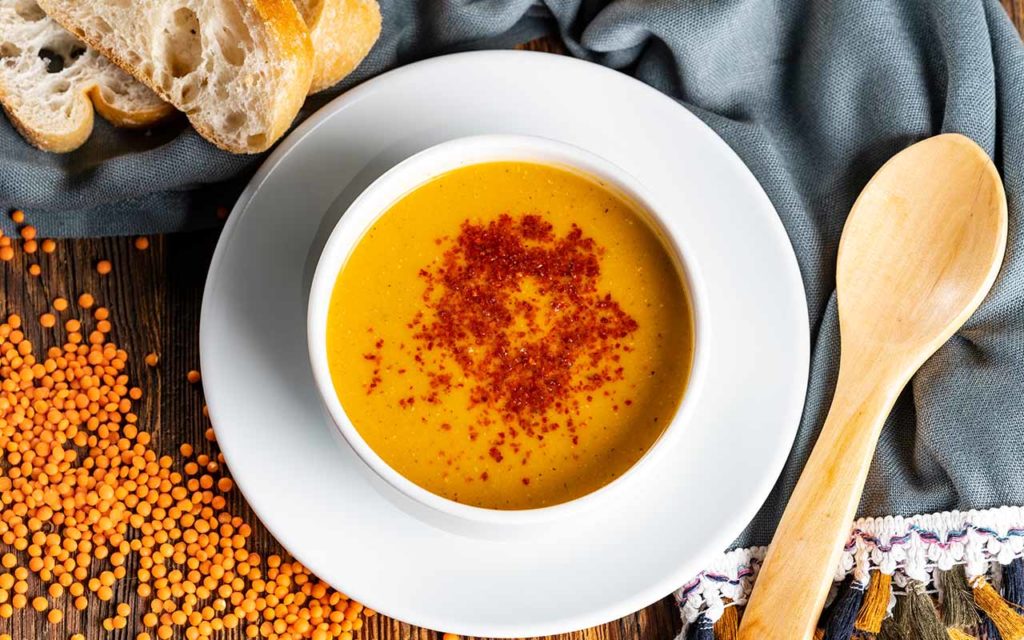 Mercimek Corbasi is a very simple, everyday Turkish food based on lentils. It's a delicious lentil soup made by pureeing lentils and spices. It's most often garnished with cilantro, lemon juice, or a variety of pickled vegetables such as carrots, cabbage, and olives.
This soul-warming and filling soup is often served with hot pitas on the side, ensuring a warm, melting sensation along your taste buds.
6 – Doner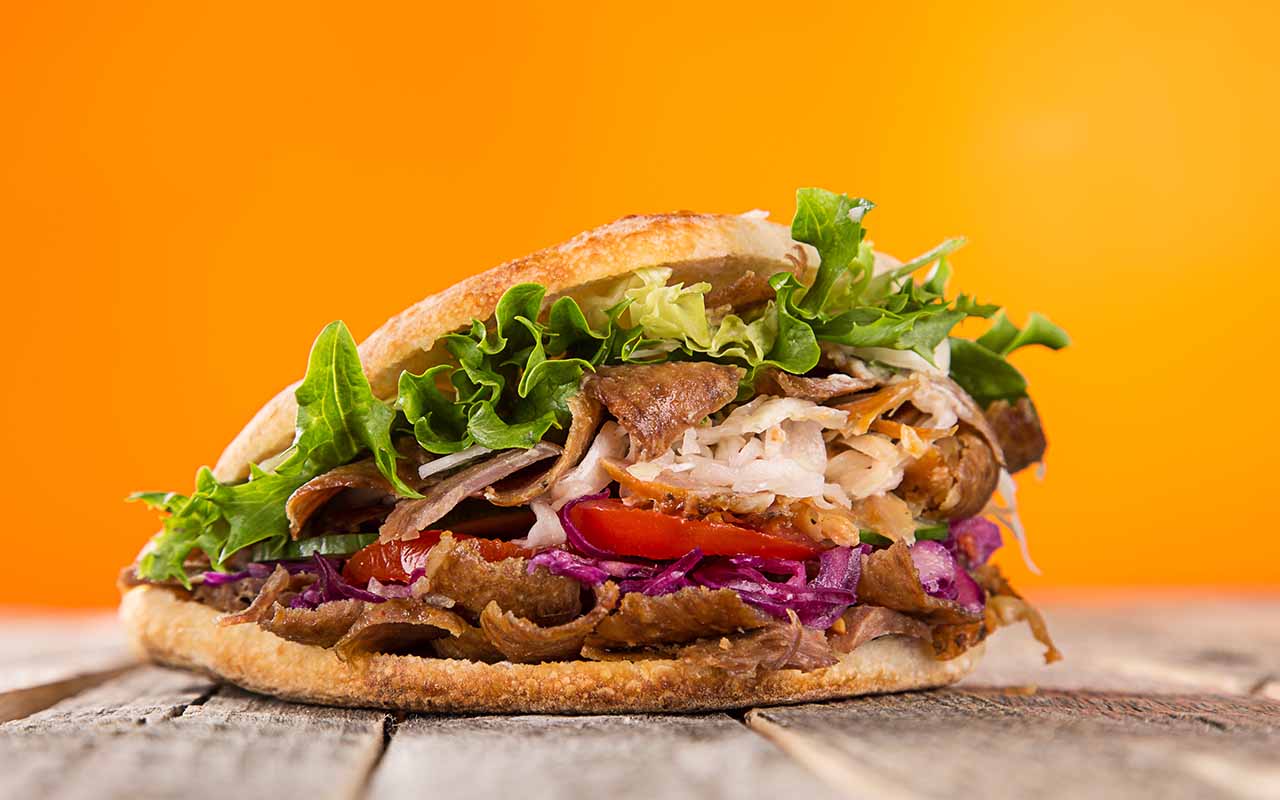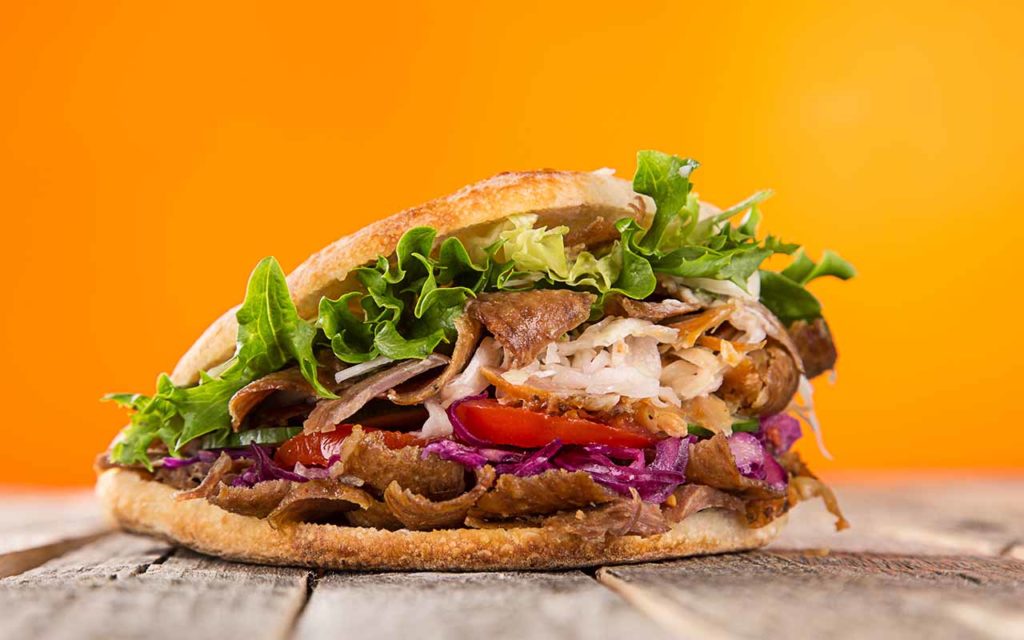 Doner is a perfect Turkish food option for those who love meat sandwiches and subs. This classic Turkish food is a pita bread spread with delicious sauces, garlic yogurt, a considerable amount of sliced meat shaving of beef, chicken, or lamb, fresh vegetables, and spices, folded like a sandwich.
The meat is full of flavors as it's cooked on a rotating spit. There are many varieties of Doner around the world, some of the most popular being the Greek gyros, Arab shawarma, and Mexican Al pastor. Once again, the Doner, like the Sis Kebab, sits high and mighty at the table of world-famous Turkish cuisine.
7 – Kuzu Tandir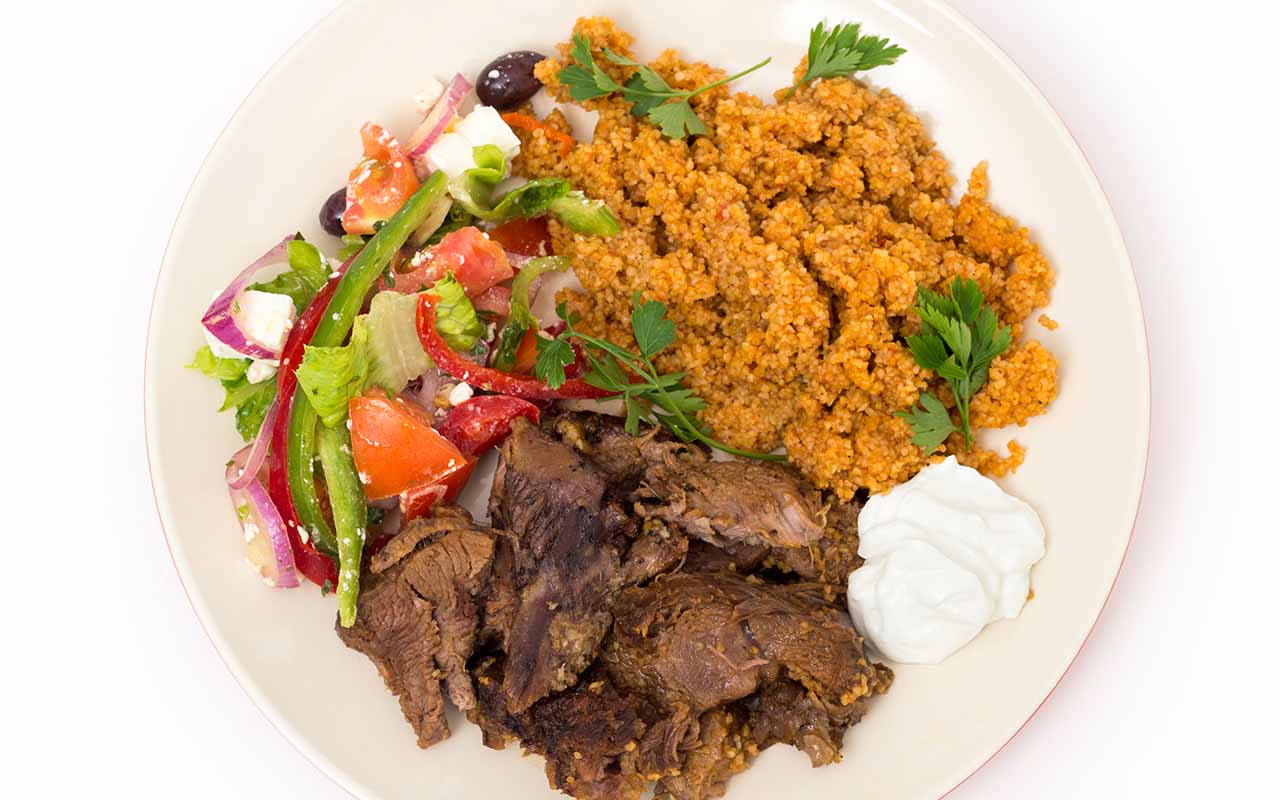 This traditional Turkish food is a roasted lamb dish that's similar to the Moroccan Mechoui. The meat is left to cook slowly, but the end result is a delicious and tender lamb that slowly melts in your mouth.
Traditionally, the meat is cooked in an oven made in the ground called tandir, hung up over hot coals and cooked for hours. Seasonings include salt, pepper, lemon juice, bay leaves, and rosemary sprigs, so the fragrance is out of this world. It's typically served with mashed potatoes or Turkish rice.
8 – Pide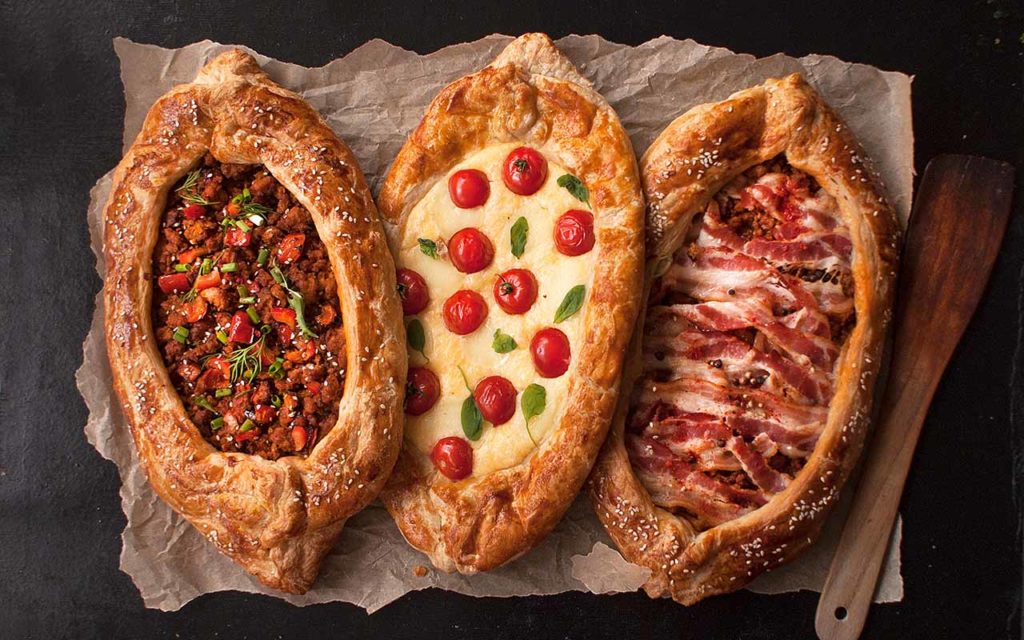 This boat-shaped pastry is made with thick dough and a wide range of fillings. The most typical fillings include different meats, fresh vegetables, cooked spinach, eggs and the spicy Turkish sausage sucuk, and cheese. The dough is then baked in a high heat stove oven.
According to many people, this Turkish food is the closest version of a Turkish pizza you can find. Pide is best enjoyed when served warm. You can find it at many takeaway establishments around the country.
9 – İmam Bayıldı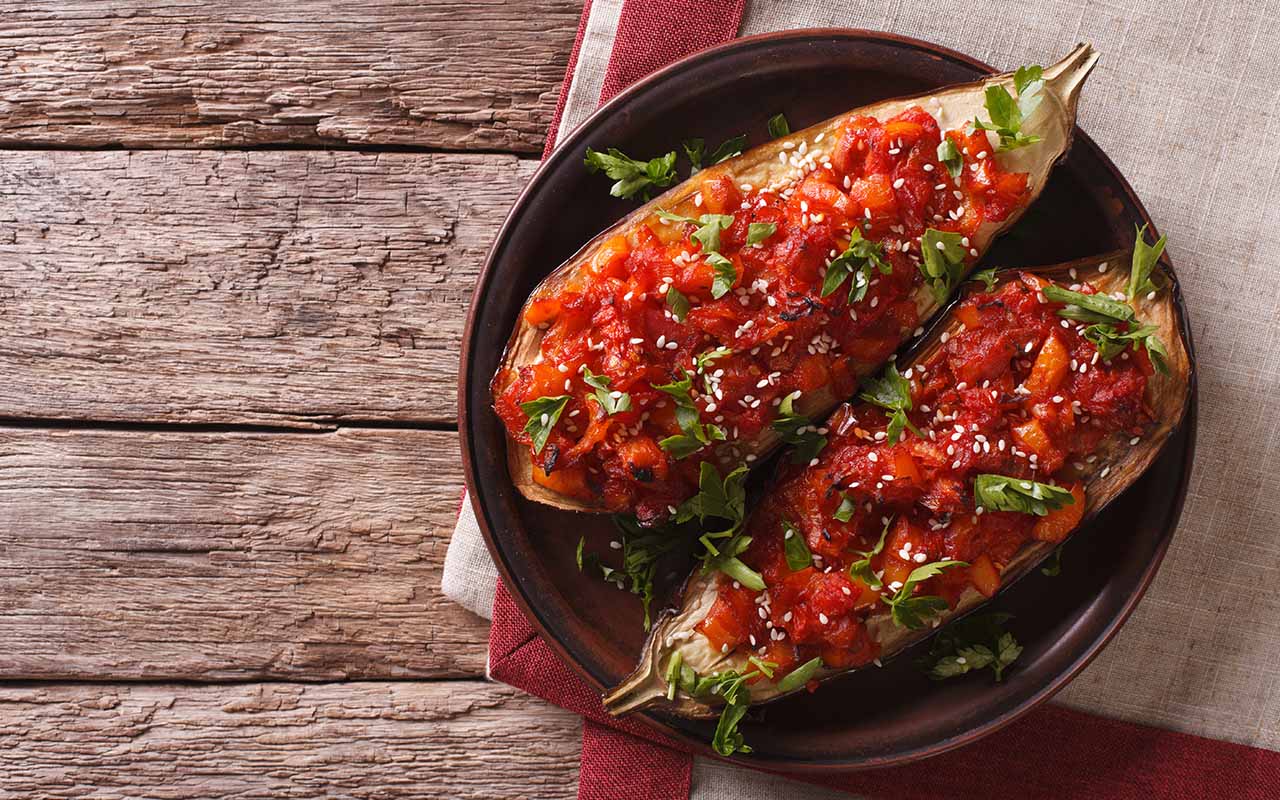 This Turkish delicacy is a colorful and nutritious vegetarian dish that translates into "an Imam fainted." It consists of braised and simmered aubergines stuffed with bulgur, rice, and different vegetables such as tomatoes, onions, and garlic before being cooked or baked.
There's also a version of this hearty and versatile dish for all the meat lovers. It includes beef in the mixture used as a filling. It's a sensual, diverse Turkish food, rich in taste and texture.
10 – Borek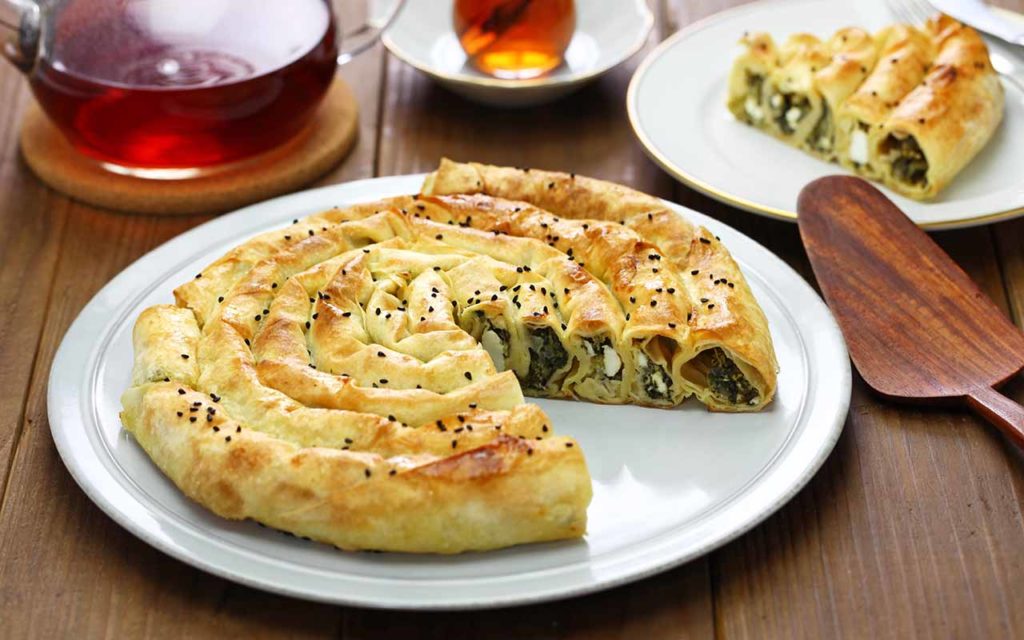 This Turkish national savory pastry is flaky and delicious, filled with spinach and cheese or minced meat. Borek can be layered like lasagna, served as puffs, or rolled, and created as small individual pastries or as a whole in a pan. It's a popular Turkish food across the countries of the Balkans.
Turks eat it for breakfast, lunch, as a snack, or for dinner. It's a hearty delicacy that's best enjoyed when served warm with yogurt.
11 – Hunkar Begendi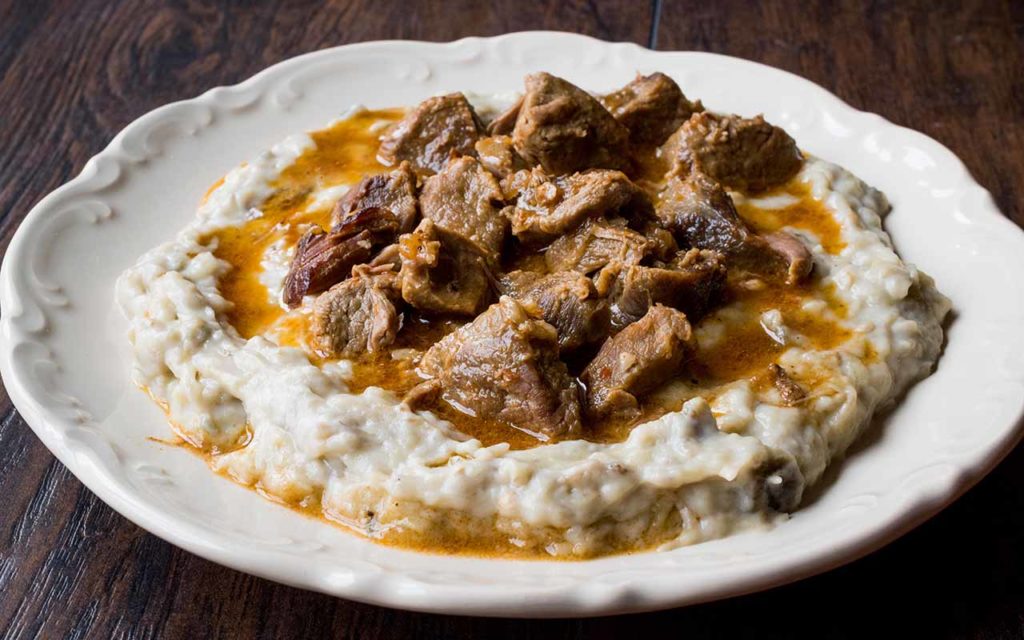 This ancient Ottoman royal favorite dish is known as Sultan's Delight. It is a lamb stew with soft, marinated lamb chunks served on top of pureed aubergine, melted cheese, and butter. The aubergine and the lamb make a perfect combination of flavors that will make you want more and more.
Nowadays, you can find other meats and dishes served with the delicious aubergine puree called Beğendi.
12 – Gullac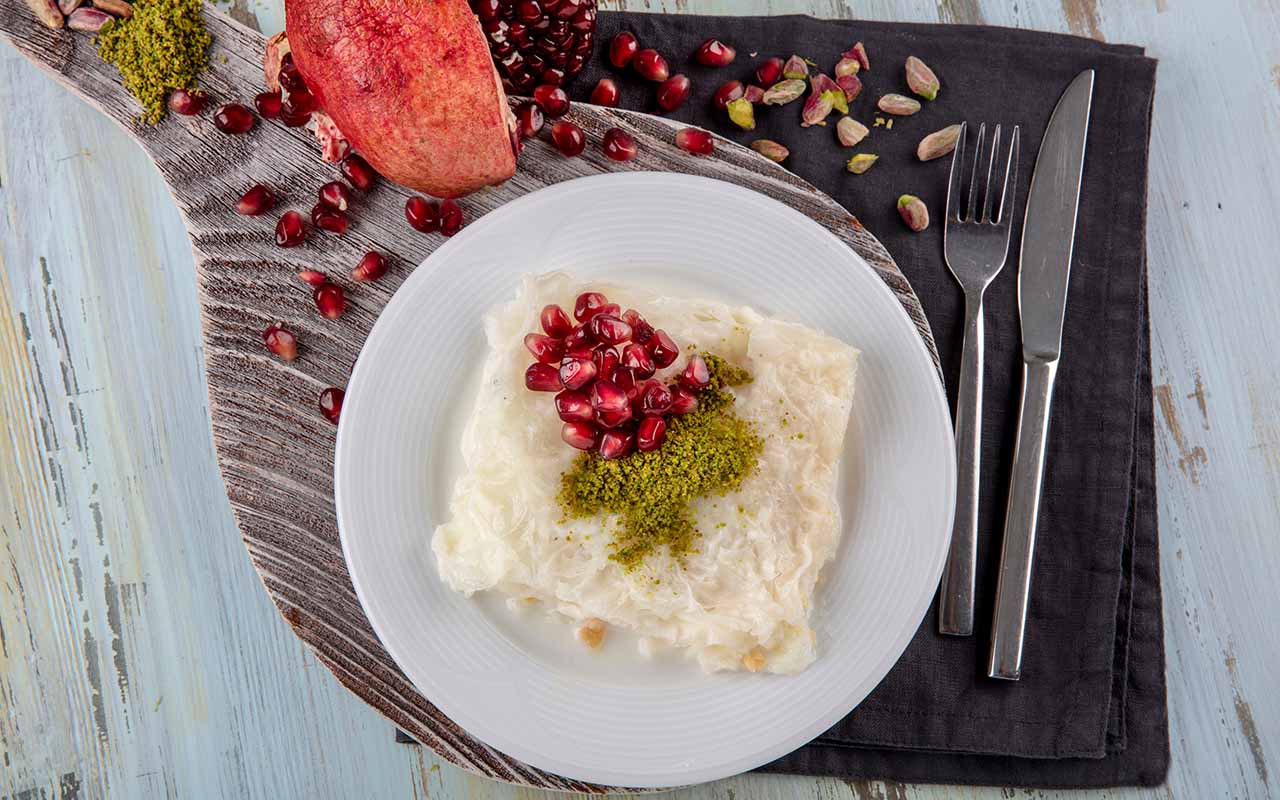 This soft Turkish national dessert is usually prepared during Ramadan. It's made with dough, rose water, milk, pomegranate seeds, and nuts. Gullac has a unique texture and tastes like heaven. Some variations of this dish include chickpeas or different fruit. Either way, it's delicious Turkish food and one you have to try when visiting Turkey.
13 – Dolma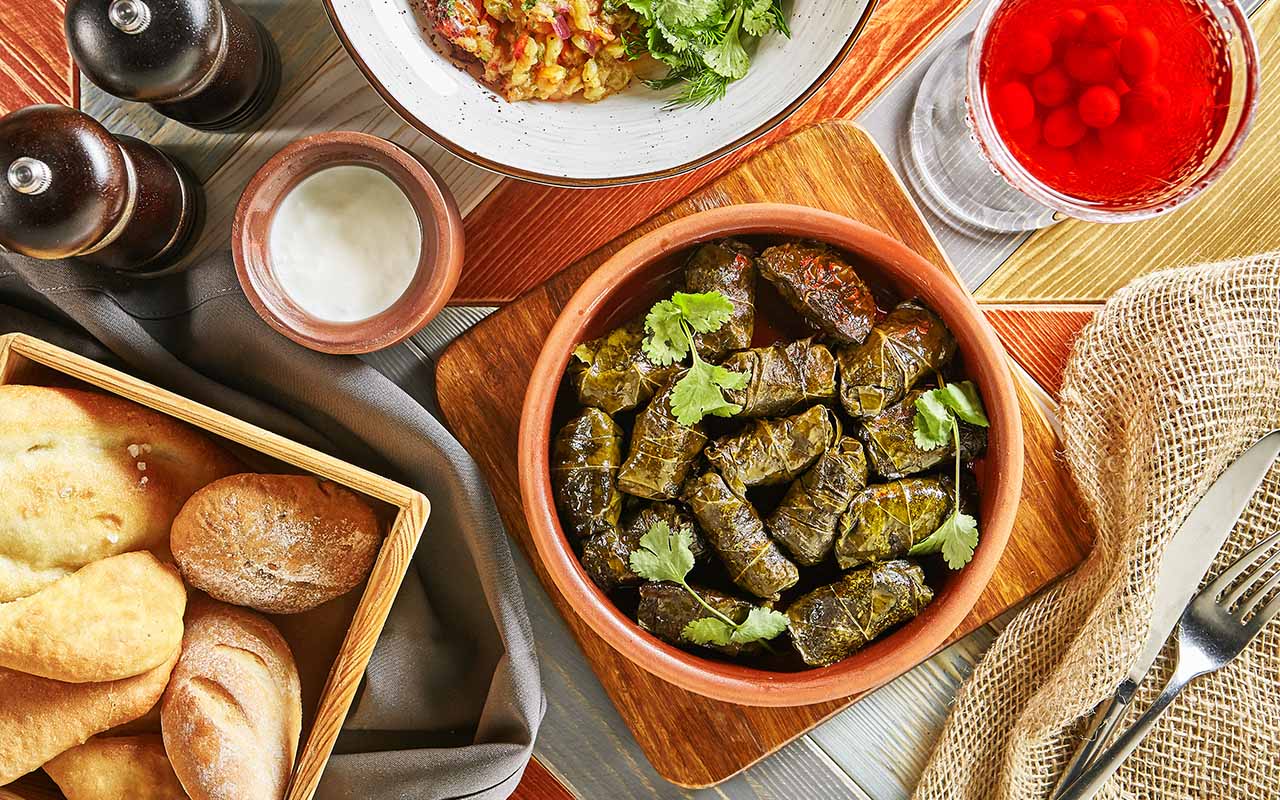 Dolma is a Turkish food that's commonly served as a main dish. It consists of stuffed vegetables or vine leaves with a mixture of onion and rice. The vegetables used for the preparation of Dolma are usually peppers, zucchini, tomatoes, and aubergine. But, the more popular version of the dish includes vine leaves instead of vegetables.
Besides being served as a main dish, Dolma is often included in the Turkish meze platters. The non-vegetarian and more popular version of Dolma incorporates spiced minced meat in the filling. It's typically served with yogurt and oregano and red pepper powder in oil. It is believed that this Turkish dish, which is popular in the Balkan countries too, originates from the 17th century. It further highlights how much history is behind Turkish cuisine.
14 – Kazan Dibi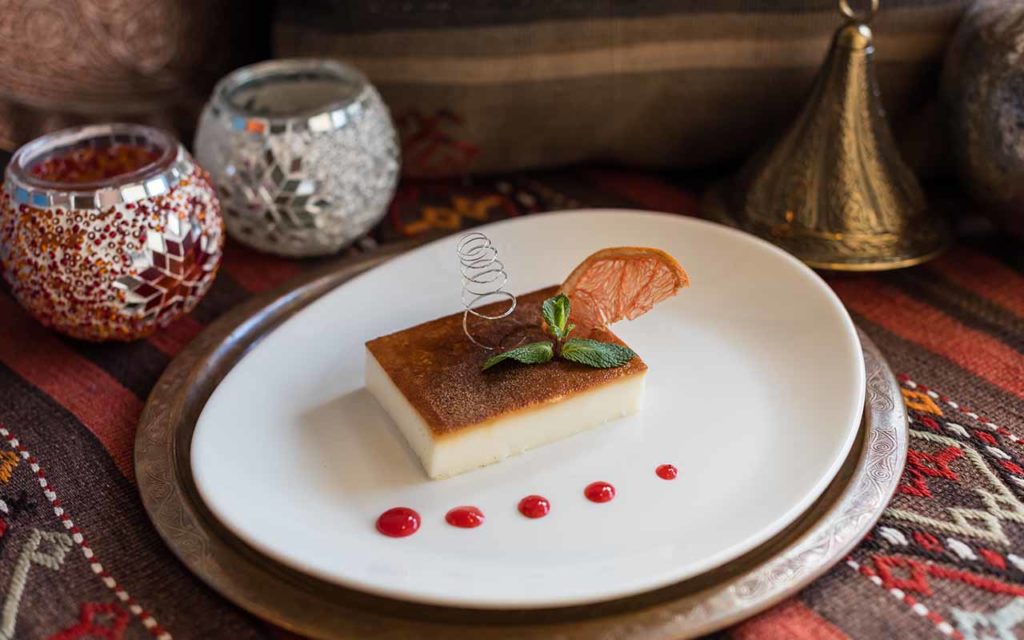 This interesting Turkish dessert, which draws comparisons to Panna Cotta, was created by mistake. It is believed that an Ottoman Sultan's chef was trying to invent a new dessert with sugar and cream, but ended up with the ingredients burnt and stuck to the pan's bottom. Apparently, the Sultan liked the strange dessert, and that's how Kazan Dibi was created.
Today, this caramelized milk pudding, also known as a burned bottom milk pudding, is one of the most popular desserts in Turkey.
15 – Kokoretsi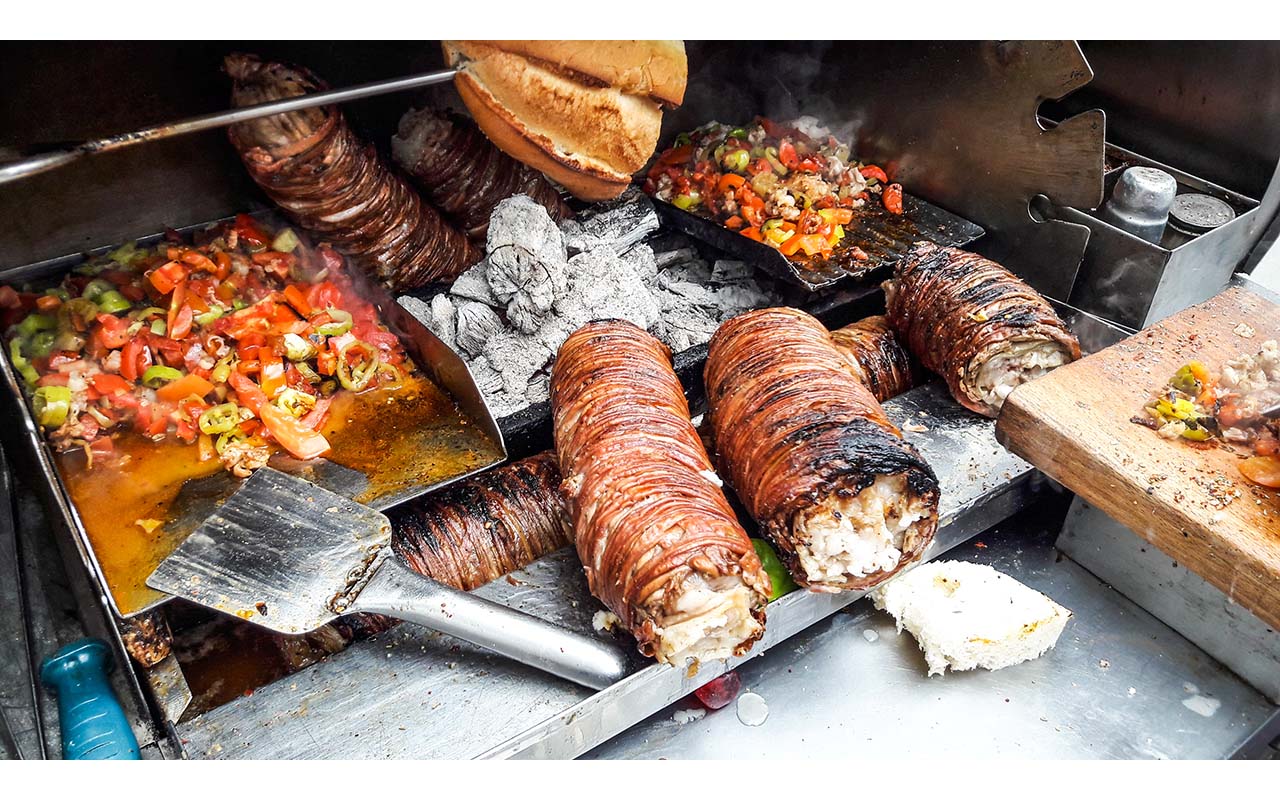 Kokoretsi is a striking Turkish food, commonly sold by street vendors. It is made with a couple of types of goat or lamb organs wrapped in intestines. It's known as hangover food in Turkey, so if you have a few too many beers one night, be sure to try it in the morning! Kokoretsi may not be for the squeamish, but Turks have enjoyed its unique and flavorsome taste for centuries.
The organ meat is marinated in lemon juice, olive oil, oregano, salt, and pepper. Then, it's wrapped tightly in the intestines and grilled horizontally on a rotating spit. The meat is cooked until brown and crispy on the outside.
It's usually served with pita bread, yogurt sauce, pickles, or brined hot peppers, or as a sandwich with fresh vegetables. It's one of the most striking and unique Turkish food picks you'll have the opportunity to try when traveling through the country.
16 – Menemen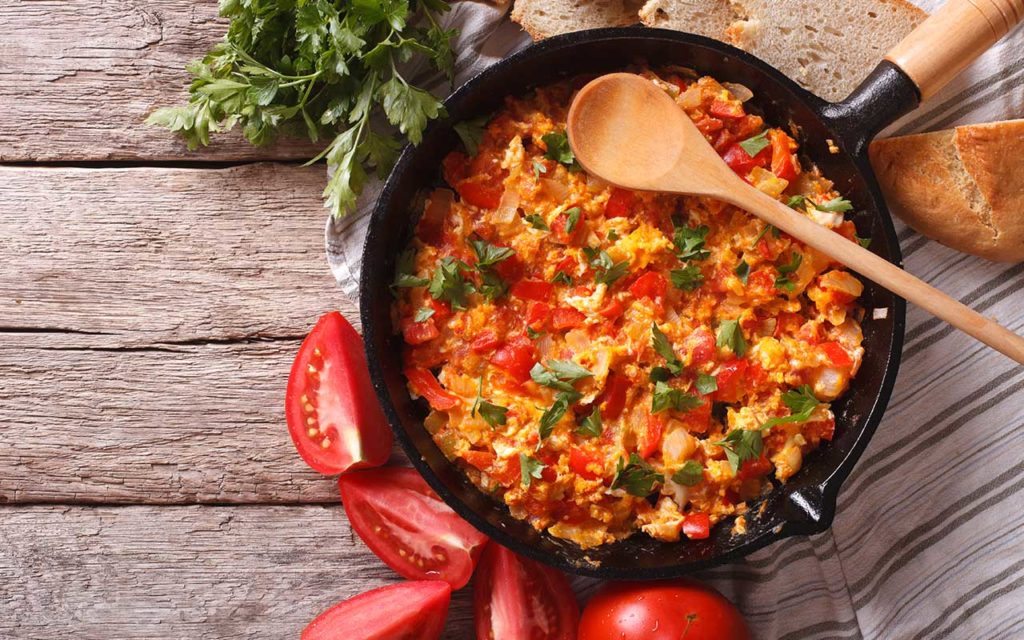 Here's a new way of serving eggs for breakfast – Menemen. This light Turkish breakfast is a cross between a vegetable stew and scrambled eggs. Peppers, onions, and tomatoes are cooked down to a broth, and whisked eggs are added. Everything is mixed well, and tomato juice slowly forms the satisfying staple to this Turkish food.
Additional ingredients that enrich the flavor of Menemen are the spicy Turkish sausage sucuk, or cheese. This Turkish dish goes exceptionally well with hot bread, as it's encouraged to dip the bread in the mixture, or spread Menemen on the bread and enjoy.
17 – Baklava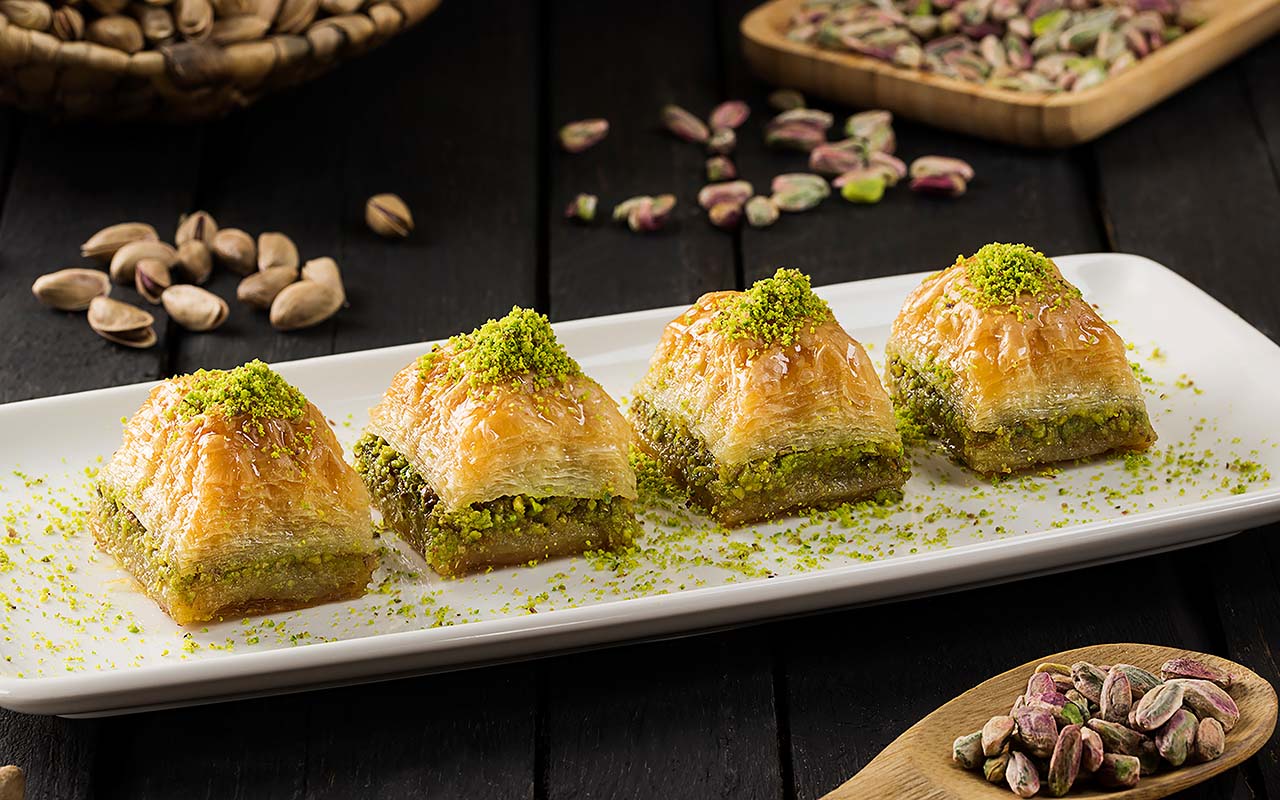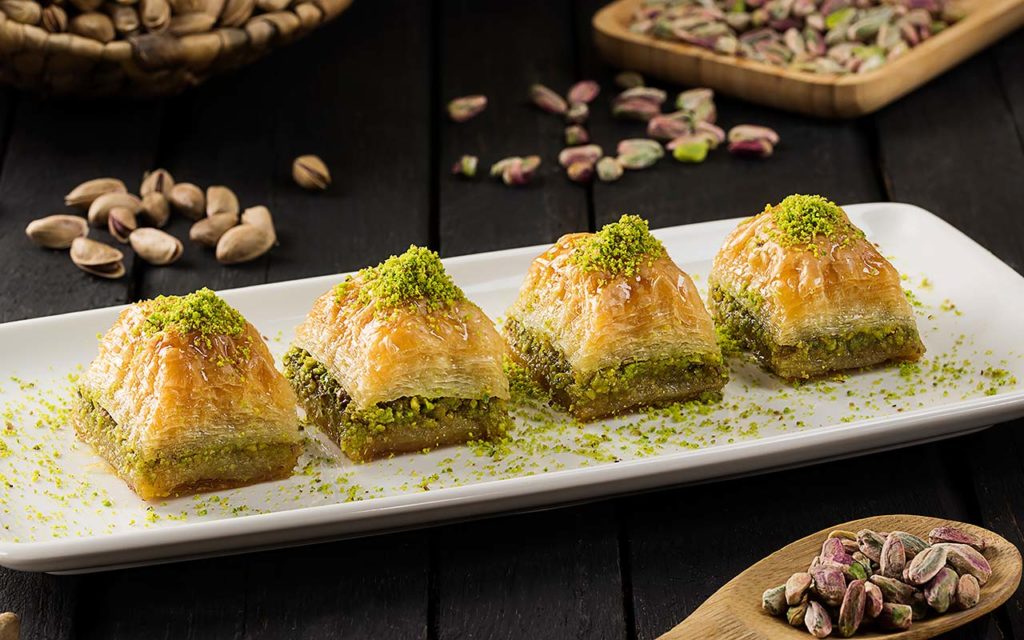 Baklava is a rich, syrupy pastry dessert, and is arguably the most popular dessert in Turkey. It is a sticky, sweet pastry made of layers of filo separated with oil and melted butter, traditionally filled with chopped nuts. Everything is held together with honey or syrup.
Today, you can find baklava with almost anything inside. The filling can include hazelnuts, pistachios, or fresh cream. The pastry is sliced into diamonds, squares, or triangles before baking. The cooked baklava is poured with a sweet syrup and allowed to soak in for hours, and sometimes even an entire day.
This Turkish food is a rich and filling dessert that those with a sweet tooth should definitely try.
18 – Mücver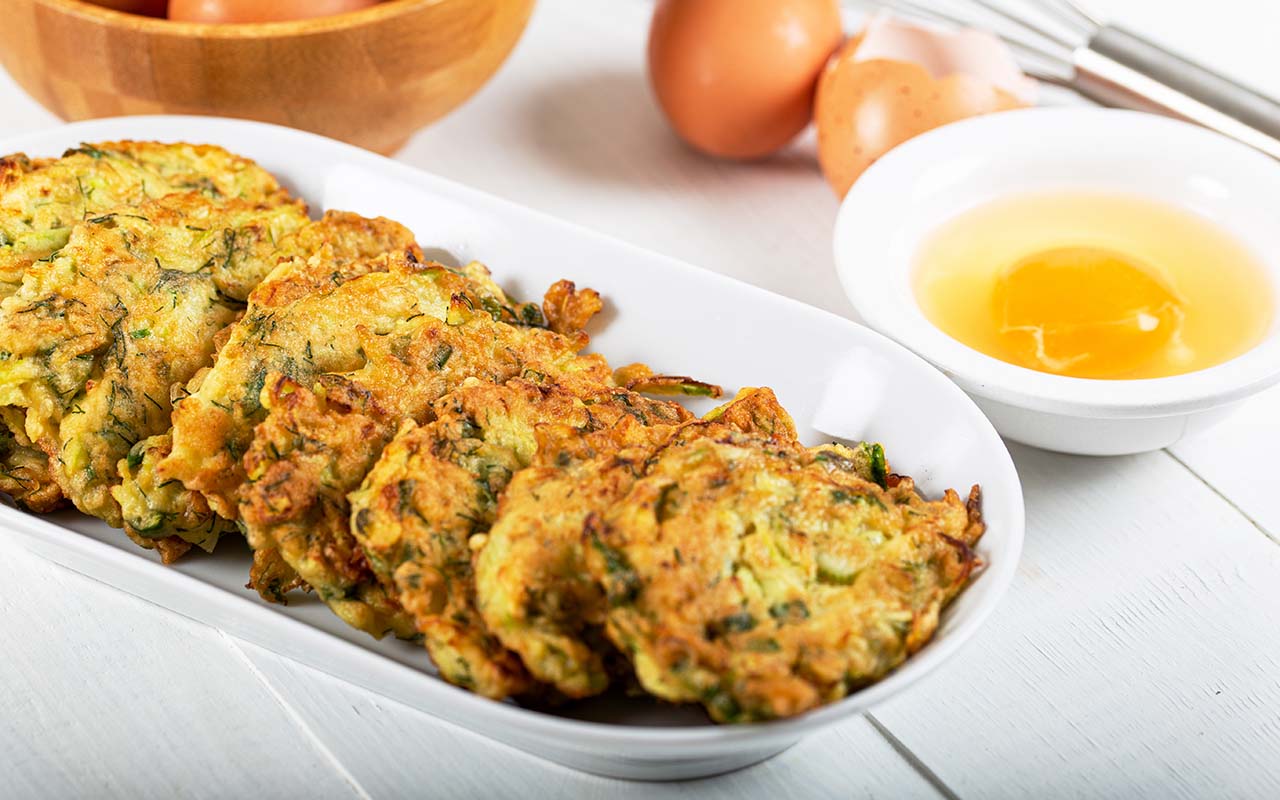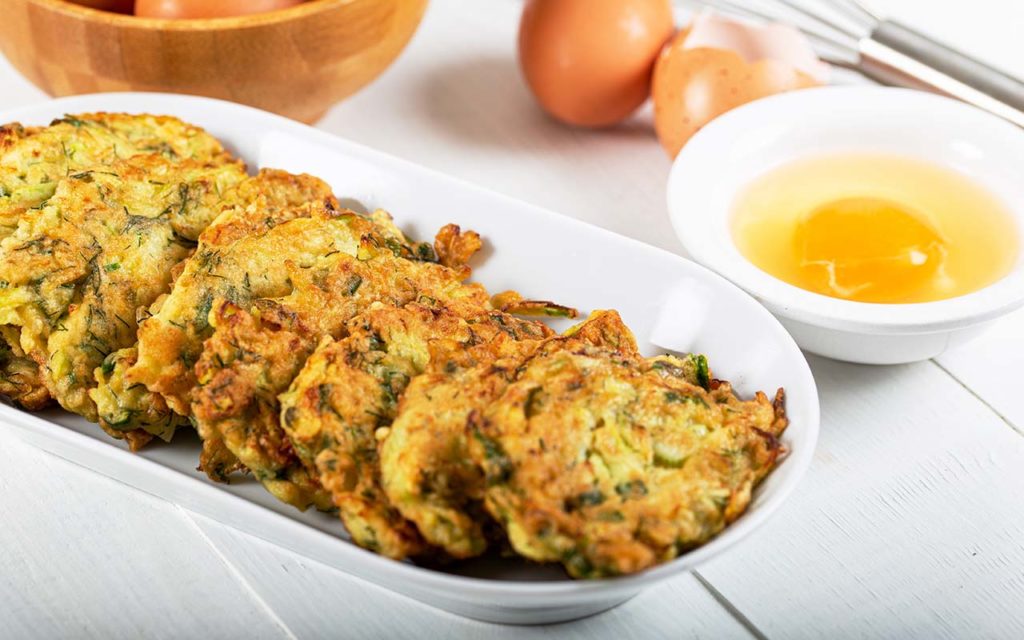 This popular Turkish food is similar to a vegetable pancake or fritter. It's made with the most commonly used summer squash in Turkey: zucchini. It's an incredibly versatile dish because you can add many different vegetables to the batter, which is made of shredded zucchini.
Vegetables commonly added include shredded potatoes, carrots, and onions. Besides the shredded vegetables, the fritter batter contains flour, oil, eggs, and salt. The batter is fried on both sides until golden brown. It's served with crusty bread, a leafy salad, or garlic-infused yogurt. Mücver can also be eaten as a cold snack and is a very filling and popular Turkish food.
19 – Nohutlu Pilav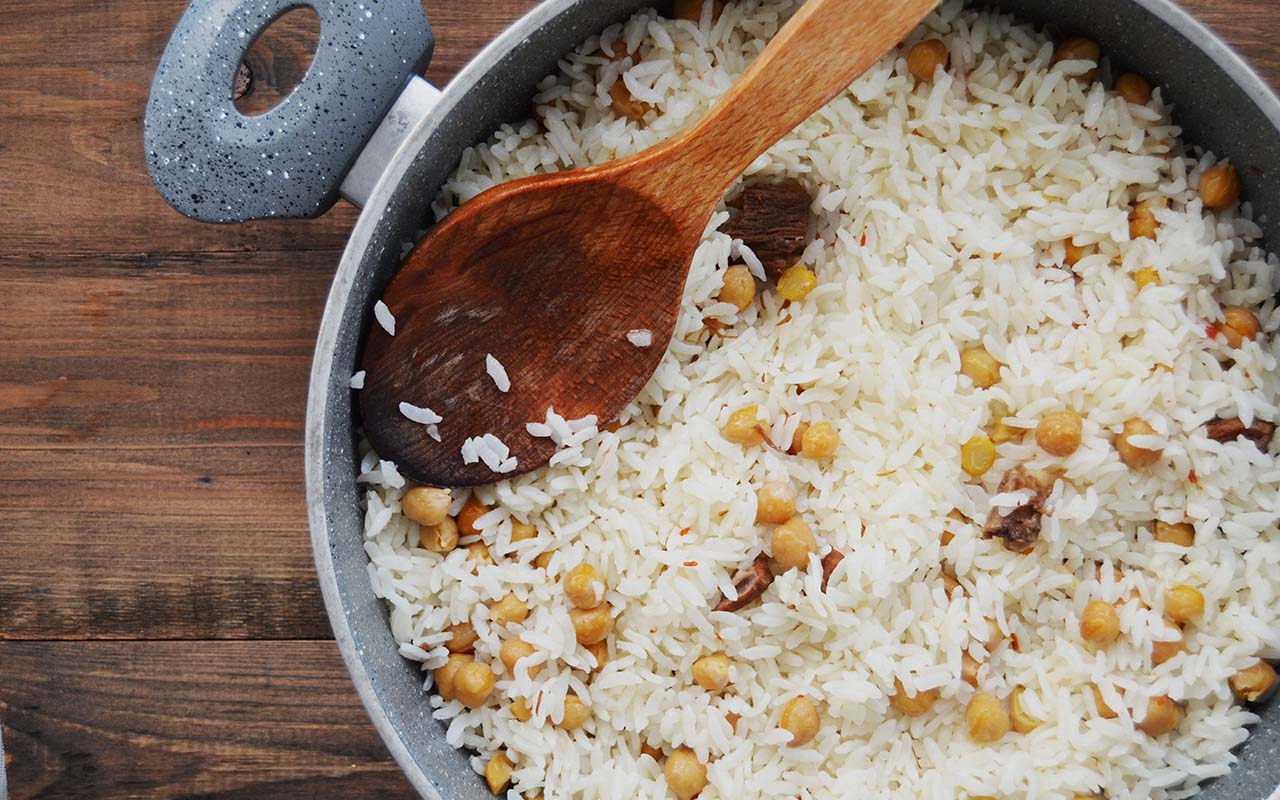 This Turkish food is just one version of the many Pilav dishes. Its core ingredients are rice with chickpeas and chicken. Nohutlu Pilav may be a simple dish, but it's very filling and nutritious.
Layers of chickpeas and rice are piled high, topped with roasted chicken, as the juices blend well with the flavors of the rice and chickpeas. It's usually sold as street food with pieces of chicken. Nohutlu Pilav can be eaten as a main or side dish.
20 – Kayısı Tatlısı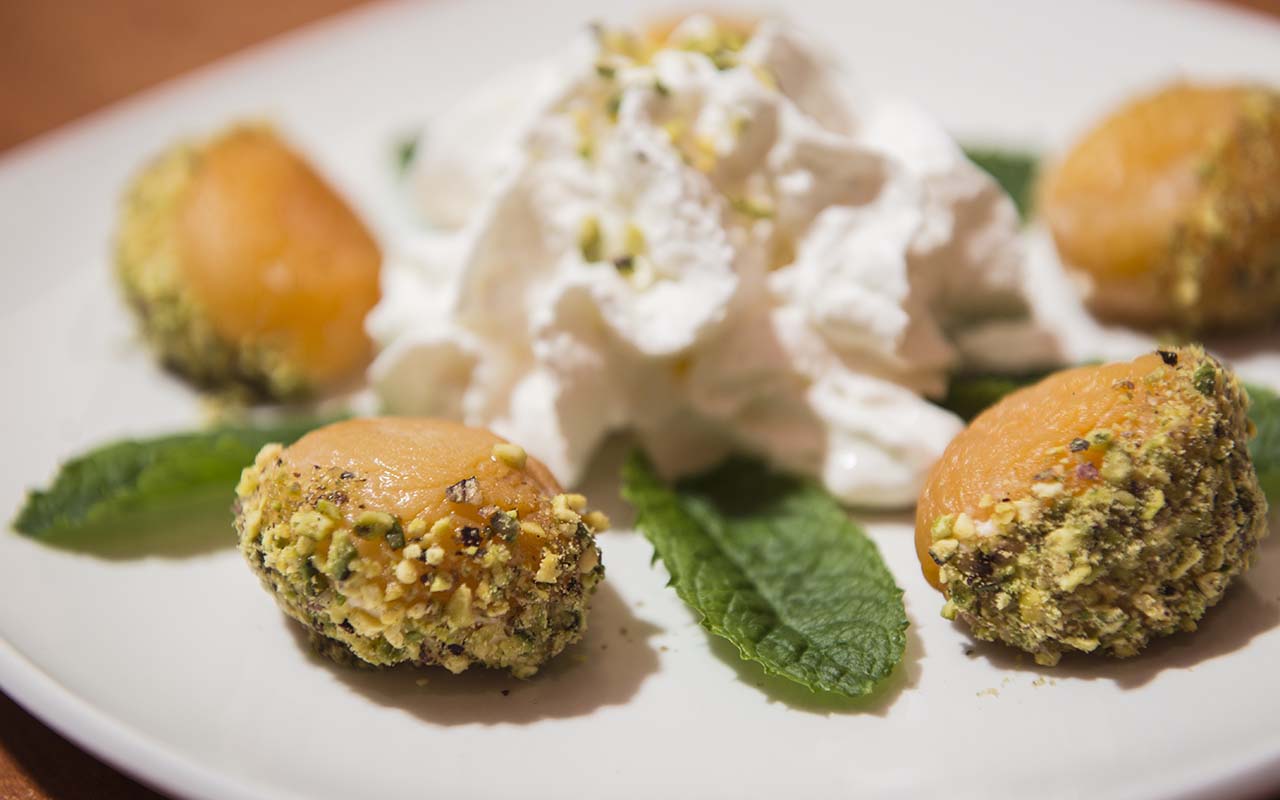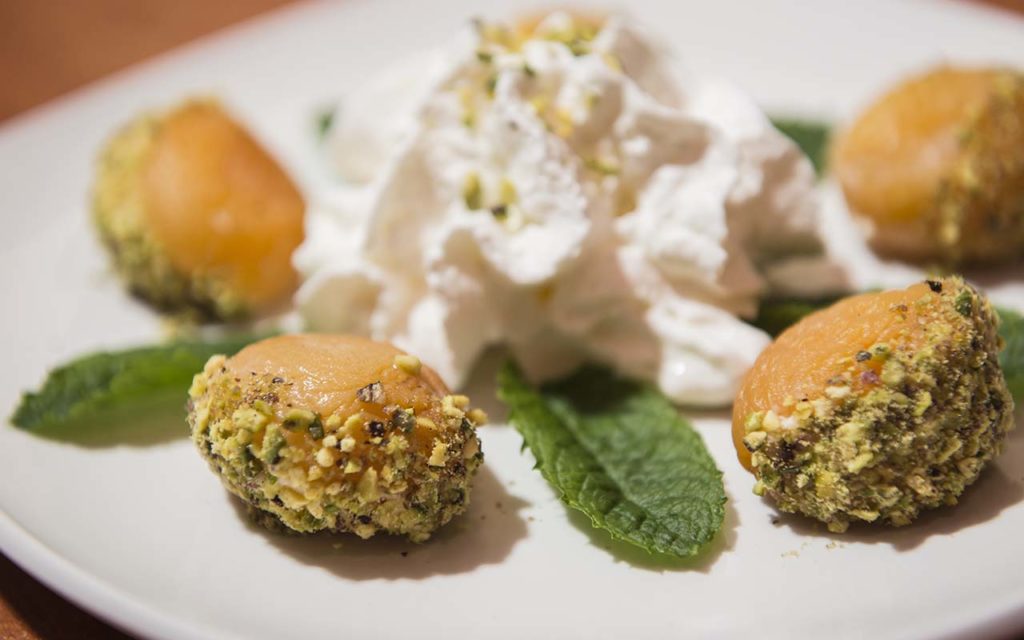 This traditional Turkish dessert consists of dried apricots filled with cream and sprinkled with nuts. It is perfectly sticky, syrupy, and sweet, with a satisfying crunch, courtesy of the nuts. Firm and fleshy apricots make the perfect Kayısı Tatlısı. When it comes to the filling, the Turkish cream called kaymak is used, as it takes this Turkish food to another level.
21 – Kunefe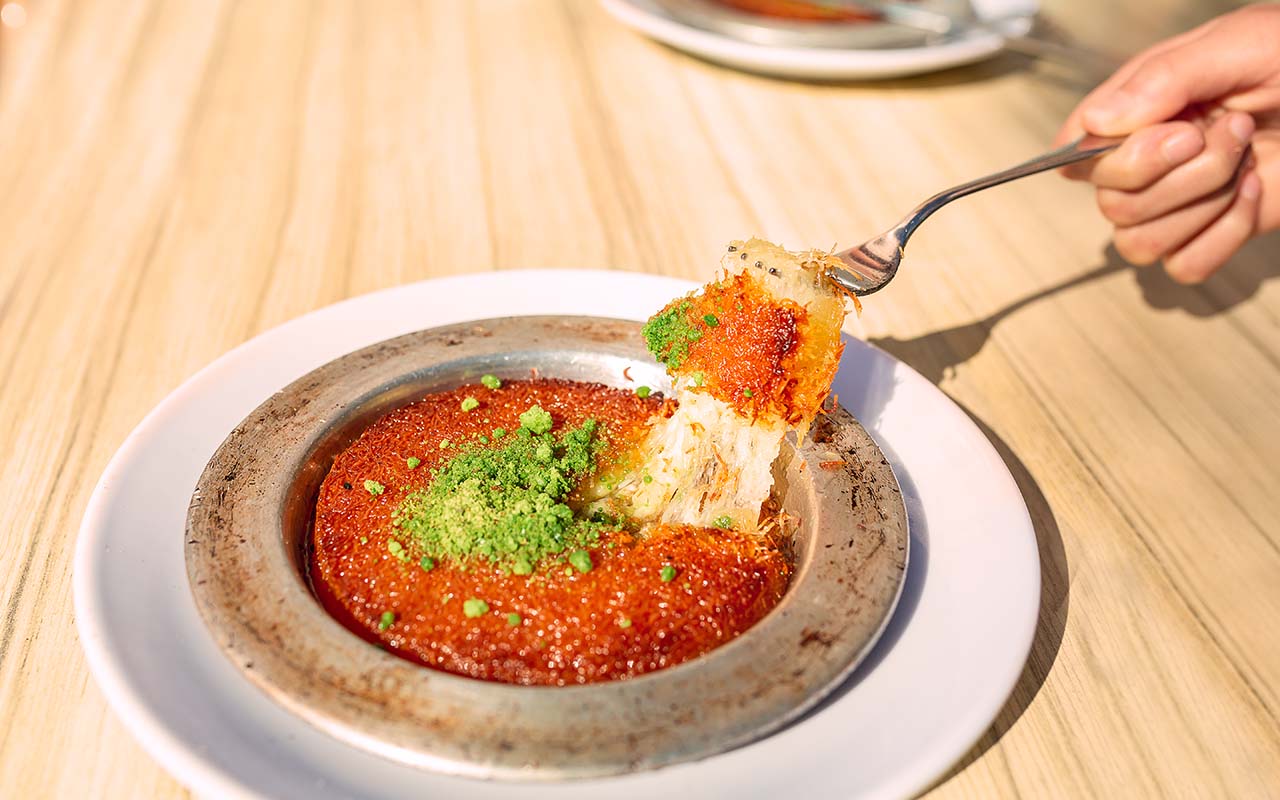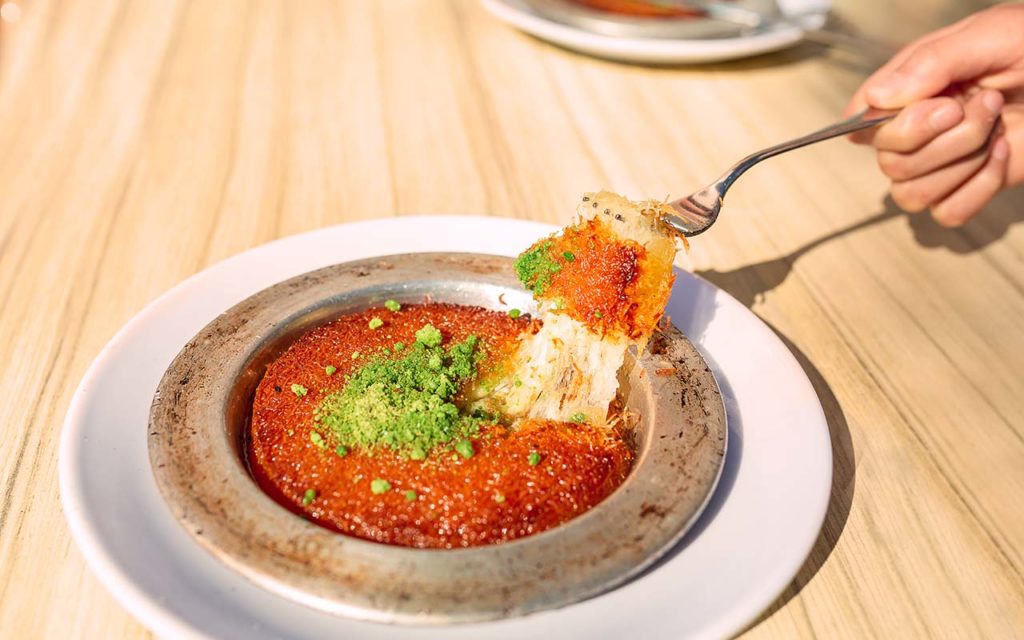 This Turkish dessert may require time and effort to make, but it's totally worth the wait. Kunefe or Kanafeh is a sweet and sticky treat that's also popular in the countries of the Middle East. The shredded pastry is soaked in sugary syrup and layered with cheese, nuts, or clotted cream.
Most often, pistachios are scattered on top of the dessert. Different types of pastry can be used in the preparation of this dessert, depending on the region. It's a Turkish food dessert lovers simply have to try.
22 – Iskender Kebab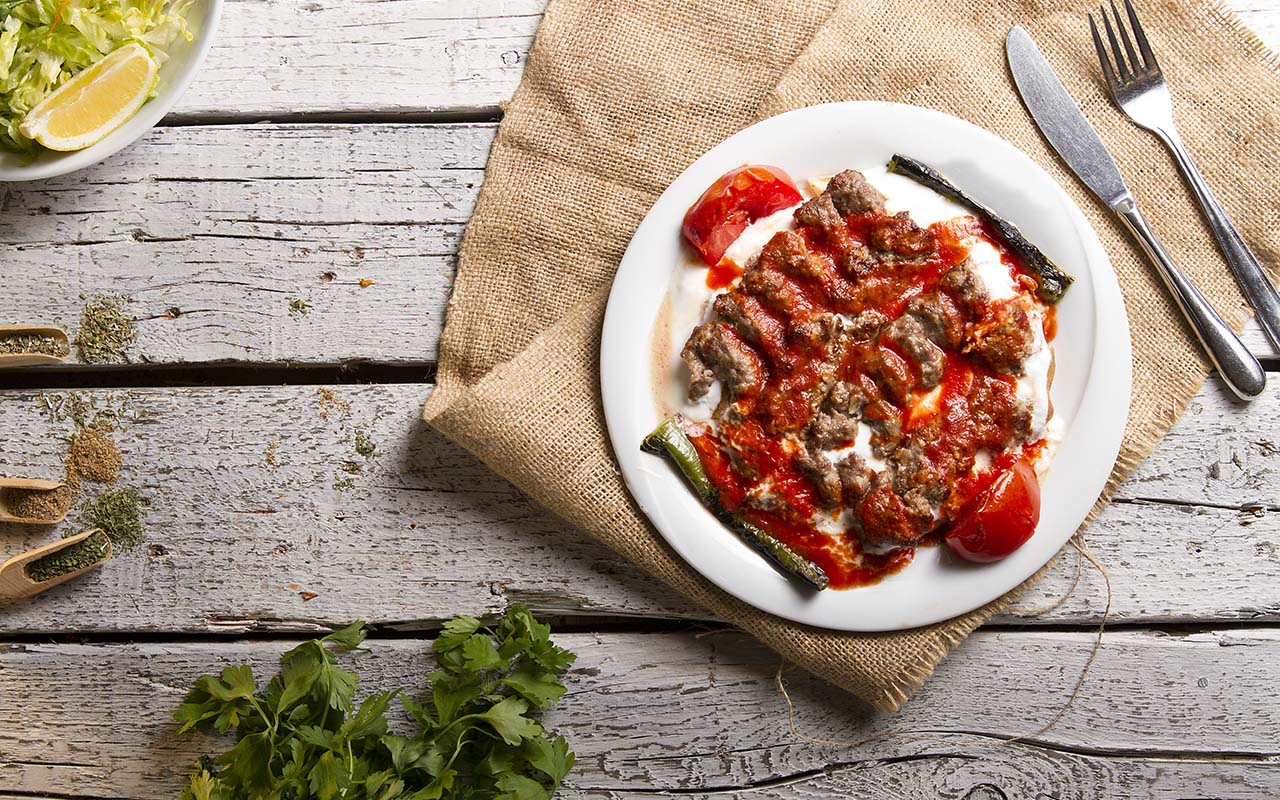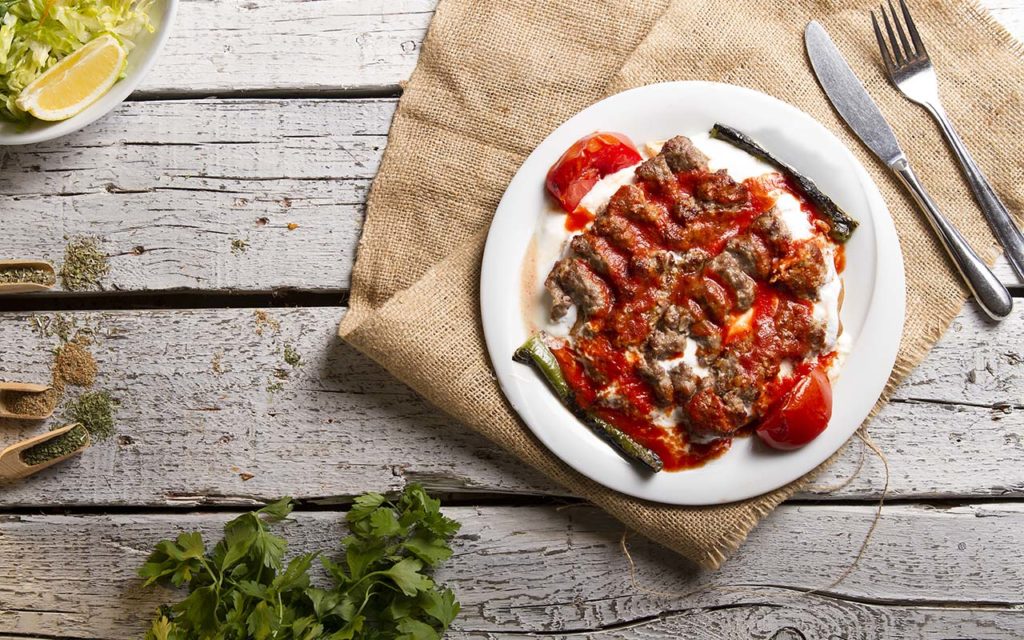 This rich and satisfying Turkish food is particularly popular in the north-western region of Turkey. It's thin slices of grilled lamb, topped with tomato sauce served over pita bread. The dish also includes melted sheet butter and yogurt.
For extra flavor, melted butter and tomato sauce are poured over the dish. It's a comforting food that's best enjoyed warm, and it's most commonly prepared during winter.
23 – Kapuska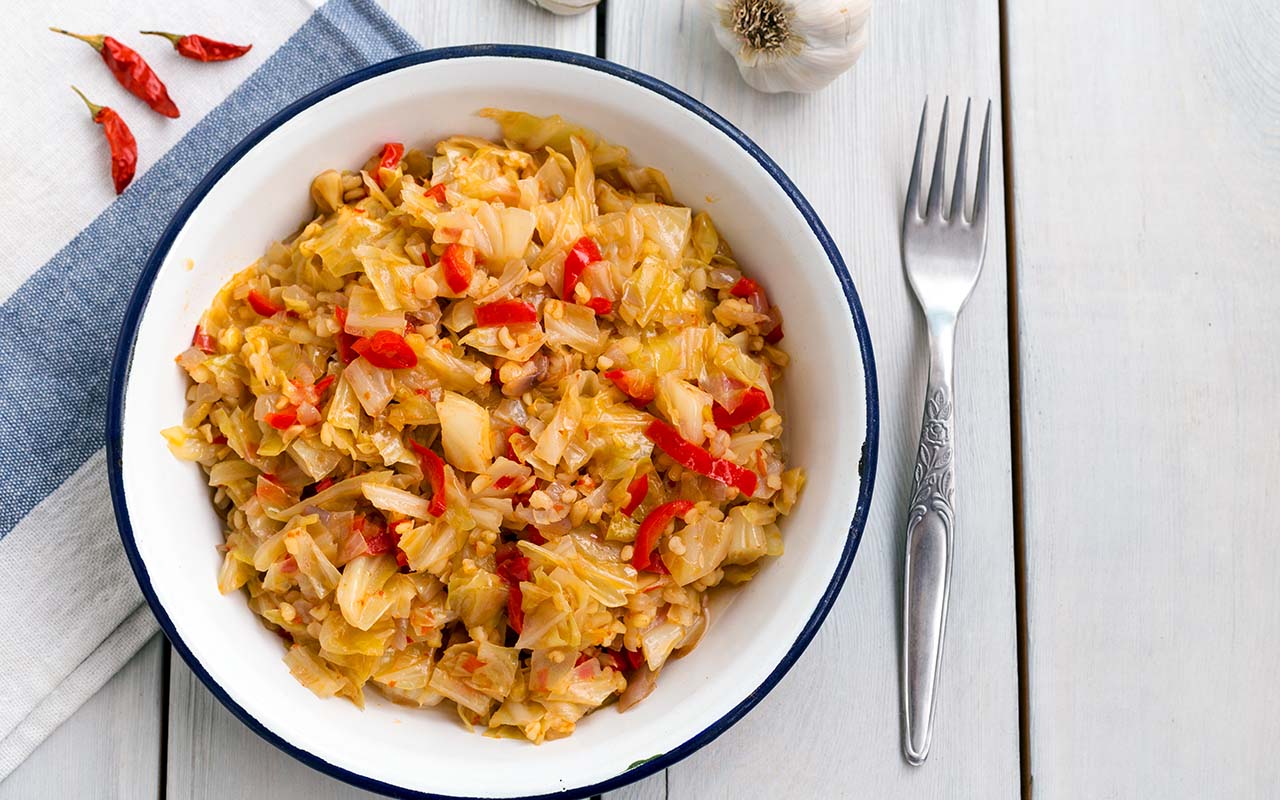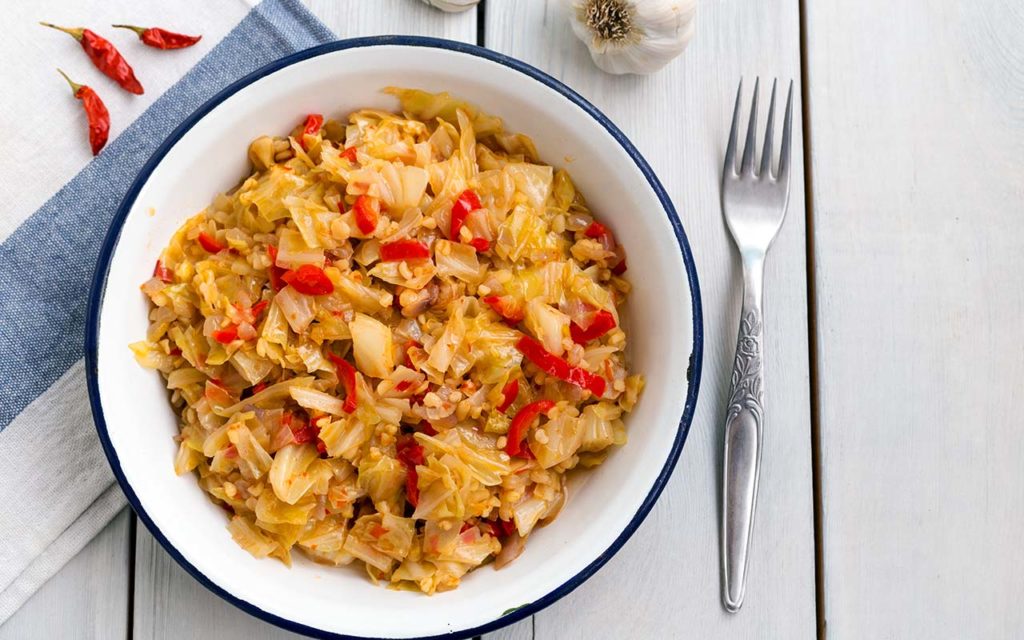 Kapuska is a hearty cabbage-based stew. There are many variations of the stew, and the Turkish dish is often enriched with additional ingredients such as meat, rice, bulgur, or beans. Traditionally, the cabbage is stewed with tomatoes, onions, ground black pepper, and olive oil until perfectly tender.
A vegetarian version of Kapuska is made with the same ingredients, except the meat. It's a true comfort Turkish food for winter that keeps locals warm and cozy during the colder months.
24 – Alinazik Kebab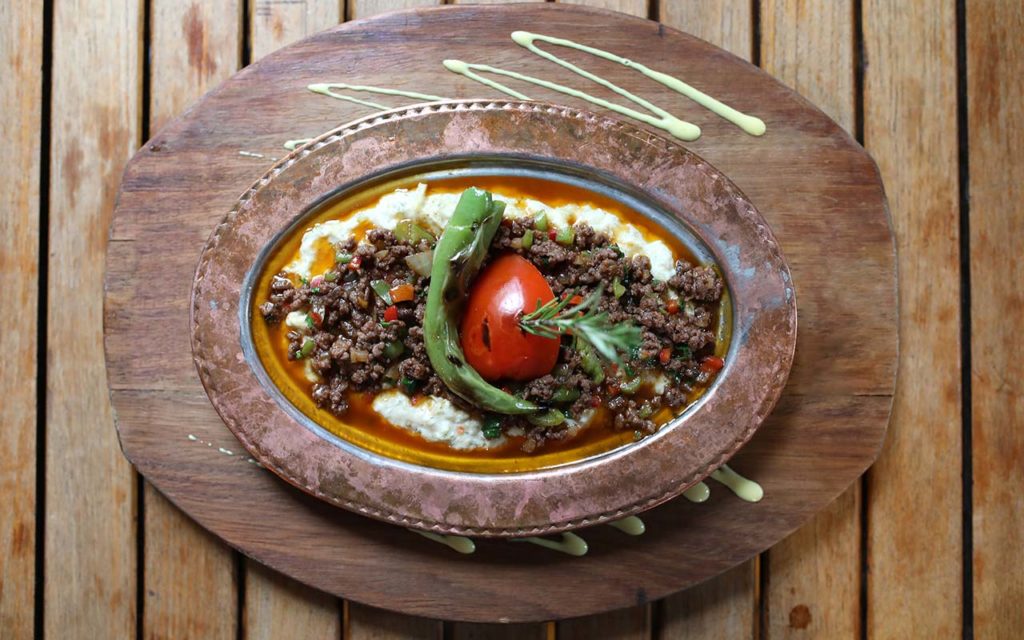 This kebab variety is most popular in Gaziantep. Char-grilled aubergines are pureed and mixed with garlic yogurt sauce and topped with sweet lamb chunks that melt in your mouth. The lamb is usually stewed with red pepper paste, onions, tomato paste or tomatoes, and olive oil.
Aubergines in the traditional dish have a smoky flavor achieved from being roasted over a coal fire. Alinazik Kebab pairs well with grilled vegetables or rice pilaf on the side.
Turkish Food Summary
And there we have it – tweny four of the most delicious Turkish foods that you simply have to try when you visit Turkey. Before you go, make sure you're well versed in the names and pronunciations, so that you can ask to try these delicacies on the street or at a restaurant.
One final time here is the full list of foods we covered above:
1 – Manti
2 – Kofte
3 – Lahmacun
4 – Sis Kebabs
5 – Mercimek Corbasi
6 – Doner
7 – Kuzu Tandir
8 – Pide
9 – İmam Bayıldı
10 – Borek
11 – Hunkar Begendi
12 – Gullac
13 – Dolma
14 – Kazan Dibi
15 – Kokoretsi
16 – Menemen
17 – Baklava
18 – Mücver
19 – Nohutlu Pilav
20 – Kayısı Tatlısı
21 – Kunefe
22 – Iskender Kebab
23 – Kapuska
24 – Alinazik Kebab
You Might Also Like to Read
Save and Pin for Later
Want to keep all these delicious Turkish food picks in a safe place? Save this article and pin it to one of your Pinterest boards for later.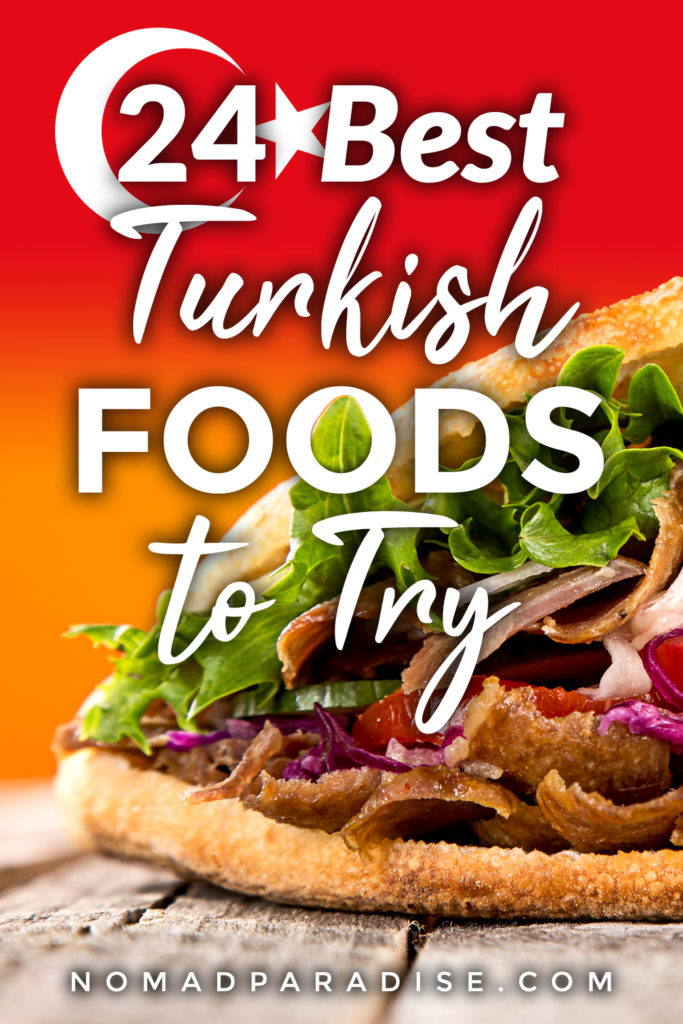 ---
Images licensed from Shutterstock