This post may contain affiliate links, meaning if you book or buy something through one of these links, we may earn an affiliate commission at no additional cost to you. Learn more
A cuisine renowned for its roaring heat, abundant spice, and sumptuous flavor, Moroccan food takes the senses on a unique culinary journey, quite unlike any other country.
Morocco's geography, lapped by the Mediterranean Sea and baking in the North African heat, combined with influences from the region, have all played their role in creating a wide array of dishes with character, texture, and flavor in abundance.
Gear up for an African adventure of mouthwatering proportions as we discover Morocco through 22 of its foods that you simply have to try when you visit (as recommended by a local).
Moroccan Food
Mains
1 – 'Tagine'- Spiced Meat/Fish and Vegetables/Fruits
It is nearly impossible to stay in Morocco without hearing the locals talking about tagine. This word, however, has two meanings in Morocco. First, it can be used to refer to a traditional, artisanal baking and serving dish.
Made of clay or ceramic, it is a circular container wide enough to serve a combination of different foods, including vegetables, meat, fish, fruits, sauce, and olives, among many others. The structure's unique, elongated cone-shaped lid helps keep the food hot, allowing it to sit and be eaten at a leisurely pace.
Tagine is also commonly used to describe the food being served, which differs depending on people's tastes. Tagine can refer to a wide range of dishes, from a spiced mixture of fish or meat with fruit and vegetables to spiced vegetables cooked alone. Olives are a common addition in Tajine.
Tagine can be cooked using a gas hob at low heat, but Moroccan tradition states it tastes better when cooking it as our ancestors did, over charcoal.
Tajine can be served with many appetizers, including Moroccan salads such as zaalouk, taktouka, and bakkoula. Without a doubt, a glass of Moroccan mint tea is always a good idea!
Tagine is also traditional in Algerian cuisine.
2 – 'Couscous'- Crushed Durum Wheat Semolina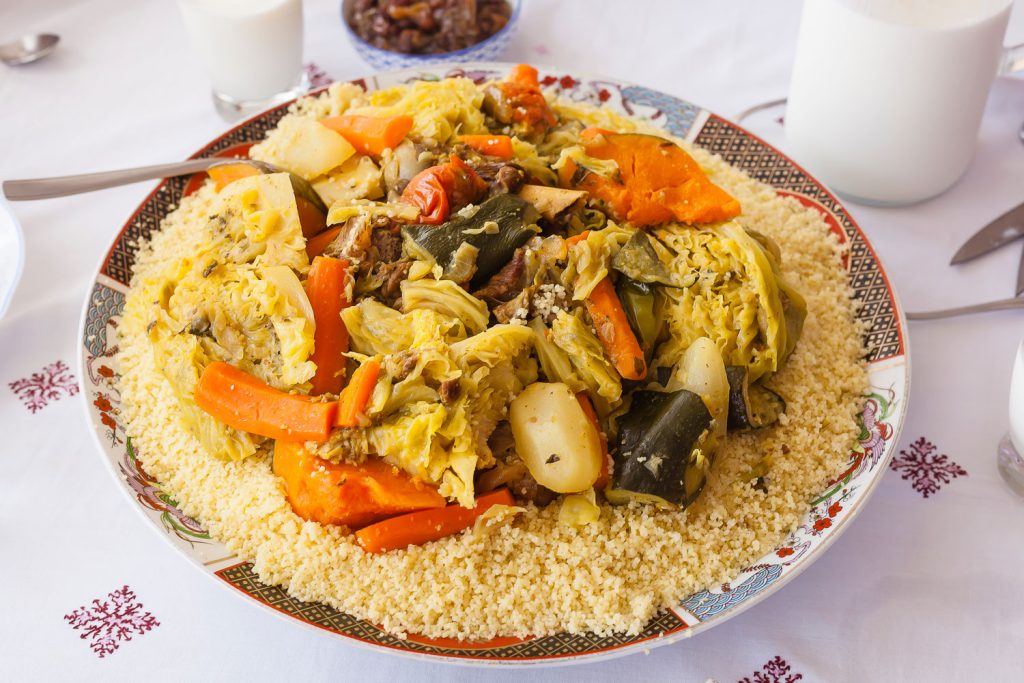 Couscous is one of the most well-known Moroccan dishes around the world. It is a Friday-exclusive lunch meal, served with whey milk as a refresher.
Usually, there are two methods to prepare couscous, varying in terms of ingredients used. The first dish is prepared with meat and vegetables. Seven key vegetables are used, those being zucchini, turnip, carrot, aubergine, cabbage, chickpeas, and onions. Other vegetables, however, including tomatoes and beans, can also be used.
The second type of common couscous dish is a little simpler. It is prepared with chicken and a sweet garnish of caramelized onions with raisins.
There is a specific tool to cook couscous. It is called a 'couscoussier' – meaning couscous cooker – and the utensil consists of two compartments. The bottom cooks the meat and vegetables while the top compartment steams the grains.
Traditionally, couscous is served on a large platter. It is served at a wide range of celebrations, such as Eid Al-Addha, Eid Al-Mawlid, and various family gatherings.
3 – 'Rfissa' – Trid with Chicken and Lentils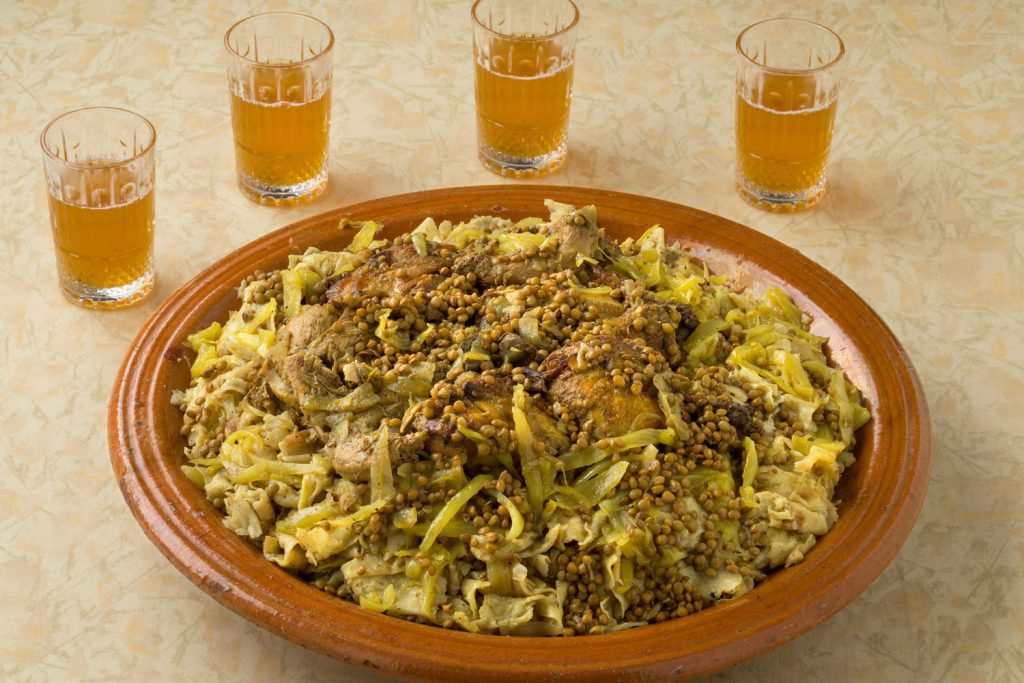 A popular Moroccan dish, rfissa is prepared for many occasions and celebrations. In addition, it has a wide range of health benefits.
The dish is a delicious stew of chicken, vegetables, and lentils, cooked over different types of bread. The bread can either be 'msemmen', which is cubed, or 'harcha', which is shredded.
But what makes this recipe special is its seasoning, which varies from region to region. 'Ras El Hanout' and 'Msakhen' are two of the most popular spice mixtures used in this dish, adding a generous amount of sweetness and aroma.
Rfissa is cooked using a couscoussier, in a similar vein to couscous. The chicken, lentils, and vegetables are cooked in the bottom compartment, and the bread is steamed in the upper compartment.
4 – 'Harira'- Moroccan Soup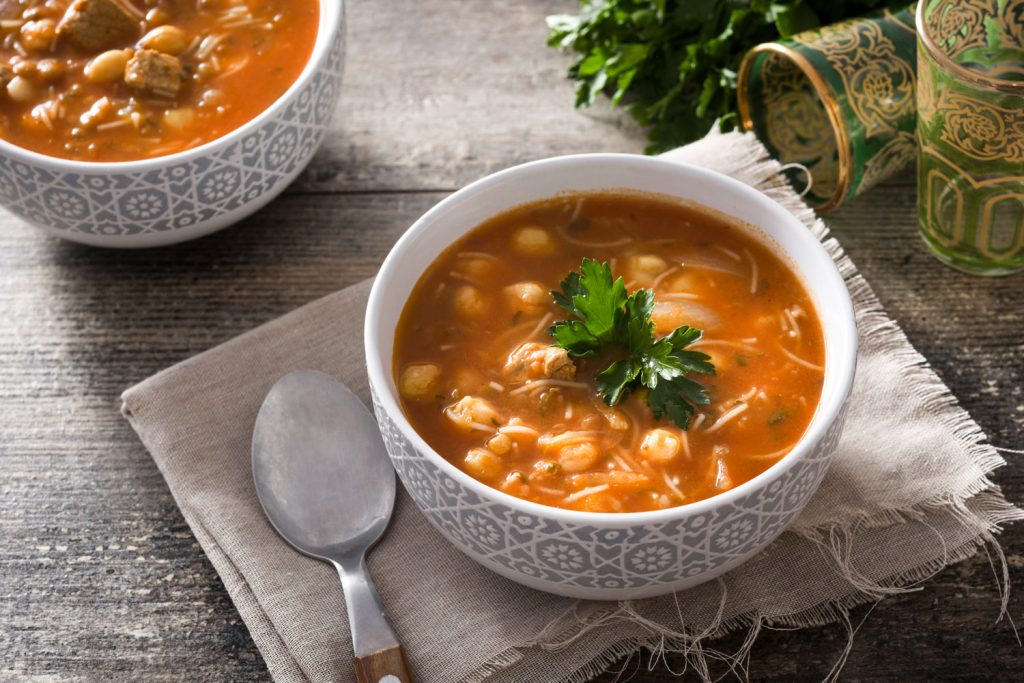 Harira is a wholesome and delicious Moroccan soup. Its name is derived from the Arabic word 'harir,' meaning 'silk,' which references the silky rich and smooth texture of the dish.
The soup traditionally has a tomato base, which can either be made from fresh tomatoes or canned tomatoes, to which both chickpeas and lentils are added. The soup can then be made with meats, such as chicken, beef, or lamb, and/or simple vegetables, such as celery, depending on preference.
Caraway, ginger, red and black pepper, cinnamon, cumin, parsley, and coriander are all added to enhance the flavor of the soup and conjure up an incredibly deep, fresh, and spicy flavor profile.
Infused with a generous squeeze of lemon juice, pieces of fresh bread, dates, and sweet Moroccan cookies known as 'chebakia,' can all be added to the broth to complete the dish. It is traditionally eaten at breakfast throughout Ramadan, and it is a hugely popular soup sold in many restaurants and by street vendors throughout the country.
5 – 'Seffa'- Sweet Semolina Couscous with Almonds and Cinnamon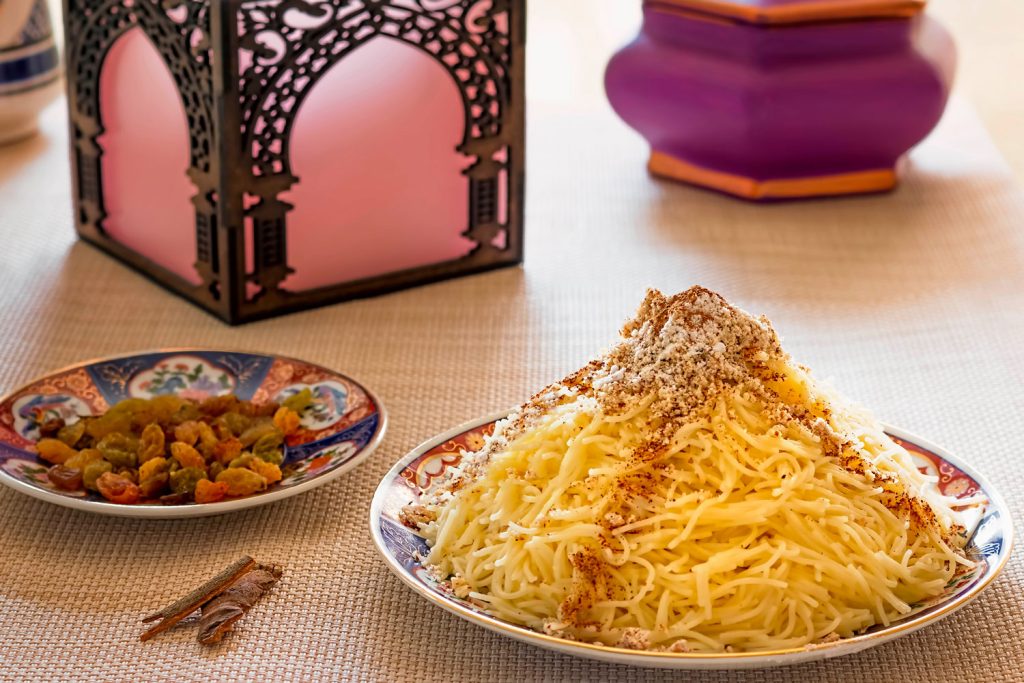 A dish adored by Moroccans from all walks of life, seffa is a wholesome dish of couscous or semolina grains with a wonderfully sweet twist.
It is made by adding fried almonds and raisins to a mixture of couscous or semolina, sweetened with cinnamon and sugar, and cooked in a couscoussier. Meat-lovers often add chunks of beef, lamb, or chicken to the dish.
Traditionally served hot or cold with a glass of cold refreshing milk, seffa is the perfect dish for anyone who loves to mix both sweet and savory flavors in their cooking.
6 – 'Bissara'- Mashed Beans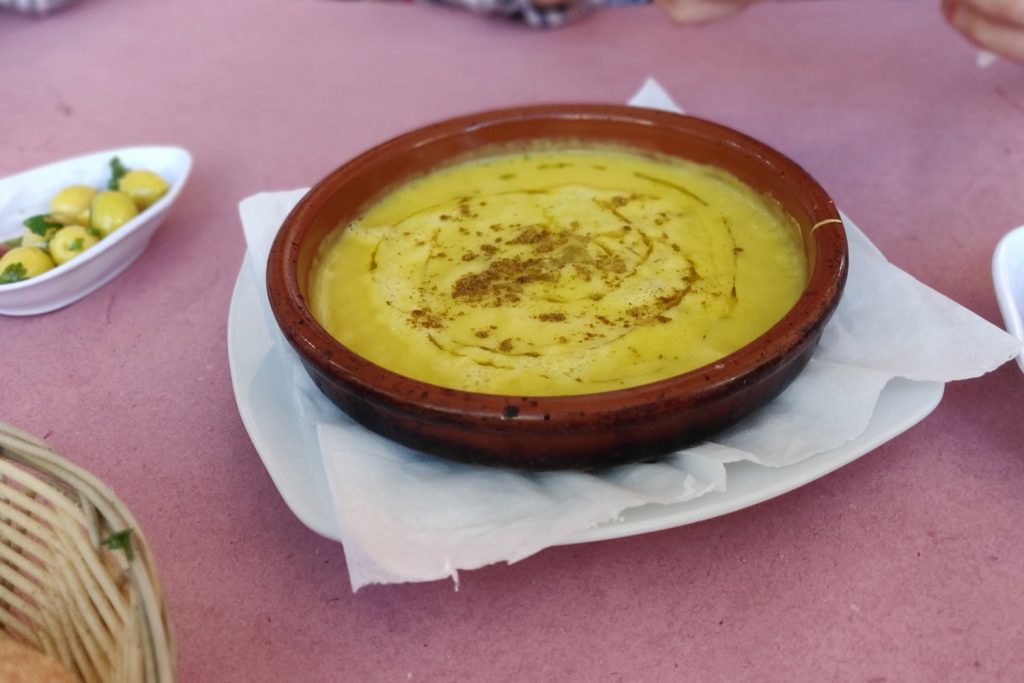 If you're planning on visiting Morocco during the winter months, then arguably, there's no better dish in Moroccan cuisine to warm you up throughout the colder months than a bowl of hot bissara.
Bissara is a specialty in Northern Morocco, and is especially synonymous with the city of Chefchaoeun, also known as the 'Blue Pearl.' This hearty dish is made from a base of dried beans, boiled in water for around an hour, with garlic, cumin, red pepper, olive oil, and salt, blended together for a silky smooth texture, similar to the likes of a puree.
Additional olive oil, cumin, and red pepper or cayenne pepper are added to enhance the flavor before serving. Traditionally it is served with a glass of Moroccan mint tea.
7 – 'Pastilla'- Moroccan Chicken/Fish Pie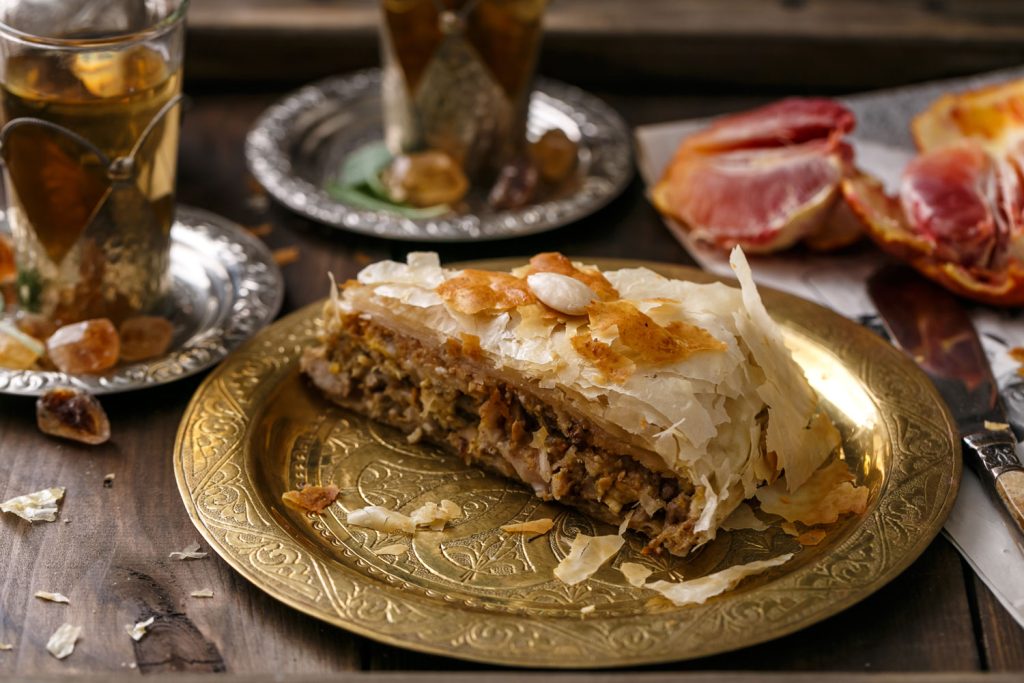 A pastilla, or bastilla, is a wholesome and delicious chicken or seafood pie, commonly enjoyed at lunch or dinner and traditionally served at many Moroccan celebrations, such as weddings. It is made from a special dough known as warka, which is similar to filo pastry.
Hugely popular in both Moroccan and Algerian cuisine, both choices of pie serve up a sweet and savory surprise. Chicken pastilla has a sweet and salty filling of diced chicken, garlic, parsley, butter, cilantro, and oil, spiced and seasoned with ginger powder, turmeric powder, cinnamon powder, saffron, black pepper, and salt, and sweetened with brown sugar.
Once baked, the wonderfully crusty warka pastry is topped with icing sugar, cinnamon powder, and crushed almonds, making for a mouthful that unleashes a vast array of sweet and savory flavors and abundant textures.
If you opt for seafood pastilla, prepare for a deep, spicy, salty, and utterly satisfying filling of vermicelli pasta, shrimp, calamari, black mushrooms, and various fish from the region, accompanied by a range of seasonings and spices, enveloped in a pastry crust topped with grated red cheese.
You can find pastilla baked as a large pie, or as individual triangular-shaped pastries, for a delightful bite-sized mouthful of this magnificent Moroccan favorite.
8 – 'Tangia'- Cooked Meat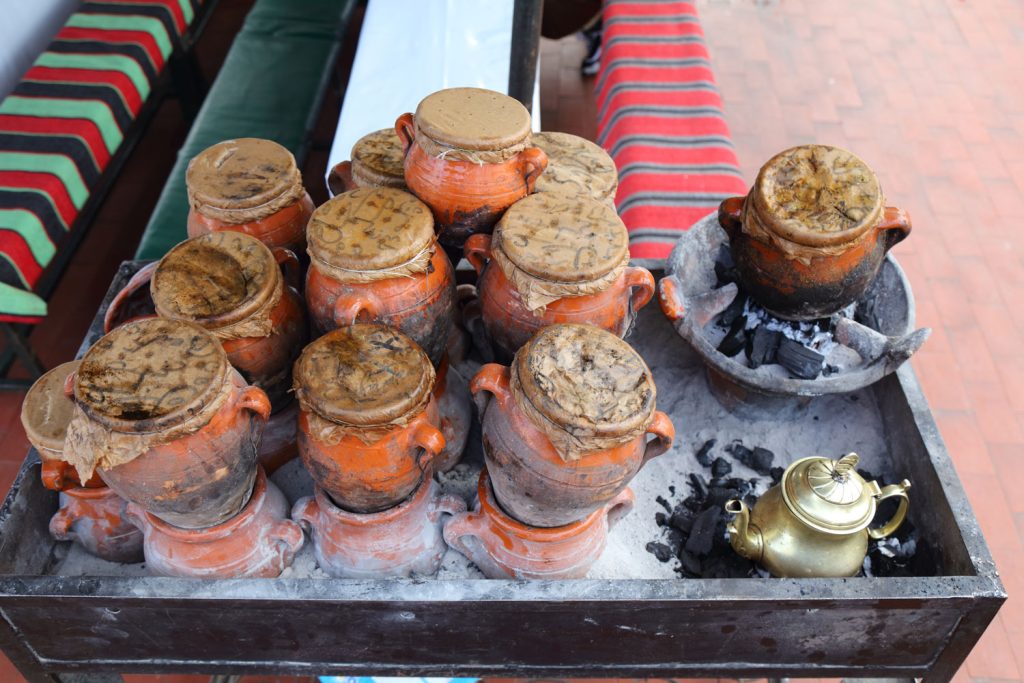 Not to be mistaken with the Moroccan city of Tangier, tangia the dish originates from Marrakech and is one of the must-try foods when visiting the famous Jemaa El Fnaa square.
In a similar vein to tagine, tangia takes its name from the vessel that is used to cook the food in, which in this case is a clay pot molded into a traditional carafe shape.
Traditionally, tangia is a dish of various meats on the bone, seasoned with many different spices, slow-cooked over an open fire inside the pot, which helps seal in the sumptuous flavors and aromas. If you find yourself exploring the delights of Jemaa El Fnaa, seek out and try this meat-based delight.
9 – 'Mechoui'- Roast Lamb
Mechoui is a traditional Moroccan dish consisting of an entire marinated lamb roasted over an open wood fire, rotisserie style. It is seasoned with a generous amount of ras el hanout, salt, and cumin.
The lamb is prepared by removing all the organs (except the kidneys), marinating the meat, and then skewering the entire lamb, before fixing it to a rotisserie. When everything is in place, the fire is light and the lamb is slow-roasted as it turns.
A dish that has been eaten in the region for generations, machoui is a popular choice to feed everyone at Moroccan weddings. In fact, it is very common to eat the meat with your hands, as our ancestors did! Served with a side of olives and a refreshing soda, if you happen to be invited to a Moroccan wedding you will no doubt get to try this beloved dish, steeped in history and tradition.
10 – 'Djaj Mhammer' – Roast Chicken with Lemon and Olives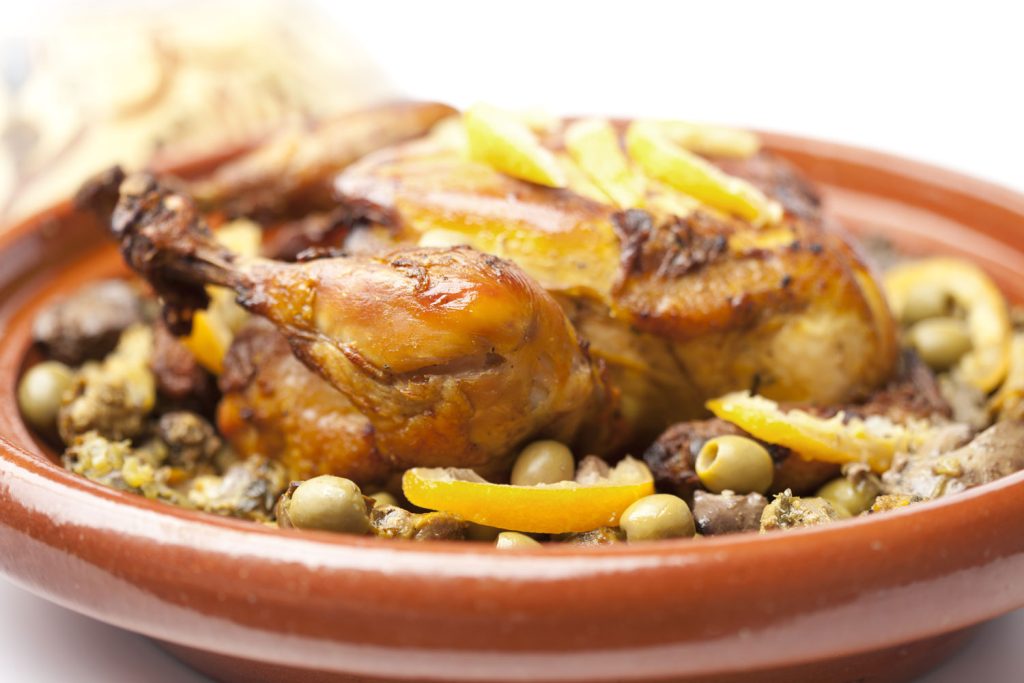 Djaj mhammer is a hugely popular dish in Moroccan cuisine. While the seasonings and additional ingredients vary from region to region, two key steps remain the same – the first is that the chicken is left to marinade overnight, and the second is the chicken is roasted separately from the seasoning mixture.
One typical Moroccan seasoning you'll commonly see as part of djaj mhammer is daghmira, which is a mixture of onions cooked in oil, olives, lemon, saffron, and paprika.
Traditionally, one chicken is served per three adults, and pieces of fresh bread are used to dip into the daghmira, which is enjoyed with succulent pieces of the roasted chicken.
11 – Lamb/Beef with Prunes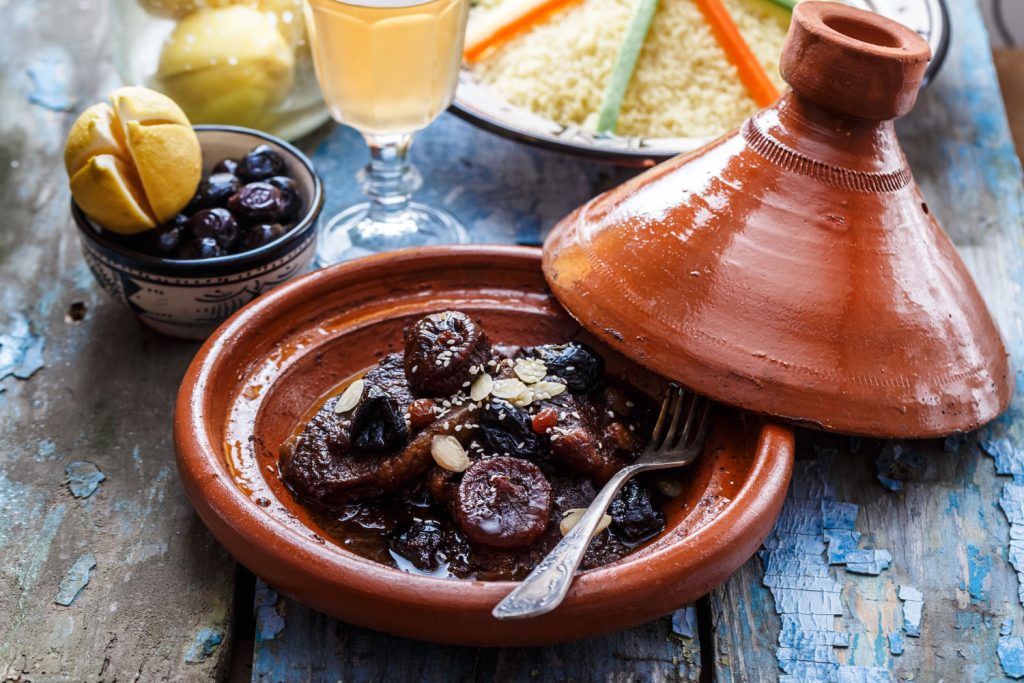 This rich and delicious dish is considered a tajine because traditionally it is cooked and served in one (see #1). However, today many Moroccans also prepare lamb or beef with prunes in a pressure cooker because it is quicker.
The meat, either lamb or beef, is cooked with onions, garlic, herbs such as cilantro, various spices, oil, and butter. The prunes are prepared separately, caramelized with honey and sugar, and cooked with a few spoonfuls of juices from the meats and some cinnamon. Once the mixture takes on a syrup-like texture, it is poured over the top of the beef or lamb and served with fresh bread for a truly sweet and succulent combination.
12 – 'Medfouna'- Moroccan Pizza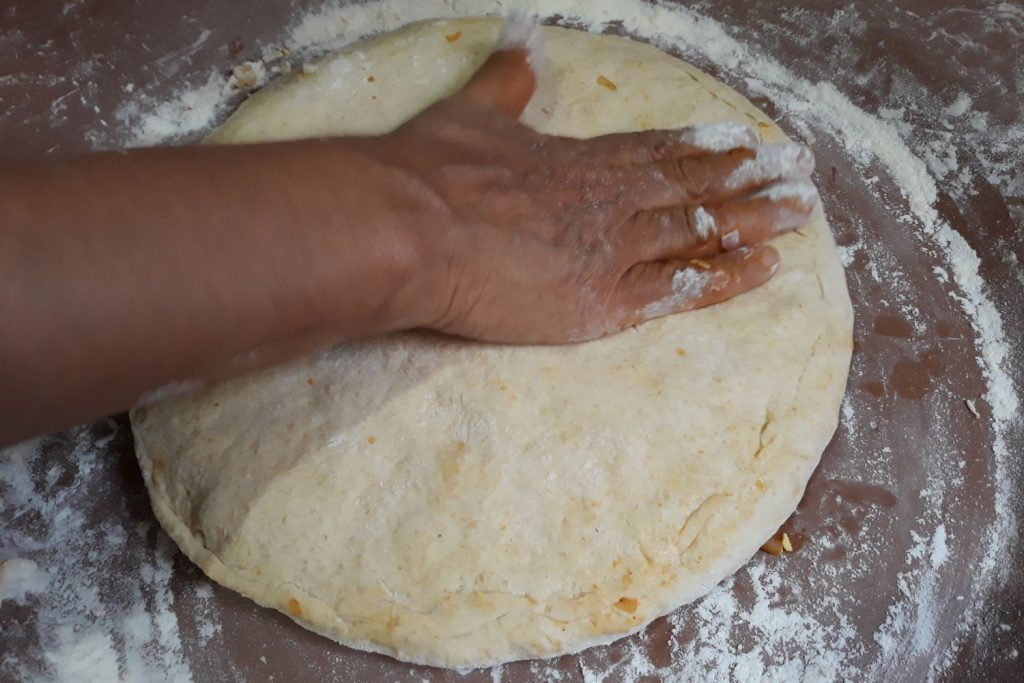 Many countries in North Africa, Levant, and the Mediterranean have their own take on Italian pizza, and Morocco is no different. Medfouna is a speciality dish throughout the region of Tafilalet in the east of the country, and can particularly be found in abundance in the city of Rissani.
It is well known that bread plays a significant role in Moroccan cuisine, and I would go as far as saying it's nearly impossible for a day to pass by in Morocco without eating some sort of bread! Hence, it should come as no surprise that medfouna found its way into the cuisine.
The biggest difference between medfouna and a conventional Italian pizza is no cheese is used. Instead, the dough base is topped with ground meat (commonly beef), fat, and plenty of spices. It is traditionally cooked in a fire pit, and eaten piping hot, straight out of the flames, with a glass of refreshing mint tea.
This is a Moroccan dish packed with spice and flavor, and watching the vendors make it can be just as satisfying as eating it. You simply have to try it when in Morocco.
13 – 'Babbouche'- Snail Soup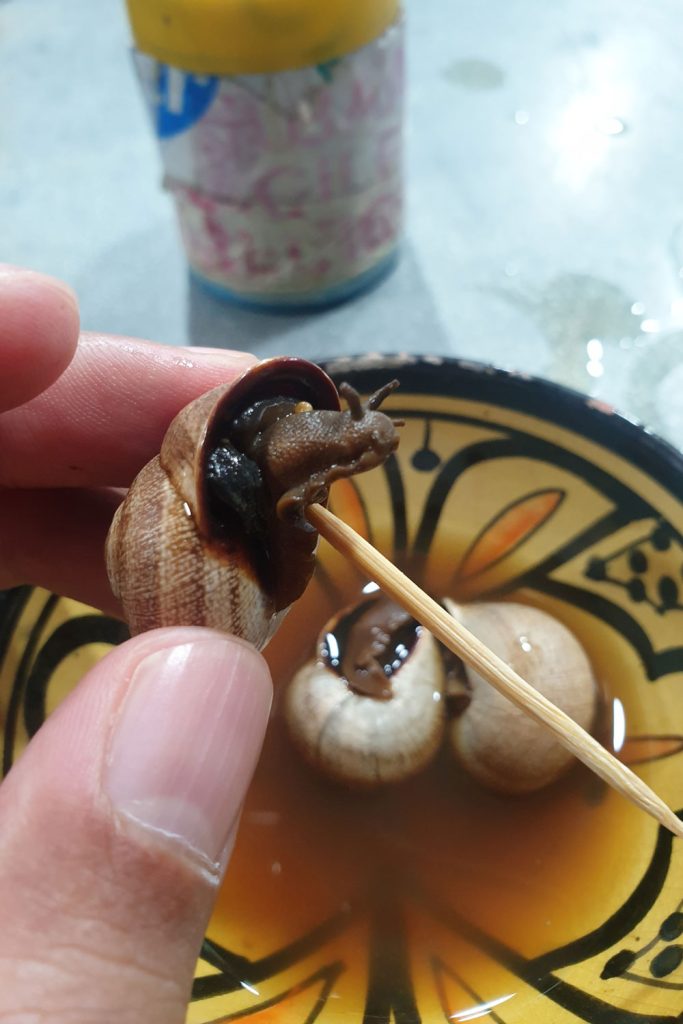 Babbouche, meaning 'snail' in Moroccan dialect and also referred to as 'ghoulal' in other regions, is a hot and spicy snail soup, and it's a hugely popular street food. As with tangia, if you find yourself amid the energy and bustle of Jemaa El Fnaa, be sure to seek out and try this delicacy, as a vast array of street food vendors prepare and sell it.
Babbouche is commonly served in two separate bowls. The first bowl contains the snails served with a toothpick, and the second is filled with a delicious and spicy broth made from various herbs, dried orange peel, black pepper, and salt. You can either dunk the snails in the broth or eat them separately, depending on preference.
Renowned for its mesmerizing aroma, this is very much a dish to try for curious and adventurous foodies who love to spend time at the markets.
14 – 'Maakouda'- Fried Potato Balls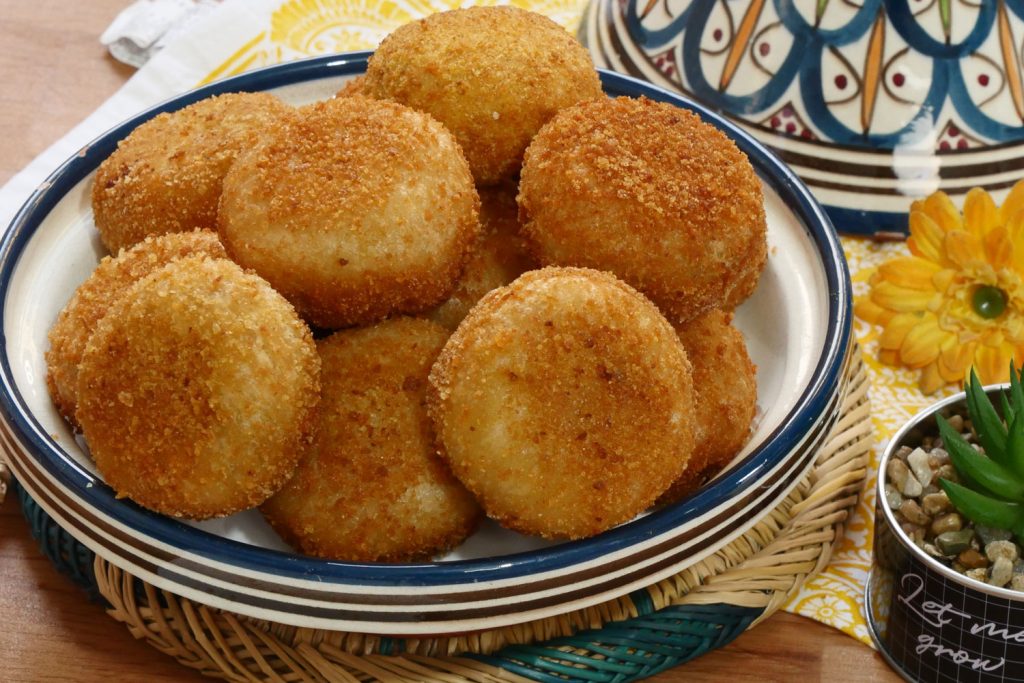 Maakouda is a quick and simple dish of deep-fried balls of mashed potatoes mixed with herbs and flour. They have a creamy soft center and a crunchy outer coating. Maakouda are often served with a lemon tomato sauce or a side of harissa for those who love a little heat.
A renowned street food, you can find maakouda in so many places, from bustling food markets to street corners.
15 – 'Hergma'- Moroccan Beef Feet with Chickpeas
Traditionally a dish prepared for important Moroccan events such as Eid Al-Adha, hergma is considered a tagine, and it's also a popular dish to eat during the winter months.
It is also known as keraâine or fraquesh, depending on what animal meat is used, be it beef or lamb, calf or foot. The tender meat is cooked with onions, herbs, spices, chickpeas, and raisins, and it is served with a dipping sauce known as merga, along with freshly cut bread or a side of rice.
With a thorough cleaning of the meat required and a cooking time of up to five hours, patience is key with this unique Moroccan dish. However, the tenderness of the meat, sweet and spicy flavor profile, and wonderful aromas of the dish make the wait more than worthwhile.
Appetizers
16 – 'Zaalouk'- Eggplant Salad
Zaalouk is a rich salad consisting of cooked eggplant, tomatoes, garlic, and spices, predominately paprika and cumin. The use of these spices gives the salad its renowned reddish hue.
Zaalouk is a diverse dish, and different households make it in different ways. Some Moroccans prefer to grill the eggplants first before adding them to the mixture to add a wonderful smokey flavor to the dish, while others will add cayenne pepper for some heat or lemon juice for some zest to the salad.
Enjoyed as an appetizer, zaalouk can be eaten both hot or chilled. It can be enjoyed on its own or used as a dipping sauce with a few pieces of freshly cooked bread.
17 – 'Bakoula'- Mallow/Spinach Salad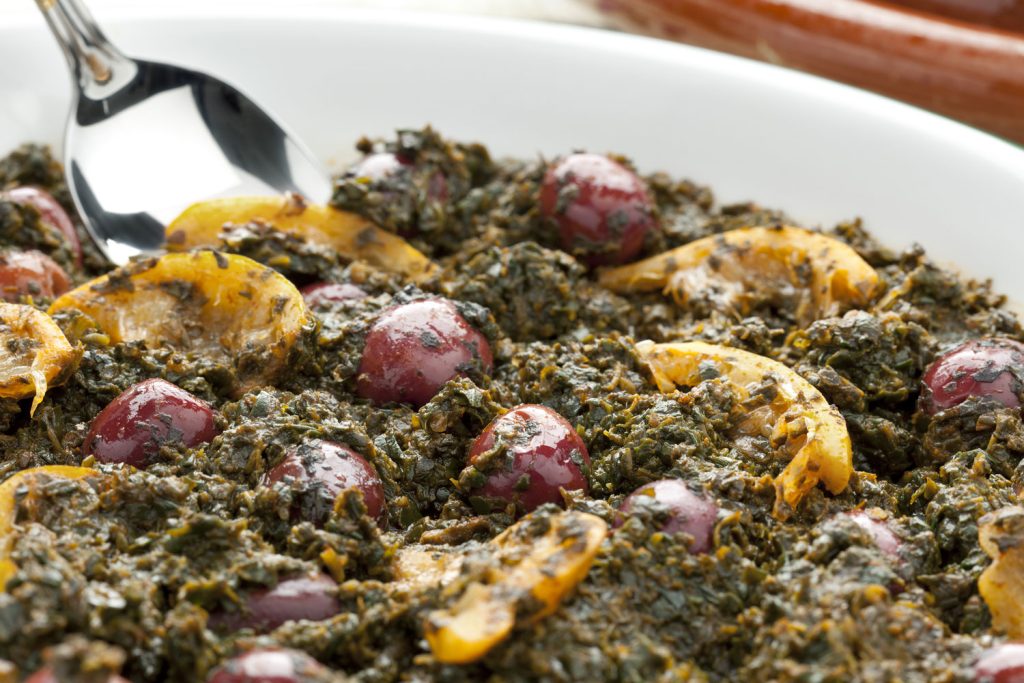 Also known as khoubiza, bakoula is a humble mallow salad. Mallow plants grow in tropical areas of Europe, Asia, and Africa, and their leaves can be eaten and used in cooking. Hence, mallow is commonly used in Moroccan cooking, along with the likes of Turkish cuisine and Chinese cuisine, among others.
However, as mallow is generally cultivated during the rainy season and can be hard to find in some areas, often spinach is used as a substitute in making this salad. The peppery flavor profile and texture of spinach leaves are seen as similar to mallow leaves.
Bakoula is made by chopping mallow or spinach, mixing it with garlic, lemon, olives, and olive oil, and cooking the mixture in a pressure cooker. It is often enjoyed with a side of bread and harissa or a similarly spicy chili sauce.
Enjoyed as an appetizer, Moroccans usually eat bakoula before tucking into a hearty tagine.
18 – 'Taktouka'- Pepper Salad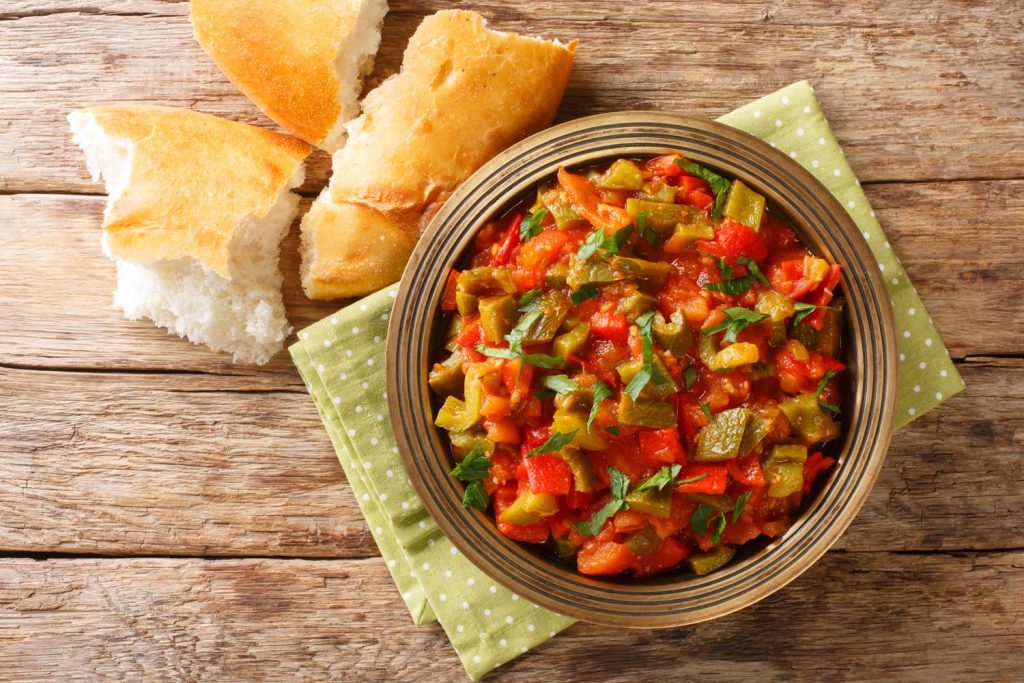 Taktouka is arguably the most beloved of Moroccan salads, and very much one of the most popular to prepare. In a similar vein to zaalouk, it is a simple dish of cooked green peppers, tomatoes, and various herbs and spices, depending on preference.
Diverse and easy to make, as with the eggplant used in zaalouk, some Moroccans will first grill the peppers, before adding them to the salad mixture to cook.
Both taktouka and zaalouk are nearly always offered as a starter or appetizer in traditional Moroccan restaurants and eateries. You can enjoy it on its own, or with a side of bread to dip into the salad.
19 – 'Harcha'- Moroccan Bread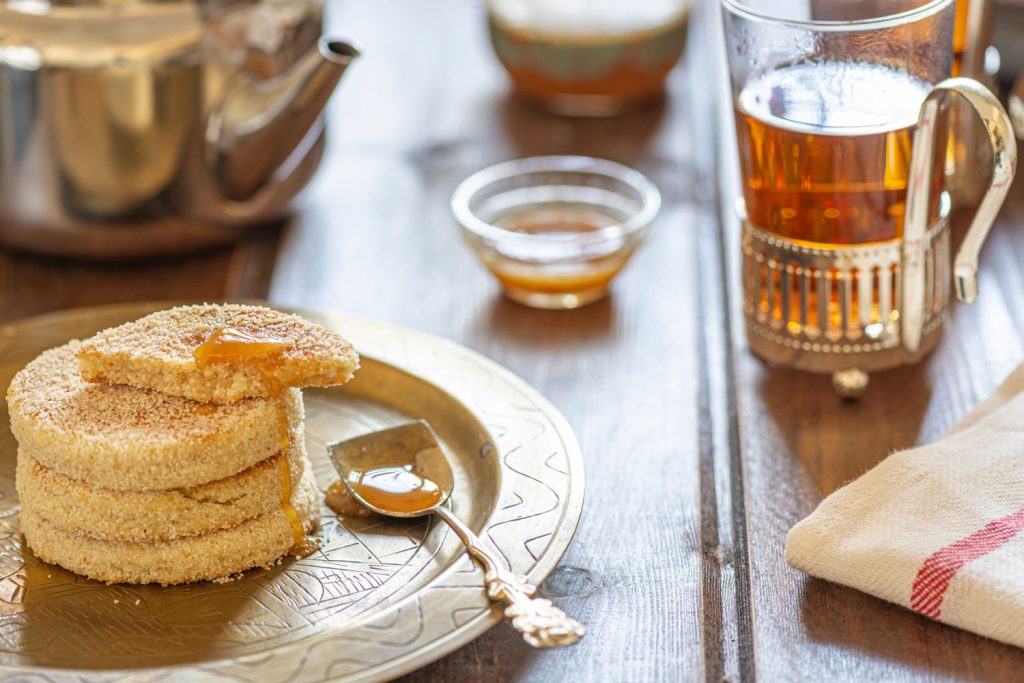 As you have probably realized by now, bread is a huge part of Moroccan cuisine. Hence, it should come as no surprise harcha, or 'rough bread,' finds its way into our list of must-try foods.
Made from semolina, butter, and salt, this simple and filling fried flatbread can be enjoyed with honey or jam for a sweet snack or topped with cheese for a savory bite to keep the hunger at bay in-between meals.
Hugely popular throughout the country, different families prepare it in so many different ways. Enjoy it with a glass of Moroccan mint tea, or atay, for a simple and wholesome breakfast, lunch, or snack.
20 – 'Msemmen'- Moroccan Pancake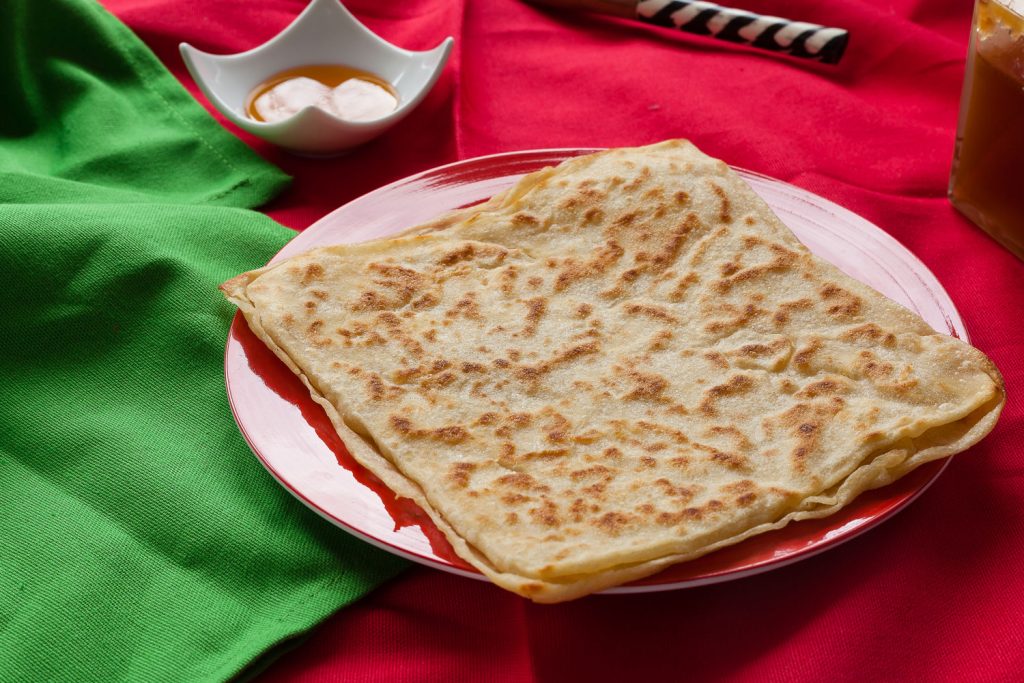 Another powerhouse in the 'Moroccan breads' category, msemmen or meloui, is as diverse, adaptable, and popular as harcha, its flatbread counterpart.
A staple of the Maghreb region, msemmen is one of the most popular dishes of Arabic cuisine and can be treated as a flatbread or a pancake, depending on how it is served.
Traditionally made from a dough of durum wheat semolina, flour, dry yeast, butter, and a little water, salt, and sugar, msemmen is made by rolling the dough out into balls, rolling the balls out flat over a hot heavily oiled surface to fry, and finally folding the fried bread into thin, square-shaped pancakes to be served.
Moroccans eat msemmen with their morning tea or coffee, with honey, jam, salted butter, or even cheese. Or, it can be stuffed with spiced meat, onions, and tomatoes, rolled, and served pancake-style.
Sweet
21 – 'Kaab El Ghazal'- Gazelle Horns
Arguably the most popular sweet pastry in the country, these crescent-shaped pastries are as delicious as they are decadent, and it is a popular dish to bake and serve for important Moroccan celebrations and events, such as Eid Al-Adha.
Kaab el ghazal, or 'gazelle horns,' are made from a mixture of mashed almonds, sugar, rose or orange flower water, and cinnamon. You'll find them in bakeries throughout the country, and you simply cannot visit Morocco without trying these wonderfully sweet treats.
22 – 'Chebakia'- Moroccan Cookie
Chebakia, or m'kharga, is a traditional Moroccan pastry, commonly prepared throughout the fasting month of Ramadan. This delightful flower-shaped cookie is made from a simple dough that is fried, dipped in honey, and finally sprinkled with sesame seeds.
Indulgently sweet and sticky, you can find this Moroccan sweet in bakeries throughout the country. Don't hesitate to purchase up to a kilo of chebekia to take home to family and friends because it's guaranteed to put a smile on many of their faces!
Moroccan Food Summary
The north African countries are renowned for their dazzling and flavorsome cuisines, and Morocco very much plays testament to this statement.
A colorful, eclectic, and mouthwatering fusion of Mediterranean and Maghreb geography and European, African, and Middle Eastern cooking styles, Moroccan food takes you on a unique sensory expedition quite like no other cuisine.
Food is deep-rooted in the heritage and culture of the country. From tagine to atay, so many different dishes have an integral role to play in day-to-day Moroccan life, making them far more than mere dishes drank and eaten to fuel the body.
A trip to Morocco simply isn't complete without putting food high up on your itinerary. Be it immersing yourself in the heat, aroma, and energy of the food markets, or ordering tagine and mint tea at a Moroccan restaurant and experiencing lunch or dinner as the locals do, food can open up your mind and body to so many new and exciting experiences in Morocco.
Embrace the spice, salivate at the sweet and savory combinations, and let the food take your mind, body, and soul to places you never thought possible!
You Might Also Like to Read
Save and Pin for Later
Keep this list of Moroccan dishes for safekeeping by saving this article to one of your foodie or international travel Pinterest boards.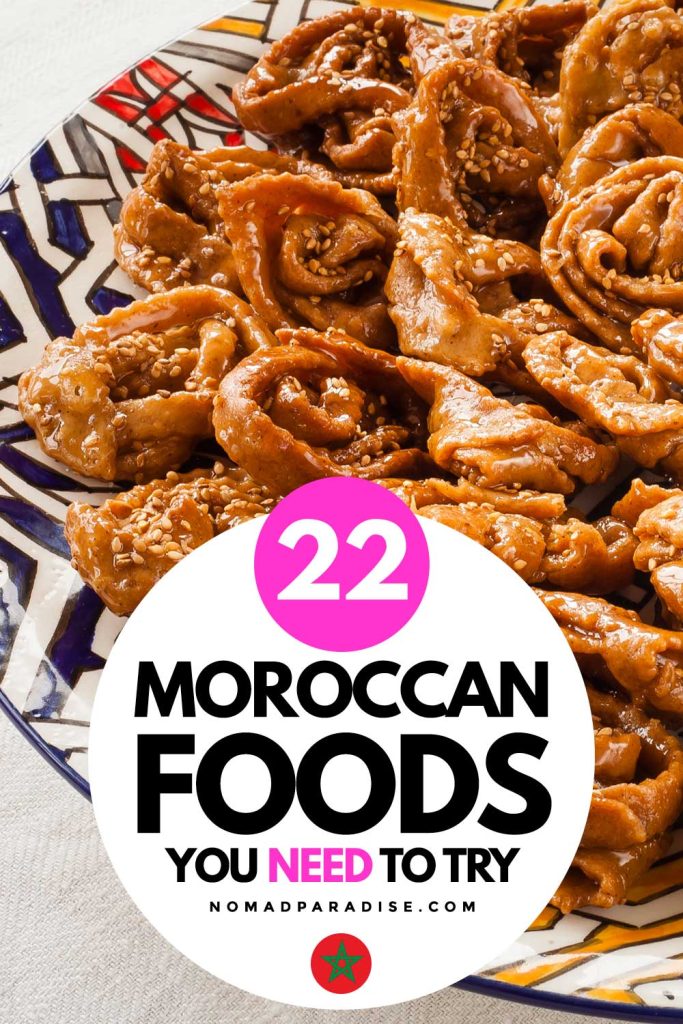 Author: Ouiam Bouziane is a Moroccan content creator and writer. She is passionate about sharing more about Moroccan cuisine, travel, and culture through her writing.
Images licensed via Shutterstock