This post may contain affiliate links, meaning if you book or buy something through one of these links, we may earn an affiliate commission at no additional cost to you. Learn more
Fusing rich, spicy, and explosive flavors with humble Caribbean cooking, Haitian food offers a truly diverse and eclectic culinary experience.
Drawing from a vast range of influences, including French, African, and Middle Eastern, these dishes should be on the must-try menu for any trip to this unique Caribbean island.
Guided by a local writer, let's discover the color, character, and passion of Haiti, through 15 of its most popular and traditional foods.
Haitian Food
1 – Soup Joumou (Beef and Pumpkin Soup)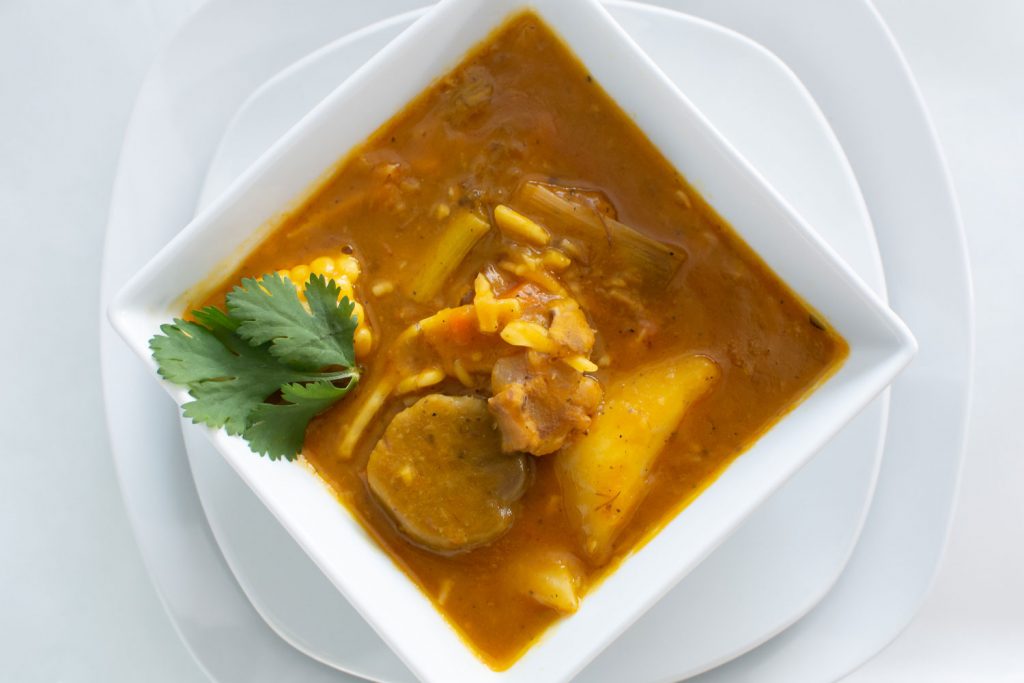 This warming beef and pumpkin soup is an important Haitian dish, traditionally cooked on January 1st in celebration of Haiti's Independence Day.
Soup Joumou is a rich soup consisting of key ingredients beef and pumpkin, while carrots, onions, macaroni, squash, and potatoes are commonly added to the broth. It's flavored with fresh ginger, garlic, sage, and a generous splash of lemon or lime juice.
2 – Fresco (Haitian Shaved Ice)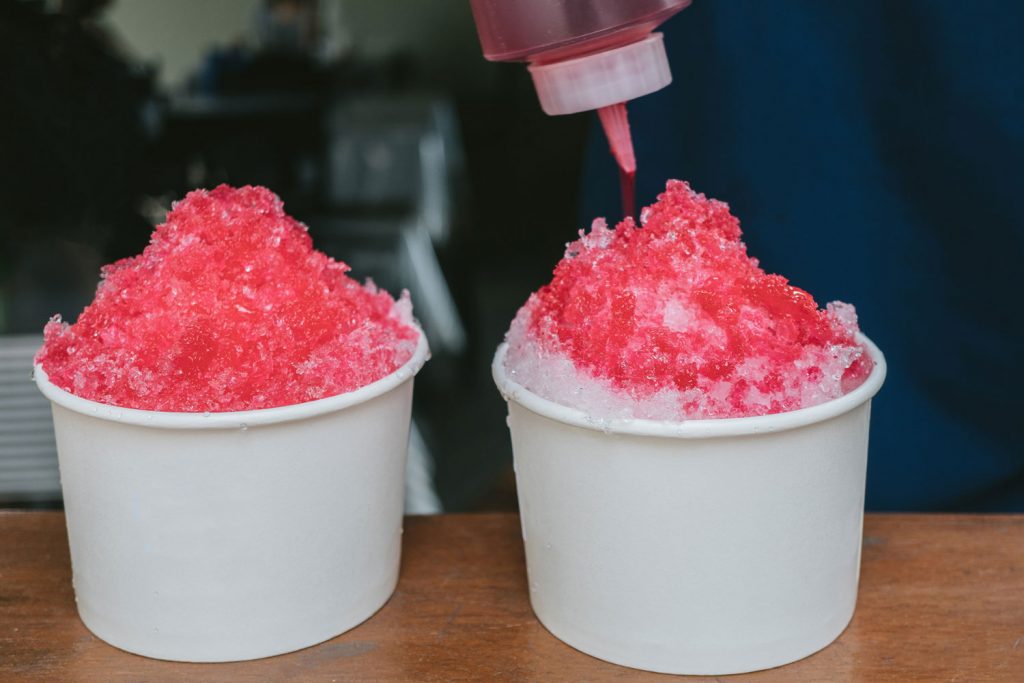 Haitian shaved ice was, and still is, a widely adored and popular treat – especially for kids making their way home from school on a hot summer afternoon. I vividly remember every afternoon after school, when my dad would pick me up, begging him to give me a little bit of money so I could buy one of these frozen treats.
Outside almost every school, at the end of the day, you could pretty much guarantee there'd be someone selling Fresco out of a small vehicle, similar to an ice cream cart. There'd be a nearby queue of children, lined up like skittles, eagerly awaiting their turn!
Haitian shaved ice simply comprises just two ingredients: ice, and a thick, sweet syrup. The most commonly used syrup is grenadine, but it can be served with a syrup of any color or flavor.
When it was your turn, after scooping the shaved ice into a cup, the vendor would usually ask what flavor you wanted. As a little girl, I'd usually pick strawberry, just because the syrup would tint the Fresco bright pink – my favorite color!
3 – Tonmtonm Ak Sòs Kalalou (Mashed Breadfruit with Gumbo Sauce)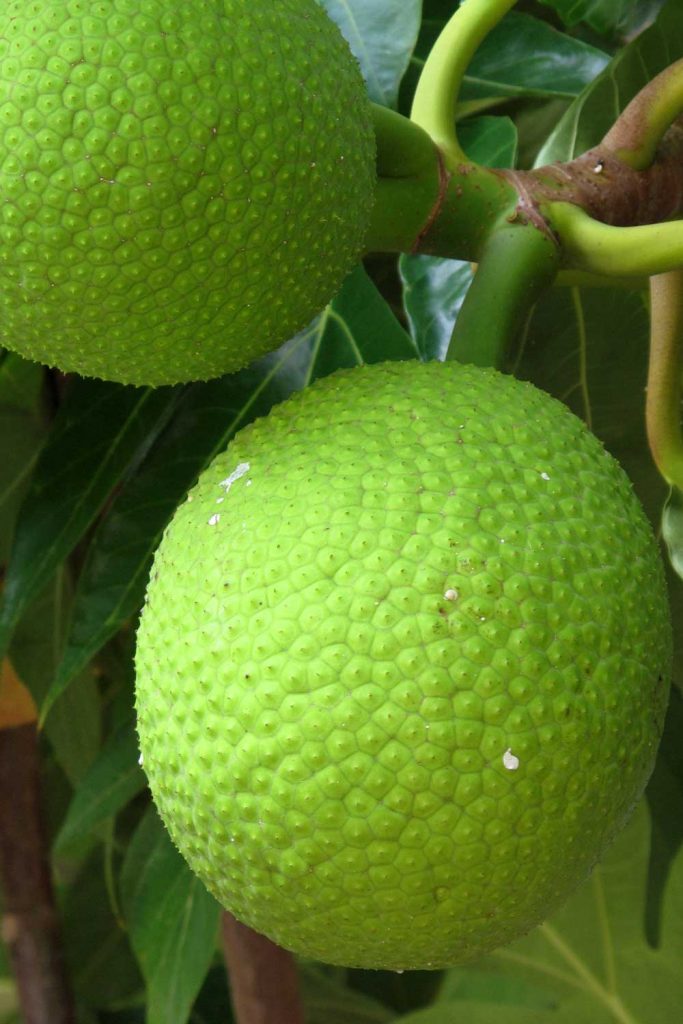 This is a traditional dish originating from Jeremie, a province located in the south of Haiti. Breadfruit is the main ingredient – aptly named for its similarity to the taste of freshly baked bread when cooked. Occasionally, it can be combined with okra or sweet potatoes.
The Gumbo sauce is made from an okra base, while a variety of red meats and seafood are also added, giving the sauce a rich, savory taste, bringing together the flavors of both land and sea.
Mashed breadfruit with Gumbo sauce was introduced to me by my grandmother, and I'd enjoy eating this dish during summer vacations whilst spending time at her house.
Tonmtonm consists of portions of cooked, mashed breadfruit that are molded into balls and placed into bowls, ready to be dipped into a serving of thick, rich Gumbo sauce. Indulgence at its finest!
4 – Marinad (Haitian Chicken Fritters)
There's a famous Haitian saying "pa gen kominyon san marinad," which in English means "it's not a proper Haitian communion celebration if Haitian chicken fritters aren't being served!"
In fact, I can't recall a single communion or wedding that I've attended where there weren't fritters being served for everyone to enjoy – and trust me, I've been to plenty!
Haitian chicken fritters are an appetizer made from shredded cooked chicken, garlic, scallions, pepper, and herbs, fried to golden perfection.
While traditionally a celebratory dish, Marinad fritters can also be bought from street vendors throughout Haiti. The fritters are incredibly inexpensive, with the price of 5 marinad fritters costing just 5 Haitian Gourdes (less than US $0.50), making them a must-try food when in Haiti.
5 – Pen Patat (Sweet Potato Pudding)
Pen patat, or sweet potato pudding, is a wholesome dessert traditionally served at Haitian communions, wedding celebrations, and parties. It's also a sweet treat that's popular to bake at home as a dish for the whole household to enjoy, either on Sundays or on special occasions.
Pen patat has a similar texture and consistency to a fruit cake, but with one key difference: there is no flour in the base, but sweet potato instead. This creates a pudding with a deep brown color and a rich, sweet taste.
Haitians commonly cook pen patat with Caribbean sweet potatoes, notable for their white, rather than orange, flesh. Sugar, bananas, raisins, and butter are added to form the base, while grated ginger, lime zest, spices, vanilla, and a pinch of salt are added for flavor.
Some people also choose to add coconut or condensed milk. In Haiti, this dish is generally eaten as a dessert following lunch and dinner, but it can also be enjoyed at breakfast too.
6 – Griyo (Baked Pork Shoulder)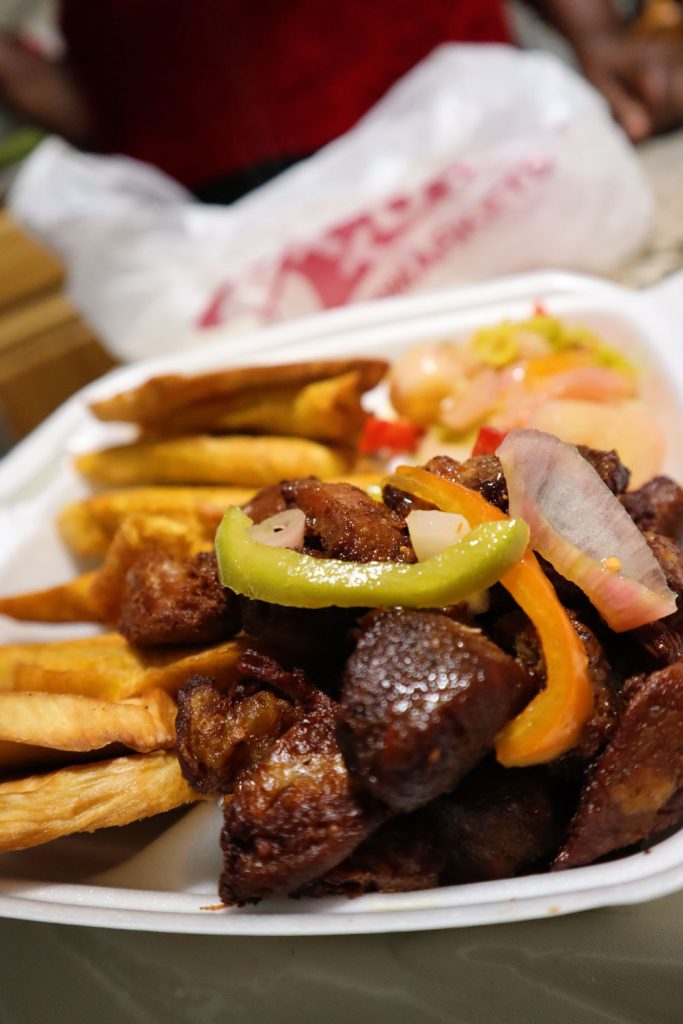 Griyo, or baked pork shoulder, is considered by many to be the national dish of Haiti. The pork is served with either fried plantain, pikliz (pickled vegetable relish), rice, or a little of each. You can order griyo throughout Haiti, from high-end restaurants to humble street vendors selling fritters and inexpensive foods.
To prepare griyo, a pork shoulder joint is first washed in a mixture of citrus juices. Sour oranges or limes are commonly used to wash food instead of water since clean water is difficult to access in some regions.
The pork shoulder is then marinated in epis, a mixture of Haitian herbs, vegetables, and spices. Finally, the joint is slowly roasted until it becomes tender and juicy.
The combination of the slow-cooked pork meat, freshness of the vegetables, and the undertones of citrus and spice make griyo a dish of utter splendor, with each mouthful offering so much texture and flavor.
7 – Lalo (Jute Leaves)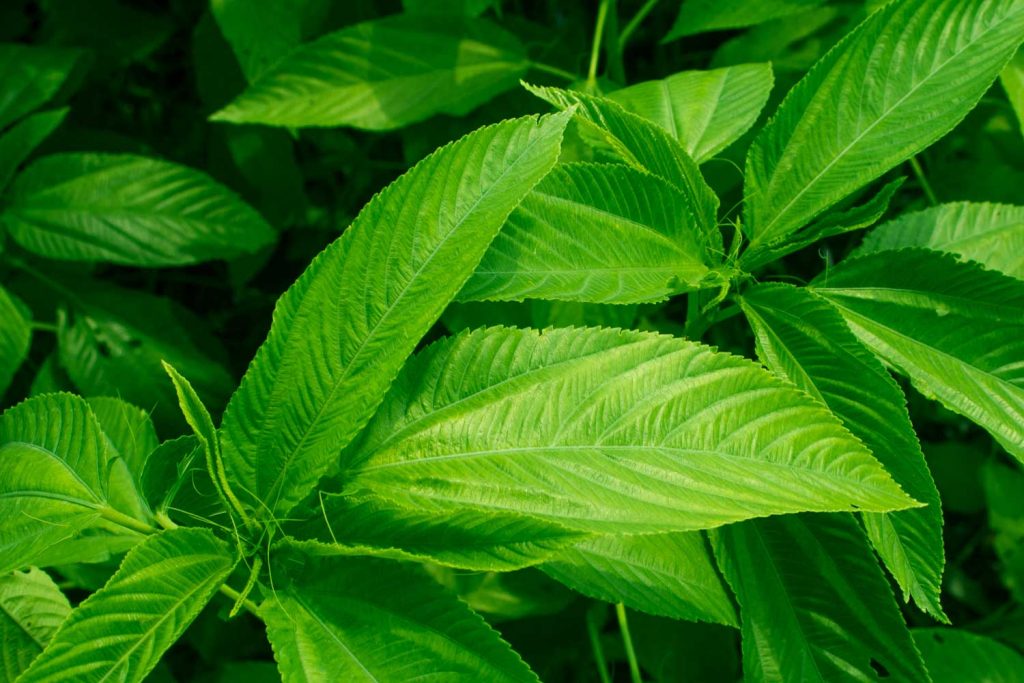 Lalo is a flavorful, savory stew originating from the province of Artibonite, made from jute leaves and spinach. It's often cooked with crab or beef – though this is optional – and served with white rice. Lalo is a beautifully fragrant and tasty dish that's incredibly moreish – there's no way you'll be done after finishing just one bowl!
If served with meat, as with griyo, the crab or beef is washed with lime juice and seasoned with a mixture of epis, a common seasoning base used throughout the country, comprising bell peppers, crushed garlic, and various herbs.
Once washed and seasoned, the crab or beef is cooked with the jute leaves and spinach in the pan, unlocking an incredible array of flavors.
8 – Konfiti Chadèk (Grapefruit Jam)
Konfiti chadèk is a delightful, grapefruit-based preserve that's usually eaten with bread. My grandmother used to make it every summer just for me because I didn't like mamba (a spicy Haitian peanut butter), which is what most people tend to have.
A jar of Haitian grapefruit jam would barely last me two weeks, I adored it that much. It's just that delicious and addictive. Commonly eaten at breakfast with a glass of orange juice or milk, in my opinion, it is best enjoyed slathered on thick slices of bread.
Konfiti chadèk is made by first peeling a couple of grapefruits, then squeezing out the juice. The juice is then spiced with a dash of cinnamon, combined with sugar, and slowly cooked until the mixture thickens and reduces to a rich, delicious jam.
9 – Ze Bouyi Fig Mi (Boiled Egg with Banana Fig)
Ze bouyi fig mi, or boiled egg with banana fig, is the average daily breakfast for the typical Haitian citizen. While very cheap and simple to prepare, most Haitians don't usually cook this dish themselves.
Every morning, vendors selling ze bouyi fig mi can be found in abundance across the suburban areas, with at least one on almost every street or street corner. They usually boil the eggs at home and carry them out in a bucket, along with the banana figs.
The vendors serve the dish by separating the boiled egg in two. They season the eggs with salt, and can top the dish with a generous dollop of hot sauce, depending on the customer's preference. The boiled eggs and banana figs are eaten together, creating a heavenly fusion of sweet and savory flavors.
10 – Benyen (Haitian Banana Fritters)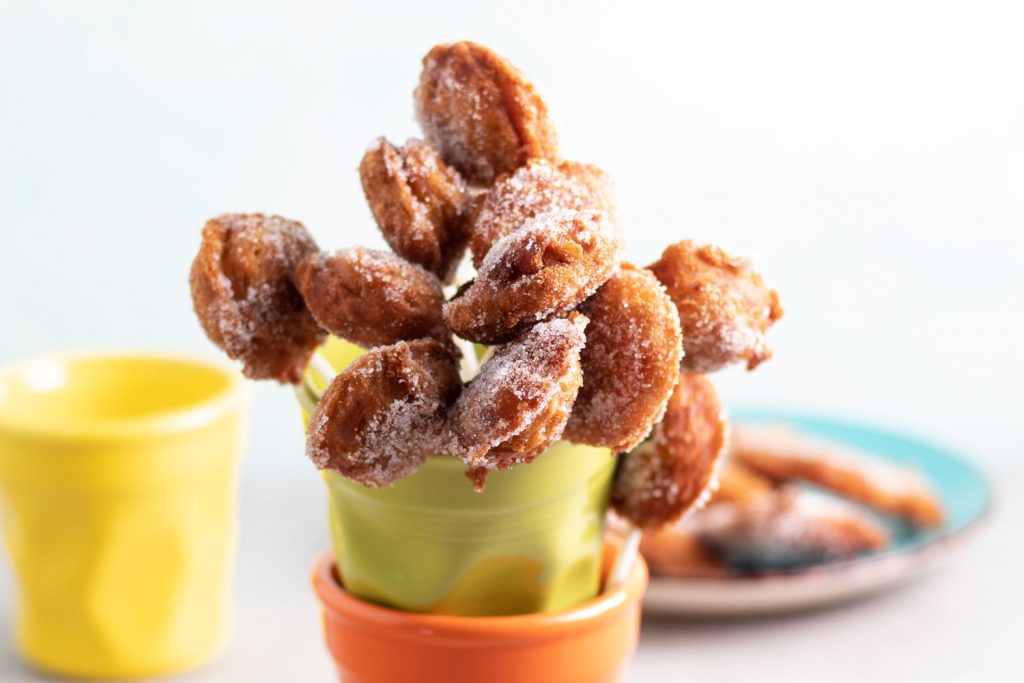 Benyen, also known as Beignets de Carnaval, or simply Haitian banana fritters, are a food I hold close to my heart. Just the thought of them takes me right back to my childhood.
The Haitian Carnival is a huge national celebration that's held over several days each year in the run-up to Mardi Gras. I remember going to the carnival as a young girl, and these delightful banana fritters could be found just about anywhere.
Attending the carnival is a time for families, relatives, and friends to gather together to enjoy the festivities. Along with other popular foods associated with the Haitian carnival, this casual banana-based dessert plays a big part in how we celebrate this special time of year.
Benyen can also be found being sold by street vendors throughout the country, and you can buy these sweet little treats at such low cost – three for just 10 Haitian Gourdes, which is less than a US dollar! This dish is incredibly diverse and can be eaten for breakfast, lunch, or even dinner.
The fritters are made by combining very ripe bananas with flour, sugar, baking soda, and water. The mixture is flavored with nutmeg, cinnamon, vanilla, and a dash of salt. Once mixed, the batter is spooned into sizzling hot oil to fry, and once the fritters are golden and crispy, they're sprinkled liberally with sugar and served piping hot.
11 – Pwason Boukannen (Grilled Fish)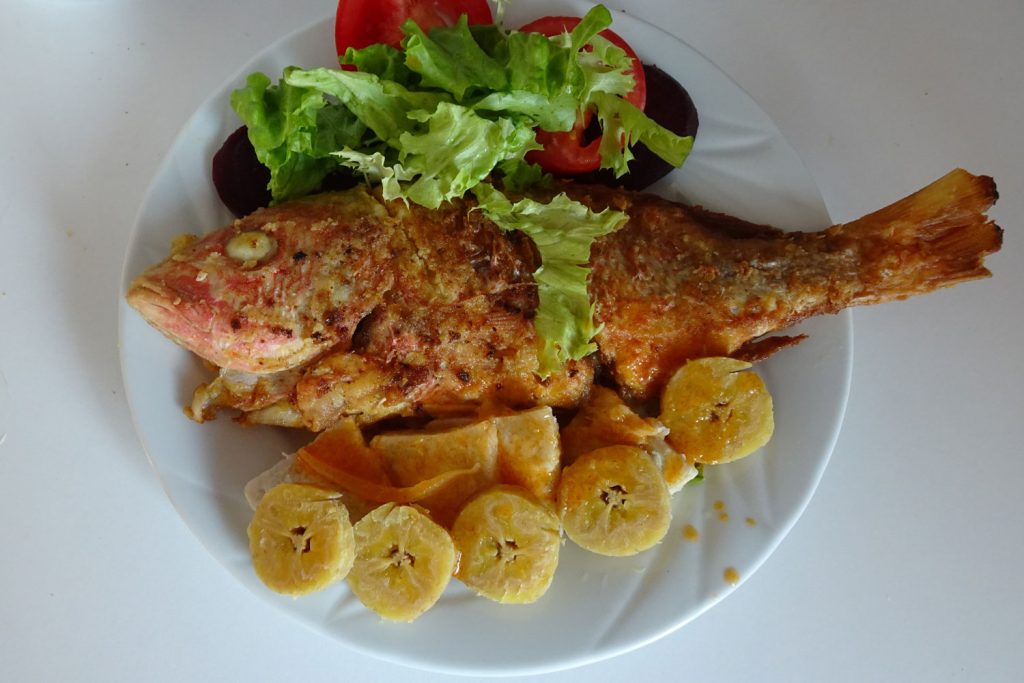 In Haiti, we cook fish using a traditional technique called 'boukan'. Most Haitians living outside of Port-au-Prince don't have access to ovens or barbecue grills, so Pwason Boukannen is usually smoked using this method.
'Boukan' is a process by which a large piece of wood is first split in two. One end is tied, and the other is left open so that the fish can be inserted between the two pieces of wood.
The fish is then skewered with a stick so that it can be rotated regularly to ensure it cooks evenly throughout. Finally, the fish is slowly cooked over the hot embers that emerge from a fire lit beneath two large stones.
This traditional Haitian cooking process gives the fish, once cooked, a distinctive and truly delicious smoky flavor. Served with fried plantains, pwason boukannen is arguably one of the best Haitian dishes to experience authentic Haitian cooking at its finest.
12 – Bòy Nan Pwa (Dumplings with Black Bean Sauce)
Bòy nan pwa is a simple, honest dish of hearty flour dumplings, served with a Haitian black bean sauce. The black bean sauce is made by boiling the beans in water until they become soft, before mashing them down into a purée and stirring, creating a creamy, lightly textured sauce. Salt and butter are usually added to enrich the flavor.
Bòy nan pwa is filling, flavorsome, and a very nutritious meal. It is another go-to home-cooked dish to feed large families in a healthy, inexpensive way.
13 – Ragou (Pork or Beef Ragout)
Ragou is a Haitian family favorite. It is a deep, rich meat-based stew, traditionally made from either cow or pig foot, packed with nutrients and goodness.
In addition to the meat, carrots, onions, and sweet peppers are added to Haitian ragout. This warming, hearty dish is flavored with ground spices, parsley, lime juice, and some chili powder. It's served with white rice.
Pork or beef ragou is a dish that my mom and my aunt used to cook together every Saturday at our house. I'd get so excited, I'd count down the days until Saturday because in our house that was ragou day!
14 – Mayi Moulen (Haitian Cornmeal)
Mayi moulen is a quick and simple meal that can be eaten at any time of day. It is as every bit as integral to Haitian cuisine as rice is.
Essentially, mayi moulen is a dish of cornmeal, cooked in heavily salted water, with leeks. It is commonly served with avocado slices, and a squeeze of lemon juice.
Mayi moulen is traditionally the go-to meal for Haitian households when time is of the essence. From commuters rushing to work to busy parents who need to prepare a quick but nutritious meal for their children, this Haitian dish to this day continues to fuel a generation of Haitians as they go about their day-to-day lives.
15 – Diri Shela, Poul Fri (Fried Chicken with Brown Rice)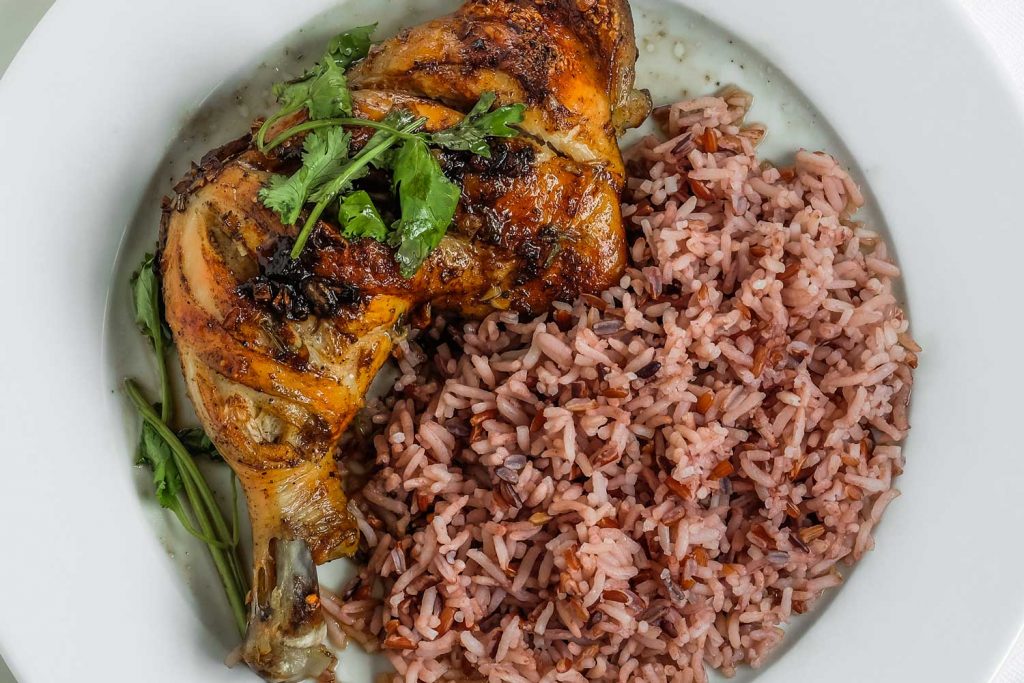 Diri shela is a type of rice that comes from the northern region of Artibonite, and this particular combination is very much a favorite of Haitians from all walks of life.
Diri shela with fried chicken is the type of celebratory dish that's typically eaten at parties, first communions, weddings, and everything in between. In fact, it's likely to be found at pretty much any celebration in Haiti, no matter the occasion. When I was younger, my mom would always cook diri shela for the whole family, whenever my brother or I were having a birthday party. It's also eaten on Sundays, after church.
To prepare the rice, epis and beans are first fried in a pan before water is added. Once both have boiled, the rice is then added to the mixture, and everything is cooked together.
The 'poul fri' of the dish is chicken that is first coated with lemon juice, herbs, and spices, and then left to sizzle in a frying pan with onions, for long enough to ensure it's thoroughly cooked.
At parties or on special occasions, fried plantains, pikliz – a fiery vegetable relish – and salad are also served with this beloved Haitian dish.
Haitian Food Summary
The honesty, warmth, and love of the Haitian people, I'm sure you can agree, come through in the country's food by the bucket load.
Grounded in indigenous Caribbean cooking, with a vast array of influences intertwined, today Haitian dishes mark celebrations, bring joy to children, and help fuel a nation of industrious, hard-working, and passionate islanders.
Any trip to Haiti is simply not complete without trying some, if not all, of these traditional foods. So be sure to keep this list handy, so that you can order authentic food from restaurants and street vendors, and taste Haiti through the foods of the locals.
You Might Also Like to Read
Save and Pin for Later
Keep this list of Haitian dishes for safekeeping, by saving this article to one of your foodie or international travel Pinterest boards.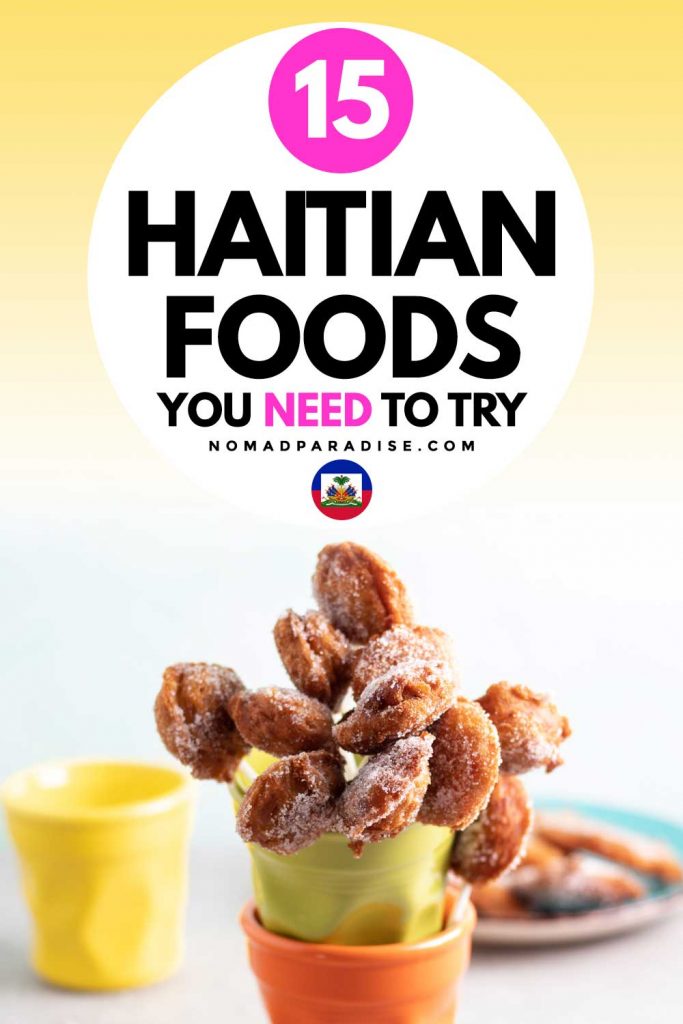 Contributor: Anne Christelle Alcide is a trilingual translator and content writer hailing from Port-au-Prince, Haiti. Passionate about bridging the barriers between languages and cultures, Anne is eager to share more about Haitian culture with the world through her writing.
Editor: Hannah Bates is an editor and proofreader from London, who has worked for a number of publications in the travel space, among others.
Images licensed via Shutterstock