This post may contain affiliate links, meaning if you book or buy something through one of these links, we may earn an affiliate commission at no additional cost to you. Learn more
Amid the searing heat of the Caribbean, Dominican food offers a unique culinary experience that surprises and delights so many travelers when they grace the pearly white shores of the Dominican Republic.
Dominican cuisine is a fusion of Taino (indigenous), African, and Spanish elements. Although Dominican Republic cuisine bears some similarities to the food found in other parts of the Caribbean, especially Cuba and Puerto Rico, it truly has its own style and flavor.
So let's uncover the showstopping dishes of this wonderous Caribbean island and get acquainted with 17 of the country's most popular and traditional foods, as recommended by a local writer.
Dominican Food
Savory/Mains
1 – Sancocho (Stew)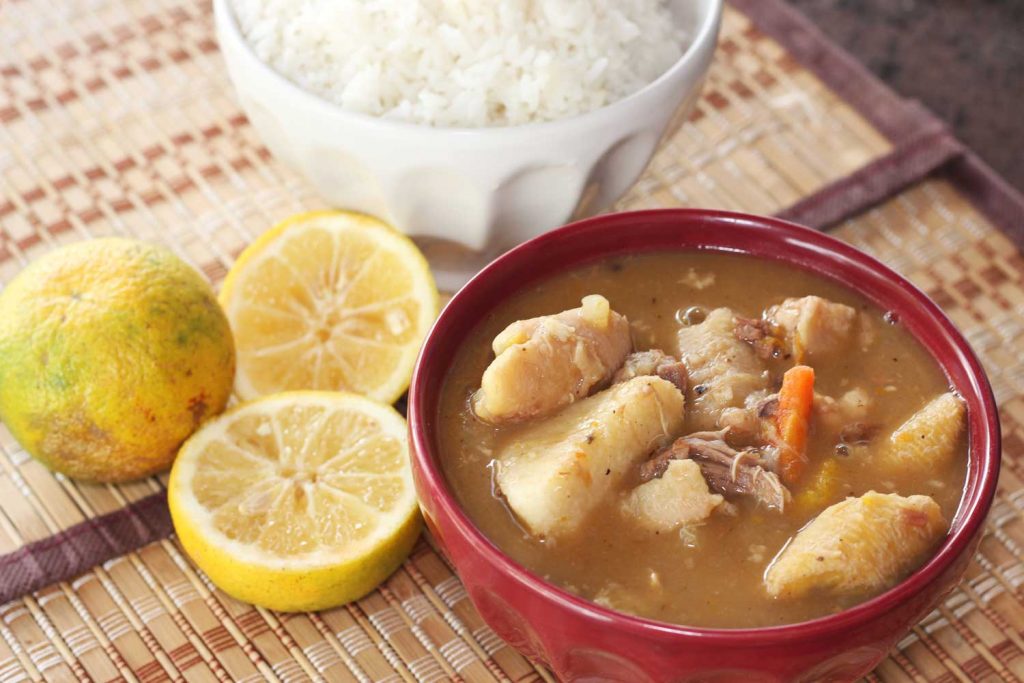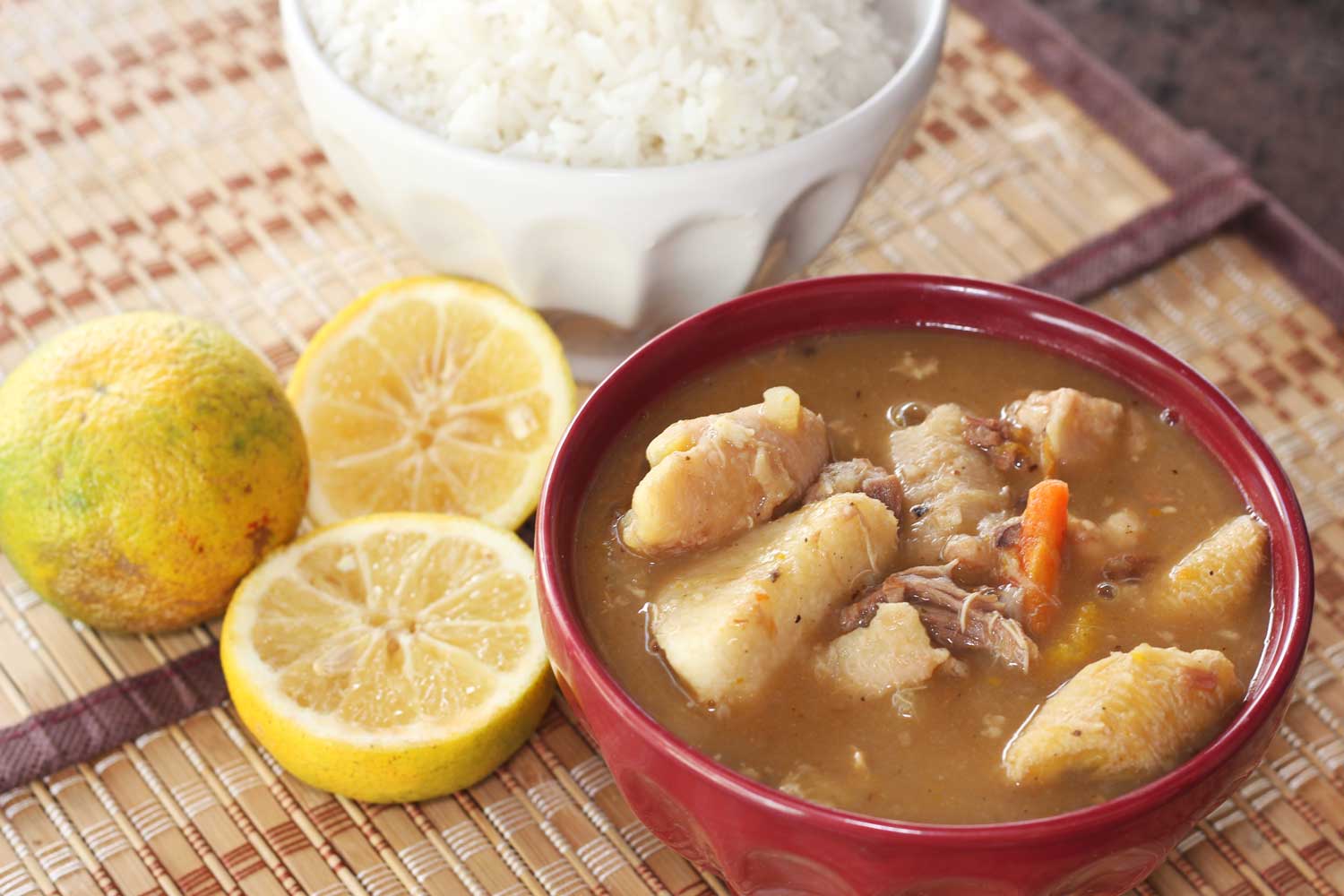 Taking its name from the verb sancochar, meaning 'to parboil' in Spanish, Sancocho is often mistaken as a mere soup.
Not so! Sancocho is seen as the national dish in the Dominican Republic and once you try it, you will see why. A wholesome soup of meats, corn, and potatoes, mixed with plantain, this rich and starchy dish is often served with a fluffy pile of white rice to make the meal go with a bang!
Popular at the all-important midday repast, Sancocho may also be served for evening dinner too. And be sure not to leave the Dominican Republic without trying the famous Sancocho de Siete Carnes (seven meats). This Dominican favorite is much more than just soup!
Sancocho is also a dish in other Latin American cuisines, including Puerto Rican cuisine, Ecuadorian cuisine, Colombian cuisine, and Venezuelan cuisine. The recipe varies from country to country.
Related: 24 South American Foods You Need to Try
2 – La Bandera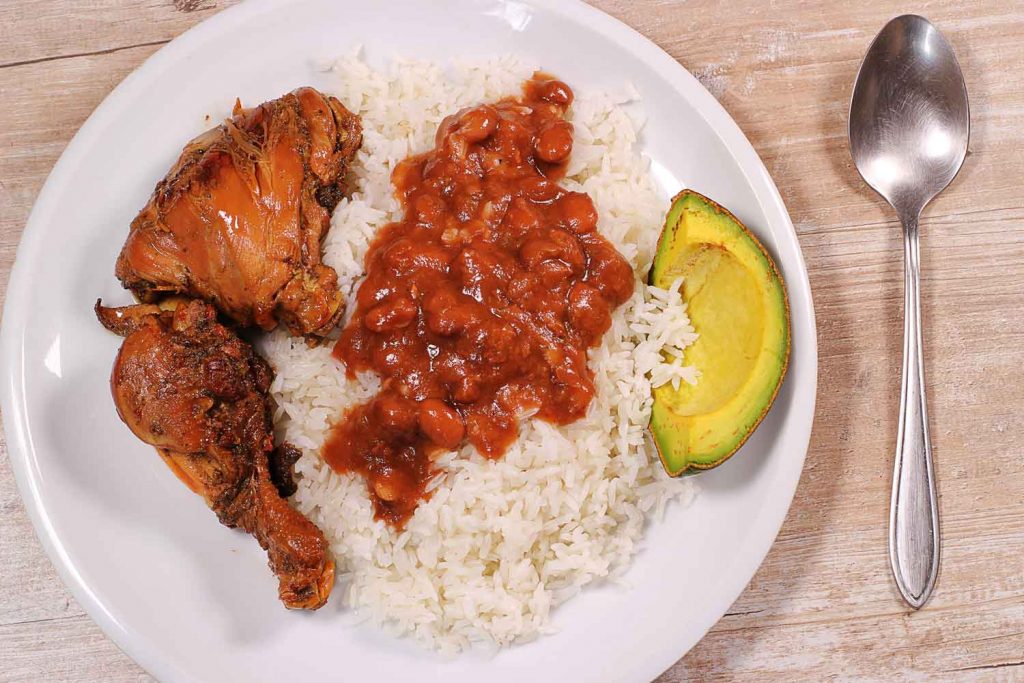 La Bandera, or 'The Flag,' is named after the national flag as it resembles the colors on the Dominican tricolor flag. Comprising of red beans, stewed meat, and white rice, this dish will set you up for the day ahead.
The beauty of this mixed rice, beans, and meat dish is its flexibility. The meats may be stewed or fried, and either red or white, depending on your preference. Often, vendors will allow you to choose the color and type of bean you want, allowing you to create a dish that truly caters to your tastes.
As with sancocho, la bandera is mainly eaten for lunch, and it is likely to be your first taste of Dominican cuisine, due to its popularity across the island.
3 – Domplines
Domplines are wholesome dumplings! Domplines are one of the Dominican Republic's culinary delights and are often topped or served with cheese.
The beauty of domplines is in their simplicity to prepare. As a result, this dish is a mainstay across the Dominican Republic. You can find it served with salami, meats, herring, and many other toppings.
Domplines are popular anytime, and may also be served for breakfast. Once you try these diverse and beloved dumplings, you may never want to go back to oatmeal or toast in the morning!
4 – Locrio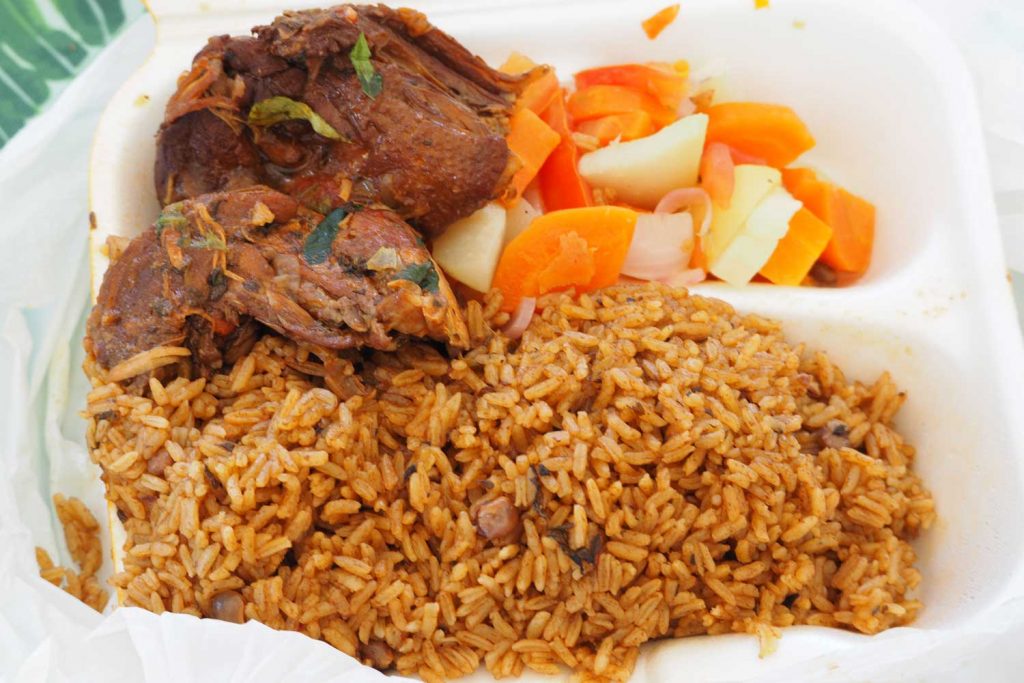 On the surface, you'd be forgiven for confusing locrio with la bandera, as both are rich, filling dishes of rice, beans, and meat. But as soon as you lay eyes on locrio, and take your first mouthful, you'll quickly notice the difference.
Whereas La Bandera is a mélange of meat with sides of beans and rice served on a singular plate, locrio is more akin to the Spanish paella.
Typical meats in locrio include salami, chicken, rabbit, herring, as well as guineafowl. But seasoning is the key to locrio, and its unique mixture makes locrio a firm favorite with Dominicans – and visitors to the island – alike.
5 – Mangu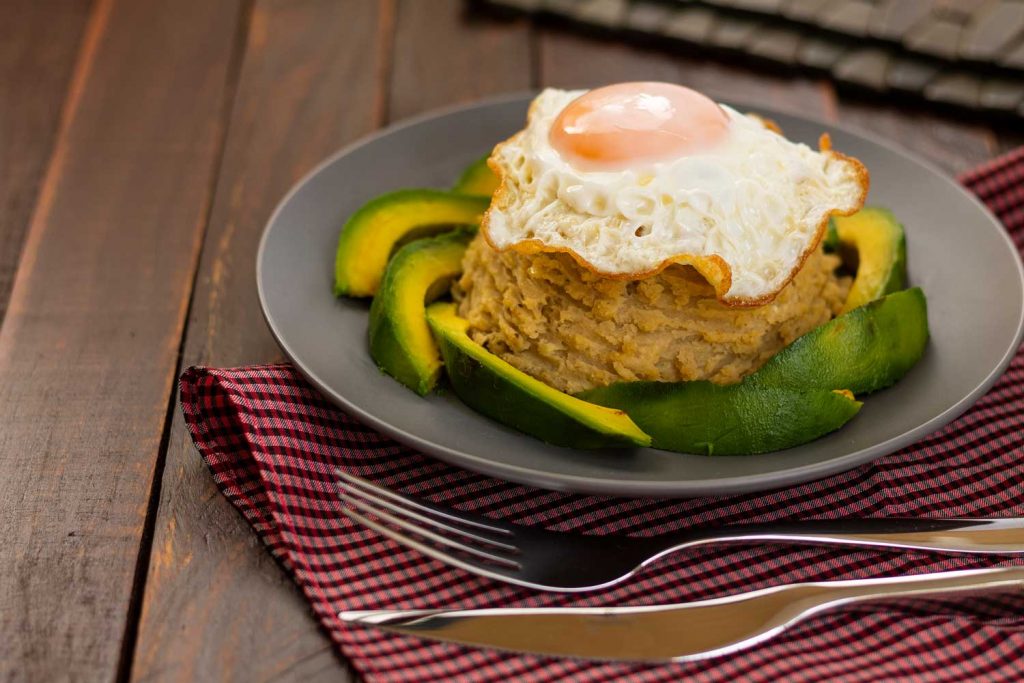 Mangu is one of the most important dishes in Dominican cuisine and owes its origins to the country's African roots.
Consisting of mashed plantain, mangu is a dish that may be eaten morning, noon, or night, and it is traditionally served with cheeses, meats, eggs, salami, or whatever takes your fancy. Hearty and truly delicious!
6 – Tostones (Fried Plantain)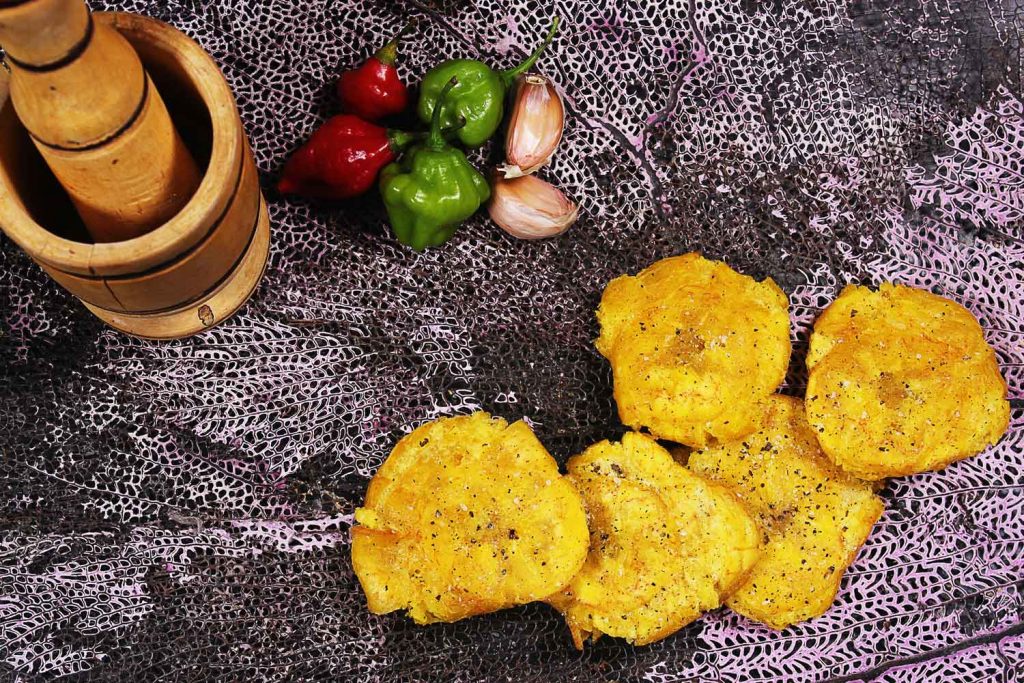 Plantain is a food popular across Africa and the Caribbean, as well as other parts of the world. Fried plantain is central to Dominican cuisine, and this tasty dish is made by simply slicing ripe plantain, then frying the slices in oil.
Fried plantain is a rich and hearty meal, ideal for any time of day, and is often served with cheese, meat, eggs, or salami. It may also be accompanied by rice, and is usually served with an ice cold soda to wash it down.
7 – Arroz Con Gandules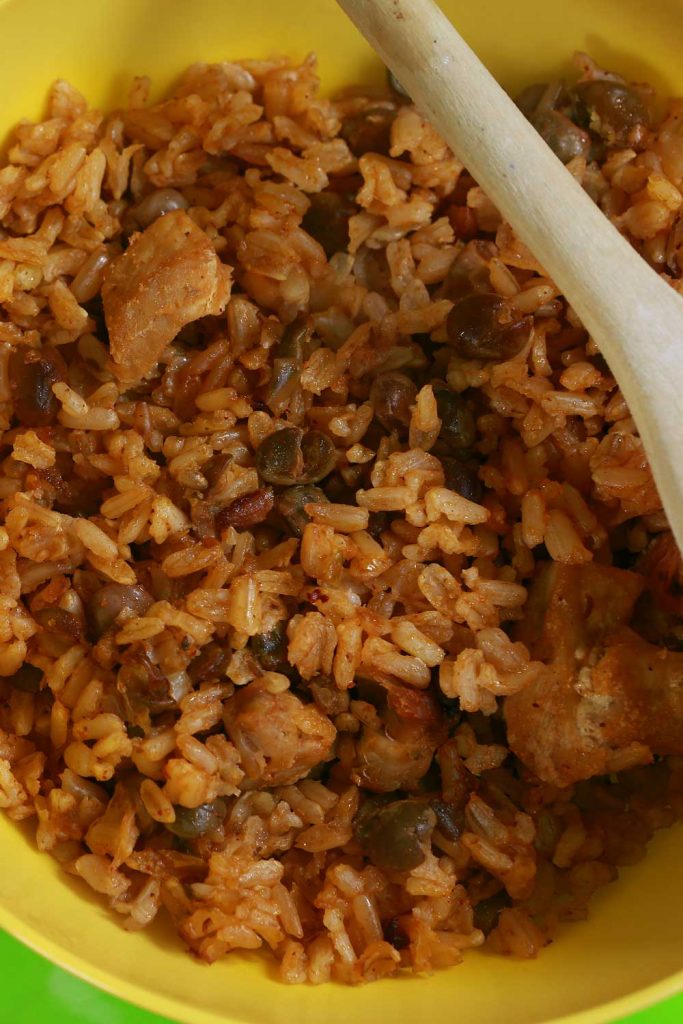 Arroz con gandules, or rice with pigeon peas, is a specialty of the Caribbean, and Dominicans consume it with vigor!
Pigeon peas are a well-known staple across the Caribbean region but have their origins in India. Through the ages, they traveled all across the world, and today can be found in a range of recipes and dishes across the islands of the Caribbean and Central America.
This variation on rice and peas utilizes the flavor of stewed green pigeon peas, and it is commonly cooked with coconut (moro de guandules con coco), adding a light sweetness to the dish.
Rice with pigeon peas is a festive dish, popular throughout December and the Christmas period. Wholesome, fresh, and mildly sweet, this is a dish that soothes both the stomach and the soul.
8 – Pescado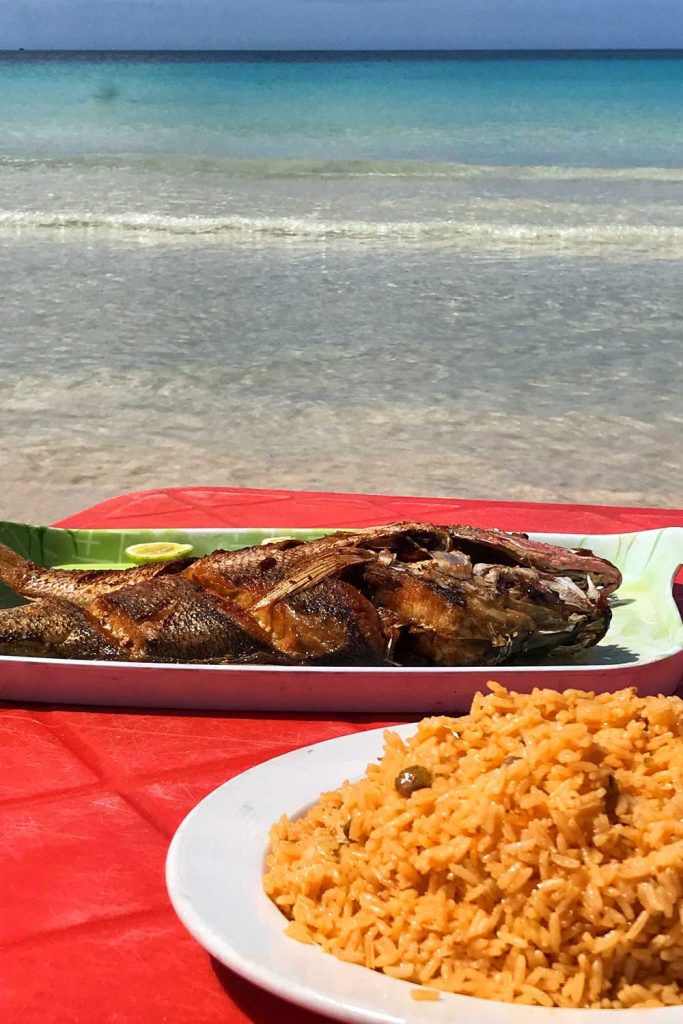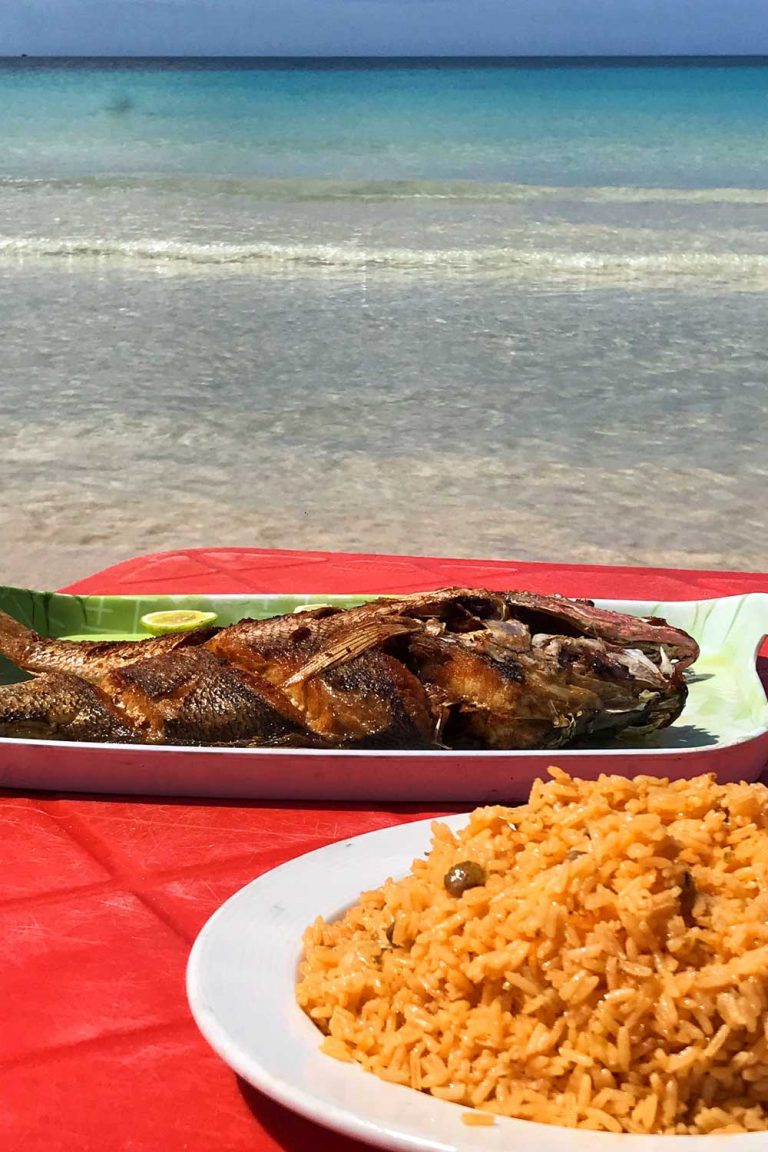 Given that the Dominican Republic is an island, it should come as no surprise that seafood and fish are eaten widely across the Dominican Republic and form a mainstay of its cuisine.
Two of the Dominican's must-try seafood dishes are pescado frito, or fried dish, and the mouthwatering shrimp asopao, or shrimp stew.
Commonly served with rice, pigeon peas, and fried plantain, the country's seafood dishes strike the perfect balance of sweet and savory flavors, cooked with a generous dose of Caribbean heart and flair.
9 – Asopao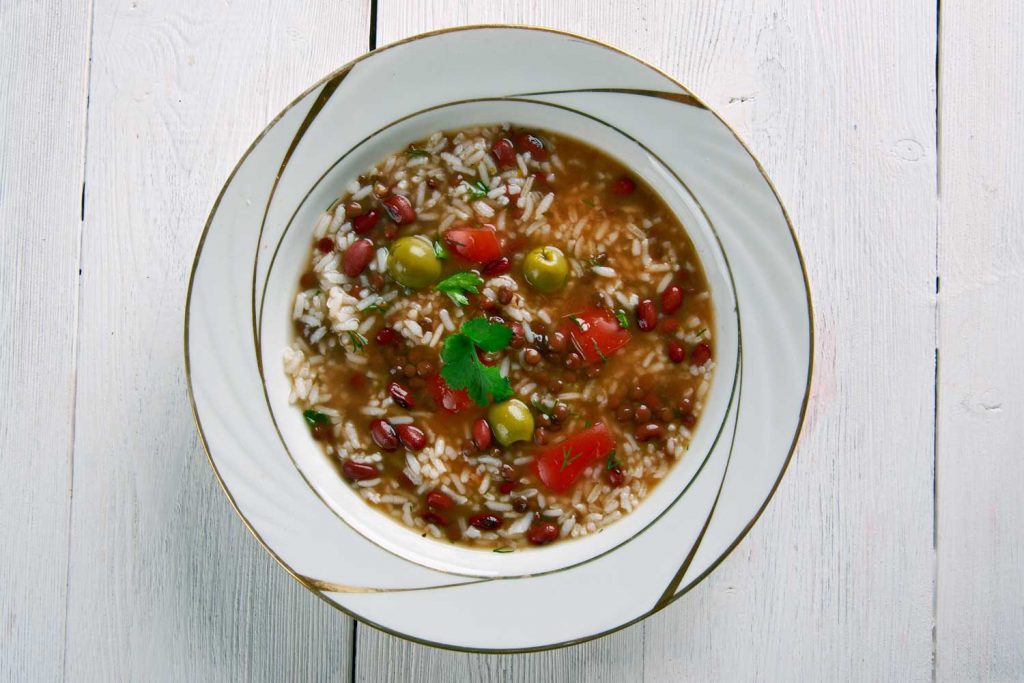 Asopao translates to "soup-like," and it refers to a wholesome dish of rice and soup in the Dominican Republic. This classic Dominican food is a staple dish of the island and is loved across the country.
Asopao can be mixed with pretty much anything that you have in the fridge, including beef, pork, or chicken. It can also feature vegetables or cassava. Whatever you like, we guarantee there is an asopao to fit your tastes!
Asopao is commonly served for lunch, but can also be enjoyed at dinner.
10 – Pasteles en Hoja (Dominican Tamales/Cake In Plantain Leaf)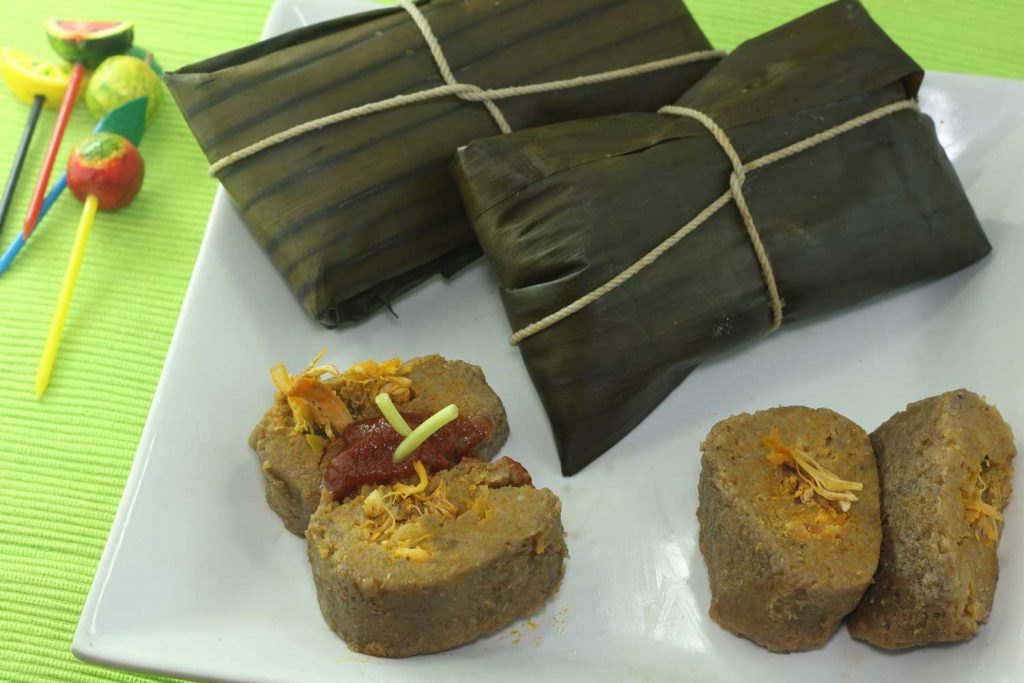 Not strictly a cake in the conventional sense, cake in plantain leaf is highly popular in the city of San Pedro de Macoris. Despite its name, it is not a sweet dish, and it is actually made with beef.
It is made from ground beef and grated green plantain, boiled inside plantain leaves, and accompanied by ketchup, mayonnaise, or spices.
This traditional recipe finds its way onto Dominican dinner tables traditionally during the Christmas period. Luckily, you can still find and try it all year round!
11 – Yanikeke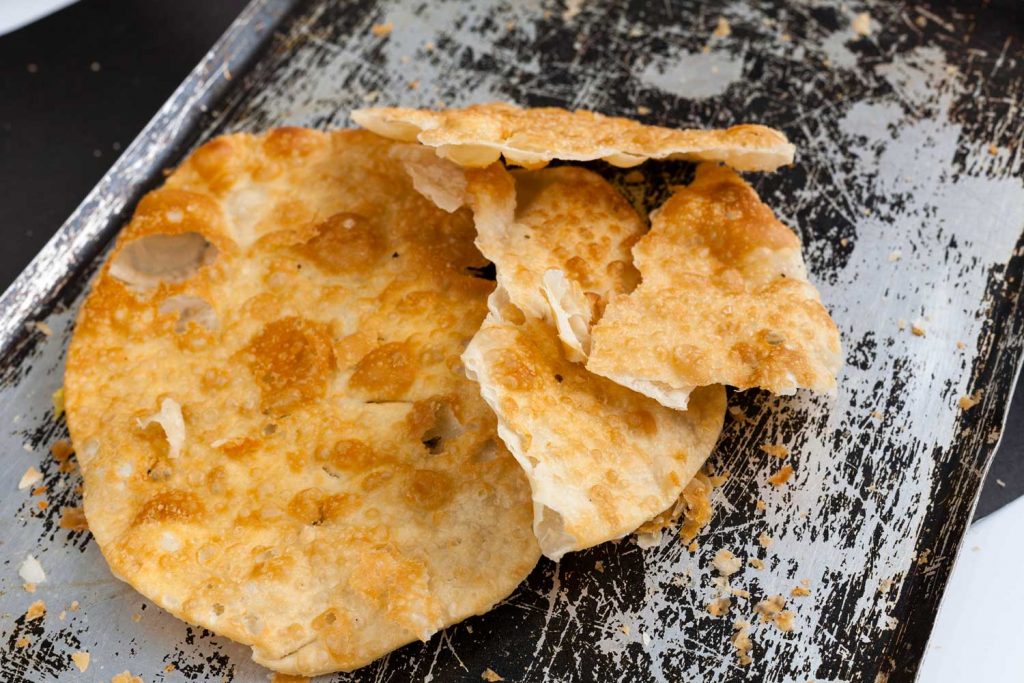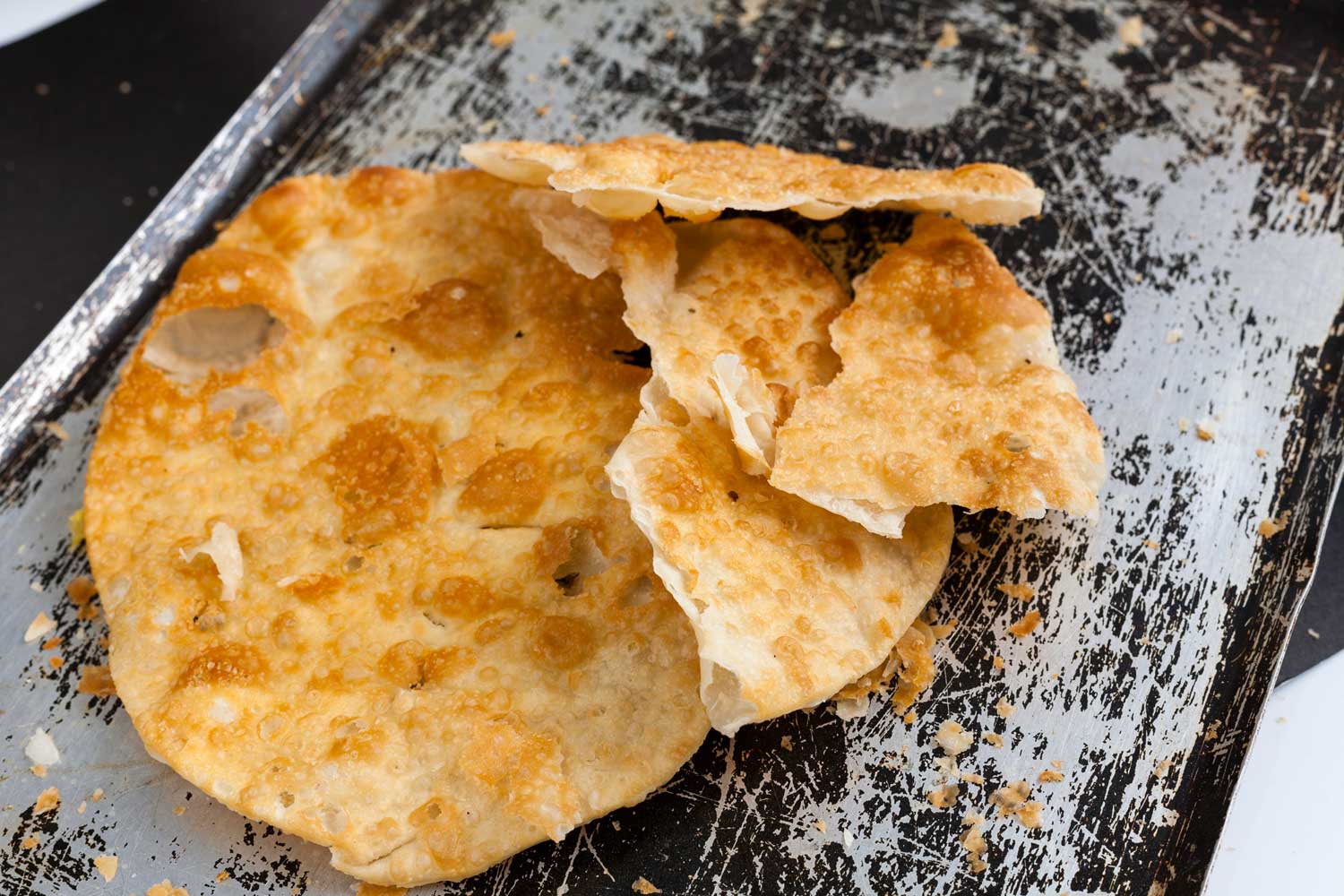 Yanikeke, or yaniqueque, is a kind of fried floury dough, that can be found at practically all street food stalls and beaches in the Dominican Republic.
One of the country's most beloved street foods, it can be eaten as it is or with a range of sides, including salami and fried fish. You can even stuff yanikeke and fold it, as you would an empanada.
12 – Pastelitos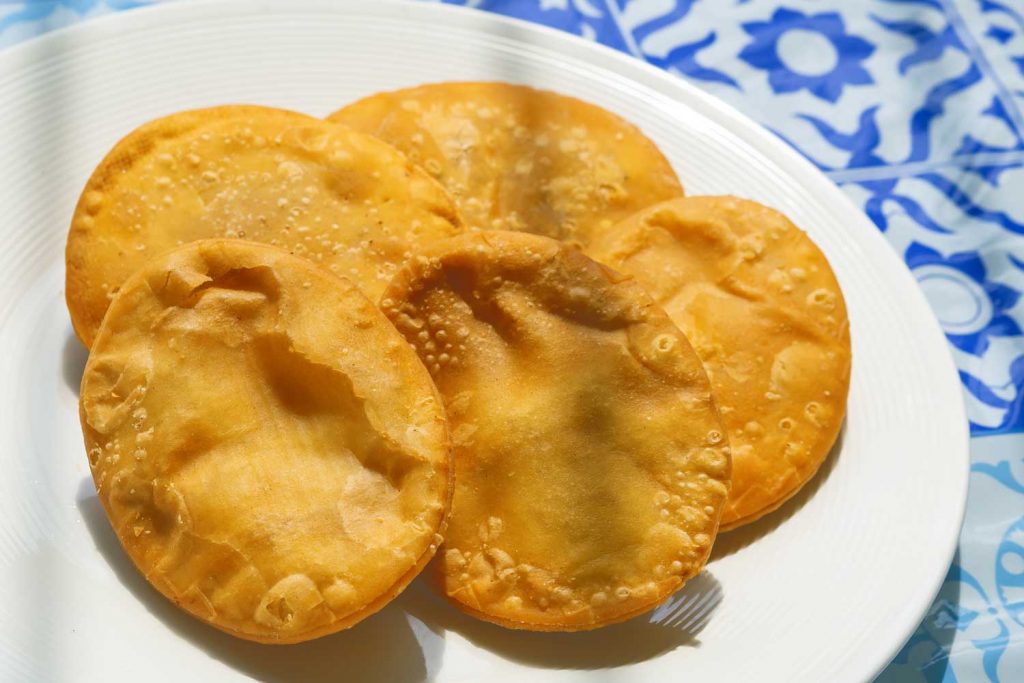 Pastelitos are a savory pasty that can be filled with many things, including beef, chicken, or cheese. These little pastelitos are usually served as appetizers at events or sold on the street by talented street food vendors.
Pastelitos form a part of the Dominican Christmas dinner but can accompany any meal you like. As Dominican foods go, pastelitos are a must-try dish.
Sweet/Desserts
13 – Habichuelas con Dulce (Sweet Beans Cream)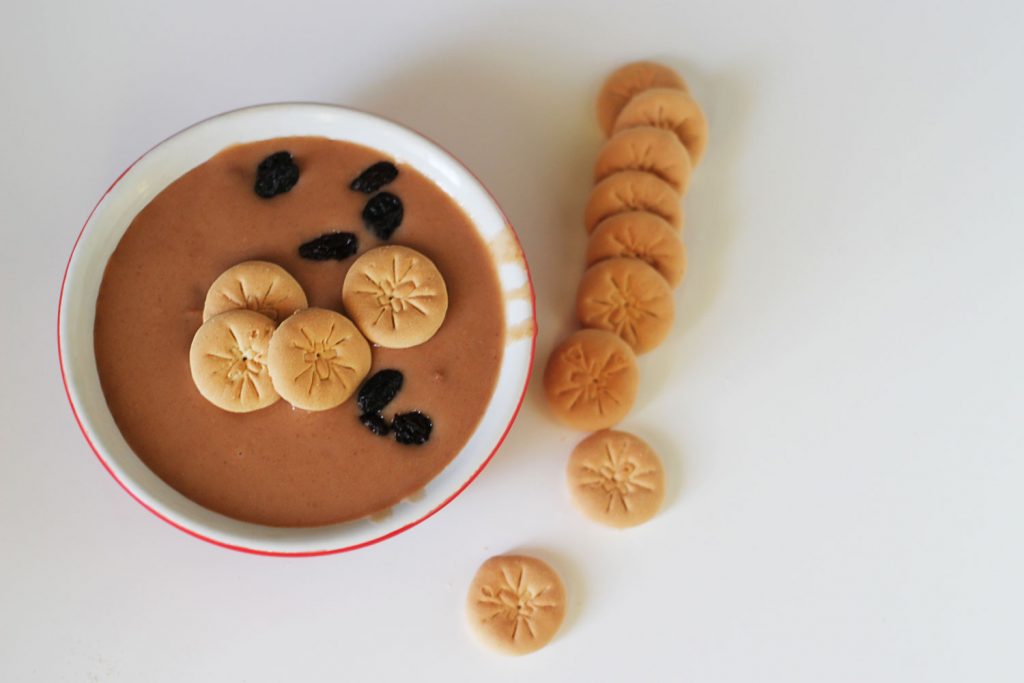 Beans may seem a peculiar dish to eat for dessert, but all will make perfect sense once you have tried the Dominican Republic's most surprising sweet dish.
A simple Dominican dish of kidney beans and evaporated milk, the textural and flavor combination of this very simple dessert gets better with every mouthful.
Sweet beans are mainly consumed during Lent and Easter, and no visit to the Dominican Republic during this time will be complete without trying some!
14 – Morir Soñando
The interestingly named Morir Soñando (literal translation of "Die Dreaming") is a non-alcoholic fruit cocktail.
Drinks, as you will soon discover if you visit, have as much importance as food in the Dominican Republic, and cooling beverages like this are a great way of beating the heat during the day.
Morir Soñando generally consists of a creamy, refreshing blend of passion fruit juice, milk, with evaporated milk sometimes being used, cane sugar, and crushed ice. Oranges are also popularly used in this national beverage.
Morir Soñando is often served as an aperitif in the Dominican Republic.
15 – Dulce De Leche
Found across Latin America, dulce de leche is a rich, sweet, and viscous sauce similar to caramel. It can be eaten soft and gooey, or set harder, more akin to fudge.
Dulce de leche is made by slow-melting sugar and milk, over a period of time, although evaporated milk makes for a delicious substitute.
Although dulce de leche can be enjoyed on its own, it's usually an accompaniment to a dessert and often adorns cakes, waffles, muffins, and other sweet treats across the American continents. This incredibly indulgent dessert simply has to be tried!
16 – Arroz Con Leche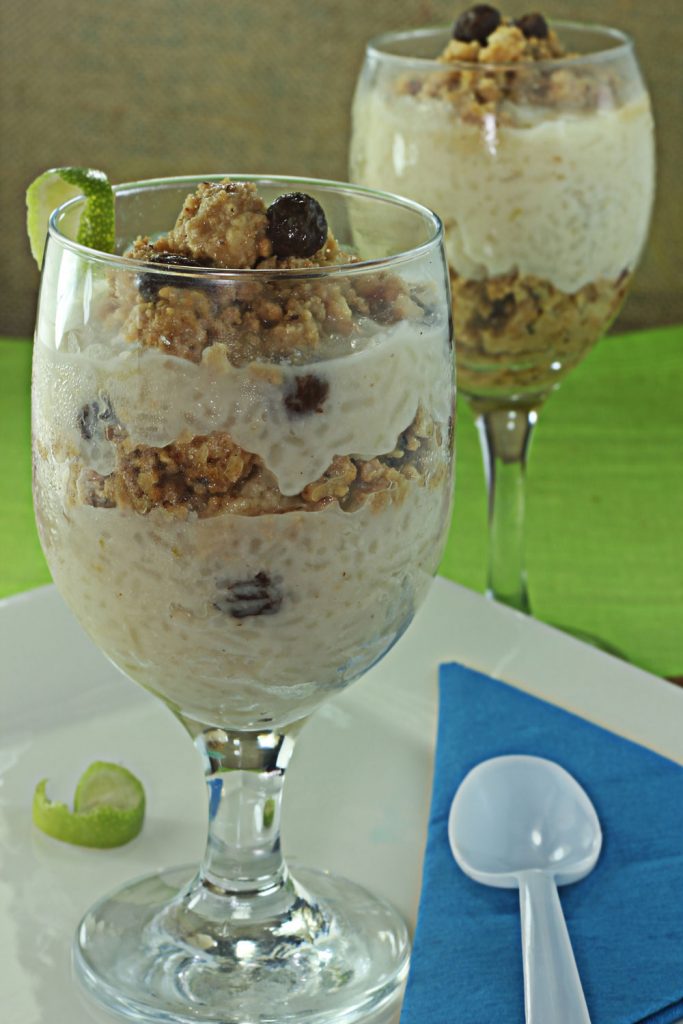 Arroz con leche, the country's take on the globally popular rice pudding, is of course not exclusive to the Dominican Republic. But Dominicans do give it their own special twist, adding lemon, raisins, and cinnamon to the wholesome mixture of rice and milk.
You can also find arroz con leche with a number of spices, including star anise, cloves, and nutmeg. For a taste of home, with a unique Caribbean twist, this is your go-to Dominican dessert.
17 – Fruit Candy
Fruits are abundant in the Dominican Republic and form a natural part of the island's dessert menu. Sweet fruits such as orange, cherry, and guava are often used in candies, all of which are frequently paired with a generous drizzle of thick, rich dulce de leche. Utterly indulgent!
Dominican Food Summary
Hearty, fresh, and prepared with so much flair and heart, the foods of the Dominican Republic are some of the Caribbean's undiscovered culinary delights and play an integral role in shaping the island's culture.
Incredibly, this list is by no means exhaustive. These are just a small taste of the variety of foods that make up the Dominican Republic's cuisine, and it's worth venturing to food markets and checking out street vendors to see what delicious treats they are whipping up.
If you plan on visiting this unique and beautiful island in the summer, don't miss out on the distinctive culinary experience that the Dominican Republic has to offer!
Dining Tips
Etiquette matters, and showing good manners is important in the Dominican Republic. Impress your hosts with your knowledge of the local customs by following these dining tips.
Tip well – You should tip your waiter approximately 10-15% of the bill. More for outstanding service.
Service charge – Sometimes a 10% gratuity will already be added to the bill, so check before tipping.
Bring a gift – If dining in a personal home, you should bring your host a small gift – a box of chocolates is ideal.
Dress it up – Appearances matter in the Dominican Republic, so do dress for dinner – be it in a restaurant, or a home.
Midday matters – The midday meal is the most important meal of the day, so be sure to remember that if dining out.
Table manners – It is polite to leave a small amount of food on your plate at the end of the meal – although with these delicious dishes that might prove hard!
You Might Also Like to Read
Save and Pin for Later
Keen to try some of these delicious Dominican foods? Save this article to one of your food travel Pinterest boards for safekeeping, ready for when you visit the Dominican Republic.
Contributor: Aura De Los Santos is a Dominican translator and creative writer from San Pedro de Macoris. When not translating texts, Aura writes on a number of topics relating to her home country, including Dominican food and top destinations.
Editor: Madeleine Murphy is a British editor and proofreader, with a wealth of experience in the publishing industry.
Images licensed via Shutterstock