This post may contain affiliate links, meaning if you book or buy something through one of these links, we may earn an affiliate commission at no additional cost to you. Learn more
Bringing richness, sweetness, and fruitiness to the table in abundance, trying these Peruvian desserts is a unique and sumptuous way to discover the sweeter side of South American cuisine.
With intriguing origins and layering flavors in eye-opening and tastebud-tantalizing ways, these dishes will help you see Peru in a whole new light. Get ready for some serious food envy!
Must-Have Peruvian Desserts
1 – Arroz con Leche (Whole Rice and Milk Pudding)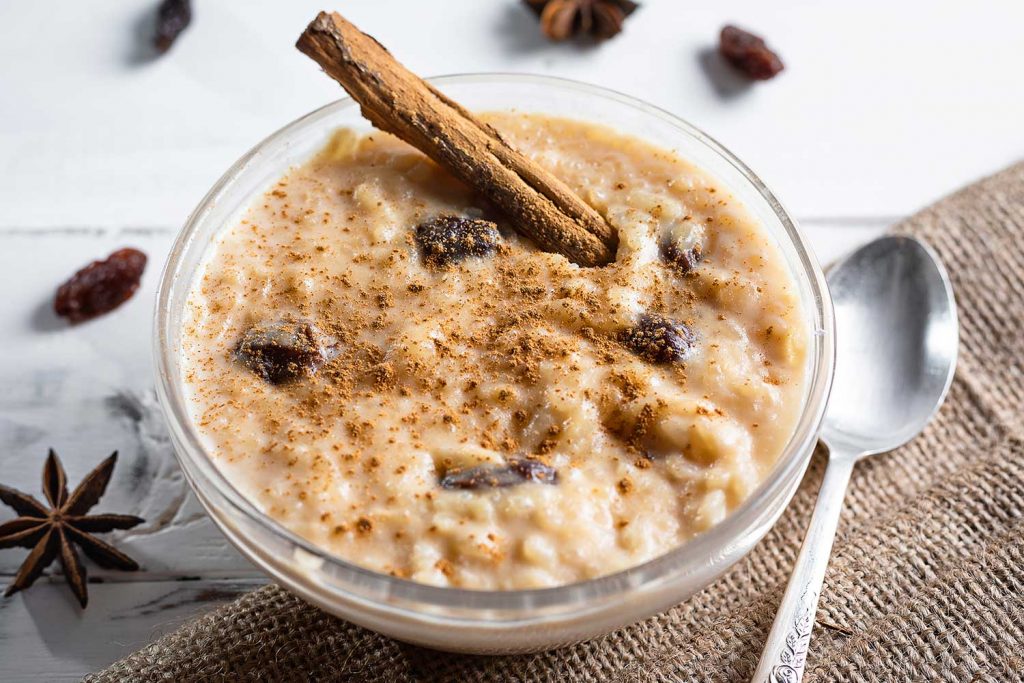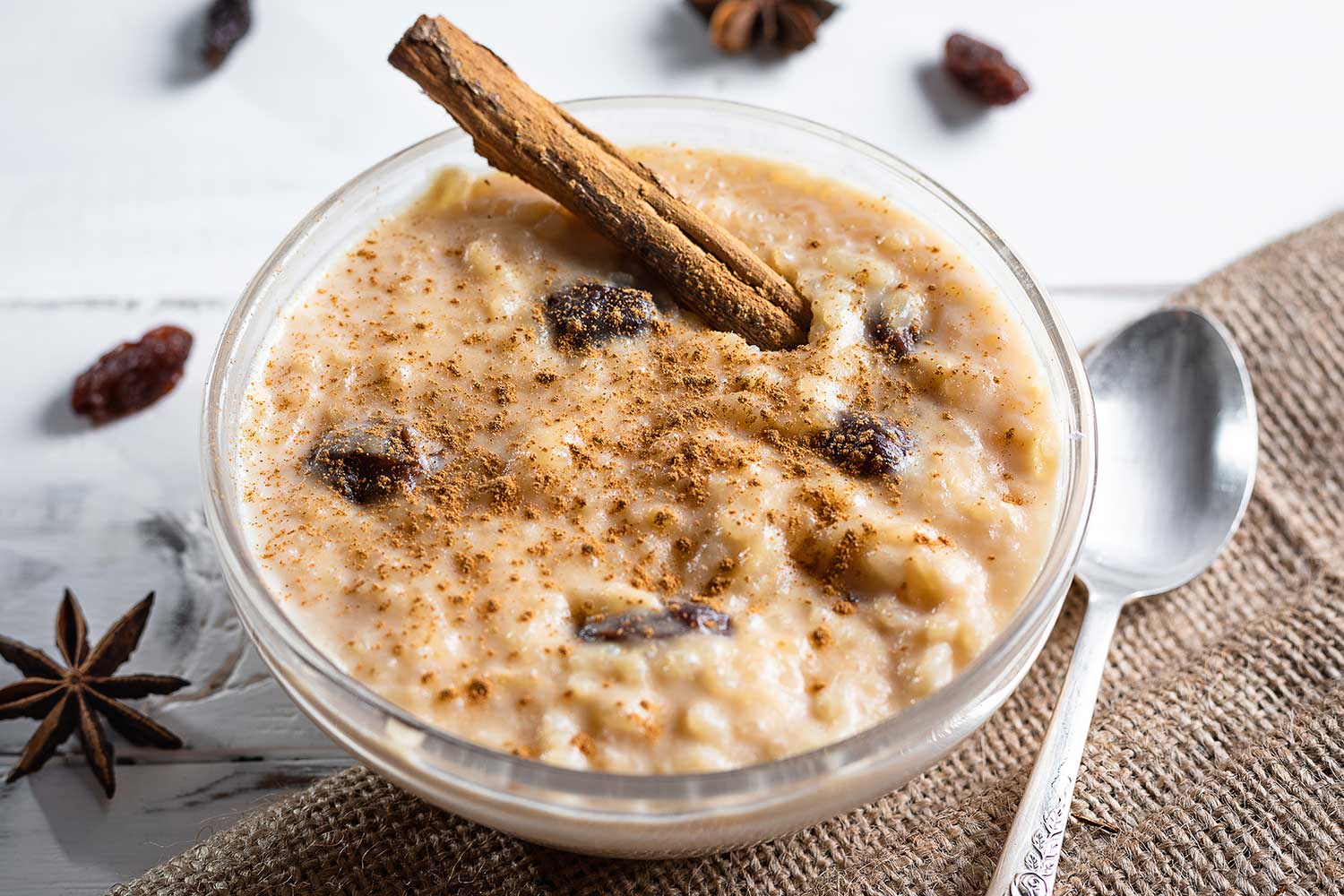 Arroz con Leche is a slow-cooked concoction of rice, whole milk, sugar, spices, and occasionally raisins. It is then simmered for a couple of hours until it becomes a rich, thick sweet stew.
Sweet and comforting, Arroz con Leche is a Peruvian take on a typical rice pudding and is ideal for feeding a crowd with relatively little money. Perhaps this is why it's a favorite of children's birthday parties, funerals, and Sunday lunches.
For visitors, the easiest place to get a hot bowl of Arroz con Leche is at any street fair, market, or any of Lima's old parks.
You can usually buy it by itself, or as a clásico: half a serving of Arroz con Leche, next to half a serving of Mazamorra Morada, topped with shredded coconut, for an easy dessert recipe.
2 – Mazamorra Morada (Purple Potato Flour Pudding)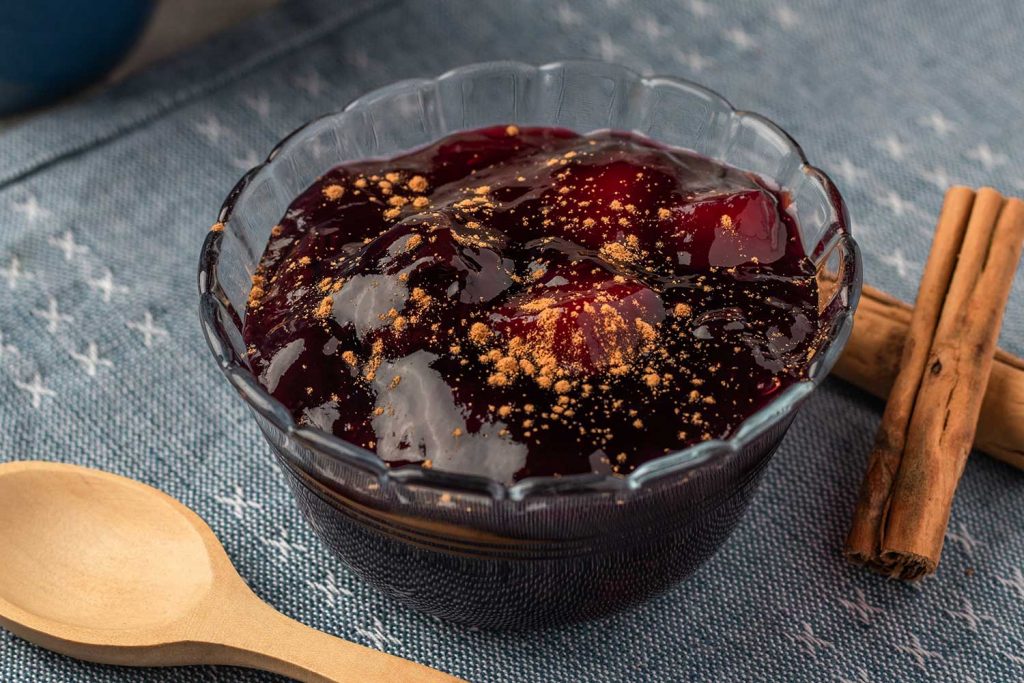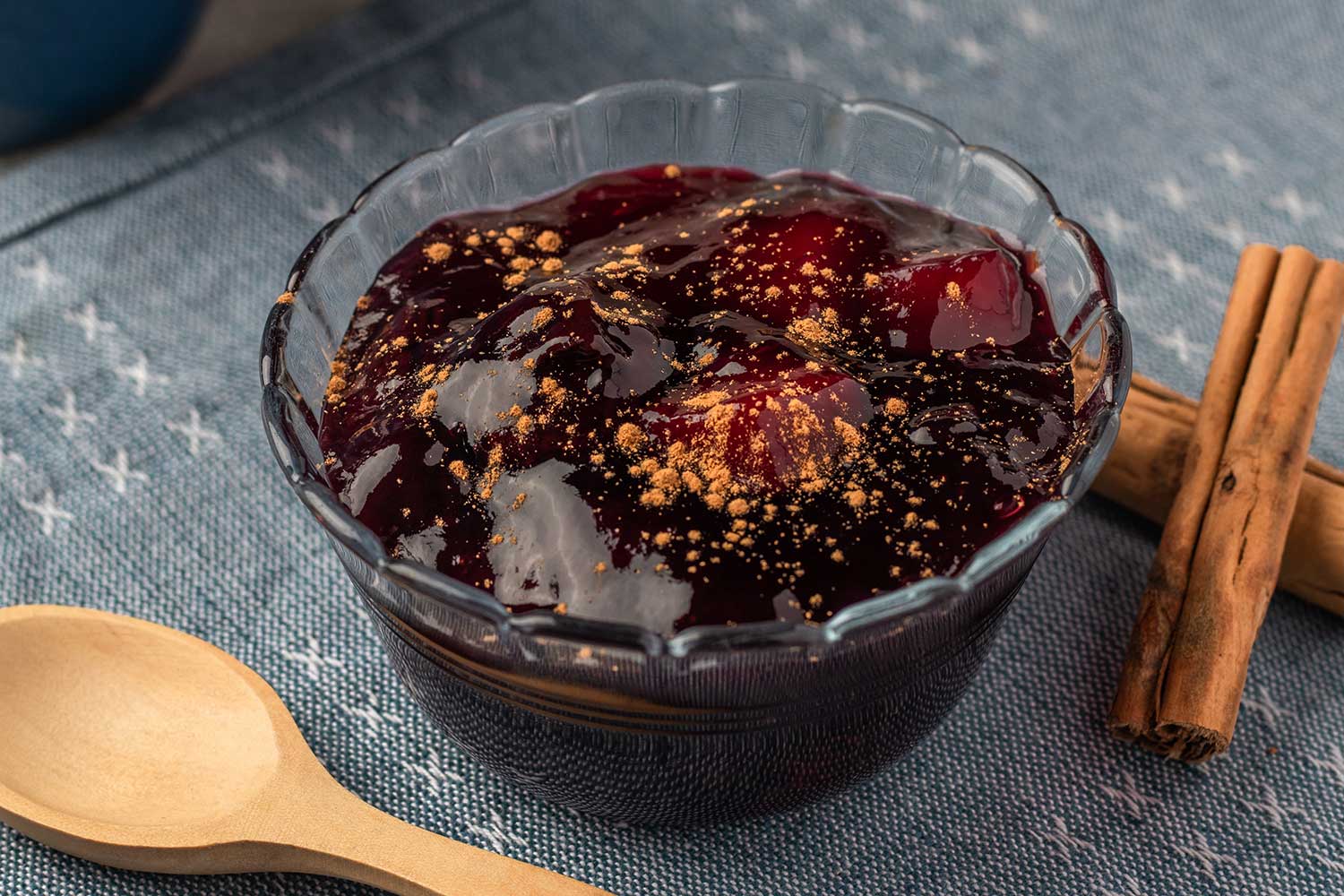 The technique to make Mazamorra (or masa mora, 'Moorish dough') was originally brought to Peru during the early Colonial period by the Andalusian and Moorish women, who first migrated to the Americas.
Naturally, they adapted their old recipes to the New World's ingredients. Instead of wheat or bulgur, they used an Andean type of dehydrated potato flour and dyed it with a local variety of purple corn cobs.
Mazamorra Morada is made by boiling these corn cobs in water, cinnamon, clove, honey, and pieces of fruit. The potato flour is then dissolved in the purple 'corn water' and simmered until it reaches a pudding-like consistency.
You can even add extra dried fruits, sugar, and a lemon rind for a deeper flavor. Simple, resourceful, and incredibly wholesome, this is a Peruvian dessert with both a rich body and heritage.
3 – Suspiro de Limeña (Caramel Milk Cream Topped with Meringue)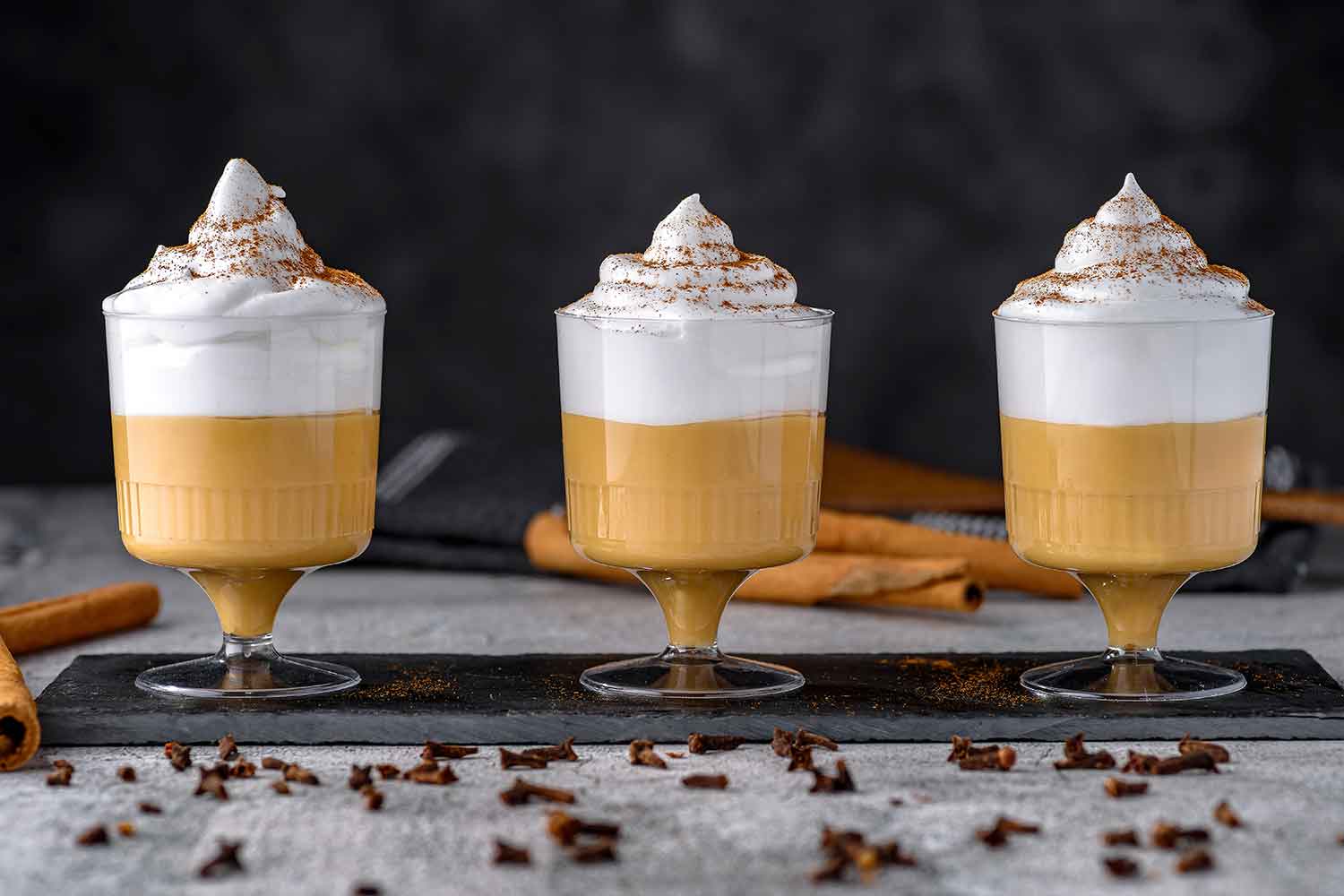 With a name meaning 'Lima girl's breath,' it should come as no surprise that this dish is a decadent and extremely sweet dessert!
Suspiro de limeña is usually served in a transparent cup or wine glass. The bottom half is filled with Manjar Blanco, a creamy custard made from milk cream, caramelized sugar, cinnamon, and a dash of citrus juice. This is then topped with a white 'hat' of meringue and colorful sprinkles.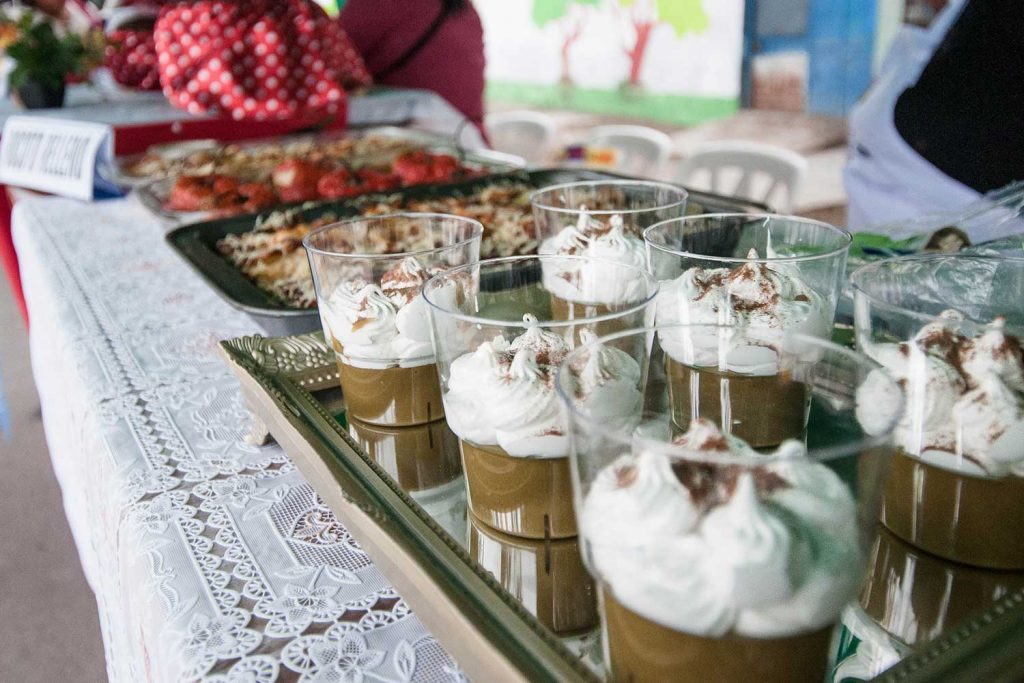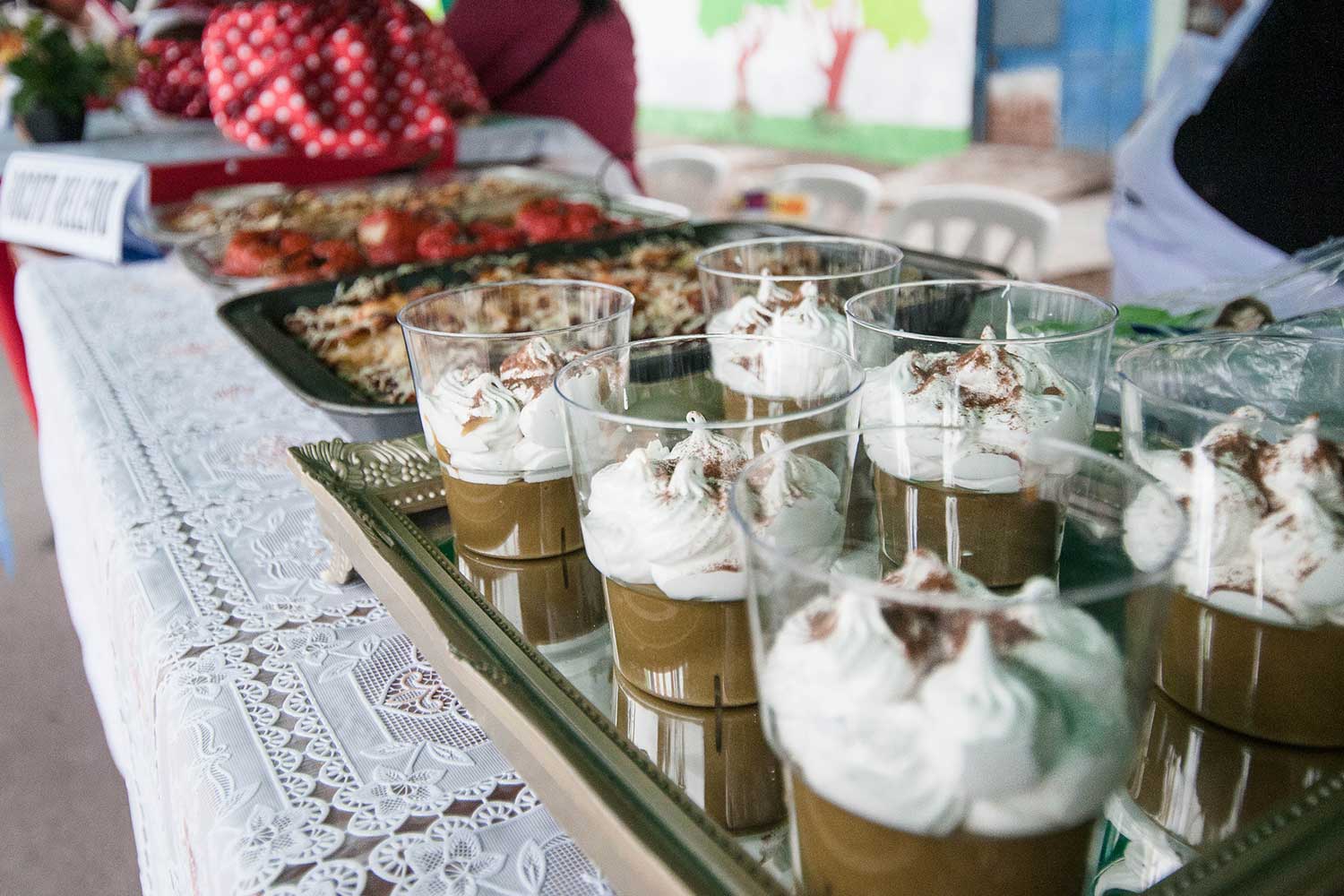 Recent iterations of this dish try to lower the sweetness level by slightly altering the Manjar Blanco. This is achieved either by adding Peruvian cacao powder to the mixture or replacing some of the sugar with fruit or mashed bananas.
4 – Picarones (Deep-Fried Pumpkin Flour Doughnuts)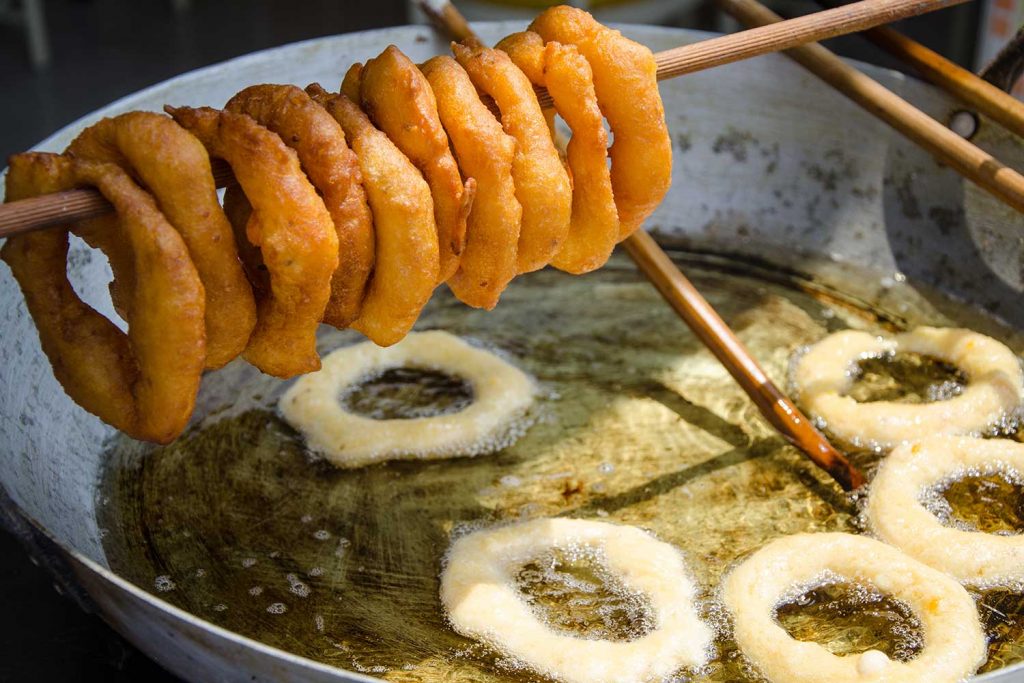 The association between doughnuts and parties very much crosses borders. The Peruvian Picarones, however, are deep-fried and dipped in syrup, rather than baked and covered in frosting.
The traditional recipe for Picarones uses a mix of pumpkin flour, spices, and cassava flour to add some elasticity. Some regional variants also add sweet potato flour. The flour is mixed with eggs and water to make a runny batter, loosely shaped into a ring, and deep-fried inside a gigantic barrel of hot oil.
Picarones should always be served piping hot, drizzled with syrup, often made of honey, sugar, and boiled figs. They are particularly popular at street fairs or as a late-night craving, just after the bars close down.
5 – Arroz Zambito (Rice, Milk, and Molasses Pudding)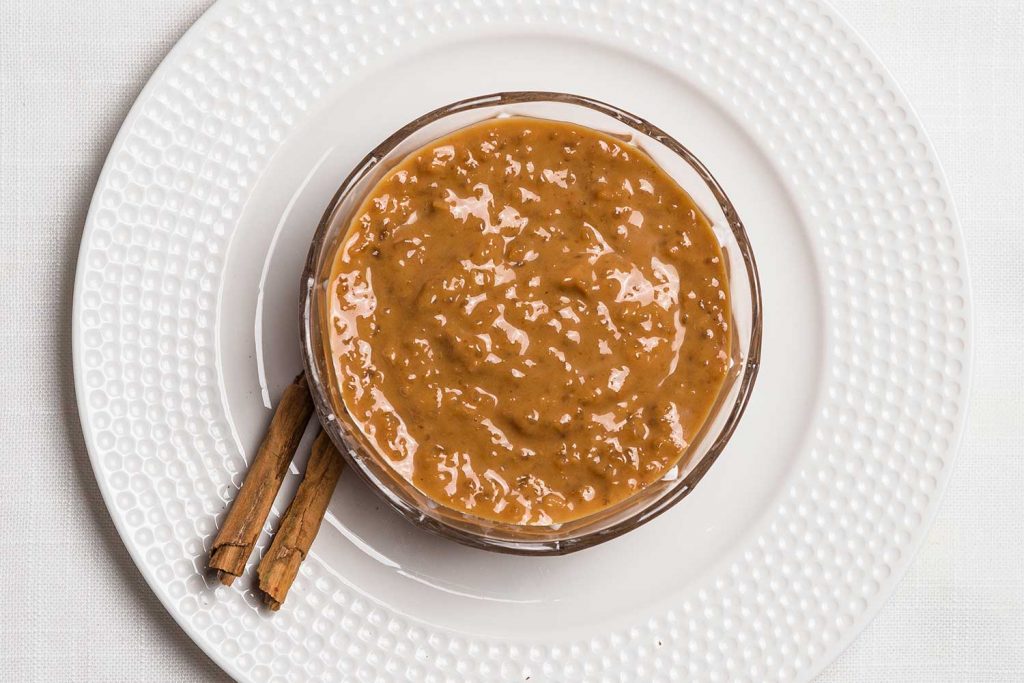 A common theme among most Peruvian desserts (especially those coming from the capital of Lima) is their indulgence and sweetness. However, a deeper dig into traditional recipe books often provides more nuanced alternatives.
Take Arroz Zambito: this variant of Arroz con Leche had fallen out of favor throughout most of the 20th century. However, a temporary sugar shortage in the late 1980s brought it back into the spotlight.
It replaces the sugar with molasses and cinnamon, which provide a slightly bitter undertone that mellows out the sweetness.
6 – Mazamorra de Cochino (Pork Lard and Cornflour Pudding)
So what happens when your sweet tooth and your desire for a hearty meal collide? The answer could be Mazamorra de Cochino: a special festive pudding made from corn flour, milk, pork lard, and molasses, and flavored with a dash of aniseed, nutmeg, and cinnamon.
Don't be scared by the name: although cochino means 'dirty' in some parts of the Andes, it also means piglet – which granted, is rarely considered the cleanest animal! As savory dishes go, this one should definitely be on the must-try list.
7 – Ranfañote (Day-old Bread, Soaked in Syrup and Spices)
One of the oldest desserts of the capital came about as a way to take advantage of leftovers. This is why Ranfañote follows a pretty flexible recipe, as traditionally it was made of whatever you have left in the pantry.
The basic recipe uses day-old bread, chopped into tiny croutons, soaked into honey, molasses, or sugary water. This is then sprinkled with cinnamon, chopped nuts, raisins, prunes, coconut skins, or even a little white cheese.
After soaking for a few hours, the mixture just needs a quick date with a hot iron skillet. The sugar will caramelize around the bread and make for a rich, crunchy, and delicious snack.
8 – Queso Helado (Artisanal Condensed Milk Ice Cream)
Queso Helado is a rough type of artisanal ice cream, typical of the Arequipa region in the southern Andes. This area is best known for its mining, wool, and dairy industries.
Queso Helado predates modern ice cream makers. Traditionally, it was made by freezing milk, flavored with cinnamon and sugar, and then manually whipping it for hours inside an ice-lined container.
Electric mixers have now replaced this backbreaking task. In street fairs and traditional festivals, however, you can still find the old pedal-powered 'bicycle mixers', where the seller slowly carved out servings of Queso Helado, one at a time. It is fascinating to behold.
9 – Tocino del Cielo ('Heavenly Bacon' or Coconut-Crusted Flan)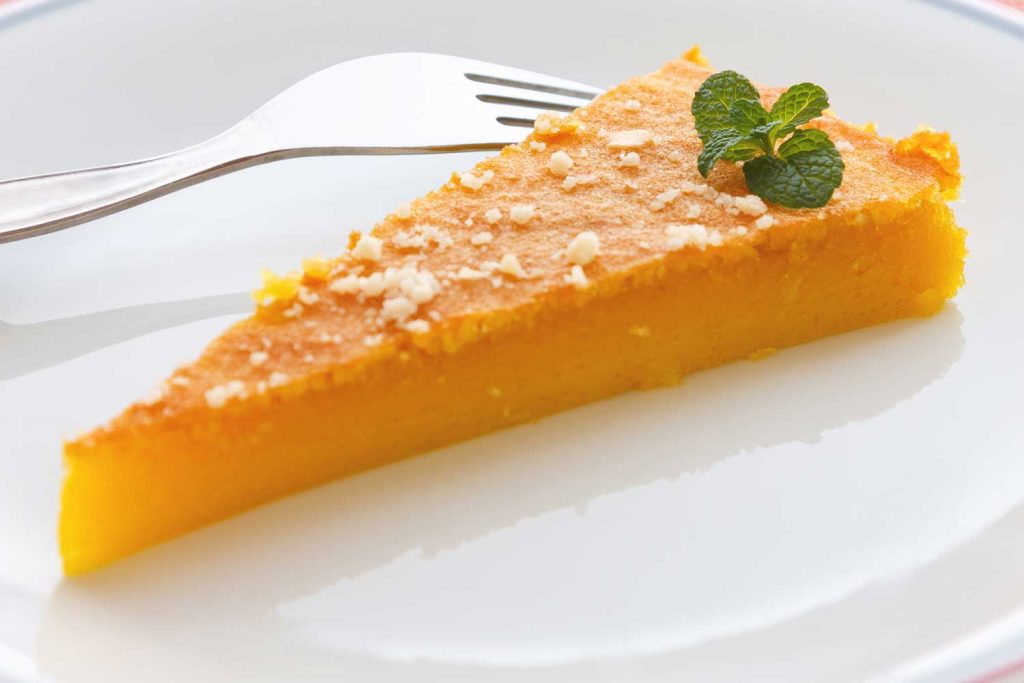 Like Mazamorra, flan is one of the many Latin American desserts that you can trace back to Spain's Moorish traditions. This is why iterations of flan can be found pretty much in every country in the region – always slightly tweaked or altered to give it an extra layer of originality.
So what makes 'heavenly bacon' so special? First, as it's also typical of a dairy region, it uses equal parts milk and heavy cream. In addition, the dish is covered with an extra layer of shredded coconut and then baked. This creates a very crunchy crust, followed by the oozing of creamy custard on the inside with each and every mouthful.
10 – Leche Asada ('Roasted Milk' or Double-Baked Custard)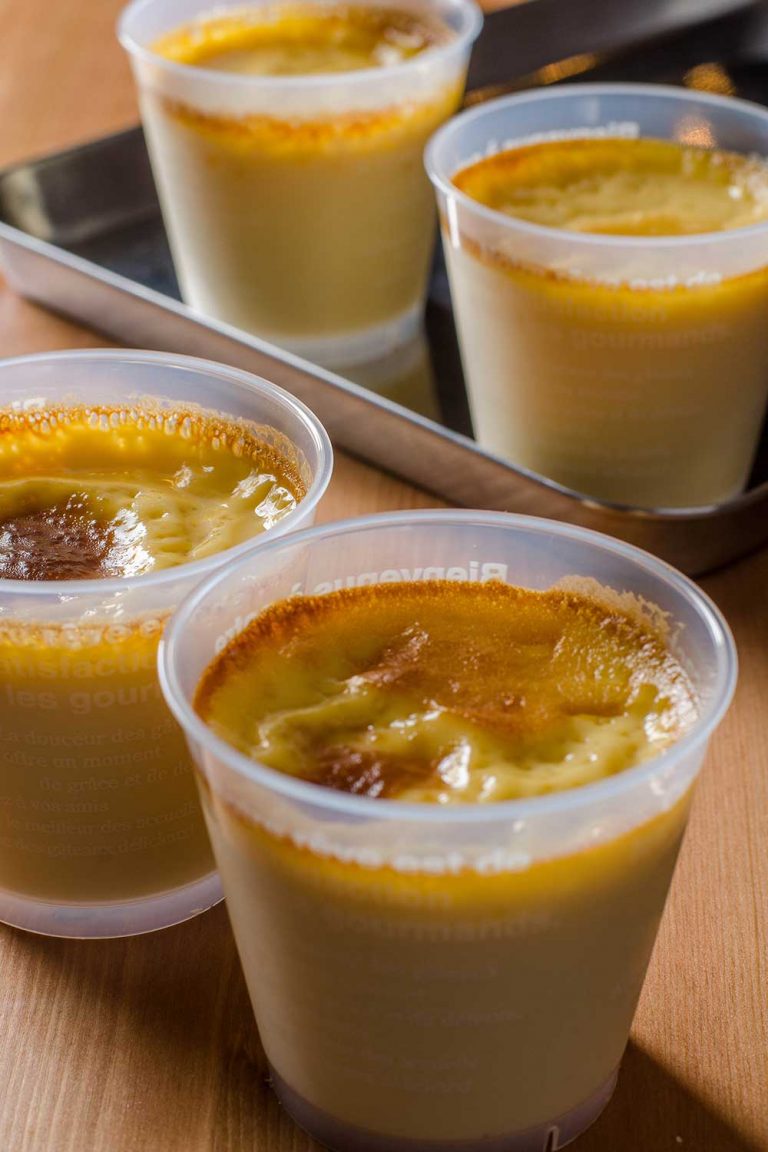 Closer to the Peruvian coast, a simpler version of custard developed. Leche Asada is a coarse, easy flan, often served at family gatherings, or sold 'on the go' at market street stalls.
Leche Asada is made by mixing whole milk, sugar, cinnamon, and eggs. Instead of a messy bain-marie, the mixture is warmed in a regular pot, but removed from the fire before it starts to solidify.
Finally, the mixture is transferred to a baking pan and baked on high heat for about 15 minutes. This will 'burn' the top layer of milk and egg, leaving a slightly runnier custard inside.
11 – Bola de Oro ('Golden Ball' made of Cake, Jam, and Marzipan)
The Moorish influence on Peru's dessert plate is not limited to custards and Mazamorras. Many of their richer, more elaborate creations are reserved for special occasions, or 'once in a lifetime' events.
Bola de Oro is a great example of this. It is a dish made of layers of soft cake, alternated with one or two types of jam, Manjar Blanco, and roasted nuts. The resulting tower is then cut and shaped into a sphere, covered in Maná (a kind of marzipan), and decorated with fondant, sprinkles, or bits of colored marzipan.
Bola de Oro is a traditional gift for children at their First Communion. Many families still insist on featuring the cake during the corresponding photo shoot, so many bakers go the extra mile when decorating a Bola de Oro.
12 – Frejol Colado (Sweet Bean Paste)
On the other end of the Peruvian cuisine spectrum is this nourishing and calorie-heavy comfort food. Frejol Colado is made by soaking black Terranova beans overnight and then simmering them with milk, sugar, sesame, ginger, and cinnamon. After the liquid has evaporated, the beans and spices are mashed into a smooth paste.
Despite its budget-friendly ingredients, Frejol Colado is surprisingly high in protein for a dessert. This makes it a popular choice for school lunches, or for convalescent people.
The origin of Frejol Colado is disputed to this day. Some sources believe it originates from Africa, while others believe the spice profile is undoubtedly Asian, and Peru's Chinese community has embraced the dessert, using it as a filling for Min-Pao buns and rice cakes.
13 – Guargüero (Stuffed Dough Cigars)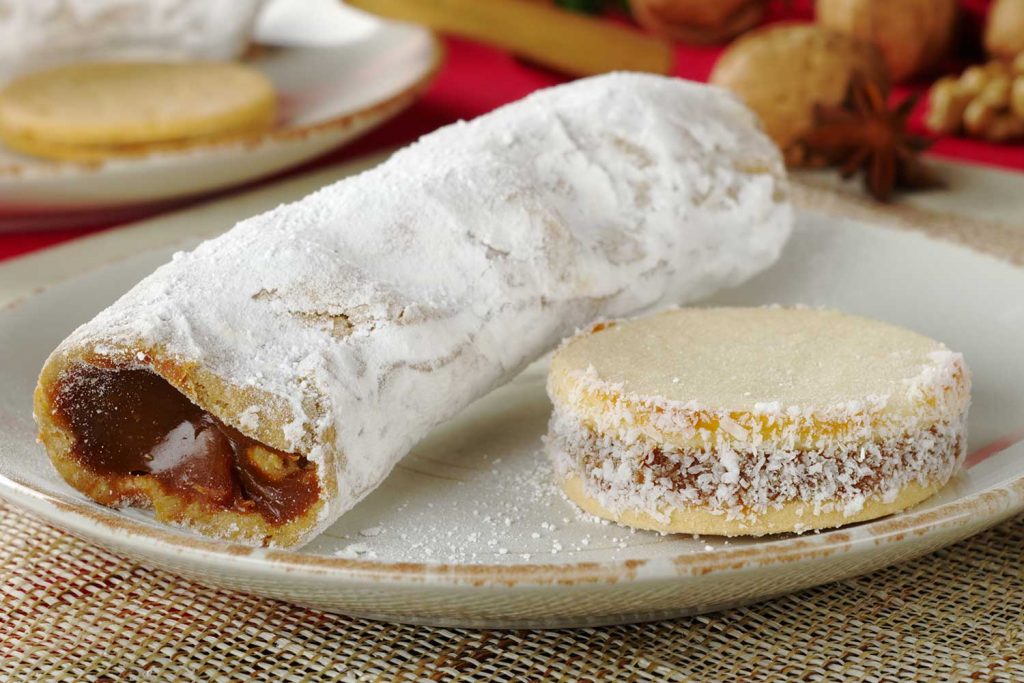 Guargüeros are small dough 'cigars' filled with Manjar Blanco and sprinkled with a dash of orange liqueur and caster sugar. Small, soft, and portable, they are beloved 'finger foods' at wedding receptions and local cocktail parties.
The key to good Guargüeros is their incredibly soft dough, made from seven egg yolks, and kneaded delicately until smooth. The original recipe for this dough (plus access to the orange liqueur) used to be a privilege guarded by colonial convents.
During the period, nuns used their decadent desserts to entertain the local aristocracy and attract donations. Eventually, many of these 'convent sweets' became profitable businesses of their own.
14 – Turrón de Doña Pepa (Mrs. Pepa's Turrón: Layers of Sweet Cookies with Honey)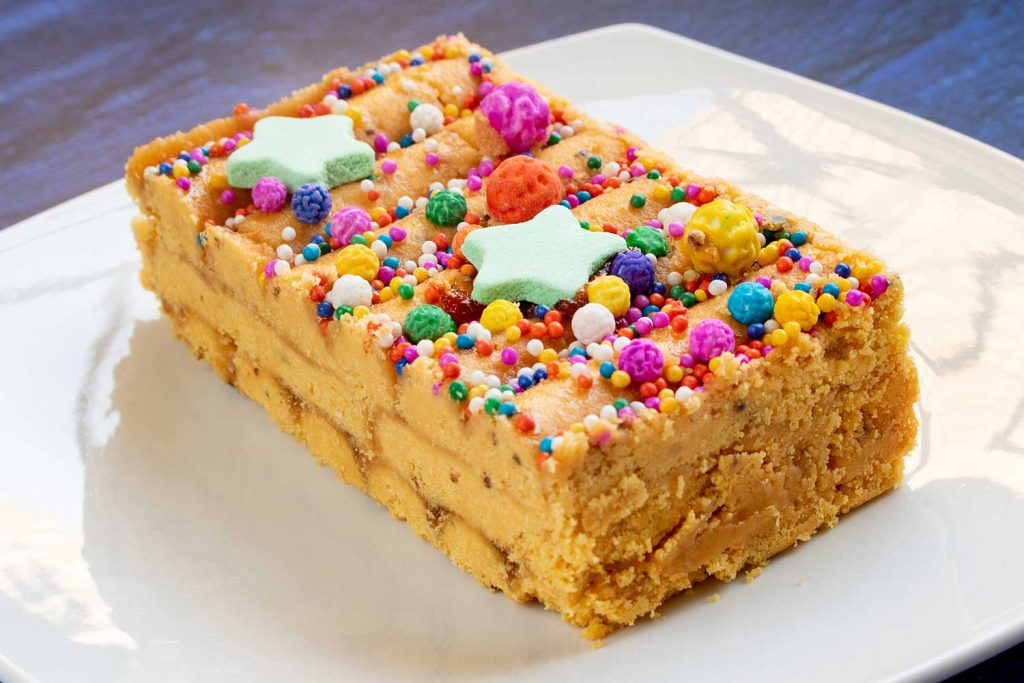 Turrón recipes originally appeared in Spain and Italy during the late Medieval period. At first glance, they have little to do with Lima's variation, which is typically eaten during October.
Mrs. Pepa was a renowned cook in 18th-century Peru. However, she developed an unexplained paralysis that rendered her unable to move her hands and quickly left her without a job.
According to legend, due to her devotion to a local image of Jesus (the Christ of Pachacamilla), she was granted a dream with the original recipe for her Turrón. It consisted of three layers of a coarse dough made from flour, lard, aniseed, cinnamon, and eggs, held together by Chancaca honey, made from molasses boiled with pineapples, orange rind, and figs.
Upon waking, she prepared a large batch, sold it, and donated the earnings to the Chapel of Pachacamilla. This offering healed her from her paralysis and allowed her to resume working. Every October (when the image of the Christ of Pachacamilla is around Lima), she prepared the Turrón again, to make a new donation.
15 – Alfajor Penco (Manjar Blanco-Filled Cookie Sandwich)
Alfajores are popular across Latin America, especially in Peruvian and Argentinian cuisine, as they were part of the original repertoire of colonial 'Convent sweets.' It typically consists of a sandwich made from two small flat cookies, filled with Manjar Blanco, and coated in caster sugar.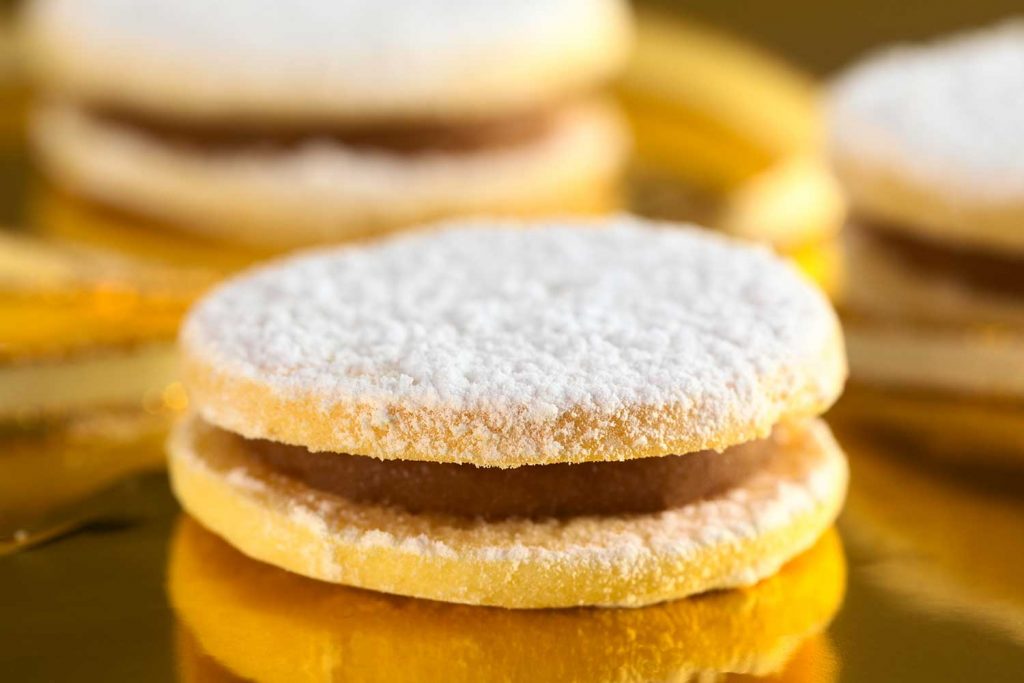 Alfajor Penco is a unique variant of Alfajores, made in the region of Moquegua, on the Southern coast. This region is well known for its orchards and vineyards, where many European fruits were first adapted for year-round harvests.
As a result, Alfajor Penco uses plate-sized cookies, filled with citrus-infused Manjar Blanco, chopped nuts, and a dash of Pisco (a type of grape brandy similar to Italian Grappa).
16 – Guaguas (Bread Babies)
'Guagua' or 'Wawa' is the old Quechua word for baby. Quechua is still widely spoken across the Andes or Sierra region, but if you hear about 'cutting up the Guagua' during Easter week, don't worry: they are talking about a bread baby.
Guaguas are made from fortified sweet bread, occasionally mixed with aniseed, nuts, or raisins. They are shaped to resemble a baby, wrapped in a quilt, and decorated with small candies, frosting, or even full candy masks.
They are usually prepared for Easter or smaller town festivals. In some parts of the Southern Andes, families sometimes stage mock baptisms for their bread baby, before cutting it up and serving it.
This tradition probably comes from a mix of old Andean rites and Catholic ceremonies, but they provide a good opportunity for satirical reenactments and light-hearted mockery.
17 – Champús (Thick Corn-Based Hot Drink with Fruit)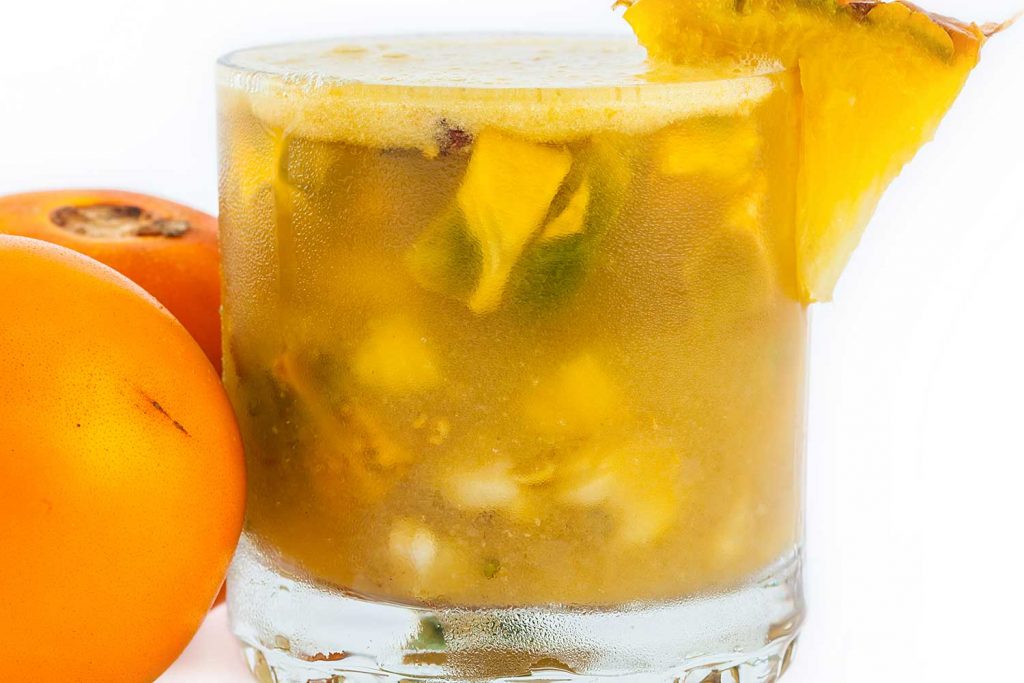 Despite Peru's close proximity to the Equator, its Central and Southern coasts are remarkably cold and humid. Temperatures usually dip to their lowest between late July and early August, also known as Champús season.
Champús is made from slightly mashed giant corn kernels, boiled with honey, pieces of fruit, and the occasional medicinal herb. This creates a sweet and rich hot drink that can warm you up from the inside out.
18 – Mazamorra de Llipta (Aromatic Red Corn Pudding, Flavored with Chamomile, Orange Rind and Cinnamon)
Still largely unknown in the Capital, Mazamorra de Llipta is a typical home dessert of the Ayacucho region, one of the coldest and most beautiful parts of the Southern Andes. At first glance, it is a runnier, red version of the capital's Mazamorra Morada.
This dish replaces the large purple corn cobs with a smaller red variant known as Llipta, which is only found in Ayacucho. After boiling it to extract its red coloring, the corn is 'recycled' into cornflour and boiled in the red corn water. Finally, it is left to simmer with sugar, orange rinds, cinnamon, chamomile, and a dash of milk.
The resulting Mazamorra is heartier, warming, and believed to help you recover from fever.
Peruvian Desserts Summary
Peru's beauty extends far beyond its geography and landscape. The region brings color and craft to all aspects of life, including food.
These Peruvian dishes cover a vast spectrum of culinary characteristics. Some are indulgent, others resourceful, while some are overwhelmingly sweet, and others packed with the tartness and flavors of native fruits.
The range of ingredients used in Peruvian desserts is also intriguing. The likes of purple sweet potatoes, anise seeds, and black beans, are just some of the eye-opening fruits, legumes, and vegetables used in making many of these savory and sweet dishes.
When it comes to South America, Peruvian food undoubtedly is one of the continent's most diverse, colorful, and mind-blowing cuisines. There is so much to seek out, try, and enjoy, no matter what your taste preferences.
On any trip to Peru, seek out and try as many of these unique desserts as you can. You will not regret it. It will open up your palate, mind, and heart to a spectrum of new and exciting flavors, textures, and fusions.
You Might Also Like to Read
Save and Pin for Later
Keep these popular Peruvian desserts for safekeeping, ready for a future trip to Peru, by saving this article to one of your foodie travel Pinterest boards.
Author: Ximena Lama Rondon is a Peruvian content writer and bilingual translator who lived and studied in Lima, Peru for many years. She passionately writes on travel, cuisine, and history, among many other topics.
Images licensed via Shutterstock