This post may contain affiliate links, meaning if you book or buy something through one of these links, we may earn an affiliate commission at no additional cost to you. Learn more
Welcome to a country with some of the most delicious food on the planet. Argentinian food is renowned for its grilled meat and delicate pastries.
But there's so much more to Argentinian cuisine than meat. Different influences and regional recipes all inject a diverse range of flavors and ingredients into the country's food.
So prepare for lavish fusions and breathtaking tastes as we explore 19 popular Argentinan foods, courtesy of a local's recommendations.
Appetizers
1 – Huevos Rellenos (Deviled/Stuffed Eggs)
Huevos rellenos are a typical appetizer in Argentina. This is one of the many recipes that have their origin in Italy, as many of Argentina's inhabitants came from Italy due to a massive European migration wave into these lands after World War I.
After cutting the boiled eggs in half, the yolks are removed and mixed with cream cheese or oil, tuna, or olives. This mixture is then added back into the egg whites. It's very fresh and savory!
2 – Provolone con Oregano (Provolone with Oregano)
Provolone is a type of cheese that's a bit oily and very filling. This cheese finds its origins in the south of Italy and is super popular in Argentina, especially when we do asado, an Argentinian barbecue.
When the fire for the asado is on, and the meat is grilling, people put the provolone on the meat-filled parilla (grill) to cook alongside the asado. It cooks in an instant and is served as an appetizer.
If you are invited to an asado, be careful with the provolone: it's delicious, but if you eat too much of it, you won't have any room for the meat!
3 – Ensalada Rusa (Russian Salad)
Ensalada rusa is another example of a foreign appetizer that became part of Argentinian cuisine and culture. It's now served in every typical Argentinian restaurant.
Ensalada rusa consists of potatoes and carrots cut into little cubes, green peas, eggs, and mayonnaise. This combines different subtle flavors, resulting in a light and fresh salad that can also be eaten as a side dish.
Read more: Rustic Olivier Salad (Potato Salad) Recipe You Need to Try
4 – Picada (Meat and Cheese Board)
Another classic appetizer, picada is essentially a cheese board with different types of ham and salami, olives, and bread.
It is one of our most typical appetizers to share, and some people prepare extra big ones to serve for dinner or to share with friends while having a drink.
Main Dishes
I feel obliged to mention something that's well-known about us: Argentinians are heavy meat eaters.
And, when I say heavy, I mean it. We eat a higher percentage than any other country in the world, and even the World Health Organization has advised that we cut down a little bit, but what can we do? We love it.
This is why I thought about starting with a mini section of meaty main dishes. Don't worry; if you're vegetarian, we have great dishes and variations for you, too!
5 – Asado (Argentinian BBQ)
Asado is, simply put, our national pride. Let me clarify: this is not your typical BBQ, and we certainly do not accept burgers. We only accept meat and achuras (intestines, kidneys, sweetbreads, chitterlings, udder, etc.).
We do it in a grill called la parrilla that's usually built on our patios. We follow these steps: we turn on the fire with wood or charcoal (this is a major dispute between Buenos Aires, where they use charcoal, and the rest of the country, where they tend to use wood), and we put everything to cook in la parrilla.
First, we eat the achuras, and then we eat the meat. Some people like to add some vegetables like potatoes and pumpkin to eat as side dishes. If not, the entire meal consists of meat, and we're okay with that.
Word has it that the first time grilled meat was ever eaten was many, many years ago by gauchos (South American cowboys) in the center of the country so the asado is, along with soccer, a key part of our tradition and many of us eat it every Sunday with our families.
Another smashing classic of these lands, milanesa con papas fritas is our favorite as kids.
We eat it at home and in restaurants (it's usually part of the kids' menus in restaurants!) more than once per week.
It's easy to prepare, and if we don't feel like it, all of the country's butchers sell it already pre-prepared.
It's simple to make. It can be done with meat, chicken, pork, or fish. It's cooked quickly, it can be deep-fried (in a frying pan or in the oven), and it can be served with any side dish, from salads to pasta.
All in all, a practical, down-to-earth ally in the kitchen.
Read more: Milanesa Recipe
7 – Bife de Chorizo (Steak)
Yes, chorizo is a type of sausage, but not in this case!
Bife de chorizo is a generous type of meat cut that's thick, very tender, and non-greasy, making it the best one to eat on its own.
I do have to mention, though, that all of these qualities make it very expensive. Bummer!
8 – Empanadas
Empanadas don't have a translation into English because they are an iconic dish, and many people have already heard about them.
They are fried or baked turnovers stuffed with different fillings and are present in the cuisine of almost every country in Latin America.
In Argentina, the fillings vary by region and taste, but the most popular is, of course, the meat-based one.
In the North, the empanadas de carne cortada a cuchillo (knife-cut meat empanadas) are world-famous.
You can find many different variations, such as blue cheese and nuts, cheese and onion, chicken, and fish; the list is endless, and there are no wrong fillings to use.
9 – Guiso de Lentejas (Lentils Stew)
Let me introduce you to some of the not-that-meaty food.
Guiso de lentejas is a typical winter food that is very savory, warm, and filling. The original recipe consists of lentils, potatoes, and carrots cut in cubes, onion, pepper, bacon, and chorizo, but it can be done without any meat with great results, so it is ideal for vegans/vegetarians, too!
Preparing this using the original recipe takes time, but if we skip some steps and ingredients to make it faster (and, honestly, healthier), it can be done in an hour or so.
Experts say it tastes better after it rests overnight, so I recommend preparing it the day before you will eat it.
10 – Locro (Meat and Vegetable Stew)
Locro, even if it is not eaten frequently (maybe because cooking it takes around three whole hours!), is the most 'national' food in Argentina because it celebrates the country's culinary tradition.
It is a stew that is usually eaten on patriotic national holidays such as May Revolution and Independence Day.
It consists of corn, beans, white onion, pumpkin, bacon, intestine, pork, and two types of chorizo – yes, it is meaty and kind of expensive but completely irresistible.
11 – Pescado Frito (Fried Fish)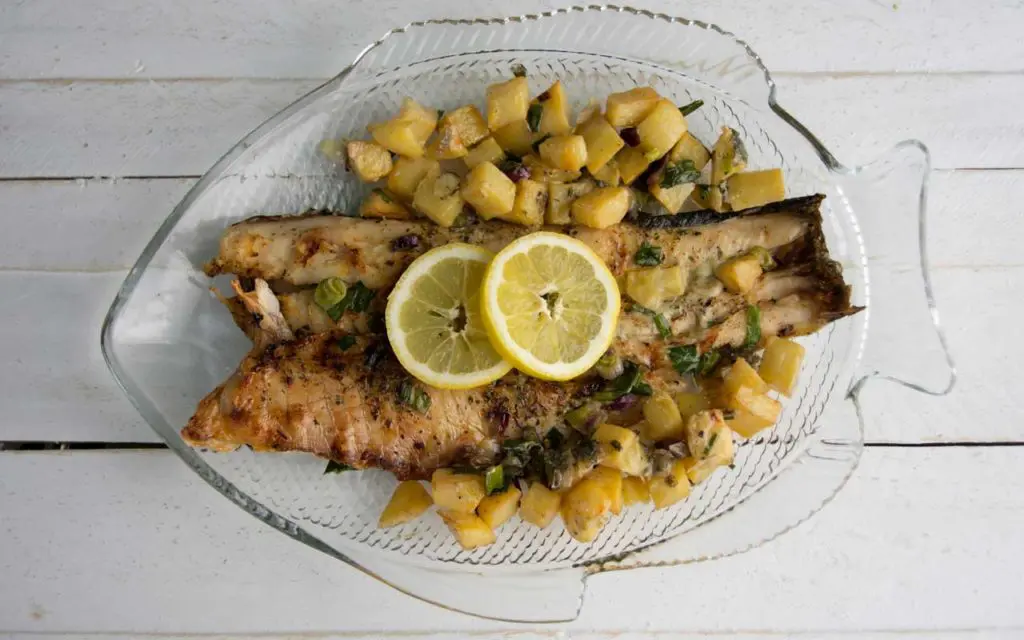 In Argentina, from North to South, we have vast rivers and coastal seas that provide beautiful, fresh, tender fish that are ideal for deep-frying.
Some typical examples of fish are boga (only found in Latin America's rivers), hake, cod, and sole.
It is one of the few deep-fried options on this list. Some people fry it in oil and others in grease.
12 – Pizza al Molde (Pizza)
Our Italian ancestry has made us sweet and salty bakery specialists.
As for pizza, there's even an avenue in Buenos Aires, la avenida Corrientes, that is famous for El Obelisco, the theatres, and the pizza joints. There, we eat pizza de parado, which means eating pizza while standing because, in Buenos Aires, no one has time to stop.
Argentina's pizza is more similar to the pizza from Naples: the dough is thicker and cheesier than regular Italian ones. As always, we go bigger and greasier!
13 – Humita (Stuffed Tamale)
Humita is a type of food that is typical in the Andean area, and it consists of ground corn cream wrapped and cooked in the same leaves of the corn.
The ground corn can also be mixed with pumpkin, milk, fried onion, and red pepper to make it more filling.
It's usually seasoned with basil, paprika, and cumin, and some people also add a little bit of creamy cheese to their liking.
This incredible mix of flavors is yummy, and it is one of the reasons why chefs worldwide appreciate Latin American cooking.
14 – Vitel Toné
This one is a Christmas staple, and it originally came from the Northeast of Italy.
Vitel toné ('vitello tonnato' in Italian) is a cold dish made of meat (eye round cut) with delicious tuna, anchovy, eggs, cream, and mayonnaise sauce.
As some of you know, Christmas in Argentina takes place during the summer, and we usually experience a temperature of 30-34°C (86-93°F) on Christmas Eve, so we definitely cannot eat something hot like people do in the Northern Hemisphere.
This is why vitel toné is perfect. It is a full dish, but it is cold and not as heavy as other dishes on this list.
We love it, and we always finish Christmas time wondering why we eat it only two days a year but, sometimes, this is the secret to loving something that much!
Desserts
15 – Vigilante / Queso y Dulce (Quince or Sweet Potato Paste with Cheese)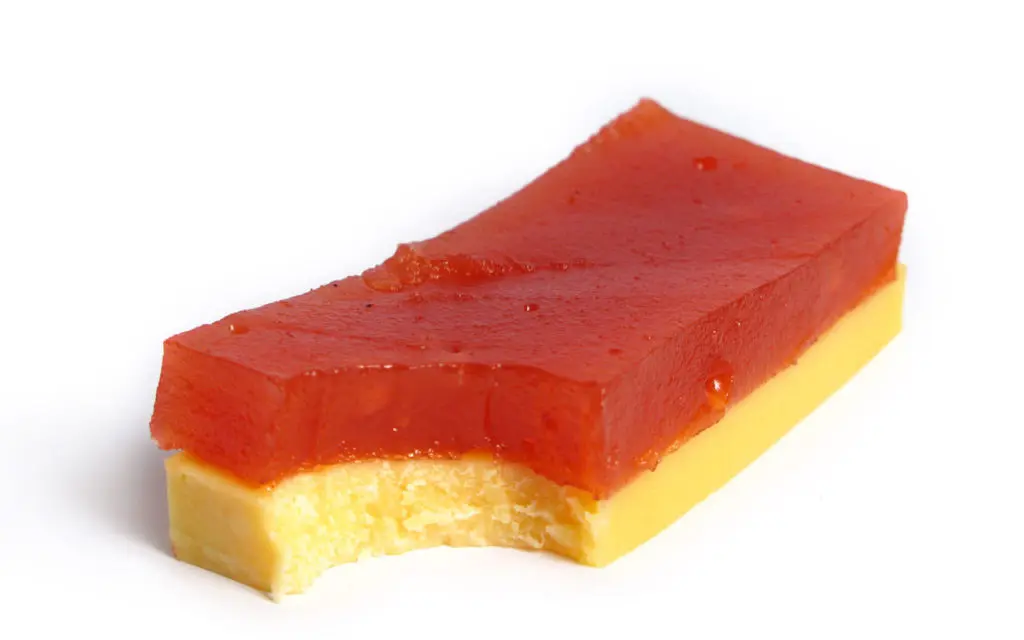 This dessert, literally called 'security guard' in Spanish, consists of a piece of dulce de membrillo (quince paste) or dulce de batata (sweet potato paste) with a piece of cheese.
I know you are asking yourselves why it's called like that, and it's simply because the ones who made it popular were policemen on duty.
It is said to have originated in a restaurant in Buenos Aires that offered a quick and practical dessert that became very popular among the policemen of a nearby police station because it was possible to eat it without utensils during the rounds.
But there's another theory that it's most probable it was the policemen's favorite dessert more out of necessity than preference since their low salaries forced them to opt for the more affordable options on the menu.
16 – Panqueques con Dulce de Leche (Pancakes with Caramel)
One of Argentina's most traditional, charming, and easy-to-prepare desserts is, without a doubt, panqueques con dulce de leche.
This is a dessert that uses very few ingredients, and its preparation is relatively simple.
They are like regular pancakes but thinner -more like French crepes– stuffed with a thin layer of the classic Argentine dulce de leche, a caramel-type delicacy that very few people resist.
17 – Alfajores
If asado is the salty reason we're globally known for, alfajores are its sweet counterpart.
They are a national icon, and there are so many versions that they can suit all palates.
An alfajor consists of two or more cookies joined by a sweet filling and then usually bathed in chocolate, icing or powdered sugar.
The filling is commonly dulce de leche but there are also fruit, chocolate mousse, and other different ones.
They're so popular that big brands like Oreo have their own version, there are annual rankings conducted to see which one is the best, and there's even a book called 'Alfajor, the Argentinian icon'! I rest my case.
18 – Pastelitos
Pastelitos are pastries filled, again, with dulce de membrillo or de batata and shaped into flowers.
They are usually deep-fried and then brushed with a sugar glaze or topped with colorful sprinkles.
These are commonly eaten during winter time but especially on our national holidays after a good serving of locro or guiso.
We can make them at home but we tend to buy them in bakeries because the dough can be hard to handle.
19 – Pasta Frola (Quince Paste Pie)
This is a type of pie that's usually filled with – yes, you guessed right! – dulce de membrillo (quince jam).
We love it and use it so much because it is sweet and slightly acidic at the same time, so we digest it well at any time of the day.
Pasta frola finds its origins in Italy, but we changed its original fruit filling, and it's nowadays mostly eaten in Argentina and Paraguay.
What remains the same is the shortbread, which is then filled with tasty dulce de membrillo and sometimes dulce de leche because, well, it's Argentina!
Read more: 18 Best Argentinian Desserts You Need to Try in Argentina
Drinks
20 – Malbec
You may be surprised to know that Argentina is the world's fifth-largest producer of wine, and grapes of all varieties are grown throughout the country.
From San Juan in the north to Rio Negro in Patagonia, delicious wine can be found across Argentina. Yet for the wine connoisseurs amongst you, Mendoza, the country's leading wine-producing region, has to be at the top of your must-visit list.
Traditionally known for its pink variety Cereza and Criolla Grande wines, more recently, Malbec has become Mendoza's most popular wine, while other renowned red wines like Cabernet Sauvignon have also increased in production.
One of the best ways to see the breathtaking landscape and try these luscious, velvety wines is by booking a wine tour like this one and letting a local guide you through the vineyards and all they have to offer.
Argentinian Food Summary
With its wholesome blend of Latin American ingredients and European influence, there's so much richness and flavor in the foods of Argentina.
If you're a meat lover, Argentina really does have so much to offer when it comes to food.
Asado-style beef is utterly divine. It's one of the must-try experiences in Argentina.
But as we've discovered, courtesy of María, there's so much more to Argentinian food than just tender meat.
The various elevations throughout Argentina allow a wide range of rich and fresh produce to be grown.
Along the coast, the vast waters of the Atlantic are home to some outrageously tasty seafood.
And then there's the European influence. Spanish cuisine has heavily influenced the foods of Argentina.
More so, however, has Italian food. Pizza, pasta, and bread are huge favorites with the succulent beef and other meats of Argentina.
Pair all of this delicious food with some breathtakingly flavorful wines from Mendoza and other regions, and you have yourself a cuisine fit for kings and queens.
Whether you're cooking at home or visiting Argentina, you're in for a treat of mouthwatering meats, wonderful fusions, and rich desserts.
One last time, before we go, here's the full list of all traditional Argentinian foods covered in the article that you can find throughout the country.
Be sure to have this list of Argentinian food handy when you visit so that you can try one or more of these popular and traditional foods when you visit South America.
Huevos Rellenos (Deviled/Stuffed Eggs)
Provolone con Oregano (Provolone with Oregano)
Ensalada Rusa (Russian Salad)
Picada (Meat and Cheese Board)
Asado (Argentinian BBQ)
Milanesa con Papas Fritas (Escalope with French Fries)
Bife de Chorizo (Steak)
Empanadas
Guiso de Lentejas (Lentils Stew)
Locro (Meat and Vegetable Stew)
Pescado Frito (Fried Fish)
Pizza al Molde (Pizza)
Humita (Stuffed Tamale)
Vitel Toné
Vigilante / Queso y Dulce (Quince or Sweet Potato Paste with Cheese)
Panqueques con Dulce de Leche (Pancakes with Caramel)
Alfajores
Pastelitos
Pasta Frola (Quince Paste Pie)
You Might Also Like to Read
Save and Pin for Later
Want to keep all these delicious Argentinian food picks in a safe place? Save this article and pin it to one of your Pinterest boards for later.
Author: María Muzzachiodi is an English-Spanish translator and copywriter from Parana, Argentina. She has a wealth of knowledge in Argentinian history and cuisine, and she uses her writing to share fascinating insights into her home country.