This post may contain affiliate links, meaning if you book or buy something through one of these links, we may earn an affiliate commission at no additional cost to you. Learn more
While mouthwatering dishes can be found across Italy, many traditional Italian foods simply have to be tried in a particular region, place, or origin.
From Venice in the north to Naples in the south, a wide range of some of Italy's most beloved dishes have rich historical and cultural connections to certain towns or cities. Eating these dishes in their birthplaces is far more than a tourist gimmick; it's practically a rite of passage.
So gear up for a culinary journey through Italy like no other, as a local tells us all about 16 of Italy's most beloved and iconic foods, and where best to try them.
Traditional Italian Foods
1 – Lasagna alla Bolognese (Bologna)
Eating Bolognese in Bologna by now may have become a cliché, but it's still something you simply have to do. And the best way to enjoy the famous minced meat and tomato sauce is in a heart-warming lasagna.
Although the lasagna is originally from the Campania region, the Bolognese version became renowned worldwide. The traditional recipe consists of green lasagna sheets, made with spinach, sandwiched between layers of Bolognese sauce, béchamel sauce, butter, and parmesan. The lasagna is then baked in the oven and served steaming hot.
Fun fact: Lasagna alla Bolognese is just a tourist name given to the dish. In Italy, it is simply called lasagna al forno, meaning oven-baked lasagna. Whatever you call it, to this day it is still one of the most beloved dishes to eat on a Sunday, to bring families together.
2 – Saltimbocca alla Romana (Rome)
While the carbonara or the amatriciana are certainly two go-to dishes when in Rome, there is so much more to the Italian capital than just pasta.
If you enjoy meat dishes, Saltimbocca alla Romana is an Italian food worth trying. Look for it in a typical Roman trattoria, a cozy and rustic traditional restaurant.
Thin slices of beef are topped with prosciutto crudo (dry-cured ham) and a sage leaf, all held together with a toothpick and cooked in a pan with olive oil, butter, and white wine.
The name saltimbocca literally means 'jumps in the mouth'. Although simple, it's a tasty dish that you can find in most restaurants in Rome.
The dish is said to be original from Brescia, in the north of Italy, but in the 1800s a renowned cookbook writer tried it in a historic trattoria in Rome, Le Venete. He wrote about it and subsequently made it famous all over Italy as a Roman dish.
3 – Ossobuco alla Milanese (Milan)
Nothing says Milanese cuisine quite like the aptly named Ossobuco alla Milanese, commonly served with a side of risotto Milanese. If you enter any Italian restaurant in Milan, you are guaranteed to find Ossobuco on the menu.
The dish consists of braised veal shanks, cooked in white wine and broth, with vegetables. While the traditional version was 'in bianco', the more popular version that you'll find in most restaurants is cooked with tomato sauce, along with carrots, celery, onion, and other vegetables.
In the original recipe, ossobuco is topped with gremolata, a mix of parsley, lemon zest, and garlic. Its common side dish pairing is a simple yet delicious risotto alla Milanese, defined by its bright yellow color due to the use of saffron.
4 – Pizza Margherita (Naples)
When in Naples, there's no question that you should go to one of the world-famous pizza restaurants and try the original Neapolitan pizza. Keep it simple and just order a Margherita.
Outside of Italy, there is an idea that pizza must be covered in lots of different ingredients. Italians on the other hand like to keep it simple, using only a handful of delicious and high-quality ingredients in pizza-making.
Legend has it that pizza Margherita was created in Naples in 1889 when king Umberto I of Savoy and his queen Margherita were visiting the city.
Raffaele Esposito, a renowned pizza maker, supposedly created a simple pizza of tomato sauce, mozzarella, and basil for the royals to try. When queen Margherita praised the pizza, Raffaele decided to name it after her.
The truth is, this pizza recipe already existed and was only renamed on this occasion. Whatever the truth, pizza Margherita remains one of the most popular and delicious pizzas in Italy to this day.
Be sure to try it in one of Naples' historical pizzerias, such as Sorbillo or Da Michele, where Julia Roberts' famous pizza-eating scene in Eat Pray Love was filmed.
5 – Orecchiette alle Cime di Rapa (Bari)
Orecchiette (little ears) are the symbol of Apulian cuisine. Fresh and preferably homemade by locals in Bari Vecchia, this dish can be cooked in many different ways.
The traditional recipe is made with boiled turnip greens, sautéed in olive oil, with garlic and anchovies. There is a meat-based version of the recipe, made with sausage instead of anchovies, you should also try.
And if after trying them, you wish to buy a pack of orecchiette to take home with you, just go for a walk around the old town in Bari and you'll see plenty of orecchiette being sold by locals in front of their homes.
Not only will you help the local economy, you will also get the freshest, most delicious orecchiette to cook with in the whole of Italy.
6 – Risi e Bisi (Venice)
Risi e bisi literally means rice and peas. While it may sound like a simple recipe, it requires a high degree of skill and timing to get just right. Risi e bisi is a cross between a risotto and a soup. It is not too dry, yet thicker than liquids.
The best time to eat risi e bisi is during spring, when fresh peas are in season. The dish is traditionally made with fresh peas, using the pods to make a sort of stock. However, it can also be prepared with frozen peas.
As opposed to many traditional dishes in Italy that have, risi e bisi originally was a dish served to royalty. The Doge of Venice ate risi e bisi on the 25th of April, when Venice celebrates Saint Mark's feast day.
When in Genova, you must try the local Pesto Genovese. Just like eating Bolognese in Bologna, this is a must-try food in the city.
For an entirely regional experience, try trofie con pesto. This fresh pasta dish prepared with short, twisted pasta originates from the Liguria region. It is truly sumptuous.
Pesto Genovese is an officially approved regional food product. If you wish to try the original version, remember to pay attention to the name. While Pesto Genovese is the original name, you may find different varieties of "pesto alla genovese", which are similar varieties of pesto, yet not the traditional recipe.
The original and approved recipe has seven ingredients. These are fresh basil, extra-virgin olive oil, Parmigiano Reggiano, pecorino, garlic, salt, and pine nuts.
Besides the classic pasta with pesto, you can also try it on bruschetta or a traditional focaccia ligure.
8 – Caponata (Palermo)
Caponata is one of Sicily's most iconic foods. It is a rich dish of eggplant, bell peppers, sometimes carrots, tomatoes, celery, olives, and capers, seasoned with olive oil, in a sweet and sour sauce of tomato, sugar, and vinegar.
The dish used to be a main course. Today, it is more commonly served as an appetizer or a side dish usually served with fish courses. There is also a Palermo version of caponata preapred with octopus, which is ideal for seafood lovers.
Like many dishes in Sicily, caponata is believed to have Arabic origins, and was probably introduced in the island during the Arab conquests of the 9th century. Caponata is usually served cold, and you'll find it in restaurants throughout Sicily.
9 – Fiorentina (Florence)
Bistecca alla Fiorentina, simply called Fiorentina, is without a doubt one of the most beloved dishes in Florence, and in all of Tuscany.
Fiorentina is a high cut of veal, that includes the bone. It is cooked on the grill or embers, usually 'al sangue', meaning rare.
One version of the origin of the word 'Bistecca' is related to the city of Florence and to Fiorentina. Supposedly, during the time of the Medici, on the feast of Saint Lawrence, a group of English knights happened to be in town and were served grilled steak. They called it 'beef steak', and locals adapted the name to the Italian "Bistecca".
10 – Agnolotti Piemontesi (Torino)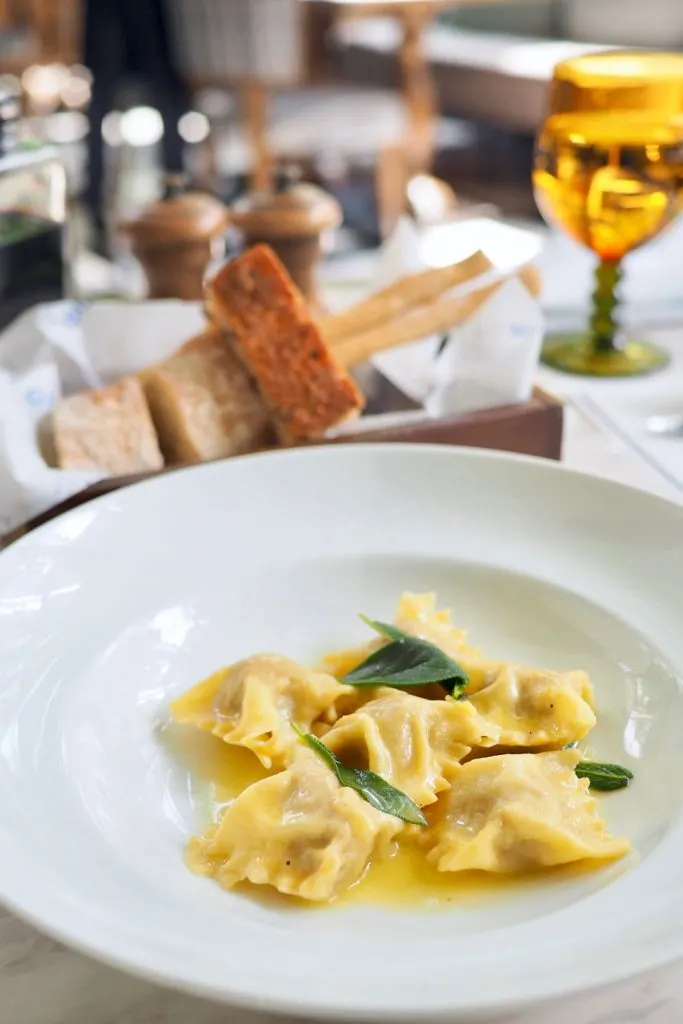 Native to the Piedmont region of Italy, agnolotti Piemontesi is a type of square-shaped fresh pasta, commonly filled with meat. Stuffed fresh pasta is common all over Italy, but agnolotti have a roasted meat filling that is typical only in Piedmont.
In Turin, you can find agnolotti in virtually any restaurant. This dish can be served with different sauces, such as butter, sage, and Grana Padano cheese, roast meat sauce, meat broth, and even a wine sauce in some parts.
There is no single traditional recipe for the agnolotti, as the dish tradtionally was made of roasted meat leftovers, used to fill fresh pasta and create a new dish. Because each family would use their own leftovers, the filling of the agnolotti varied from household to household.
11 – Prosciutto di Parma e Parmigiano (Parma)
While not an actual dish, both of these local products are a must when in Parma. The city in the Emilia-Romagna region is the hometown of both Prosciutto di Parma and the world-renowned Parmigiano Reggiano, two official regional products of Italy.
Prosciutto di Parma is a dry-cured ham made from a pork hind leg. The only ingredient used to preserve the meat is sea salt, making this prosciutto free from any nitrites.
Parmigiano Reggiano, on the other hand, is a hard cheese made from cow's milk, aged at least 12 months. This kind of cheese is a popular topping for pasta dishes, soups, or risotto.
However, you can also eat it on its own. Italians commonly serve Prosciutto di Parma on a mixed platter of cold cuts and cheese to enjoy for an aperitivo or even for dinner with a glass of wine.
12 – Maritati Leccesi (Lecce)
Maritati Leccesi is a wholesome fusion of maritati and orecchiette pasta, traditionally from the city of Lecce. The name 'maritati leccesi' literally means 'the married ones from Lecce'.
Maritati can be served in many different ways, and with a range of sauces. In Lecce, you have to try it with a tomato and ricotta forye salentina sauce.
A local cheese, ricotta forte salentina is a strong cheese with a slightly spicy and bitter taste. Mixed with tomato, you get a creamy sauce, laced with spice, that pairs wonderfully with the pasta.
Italians also love this type of pasta with burrata, a mixture of mozzarella cheese and cream, and capuliato, a Sicilian paste made of dried tomatoes.
13 – Porceddu (Sardinia)
There are many traditional dishes you can try in Sardinia, but porceddu is arguably the most famous. If you are sensitive to the sight of whole animals, this may not be the dish for you, as it consists of a whole suckling pig cooked on a skewer.
The pig is traditionally cut lengthways and seasoned with saffron, black pepper, nutmeg, myrtle, thyme, and mint. Nowadays, this Italian dish is served year-round, and you can easily find it in restaurants.
However, traditionally porceddu was a meal prepared for celebrations, holidays, and special events, to feed large families and gatherings of people.
Sardinian porceddu is listed as an official Italian regional product. You'll find this dish in many places in Sardinia, though you may want to go to a farmhouse (an Italian agriturismo) for a tasty, traditional recipe.
14 – Polenta Concia (Aosta)
A hearty, wholesome dish of polenta is the perfect remedy to get you through the cold Italian winters. If you're visiting the north of Italy or skiing in the Valle D'Aosta region, you simply must try the local polenta.
One of the most popular dishes in the region is polenta concia, made with local fontina, a semi-soft cheese, and butter. The mix of these ingredients creates a creamy dish, traditionally served piping hot throughout the winter.
15 – Tagliatelle al Tartufo (Perugia)
The Italian region of Umbria is renowned for its highly prized and delicious truffles. For this reason alone, you simply have to try tagliatelle al tartufo in Umbria's capital Perugia.
Tagliatelle is a type of fresh egg pasta. It is long and flat, similar to fettuccine. Tagliatelle al tartufo serves this beloved Italian pasta in a sauce of truffles from the local forests, cooked with butter, olive oil, and garlic.
Once the sauce is ready, the tagliatelle pasta is added and tossed with the sauce, until everything has mixed. The truffles give the pasta dish an alluring aroma and unique, distinct taste.
Fun fact: If you are visiting Perugia in October, you'll want to make a stop at Eurochocolate, the biggest chocolate exhibition in Europe. Known for both truffles and chocolates, it's amazing more people don't know about the region of Perugia!
16 – Mozzarella di Bufala (Caserta)
If you plan on visiting Naples, a day trip to Caserta to see the royal residence Reggia di Caserta is a must. Reggia di Caserta is known as Italy's version of Versailles and is officially the largest royal residence in the world.
While you're in the region, you simply have to taste the local mozzarella di bufala, made from the milk of Italian buffalo.
Mozzarella di Bufala Campana is officially recognized as a traditional regional product of the Campania region. While you can find this delicious cheese across Italy, Caserta's buffalo mozzarella is undoubtedly the creamiest, and most delicious.
You can try mozzarella di bufala in so many ways. Italians enjoy it melted a top of pizza, inside calzone, or simply in a Caprese salad. It is an Italian food many people can't help but fall in love with.
Traditional Italian Foods Summary
Italian food has become popular all over the world for its flavor, diversity, and comfort. But to experience true, authentic Italian cooking, nothing beats the home-cooking and local restaurants in towns and cities across the country.
Traditional Italian foods are more than mouthwatering flavors. They each tell a story. They mean a great deal to the people of their birthplace. The foods have played an integral role in shaping Italian heritage and culture and continue to do so today.
When the time is right, wherever your travels through Italy take you, be sure to try as many native recipes from the region as possible. Food is prepared with such love, admiration, and pride in Italy, particularly in the rural areas.
So, before we leave Italy, let's take one final look at all the Italian foods covered in this article and where to try them:
Lasagne alla Bolognese (Bologna)
Saltimbocca alla Romana (Rome)
Ossobuco alla Milanese (Milan)
Pizza Margherita (Naples)
Orecchiette alle Cime di Rapa (Bari)
Risi e Bisi (Venice)
Pesto Genovese (Genova)
Caponata (Palermo)
Fiorentina (Florence)
Agnolotti Piemontesi (Torino)
Prosciutto di Parma e Parmigiano (Parma)
Maritati Leccesi (Lecce)
Porceddu (Sardinia)
Polenta Concia (Aosta)
Tagliatelle al Tartufo (Perugia)
Mozzarella di Bufala (Caserta)
You Might Also Like to Read
Save and Pin for Later
Eager to try some traditional Italian foods when visiting Italy or in your home kitchen? Keep this article for safekeeping by saving it to one of your foodie travel Pinterest boards.
Contributor: Roxana Fanaru is a Romanian-born journalist and writer, who has lived in Rome for nearly two decades. She is deeply passionate about Italian cuisine, culture, and travel and writes for a number of publications.