This post may contain affiliate links, meaning if you book or buy something through one of these links, we may earn an affiliate commission at no additional cost to you. Learn more
Now that there's a roadmap for re-opening and people are making travel plans, these 15 best day trips from London are perfect for experiencing something a little different this summer.
Each of these day trips can be found at most 2-3 hours outside of central London, so you'll always have time to get there and back within the space of a day.
While London no doubt has adventure by the bucket load, there are so many underrated experiences and uncovered gems in the more rural areas of the UK, in little towns, villages, and areas of nature.
So prepare to get inspired for your next day trip, as we explore some of the best places to visit and things to see just outside of London.
Best Day Trips From London
1 – Brighton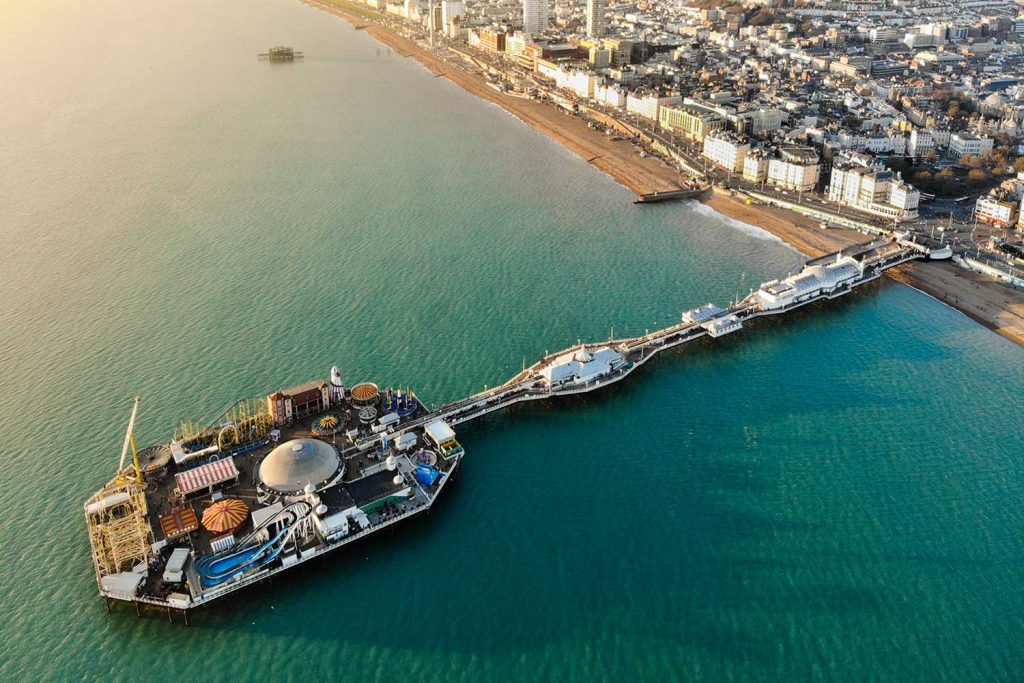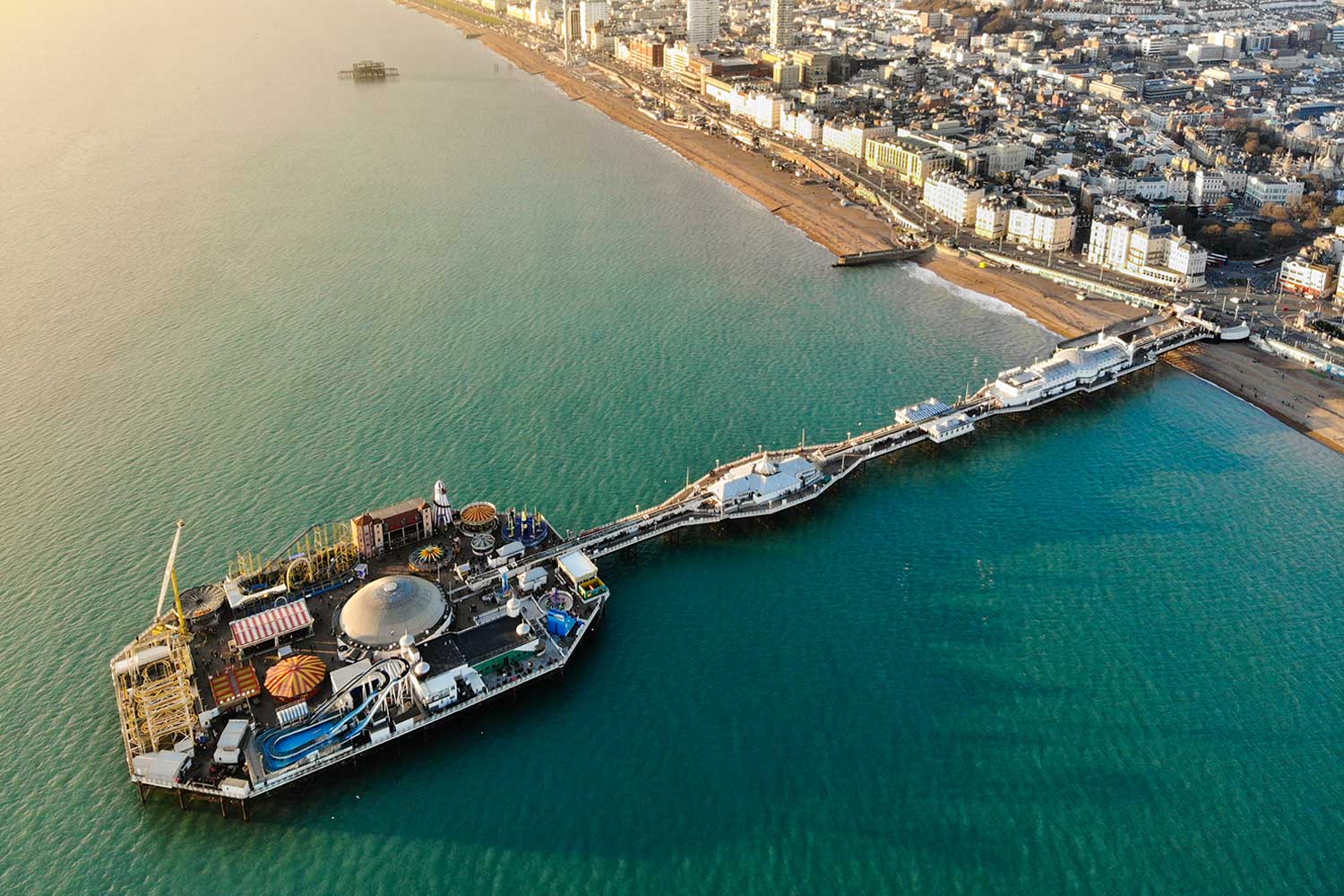 A day or weekend of sun, sea, sand, and fun is always the ideal remedy to escape London and recharge the batteries, and the bustling seaside town of Brighton has it all in abundance.
An hour by train or two hours by car directly south of central London, Brighton's energy, color, and coastline are primed for adventure, relaxation, and memorable experiences.
Soak up some rays on Brighton beach. Eat ice cream on the famous Brighton pier. Or delve into a little heritage, courtesy of the Brighton pavilion and some wonderful museums, such as the Volk's railway.
2 – Dunorlan Park, Royal Tunbridge Wells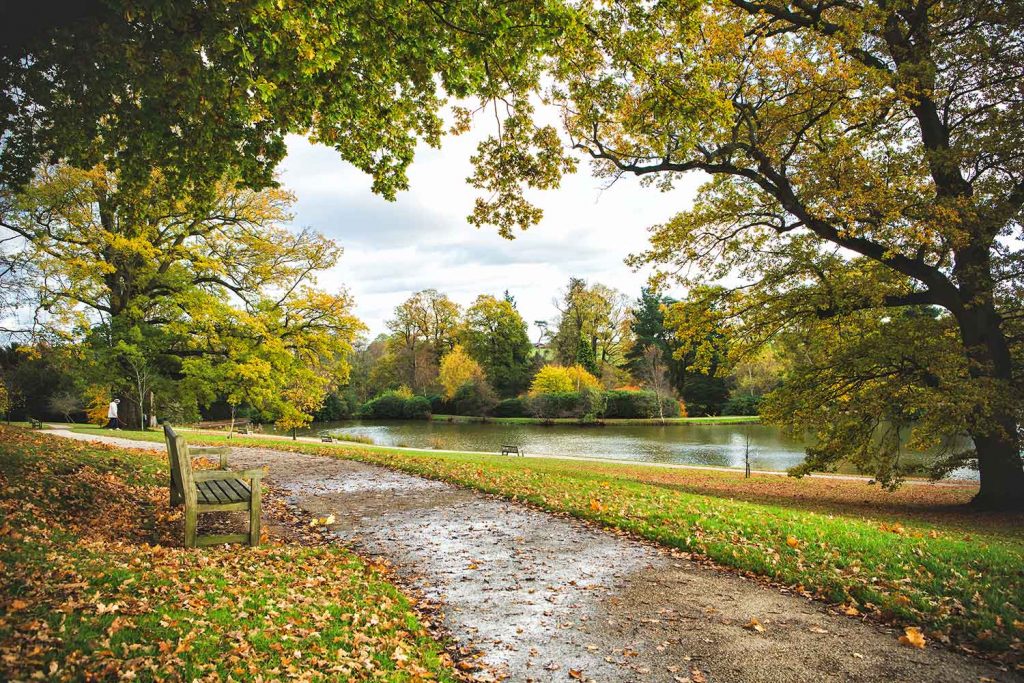 As amazing as London's energy is, sometimes you need to escape the bustle of the city for a little calm and to reset. Dunorlan Park, Royal Tunbridge Wells, is the perfect weekend trip to do this.
Once the home and grounds of millionaire Henry Reed, today Dunorlan is a Victorian-era-influenced park of preserved peace, beauty, and tranquility.
Around an hour and fifteen-minute drive from central London, trains also run directly to the park from London Charing Cross via Royal Tunbridge Wells.
Take a boat out onto the shimmering lake. Lie on the soft, green grass of the fields and enjoy a picnic. And take in some of the gorgeous sights, including the Grecian temple and fountain.
3 – Hever Castle & Gardens, Edenbridge
Dating back to 1270, the beauty and intrigue of Hever Castle and Gardens, and surrounding Edenbridge, are perfect for anyone looking for a London weekend trip with heritage and history.
Around an hour and fifteen via car from central London, you can also get to the grounds by train from London Bridge, via Hever. The journey is around an hour and ten minutes.
Explore the pristinely kept Yew maze. Feed the ducks on the pond. And delve into a fascinating historical journey through Tudor-era England.
Hever itself also offers plenty of fun and relaxing things to do, including the grand Chiddingstone Castle, and Shambala wellness spa.
4 – Sissinghurst Castle Garden, Cranbrook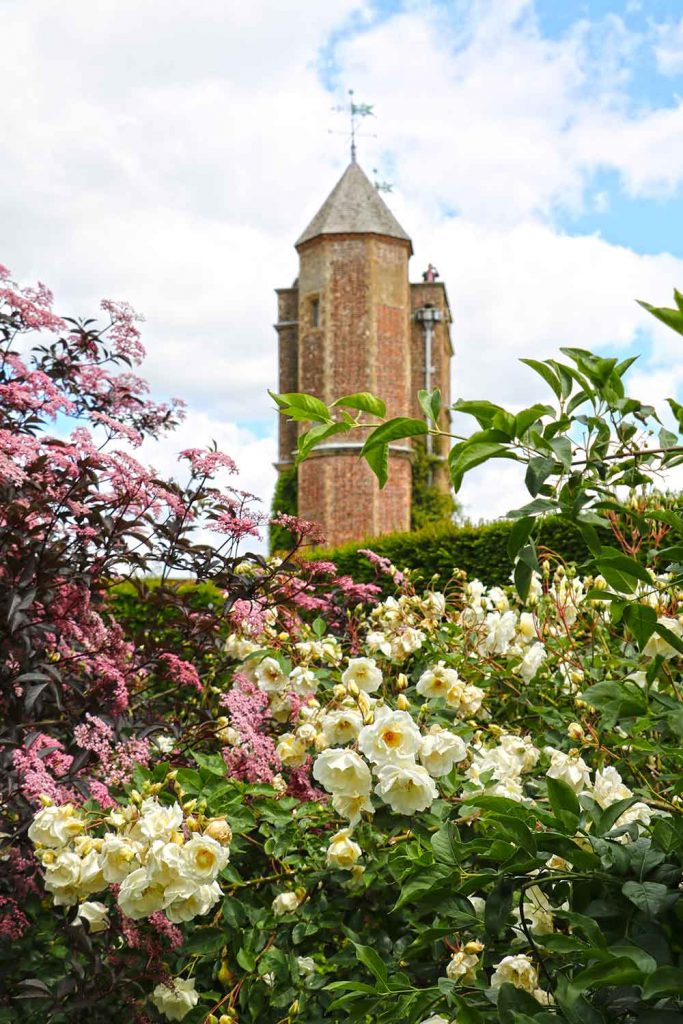 Sissinghurst Castle Garden sits on the edge of the High Weald AONB, and its wonder and beauty are testament to its former owner, writer Vita Sackville-West.
Around an hour and thirty minutes drive southeast of London, Sissinghurst Castle Garden is a place to feel enlightened, inspired, and recharged.
Wander through the grounds and soak up the color and beauty. Fly your drone through the skies from special designated areas.
If you're feeling intrigued to learn more, explore the castle and museums that tell all about the life and work of Vita Sackville-West. Her story is a fascinating one.
5 – Isle of Sheppey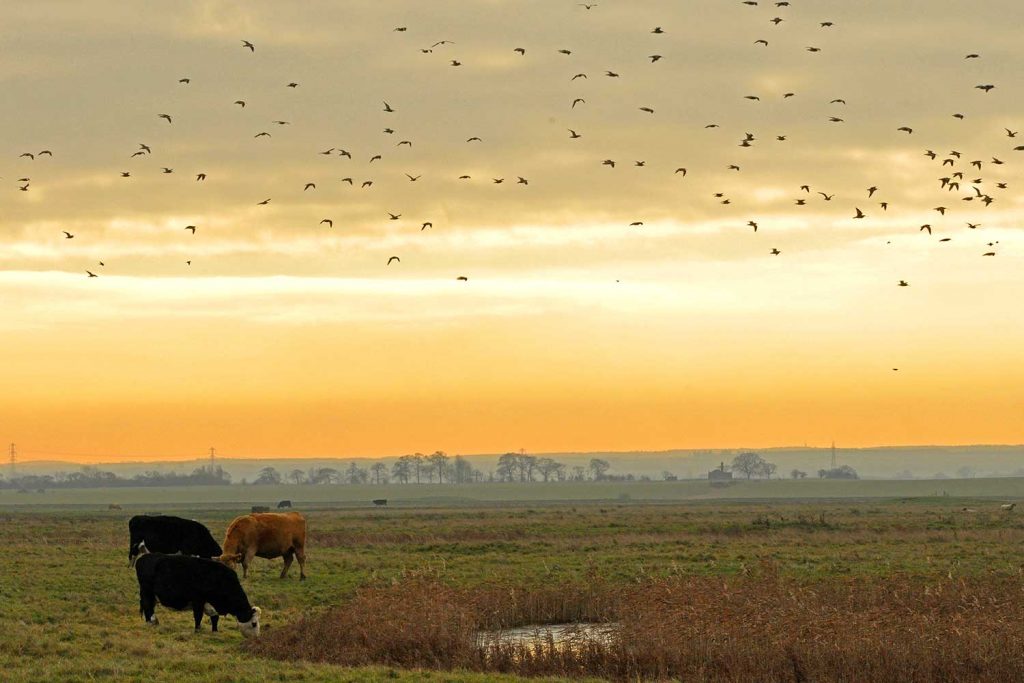 If a day or two spent in the heart of some of Britain's most wild, rugged, and glorious nature is what you're looking for, a weekend trip from London to the Isle of Sheppey is exactly what you need.
You can get to the Ilse of Sheppey in around an hour and thirty minutes by car from central London. A combination of trains from Victoria, east, will get you there in around 3 hours.
Swim, play games, and relax on the sandy beaches across the island. Explore the plains and woodlands via the trails. And observe plenty of wildlife in the Elmley National Reserve.
The Isle of Sheppey is a place where time will pass you by. There's so much beauty to see and history to uncover.
6 – Canvey Island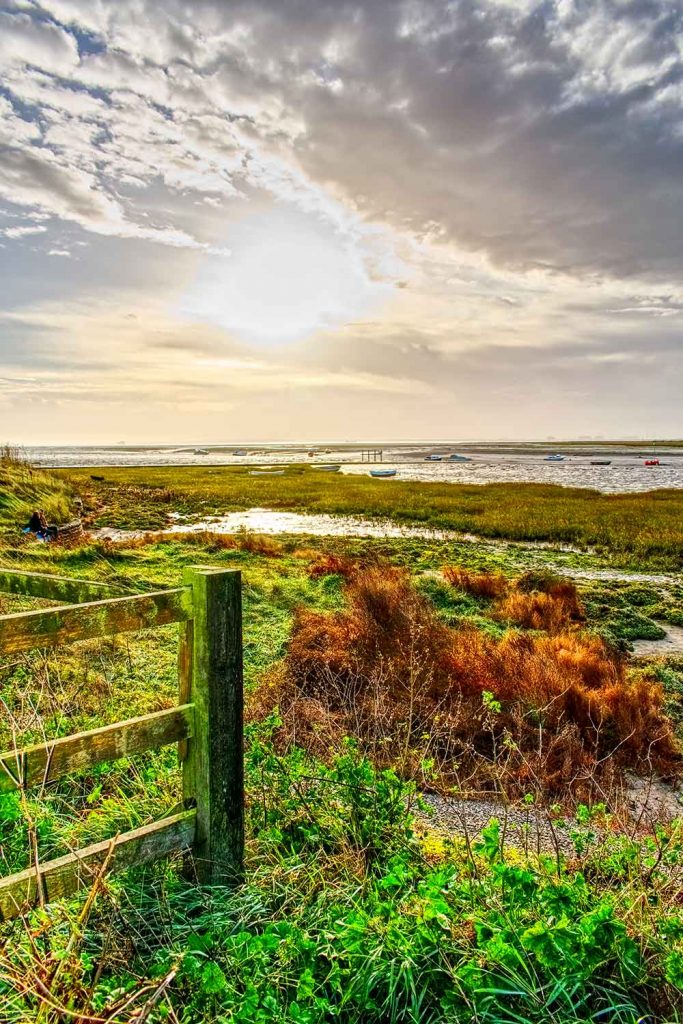 Overlooking the Thames Estuary dispersing into the English Channel, Canvey Island is a wonderful place of outdoor adventures, history, and fun, around an hour and thirty-minute drive east from central London.
For explorers and history buffs, awe at the remains of Hadleigh Castle, and enjoy attractions like the miniature railway and the Dutch Cottage Museum.
If you have kids or want to let loose and have fun, a day of thrills and laughs await at the Leisure Island Fun Park and the Fantasy Island adventure park.
When you need a little peace and time in nature, the beaches and woodlands offer miles of beauty, wildlife, and serenity.
7 – Canterbury
Dating back to the Middle Ages, the cathedral city of Canterbury is rustic, intriguing, and bubbles with charm and character.
Trains run directly to Canterbury from King's Cross St. Pancras and take around an hour. Driving to Canterbury from central London takes anywhere from an hour and forty-five minutes to two hours and fifteen.
There's so much to see and do in Canterbury. Marvel at the Tudor-era architecture and historical places such as the Christ Church Gate and St. Augustine's Abbey.
The Beaney House of Art and Knowledge and Cantebury's theatres allow you to soak up lots of art, performances, and culture.
At the end of the day, sit in a thatched roof pub with a pint of artisanal beer, and gaze out at the canal as the world goes by. This is a weekend trip you'll remember for years to come.
8 – Chiltern Hills AONB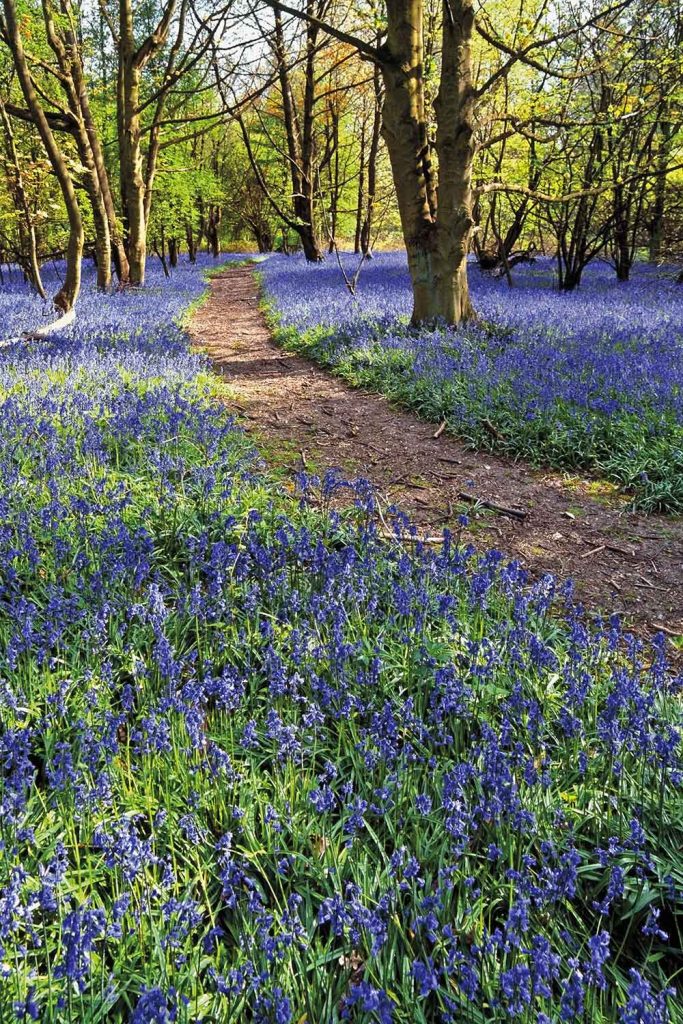 Covering a vast area of London northwest and west of London, Chiltern Hills AONB (Area of Outstanding National Beauty) has so much to see and do that you'll want to come back many times.
Looking for thrills or family fun? Try the Gruffalo Trail, Go Ape High Wire Adventure, or one of the many animal parks, such as Whipsnade Zoo.
Eager to spend some time in the heart of the beauty? Try some of the cycling trails, including the Pheonix Trail or Ashton Hill mountain biking. Or take a boat out on the water in Henley or Chesham.
The area stretches as far west as Reading, and as far northwest as Luton, so there will always be something new to experience across this vast area of raw beauty.
9 – Highclere Castle, Newbury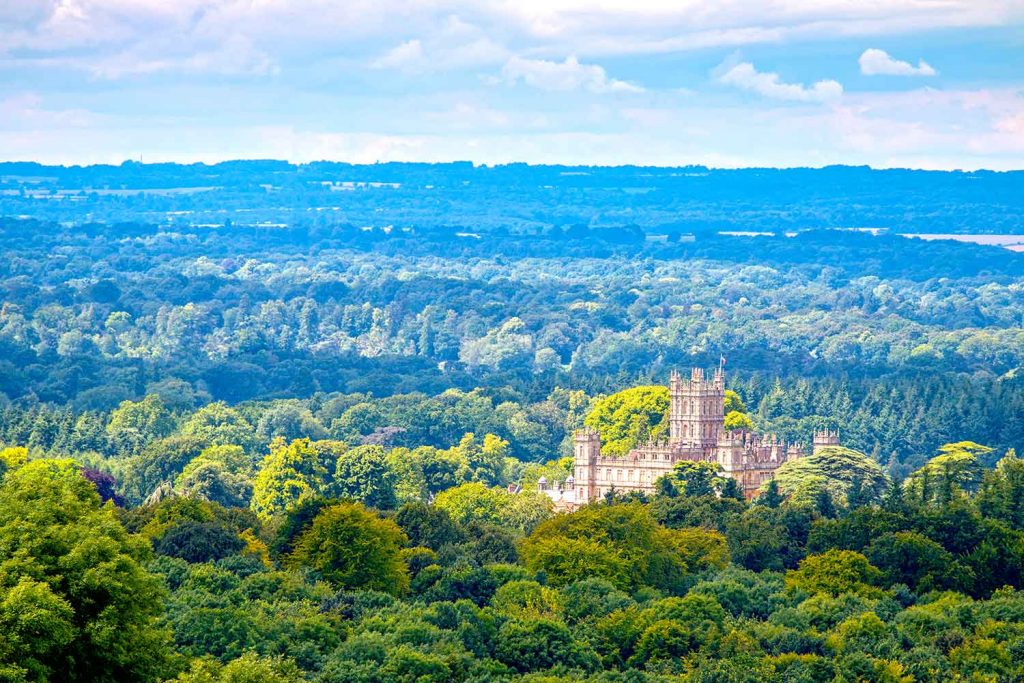 If you're a fan of the world-famous Downtown Abbey, you absolutely need to take a day or weekend trip to Highclere Castle, the setting for the show.
Situated next to Newbury, you can reach Newbury via train from London Paddington in under an hour, then take a short ride to Highclere. By car, you're looking at an hour and thirty-minute drive from the city center.
Explore the magnificent grounds of the castle. Experience behind the scenes of Downtown Abbey. And marvel at the blush red of the rose gardens if you visit during summer.
Newbury is a great place to spend a night or weekend, and it also has plenty to see and do. From Donnington Castle to the area's many nature reserves and parks, you're in for a fun, action-packed weekend.
10 – Smugglers Adventure, Hastings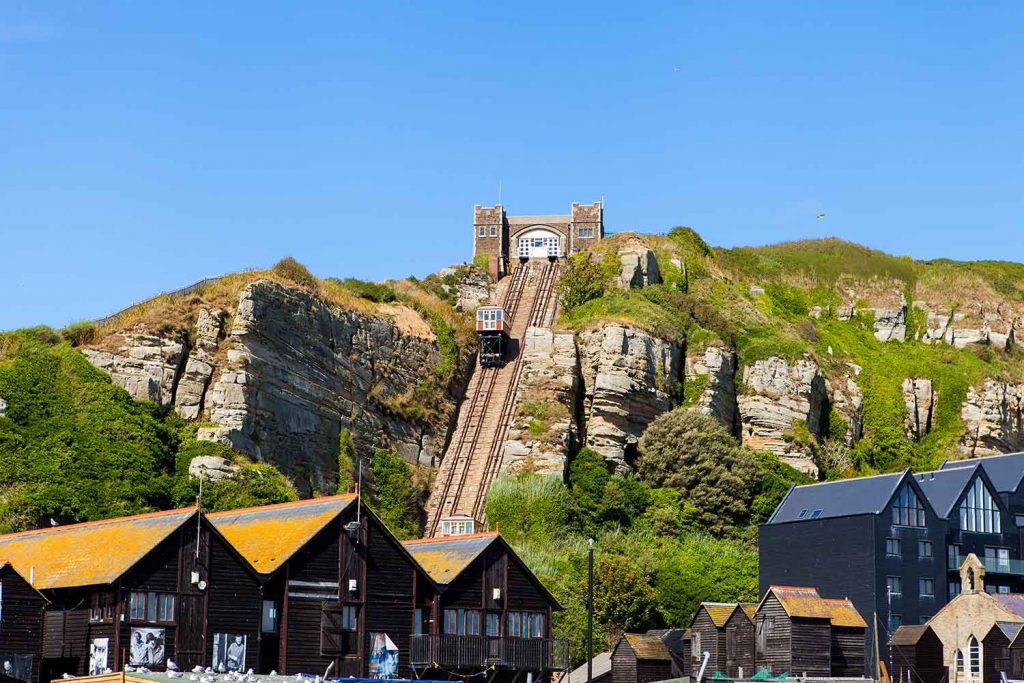 In the quaint seaside town of Hastings, south of London, lies one of southern England's most intriguing and awe-inspiring adventures.
Smugglers Adventure is a journey through time, exploring the St. Clements Caves network smugglers, pirates, and thieves used to move goods several centuries ago.
Equipped with tours, lighting, and effects, this is a truly unique day trip. Alongside Smugglers Adventure, Hastings itself offers plenty to see and do for an afternoon, day, or weekend, too.
You can drive to Hastings from central London in around two and a half hours. From London Bridge, there are direct train routes to Hastings, which take around an hour and thirty minutes.
11 – Oxford
A city with a worldwide reputation for grandiose architecture, English charm, and one of the world's most famous universities, Oxford is a city with so much to soak in and experience.
An hour and thirty minutes by car or an hour by train from Paddington, Oxford's glorious architecture, magical alleys, and intriguing history will have you hooked from the moment you start walking its winding streets.
Walk the grounds of the famous Oxford Univesity, and learn all about its prestigious alumni. Experience art and culture at museums like Pitt Rivers and the Ashmolean museum.
Or, if you want a slower pace to your day trip, wander through the high street, marvel at the architecture, and have lunch and a cold pint in a cozy, thatched pub with a beautiful park view. There's so much to do when you visit Oxford.
12 – Dinton Pastures Country Park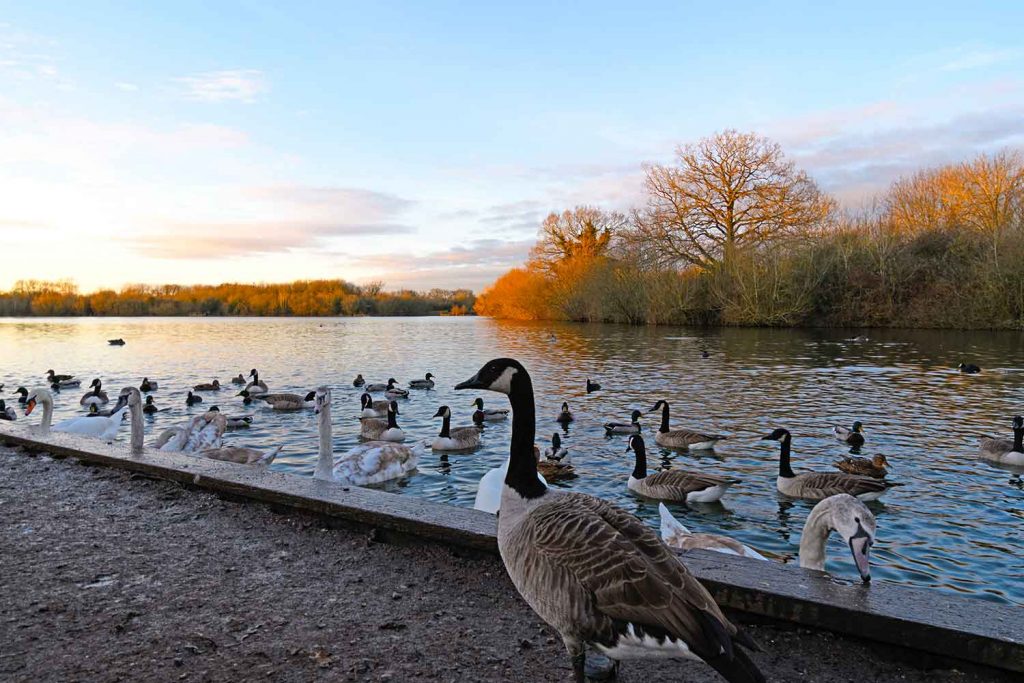 A true sanctuary of nature, wildlife, and serenity, Dinton Pastures Country Park offers plenty to do for families, couples, or those just looking to escape the hustle for an afternoon or night.
Close to Reading, the park is around an hour and fifteen-minute drive from central London. Via train, you can reach the park from London Paddington, via Reading then Winnersh, in around an hour and thirty minutes.
Take a boat out onto the lake, or try your hand at plenty of fun water sports, including sailing and powerboating.
Keep your kids entertained via the play park, country park, and a range of fun land and water activities. And if you just want to be present in nature, wander through miles of woodland, forest, and gardens, at your own leisure.
13 – Warner Bros. Studio Tour, Watford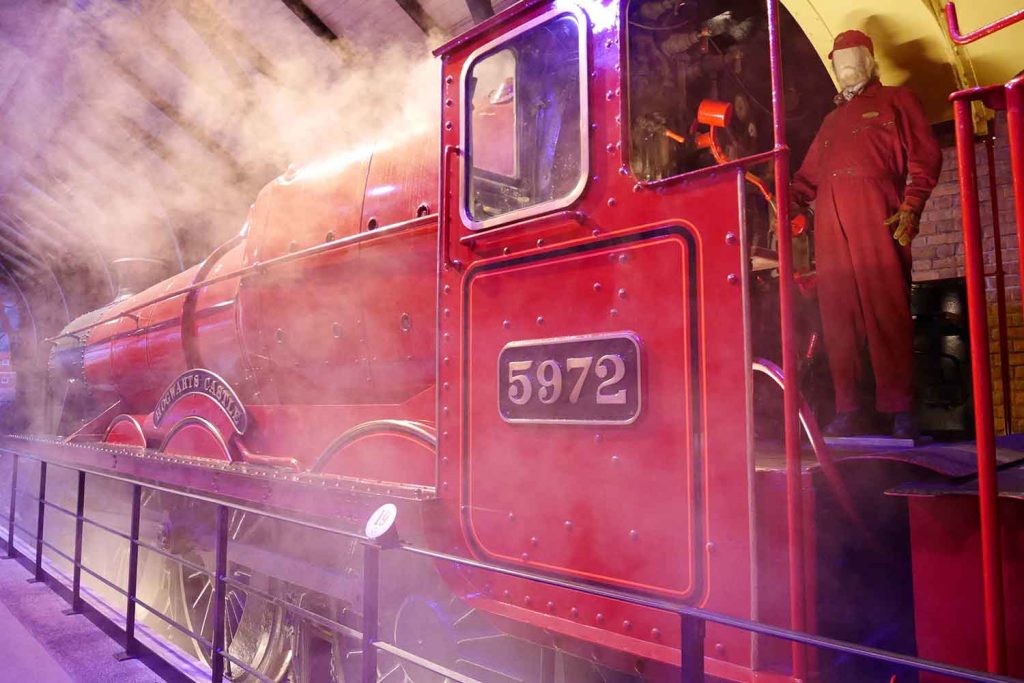 Whether you're a Harry Potter fanatic, or you're just looking for a fun, memorable day out, the Warner Bros. Harry Potter Studio Tour has to take top priority on your itinerary.
Explore some of the iconic sets from the films, including the Great Hall and Diagon Alley. See costumes and props from the franchise up close. And dive into a world of magic, witchcraft, and wizzardy in the company of a tour guide.
The Warner Bros. Studio Tour is in Watford, north of London. You can drive there within an hour or take a train or the Tube from various parts of London to Watford, usually within an hour.
14 – White Cliffs of Dover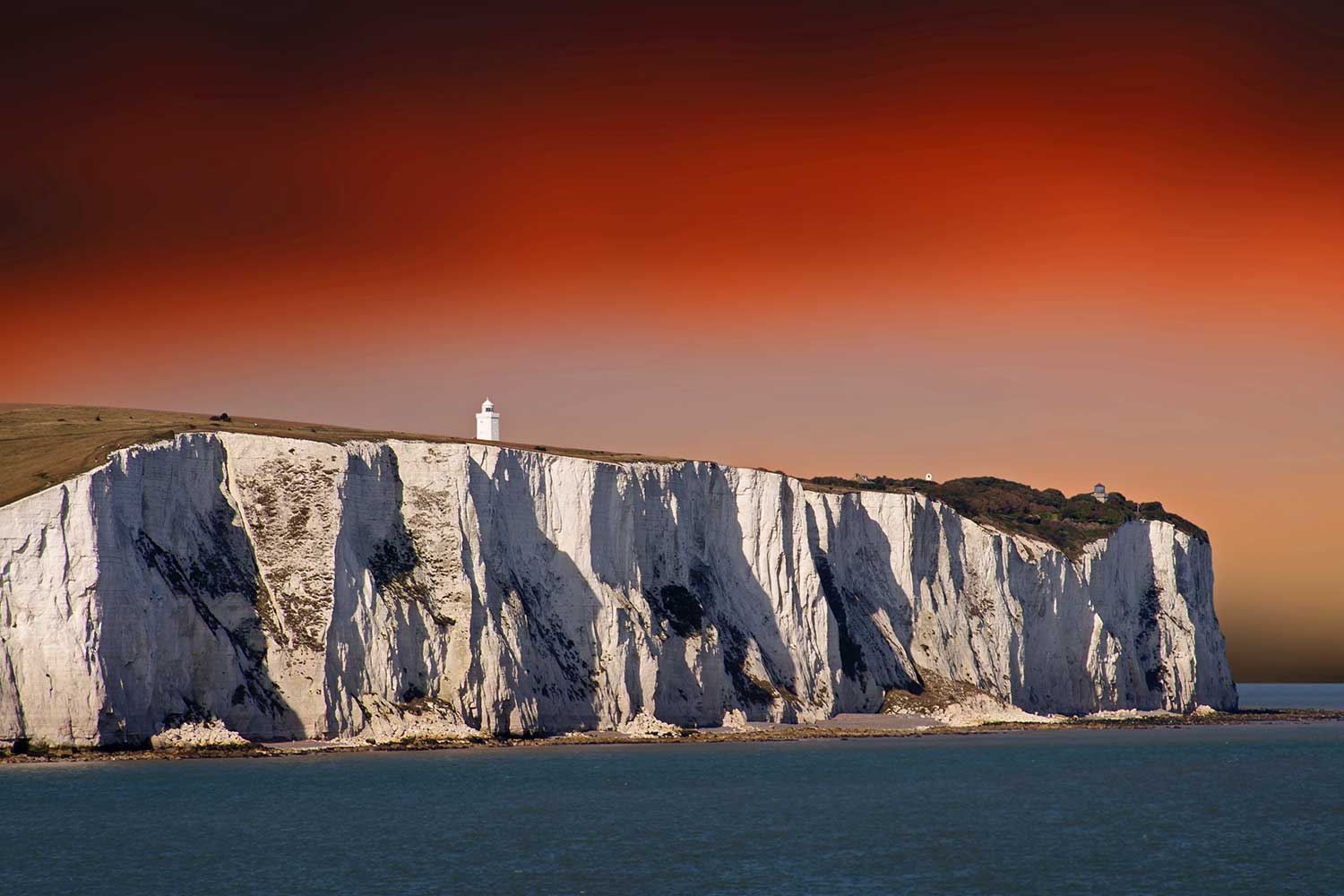 As iconic as they are strikingly beautiful, seeing the White Cliffs of Dover is on the bucket list of most people who live in the UK, let alone looking for a day trip from London.
A special area of conservation, the chalk ridges of the cliffs have been printed on postcards in British seaside towns for decades. They are undoubtedly the natural darlings of southern England.
The view from the cottages is the famous shot of the Seven Sisters cliffs. Dover itself also has plenty to do and see, including the lighthouse, Dover Castle, and plenty of gorgeous rugged coastline and beaches.
You can drive to the cliffs in around two hours and fifteen minutes southeast from central London. Access to Dover via train and bus is common, as Dover to Calais is one of the most popular ferry routes. However, to get to the cliffs, you will need to drive or take a bus.
15 – Kent Downs AONB
If you fall in love with the White Cliffs of Dover, there's a great deal more to behold and experience in the beautiful, vast rural area of Kent Downs AONB.
Roughly a two-hour drive out of central London depending on where you go, Kent Downs is a place to truly appreciate Britain's raw, rugged, and simply jaw-dropping natural beauty.
Take a trip to a number of different castles, including Dover and Leeds. See animals from all over the world at Port Lympne Reserve.
And for those looking to take in some of that wild, pure coastal air, the stretch of coastline from Folkestone to Dover has so much to see and experience.
Best Day Trips From London Summary
Whether you live in London or are visiting on vacation, there are so many gems and unique experiences a short car, bus, or train ride from the heart of the city.
Some of the UK's most memorable and wondrous experiences can be found a little off the beaten track, away from the cities. All it takes is a little planning, and you can see so much more of the UK and what it has to offer.
Wherever your next day trip from London takes you, we hope it brings you joy, fun, and plenty of memories you'll be reminiscing about many years from now.
One final time, here are 15 of the best day trips from London you can plan in a short space of time. Keep this list close, ready for when you're next in London or looking to take a short break out of the city.
Brighton
Dunorlan Park, Royal Tunbridge Wells
Hever Castle & Gardens, Edenbridge
Sissinghurst Castle Garden, Cranbrook
Isle of Sheppey
Canvey Island
Canterbury
Chiltern Hills AONB
Highclere Castle, Newbury
Smugglers Adventure, Hastings
Oxford
Dinton Pastures Country Park
Warner Bros. Studio Tour, Watford
White Cliffs of Dover
Kent Downs AONB
You Might Also Like to Read
Save and Pin for Later
Want to experience something new when staying in London? Keep these day trips and weekend getaways for safekeeping by saving this article to one of your UK travel Pinterest boards.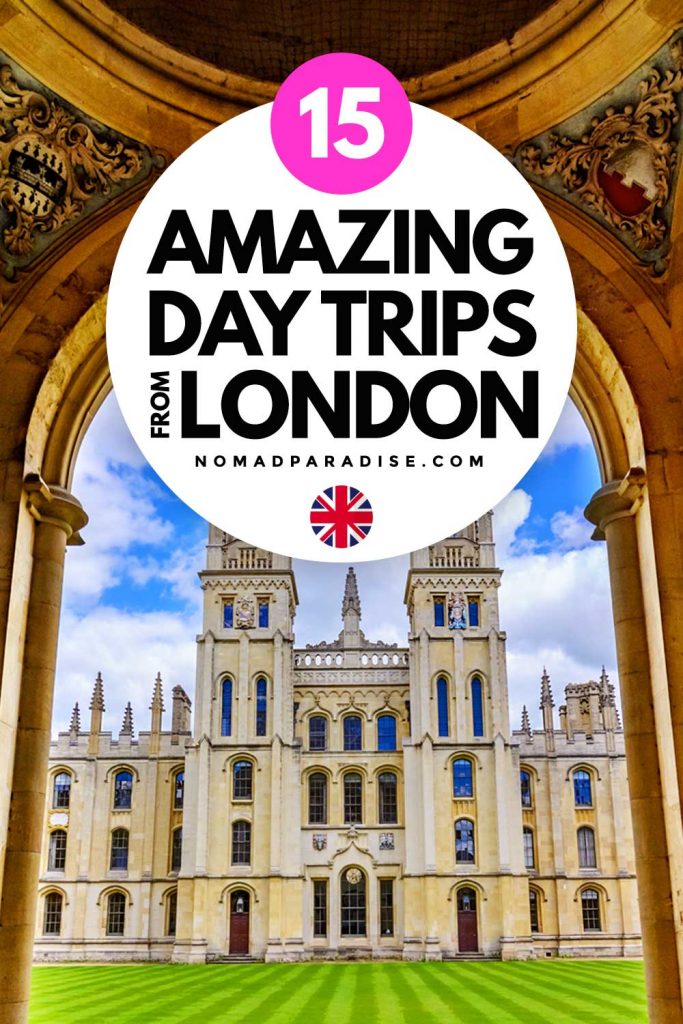 Author: Dale Johnson is a content writer, strategist, and designer, hailing from the UK. Throughout his life, he has spent a great of time in London, both for work and leisure, and is always eager to discover new and exciting things to do in London and the surrounding areas.
Images licensed via Shutterstock