This post may contain affiliate links, meaning if you book or buy something through one of these links, we may earn an affiliate commission at no additional cost to you. Learn more
Are you planning a trip to the UK? If so, we'd highly recommend trying these delicious British foods during your visit. British cuisine has a fascinating history, and many of these recipes date back centuries to the Victorian Era and before.
From thick-cut pastry to tender meat, working-class staples to upper-class treats, there's something on our list for everyone. Now you'll know exactly what a 'crumpet' is and why Brits have a roasted meal on a certain day of the week.
British Foods
1. Sunday Roast
With its origins dating back to the 1700s, traditional Sunday roasts have been enjoyed by British families for generations. Even more so than the food, the act of the family sitting down together on a Sunday to eat this dish has helped define it as one of the most iconic British foods.
A Sunday roast is a hearty, delicious combination of a few simple ingredients that have not changed through the ages. Arguably, the most important is the Yorkshire pudding.
This baked pudding is made from eggs, flour, and milk or water batter. The batter is poured into circular indents in a tray and placed in the oven. Once the batter has risen, you get a crispy texture and that iconic hollowed shape.
Next, no Sunday roast is complete without meat. Chicken, gammon, pork, duck, and many other types of meat can be used in the recipe. But the roast beef is most people's favorite. As the dish is covered in gravy, you do not cook the beef as you would a steak. You roast or steam it until well-done and then cut it into slices.
Once you have your Yorkshire pudding and meat, you'll need your potatoes. Boiled and mashed can all be used, but roast potatoes stay true to the traditional and most delicious recipe. Finally, add sliced or chopped vegetables. Root vegetables, native to the UK, are commonly used in different combinations.
These include carrots, peas, swede, cabbage, broccoli, and parsnips. Originally, the vegetables were boiled or steamed, but today, it's also common to roast the vegetables in oil and herbs.
The defining factor in any Sunday roast is the gravy. Pouring a jug of steaming hot, thick onion gravy over your Sunday roast is a feeling like no other. Serve-yourself carveries across the UK serve roasts throughout the week but have one on a Sunday with a British family to truly experience how it brings everyone together.
2. Full English Breakfast
You'll be hard-pressed to find a cafe or restaurant in the UK open for breakfast that doesn't serve a 'Full English.' Some places even serve it all day, add chips, and call it an 'all-day breakfast.'
Dating back to the 13th century in the UK and Ireland, for many centuries, it was a luxurious breakfast only society's richest and wealthiest could afford. Many variations and spin-offs have been spawned since the 1960s, but there are several ingredients that are seen as the bedrock of the breakfast.
No Full English is fit for purpose without fried, scrambled, or poached eggs, as well as delicious fried or grilled bacon, on most Full English plates. Grilled sausages, baked beans in tomato sauce, and fried tomatoes and mushrooms are also popular. Black pudding, or blood sausage, is common but an acquired taste.
To bring the ingredients together, a couple of slices of fried bread or simply toasted bread are popular choices. As too are hash browns or sauteed potatoes, chips, waffles, and potato cakes. The Full English has been filling the bellies of Brits every morning for generations, and it is incredibly popular throughout the country. Most cafes will simply list all the ingredients and allow you to choose what you want and don't want.
Visiting a traditional chip shop in a British seaside town is a wonderful experience in itself. The smell of deep-fried chips and steak and kidney pie wafting through the air is magical.
People debate to this day the ideal texture and flavor of a chip-shop chip. Some prefer them crispy, and others softer. But few will argue a bag of fish and chips isn't up there as one of the defining British foods.
Order a traditional fish and chips, and you'll pretty much get a succulent white fish, usually cod or haddock. The fish is coated in a crispy, golden batter, and it is common to order a small side of mushy peas or baked beans and sauce with it.
Typically, a chip shop will scoop a large helping of fried chips into a large sheet of paper. Back in the 1960s and 70s, it was common to use old newspapers, but this was made illegal in the 1990s on hygiene grounds.
The fish and chips are wrapped in paper to seal the heat and flavor, and it's common to add a generous helping of salt, pepper, and vinegar to the chips. Friday night fish and chips with your loved one is a practice still done to this day. Brits really are sticklers for routine!
Read more: Fish and Chips Recipe
4. Afternoon Tea
No British food sums up the country's history with, and obsession with, class quite like afternoon tea. First introduced by the 7th Duchess of Bedford, Anna, in 1840, the afternoon tea was a delicacy only Britain's highest classes would enjoy.
Its idea, however, is far more practical. Evening meals were typically served as late as 8 p.m., leaving a long time between lunch and dinner. It is documented that Anna would have a tray of tea, bread, butter, and cake served to her every day at around 4 p.m. This helped ease the onset of hunger before evening meals.
She began inviting her friends to join her, and very quickly, the idea of afternoon tea evolved into a social event. This stands true to this day. It's rare for anyone to prepare an afternoon tea at home. Luxurious spas and hotels offer afternoon tea for groups of people, and it is done on special occasions.
Along with a pot of steaming tea, it is common to serve a cylindrical, multi-layer tray. Each plate on the tray will have a selection of small items, either sweet or savory. Triangle sandwiches and sliders are common for the first course. Small cakes, cake slices, and scones with clotted cream and jam make up the dessert course. Afternoon tea is a relaxing and enjoyable social event you can experience throughout the UK.
5. Shepherd's Pie
Enjoyed by the working class from the late 1700s onwards, Shepherd's pie brings together some of the most beloved staples of the UK into one soothing, hearty British dish millions across the country love.
Many variations of the recipe have been developed over the years. But its core ingredients and the method of cooking have largely remained the same.
Traditionally, ground red meat, commonly lamb or sometimes beef mince (ground beef), is cooked in an onion sauce or gravy. Once cooked, take the meat and sauce and fill a bowl or baking dish with it. Over the top, spread a layer of mashed potato, and then bake the pie until the top layer develops a golden texture and thick crust.
It is very common to add peas, carrots, or celery to the meat and gravy. Some also like to add grated cheese over the mashed potatoes before baking to add another dimension of flavor. Rich both in heritage and flavor, Shepherd's Pie is undoubtedly one of the most beloved British foods.
6. Scotch Eggs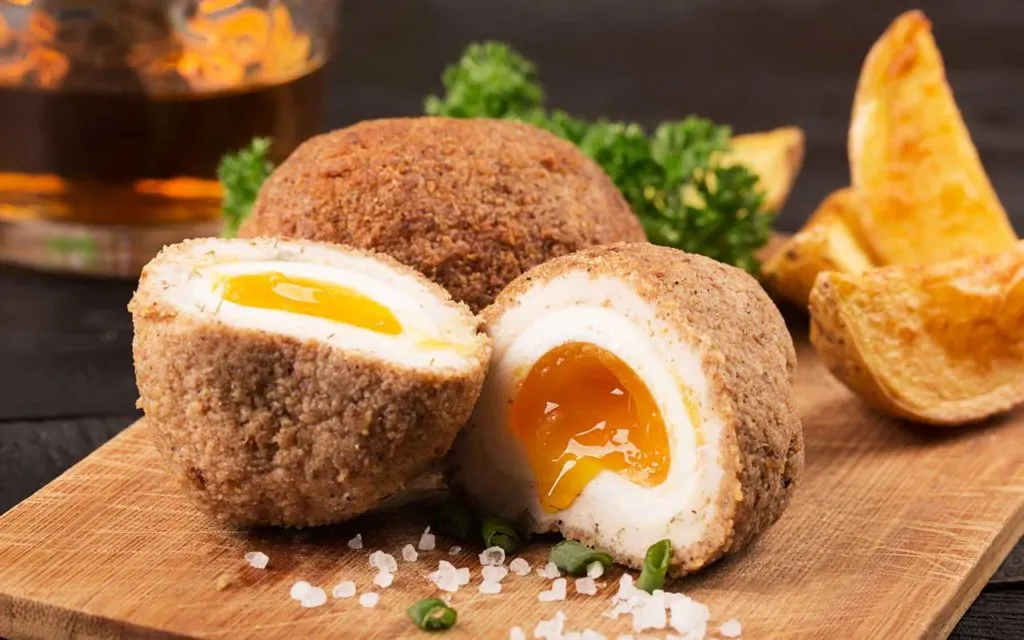 A truly unique British food, there is much deliberation around where the Scotch egg comes from. Many theories exist, and most not even from Scotland. While London department store Fortnum & Mason's claim to have invented it may never be proven, they certainly helped increase the popularity of this bizarre British food.
Scotch eggs can be served cold. This meant they were perfect for selling as snacks rather than meals at certain times of the day.
A Scotch egg starts with a soft or hard-boiled egg. This egg is then wrapped in sausage meat. Finally, the egg and meat are rolled in breadcrumbs and then deep-fried for a unique and exquisite taste. While making your own is plenty of fun, you're far more likely to find Scotch eggs served in supermarkets as a cold snack rather than at a restaurant.
7. Pie and Mash
This is a simple yet well-loved dish throughout Britain. While savory pies and mashed potatoes, separately, are common throughout the world, the combination of the two is a British food with a deep and important history.
During the Victorian era, air pollution was far worse in the East of London. Hence, the working classes largely settled in the East, and the upper classes in the West. Working-class people had to be resourceful with their food and used cheaper ingredients that were easy to get.
Savory pies were common but often baked large to feed whole families. A smaller, circular pie was easier to carry home from the shop after work. Plus, its thick crust protected the meat inside from the polluted air. This meat was largely cheap and minced, such as mutton.
Add mashed potato and a stock sauce, and you have a filling, delicious meal that is easy to prepare and very affordable.
Today, pies such as steak and kidney or beef and ale are a popular choice. Along with a dollop of creamy mash and a generous pool of thick gravy, you've got yourself a British food with plenty of heart and flavor.
8. Cornish Pasties
Cornwall has given the world many wonderful things, none more so than the Cornish pasty. Initially conjured up as a simple, transportable meat and vegetable pie for tin miners in Cornwall, the recipe is now a protected EU regional food.
The key to any great Cornish pasty is the pastry. Whether you make your own or buy it, you want to roll your shortcrust pastry into a flat circle. Once done, you need to decide on your filling.
Traditionally, pasties were filled with uncooked meat and a handful of vegetables. Now, with the recipe global, chefs from all walks of life have come up with increasingly daring and exotic fillings for the pasty.
Stack your filling over half of the circle of your pastry, then fold the pastry layer over to create a semi-circle. Finally, crimp the edges together to seal the package and create that iconic Cornish pasty look. Once baked, enjoy the wonderful texture and rich flavor fusing into that world-famous Cornish pasty-tasting experience.
9. Crumpets
You've probably heard the phrase 'tea and crumpets' when talking about British food. Crumpets are a delicious little delicacy and have been enjoyed throughout the UK for centuries.
A crumpet itself is a circular, small griddle cake. It's made from flour, a batter of water or milk, and yeast. It's believed the crumpet originates from Wales and was eaten long before the first official crumpet recipe, then called pikelets, was published by Elizabeth Raffald in 1769.
Their unique shape comes from cooking them in a griddle with a ring. This gives them a flat top with lots of holes and that beloved spongey texture. The holes allow all kinds of delicious sauces or foods to melt or pool within the crumpet.
Crumpets are very versatile and can be enjoyed as both a sweet and savory snack. Some like melting butter over a hot crumpet or layering the top with other savory sauces. Others prefer eating them with fruit and drizzling honey or yogurt over the top. Crumpets are a hearty, delicious snack and are enjoyed with tea and other drinks throughout the country.
Related: British Desserts You Need to Try
Scones are right up there as one of the most recognizable British foods. Essentially, a scone is a small baked cake. They're made of wheat or oatmeal flour and baking powder and are commonly sweetened or glazed with egg.
It is also common to add sultanas to the mix before baking them. And a scone is rarely eaten by itself due to its density. To truly enjoy a scone, you need to cut it in half and spread layers of jam and cream in between.
Many Brits like to butter their scones, but the now world-famous recipe involves a combination of clotted cream and a fruit-based jam. The combination of a soft, fruity taste and texture against the baked bed of a scone is a taste to truly behold.
It's very common to enjoy scones as a treat or snack, usually with tea or coffee.
Read more: Easy Scones Recipe
British Foods Summary
British foods are molded by a fascinating history. Most traditional recipes are hearty and wholesome and fuse baked and grilled textures with succulent meat and earthy root vegetable flavors.
When you visit the UK, make sure you ask to try these foods in cafes and restaurants across the country. If you can visit more rural areas outside of London, you'll get an even more authentic experience.
These are ten of many more delicious British foods. Enjoy your trip to the UK, and experience as much culinary joy as you can. There are so many interesting tastes, historical recipes, and new fusions to enjoy.
You Might Also Like to Read
Save and Pin for Later
Want to try these wonderful British foods when you next visit the UK. Save this article to one of your Pinterest boards. Before your trip, take another look and make a note of all the foods.