This post may contain affiliate links, meaning if you book or buy something through one of these links, we may earn an affiliate commission at no additional cost to you. Learn more
Whether you're visiting the coast or the mainland of Croatia, there's no denying that Croatian food is some of the most delicious food in the Balkans region.
If you're visiting this beautiful country soon, it's worth learning about the different types of Croatian food. Or maybe you want to try cooking some of the Croatian food recipes at home.
Our guide takes a close look at 20 of the most delicious Croatian dishes and traditional foods you should definitely try when visiting the country.
Introduction to Croatian Food
Croatian cuisine has been influenced by the traditions of the nations that ruled the country's territory throughout history, as well as diverse tastes from neighboring countries.
That's why it has similarities to Austrian, Italian, Turkish, and Hungarian food.
What's interesting about traditional Croatian food is that it varies depending on the region.
For example, there are certain dishes that are more typical for coastal Croatia, and others more typical for continental Croatia.
Because of this, Croatian food covers both vegetables and meat from the mountain and seafood from the coast.
This makes traditional Croatian food far more diverse than other regions of the Balkans that are landlocked.
With tender meat, fresh seafood, and plenty of hearty stews, there's an excellent range of foods to try in our vibrant and mouth-watering Croatian food list.
20 Popular and Traditional Croatian Foods to Try
1 – Peka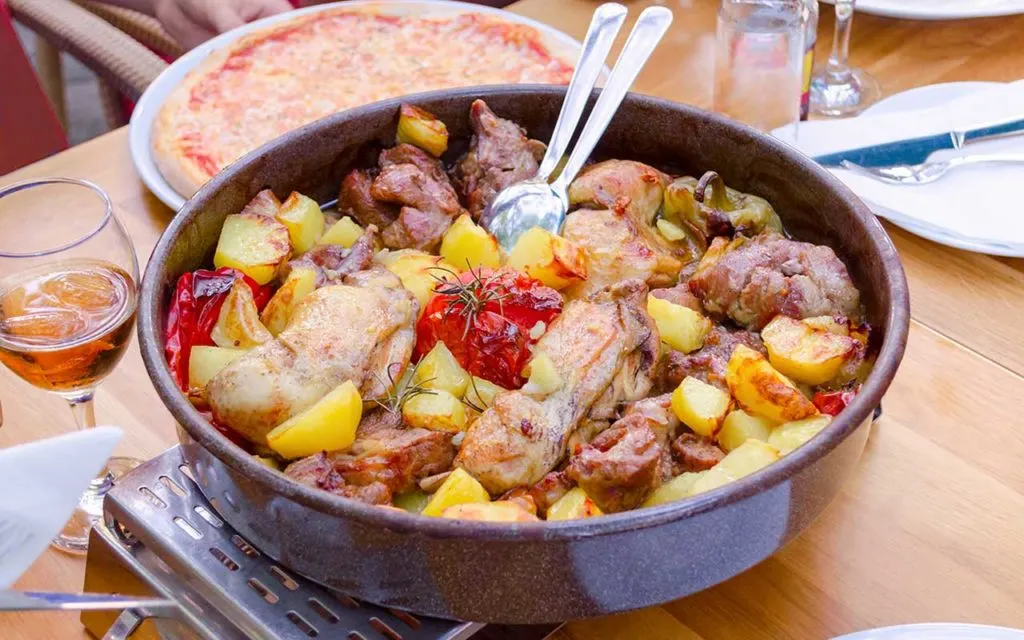 This traditional Croatian dish is a blend of vegetables, including potatoes, and meat sprinkled with herbs and drizzled with olive oil.
It's baked under a bell-like dome for around two hours. After the first hour, the meat is turned, and a mix of cognac with Mediterranean herbs and honey is added.
This cooking method is unique to the coastal region of Croatia called Dalmatia.
Although Peka is usually made in cast-iron dishes today, it used to be cooked in earthenware dishes.
Croatians use this method to cook any kind of meat, such as veal, chicken, sausages, and even octopus.
The meat is tender and juicy, and the potatoes are soft, sweet, and tasty. Peka is typically served with bread baked via the same method.
Since it takes a long time to prepare the dish, it's best to order in advance at a restaurant.
Related: Mediterranean Foods to Try
2 – Black Risotto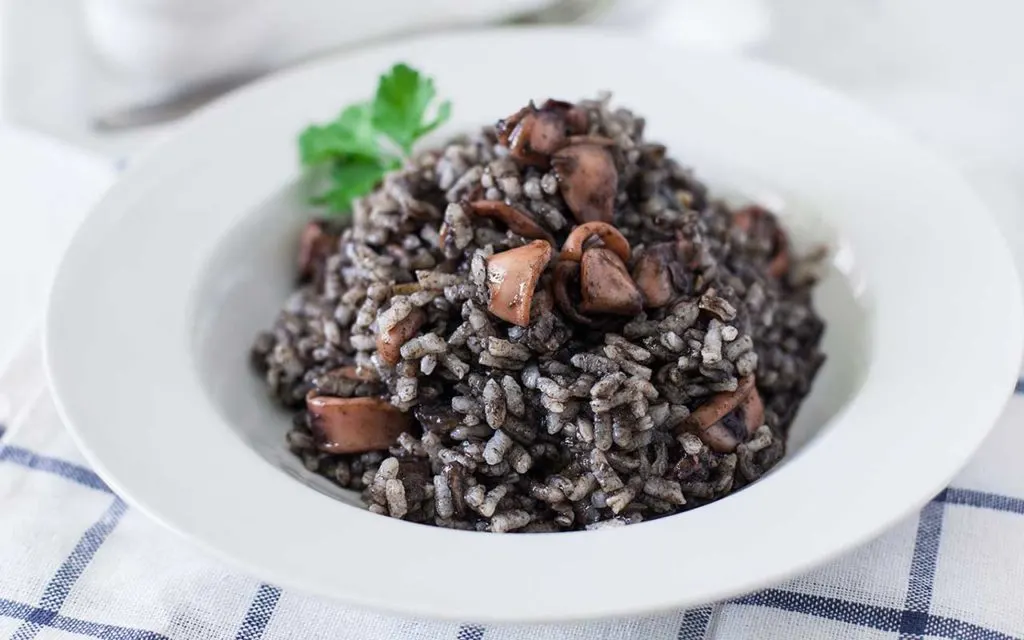 This Croatian dish with unusual color and intense seafood flavor is actually a squid risotto.
It's made from rice, onion, cuttlefish ink, cuttlefish, olive oil, and red wine. Squid ink turns the rice black, hence the look and the name of the delicacy.
You can find Black risotto or Crni Rizot in Croatia with other seafood besides squids, such as clams, mussels, and other shellfish.
The dish is often served with a little bit of grated parmesan cheese. Black risotto, due to its density, is best enjoyed with a glass of red wine to help wash it down.
And sure, it may color your mouth and teeth black, but it's more than worth it!
3 – Pasticada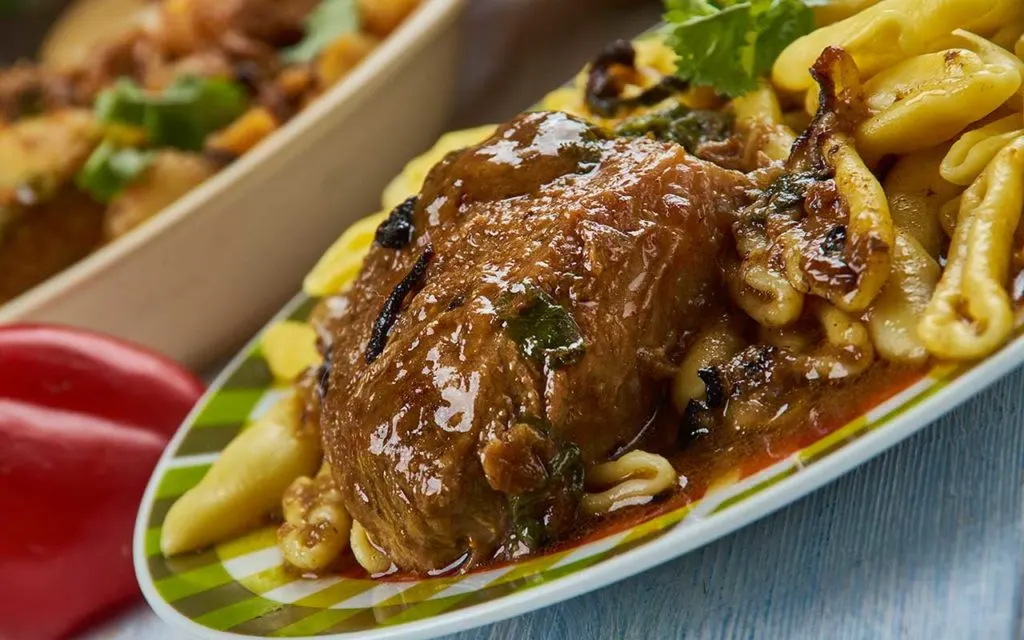 This stewed beef dish is traditionally prepared in the southern parts of Croatia.
Locals in the south like to tweak the basic recipe for Pasticada when cooking it at home by adding ingredients of their choice.
These can consist of different vegetables, spices, and herbs like parsley, onion, prunes, nutmeg, and even roasted bacon.
The traditional Pasticada is prepared for days and requires meticulous preparation.
Baby beef fillet is marinated in wine vinegar for days before being braised for hours in its own juice and then with red wine.
The dish is traditionally served with gnocchi.
4 – Štrukli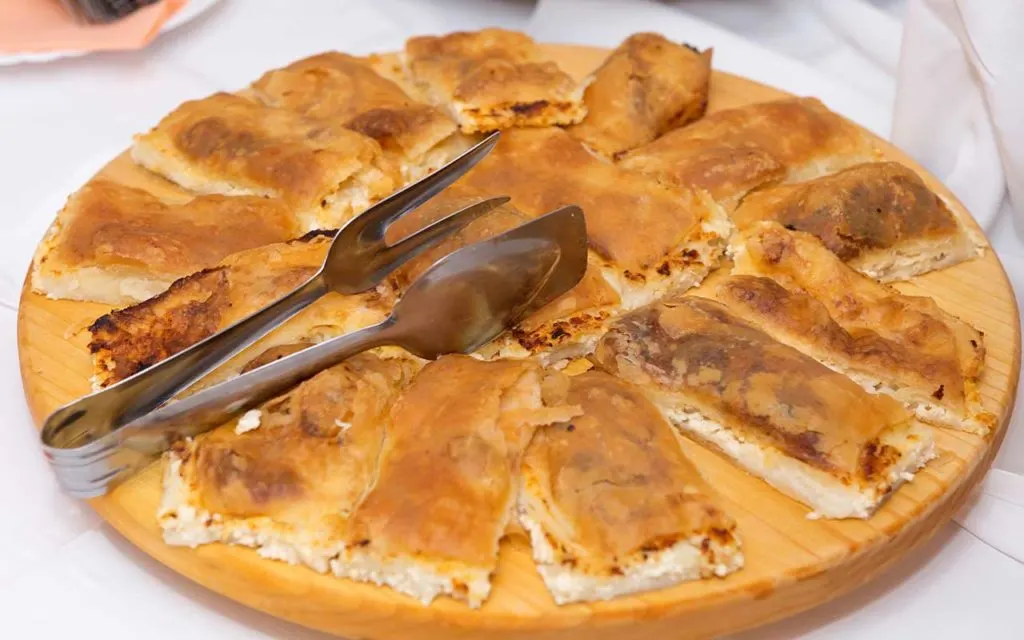 Štrukli is on the list of the country's intangible cultural heritage maintained by the Ministry of Culture of Croatia.
This fact alone, when you visit Croatia, is reason to try it. It's a delicious pastry filled with sour cream and cottage cheese.
The pastry is prepared either by baking in an oven or boiling in water.
Today, there are different versions of Štrukli, some of them with truffles, and others with blueberries and cheese filling.
The pastry dish is most popular in Zagreb, the capital city of Croatia, and it's related to the traditional Slovene dish called Štruklji.
5 – Istrian Fuži with Truffles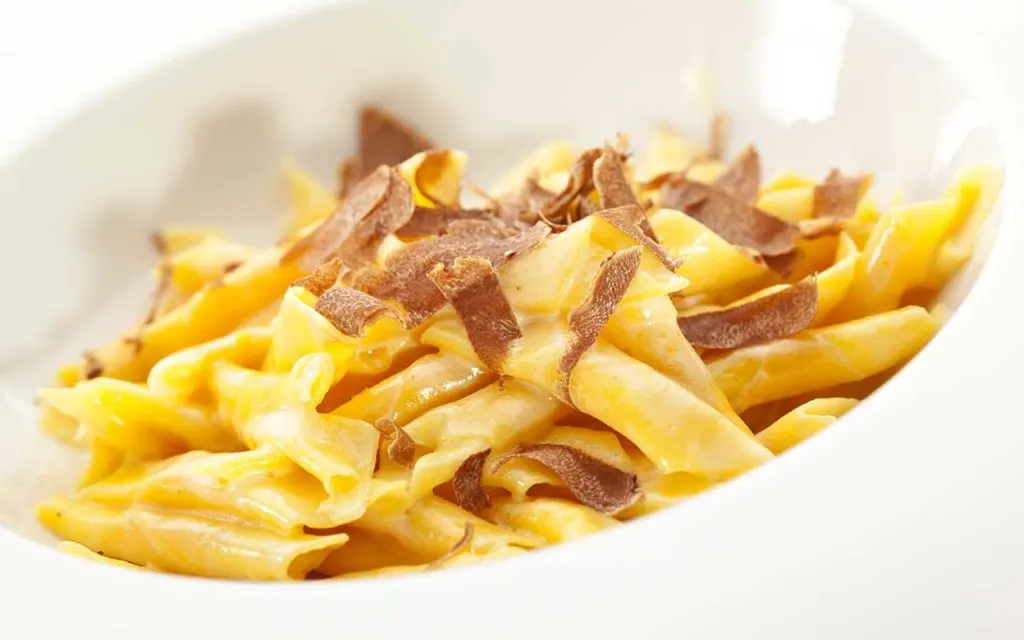 Fuži is a traditional, quill-shaped, Istrian pasta. The dough is cut in 5×5 cm squares, which are wrapped around a wooden spoon's handle.
This part of Croatia is also known as the home of truffles, so people here found an incredible way to blend these two traditional ingredients into the local specialty called Istrian Fuži with Truffles.
You can also find this homemade pasta served with different stews, including chicken, mushrooms, and beef.
6 – Brudet
Brudet, brodeto, or brujet, is a fish stew that's traditionally prepared in the coastal region of Croatia.
Different types of fish and crustaceans are used in the preparation of this meal. They are stewed with tomato sauce, onions, spices, and a drop of vinegar.
Everything is cooked slowly, covered in water, until the fish is properly cooked.
Sometimes, chili pepper and laurel are added to the stew, but that depends on the chef's personal preferences.
The delicious fish is usually served with polenta. You can find different versions of Brudet, such as stews prepared with eels and frogs.
7 – Skradinski Risotto
Skradinski Risotto or Risotto of Skradin is made with veal rump, some beef, ham, chicken, a bouillon of capon, onions, and rice.
This incredibly creamy risotto is cooked for hours and requires constant stirring without letting it sit even for a minute.
Despite the effort, the end result is the creamiest risotto in which the meat has completely dissolved. Some variations include slices of prosciutto ham too.
This magnificent risotto is seasoned with nutmeg, salt, and pepper, and topped with some grated cheese.
It goes excellent with a glass of full-bodied red wine. If you want to order this slow-cooking risotto, it's best to do it a few days in advance.
8 – Croatian Stuffed Cabbage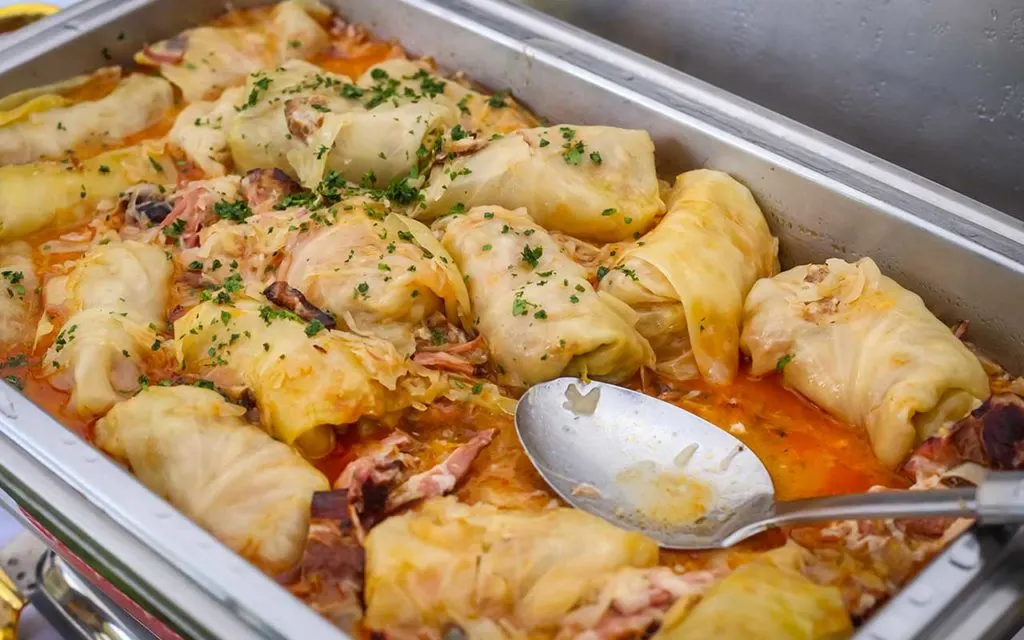 Croatian stuffed cabbage, or as locals call it, sarma, is a traditional winter dish of Turkish origin.
It's made from sour cabbage leaves stuffed with a mixture of diced beef, garlic, onions, and rice, which are then rolled and tucked in the ends.
The filling is seasoned with salt and pepper. The cabbage rolls are covered with water and boiled for two to three hours.
Optional ingredients included in many variations of the Croatian sarma are parsley, nutmeg, pork belly, bacon, cinnamon, celery, and lemon zest.
Locals usually prepare this rich dish on New Year's Eve. Sarma is also commonly served with mashed potatoes or fried fish.
9 – Maneštra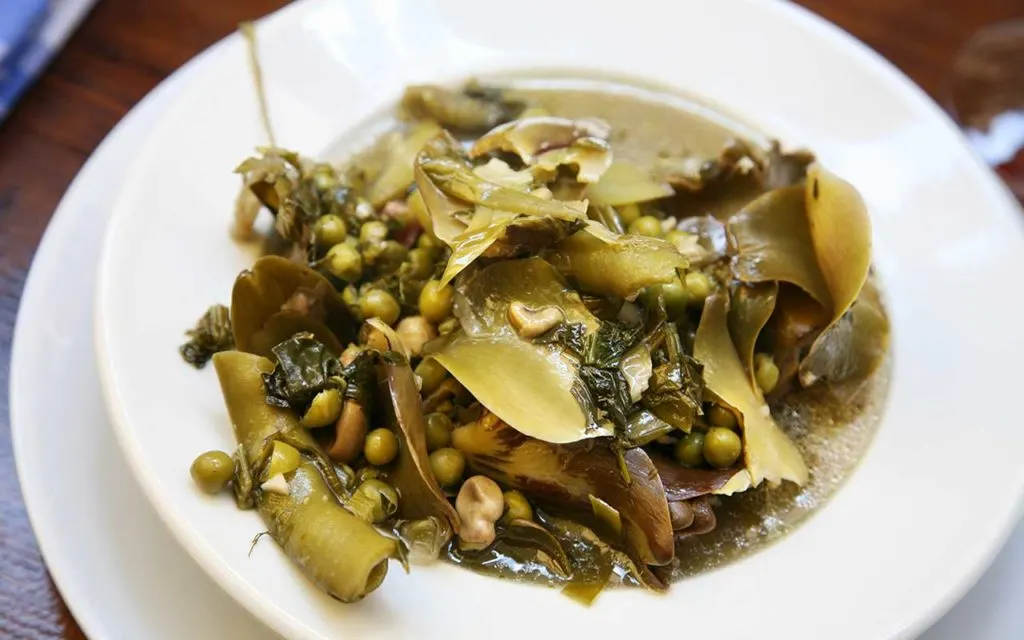 This popular Croatian dish is a vegetable soup made from spring corn. It's cooked slowly on low heat with cured meats such as prosciutto and roux made from ground garlic, pancetta, and parsley.
The roux is added to the soup at the beginning of the cooking process.
There are many variations of this delicious soup, but the most popular are jota, which contains sauerkraut, and many others, which contain beans.
Maneštra is perfect for any time of the year, especially during winter, thanks to the variety of nutrient-rich vegetables.
10 – Soparnik
This savory pie is a traditional dish from the southern part of Croatia, Dalmatia, that's on the list of Croatia's intangible cultural heritage.
It's a simple dough consisting of flour, water, and salt filled with Swiss chard and red onion.
The filling is spread between two thin layers of dough. Traditionally, Soparnik is baked over hot coals covered with ash for a short time.
It is believed that the pie is the Croatian version of pizza. Once the pie is baked, it is brushed with some olive oil and finely chopped or crushed garlic.
The pie is so popular that there's even a Soparnik festival, which has been held every year for the past decade.
Soparnik is usually cut into diamond-shaped pieces before serving.
11 – Čobanac
Shepherd's stew, or Čobanac, is a spicy stew made with two or three types of meat. The meats used include pork, wild game, lamb, or beef.
The stew is a traditional dish in Slavonia, the eastern part of Croatia. It's cooked slowly in a cauldron on an open fire.
Other ingredients include plenty of garlic, potatoes, carrot, parsley root, sweet and hot red paprika powder, salt, and oil.
Sometimes you can find it with mushrooms and pickled hot peppers. This slow-cooked stew is best served hot with slices of bread.
12 – Zagreb Schnitzel
A Zagreb Schnitzel is a veal escalope stuffed with ham and cheese, rolled in a mixture of bread crumbs, flour, and egg, and then deep-fried.
There are many versions of this delicious dish, with variations that use turkey meat or pork.
This local specialty is usually prepared on Sundays. It goes well with mashed potatoes, croquettes, or rice and peas, and a helping of lemon juice over the cutlets.
It's the Croatian food version of Cordon Blue or Vienna Schnitzel.
13 – Ćevapi
Ćevapi are grilled, skinless finger-shaped sausages that are incredibly tasty. They are made with minced beef, pork, and spices.
Usually, five to ten Ćevapi are served on a plate together with chopped onions, kajkmak, sour cream, minced red pepper, ajvar, and salt.
This food has a Turkish origin, so it's also popular in other countries in the region such as Serbia, North Macedonia, Bulgaria, Albania, and Bosnia.
Ćevapi have an incredibly unique taste and are very popular to eat among Croatians. It's a joyous Croatian food, to say the least.
14 – Shrimps na Buzaru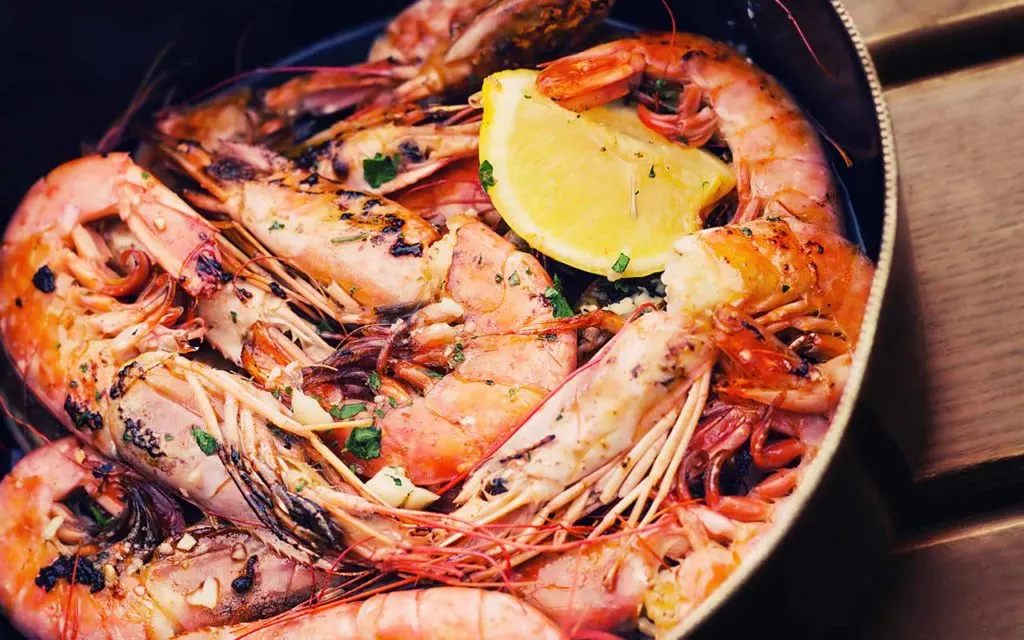 The "buzaru" method of cooking includes whole shrimps, mussels, or scampi flashed in a frying pan with garlic and olive oil, followed by a splash of white wine.
It's the most common method of cooking seafood in the coastal region of Croatia.
Sometimes, this dish includes a chopped tomato for color and breadcrumbs.
It may be simple, but it's one of the best ways to prepare shrimps, scampi, or mussels: not just a Croatian food, but an excellent method of cooking for seafood lovers too.
15 – Gregada
This fish and potato stew is believed to be of Greek origin. It's a simple dish consisting of layers of thin slices of potatoes and onions drizzled with olive oil.
Small white saltwater fish are placed on top of the layers, and everything is cooked in water and white wine: enough to cover the fish.
Garlic, parsley, and celery are usually added, and modern versions include salted anchovies and capers.
Gregada is prepared throughout the whole country, but it's typical for the island of Hvar.
16 – Sataraš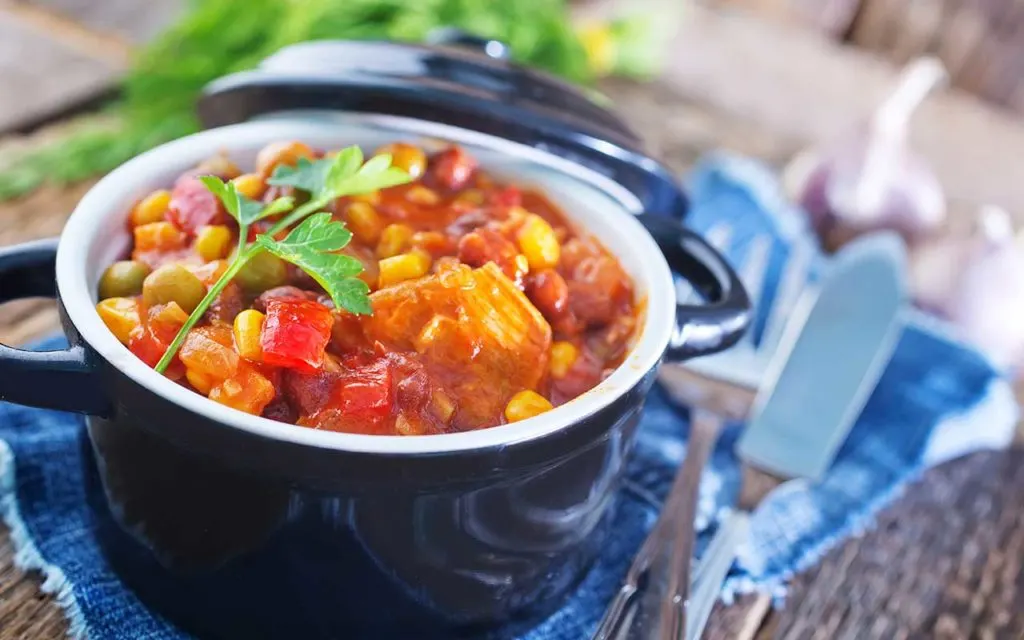 This traditional Croatian stew is made with a variety of vegetables, including peppers, tomatoes, garlic, onions, and parsley.
The vegetables are first fried and seasoned with pepper and salt. Then, the fried mixture is gently stewed.
The colorful, vegetable stew is served on its own or with fish dishes or fried meat.
You can pour it over some mashed or boiled potatoes, rice, polenta, or you can dip some chunks of bread in it.
It's equally delicious when eaten hot or cold. Versions of Sataraš include carrots, eggplants, and parsnip.
It's a Croatian food vibrant with color and rich in heritage.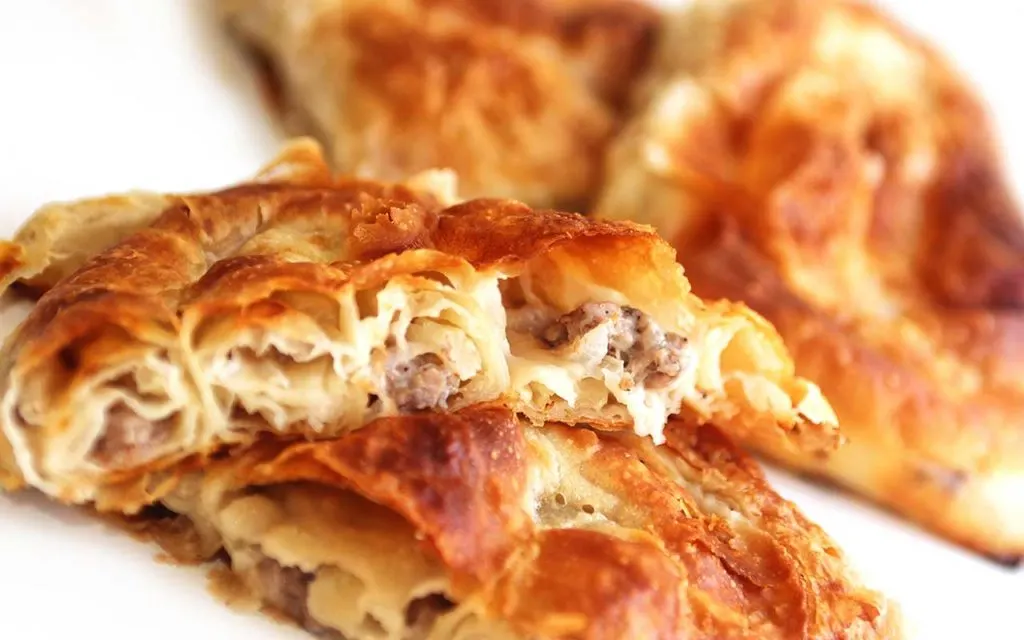 Burek is popular throughout the countries of the former Yugoslavia, including Croatia.
People in these regions love it, no matter the filling. It consists of filo pastry filled with cheese or meat and is served with sour cream or Greek yogurt.
It's the Croatian or Balkan version of fast food. It's a heavy, greasy, and delicious pasty, hence that's why it's eaten with Greek yogurt.
Besides the traditional burek with cheese and meat, nowadays you can find versions with many different fillings, such as spinach.
Croatians eat burek usually for breakfast, but they also buy it as food-to-go whenever they are hungry and need a quick, hearty Croatian food to get them through the day.
Read more: Burek Recipe
18 – Roast Lamb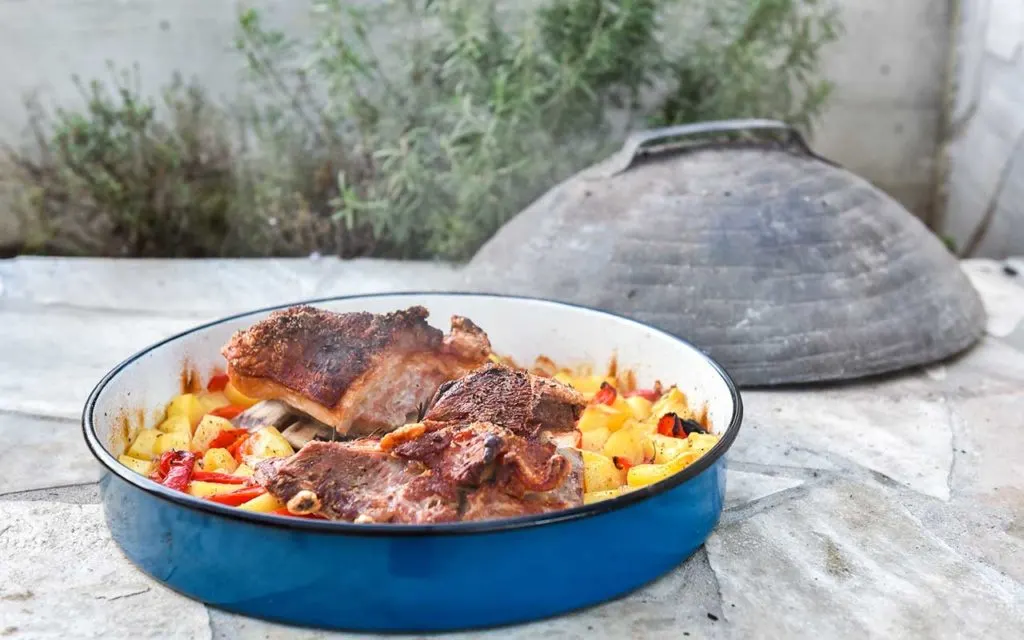 Roast lamb or Janjetina s ražnja is a true favorite throughout Croatia.
As you travel around the country, it's common to see roadside restaurants with whole lambs roasted on a spit.
The lamb is roasted until the skin turns golden-brown in color and becomes just enough crispy.
Traditionally, the lamb is seasoned only with salt, but you can also find it marinated in oil with fresh herbs.
This hearty Croatian food is served with young potatoes, green onions, sliced onions, and some bread.
19 – Ajngemahtec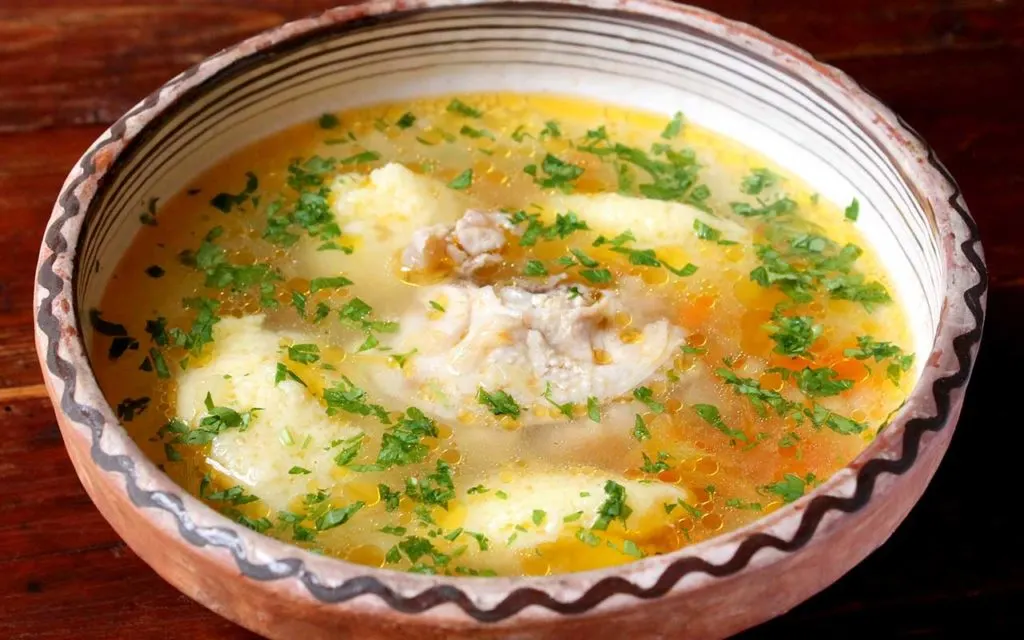 Ajngemahtec is Croatian chicken soup, especially popular in the capital city of Zagreb and the surrounding area.
This nourishing soup blends a little bit of everything, containing chicken, different vegetables, heart dumplings, and delicious, stomach-warming broth.
It is usually served before Sunday lunch and is known in Croatia as the home remedy to cure everything from flu to hangovers.
A plate of this soup will warm your heart and soothe your soul.
20 – Fritule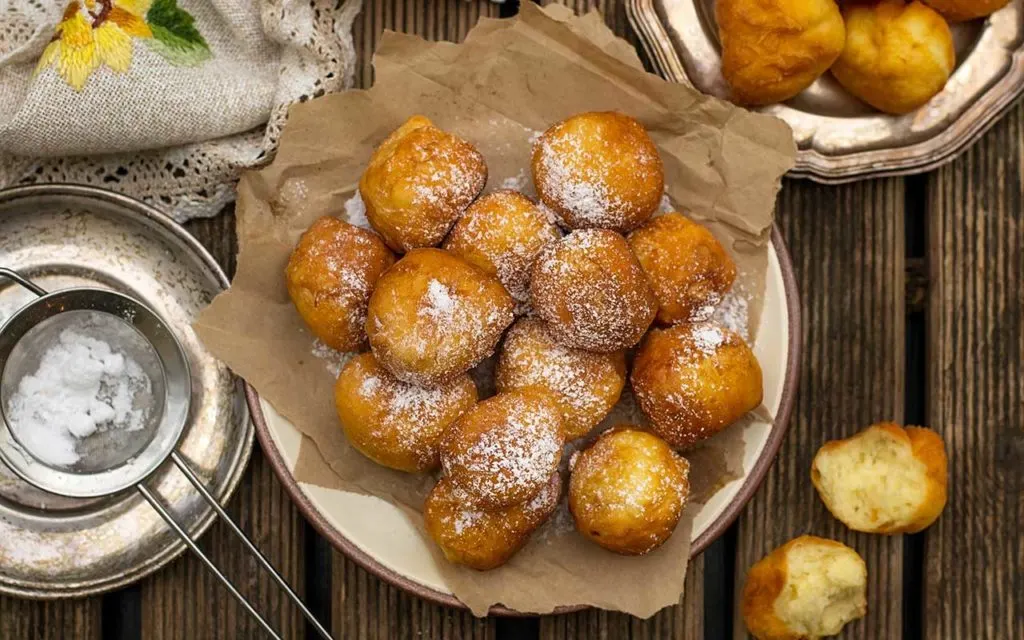 And we couldn't round off this wonderful list without a little something sweet for dessert! Fritule or Uštipci are similar to sweet fritters.
This traditional Croatian pastry is prepared with a simple dough, made with flour, yeast, butter, milk, eggs, and sugar.
Some versions of Fritules include yogurt, grated apples, baking powder, and raisins.
The small, round Fritules have a distinctive flavor and a pleasant aroma thanks to the thick, buttery base that's enriched with strong citrus and vanilla flavors.
According to locals, brandy is the secret ingredient to the perfect Fritules.
Sometimes local fruit liquors, rum, or strong spirits are also included in the dough for these sweet, miniature doughnuts.
The liquor allows them to stay light and crispy and not absorb too much oil while they are fried.
They are usually served dusted with some powdered sugar, or topped with whipped cream, melted chocolate, or caramel.
Croatian Food Summary
There we have it — twenty of the most delicious Croatian foods that you simply have to try when you visit Croatia.
There's so much to enjoy in Croatian cuisine, I'm sure you can agree. The tender meats and fresh produce of the mountains make for some delicious food.
And then there's Croatia's coastline. The seafood caught from the Mediterranean Sea is incredibly fresh and tasty.
All of these influences and ingredients combine to make Croatian cuisine one of the most underrated in Europe.
Before you go, make sure you're well versed in the names and pronunciations. That way, you can ask to try these delicious foods with confidence.
One final time here is the full list of foods we covered above:
1 – Peka
2 – Black Risotto
3 – Pasticada
4 – Štrukli
5 – Istrian Fuži with Truffles
6 – Brudet
7 – Skradinski Risotto
8 – Croatian Stuffed Cabbage
9 – Maneštra
10 – Soparnik
11 – Čobanac
12 – Zagreb Schnitzel
13 – Ćevapi
14 – Shrimps na Buzaru
15 – Gregada
16 – Sataraš
17 – Burek
18 – Roast Lamb
19 – Ajngemahtec
20 – Fritule
You Might Also Like to Read
Save and Pin for Later
Want to have all these delicious Croatian food picks in a safe place? Save this article and pin it to one of your Pinterest boards for later.
---
Images licensed from Shutterstock