Some posts on this site contain affiliate links, meaning if you book or buy something through one of these links, we may earn an affiliate commission at no additional cost to you. Learn more
Are you planning a visit to Serbia in the future, and want to learn as much as you can about Serbian food?
Or maybe you've heard plenty of good things about Serbian food and want to try cooking some of the recipes at home.
If so, our guide to Serbian food, covering 14 traditional dishes and recipes, will have even the most casual of foodies licking their lips in anticipation!
We've compiled this list under the expert guise of local Serbian Sara. The following Serbian foods and recipes cover foods for meat-eaters, vegetarians, vegans, and those of us who have a sweet tooth.
No matter what your palette, there's something for everyone on this fascinating and mouth-watering list of Serbian foods you simply have to try when you visit Serbia.
Introduction to Serbian Food
Serbian national cuisine is one of the lesser-known cuisines in the world, which is a shame considering how delicious it is.
It was influenced by many nations who have lived and passed through this part of Europe. It is a mixture of Greek, Bulgarian, Turkish, and Hungarian cuisine.
This cultural fusion resulted in original, thought-provoking, and quite delicious flavors that can only be found in Serbia.
The traditional cuisine includes diverse, bold, and sometimes spicy dishes, with ingredients that are not expensive at all.
Serbians love their meat and dairy, but bread, dough, and certain types of vegetables should absolutely not be overlooked.
Let's take a closer look at some of the most popular and traditional dishes in Serbian cuisine.
1 – Ajvar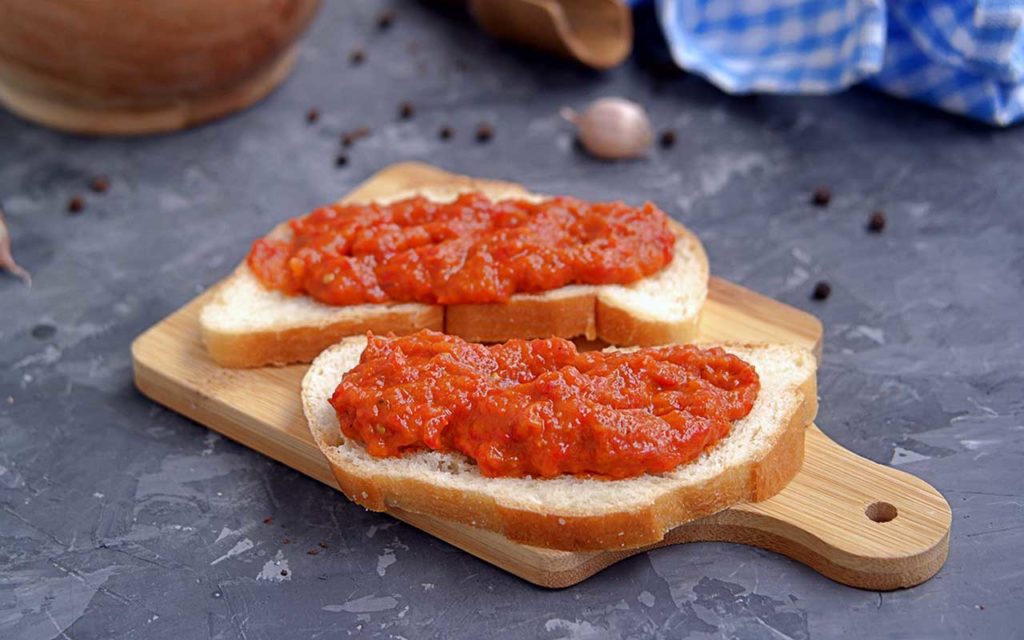 Ajvar is a roasted red pepper spread that is usually smeared on bread.
It is a real treat for either breakfast or dinner. It is also a must-have condiment with barbecue meats, cabbage, and many other dishes.
The homemade version is the best one. Many families still make multiple jars of it at home, in the fall, even though it is readily available in stores.
It can taste a little sweat, but it can also be spicy as well (ljutenica). You can also add tomato (then you call it pindjur) or eggplant to it, for even more deliciousness.
Some people know it as the 'vegetable caviar' because of its rich, delicious taste.
2 – Kajmak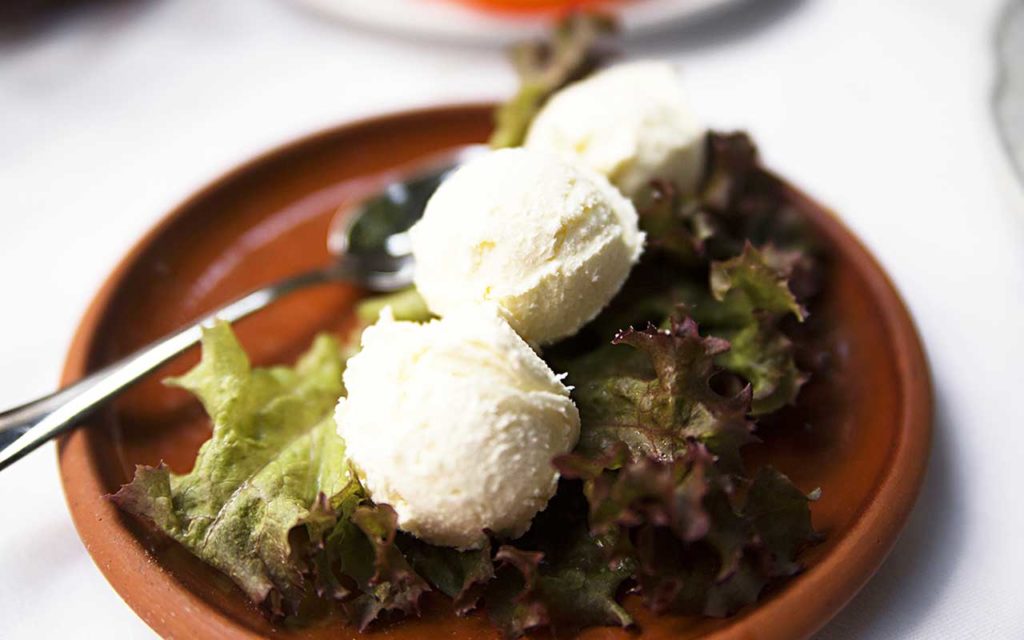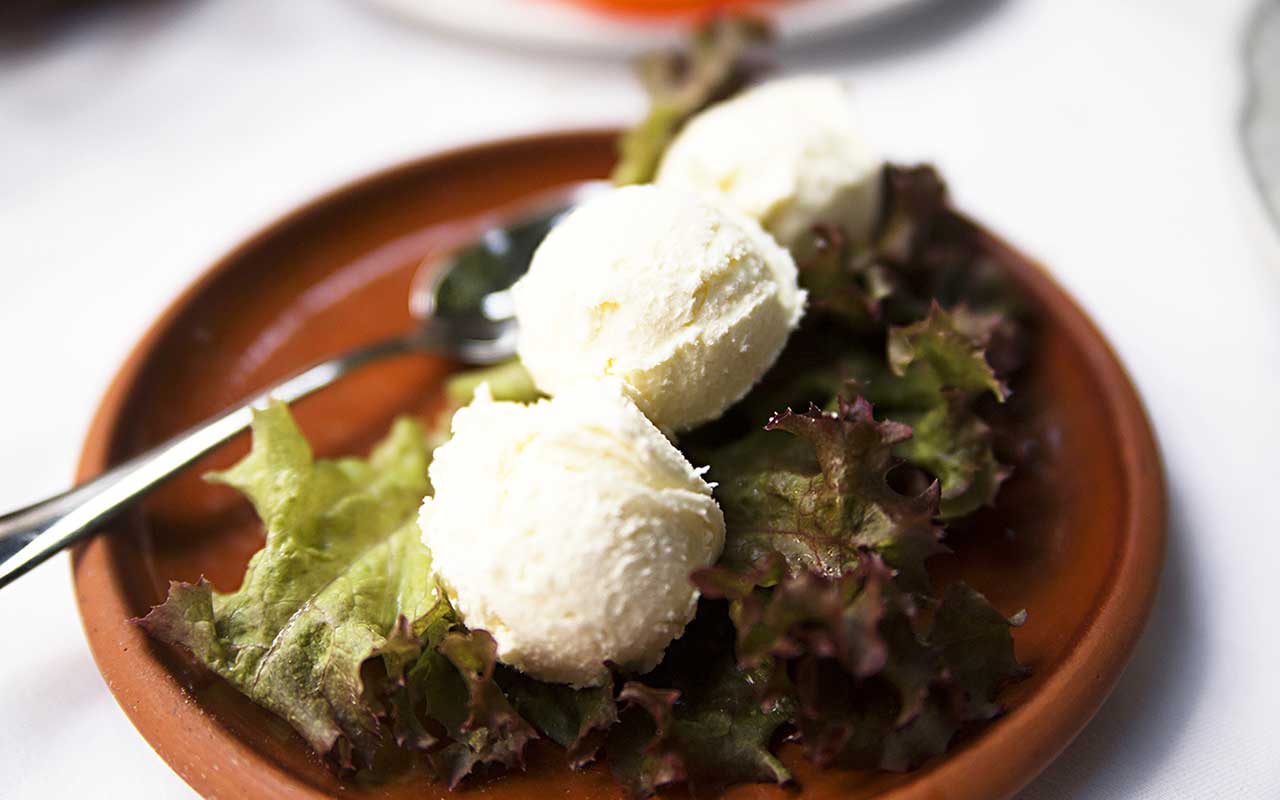 Another popular spread from Serbia is kajmak. Unlike ajvar, which is made from vegetables, kajmak is a dairy product.
It is made by simmering cow's milk slowly over several hours and then collecting the cream that gathers on the top and letting it cool.
It takes several hours or even a couple of days to cool, and kajmak in that fresh form is usually very pricey. That is the so-called 'young' kajmak.
The longer it sits in the fridge, it becomes harder and stronger-tasting, and it turns into 'old' kajmak.
Its texture is very creamy, and it is not for people with high cholesterol. It is very high in milk fats, sometimes up to 60%, but it is delicious Serbian food.
The most common way to eat kaimak is by smearing it on bread for breakfast or dinner.
It is also very popular as a condiment with barbecue meats. You can put it on potatoes or as a little extra richness in polenta.
Beef shanks simmered very slowly with kajmak are particularly tasty.
All-in-all, it is a must-try Serbian food and a true national delicacy.
3 – Burek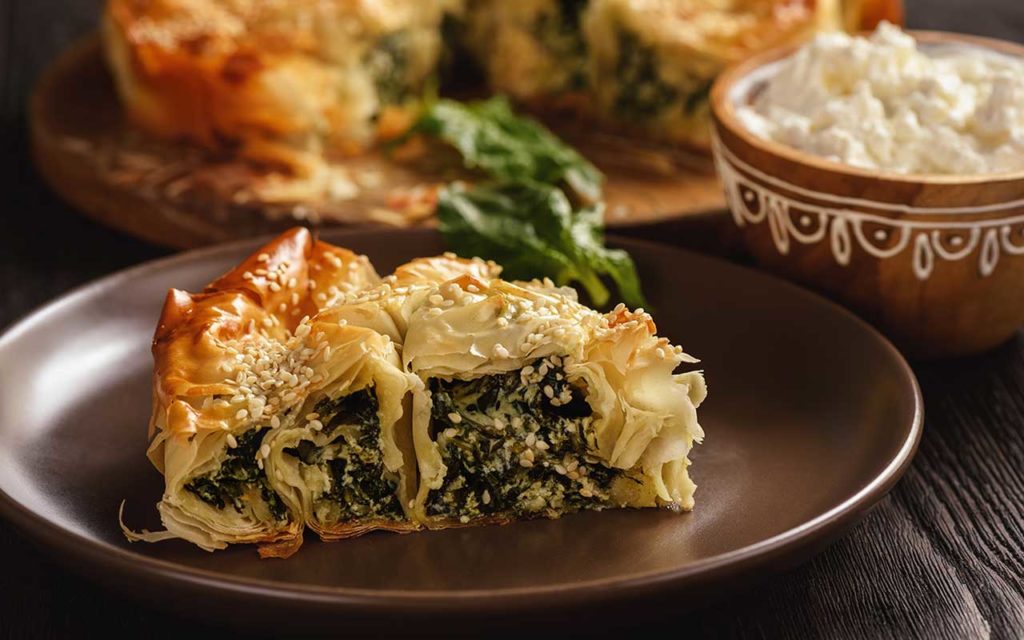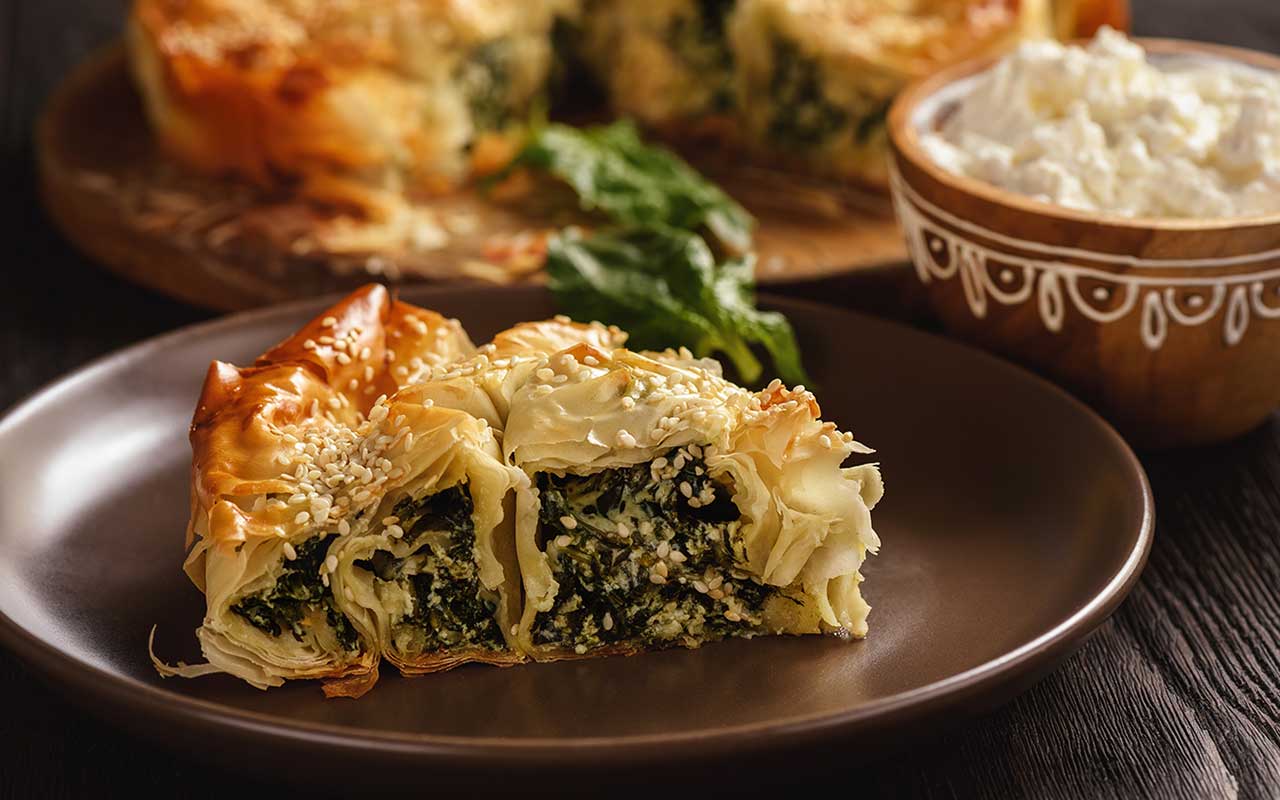 Burek is perhaps the most popular breakfast in Serbia. You can buy it in every bakery.
Sometimes, you can find special stores called burekdzinice, that only sell different types of burek.
It is made with dough that is similar to filo pastry. The layers in between the dough can be filled with minced meat, cheese, mushrooms, potatoes, spinach.
The new version with pizza filling (ham, cheese, tomato sauce) is becoming more and more popular, especially amongst the younger generation. There are even some sweet versions.
Believe it or not, some people like to eat it empty, with no filling at all. It's best eaten while warm, and fit to eat at all times of the day.
It is very filling, and children often eat it during their lunch break, to give them strength throughout the day.
Partygoers also love it because it apparently helps to cure a hangover.
Yogurt, however, is an essential ingredient to make burek as delicious as possible.
4 – Sarma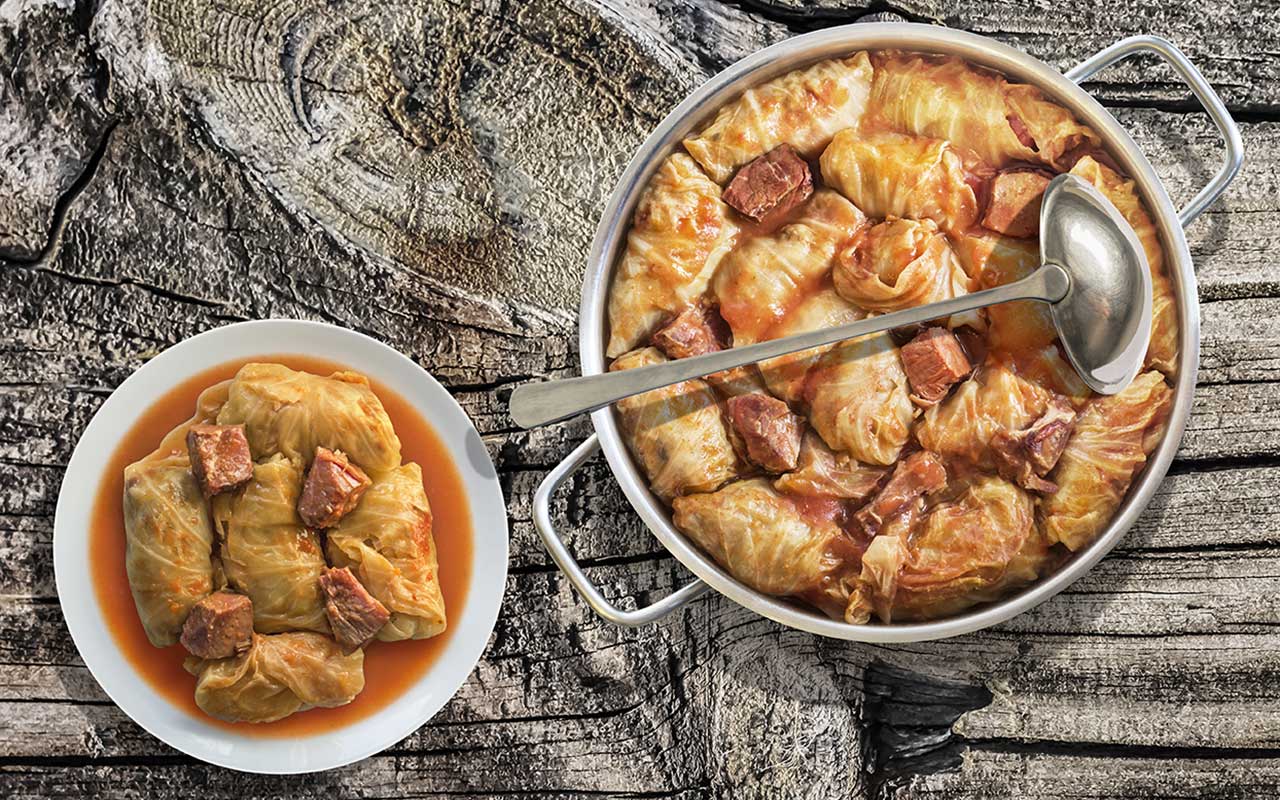 If you are going to attend a family feast in Serbia, one of the dishes that the host or hostess will most likely offer you is going to be sarma.
Sarma is a filling and hearty meal that is usually served when the cold weather comes in the fall and winter.
The basic ingredients are sauerkraut leaves and minced meat. Home cooks also add bacon, sausage, carrots, rice, and onions.
You can also add paprika, garlic, horseradish, and many other things to spice it up a little.
To make sarma, you wrap the filling up inside the leaves to make a little tight sealed package, and then you lay them all in a big pot and let it simmer away for a few hours.
As a little trick, cooks add some dry sausage or pancetta while it's cooking, adding more depth to the sauce.
Some Serbians are so enamored with it; they say they could eat it for over a week.
Granted, you rarely make a small batch when you make sarma, so that claim has probably been put to the test.
5 – Barbecue meats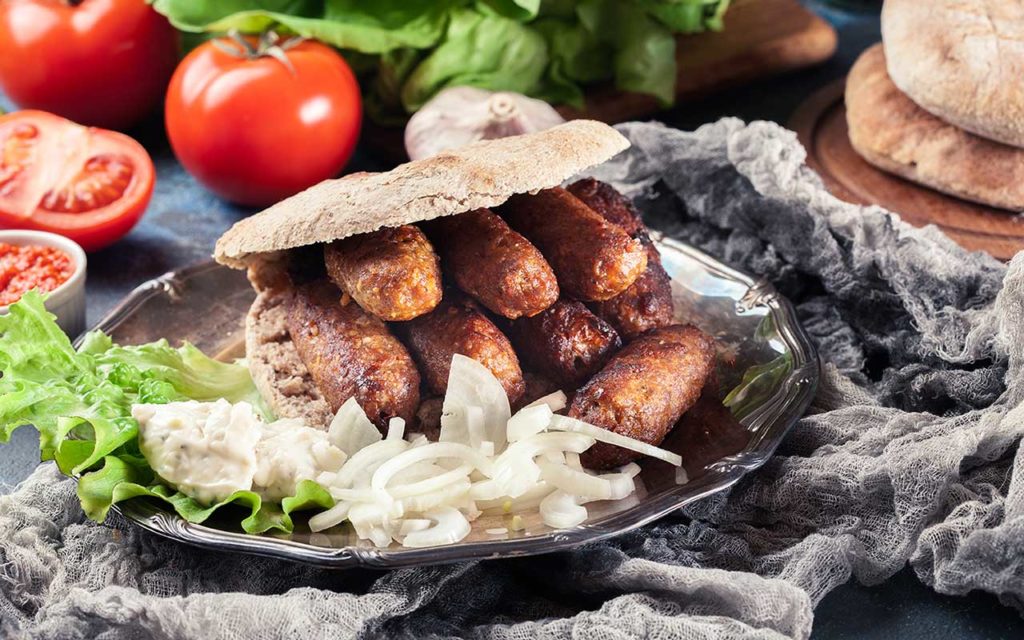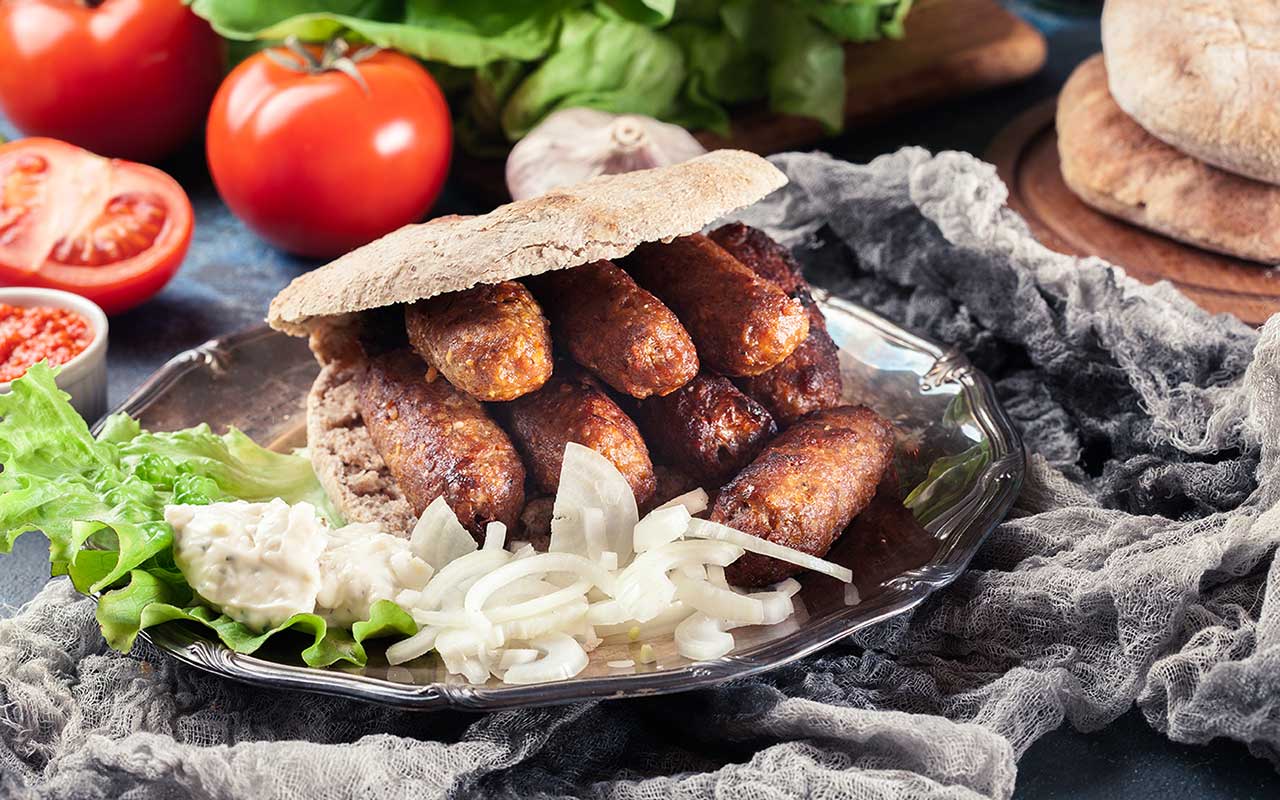 There is no hiding the fact that Serbians are wild about barbecue. The most popular barbecue meats eaten in Serbia are cevapi, followed by pljeskavica and raznjici.
Cevapcici, as they are affectionately called, are made from a mixture of pork and beef minced meat, rolled into small pieces, and then grilled.
They are usually served in groups of 5 or 10 inside of a flatbread type of dough called lepinja. Raw onions are an absolute must-have with it.
Ajvar and kajmak are also frequent companions with these meats.
If you combine it with a glass of cold, local beer, you're in for a true Serbian food treat!
6 – Muckalica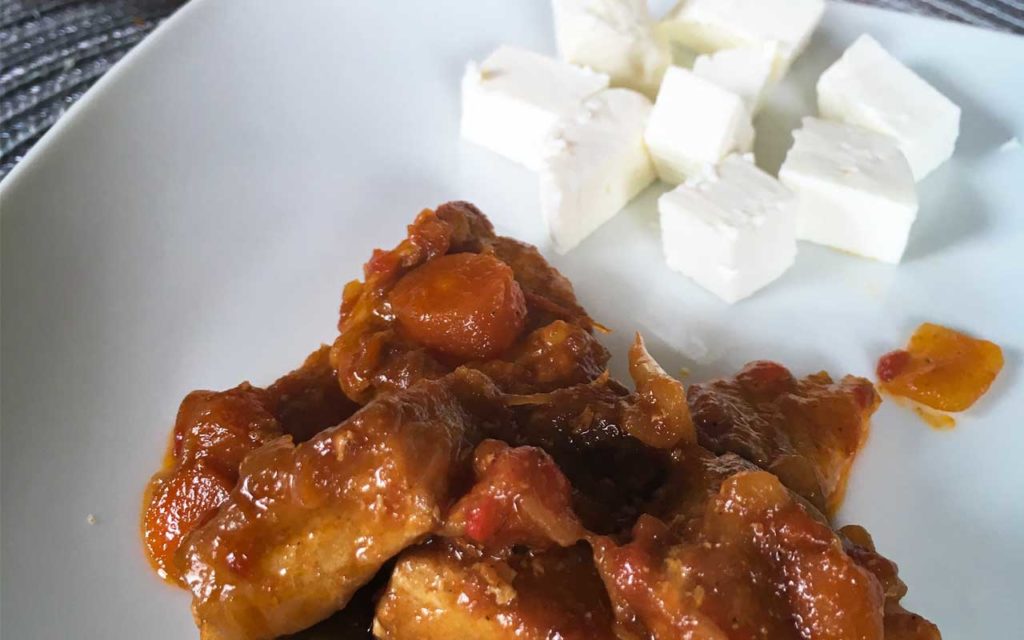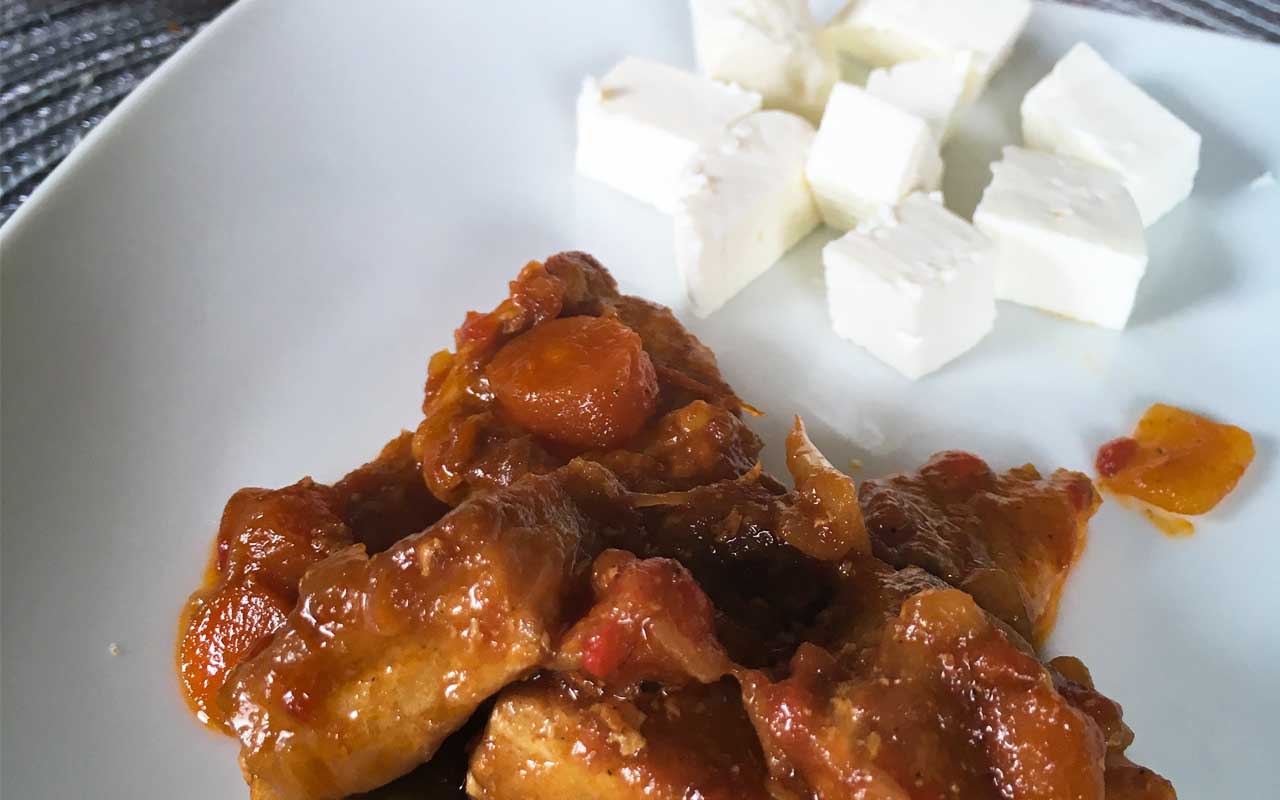 Whenever there is any leftover barbecue meat, Muckalica is the order of the day.
To make muckalica, you mix the leftover meat in with some vegetables, simmer it and bake it in a clay pot.
Then, voila! Muckalica literally means to stir, or to mix.
There are variations of this dish from place to place, but the most famous one is probably from the town of Leskovac.
The meat is combined with onions, garlic, peppers, and tomatoes. And the secret ingredient to making it so tasty is a little spice, perhaps chili flakes or hot peppers depending on the cook's preference.
The result is the most magical leftovers dish ever!
7 – Karadjordjeva snicla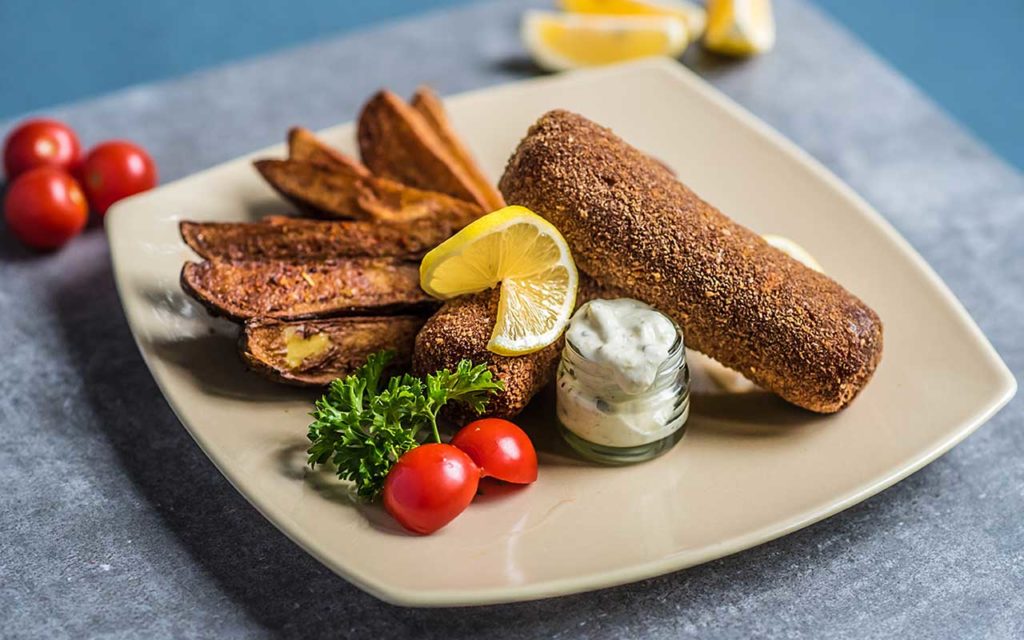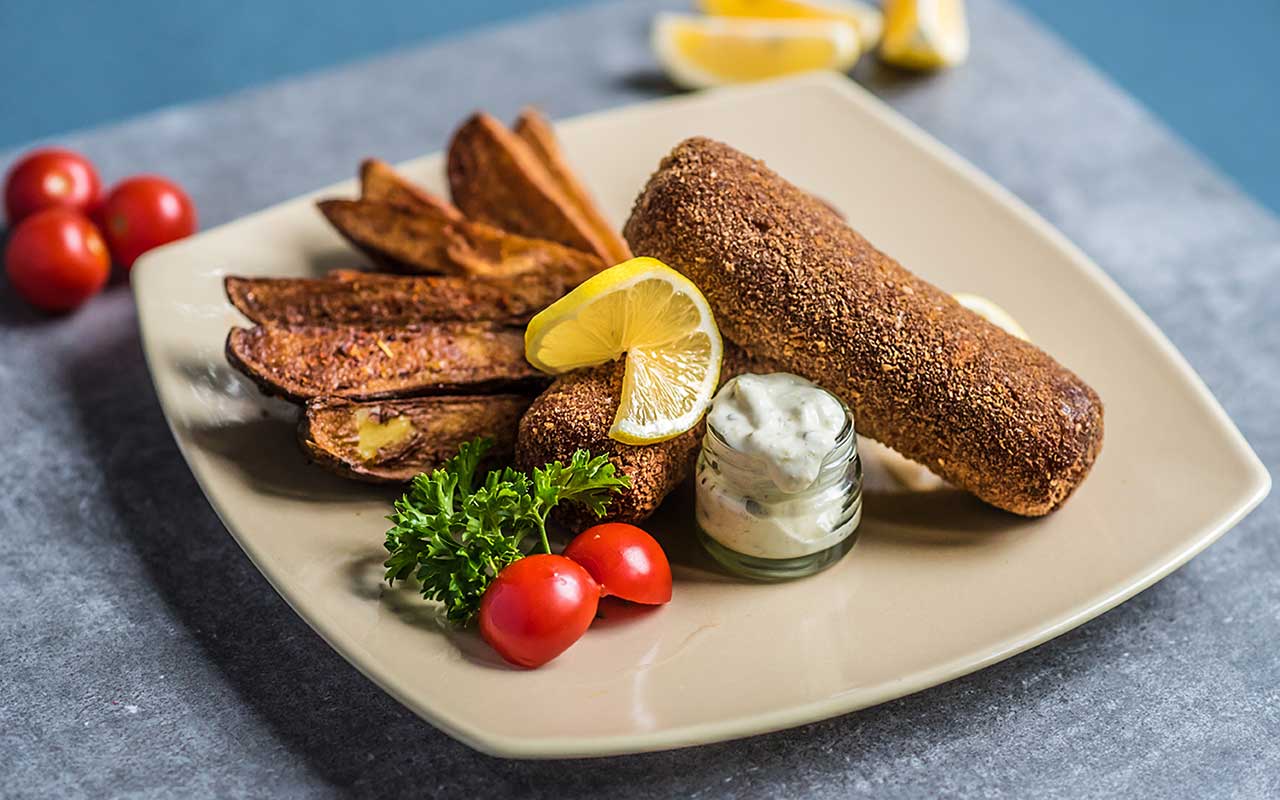 If you are in the mood for something fried, then this dish will no doubt be right up your alley.
Karadjordjeva snicla is a delicious veal or pork cutlet that is filled with kajmak, then breaded and fried to perfection.
When you bite in, you first experience the crunchy exterior. Then, kajmak oozes out. This rich, savory, and delicious sauce is a perfect pairing for the meat.
This is a must-try Serbian food if you're a big fan of hearty, meat-based dishes.
8 – Djuvec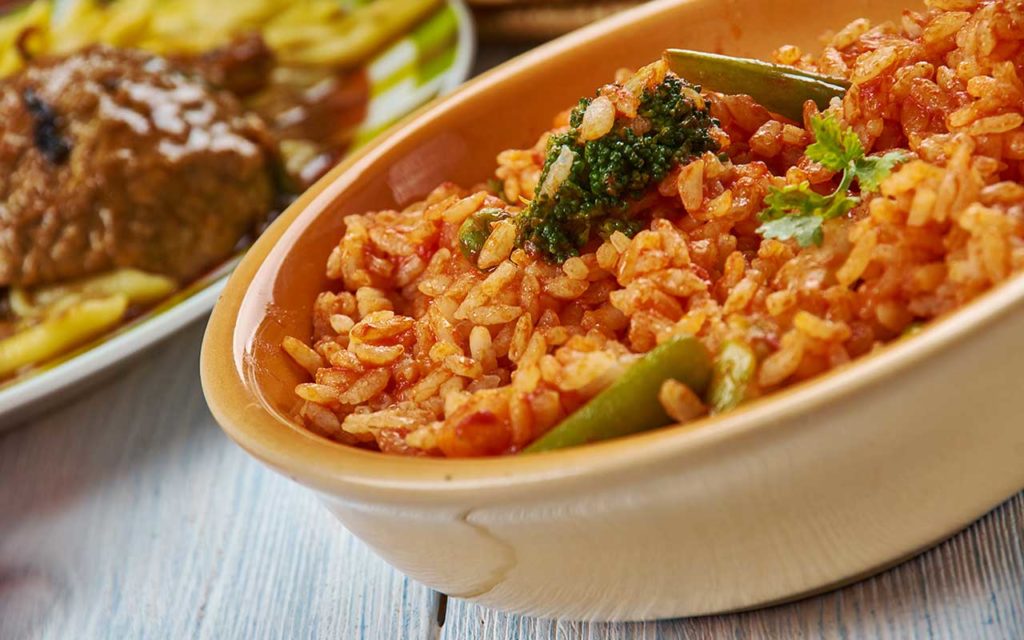 Let's skip from fried Serbian food to something a little healthier. Djuvec is a meat and vegetable casserole that is initially cooked on the stove and then finished in the oven in a particular earthenware pot.
Some people like to add rice to it to make it more filling. You can use different types of meat and vegetables, depending on how light or hearty you want it to be.
But no matter what the combination, when flavored with a little bit of paprika and some herbs, it makes for a fantastic lunch or dinner option.
This is a Serbian food you simply must try, as it's so delicious.
9 – Prebranac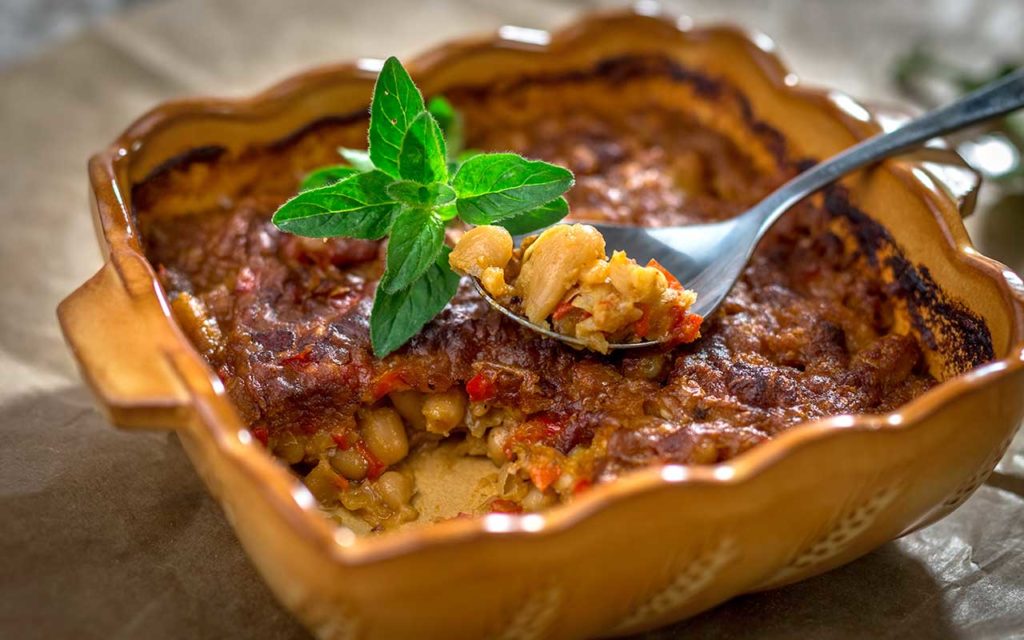 Another healthy Serbian food comes in the form of Prebranac.
Prebranac is a very simple meal made out of only a few ingredients.
White beans are partially cooked and then baked with some onions, bay leaves, and paprika.
It is a great idea to serve during 'posna slava' (a family feast where you don't serve meat dishes).
If you are vegan and visiting Serbia, this is a great Serbian food for you to try. You will not regret it.
10 – Gibanica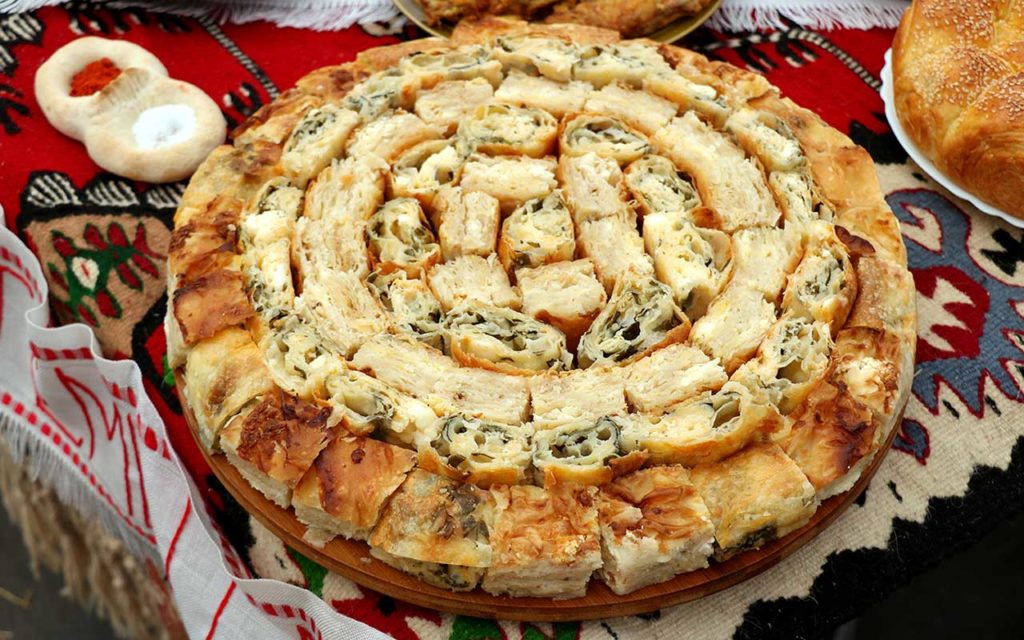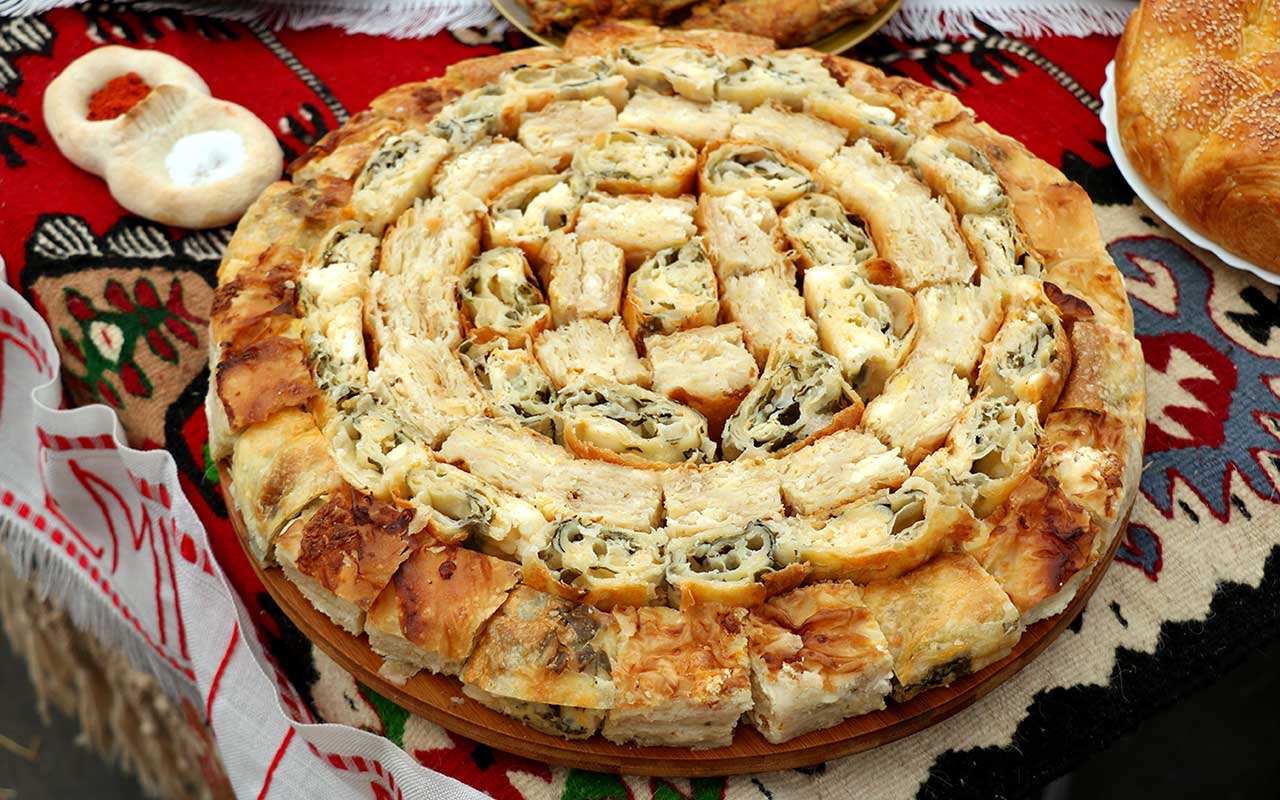 Gibanica is a dish you will struggle to find anywhere other than Serbia, and it is a Serbian food steeped in heritage.
Gibanica is essentially a cheese pie, with layers of thin dough and filling made out of cheese, eggs, yogurt, and oil.
However, it is the cheese that makes this dish unique. It is a cow's milk soft cheese that is probably unlike anything you ever tasted. And the way it is made can also differ.
You can just simply layer it in a big pan like a lasagna, or you can roll it into sheets of dough or make it into little triangles for individual servings.
It is a matter of personal preference, but it doesn't affect the taste. It always comes out of the oven, crispy, and delicious.
If you ask Serbians about this dish, many will tell you they could eat this pie at any time of the day.
As an appetizer, an entree, a side dish, for breakfast, lunch, dinner, or a snack, it doesn't matter. It's perfect for any occasion.
It is another Serbian food that you can traditionally expect to find on a table for a family feast.
But you don't have to worry, as it is easily found in most bakeries, so there is no excuse for you not to try this tasty pie.
11 – Cvarci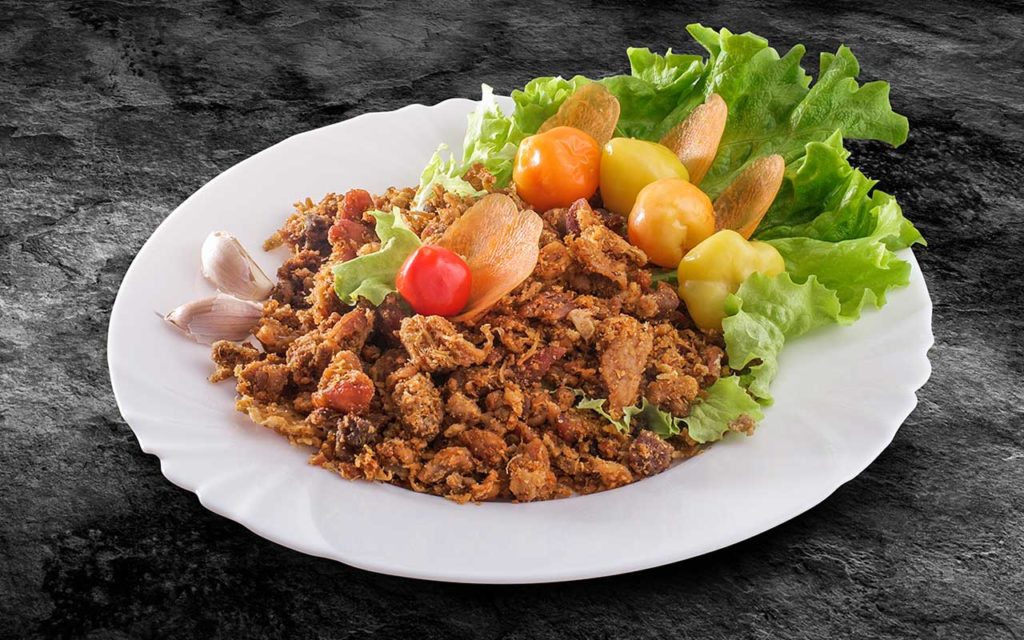 Cvarci is an incredibly tasty Serbian food that bacon lovers, in particular, will enjoy.
You start by cutting the raw bacon into large, thick chunks and then slowly start melting the fat in the pan.
Over time, you are left with delicious, crispy, and salty pork rinds.
Some people like to use this as a filling for a pastry, but it's usually eaten on its own as a snack (and always in the winter).
12 – Proja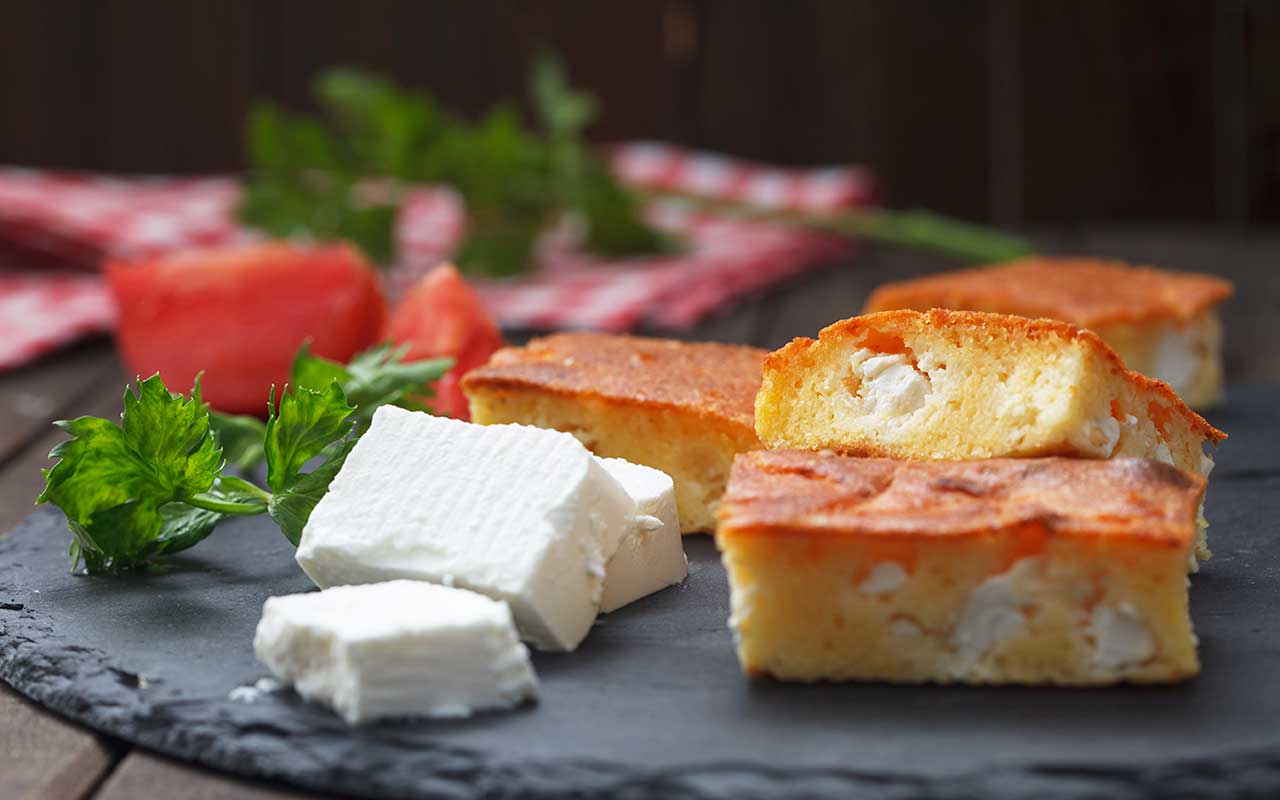 Many cultures have their version of cornbread. Proja is Serbia's version.
Just like many other dishes before, this one is made with very few ingredients.
Corn flour, oil, salt, water, and baking powder are all that's needed to make this simple but delicious Serbian food.
It can be served as an appetizer or a snack, either hot or cold. Some people like to enhance the flavor by adding cheese, cvarci, kajmak, yogurt, and many other ingredients. It is a matter of preference.
The simplest version of proja you will easily find in most bakeries.
13 – Baklava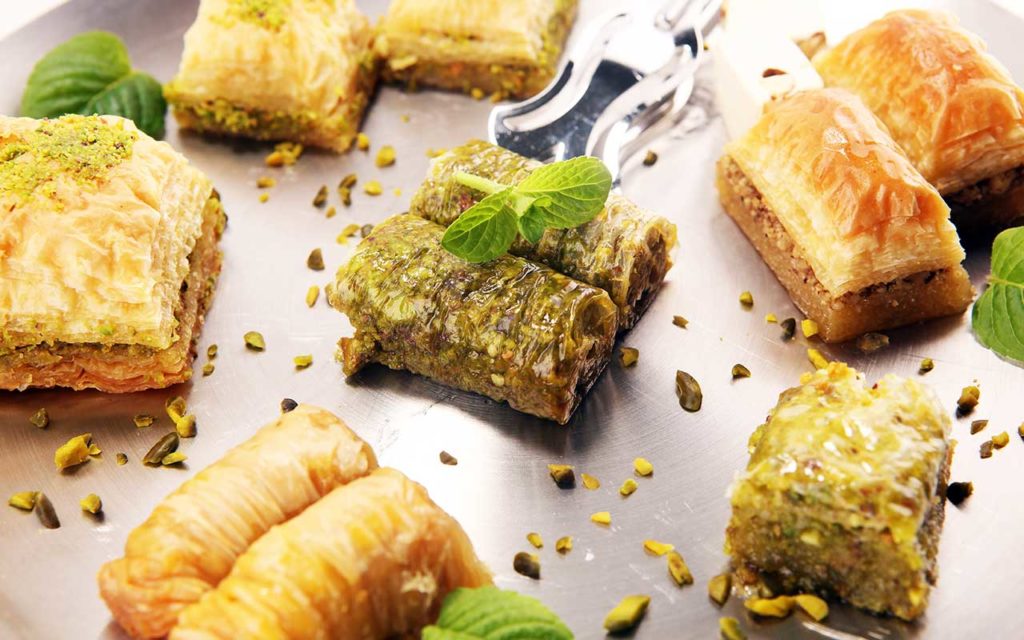 Now, let's take a look at a classic Serbian dessert!
For a short history lesson, there was a period of 500 years that Serbia was under the rule of the Ottoman empire.
With that in mind, it is no surprise that Turkey has influenced Serbia's cuisine the most.
That influence has continued through the centuries as, even today, the most popular dessert in Serbia is, without a doubt, baklava.
This incredibly rich dish is made with very thin filo pastry, walnuts, and sherbet (a sugar and water syrup).
It is a staple recipe in Serbia, particularly around the holiday period.
People have modified it recently by making it with different types of fruit and poppy seeds.
They are still very good, but in my opinion, if you are going to try one, let it be the most traditional one.
For a sweet and tasty Serbian food, look no further.
14 – Rakija
We have made a journey from savory foods to deserts and now finally to alcohol. Rakija is the national drink of Serbia.
It is made by distilling fermented fruit, but it is always clear in color, like water. It is very high in alcohol content, ranging from 40% to 65%.
Sljivovica is made from plum, kajsijevaca from apricot, viljamovka from pear, dunjevaca from quince, and loza from grapes.
These are the most popular flavors, but there are many others. Depending on the fruit, it will have a different name.
It's common in Serbia to drink it neat from a small 30-50ml glass.
Some households still make their own versions, and family members sometimes gift it to close friends. It is considered a very special gift.
Grandparents often use rakija to treat a sore throat and a cold. The old saying 'An apple a day keeps the doctor away' is somewhat modified in Serbia. A glass of rakija a day keeps the doctor away!
Serbian Food Summary
Depending on the fruit, it will have a different name.
Whether you're a passionate foodie, or just enjoy good, hearty local cuisine, Serbian food offers something for everyone!
Fusing Greek, Turkish, and Balkans staples together, there's some wholesome and enjoyable foods throughout Serbian cuisine.
Cheeses and dairy are prominent throughout the foods of this wonderful country.
You'll find plenty of these delicious cheeses and meats between the layers of thick pastries and soft pies.
There's also plenty of grilled meat and fresh produce to enjoy in a number of different recipes.
Wash all of these tasty Serbian dishes down with a glass of rakija, and you'll still feel satisfied hours after eating.
One final time, heree is a reminder of all the Serbian foods covered in this list. Be sure to have this list handy when you visit Serbia and are ready to order food.
1 – Ajvar
2 – Kajmak
3 – Burek
4 – Sarma
5 – Barbecue meats
6 – Muckalica
7 – Karadjordjeva snicla
8 – Djuvec
9 – Prebranac
10 – Gibanica
11 – Cvarci
12 – Proja
13 – Baklava
14 – Rakija
You Might Also Like to Read
Save and Pin 'Serbian Foods' for Later
Planning a trip to Serbia and want to keep this article of the best Serbian foods in a place you'll remember? Save this article and pin it to Pinterest for later!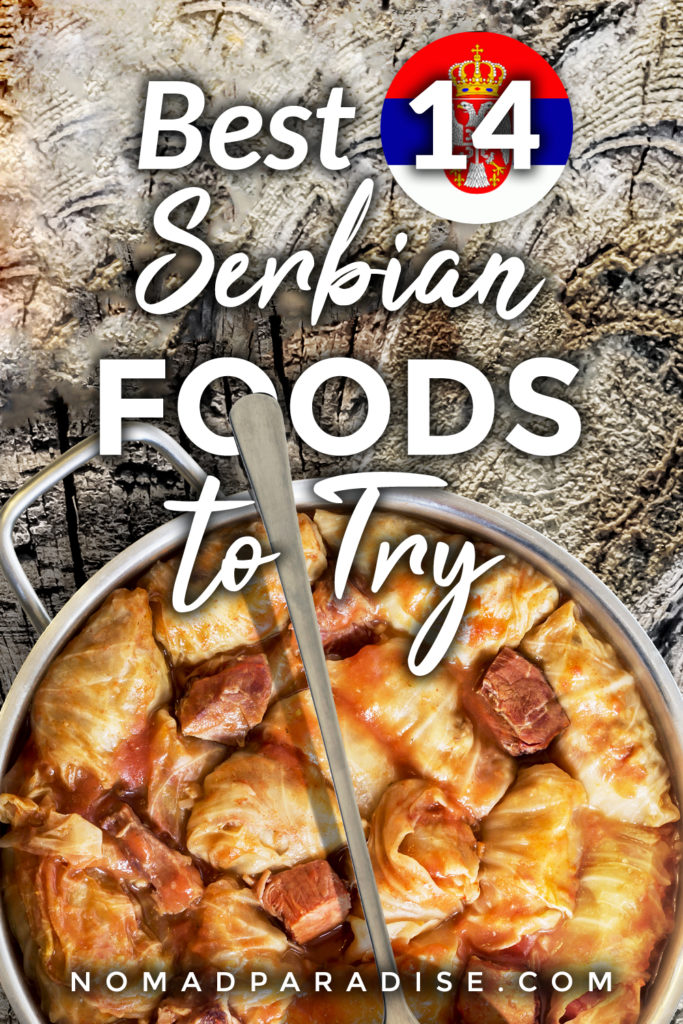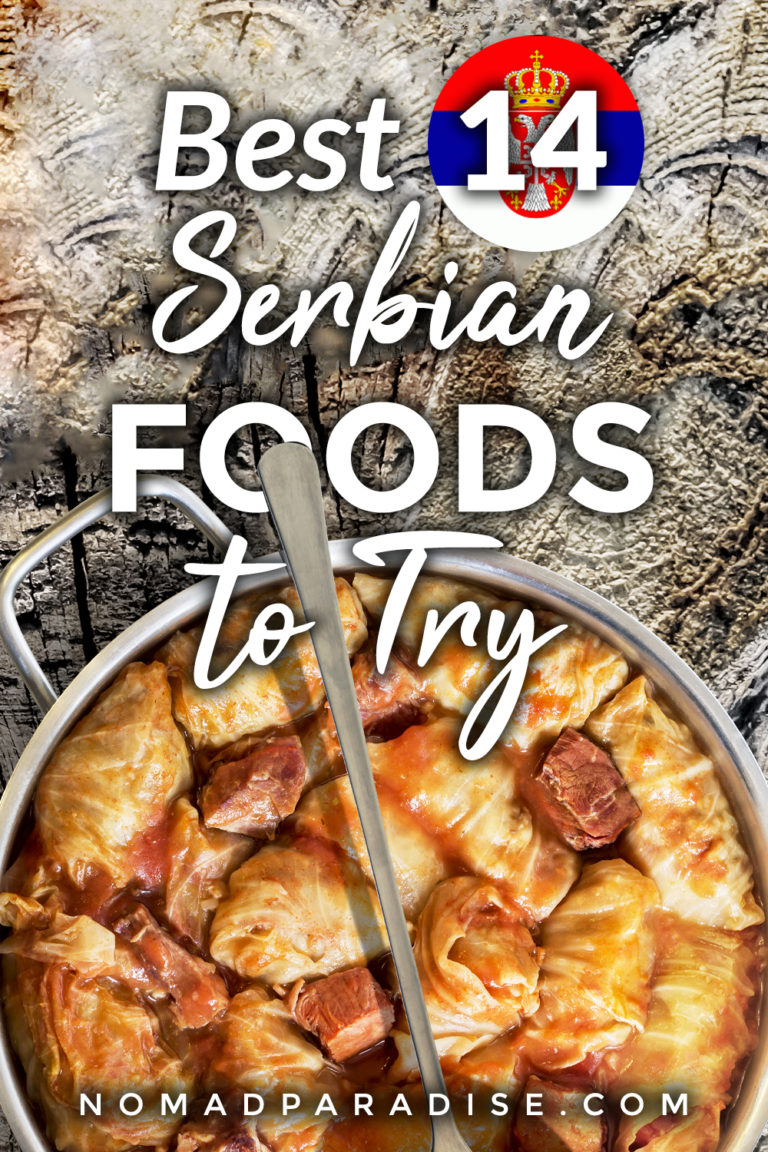 ---
Images licensed from Shutterstock