Some posts on this site contain affiliate links, meaning if you book or buy something through one of these links, we may earn an affiliate commission at no additional cost to you. Learn more
If you're curious to learn about Bulgarian food, eager to try the best Bulgarian food and dishes or want to cook your very own Bulgarian food, you've come to the right place. Courtesy of our local expert, Venelin, we've compiled our list of 15 traditional Bulgarian dishes you simply must try when you visit Bulgaria!
15 Traditional Bulgarian Food Recipes and Bulgarian Dishes to Try
1 – Shopska Salad (Шопска салата)
This is the most common and traditional salad in Bulgaria. The basic version combines cucumbers, tomatoes, and white cheese, but you can find versions with peppers and onion. It is simple and quite delicious. You take some fresh-cut vegetables, mix them, and add the famous Bulgarian white cheese on top: the secret ingredient.
You can find versions with grated or crushed cheese, but the texture of the cheese does not matter for the overall taste. Shopska salad is best served in combination with the traditional Bulgarian drink – rakia. The best version of the Shopska salad is made from homegrown vegetables grown in the gardens of Bulgarian villages, and homemade white cheese. These ingredients can be a little hard to find, but in almost every city you can find some local that sells them. Without a doubt, Shopska salad is one of the best Bulgarian foods you can try.
2 – Tarator (Таратор)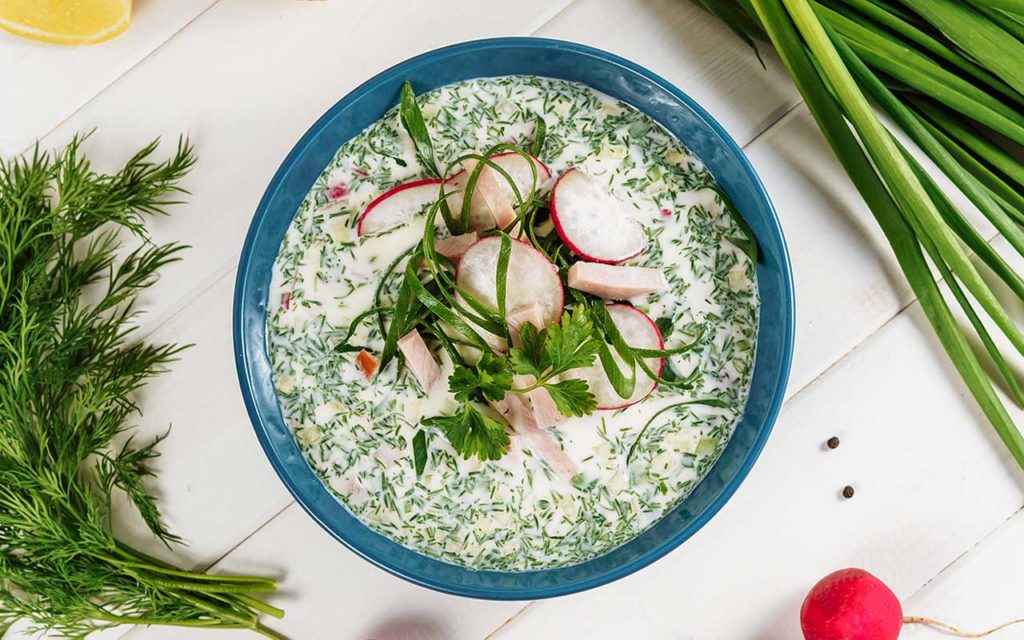 Tarator is plain and simple to make, yet has a flavorsome taste and is very refreshing for the summer. Simply, tarator is a cold cucumber soup. All you need to make it is cucumbers, yogurt, and water. The recipe is as simple as the ingredients – you cut the cucumbers on small pieces and put them in a bowl. After that, you put some salt on them (if you want).
You leave it for a minute, and then you mix them with the yogurt. Then you add the water, and your tarator is ready! There are different versions of this as well in different parts of Bulgaria – some people make it thick (with less water) and add crushed walnuts and finely chopped parsley.
3 – Bulgarian Yogurt – (Кисело мляко)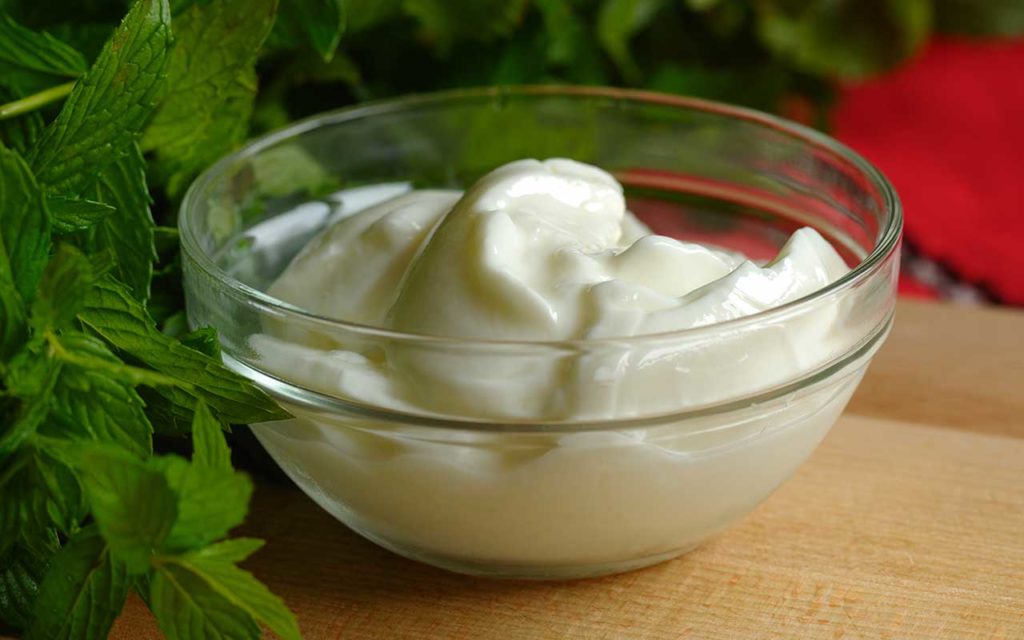 What makes Bulgarian yogurt unique is the bacteria Lactobacillus delbrueckii subspecies bulgaricus (often simply called Lactobacillus bulgaricus). It is unique, and it is only found in Bulgaria. The yogurt itself can be used as a mixture with some main dishes (see Musaka down below) and can be eaten as a dessert or as it is.
Its process dates back over 4000 years, and as a food, Bulgarians are proud to honor it and continue using the same process to this day. You can also mix the yogurt with jam for a fantastic dessert. Homemade Bulgarian yogurt is by far the tastiest. If you are visiting Bulgaria, you should ask locals to help you find a farmers market or a producer that is selling from their farm. One of the best Bulgarian foods that have a worldwide appeal.
4 – Musaka (Мусака)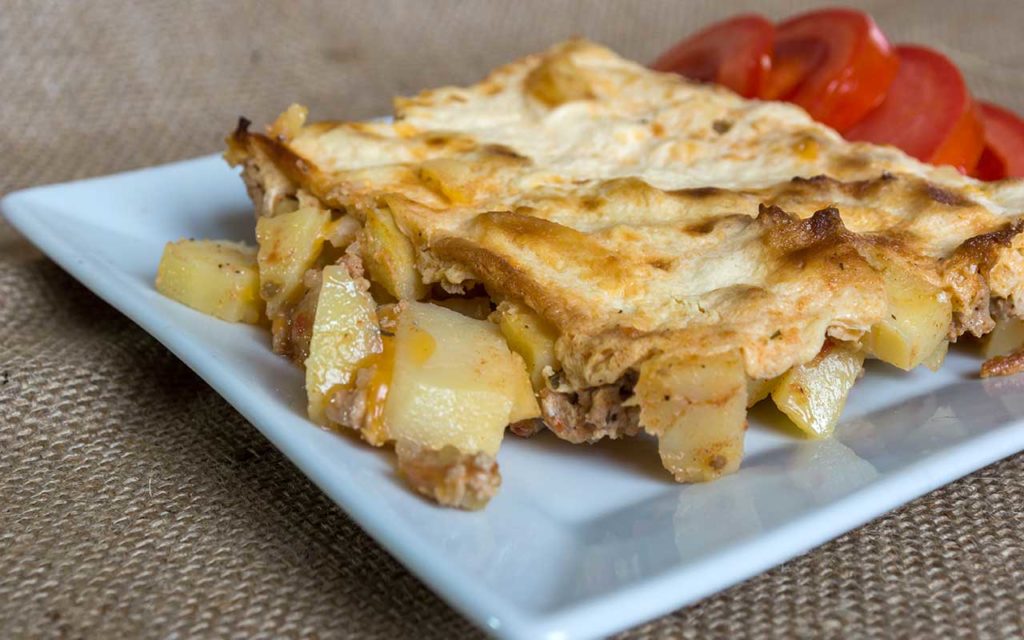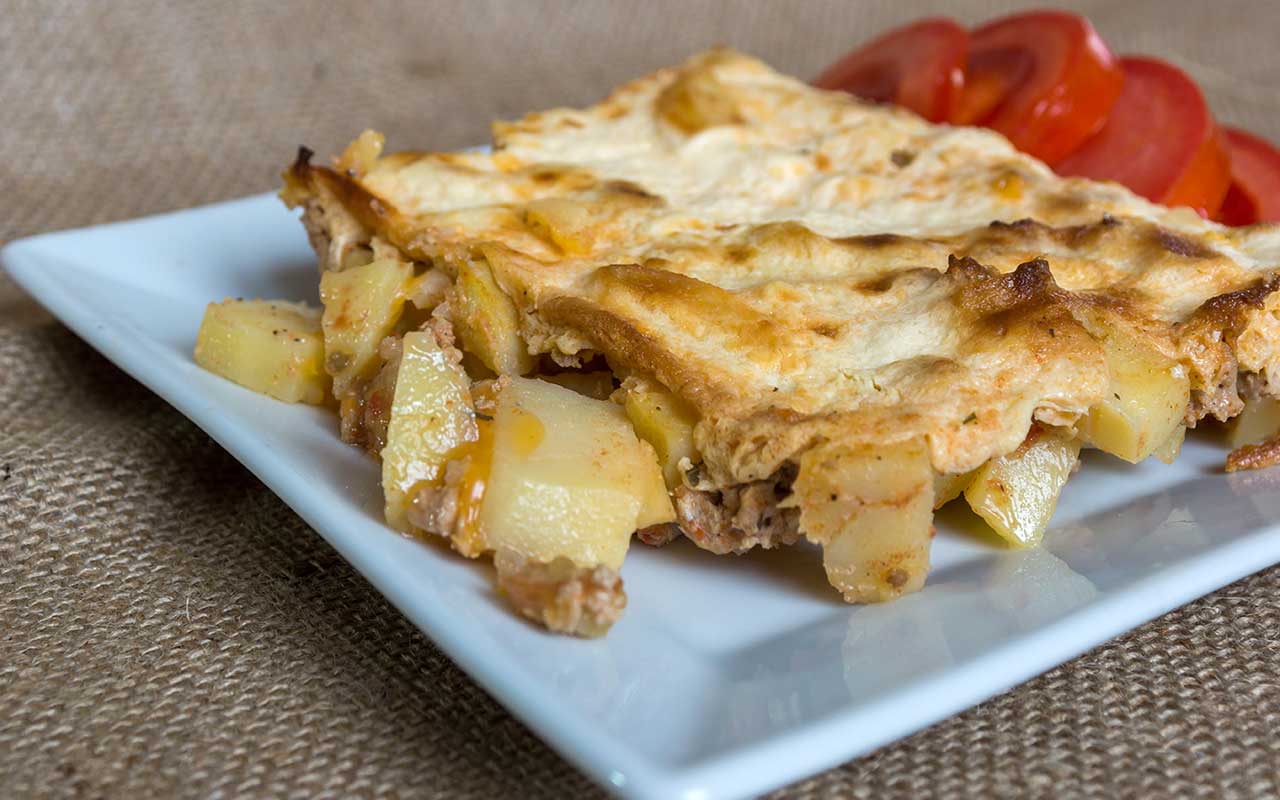 Musaka can be found across the Balkans, but every region puts a unique touch on the recipe that makes it special. The basic version that is most famous in Bulgaria consists of potatoes that are cut on small cubes, mixed with pork meat, and are then covered with a mixture of eggs and milk/yogurt. Then the meal is baked. It can be served with yogurt, which is mixed with the Musak before to start eating.
Many variations can be found in the different parts of the country – some people make it without meat and put eggplants or zucchini. Another variation is to have some fresh tomatoes sliced on rings on the bottom, then the potatoes and the pork meat are added. Then another layer of tomatoes and after that, the mixture of eggs and milk/yogurt on top is added. This is a great main course.
5 – Green Cheese from the Village of Cherni Vit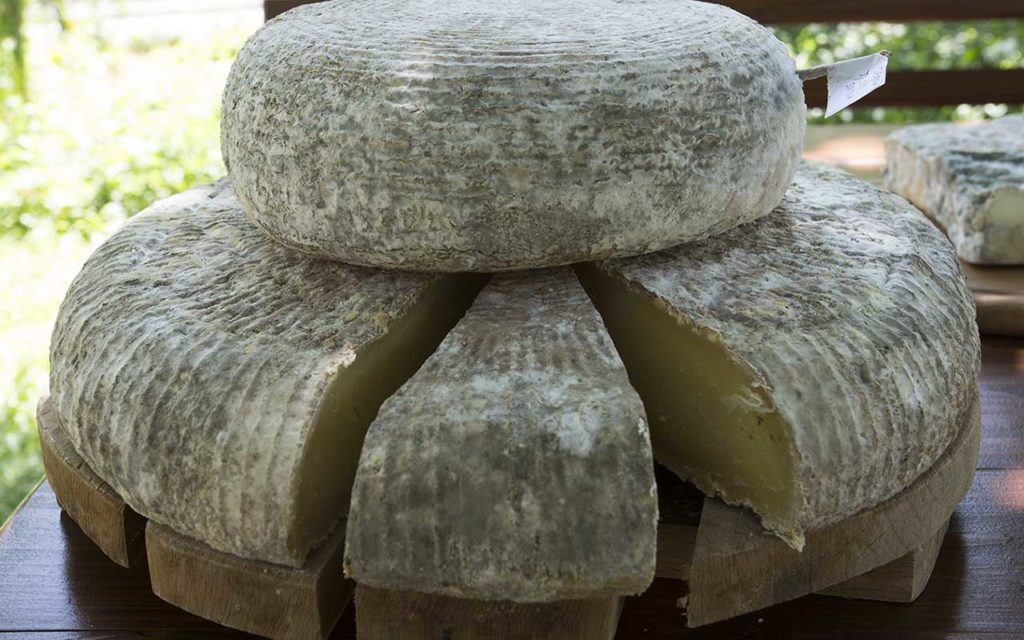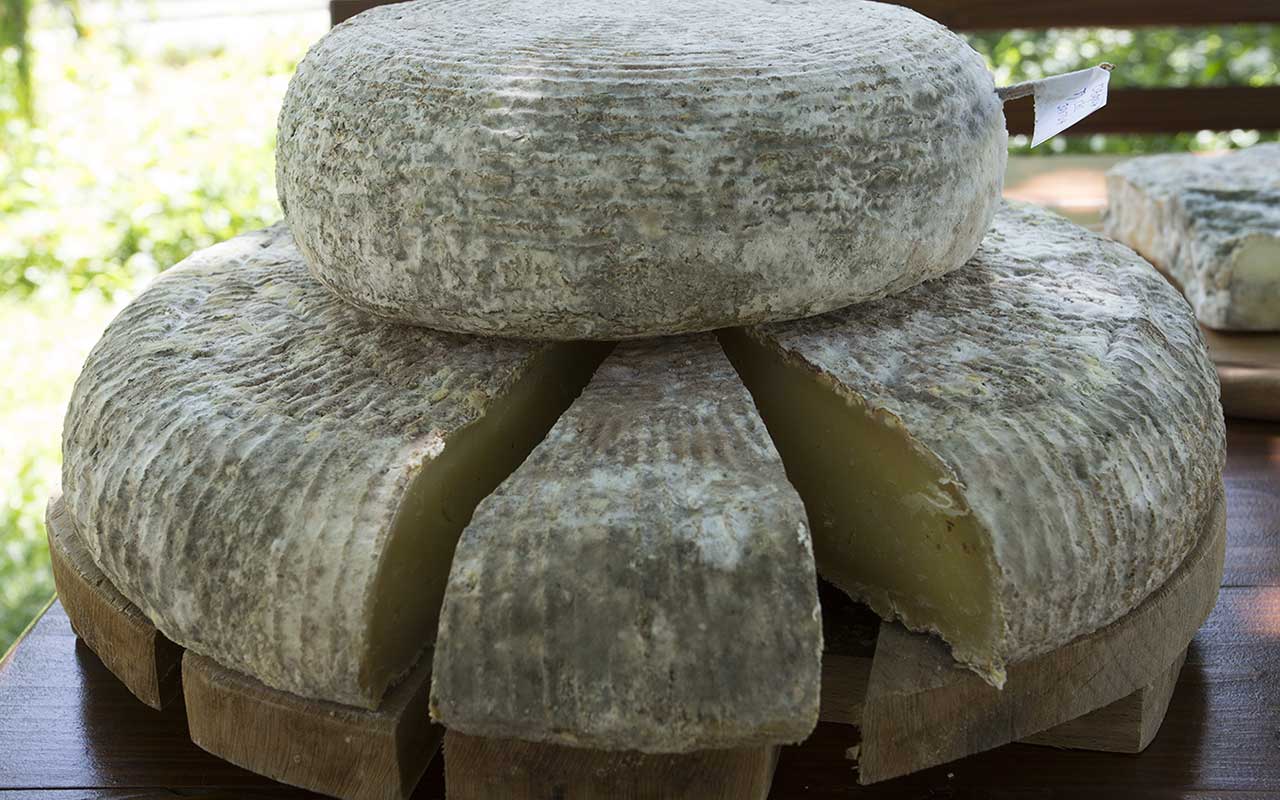 We've all heard about French blue cheese and what a delicacy it is. Do you know, however, that among the three moldy kinds of cheese in Europe, one comes from Bulgaria (the only one in the Balkans), and it is considered a delicacy and unique product by one of the biggest in the culinary industry – the Italian Carlo Petrini. He is the founder of the Slow Food movement and is considered one of the largest connoisseurs of traditional food in the world.
Green cheese is called this because of the color of the mold formed on it. It is a goat or sheep's cheese left to rest in a cave. The tradition of making green cheese in the Stara Planina Mountain has been around for centuries and has been about to disappear as the Italians from the movement discovered it and started promoting it at culinary exhibitions in their country. It is unique because the mold develops naturally without a shadow of a doubt, one of the best Bulgarian foods and right up there with rarity.
6 – Lyutenitsa (Лютеница)
Lyutenitsa is a relish is made from peppers and tomatoes. You can use it as a side to the main course, as a spread on the likes of bread, or just eat it on its own. Lyutenitsa is one of the most famous Bulgarian foods. Interestingly, it is sold in every supermarket and store, but almost every family in Bulgaria produce their own homemade lyutenitsa. A childhood favorite of many Bulgarians is to put some lyutenitsa on a slice of bread and then put crushed white cheese on top.
7 – Banitsa (Баница)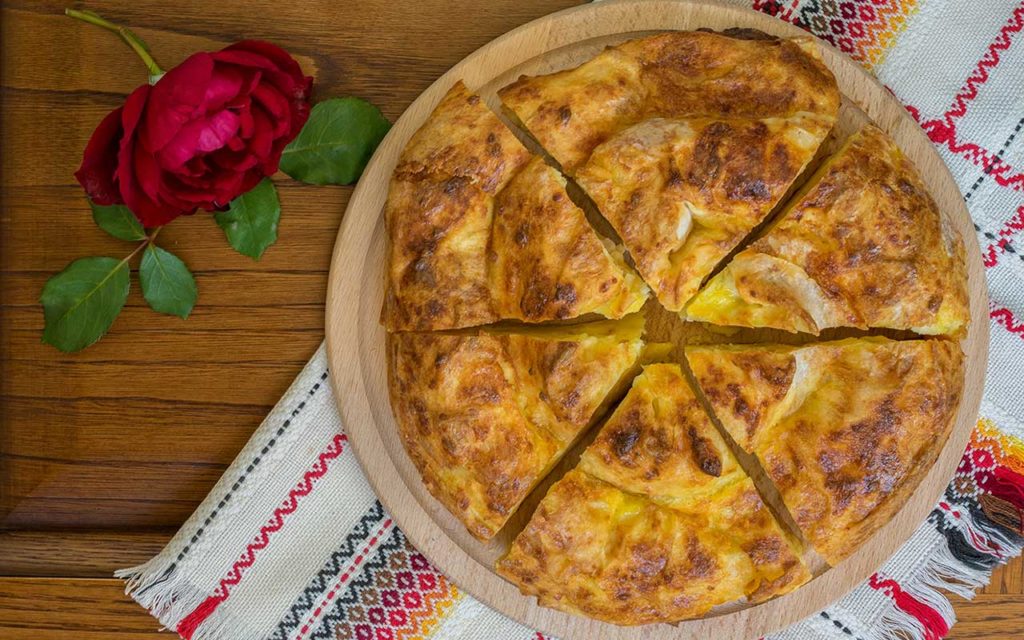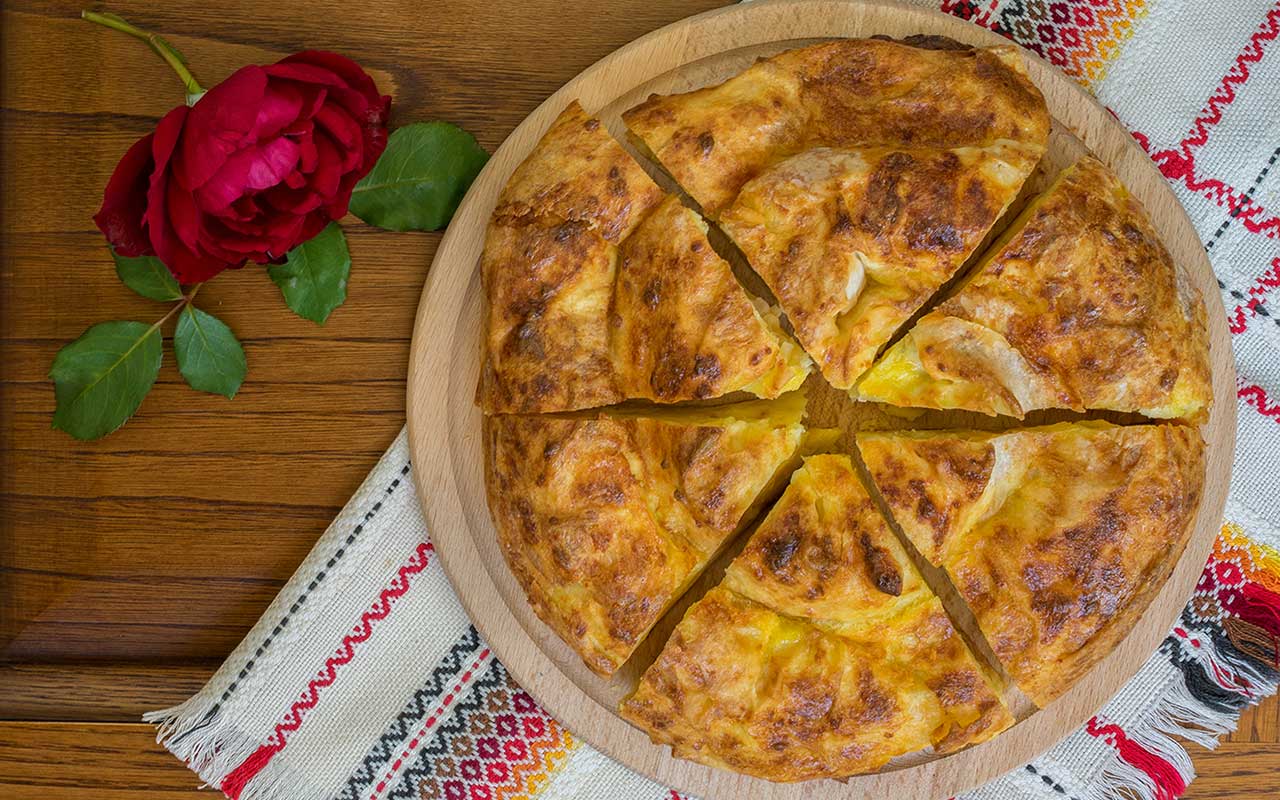 This is the most typical Bulgarian pastry and used for some of the best Bulgarian food. It can be found anywhere – cafes, bakeries, small shops in bus stations, restaurants. The basic and most common version of the banitsa is made with white feta cheese. Like anything else in Bulgaria, different versions of the banitsa can be found with onions, cabbage, spinach, mushrooms, or pumpkin. There are some versions of sweet banitsa as well that you can try. Banitza, as the pastry, is part of the traditional breakfast in Bulgaria. There is a tradition for Christmas and New Year's Eve to make banitsa with fortunes inside that are written on a piece of paper.
8 – Sarmi (Сарми)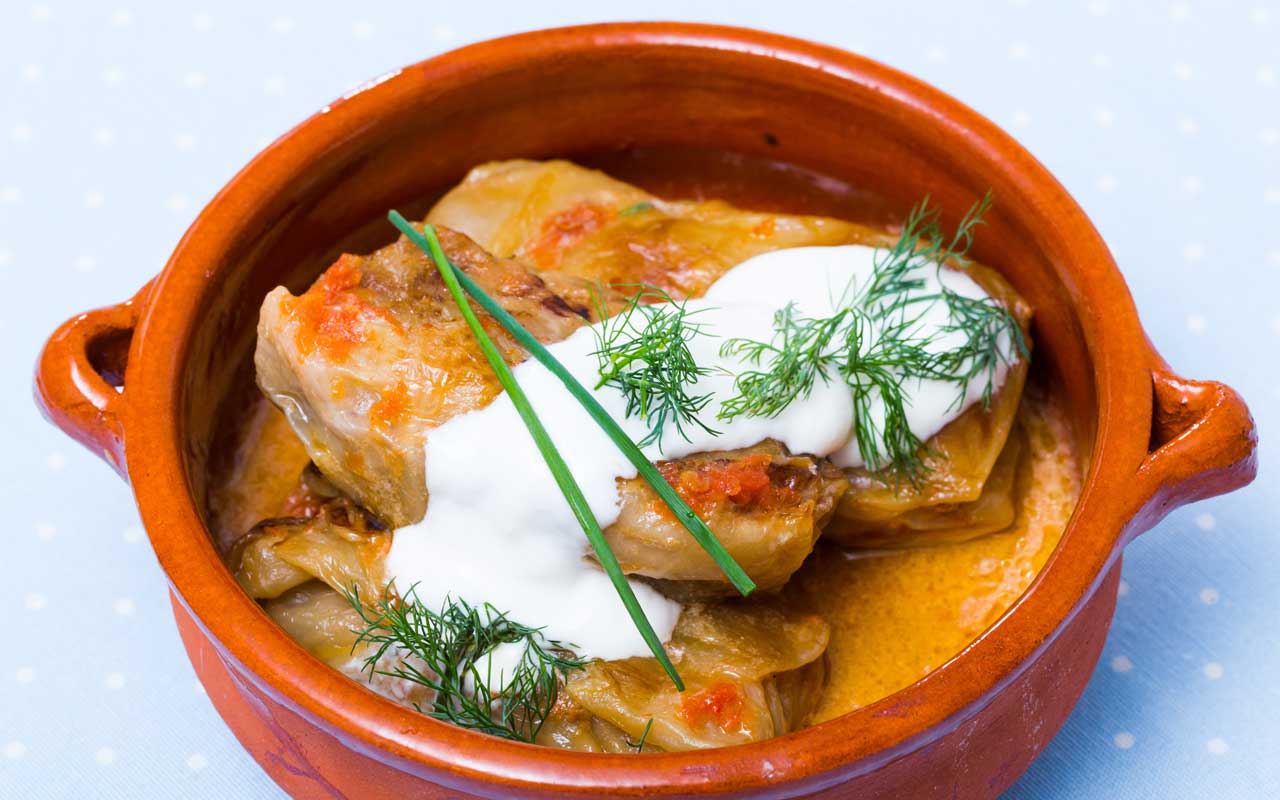 Sarmi is quite a common dish in Bulgarian cuisine. They can be made in different ways, but the main two kinds are made with the wrapping of either cabbage leaves or vine leaves. The stuffing might be made with rice and pork meat chopped into small pieces. The stuffing can also be made from different vegetables.
Usually, in the summer, sarmi with vine leaves are prepared, and in the wintertime (when the sauerkraut is ready), they are made with the cabbage leaves. Whatever option you choose, there can be no denying Sarmi is up there as one of the best Bulgarian foods. An important note – you can't use fresh cabbage for wrapping the sarmi; only ones from sauerkraut.
9 – Elena Pork Leg (Еленски бут)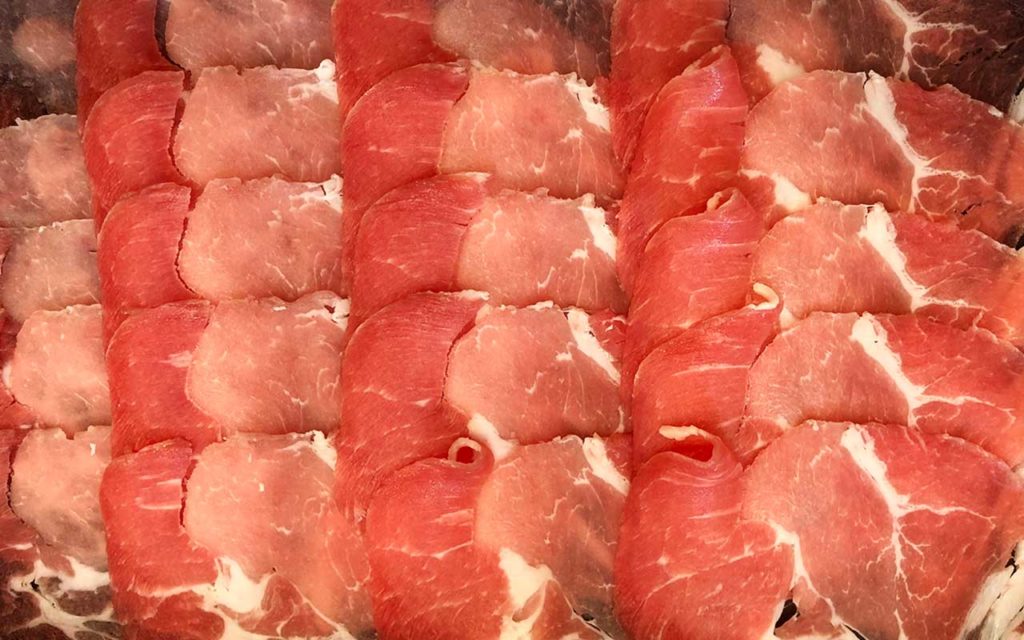 Elena Pork Leg is a meat delicacy prepared from pork meat. Its name comes from the fact that most suitable climatic characteristics for its preparation exist in the town of Elena and the Elena Balkan Mountain. It is prepared from salted, dried, and sometimes smoked pork leg. Both thighs and both shoulders are removed from the pig body and used to prepare ham that can be consumed during the summer.
The meat is salted and left in salt for 40-45 days. Then it's left to dry in a ventilated area. In the past, the citizens of Elena left it to "mature" in a room by the fireplace – this added a specific flavor of smoked meat to the delicacy. Once ready, the leg can be cut into smaller pieces and spiced with savory, pepper, etc. This way, the meat lasts longer and absorbs additional flavors. Such delicacies are prepared in other countries as well, but the Bulgarian Elena pork leg has attracted many admirers globally due to its great taste. It can be consumed as an appetizer for red wine or other drinks.
10 – Kapama (Капама)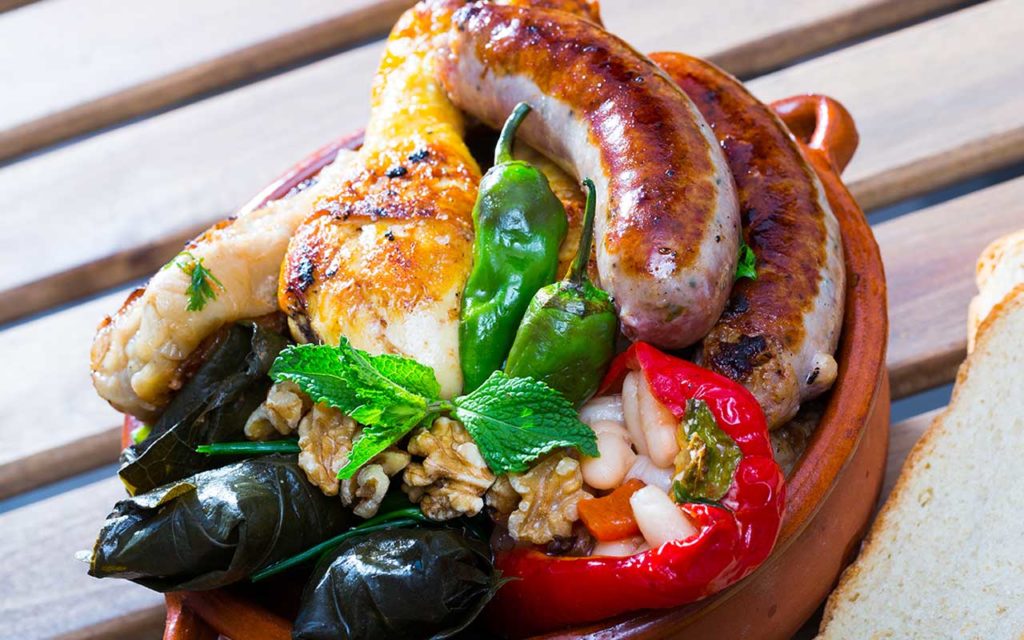 This dish can be found in almost every restaurant that serves traditional Bulgarian cuisine, but people usually prepare it around Christmas or New Year's eve at home. This meal is the perfect combination of different types of meat and spices.
It consists of sausages, chicken, veal, rabbit, and other types of meat that are cooked on a slow fire (4-5 hours) mixed with various spices such as red and black pepper and bay leaves. The meat is cooked in clay-sealed casserole. It is mainly prepared in the regions of Bansko and Razlog. It is one of the tourist attractions that make both resorts quite famous. When you go to Bansko or Razlog, you must try this dish.
11 – Patatnik (Пататник)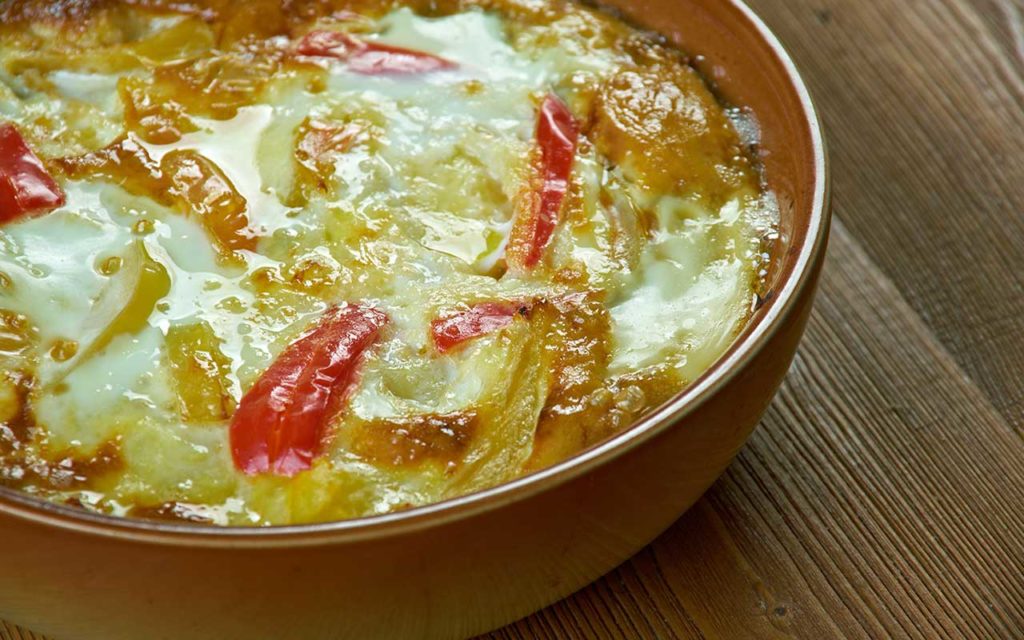 This typical meal can be found in the region of the Rodophe mountains. Since this is a mountain region, the products that are used in the preparation of the patatnik have always been there in large quantities, and you can be sure that they are locally produced. Like most meals in Bulgaria, it is a simple, but a delicious combination that can be made in various ways, such as with potatoes or white cheese. The origin of the name of the dish comes from the word "potato." The patatnik can be prepared in various ways – it can be baked, fried, or boiled.
Depending on which part of the region you have it, the spices too will differ. In some cases, meat can be added to the recipe. The classic way of making it is only with potatoes, white cheese, an egg, onions, salt, pepper, fresh mint, and fat. It has to be baked at a low temperature to make sure that it has a perfect crust.
12 – Kebapcheta (Кебапчета)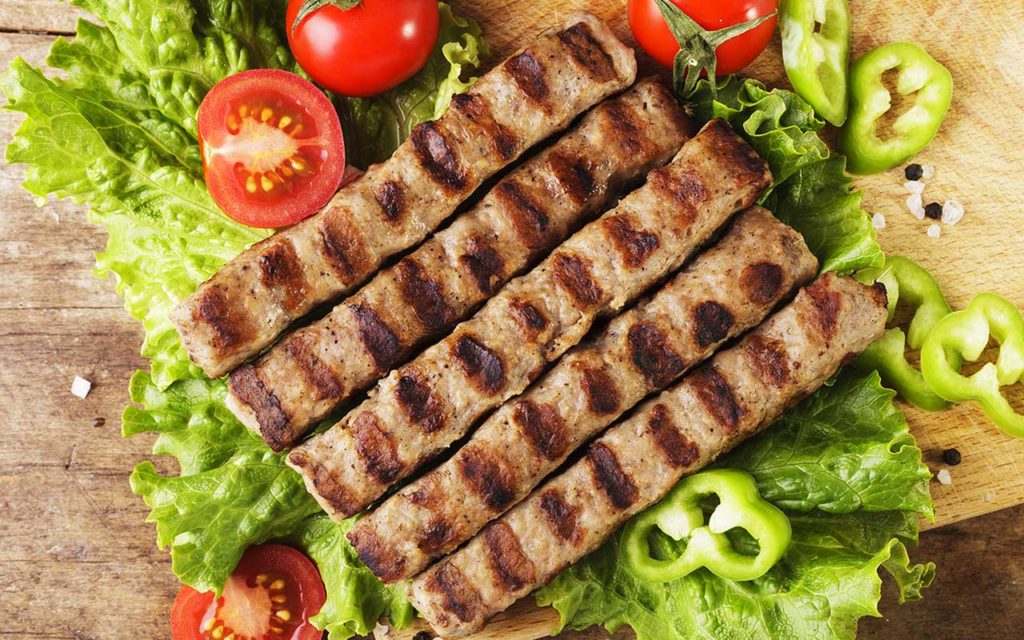 Kebapche is made from minced meat, spices, and herbs rolled into a long sausage-like roll. They are usually ordered in a dish with 3 of them in combination with a side that can be French fries, salad, or lyutenitsa. It is also best combined with a glass of beer on a hot summer day. A classic order in Bulgaria is "Three kebapcheta with sides" as a portion.
13 – Shkembe Chorba (Шкембе чорба)
This type of soup is recognized on a national level. Shkembe chorba is a traditional Bulgarian soup that is made from tripe. Tripe is the thick stomach lining found in various farm animals such as cattle or sheep. This recipe is prepared by boiling cut or minced tripe for several hours in with milk, oil, and paprika. The soup is served hot, and it is very common to put inside hot pepper (as a spice) and then add a mix of garlic and vinegar to give it the complete taste. Garlic bread is a common side order. Shkembe chorba is also the perfect cure for a hangover, according to some locals.
14 – Bob Chorba (bean soup) (боб чорба)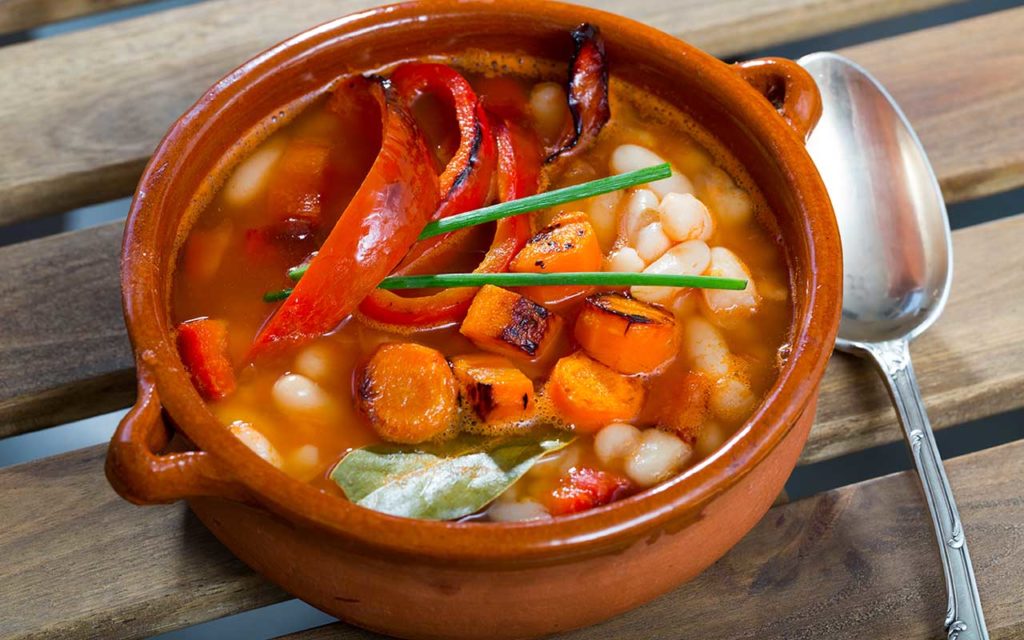 This bean soup is the traditional dish of Bulgarian cuisine, made from boiled beans, vegetables (carrots, tomatoes, peppers, onions), and spices. This recipe differs from region to region as some exclude some of the ingredients (such as carrots) or add other ingredients (such as paprika, potatoes, and meat). Bob chorba is a very popular recipe in Bulgaria due to both the availability of inexpensive beans (as Bulgaria is a large bean producer) and the nutritious nature of the dish.
The classic vegetarian bob chorba is traditionally served on Christmas Eve, but it is also often prepared throughout the rest of the year, especially during winter. A simple version of bob chorba is the monastery recipe, which consists of beans simmered in tomato and onion flavored with oregano. The meat-lover's version of bob chorba can be made by adding ham bone or pork meat to the beans and vegetables.
15 – Kavarma (Кавърма)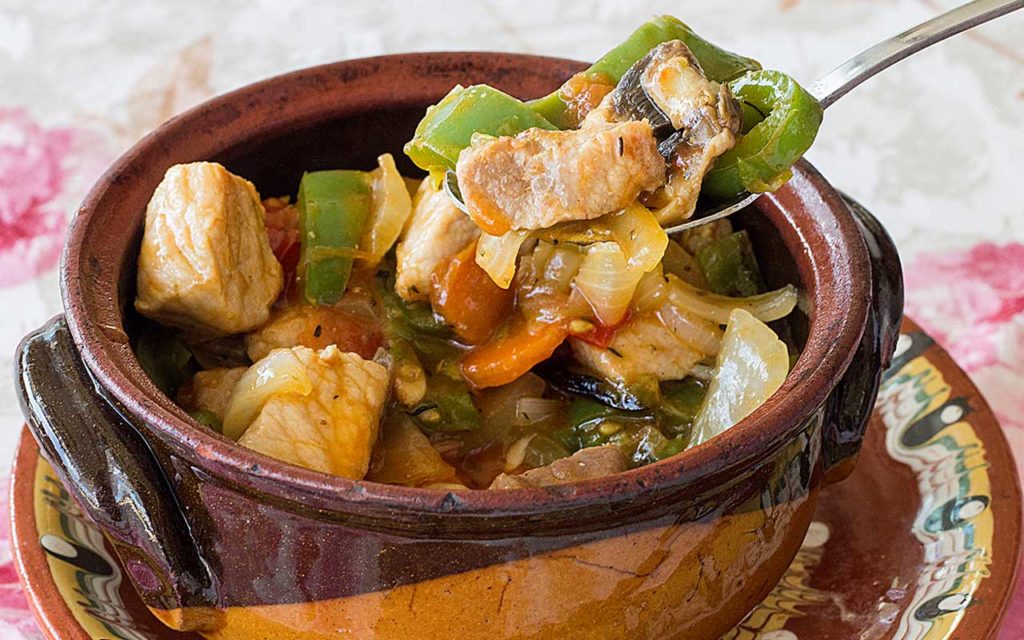 Lastly, Kavarma is one of the most delicious Bulgarian dishes, and one of the best Bulgarian foods. Like in many other cases, there are many versions of the recipes for the Kavarma. The traditional recipe uses pork, although some Bulgarian regions cook beef and chicken versions of Kapama. The dish is perfect for a cold winter evening.
For a truly authentic representation, it should be baked in the oven in traditional earthenware bowls. These bowls can be bought in most ethnic shops in Bulgaria. Although the ingredients may vary, the dish (besides meat) typically includes carrots, onions, leeks, mushrooms, peppers, tomatoes, and wine. If you browse through the internet, you can find a lot of recipes for different variations of the Kavarma, but it is best to try it in traditional Bulgarian restaurants.
Bulgarian Food Summary
There's no denying that Bulgarian food is not only some of the most unique and delicious in the Balkans but also across Europe and the world. If you're visiting Bulgaria, be sure to visit locally run restaurants, or visit farms, to try this delicious cuisine for yourself. With some of these recipes dating back centuries, its wonderful that Bulgarians are keeping the heart and soul of their delightful cuisine alive for a whole new generation of foodies and travelers to enjoy.
Save and Pin for Later
Planning a trip to Bulgaria and want to keep this article of the best Bulgarian foods in a place you'll remember? Save this article and pin it to Pinterest for later!
You Might Also Want to Read
Macedonian Food – 15 Traditional Dishes as Recommended by a Local
Moldovan Food – 14 Best Traditional Dishes as Recommended by a Local
Bosnian Food – 11 Best Traditional Bosnian Dishes Recommended by a Local
---
Images licensed from Shutterstock