This post may contain affiliate links, meaning if you book or buy something through one of these links, we may earn an affiliate commission at no additional cost to you. Learn more
Found in cuisines from north to south, east to west, our dip recipes from around the world can ensure there's something utterly delicious for your guests to dip bread in, spread on cheese and meat, or just gorge on by the spoonful at your next spread.
Dips from Around the World (with Recipes)
As we continue to add recipes from all over the world to Nomad Paradise, no doubt more thick and luscious dips, both sweet and savory, will find a little home on our site.
Hence, be sure to keep this article bookmarked and come back every few months to see what new and exciting dishes we've added.
Let's get up and running with a rich, creamy dip from Greek cuisine, which is one of the country's favorite dishes on any mezze platter.
Tirokafteri is a dip of tangy feta cheese, or sometimes other soft, white cheeses, blended with one or both of chili and bell pepper, for a dose of heat and a little sweetness, Greek yogurt, for the dip's thick, creamy consistency, and herbal notes from olive oil.
Other ingredients, such as garlic, are commonly added, and tirokafteri, with its mature, salty, tangy flavor, is ideal for spreading on spicy grilled meats, roasted meat and vegetable kebabs, or simply as a dip for some freshly baked pita bread.
Read more: Tirokafteri (Feta Dip) Recipe
Some glorious sweet and savory flavors come together in baba ganoush, a popular dip and bedrock meze dish in Lebanon and other Levantine cuisines, such as Persian cuisine and Israeli cuisine.
The key ingredient of baba ganoush is eggplant, which traditionally is roasted over an open flame, giving the dish its wonderful smoky flavor, laced with sweet notes.
Once roasted, the flesh of the eggplant is scooped out and mixed with earthy tahini, zesty lemon juice, and herby extra-virgin olive oil, with additional ingredients and seasonings such as garlic and salt.
Baba ganoush's lusciously thick and fibrous texture makes it perfect for scooping up with some fresh pita bread or flatbread slices or dipping in with pickles and meat kebabs.
Read more: Baba Ganoush with Tahini Recipe
With origins deeply rooted in Syrian cuisine, and huge prominence in cuisines throughout Levant, the Middle East, and the Eastern Mediterranean, muhammara promises to bring a true firework of flavors to your spread, unlike any other dish.
This lusciously thick spread not only brings decadence to the table with its deep red color, but also a luxuriously unique flavor profile, combining an array of ground and/or roasted ingredients, including walnuts, pomegranate molasses, red peppers, breadcrumbs, and garlic.
The result is a dip with a rich flavor profile, bringing sweet, nutty, herby, and spicy notes to the palate, with a creamy, slightly speckled consistency because of all the ground-up ingredients.
Muhammara is a must-have for any Middle Eastern mezze and can be enjoyed as a dip for plenty of breads or used as a side for grilled meats, roasted vegetables, and salads.
Read more: Muhammara (Roasted Red Pepper Dip) Recipe
While very much a labor of love due to the time needed to strain it, when done right, a thick dollop of velvety soft labneh on a warm slice of pita is just absolute bliss, no question about it.
This two-ingredient dip of plain yogurt and salt is a staple of Lebanese cuisine, Turkish cuisine, and lots of other cuisines across the Mediterranean and the Middle East.
Tangy and wonderfully creamy, enjoy it with fresh bread, juicy melon, or as a sandwich spread with toppings such as olives, nuts, roasted vegetables, and cured meats. Making homemade labneh is worth the wait, I can assure you!
Read more: Creamy Labneh Recipe
Especially popular in North Macedonian and Serbian cuisine, ajvar is a luscious, fibrous relish or spread that is enjoyed across the Balkans and the Mediterranean, varying in sweetness and heat depending on the region.
Roasted eggplant and red bell peppers bring the prominent flavors to ajvar. Hence, it is often sweet, mild, and somewhat buttery. Additional ingredients such as oil, garlic, white wine vinegar, and sometimes chili, add levels of earthiness, spice, and savory notes, depending on the quantities.
Ajvar can be enjoyed in so many ways. It's often served with both fresh and hard cheeses, as a relish or sauce for both grilled and cured meats, or to add some sweetness to salads, sandwiches, and other dishes.
Read more: Ajvar (Roasted Pepper and Eggplant Relish) Recipe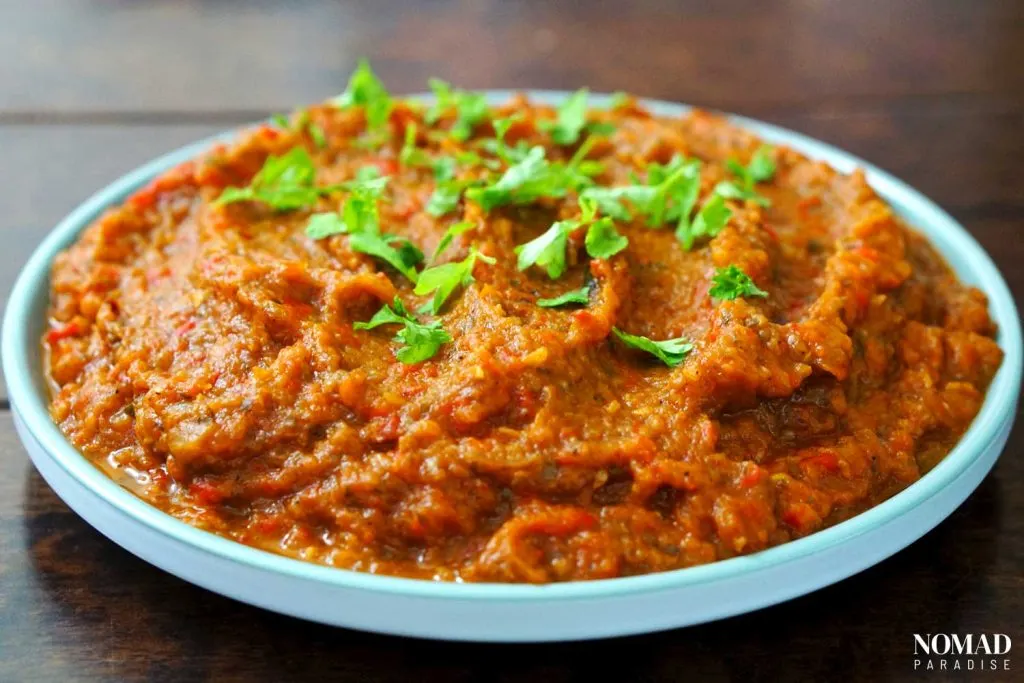 Very much a cousin of ajvar, while both are similar and use pepper and eggplant, the addition of tomatoes and sometimes other vegetables, like carrots, make lutenitsa more of a vegetable chutney.
Hugely popular in Balkan cuisines like Bulgarian, North Macedonian, and Serbian, lutenitsa brings refreshingly sweet, tart, earthy, and herby notes to the fold, with a smidge of heat, and can be smoother or chunkier, depending on country, region, and preference.
Slather it on crusty fresh bread, spread it on sandwiches, spoon it on spicy kebabs, or dab it on slices of cheese or cured meat.
Read more: Lutenitsa Recipe
A darling dish of the French region of Provence, tapenade is a delightful fusion of some of the classic Mediterranean flavors.
Consisting of chopped black olives, briny capers and/or anchovies, olive oil, and other flavors like zesty lemon juice and herby oregano, tapenade is traditionally a French hors d'œuvre, or appetizer, enjoyed in a variety of ways.
Especially popular in French cuisine and Italian cuisine, but found throughout Europe, tapenade and sliced crusty French bread, fresh from the bakery, go together like hand and glove.
However, don't be afraid to spread this moist, briney, salty, and herby condiment on seafood or steak, use it as a stuffing for chicken dishes, or simply dollop it on greens and salads to add plenty of zing.
Read more: Tapenade Recipe
Whether you're hosting a Greek night, or planning to fire up the grill on a hot summer's day, our tzatziki recipe can be the chilled, creamy condiment to balance the heat and spice of all that succulent grilled meat.
The luscious consistency and slight sourness of Greek yogurt, the crispness and slight crunch of cucumber, and the refreshing herbiness from dill and other ingredients all make for a dip that is an absolute must-have on any Greek platter or mezze.
Aside from grilled meat, your homemade tzatziki can also be lathered inside wraps and gyros, on meat and vegetable kebabs, and even be used as a dressing for light, crisp green, or Mediterranean-themed salads.
Read more: Creamy Greek Tzatziki Recipe
Synonymous with the cuisine of Kentucky, Benedictine spread is one of the more modern entries into our dip rundown, and brings with it unapologetic amounts of creaminess, with earthy, herby, and peppery notes, and a smidge of heat for good measure.
Classic Benedictine spread from the early 1900s consisted of cream cheese, onion, and cucumber juice, and a little cayenne pepper, heavily seasoned with salt and colored with green food coloring, arguably the key reason this spread became so iconic.
Our recipe is somewhat of a more modern take on this Kentucky staple and can be enjoyed as a dip with crackers, breadsticks, and raw vegetables, or as a spread for cucumber and crispy bacon sandwiches.
Read more: Creamy Kentucky Benedictine Spread Recipe
A dish that really needs no introduction, we couldn't have a worldwide roundup of dips and spreads without including one of the classic staples of Mexican cuisine.
With our recipe, you'll get gloriously thick and chunky guacamole with sweet, earthy, herby, and fresh flavors, perfect for serving with a big bowl or bag of tortilla chips.
If you bring this to the table, your guests will find any excuse to dollop it onto their plates!
Read more: Guacamole Recipe
Argentinian and Uruguayan chimichurri is an essential sauce at any asado, and if you're planning to put juicy steaks, ribs, sausages, and plenty of other meats on the grill, our chimichurri recipe can help you take the flavors to a whole new level.
Chimichurri can either be used as a sauce to spoon onto grilled meats, or as a marinade to soak and coat them in beforehand.
Always consisting of finely chopped parsley, and additions such as olive or sunflower oil, red wine vinegar, garlic, and chili, this uncooked sauce packs some bold and refreshing flavor.
Chimichurri is herby and fresh, with acidic and earthy undertones, laced with a little heat from the chili, while its pesto-like consistency makes it easy to spread, spoon, and drizzle onto a manor of different meats and dishes.
Read more: Chimichurri Recipe
Eggplant has appeared a few times in our list, and the sweet and tender flavors of this vegetable, when roasted, feature heavily in this dish, a humble and popular Romanian eggplant spread that's found throughout Eastern Europe, including Moldova and Hungary.
Although the name "salata de vinete" translates to eggplant salad, this is actually a dip or spread rather than a salad. Our recipe keeps things fairly simple, mixing smoky roasted eggplant with the sweetness of onion, zest of lemon juice, heat of mustard, and earthy sweetness of oil.
Traditionally, this dish has a chunkier texture, but we opted to blend all our ingredients together for a smoother, modern take on this spread.
Flavorful enough to eat on its own, this recipe can be enjoyed in many ways, including with fresh bread, chopped tomatoes, sliced cheese, and cured and grilled meats.
Read more: Eggplant "Salad" Spread/Dip Recipe
Summary
Dips and spreads are often the unsung heroes of so many cuisines. They elevate flavors and bring different dishes together, yet sit on the side, out of the limelight.
Without tzatziki, the Greek platter is a meat feast that is too heavy, while Mexican cuisine simply wouldn't be the same without a generous dollop of guacamole on tacos, burritos, and with tortilla chips.
Our dip recipes can bring so much more than flavor to your next dinner party, allowing your guests to sample new cuisines, culinary traditions, and discover new combinations they would have never thought of before.
Be they sweet, chunky, briny, creamy, or everything in between, dips create integral connections between mains, appetizers, and other dishes. Without them, many of our most beloved foods simply wouldn't taste and feel the same.
You Might Also Like to Read
Save and Pin for Later
Planning a dinner party or celebration? Keep our dips from around the world roundup for safekeeping by saving it to one of your party planning boards.