This post may contain affiliate links, meaning if you book or buy something through one of these links, we may earn an affiliate commission at no additional cost to you. Learn more
Dive in and discover a world of aromatic awe and fabulous flavor with these Persian foods, showcasing some of the most popular and important dishes of Iranian cuisine.
Persian food finds itself at a culinary crossroads of various neighboring cuisines, from Greek to Levantine, Asian to North European, making for some truly colorful, creative, and mind-blowing dishes.
Enhanced by a wide range of fresh herbs, sweet fruits, and fragrant spices, it isn't surprising that Iranian food has become hugely popular across the globe, especially in vast cities such as London and San Francisco.
So join me for a food tour that is primed to stimulate all the senses as a local guides us through 21 delicious and iconic dishes to try.
Persian Foods
Persian Appetizers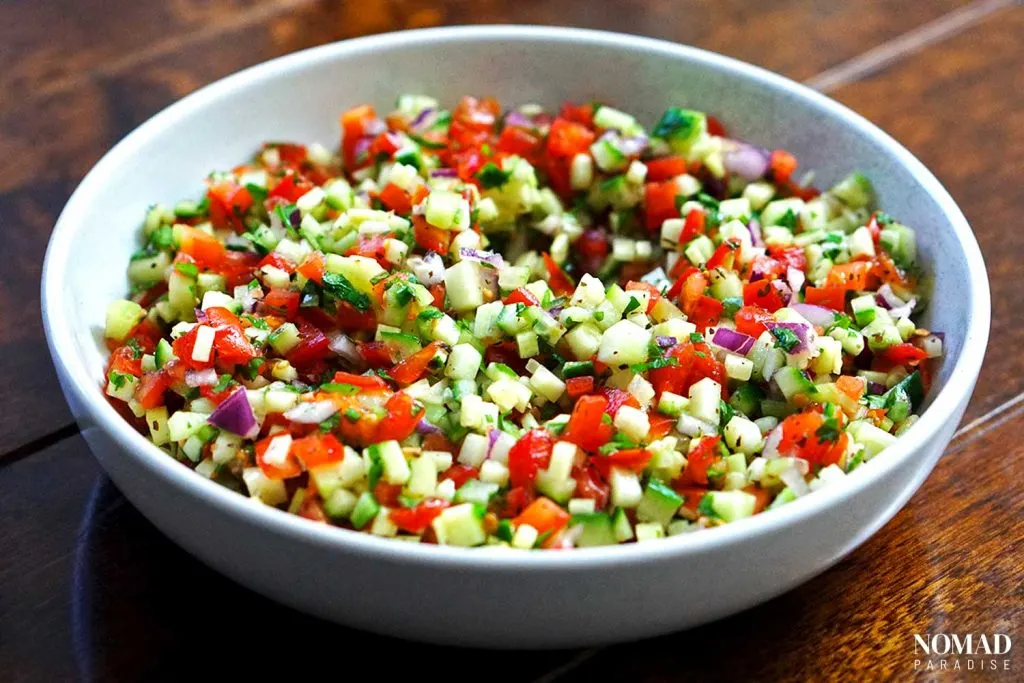 Salad Shirazi is originally from the city of Shiraz. Nowadays, however, it is popular everywhere in Iran and even in some other countries. The salad consists of onion, tomato, and cucumber, all finely diced with the addition of lemon or sour grape juice, olive oil, salt, and some local herb powders.
Usually, it is served in small bowls, and it has a tasty sour juice mixed with olive oil and salt. Although a salad, it works great as an appetizer, too.
Read more: Shirazi Salad Recipe
2 – Zeytun Parvardeh (Persian Marinated Olives)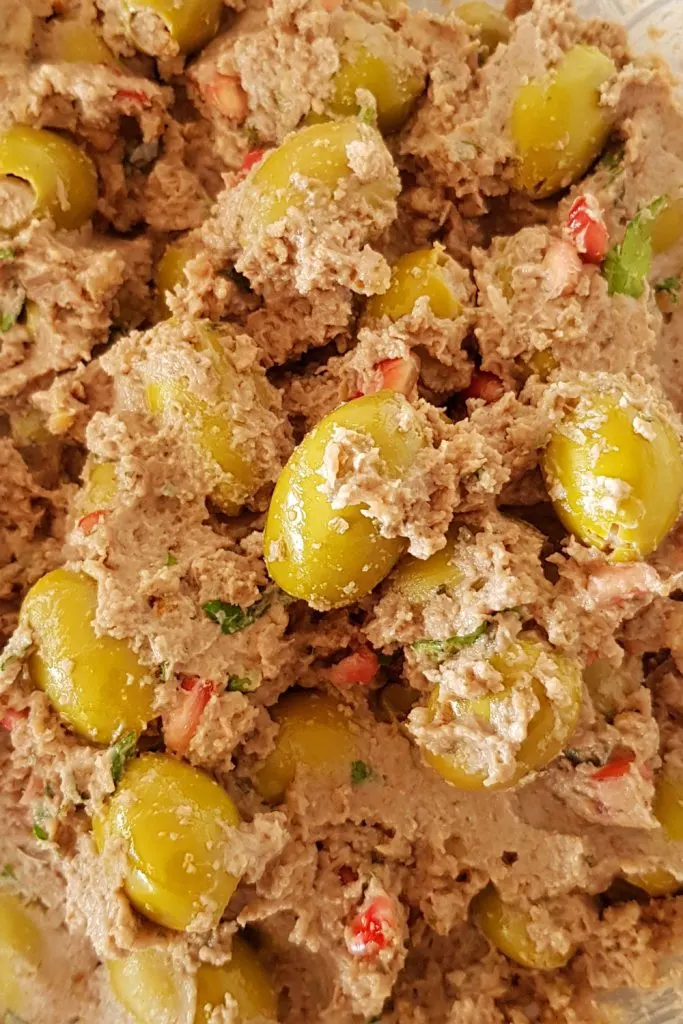 Zeytun or Zeytoon Parvardeh is a dish of well-marinated (pitted) olives in sour pomegranate paste, walnut powder, and crushed garlic. Some local herb powders are also added based on the liking and taste. The olives are pretty tasty, laced with sour undertones, and definitely make for a rich and juicy appetizer.
3 – Mast Moosir (Yogurt Dip)
'Mast' means yogurt, and is the strained, thicker version of yogurt used in Mast Moosir, which is a dish consisting of yogurt and grated allium stipitatum, known as 'moosir' in Persian.
The dish is served in small bowls and sometimes with a dried herb powder topping like mint. This tasty appetizer has a sour, spicy taste and is served with a variety of local Persian bread.
4 – Mast Khiar (Yogurt with Cucumber)
The main ingredients of Mast Khiar are classic yogurt with grated cucumber, dried mint powder, and sometimes garlic. Also, the use of other different dried herb powders like Damask rose, thyme, and dill is popular depending on the region.
The dish has a satisfyingly sour taste, not so sour as Mast Moosir, while the addition of the cucumber and mint has a cooling effect on your mouth.
Although available all year round, the dish is far more popular in Iran during summer. Like Mast Moosir, it is served in small bowls with a variety of local Persian bread.
Persian Main Dishes
5 – Ghormeh Sabzi (Persian Herb Stew)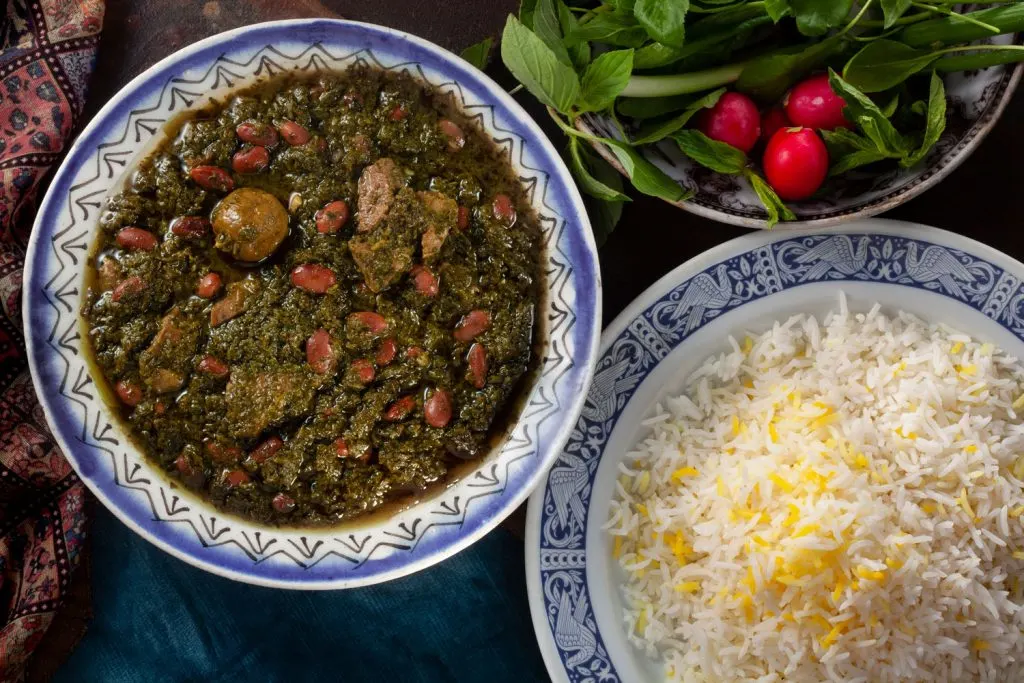 This is a super popular and famous Persian stew loved by every Iranian. A good Ghormeh Sabzi often needs one to three hours just to get everything in order and another two to six hours of cooking to be ready, although it's always worth the wait!
The main ingredients of Ghormeh Sabzi are the fried mix of Ghormeh herbs, meat, fried onion, red beans, dried lemon, salt, and spices. A good-looking, well-cooked Ghormeh Sabzi will have a generous amount of oil floating on top of the broth when served.
It is a tasty stew renowned for its aroma, influenced heavily by the smell and taste of the herbs, meat, and beans, plus the sourness of soaked and cooked lemons used in the dish.
Most Persian stews are served with rice, and Ghormeh Sabzi is no exception. A decent side of rice with a great Tahdig (pan-fried crispy rice) can take the eating experience to the next level. Just pour that juicy, tasty stew on a piece of crispy Tahdig, and you are in for a yummy treat!
6 – Gheimeh/Qeimeh (Persian Stew)
Another popular and well-loved Persian stew is Gheimeh. On average, making this stew requires between two to six hours. However, when you taste the finished stew, you will understand it's worth the wait, as with many Persian dishes!
Gheimeh is a dish of chopped meat, split peas, tomato paste, fried onion, dried lemon salt, and spices. Gheimeh stew has a few variants, with the most common stews being Gheimeh Sibzamini (with French fries) and Gheimeh Bademjan (with fried eggplants).
A good Gheimeh will have tender meat, while the soup with be thick and creamy. The aroma of all the strong spices like cinnamon and black pepper, with the fried onion and tomato paste, is very much a dominant one.
This stew is served with rice while pouring some Gheimeh on top of Tahdig truly is a combination like no other. Close your eyes and truly savor that texture and flavor!
7 – Abgoosht (Meat Broth)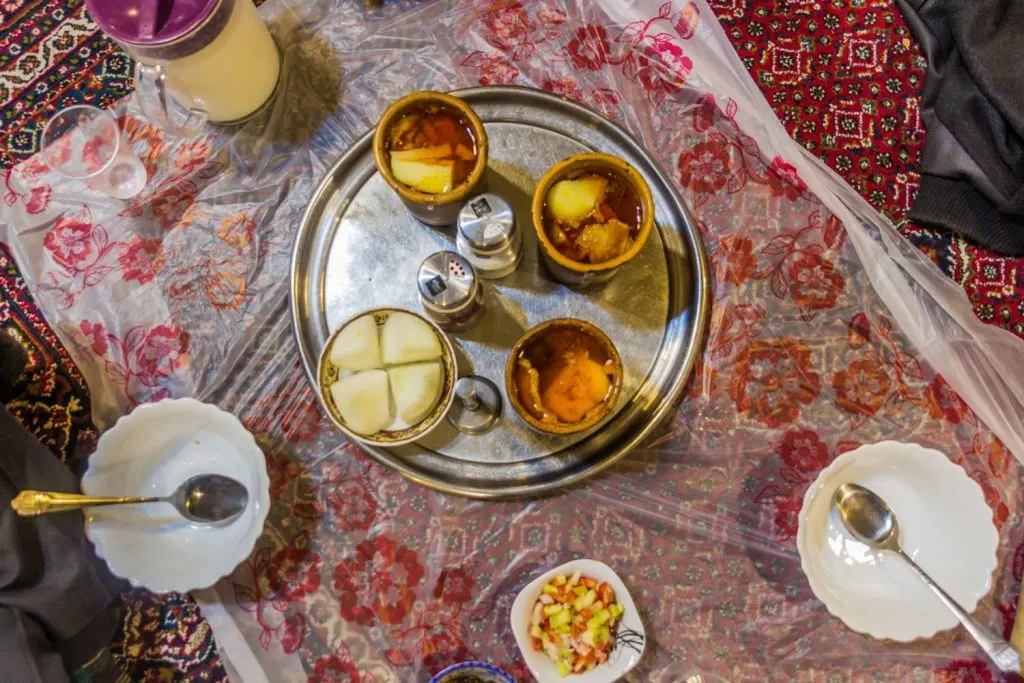 Abgoosht, also known as Dizi, is an ancient Persian stew made of lamb meat and fat, potato, tomato, onion, chickpeas, dried lemon, salt, and spices.
This stew was originally made in stone pots, and even to this day, there are places in Iran that stay true to the original cooking technique and cook Dizi in stoneware. Hence, the dish will be referred to as Dizi Sangi, as 'sangi' is Persian for stone.
This stew requires lengthy preparation and cooking time. In fact, it is common for the stew to be slow-cooked for over twelve hours before being deemed to be ready.
Once cooked for this long, the lamb meat will become so tender, while a thick layer of oil and meat fat will form on top of the broth. The taste of umami and spices with the meat juices truly is out of this world!
Abgoosht is usually served with a traditional Iranian bread known as Sangak (named as such because it is made on hot stones). Other popular dishes to eat with Abgoosht include a side of raw onions and fresh raw herbs, known as Sabzi Khordan.
8 – Ash Reshteh/Aush-e-reshteh (Persian Noodle and Bean Soup)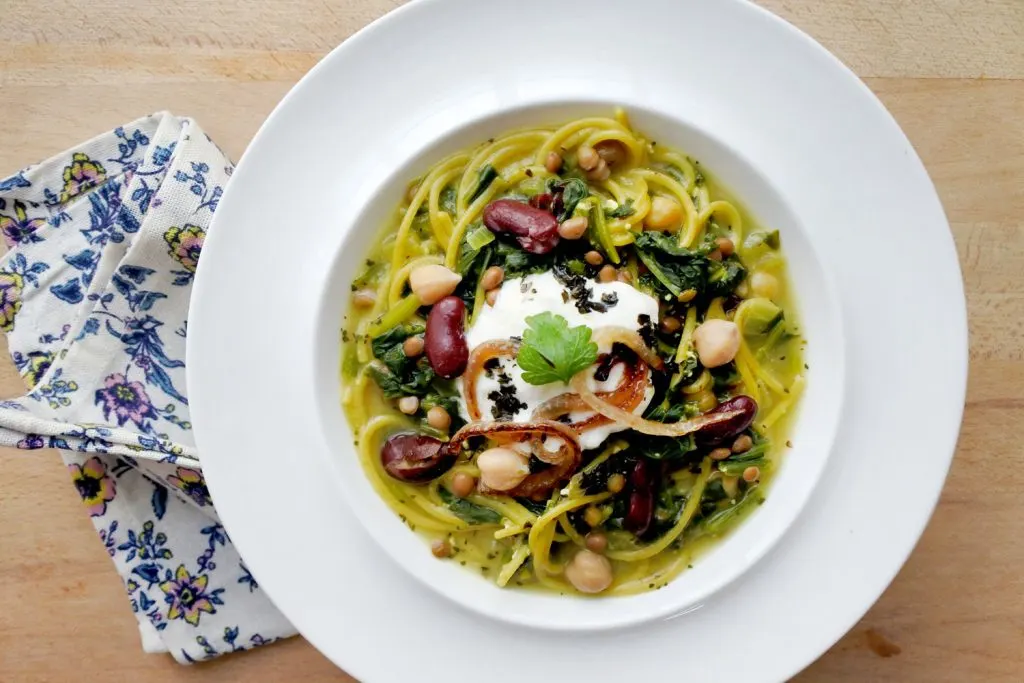 Ash Reshteh is a famous Persian soup-like dish made with noodles, lentils, chickpeas, different types of beans, and a unique mix of herbs.
After all these ingredients are cooked together, Kashk and a mix of fried onion and garlic with some powders will add for the top decoration and additional flavor. Kashk is a dairy product that is made from dried yogurt, known for its sour taste.
This thick and tasty soup is served in a medium-sized bowl and is a very popular dish in Iran.
9 – Kabab Koobideh (Kebab)
Persian Kabab or Kebab is made from ground meat, onion, spices, commonly sumac, and salt. Once mixed, a generous handful of the mixture is packed around a sikh (skewer) and grilled over a fire (usually coal fire).
Well-known all over the world, the kebab's grilled, smoky aroma is iconic in Iran. It can be served with rice or bread, a side of grilled tomatoes and sliced peppers, raw onions, and fresh raw herbs.
10 – Havij Polo (Rice with Carrot and Meat)
Literally meaning 'carrot' and 'cooked rice' in Persian, Havij Polo is a simple yet wholesome dish of the formerly mentioned ingredients with meat or chicken, sugar, saffron, and various spices.
The dish is relatively sweet, courtesy of the carrot and sugar, while the aromas of saffron and cinnamon are very prolific. As it is rice-based, you can also cook it as you would Tahdig, for a crispy, caramelized version of the dish with a rich, meaty, and sweet flavor profile.
11 – Khoresh Fesenjan (Pomegranate and Meat Stew)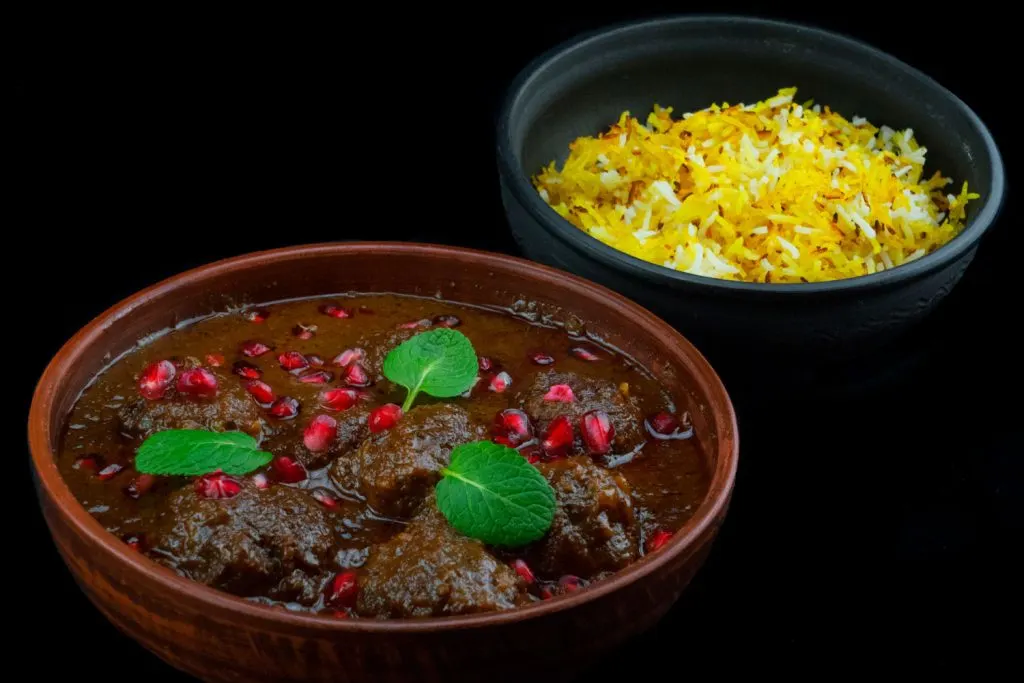 Fesenjan, also known as Fesenjoon, is a popular Persian stew. The main ingredient of this dish is pomegranate paste, which is cooked with walnut powder, meat or chicken, and sugar.
This stew can be made sweeter, sourer, or a balance of sweet and sour depending on the amount of sugar added while cooking to balance the flavor of the pomegranate paste.
The taste of pomegranate and the texture of walnut are just two of many reasons with this stew has a truly unique and almost indescribable flavor profile. As with all Iranian stews, it can be enjoyed with rice and, if you're feeling particularly hungry, a side of Tahdig.
12 – Ghalie Mahi (Fish and Herb Stew)
Ghalie Mahi is another famous Persian stew, originating from the south of Iran. The star ingredients of this stew are the fresh fish used and a special mix of Ghalie herbs, while tamarind, garlic, onion, pepper, and spices are also added.
Flavorful, the stew has a strong, spicy, and garlic-infused taste, while its aroma is pleasantly potent. It is traditionally served with rice, but some people from southern Iran also enjoy it with bread.
13 – Kashk Bademjan (Smashed Eggplants with Dried Yogurt)
Traditionally, Kashk Bademjan is enjoyed as a main meal. Nowadays, however, a small plate of Kashk Bademjan is also a popular choice of appetizer or dip.
This simple yet delicious dish consists of smashed eggplant and Kashk (dried yogurt) and can be topped with the likes of fried garlic, onion, and various herb powders, such as mint.
This rich and creamy dip pairs perfectly with a few slices of traditional Iranian bread and will undoubtedly keep you coming back for more!
14 – Sabzi Polo Ba Mahi (Fish with Rice and Herbs)
In Sabzi Polo Ba Mahi, the fish used is often either deep-fried or grilled, and it is far more common to use a whole fish, not cuts or slices.
The delicious fish is served with Sabzi Polo, which is rice cooked with diced herbs like dill and coriander. This is a special dish that is traditionally cooked for Persian New Year celebrations but can be enjoyed throughout the year too.
15 – Baghali Polo Ba Goosht (Rice and Meat)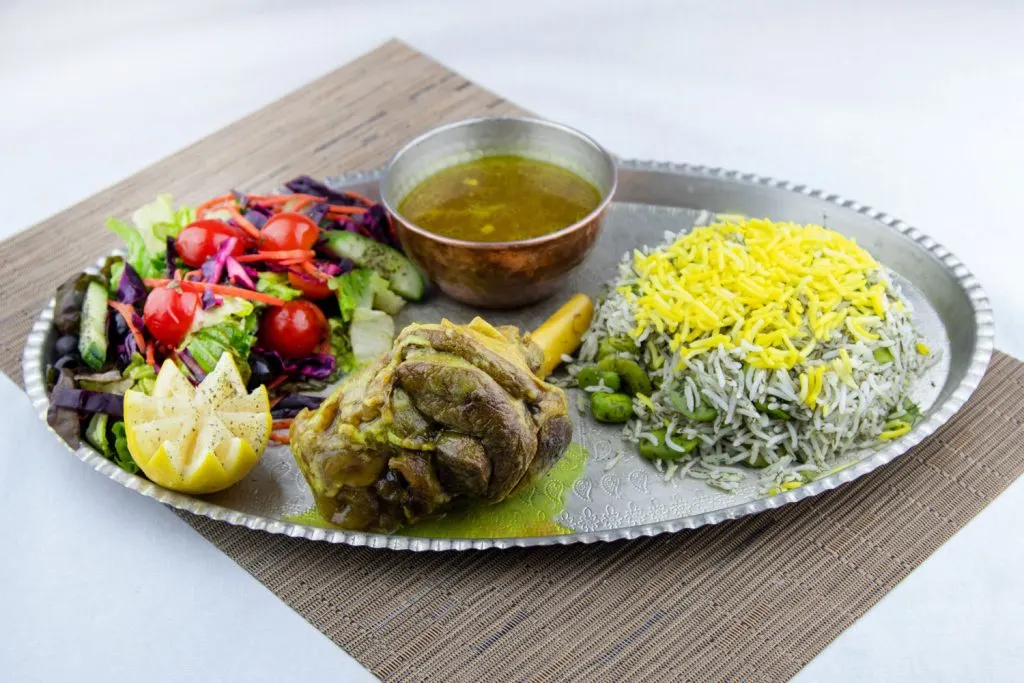 Baghali Polo Ba Goosht is another popular rice-based Persian food. It consists of two major parts, the being Baghali Polo, which is a dish made with rice, fava beans, and diced herbs such as dill.
The second part is the Goosht, meaning meat, which in this dish is usually a piece of lamb meat, such as shank.
This combination goes very well together, and the taste of the well-cooked lamb meat mixed with rice and fava beans is one that satisfies the stomach to no end.
16 – Kalam Polo Shirazi (Cabbage and Rice)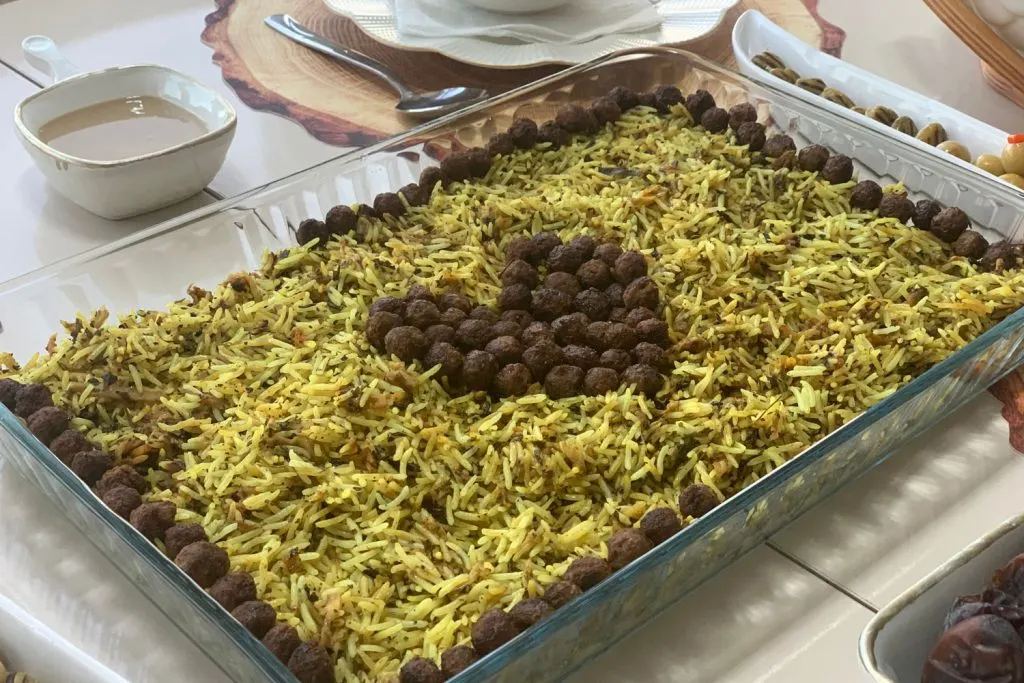 While Kalam Polo Shirazi may sound like a simple dish of cabbage and rice from Shariz, there's so much more to it than that. The dish also consists of a special herb mix, ground meat, diced onion, saffron, salt, and spices.
As the dish originates from Shiraz, it's often referred to as Kalam Polo Shirazi. However, you'll have a hard time finding this delicious Persian dish in restaurants because it's more of a home-cooked meal. The taste of fried cabbage mixed with meat and all the herbs and spices is a truly satisfying combination.
Desserts
17 – Sholezard (Saffron Rice Pudding)
Traditionally, Sholezard was more of a religious occasion food that some families would prepare and give away for free as part of a religious practice known as Nazri, which is still practiced to this day.
Recently, however, it has become a popular Persian dessert. The dish consists of saffron, rice, rosewater, cardamom, and sugar, with the addition of cinnamon powder and pistachio, and almond for the decoration.
The floral notes of saffron and the sweetness of sugar are just two of the many combinations in this beautiful pudding you can look forward to. This dessert is usually served in a medium or small-sized bowl, and it can be eaten both hot and cold.
18 – Noon Khame'e (Cream Puff)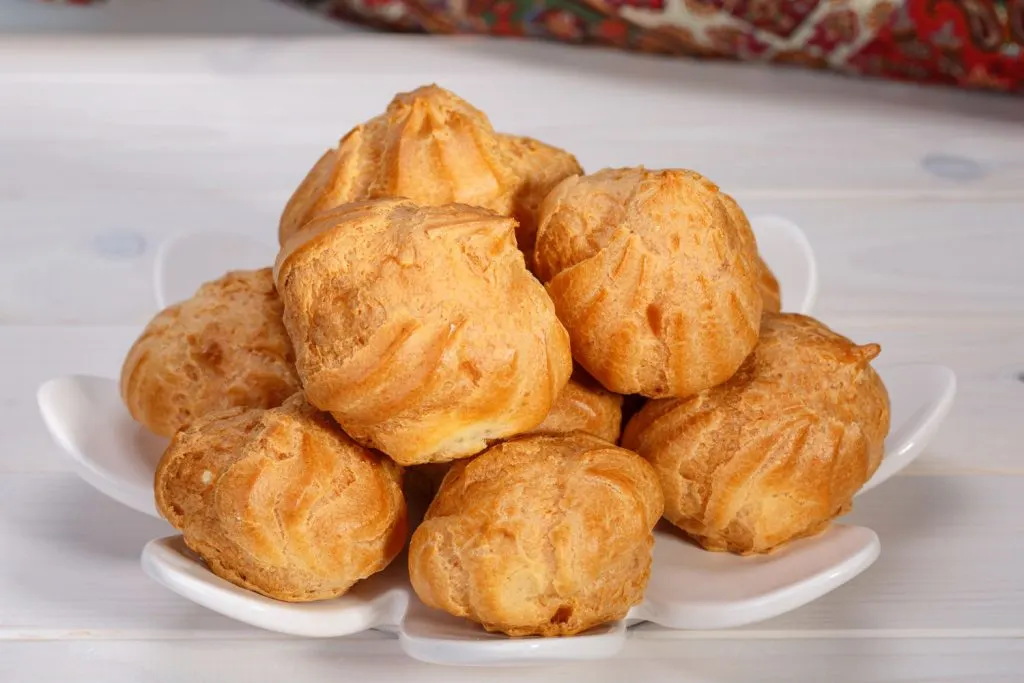 Noon Khame'e is a pastry of French origin, but today is very popular in Iran. These delightful little cream puffs consist of balls of puff pastry filled with whipped cream and finished with plenty of different toppings, including powdered sugar and chocolate sauce.
Once baked, the puff pastry shells are filled with cream via a little hole in the bottom of the shell. These sweet treats are buttery, creamy, and practically melt in the mouth, and are usually eaten with tea in Iran.
19 – Qottab (Almond-Filled Deep-Fried Persian Cookie)
Qottab is a traditional Persian cookie originally from the city of Yazd, but today widely available throughout Iran. It is made from almond, sugar powder, and cardamon, wrapped in a special paste made out of flour, egg, and milk.
Once molded, the cookies are fried in oil, and after cooling down, finished with a coating of powdered sugar. They are best enjoyed with hot tea and warm company.
20 – Bastani Zaferani (Saffron Ice Cream)
Believed to date back to 500 BCE, Bastani Zaferani is arguably the most iconic and popular Persian dessert. Made from a mixture of milk, eggs, sugar, saffron, rosewater, vanilla, and cardamom, this sweet and yellow ice cream with some white icy crackers mixed with it.
You'll commonly find white, icy cracker-like pieces in the ice cream, which are made by freezing a thick layer of clotted cream and then cracking it into pieces. Pistachios and sometimes almonds and walnuts are common for decoration and additional taste.
This ice cream can be served in a bowl as it is, with Faloodeh to make Bastani Makhloot, in a tall cup or glass with carrot juice to make Havij Bastani, or sandwiched between wafers to make Bastani Nooni.
21 – Faloodeh Shirazi (Semi-Frozen Noodles with Syrup)
Faloodeh or Paloodeh, originally from the city of Shiraz, is a simple dish of semi-frozen vermicelli-like noodles covered in syrup, very similar texturally to a sorbet.
It won't be a true Faloodeh without the addition of cherry syrup, lemon juice, and rosewater, and the dish is served in a bowl on its own or with a generous scoop of Bastani.
Persian Foods Summary
In my humble opinion, the colors, textures, and aromas of Persian food make it some of the most unique, flavorsome, and memorable across the globe.
Persian food elevates simple staples like rice and proteins like lamb and chicken with a wealth of different herbs, fruits, and spices, all bringing their sweet, savory, and aromatic qualities to the foray.
I hope this fleeting but intriguing dive into the foods of Persia together has piqued your interest to learn more about this unique cuisine and inspired you to bring some of these beloved combinations into your own cooking at home.
You Might Also Like to Read
Save and Pin for Later
Keep these Persian foods for safekeeping by saving this article to one of your foodie travel Pinterest boards.
Local Insight Contributor: Kayvan Farrokhnia is a native Persian and bilingual translator and transcriber with a deep passion for Persian cuisine.
Images licensed via Shutterstock