This post may contain affiliate links, meaning if you book or buy something through one of these links, we may earn an affiliate commission at no additional cost to you. Learn more
A trip to the sun-bathed golden beach and colorful, bustling cities of America's southeast coast simply isn't complete without gorging on these delicious foods to try in Florida, which capture the state's fun, colorful, and energetic atmosphere so well.
Florida's cuisine injects a healthy dose of Caribbean spice, Latin American heat, and European influence into a foundation of classic American dishes, making for some truly mouthwatering food everywhere you go.
No matter where you're going and why you're visiting, be sure to give these 20 iconic dishes a try when in Florida – they are utterly delicious!
Foods and Drinks to Try in Florida
Appetizers
1. Conch Fritters
So many delicious meals swim out of the Florida Keys (quite literally). Enter one of the most delicious appetizers in the state: conch fritters, the main ingredient of which is difficult to locate in the ocean.
Due to over-harvesting, Florida wildlife officials made it illegal in 1986 to harvest queen conches near Florida Keys, or any Florida coasts, for that matter.
Hence, conch fritters in Florida are imported from the Caribbean, and these delicious, deep-fried fritters are cooked in a batter of eggs, clover, garlic, milk or beer, and more.
Once the conch meat has been rolled and molded in the batter, the fritters are simply dropped into a pot or deep fryer of hot oil and fried – it's that simple!
Read more: Caribbean Foods You Need to Try
2. Empanadas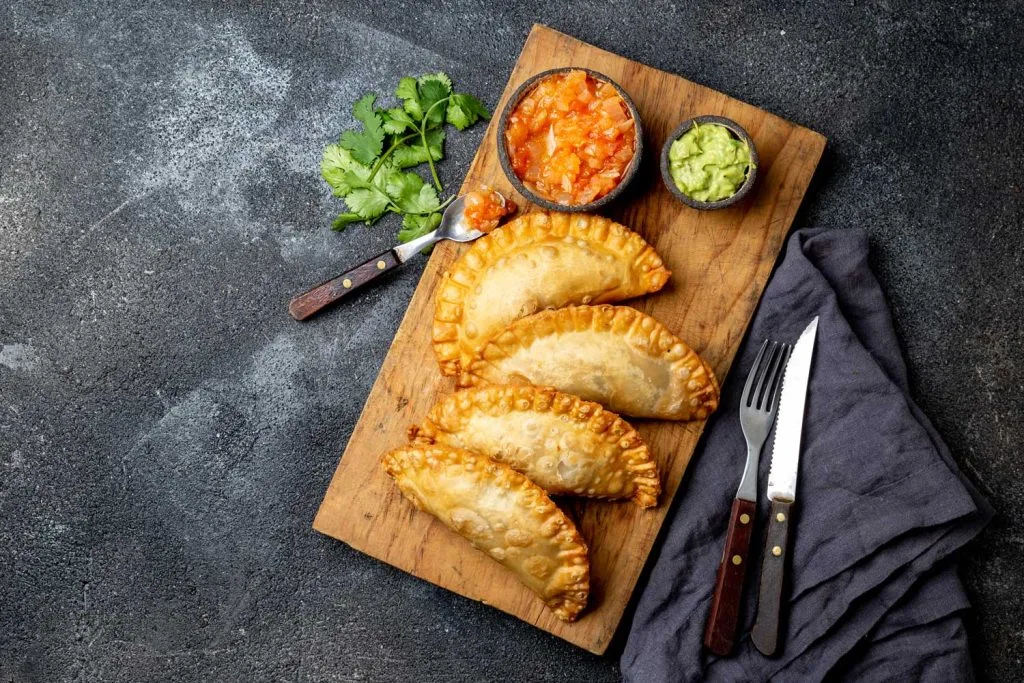 Florida has a huge reputation for being a beautiful home to so many Hispanic restaurants and bakeries all around. Empanadas are little savory pies that fit perfectly in the hands, making an excellent finger food/appetizer. They can be fried or baked and can come with virtually anything inside – up to the preference of the one who's eating it!
Although the origins of these little delicacies are not completely known, it is thought that they were created in Argentinian kitchens by immigrants that came from Spain. The term, empanada, means "bread wrapped."
A classic Florida empanada variation consists of a filling of ground beef, eggs, raisins, olives, and other spices mixed in a homemade dough that is then deep-fried. Be sure to try these savory hand-held pies at any Latin-American restaurant in Florida.
Read more: Argentinian Foods You Need to Try
3. Apalachicola Oysters
Right off the panhandle is a paradise 30 miles wide that is home to one of the tastiest appetizers across Florida – Apalachicola oysters. Here, over 90% of Florida's oysters are produced.
To avoid damaging oyster beds, Apalachicola is the last place in the nation where – by law – oysters must be grabbed using hand tongs from a small boat. It's a back-breaking job, but it does help protect the bay. That bay can produce more than 3 million pounds of oysters each year due to Florida's strict rules on how they are harvested.
It doesn't take a lot of ingredients to turn the oysters into a delectable appetizer. Free the oyster from the oyster shell using an oyster knife but leave it in the lower shell.
After they're presented on a plate, pour a teaspoon of a mixture consisting of vinegar, shallot, lime zest, white pepper, and sea salt over them and serve immediately. Many Floridians also like to serve up the oysters in a warm, homey stew form.
4. Cedar Key Clams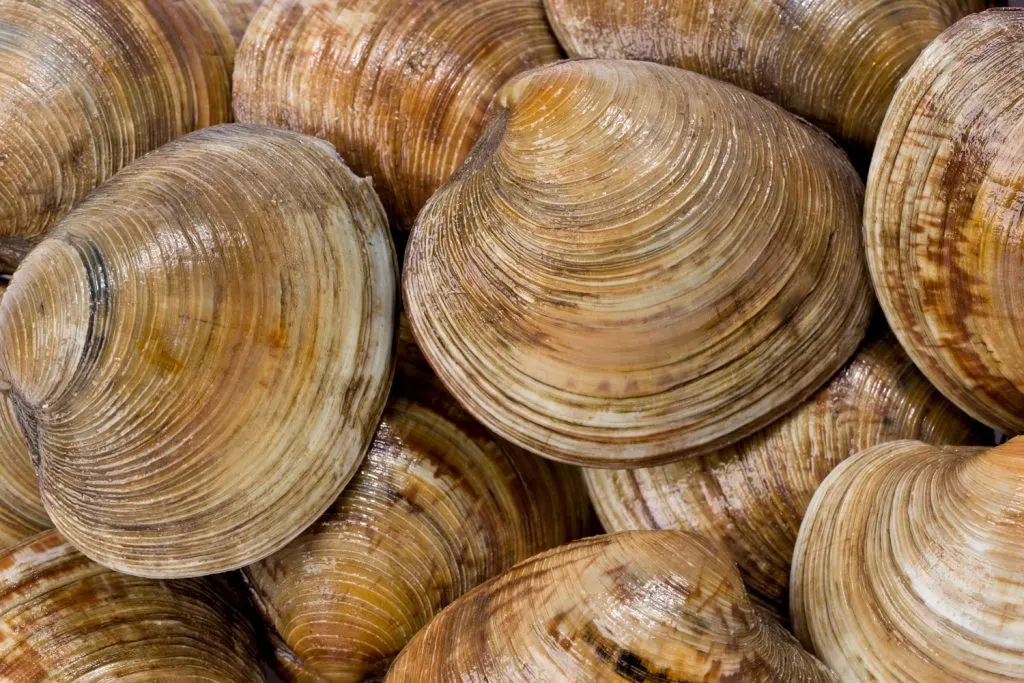 Across Cedar Key, Florida, commercial clamming has burst into a multi-million-dollar industry over the years. There are many clam farms across the Key, where over 30 million clams are shipped out to the entire nation. Many clam farm tours that show how the clams are raised and made ready to be shipped out attract many tourists from all around.
Florida has the perfect weather conditions for a thriving clam farm. Because it's so critical to keep the clams as fresh as possible, these millions of clams are harvested, processed, and shipped on the SAME day!
That's a lot of hard work that's well worth it because clams are wonderful little creatures that can be turned into a plethora of dishes, such as steamed soups, chowders, clams marinara, pasta dishes, and more.
A couple of famous recipes include Clams Casino, which consists of a clam served in a half shell with breadcrumbs and bacon, and Clams Rockefeller, which got its name because the sauce is as rich as the richest American ever (inflation-adjusted), John D. Rockefeller.
5. Ceviche
Although ceviche is a Peruvian and Ecuadorian dish, it is no stranger to Florida restaurants. Countless articles and websites come up when looking for the best ceviche around in the state. Many of the restaurants make it a point that they specialize and are dedicated solely to making ceviche by using it in their restaurant name.
Different types of ceviche can be made, but in the end, the most important ingredient is lime. The dish can be made of fish, shrimp, or a mixture of fish and shrimp. Traditional Peruvian ceviche consists of regular potatoes, sweet potatoes, onion, celery, fresh tilapia, medium shrimp, lettuce, and Peruvian corn known as choclo – and don't forget the lime juice! The lime juice is essentially what "cooks" the tilapia chunks since it is left to marinade in the lime mixture for 1 hour.
Read more: South American Foods You Should Try
Entrees
6. Florida Stone Crabs
Fishermen in Florida have been harvesting stone crabs since the 1890s. However, the body isn't the part that's usually eaten; it's the claws that they're famous for. Considered a delicacy, the state had to impose strict regulations and a specific timeframe on when they can be harvested: October 15 through May 15.
Known as the all-time top buyer of stone crabs in the entire country, Joe's Crab Shack in Miami, Florida has been serving stone crabs since 1921. This iconic restaurant has had a major impact on the stone crab industry and has been a big influence on the wholesale prices of these crabs.
Many tourists do not leave Miami without first trying a bite of history at Joe's Crab Shack. Stone crabs are very easy to prepare and are commonly served with a mixture consisting of Worcestershire sauce, mayonnaise, mustard, and lemon juice.
7. The Cuban Sandwich
The Cuban Sandwich, or El Cubano, is packed with history and sold in countless restaurants in Florida, especially around the Miami-Dade, Broward, and Monroe counties down south. It is said to have originated in the city of Tampa, where cafes would prepare it for the Cuban immigrants working in the cigar industry.
El Cubano has been the case of a friendly fight between the cities of Miami and Tampa because of the way it's prepared. Whereas Miami prepares it with just the traditional ham, mojo roasted pork, Swiss cheese, pickles, and mustard, Tampa, having a larger Italian community, adds salami to it.
In fact, Tampa is so proud of its version of El Cubano that it even dubbed it the city's official signature sandwich. Yet no matter which way it's preferred, it will always be the Cuban Sandwich.
8. Fried Alligator
This is a fun one that sometimes stops tourists in their tracks. Florida is no stranger to unique dishes and stories, after all, and it is home to the biggest population of alligators across the globe because of the Everglades.
Fried alligator is a dish found on so many menus across American and seafood restaurants in the state, and there are many ways of eating them. The menus will list fried alligator bites, alligator nuggets, Louisiana-styled alligator bites, fried alligator sandwiches, and even fried alligator tails.
The most common way of preparing them is into little bite-sized pieces made with Cajun seasoning and spicy mustard in the batter for an extra kick.
9. Key West Pink Shrimp
Many people from around the country flock to the Florida Keys to try their seafood, and the Key West pink shrimp is at the top of the list of the first ones to order. This species is endemic to the state, so it won't be found anywhere else on the planet.
Just the west coast of Florida produces over 75% of the pink shrimp harvests in the U.S. They are naturally a pretty pink color and are known for their sweet taste and firm texture.
They can be used in a variety of dishes, like tacos, ceviche, paella (seafood rice), and gumbo, or just eaten by themselves. They are more versatile in terms of how they can be cooked compared to white shrimp, and hence are a great choice of shrimp for grilling, boiling, frying, and plenty more.
10. Grouper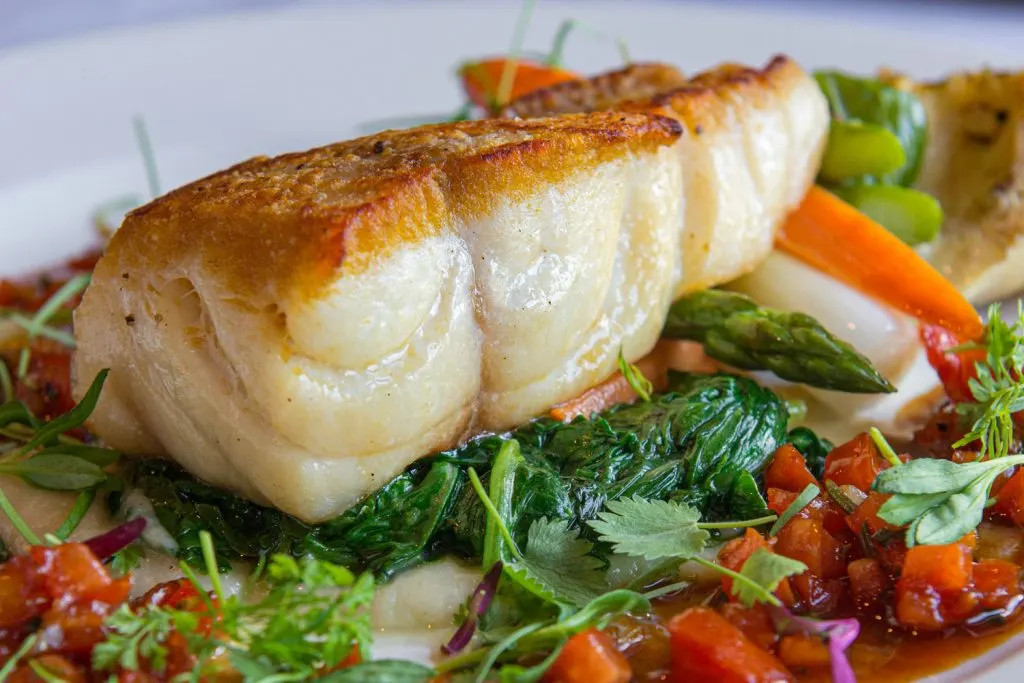 Florida is home to a huge variety of grouper fish. They are a favorite among fishermen going along Florida's coasts, and they come in all different sizes. There's the black, gag, goliath, Nassau, red, scamp, snowy, speckled, Warsaw, yellowfin, yellowmouth, and wow… just so many groupers!
With all these types of groupers, it's no surprise that Florida supermarkets and restaurants can offer these fish straight fresh from the sea. Some popular recipes with grouper include grouper sliders, shrimp stuffed with grouper, seared Florida grouper, blackened grouper tacos, and fried or grilled grouper sandwiches. The smaller the grouper, the milder and sweeter flavor it carries.
Desserts
11. Key Lime Pie
Ah yes, the dessert that is so famous in the Florida Keys that the region is named after it: Key lime pie. This slightly tart and tangy staple dates back to the 1800s. It is said that someone named "Aunt Sally" was the inventor of this famous dessert that is now sold in almost all restaurants, though it is not exactly known who she was.
The original dessert got its name because the recipe called for using Key limes, which were found in the Florida Keys and are native to Spain. However, the Great Miami Hurricane of 1926 wiped out all the trees. Afterward, the locals planted Persian lime trees and continued baking those delicious treats with those limes instead.
Although everyone fights for who has the best Key Lime pie recipe, the main ingredients consist of a graham cracker crust, sweetened condensed milk (a vital ingredient), sour cream, egg yolks, Key lime juice, salt, lime zest, and delicious home-made whipped cream made of heavy cream, sugar, and vanilla extract.
12. Strawberry Shortcake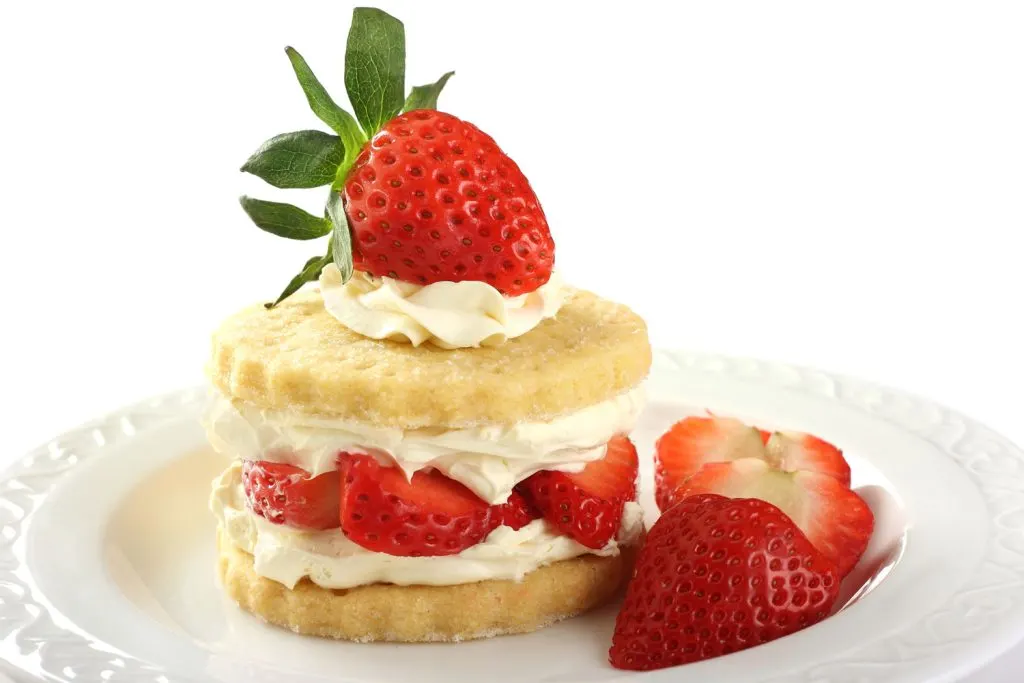 Here's one that takes the cake (pun very intended) in Florida as the state's official dessert. With the reputation that the Key Lime pie has, it's a tad surprising that the strawberry shortcake was designated as the state dessert, but the shortcake received a unanimous vote among the Florida House and Senate in early 2022.
Either way, the Key Lime pie is recognized as Florida's official state pie since 2006, so no jealousy allowed! Nevertheless, the strawberry shortcake has every right to receive that title because it is delightful.
Plant City is essentially Florida's strawberry industry, and with over 10,000 acres of strawberry fields, it produces 75% of the country's winter strawberry crop. Plant City is (naturally, obviously) home to the annual Florida Strawberry Festival, where the biggest strawberry shortcake exists – so big that the Guinness Book of World Records officially recognized it.
The recipe calls for Florida strawberries (of course), sugar, flour, vanilla extract, shortening, eggs, milk, and more. Some even like to drizzle balsamic vinegar over the shortcake once it's baked.
13. Guava Pastelitos
With Florida being home to hundreds of Latin restaurants and bakeries, it's no wonder that guava pastelitos are a famous treat in the state. They can be made in a variety of forms, but the classic variation is how you'll find them at any Cuban bakery in Miami.
This tropical pastry is sweet, flaky, and buttery, and many like to eat it with café con leche, or coffee with milk. They are made with puff pastry and normally cut into triangular shapes, filled with guava paste, and dusted with powdered sugar. They are very easy to make and will leave the home smelling like a fruity paradise!
14. Orange Soft Serve
It's no secret that Florida is hot. The temperatures reach an average of 83-90° during the summer months and 65-72° during the winter months. Compared to other states, one can be in a tank top and shorts all day if they'd like.
With the overwhelming temperatures, orange soft serves are always a hit. They are refreshing and tangy and can be made with Florida's fresh oranges since the state is the biggest orange producer in the nation.
These might be more tedious to make at home compared to other desserts, but they are served up in ice cream parlors and restaurants all around. They only require sugar, water, eggs, orange juice, whipping cream, and an automatic ice cream maker.
15. Kumquat Pie
Kumquat pie might not overtake Key Lime pie as the state's most beloved pie, but it more than holds its own when it comes to delicious Florida desserts. Even Pasco County in Florida has declared kumquat pie as their official county pie.
A kumquat tastes citrusy, sweet, and tart, similar to how an orange tastes. The pie has a very creamy texture, and it's pretty simple to make. All that is needed is a graham cracker crust, kumquats, sweetened condensed milk, whipped topping, and lemon juice.
First, the kumquat seeds are removed, and then the fruit is pureed until the mixture is smooth. The kumquat puree is mixed with the condensed milk and lemon juice and placed into the crust once that's smooth. It's chilled for a couple of hours, and then it's ready to enjoy!
Drinks
16. Fresh Florida Orange Juice
Aside from being home to fruits like the Key lime and strawberries, Florida is second only to Brazil in global orange juice production, and it produces more than 70% of the nation's supply of citrus.
More than 90% of America's orange juice is made from the oranges that are grown in Floridian soil. There are over 570,000 acres of orange groves in Florida, where the weather conditions are perfect for growing them.
Hence, it's no wonder why almost all the orange juice cartons and bottles seen in supermarkets say they are made with Florida's oranges. Having been advertised as a breakfast must-have drink, many Americans now enjoy a freshly squeezed cup of orange juice every morning. Many restaurants have a commercial orange juicer to provide their customers with only the freshest, most natural drink they can have for breakfast.
17. Mojito
The Mojito cocktail can be traced back to 1586, but its original ancestor served the purpose of a medicinal drink. It was called a Drake or Draque, which consisted of sugar, lime, mint, and aguardiente de caña, or a crude cane spirit that was the precursor of rum. It was made to help with fevers and colds.
In 1940, when the aguardiente was replaced with rum, it officially became the Mojito. Today, Mojitos are found all over the country, but several Florida restaurants are famous for their Mojito cocktails, with even a Cuban restaurant in Miami taking its name as their own.
It can be made using club soda, half of a medium lime, white sugar, white rum, and ice cubes. It's certainly a refreshing, minty drink to enjoy under the hot Florida sun.
18. Key Lime Martini
What better drink to make based on Florida's official state pie than a Key Lime Martini? This drink is tangy and creamy and makes for awesome use of Key limes. It's very easy to make at home, and very easy to drink!
The ingredients needed are sugar, water, ice, Key lime juice, evaporated coconut milk, vanilla vodka, and dark rum. Want to add a little twist to that martini? Turn it into a Key Lime PIE Martini by adding a graham cracker crumb rim around the glass!
19. Piña Colada
Originating in Puerto Rico, Piña Coladas are a very popular drink in Florida. Everyone pretty much knows what a Piña Colada is since almost every restaurant and grocery store sells them.
The name Piña Colada translates to "strained pineapple", and the earliest known story of the drink states that a pirate from Puerto Rico created the drink to improve his crew's morale; however, when he died in 1825, the original recipe was nowhere to be found again.
In 1978, the Piña Colada became the official cocktail of Puerto Rico. Making one is simple since it only requires a few ingredients to mix, including white rum, pineapple juice, coconut cream, coconut rum, and crushed ice.
20. Margarita
The Margarita is a classic drink that is available in almost every bar and full-service restaurant across Florida, even if they don't serve Mexican food. That's because it's an incredibly invigorating drink that is easy to make and has several different variations to it.
There are strawberry margaritas, mango margaritas, peach margaritas, and even blueberry margaritas. It's an excellent cocktail that bartenders can get creative with, it can be either frozen or on the rocks, and it's good for drinking on its own or with a meal.
The classic margarita consists of 3 parts 100% agave white tequila (makes a big difference), 2 parts triple sec, and 1 part freshly squeezed lime juice.
Foods to Try in Florida Summary
The diversity, color, and just sheer deliciousness of the foods and dishes across Florida just never cease to amaze me. I feel like I'm always finding new and exciting restaurants and bakeries with influences from South America, Central America, the Caribbean, and so many other places.
Whether you're a passionate foodie or care little for the craft and taste of great food, I guarantee you there's something yummy for you to try in Florida!
These 20 dishes are a great place to start, and there's a vast, creative, and mouthwatering world of food, drink, and cuisine waiting for you once your culinary interest has been piqued – enjoy your time in Florida, and especially enjoy the food!
You Might Also Like to Read
Save and Pin for Later
Planning to visit Florida in the near future? Keep these foods for safekeeping by saving this article to one of your Pinterest boards.
Contributor: Jennifer Martinez is an avid creative writer, passionate about various topics, especially culture-specific foods and traditions. As a food lover herself, she enjoys creating unique dishes in her free time.
Images licensed via Shutterstock