This post may contain affiliate links, meaning if you book or buy something through one of these links, we may earn an affiliate commission at no additional cost to you. Learn more
Where do you even begin with American foods, am I right? Coast to coast, rugged mountains to scorched deserts, dishes of all flavors, textures, and sizes can be found and gorged on throughout the US.
However, there are some dishes that transcend state borders, are synonymous with American cuisine, and are not only iconic but just utterly indulgent, no matter where you try them.
If you want to truly delve into American food at its broadest, in all its unapologetic glory, these twenty dishes, ideal for lunch and dinner, absolutely need to be on your must-try list.
American Foods
1 – Hot Dog
What's more American than a hot dog? Believe it or not, Americans consume over 20 billion hot dogs every year! The hot dog tradition has been going strong in Germany since the 1400s, but when German immigrants brought it to the United States in the 1800s, it became an instant classic.
This tasty, hand-held snack is great for taking on the go, and today, you can find them almost everywhere, from barbecues to baseball games to shiny New York City street carts.
Related: 18 German Foods You Need to Try
2 – Burger
Another American favorite is the burger, and once again, we have the Germans to thank for it! German immigrants brought the hamburger — A.K.A. "hamburg-style" chopped steak — to the U.S. in the 1800s.
American chefs do, however, take credit for adding a slice of cheese to the sandwich and dubbing it the cheeseburger. But whether you prefer plain or like to add cheese, onions, ketchup, or other toppings, you can find burgers in restaurants and fast food chains across the country.
Related: Minnesota Juicy Lucy Burger Recipe
3 – Buffalo Wings
This popular party food has been enjoyed since the 1900s when they were invented in Buffalo, New York. They're a pretty simple concept: unbreaded chicken wings fried and coated in buffalo sauce.
This sauce, a combination of hot sauce, butter, Worcestershire, and other ingredients, is a rich, smooth coating that's become a staple of American hot wings.
Buffalo wings are best enjoyed with ranch or blue cheese dressing, along with some celery and carrot sticks to cool off the palette.
4 – Clam Chowder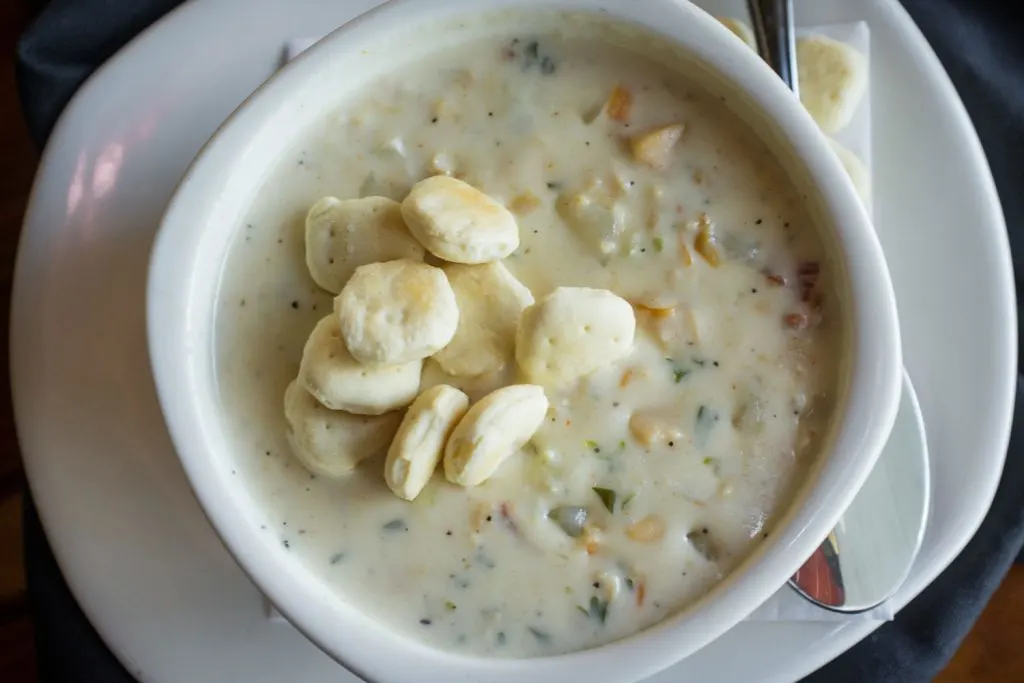 We're headed to the Northeast with this next food. This thick, creamy soup has a base of milk or cream and is packed with potatoes, onions, and of course, clams.
While you can get the filling soup across the country, two regions have their own take on it. New England-style clam chowder is creamier and served with oyster crackers, while Manhattan-style will have a thinner tomato base.
Whichever way you like it, every clam-chowder lover will agree: the fresher the clams, the tastier the chowder.
5 – Lobster Roll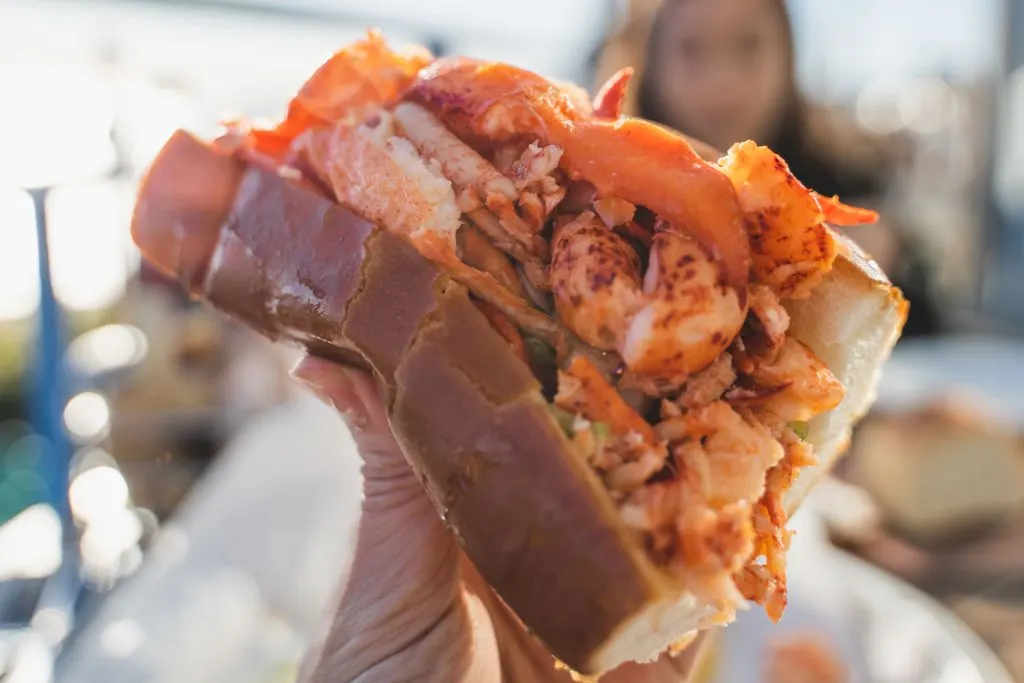 While you're in the Northeast, take some time to enjoy New England's claim to fame: lobster. This area of the country is known for super-fresh and tasty lobsters, and what easier way to enjoy it than a sandwich?
A lobster roll is made by mixing lobster meat with either mayo or butter and serving it on a toasted roll. Though this sandwich is typically a summertime treat, it can be served hot or cold, making it a great meal for any time of year.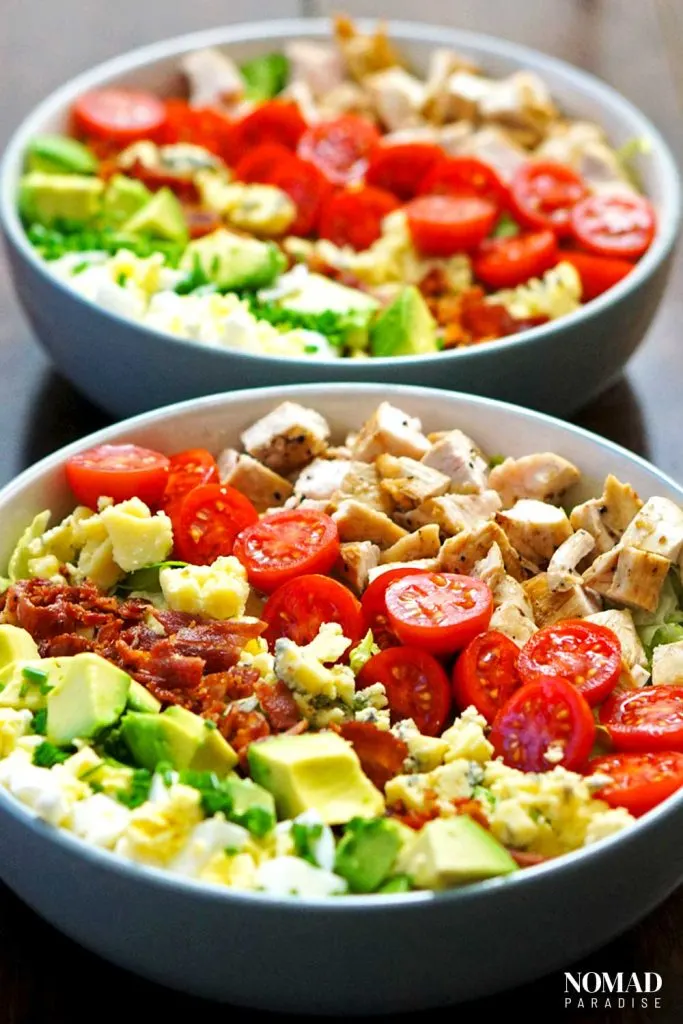 After all these hearty foods, let's lighten it up a bit with the Cobb salad. This meal was invented in 1937 by Bob Cobb, owner of the Brown Derby restaurant in Hollywood, California.
He had the idea to combine a bunch of ingredients, such as chicken, avocado, hard-boiled eggs, cheese, and tomato with lettuce to create a flavor-packed salad.
The ingredients are often arranged in colorful rows and served with a side of ranch or a vinaigrette as a yummy meal or side.
Related: 19 Signature California Foods and Drinks You Can't Leave the State Without Trying
7 – Mac and Cheese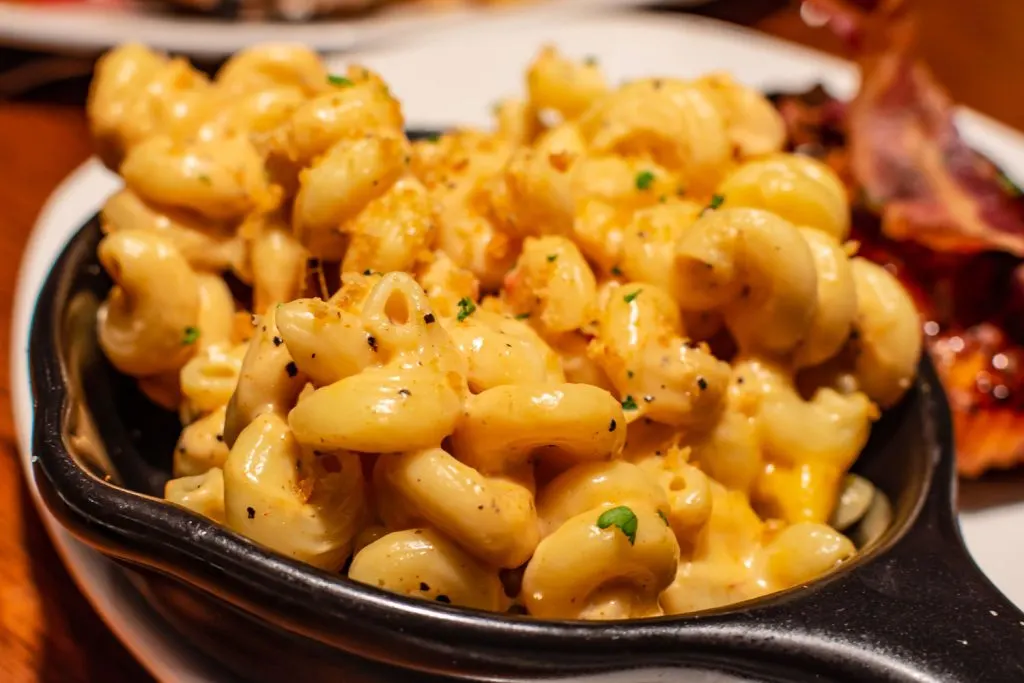 This classic comfort food is popular worldwide, and the United States is no exception. Mac and cheese was enjoyed in Europe for centuries before it made its way over to the U.S.
It was originally a dish only for the elite because the ingredients were rare and expensive, but became an American favorite by the late 1900s.
Today, you can find many variations of mac and cheese across the country, with some favorite add-ins including prosciutto, buffalo chicken, lobster, and fried onions.
8 – Po' boy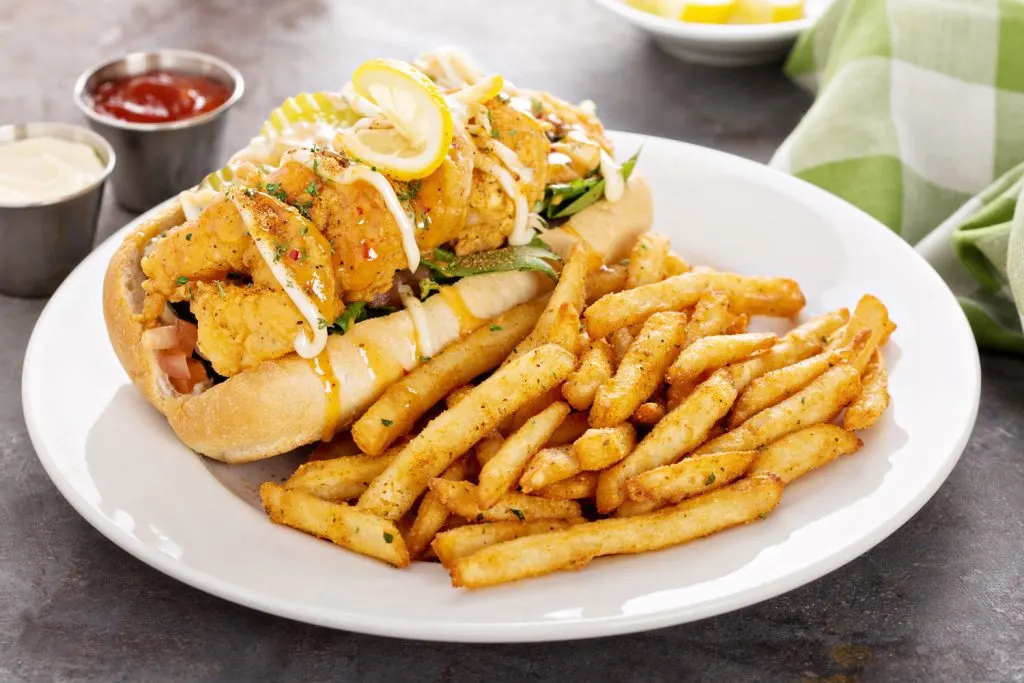 Hailing from New Orleans, Louisiana, this tasty sandwich was named after workers who striked against a streetcar company in the 1920s. Former streetcar workers Benny and Clovis Martin offered free sandwiches to the strikers, who they would jokingly call "poor boys."
Today, the po' boy is a Louisiana classic that can be filled with a variety of meats such as beef, fried shrimp, or fried oysters. It is topped with lettuce, tomato, pickles, and mayo and served on a fluffy and crunchy French bread.
9 – Jambalaya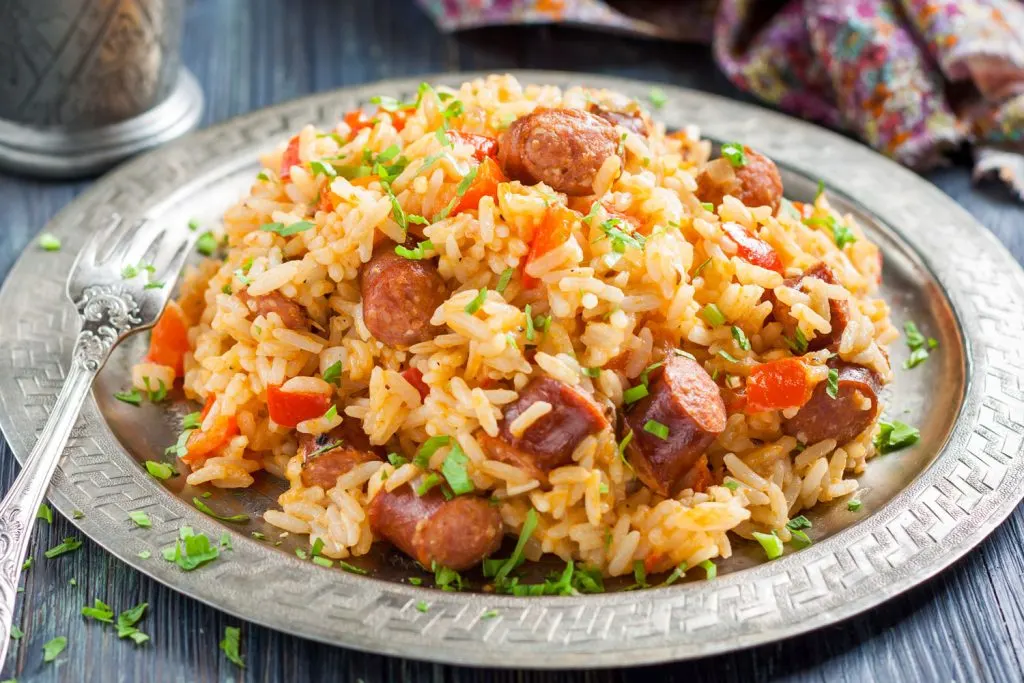 Another favorite from Louisiana is jambalaya, a delicious dish that combines rice, meat, and veggies with bold Creole and Cajun flavors. Meats like sausage, chicken, pork, and sometimes seafood are cooked and thrown in with onion, celery, and green bell pepper, A.K.A. the "trinity" of Cajun cooking.
After adding broth, seasoning, and rice, the entire dish is cooked until the rice is done. While it's not exactly clear where jambalaya was invented, it's a staple of Louisiana culture you shouldn't miss.
10 – Texas Barbecue
In Texas, barbecue isn't just a food — it's a tradition. This style of cooking is popular in states across the South and involves smoking or grilling seasoned meat over an open fire or wood-burning pit.
Meats like brisket, ribs, and sausage are slow-cooked for hours to create that bold, smoky flavor and succulent texture. Types of Texas barbecue can vary from state to state and region to region, with some barbecuers preferring different flavors, cooking styles, and even types of wood for their own creations.
11 – Deep-Dish Pizza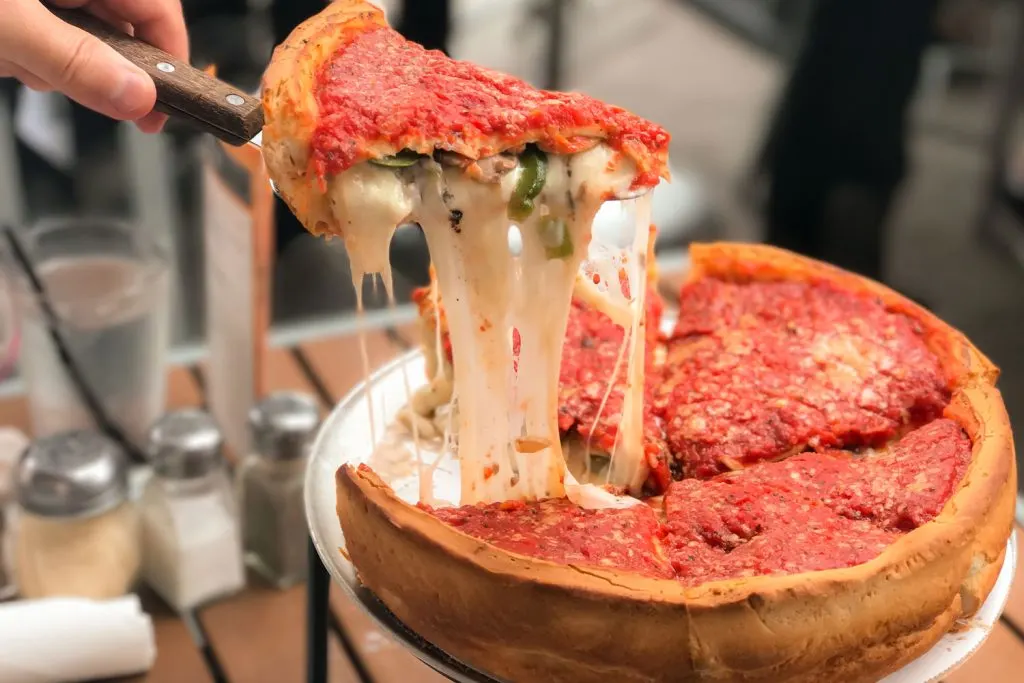 Also called Chicago-style, this pizza was invented in the 1940s in — you guessed it — Chicago, Illinois. It is known for its thick, buttery, crispy crust, which is created by cooking the pizza in a round pan.
The dough is layered with sauce, cheese, and a variety of toppings like sausage, pepperoni, mushrooms, hot peppers, and onions. While you're in Chicago, you can also try a stuffed pizza, which is similar to a deep-dish but with more cheese and another thin crust on top.
Related: 20 Best Foods to Try in Chicago
12 – Reuben Sandwich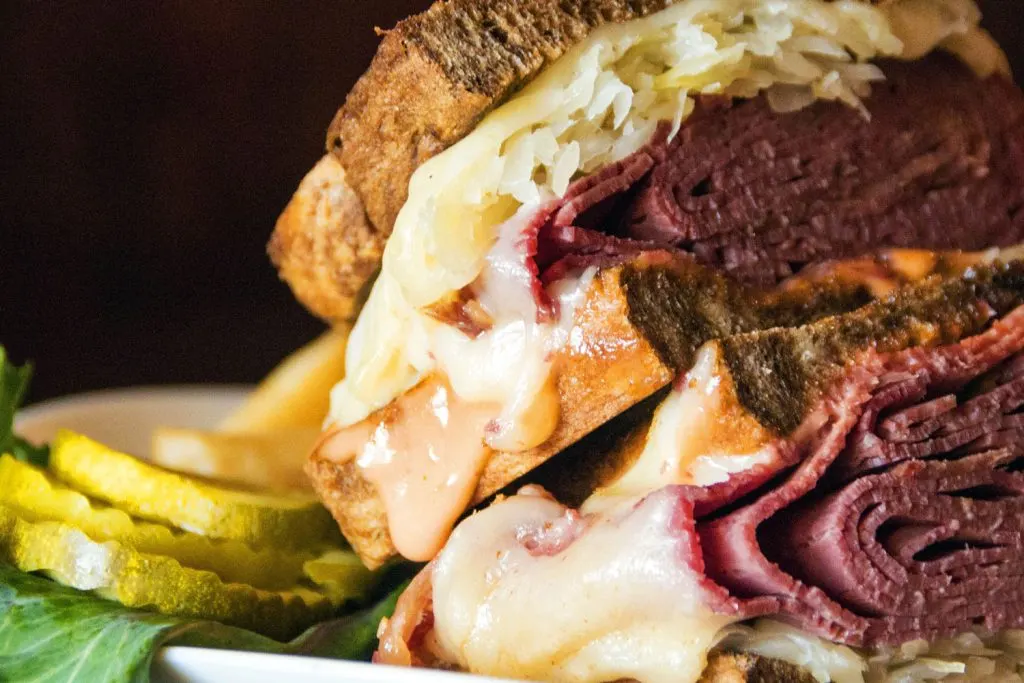 This deli sandwich was created right here in the U.S. (though some debate whether its origins lie in Nebraska or New York City). It's made by packing corned beef, Swiss cheese, sauerkraut, and either Russian or Thousand Island dressing between slices of rye bread, which is then grilled.
This hearty, flavor-packed sandwich can be found at delis, diners, and restaurants across the country, and a lot of places have their own version of the Reuben with different meats or dressings.
13 – Philly Cheesesteak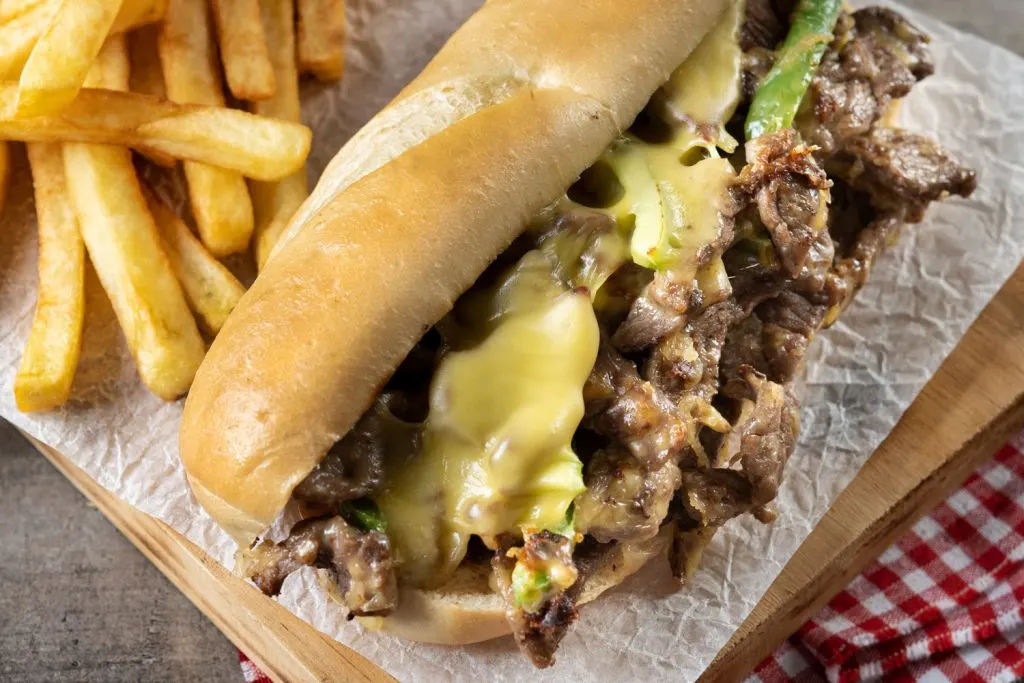 Another all-American sandwich comes from the birthplace of the United States itself. Created in the early 1900s in Philadelphia, this steak sandwich has become hugely popular and should top your bucket list of foods to try in Philly.
Shaved ribeye and melted cheese are the main ingredients, and they're served on top of a long, crusty roll. When you order your cheesesteak, be prepared to say which cheese you want (American, provolone, or Cheez-Whiz) and if you want grilled onions on top ("wit" or "witout").
Related: 19 Tasty Foods to Try in Philadelphia
14 – Chicken Fried Steak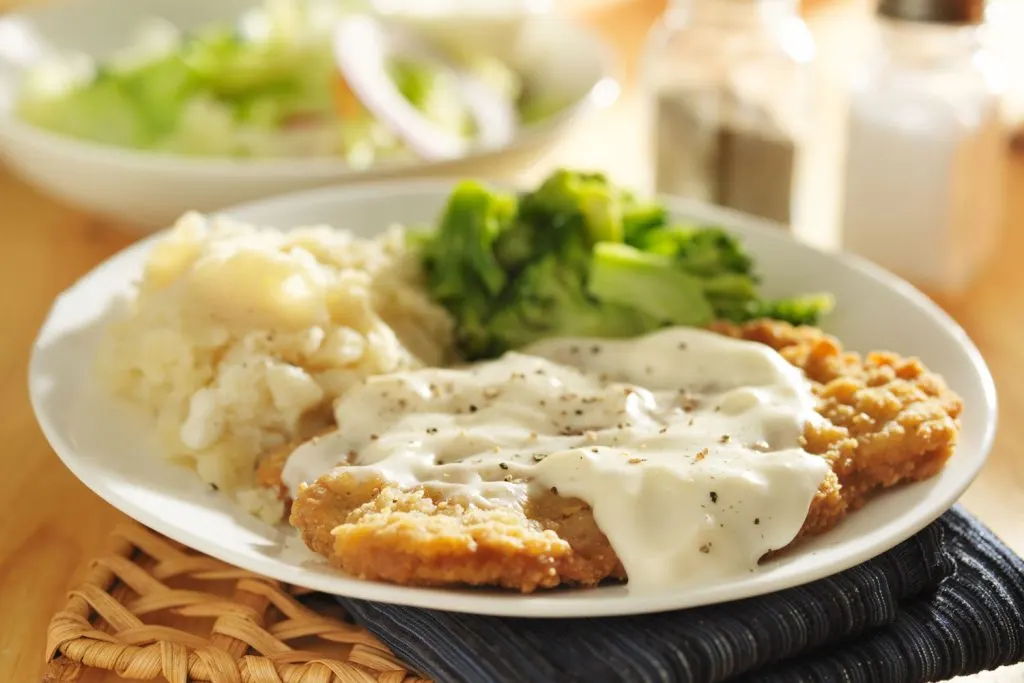 This Southern classic is the best of both worlds, combining the crunchy exterior of fried chicken with flavorful steak.
The steak is usually a less expensive cut, such as cube steak or round steak that is tenderized, coated in flour and seasonings, and pan-fried or deep-fried to get that crispy chicken-fried breading.
It's then topped with brown or white gravy. While its exact origins are unknown, chicken-fried steak has become very popular in the South and West — Oklahoma even named it a state food!
15 – Chili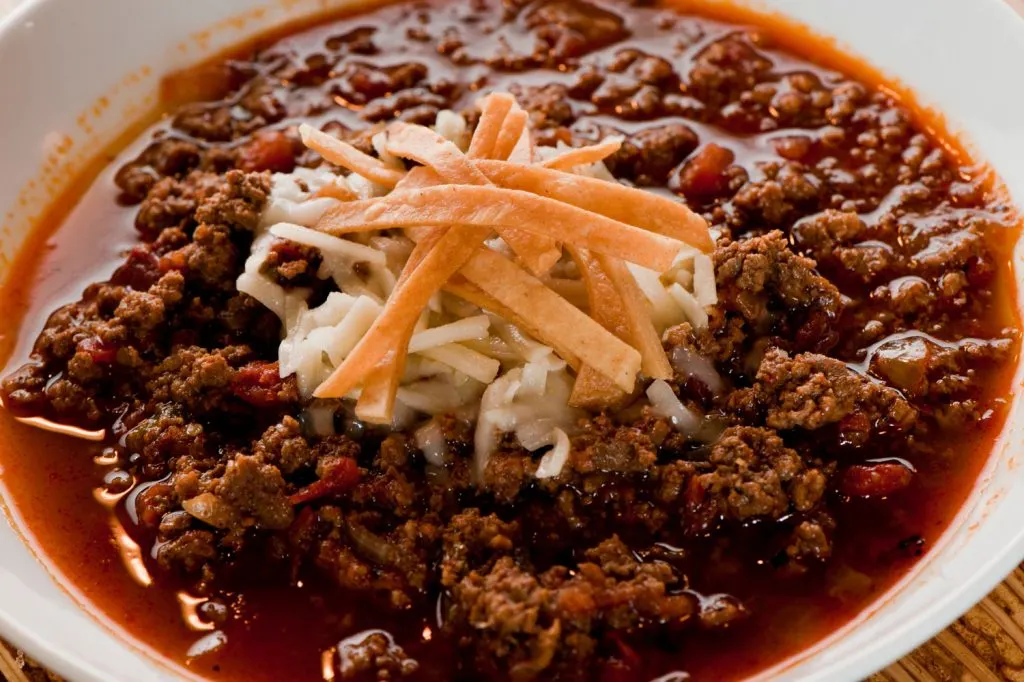 Chili is a widely celebrated food with a rich history. Some say it was created by cowboys and rangers in Texas in the 1800s, while others speculate it dates back to the 1600s, when a Spanish nun went into a trance and woke with the recipe.
Either way, chili is a hearty American comfort food that combines ground beef, beans, onions, tomatoes, peppers, and more. With a bold blend of spices like chili powder, cumin, and paprika, chili definitely packs a flavor punch.
16 – Stuffed Peppers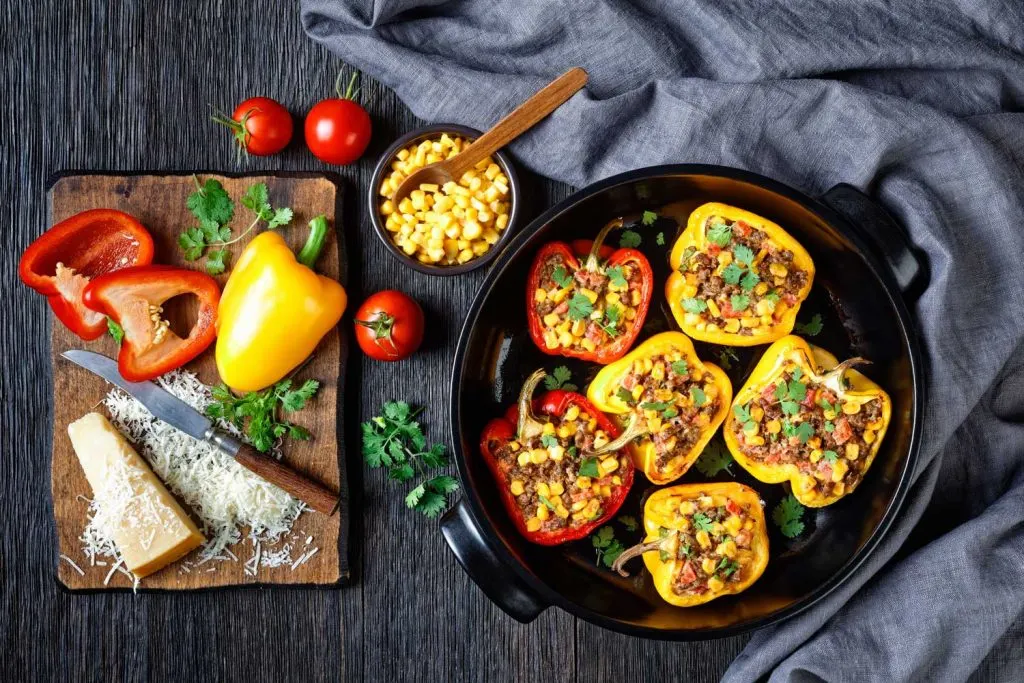 This filling meal has roots around the world, from Mexico to Hungary to Tunisia, but like many foods on this list, the U. S. has put its own spin on stuffed peppers and made it its own.
A classic stuffed pepper in the United States will be a hollowed-out pepper (usually green for a slightly more bitter taste) packed with rice, ground beef, cheese, and seasonings. Other versions can include onions, carrots, and zucchini, making stuffed peppers a tasty and versatile dish.
17 – BLT
The BLT is a top contender of favorite American sandwiches. It skyrocketed in popularity after World War II, when the expansion of grocery stores made its main ingredients — bacon, lettuce, and tomato — available year-round.
The bread is often toasted and slathered with mayo, though there are many varieties, like substituting turkey bacon or adding avocado. To this day, the BLT is a popular American food that people go crazy for — there's even a world record for biggest BLT, which currently sits at 209 feet long!
18 – Cheese Curds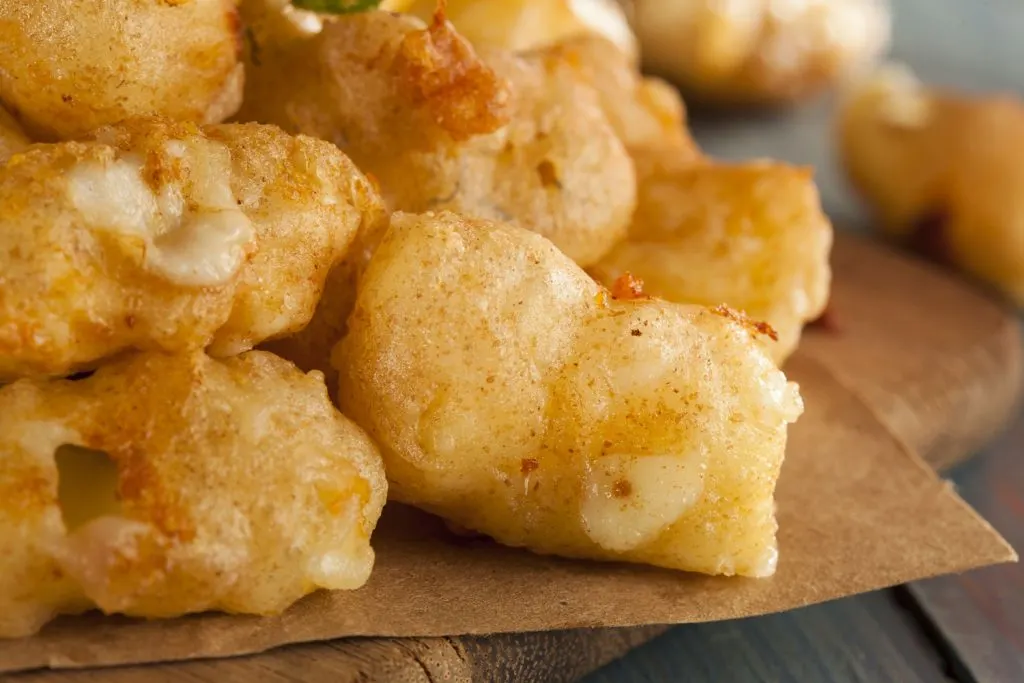 It only makes sense this scrumptious dish comes from the cheese capital of the U.S., Wisconsin. Cheese curds are pieces of white or orange cheese that haven't yet been aged. They're created by adding starter cultures and an enzyme called rennet to raw whole milk, causing it to separate into solids and liquids.
The solids are processed into a standard chunk of cheese and cut to be served as cheese curds. The curds have a mild, salty taste and a classic springy, squeaky texture.
Related: 19 Foods and Drinks to Try in Wisconsin that Capture the Spirit of this Beautiful State
19 – Meatloaf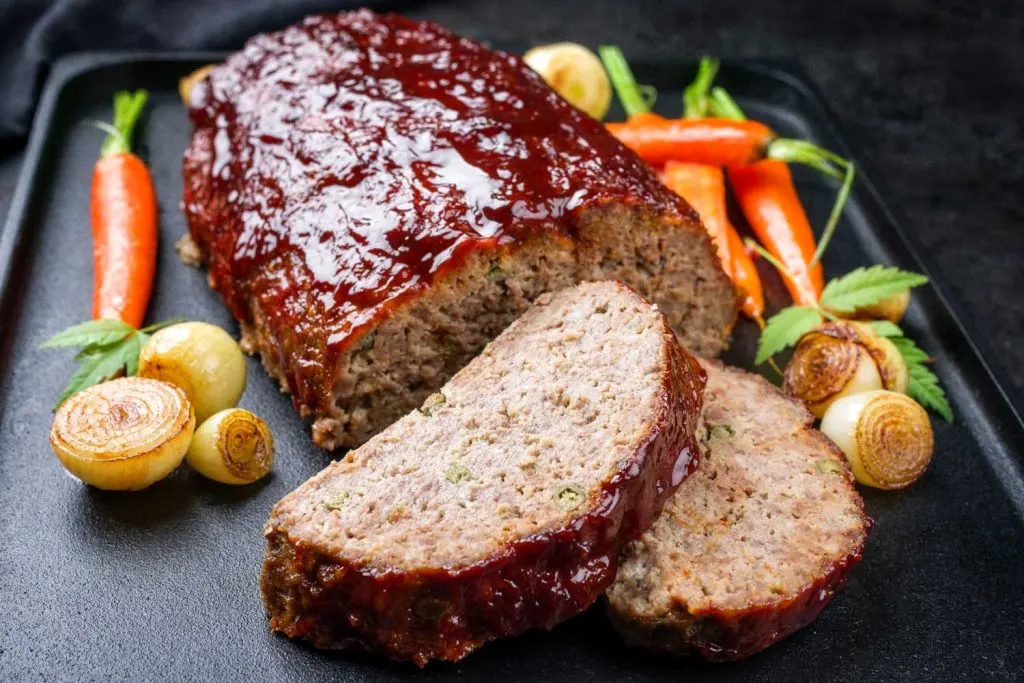 Though meatloaf has been around since Ancient Rome, it has been an American favorite comfort food since the meat grinder was invented in the 1800s.
Ground meat (such as beef, pork, or turkey) is mixed with eggs, onions, breadcrumbs, and spices and baked in a pan. This creates a flavorful, savory loaf that is typically sliced and served hot.
You can find it in restaurants and diners across the country, often served with a side of mashed potatoes, gravy, and vegetables.
20 – Poke Bowl
For our last food, we're heading outside of the continental United States to Hawaii. Poke bowls have been growing rapidly in popularity both in and out of Hawaii.
They start with raw, marinated fish like tuna or salmon that is served over a bed of rice. You can get a ton of different toppings on your poke bowl, including avocado, fish eggs, wasabi, edamame, cucumber, green onions, and more. It's a fresh, light meal packed with flavor that's great for lunch or dinner.
Related: 18 Best Foods to Try in Hawaii
American Foods Summary
You simply cannot spend any amount of time in the US without food being on the agenda in some way, shape, or form. Food is a huge part of American culture, taking influence from countries and people from all over the world.
Wherever you go in America, you will find incredible food, no matter what your preference. I urge you to try as many new dishes as possible, especially any regional or city favorites.
But as with anything, you have to start somewhere, and I truly hope you find and try as many of these showstopping American dishes when you're visiting, because you are in for quite the culinary ride, I can assure you!
You Might Also Like to Read
Save and Pin for Later
Planning a trip to the US soon and don't want to miss out on some of the must-try foods? Keep this article for safekeeping by saving it to one of your Pinterest boards.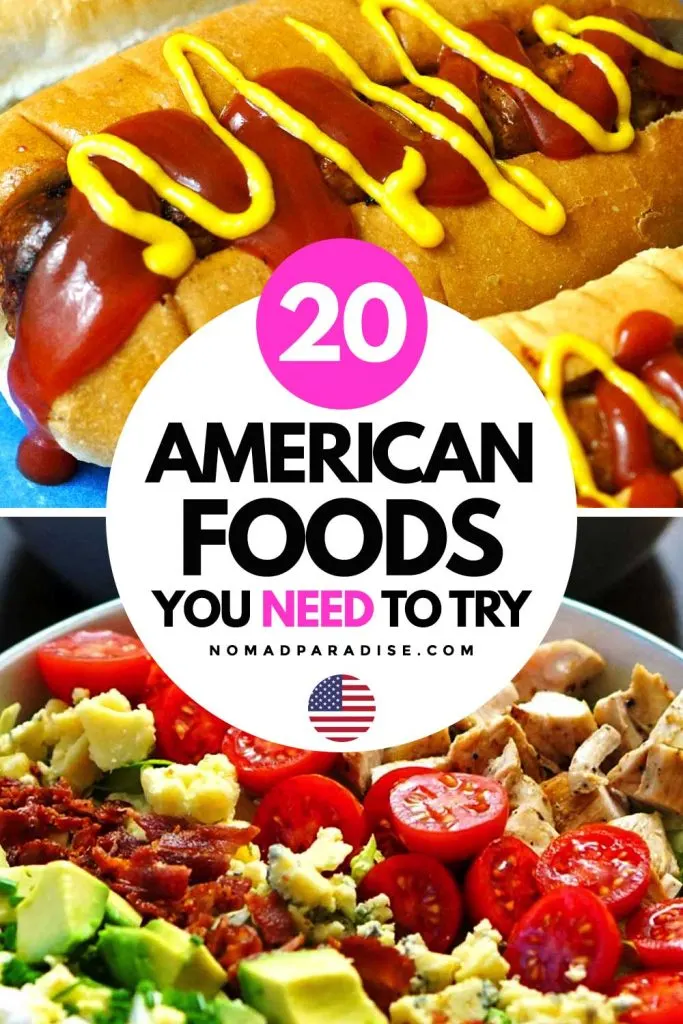 Contributor: Madeline Marks is an American writer who resides in Savannah, GA, and has spent time in many cities and states throughout the US. She enjoys blogging, journalism, poetry, and fiction, and when she's not writing, she likes to read and spend time in nature.