This post may contain affiliate links, meaning if you book or buy something through one of these links, we may earn an affiliate commission at no additional cost to you. Learn more
A wild, rich, and hearty blend of American, Scandinavian, European, and Asian cuisine, these foods and drinks to try in Minnesota promise to take you on a culinary adventure of mouthwatering proportions.
Minnesota is a land of breathtaking nature and epic adventure, where people from all walks of life have come to make their home. These twenty-two dishes, along with so many others, have fuelled and thrilled Minnesotans for generations, be we kayaking a blue lake or having the family over for the weekend.
Foods and Drinks to Try in Minnesota
Breakfast
1 – Lefse
In the mid-1800s, Norwegian and Swedish immigrants settled throughout Minnesota. One of the many ways that heritage still influences Minnesota culture is the food, and you'll see examples of that everywhere. The Norwegian Lefse, for example, is a favorite.
Lefse is a soft, round-shaped flatbread, made with potatoes, flour, butter, and cream. It makes for a popular breakfast choice, rolled up with butter and sugar, but it's also the base of a good lunch when filled with savory ingredients, such as sliced meats and cheese, or a side dish for a Lutefisk dinner (see #11 below).
Related: Norwegian Food: 15 Most Popular and Traditional Dishes
2 – Malt-o-Meal
Check Price on Amazon
Tired of eating the same bland oatmeal every morning, John Campbell created this signature breakfast food in 1919 in Owatonna, Minnesota.
It is still made to this day, although the factory was moved to Northfield, Minnesota when the company was purchased by Post. The malted barley and toasted wheat give this cereal its satisfying flavor.
Lunch
3 – Spam
Check Price on Amazon
No kidding — Spam is a Minnesota invention! This canned pork product was created in Austin, Minnesota, by Hormel in 1937 and was a critical feature of World War II soldiers' diets due to its long shelf life. Today, it is the subject of both diehard fans and critics (who question its nutritional value).
Spam has been the subject of spoofs and creative recipe contests for many decades. Regardless of how you feel about it, you can have fun visiting the Spam Museum in Austin, about an hour and a half drive from the Twin Cities (Minneapolis and Saint Paul), or attend a Spam festival and experience some of the hundreds of recipes created by using Spam.
Some say this burger originated at Matt's Bar in Minneapolis, some say it was at the 5-8 Club a few miles from Matt's Bar in Minneapolis, while others insist it was around well before they introduced it. Now, it's a signature Twin Cities food.
Whether you spell it with the "i" or not, it is comprised of two beef patties with the edges sealed together to contain the melted cheese that is sandwiched in the middle. Where the best Jucy Lucy can be found is a common subject of debate among local foodies!
Read more: Mouthwatering Minnesota Juicy Lucy Burger Recipe
5 – Porketta Sandwich
In the late 1800s, immigrants of several ethnicities settled in the Iron Range to work in the mines of the Northern Minnesota area. Among those were Italians from Italy's central region, who created the Porketta Sandwich, inspired by Porchetta, an Italian dish of slow-roasted pig.
The sandwich starts out as a pork loin roast with spices. The right spice mixture is up for debate, but most recipes include paprika and lots of garlic. Locals eat the Porketta between slices of plain bread — but you can add some mayo or mustard if you must.
6 – Booyah
Booyah, a thick, hearty stew, is more of a social occasion than an actual dish with a recipe. The stew varies depending on personal taste but generally includes meats and vegetables and is the perfect hearty meal for cold Minnesota winters.
It is traditionally cooked all day in an outside kettle and then eaten with friends or served at events, such as church picnics.
Appetizers
7 – Gravlax
You can't talk about Swedish-inspired Minnesota cuisine without including Gravlax! This traditional small plate dish is made from cured (not smoked) salmon and served with dill and lemon slices.
Sometimes chopped hard-boiled eggs and capers are also served with it. Include a shot of vodka, and you're set!
8 – Hmong Egg Rolls
The Hmong people came to the U.S. in 1975 as refugees from Laos and largely settled in the Twin Cities area. To this day, Minnesota is home to the largest population of this ethnic group, and they have had a profound influence on its cuisine.
These small egg rolls are filled with pork and cabbage, carrots, or bean sprouts and then deep-fried until they are crispy. You'll find these at ethnic markets, farmer's markets, and fairs.
9 – Sambusa
Somalis began to migrate to the Twin Cities in the 1980s and, like the Hmong population, have had a profound influence on the cuisine there.
A favorite appetizer is Sambusa. These are triangular-shaped pieces of dough that contain a spiced meat mixture (generally ground beef or lamb) and are deep-fried.
Also, like the Hmong, Minnesota is home to the largest population of Somali in the U.S., so finding a place to try Sambusa is no problem! You can sample them in many Somali restaurants and markets.
Main Course
10 – Hotdish
The Hotdish is as ubiquitous in Minnesota as the phrase "Minnesota Nice!" This is another dish with no specific recipe, and as a result, the subject of a lot of Hotdish cooking competitions. Minnesotans love to make fun of Hotdish almost as much as they love to eat it!
The Hotdish was likely first invented during the depression as a low-cost casserole that made use of canned goods. It first appeared as a recipe in 1930 in the Grace Lutheran Ladies Aid Cookbook.
Somewhere in the ensuing years, the idea of topping Hotdish with a layer of potato puffs was born, and now most Minnesotans agree that this is the only way to make it.
Underneath, you'll usually find a mixture of ground meat and chopped vegetables, such as frozen corn or peas, and sometimes macaroni. It's all mixed together with canned soup, usually cream of mushroom. How do you say comfort food?
11 – Lutefisk
Lutefisk is a dish that was traditionally part of any Christmas feast in Nordic countries. It's made by soaking dried codfish in a lye solution for several days. Despite this drastic-sounding preparation, lutefisk has a mild flavor and is generally served with a white sauce, potatoes, mashed peas, and lefse (see #1 above).
Minnesotans, who either love or loathe this dish, will nevertheless often hold Lutefisk feasts at restaurants and church events in the fall and over the holidays.
12 – Walleyed Pike
The Walleyed Pike flourishes in the cold waters of Lake Superior, along the north shore of Minnesota, and is the most sought-after fish in the state.
Minnesotans particularly enjoy Walleyed Pike sandwiches and dinners. The fish has a mild, sweet flavor that isn't conventionally "fishy."
13 – Vietnamese Pho
Pho (pronounced "fuh") is a traditional dish brought to the Twin Cities by Northern Vietnamese immigrants. It's a hearty soup made with a Pho bone broth that is flavored with star anise and cloves.
Rice noodles, beef slices (although it's possible to find Pho made with chicken), bean sprouts, and a big handful of fresh basil leaves are served on the side to be added to the broth according to taste. It's not hard to find Pho restaurants in Minneapolis and St. Paul, so prepare to get full fast!
Related: Vietnamese Food: 17 Popular and Traditional Dishes You Need to Try
14 – Swedish Meatballs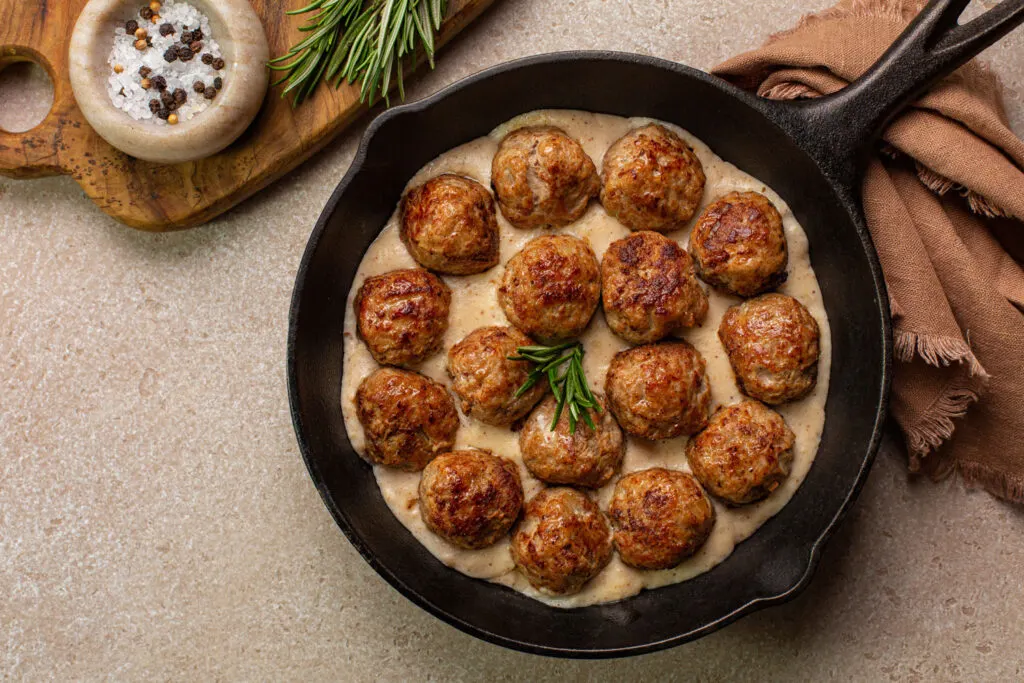 Do Minnesotans love Swedish Meatballs? You 'betcha, as we say! Given Minnesota's large population of residents with Swedish ancestors, this isn't too surprising.
These are constructed of ground meat (beef, pork, veal, or a combination), breadcrumbs, egg, and cream, plus a little nutmeg and ginger for spice.
You can't have them without lingonberries on the side, and you can usually count on mashed potatoes and a creamy gravy too!
Related: Swedish Foods You Need to Try
Sides
15 – Wild Rice
Wild rice is not really rice at all, but instead is Minnesota's state grain and grows naturally in lakes in the northern part of the state.
It has been harvested there for centuries by Native Americans of the Ojibwe tribe and is to this day. Although wild rice can be found in many dishes or eaten on its own, one of the most popular of those is Chicken and Wild Rice soup.
16 – Glorified Rice
While the rest of the country might make fun of dessert-style salads like Glorified Rice, Minnesotans love them with a passion!
Glorified Rice is made with white rice, pineapple pieces, marshmallows, strawberries, and lots of whipped cream. Other dessert salad recipes can incorporate Jello, fruits, chopped celery, nuts, and yogurt.
Desserts
17 – Krumkake
This delicate waffle-like dessert is yet another gift from Norwegian settlers. The Krumkake is prepared on a waffle iron that is decorated on both sides with delicate filigreed patterns and then rolled up into a cone. It can be enjoyed by itself or filled with whipped cream.
18 – Bars
Minnesotans love their bars, and we aren't talking about the kind where you go for a drink! There are dozens and dozens of unique bars to be found in the state, and they are an absolute favorite for potlucks and celebrations of all kinds. If you're bringing dessert to a dinner party, this is often a go-to.
A Minnesota bar can be defined as just about any dessert that can be cut into squares — brownies, lemon squares, and blueberry oatmeal crumble are just some of many.
However, arguably the most beloved of all is the Scotcheroo, a concoction that is made from peanut butter, corn syrup, chocolate chips, and Rice Krispies.
Snacks
19 – Nut Goodie
Check Price on Amazon
Created in 1912 by Pearson's Candy in St. Paul, this chocolate, peanut, and maple nougat is now available nationwide. However, it's still known as a "Minnesota Classic," and in the 1980s Pearson's even restored the Nut Goodie's original packaging.
20 – Anything on a Stick
Minnesotans love their state fair, held in late August, with a passion unmatched by residents of any other state. It's impossible to talk about Minnesota food without acknowledging the fair. Each year, Minnesotans await, with bated breath, the announcement of this year's food vendors.
The most popular of these are those that serve their cuisine on a stick, and at last count, there were more than 75! Count on seeing anything from Birthday Paleta Cake (a Mexican frozen dessert) to the traditional corn dog.
Basically, if it will hold together well enough to stay on a skewer, you're bound to find it somewhere in Minnesota!
Drinks
21 – The Bootlegger
This cocktail is considered to be Minnesota's State Cocktail. Most outsiders don't know how much of a smuggling hot spot Minnesota was during prohibition, although when you consider its proximity to Canada, it makes sense.
It's said that The Bootlegger was created in Twin Cities' area country clubs during prohibition specifically because its strong citrus ingredients disguise the taste of the gin, vodka, or rum used in it (some people insist that you combine a couple of these).
The lemonade/limeade, mint, and club soda used to mix this cocktail make it a favorite summer drink to this day!
22 – Surly Furious
Minnesota has become well known for its plethora of small craft breweries and distilleries. One of the first of these was Surly Brewing, founded in 2005, and Furious IPA was their original creation. It's known for its aggressive hops and malt flavor, and high alcohol content.
Surly is well known for another reason. In 2011, under pressure from this brewery and many of its fans and cohorts, the "Surly Law" was created, which allowed breweries to serve on-site for the first time since Prohibition.
Each Surly beer comes with its own irate name, such as Hell, Cyber Wolf, and Skeleton Brew, for example. After all, their motto is "Brewed Aggressively in Minnesota!"
Foods to Try in Minnesota Summary
Minnesota promises so much fun, adventure, and magic when you visit, and that very much extends to the vast array of foods you can try in the state.
Influenced by cuisines and people from all over the world, built on a foundation of hearty and humble classic American cooking, and using some wonderfully fresh and flavorful ingredients from the fields and forests, Minnesota has so many culinary delights to devour!
You Might Also Like to Read
Save and Pin for Later
Planning a trip to Minnesota soon? Keep these must-try dishes for safekeeping by saving them to one of your Pinterest boards.
Contributor: Wendy Ponte is a social media expert and content writer specialist who hails from Minnesota and has a deep passion for travel and cuisine throughout her native state.