This post may contain affiliate links, meaning if you book or buy something through one of these links, we may earn an affiliate commission at no additional cost to you. Learn more
A trip to experience the magic and beauty of Scotland simply isn't complete without trying these traditional Scottish foods, as filling as they are flavorful and steeped in rich, fascinating history.
From the shimmering lakes nestled amid the highlands to the cosy pubs of the capital, hearty, filling, and utterly delicious food can be found across this magical country.
Together, let's discover the heart, passion, and glory of Scotland through 18 of its most popular and beloved foods, as recommended by a local writer.
Scottish Foods You Need To Try
Breakfast
What better way to introduce you to traditional Scottish cuisine than with a healthy, steaming bowl of porridge for breakfast?
Scottish porridge is a wholesome dish of overnight-soaked oats boiled in milk the next morning to create a thick, creamy cereal-based breakfast. The dish is by no means unique to Scotland, but it has been closely associated with my country for many centuries. Evidence of oatmeal has even been discovered on some Scottish islands (the Outer Hebrides), dating back 2,500 years ago.
It is believed porridge is so popular in Scotland because the oats used are one of the few foods that can be successfully grown in Scotland's Highlands. Traditionally, it is served with salt.
Read more: Quick Scottish Porridge Recipe
2. Selkirk Bannock (Quick Bread with Raisins)
A 'bannock' – a Scots dialect word for 'baked dough' or 'bread' – is simply any quick bread cooked from grain, but a Selkirk bannock is something quite unique!
Attributed to Robbie Douglas, who opened his own bakery in the small Scottish Borders town of Selkirk in 1859, a Selkirk bannock is more akin to a fruitcake than it is to bread. Whilst the original recipe is a well-kept secret, the Selkirk bannock is made from wheat flour, and it is kept spongy and buttery, baked with lots of raisins.
When Queen Victoria visited Scottish novelist and poet Sir Walter Scott in his Abbotsford house in the Scottish Borders, she reputedly cemented the fame of Selkirk bannock by taking a slice or two with her tea. If it is a Scottish dish fit for royalty, then it is certainly one you must try!
Starters and Sides
3. Stovies (Potatoes with Onions and Meat)
A lesser-known staple of Scottish cuisine, but one which I've been surrounded by all my life, is 'stovies.' This Scottish food is a household go-to, with as many variations of recipes as there are grandparents to cook it!
Yet another invention of Scotland's historic poverty, stovies are incredibly cheap to make, and yet – as is typical of all good working-class foods – put plenty of protein and fat back into those tired bodies, come home after a long day's farming, mining, lumbering, or fishing.
In Scots, 'to stove' is to stew, and as such, stovies is a simple dish of potatoes stewed in fat (butter, lard, or dripping), with cooked onions and mincemeat later mixed through. It may not be the most glamorous of dishes, but it is inarguably one of the most comforting.
4. Smoked Salmon Pâté
In a break from the early entries on this list, here's a Scottish-French classic, with closer connections to the aristocracy than to working folk.
Scotland has long been one of the world's richest salmon fishing destinations. Because of this, smoked salmon, a whole salmon cured and dried through smoking, for preservation purposes as much as for flavour, has long been a prized feature of any Scottish dinner party.
Smoked salmon pâté is made by blending together roughly chopped smoked salmon fillets, black pepper, sea salt, lemon juice, cream, and/or creme fraiche (and a dash of cayenne pepper, if you're feeling fancy). This delicious spread is traditionally served on buttered bread or oat crackers with a little dill or on blinis.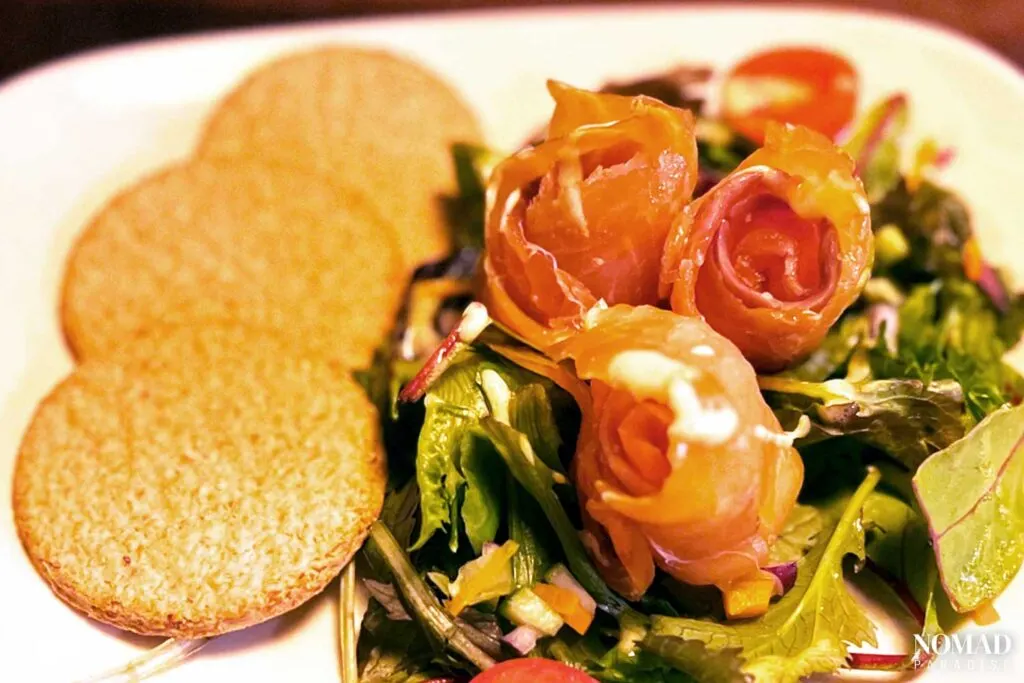 Alternatively, you should also try Scottish smoked salmon in many different ways, or in various dishes, such as served on a bed of greens and herbs with oat crackers.
5. Black Pudding (Blood Sausage)
Black pudding's ingredients may not be immediately whetting your appetite, but blood sausage is surprisingly one of the world's most unanimously loved foods. Where black pudding differs, becoming specifically more Scottish is in its use of cereals, such as oatmeal, barley, or oat groats.
If there's one thing on this list that's bound to unite us Scots, then it's talk of a light and fluffy freshly baked morning roll with a fried slice of black pudding and a fried 'tattie scone' (thin potato scone). Cheap to produce and packed with protein, black pudding is real country food.
6. Rumbledethumps (Baked Dish of Sautéd Vegetables)
Now here is a dish close to my heart. Hailing from the Scottish Borders, my home shire, rumbledethumps are perhaps the best example of Scotland's historic ability to take the very cheapest, unloved ingredients and turn them into something magical.
Typically made the day after the weekly roast dinner, rumbledethumps are a dish of leftover cabbage, sautéd in butter alongside onion until translucent, mixed with mashed potato. The mixture is then topped with grated cheddar and baked in the oven until golden brown. This is real Scottish home cooking!
7. Bridie (Meat and Onion Pasty)
You'll have probably noticed by now that Scotland's cuisine is largely built on the foundations of a few inexpensive, easily-grown, and readily-farmed ingredients, simply combined or presented in unique ways. These ingredients include meat, cheese, cream, onion, potato, butter, and cereals.
The bridie is Scotland's own take on the Mexican empanada or Cornish pasty. It is made from a rich mixture of minced steak, onion, suet, and seasoning, folded into a shortcrust semicircle of pastry. Said to have been 'invented' in Forfar in the 1850s, a bridie is a traditional lunchtime snack.
8. Scotch Pie (Double-Crust Meat Pie)
Whilst a scotch pie (or just 'a pie,' depending on which side of the Scottish/English border you're from) might sound too similar to a bridie to merit its own entry, we Scots would argue otherwise.
A fan favourite at football and rugby matches – served at half-time alongside a cup of hot Bovril – each individual baker and butcher's scotch pie recipe is a well-guarded secret.
Typically, however, this pie consists of heavily peppered mutton concealed in a double-crust pastry, of which the lid is baked a little lower than its sides to allow for a healthy dose of sauce, beans, or gravy to be ladled on top to serve.
In my hometown, it is even traditional to eat a scotch pie on a roll as if it could get any unhealthier!
9. Cullen Skink (Fish and Potato Soup)
Up there with rumbledethumps as one of the greatest-named dishes of Scottish cuisine, Cullen skink makes wonderous use of Scotland's most bountiful natural resource – fish!
Originating in the Northeast town of Cullen, this thick and creamy soup is most authentically made with 'finnan haddie' (smoked haddock cured with a particular mixture of regional greenwood), potatoes, and onions, though sometimes milk or cream is substituted for the water of the broth.
Skink has been described as smokier than American chowder and heartier than French bisque. It is a Scottish food you simply have to order at a pub or restaurant, simply for the name alone!
10. Cock-a-Leekie (Chicken, Leek, and Onion Soup)
Scotland's relationship with its European neighbour France goes back so far, and so amicably, that we call it the 'Auld Alliance' (or 'Old Alliance'). For centuries, Scotland's nobility either were French or spoke French. As such, much French influence gradually found its way to the kitchen tables of even Scotland's poorest.
Cock-a-leekie soup is one such example of this cultural exchange. It is a flavoursome soup of peppered chicken stock, prepared with leeks and onions, often thickened with rice or barley. The dish can also be cooked or garnished with prunes, depending on the chef's preference. A magnificent soup to both fill you up and cure the common cold!
11. Arbroath Smokies (Smoked Haddock Fillets)
With Scandinavian influence, the Northeast of Scotland's love for haddock and the luck of a local legend in which barrels of salted fish caught fire one night, the Arbroath Smokie was born.
Arbroath is a town on Scotland's Northeast coast, a few miles from Auchmithie. It is a small fishing village that proudly claims ownership of the original smokie recipe.
The haddock for Arbroath smokies is salted and dried in barrels overnight, then tied in pairs with hemp twine the morning after before being smoked in a special barrel, in which is lit a hardwood fire. Smoky, salty, and preserved for long journeys out to sea, this is true, traditional Scottish fisherman's food.
Mains
12. Haggis, Neeps, and Tatties (Haggis, Mashed Turnip, and Potato)
This truly is the national Scottish dish, and it is enjoyed by many Scots as an important part of their yearly traditions. So much so, it is served accompanied by the poem 'Address to a Haggis' by Sir Robert Burns, performed as part of the annual Burns Night celebrations on the 25th January.
Haggis, though not an appealing sounding food – made of minced sheep's heart, liver, and lungs, onion, oatmeal, suet, spices, and stock, and baked or boiled inside a sheep's stomach – is nevertheless one of Scotland's most beloved dishes.
Served alongside mashed turnips, mashed potatoes, and a good dram of whisky, you'll be surprised by just how delicious this richly sweet, peppery, and creamy combination can be.
13. Kedgeree (Rice Dish with Smoked Haddock, Parsley, and Egg)
There's that smoked haddock again! We Scots really do like to make the most of what the sea (which surrounds us on all but the 96 miles of our southern border) has to offer, and most of all we love the salty, smoky taste of preserved fish.
Kedgeree is a dish with roots in India. In India, khichari is any combination of legumes and rice, but in Scotland, it is a very specific combination of – yep, you guessed it – butter, cream, and haddock, with rice, parsley, and hard-boiled egg, too.
What island nation doesn't have a love affair with fried fish? Well, here in Scotland, we'll deep fry just about anything (including the infamous deep-fried Mars Bar, though the less said about that, the better…)
Fish and chips is a real staple takeaway meal in Scotland and best enjoyed by the coast, where the local fisheries will be providing the restaurants and takeaways with the freshest Scottish cod and haddock, battered, deep-fried, and served alongside 'chippy' chips.
The chips themselves, according to which coast of Scotland you hail from, should either be smothered in salt and vinegar or salt and 'sauce,' a vinegary dilution of brown sauce). This is true, indulgent Scottish food at its finest.
Read more: Fish and Chips Recipe
15. Chicken Tikka Masala (Creamy Spiced Chicken Curry)
This might seem like an erroneous addition to this list, but as with Kedgeree (see above), the influence of Asian cuisine in Scotland, as with Italian, Polish, European, and African, is second to none. We Scots, in other words, love our curries!
Arguably, the most famous Asian-influenced dish in Scotland is the chicken tikka masala. This is a totally non-traditional curry dish, alleged to have been invented in Glasgow by a Bangladeshi chef who, when a disgruntled bus driver disliked the alleged 'dryness' of his chicken curry, instead served the man a chicken curry marinated in a hastily prepared creamy blend of tomatoes, coconut, and masala spice mix.
There is, however, no single recipe for tikka masala, and at least 48 known variations on the dish exist across the UK!
Desserts
Cranachan does what Scotland does best: taking the very best of the few ingredients our tough, unfruitful soils can produce and delicately combining them to make something special.
A truly simple and comforting dish, cranachan is a rough mash pudding of whipped cream, fresh raspberries, toasted oats, and a good glug of whisky, traditionally enjoyed as a celebration of the raspberry harvest in June.
It may not be the most glamorous way to introduce our selection of Scottish desserts, but my does this dish soothe both the stomach and the soul.
Read more: Cranachan Recipe
17. Clootie Dumpling (Fruit Pudding)
In Scots, a 'clootie' is any piece or rag of cloth or clothing. Therefore, it should come as no surprise that a clootie dumpling is a wholesome pudding cooked in cloth.
Hearty, bold, and sweet as you like, a clootie dumpling is a pudding made of flour, breadcrumbs, plenty of dried fruit, suet, sugar, spices, and milk, finished with a dash of golden syrup.
The ingredients are mixed into a dough, wrapped in cloth, and finally boiled. Like most dishes in Scottish cuisine, the clootie dumpling is a humble, working person's food and all the tastier for it!
18. Shortbread
We started off this list with Scotland's proudest breakfast dish, and we'll end it with our most beloved confection: the simple, melt-in-your-mouth, sugary, buttery goodness that is the humble shortbread!
This traditional unleavened biscuit is made of one part white sugar, two parts butter (can you tell why we love it so?), and either three or four parts flour. Simple as that!
It has its origins in a medieval Scottish twice-baked biscuit, the refinement of which is attributed to our most unfortunate of queens, Mary Stuart, Queen of Scots. Traditionally, a decorated cake of shortbread is broken over the head of a newly married woman on crossing the threshold of her new house.
Scottish Foods Summary
A wholesome cuisine with as much heart, warmth, and love as Scots themselves, Scottish food to this day remains a largely unknown British culinary experience, waiting to be discovered.
The vast lakes, wild seas, and rugged landscape lend themselves to a wide range of fresh produce, meat, and seafood, all of which help make Scottish dishes a true soother of souls from people of all walks of life.
Contrary to popular belief, the UK's diverse produce and vast influences have helped create an incredible range of unique and flavorful dishes, many of which do not travel beyond their native countries or regions.
Naturally, be sure to pour yourself a glass (or several) of whisky when in Scotland. It would be rude not to. But make sure it is accompanied by plenty of these local dishes, all of which capture the essence of Scotland with such warmth, heart, and soul.
Oh, and be sure to keep this list of Scottish foods handy, ready for when you do venture into this welcoming and beautiful country.
You Might Also Like to Read:
Save and Pin for Later
Eager to try some of these Scottish foods in the near future? Keep this article in a safe place by saving it to one of your foodie travel Pinterest boards.
Contributor: Calum Bannerman is a creative writer, proofreader, and voice actor, hailing from Glasgow. Deeply passionate about Scottish culture, cuisine, and travel, Calum has worked in publishing for over a decade and has written for a wide range of publications.
Images licensed via Shutterstock