This post may contain affiliate links, meaning if you book or buy something through one of these links, we may earn an affiliate commission at no additional cost to you. Learn more
Cultivated from a unique and fascinating blend of French, Mediterranean, and North African flavors, Algerian food is packed with a richness and freshness few cuisines can compete with.
Built on a solid foundation of vegetables, cereals, and meats (excluding pork), African heat, Mediterranean freshness, and French flair all help give Algerian dishes deep layers of complexity and flavor.
Known as the cuisine that gave couscous to the world, there's so much to get excited about when it comes to Algerian cooking.
So buckle up for a breathtaking culinary adventure as a local Algerian shares unique insight into 16 of Algeria's traditional and most popular dishes.
Best Algerian Foods
Algerian Mains & Starters
1 – Couscous – Steamed Semolina with Meat Stew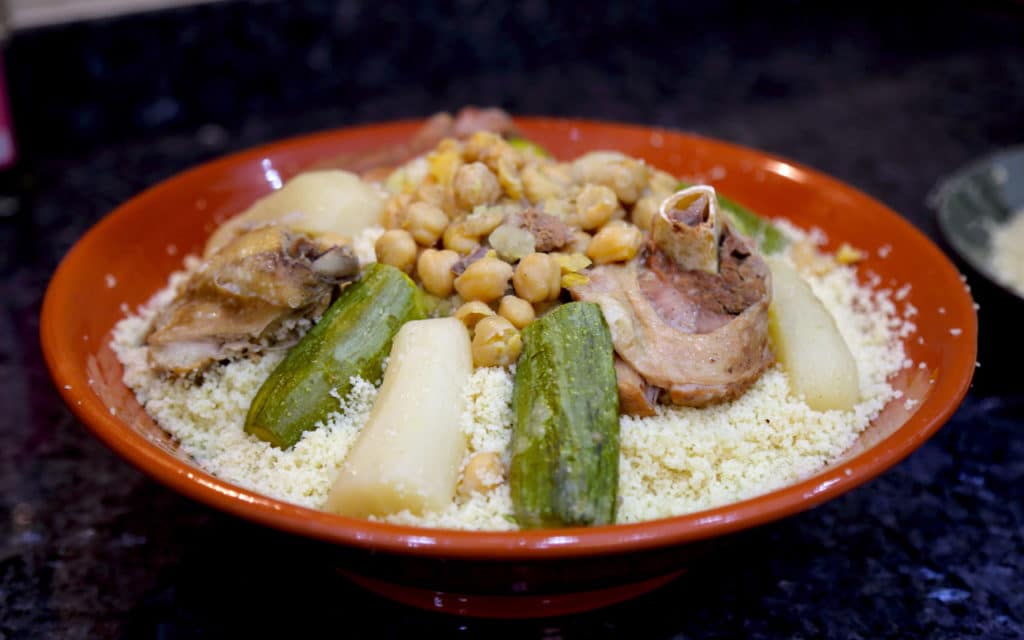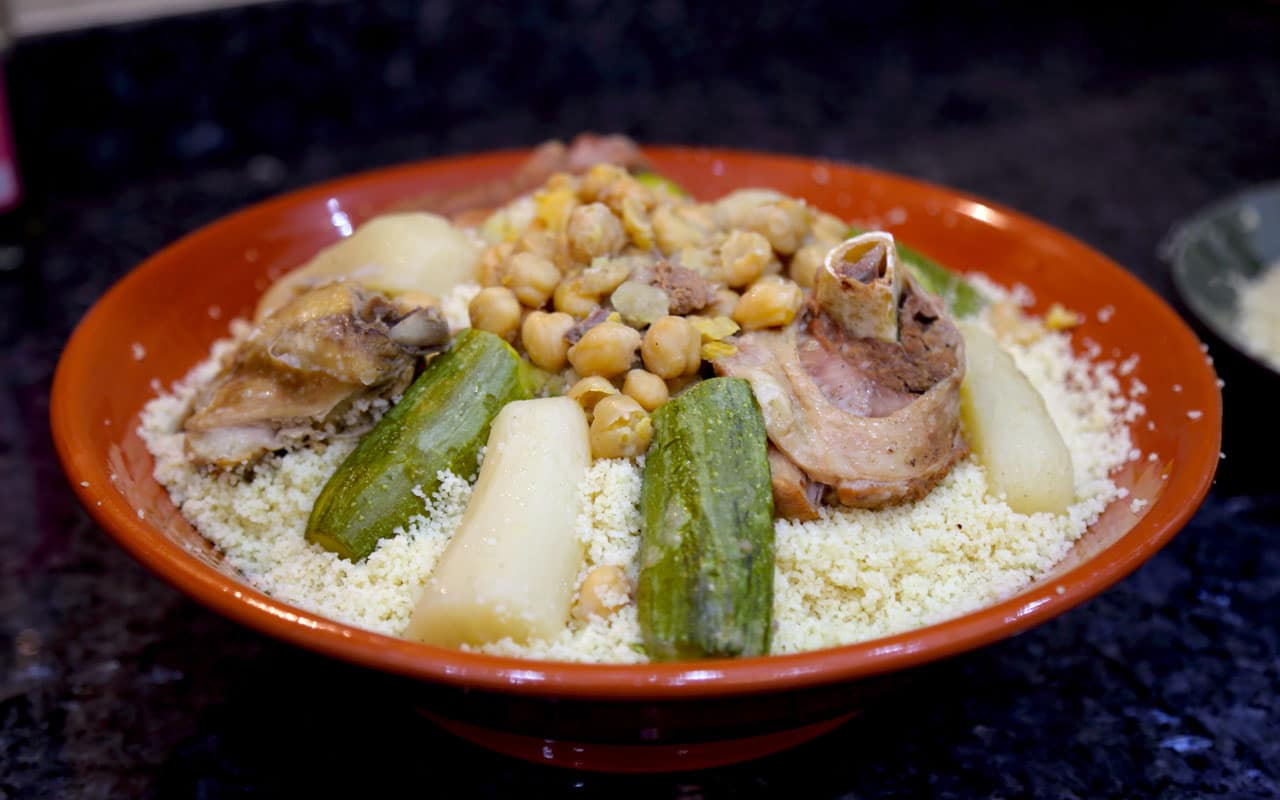 Couscous is arguably the most famous Algerian dish. It's commonly eaten on Fridays, due to an old tradition of giving couscous to the country's poorest on Fridays many centuries ago.
Couscous is made from semolina that has been steamed for approximately 10 minutes. It is served with a stew of meat and various vegetables like carrots, potatoes, and zucchini.
Different ingredients get added depending on the region. For example, in the Kabyle region, they add black-eyed peas to add more texture and flavor.
Couscous can be eaten in different ways. You can top it with the previously mentioned stew, or add steamed beans and peas and eat it with Iben, a type of buttermilk.
2 – Tajin Zitoun – Chicken and Olives Dish
Tajine Zitoune is a very popular dish in Algeria, especially during Ramadan.
This dish is made with Kefta (minced beef, lamb, fish, or chicken meatballs seasoned with spices and herbs), potatoes, mushrooms, and a white sauce flavored with cinnamon and thickened with olives.
It is traditionally made in a Tagine, which is a terracotta dish. If you don't have one, you can easily make it in a casserole dish or a pot.
This dish is served alongside delicious homemade bread. It's an Algerian food that's beautiful to behold, and it is packed with so much heat and flavor.
Tagine is also traditional in Moroccan cuisine.
3 – Kesra – Simple Flatbread with Olive Oil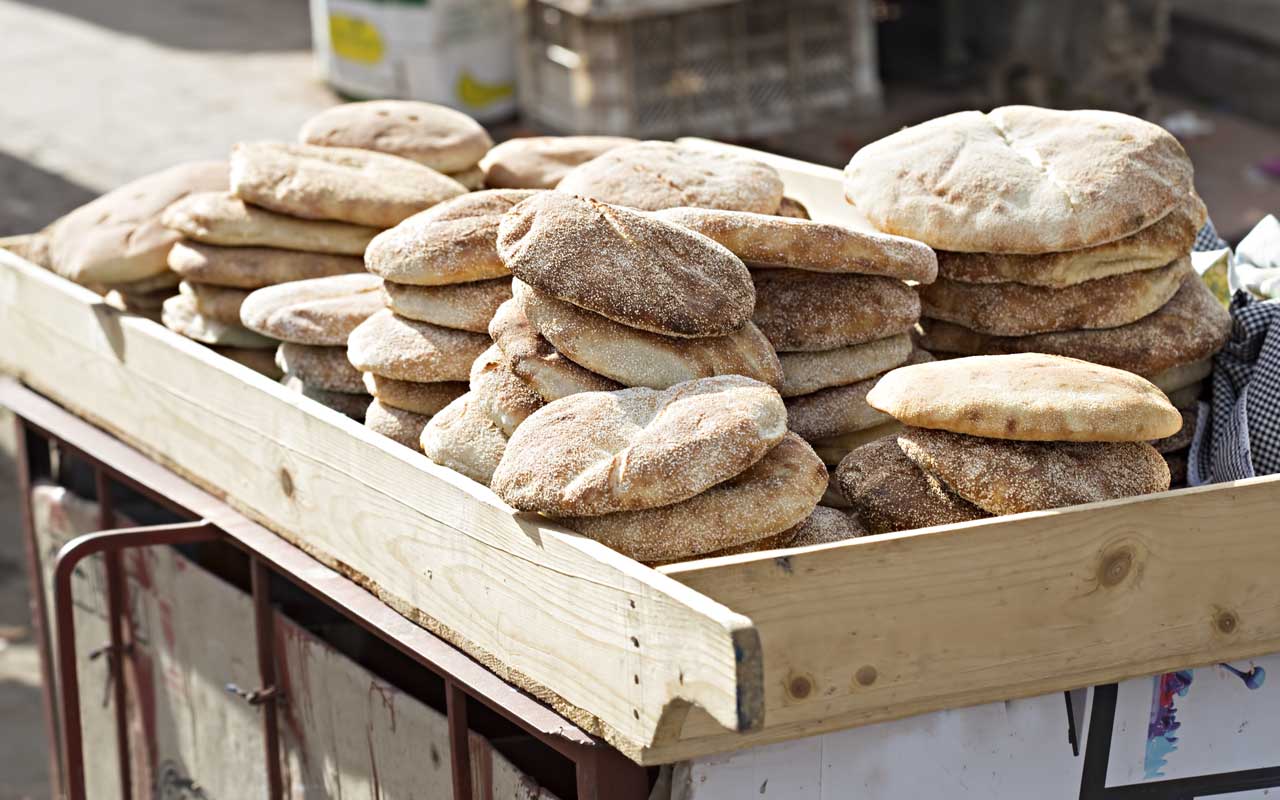 Kesra is traditional Algeria bread, eaten throughout the country. It has a different name depending on its region.
Near Algiers, it is known as Khobz Ftir. Near Constantine, it is known as Kesra. And in the Kabyle region, it is called Aghroum Akoran.
This bread, when prepared with baker's yeast, can be made quickly. Hence, it's an ideal side to many dishes and starters.
The bread has a strong flavor of old-fashioned, cold-pressed virgin olive oil. It's hearty, comforting, and truly tasty Algerian food.
4 – Mhajeb – Flatbread with Tomato and Onion Stuffing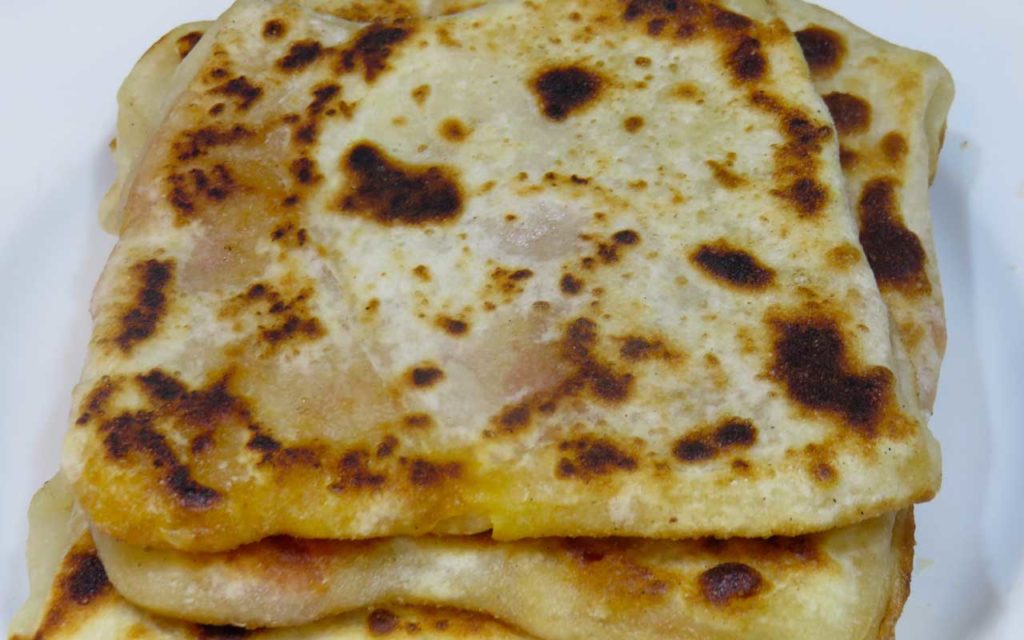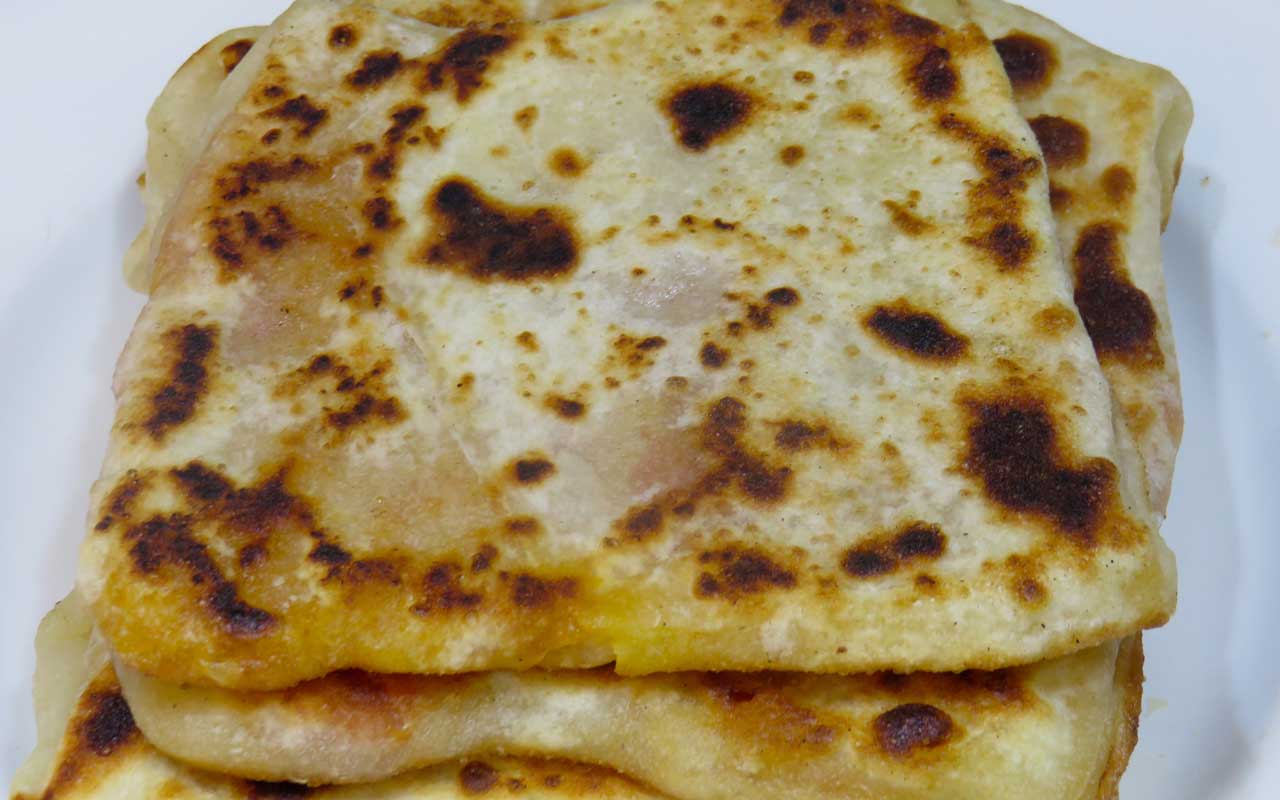 Mhadjeb is an Algerian specialty. It is a kind of puff pastry made with semolina.
Mhadjeb stuffing is prepared differently, depending on the region. Commonly, it is stuffed with onion and tomato.
This dish is well-known and enjoyed throughout the Maghreb countries. From fast-food restaurants to street vendors, there are many ways you can try this wholesome food.
Generally, they are consumed during the day and with a little tangy note incorporated by adding something like Harissa. The Mhadjeb also pairs well with many salads.
5 – Dolma – Various Vegetables Stuffed with Meat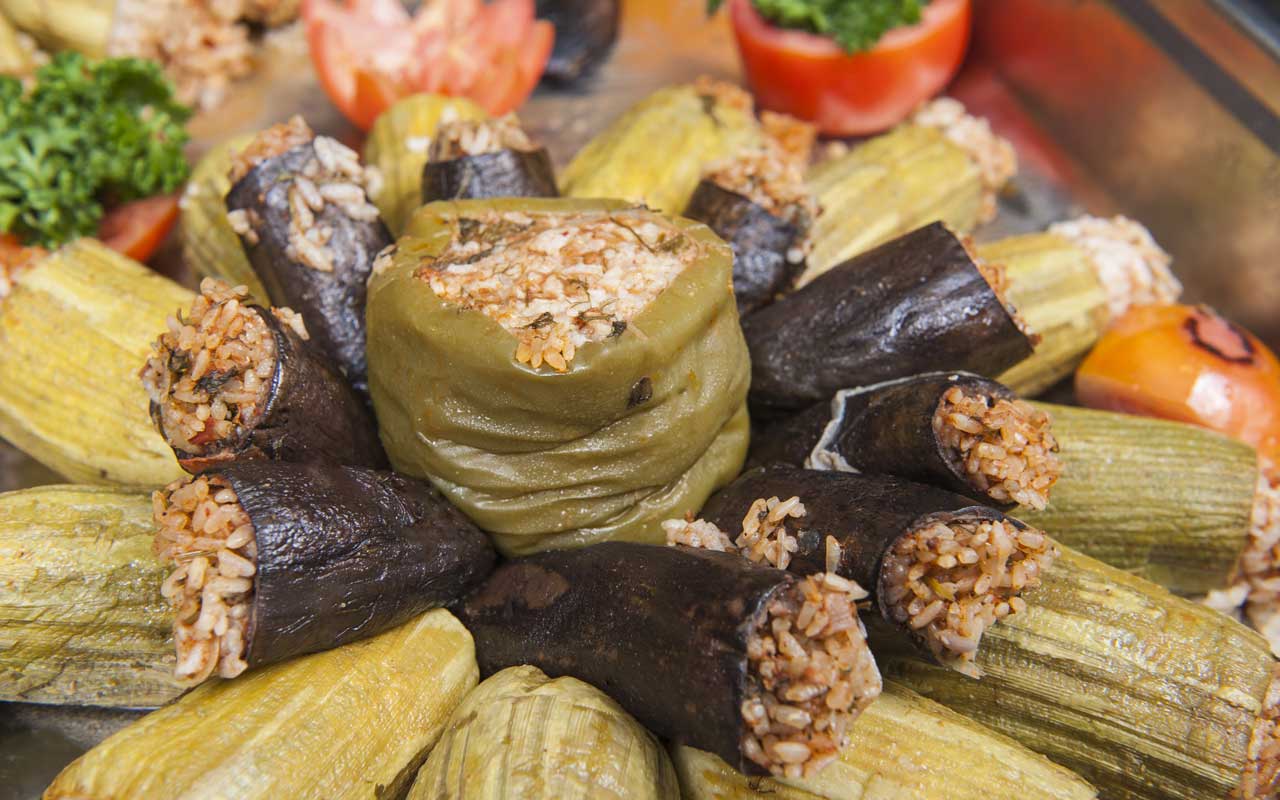 Dolma in white sauce is a typical Algerian dish, dating back to the Ottoman era.
It is made with several kinds of vegetables, stuffed with minced meat, and cooked in a white sauce flavored with cinnamon.
Vegetables traditionally used are zucchini (preferably white zucchini) and potato. However, many other vegetables can be used too, including carrots, peppers, and tomatoes.
This Algerian dish is especially popular during Ramadan. It is rich in fiber, vitamins, and minerals.
The dish doesn't take much time to prepare, making it ideal as a wholesome food for when you have little time to cook.
6 – Rechta – Algerian Noodles Served with Broth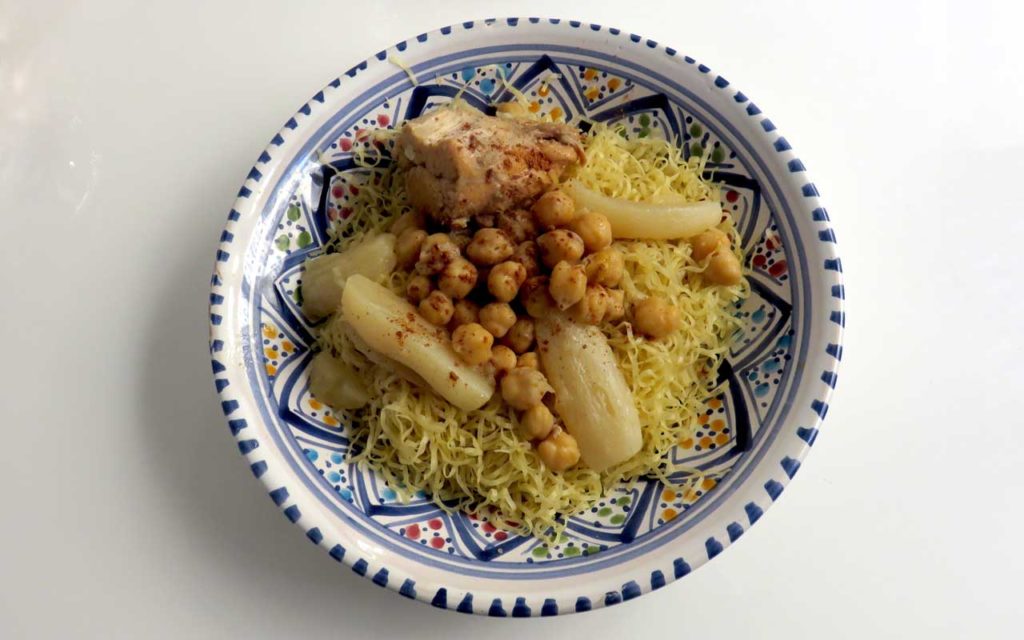 Rechta is a special dish in Algerian cuisine. It is enjoyed by families across the country at all times of the year.
It is a typical Algerian food. The noodles are cooked in a white sauce, seasoned with cinnamon. It is served with chicken and vegetables, usually turnip and zucchini.
Algerians generally prepare the noodles with homemade dough made from durum wheat semolina, flour, and egg.
It is easy to make, wholesome, and flavorful. Algerians commonly serve this dish for special events, such as El Mouloud, Achoura, and El Eid.
7 – Chorba Frik – Crushed Wheat Soup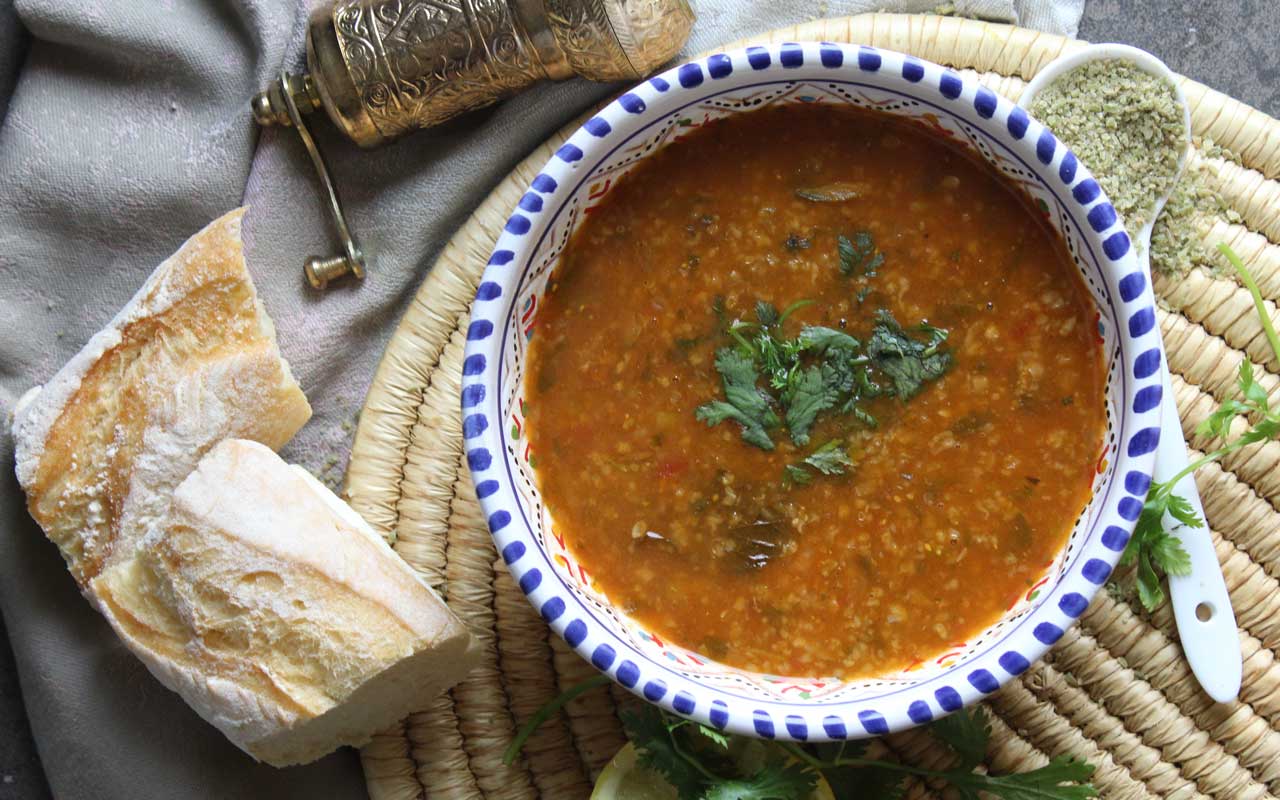 Chorba Frik (also called El Jari outside of the capital) is famous mainly in the northern regions of Algeria. It is eaten as a main course every day of Ramadan.
It is a light soup that is made of tomatoes and Frik (a certain kind of wheat that is green in color and rich in fibers), coriander, onions, celery, meat, and chickpeas.
Every day of Ramadan, Algerians cook a brand new batch of Chorba Frik to break their fast with.
It is believed this soup helps with digestion and prepares an empty stomach for the various delicious traditional dishes to come.
8 – Harira – Tomato Soup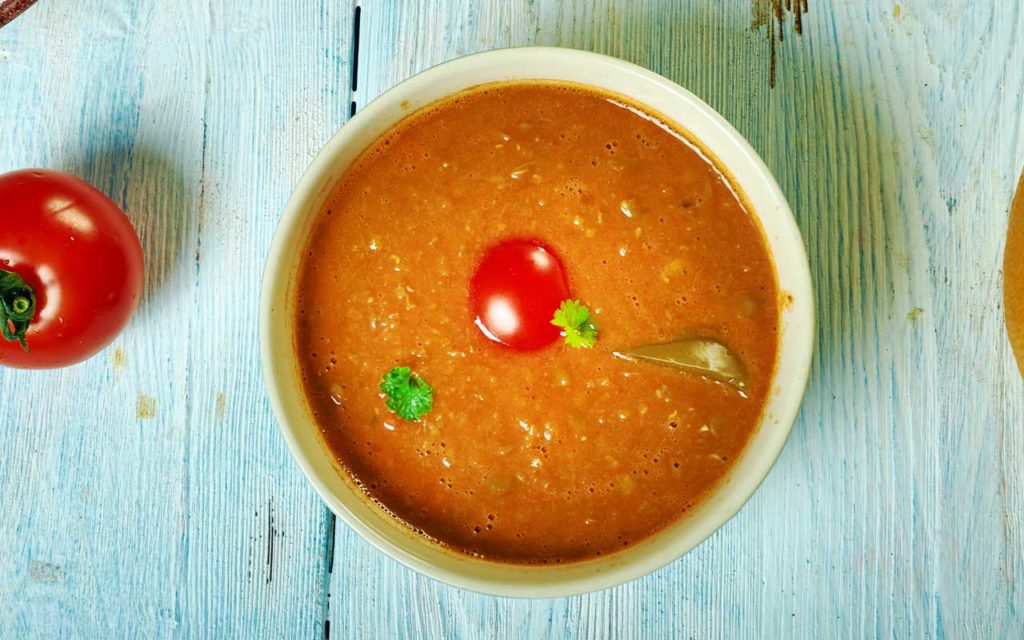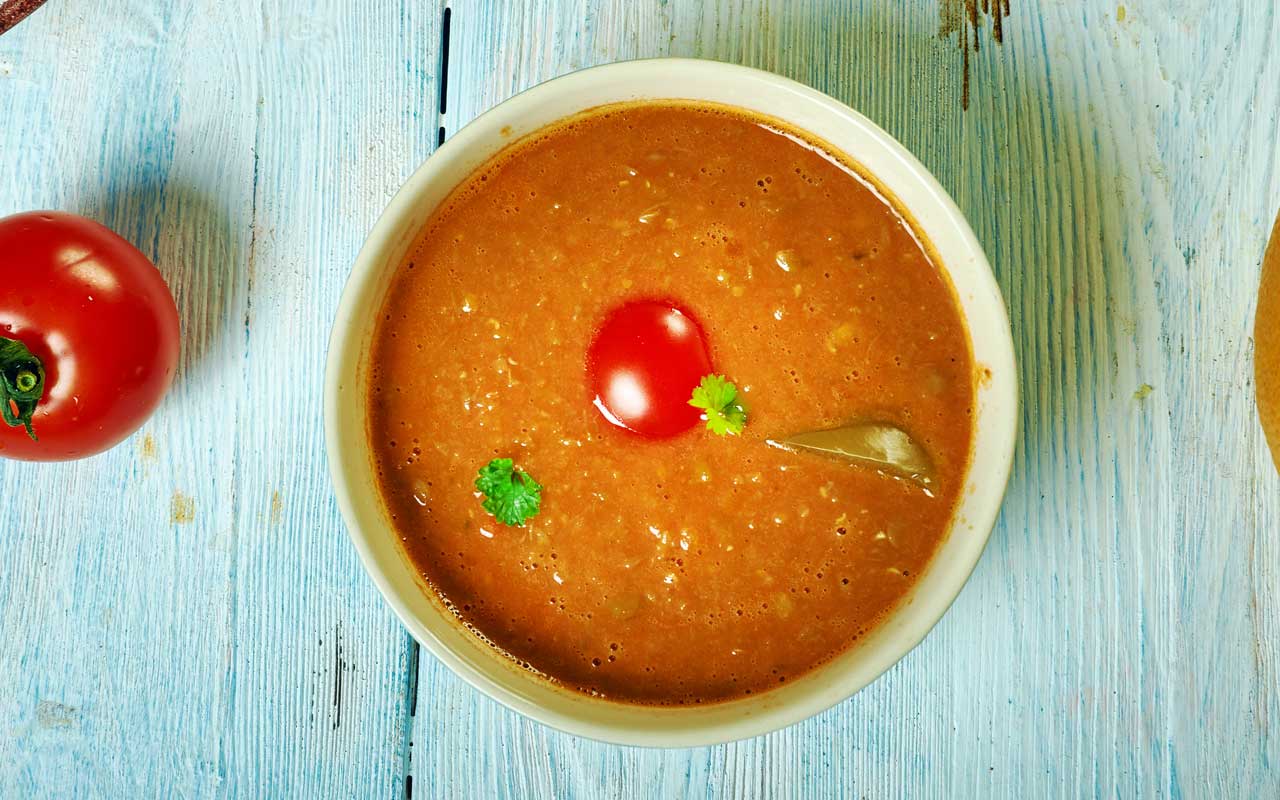 There are a variety of soups and broths in Algeria, but the Harira is undoubtedly one of the country's most well-known.
Harira is very common in West Algeria. Its recipe may change from region to region, but it always remains rich and flavorsome.
Harira is commonly made from pureed tomatoes, meat, and various vegetables like zucchini, carrots, potatoes, and onion.
Generous helpings of herbs, like ginger and coriander, help elevate the taste of this delicious soup.
Harira is enjoyed with a few slices of bread or Kessra. It is an important Algerian food, and it comes in many variations.
9 – Chtitha Batata – Potato and Tomatoes Stew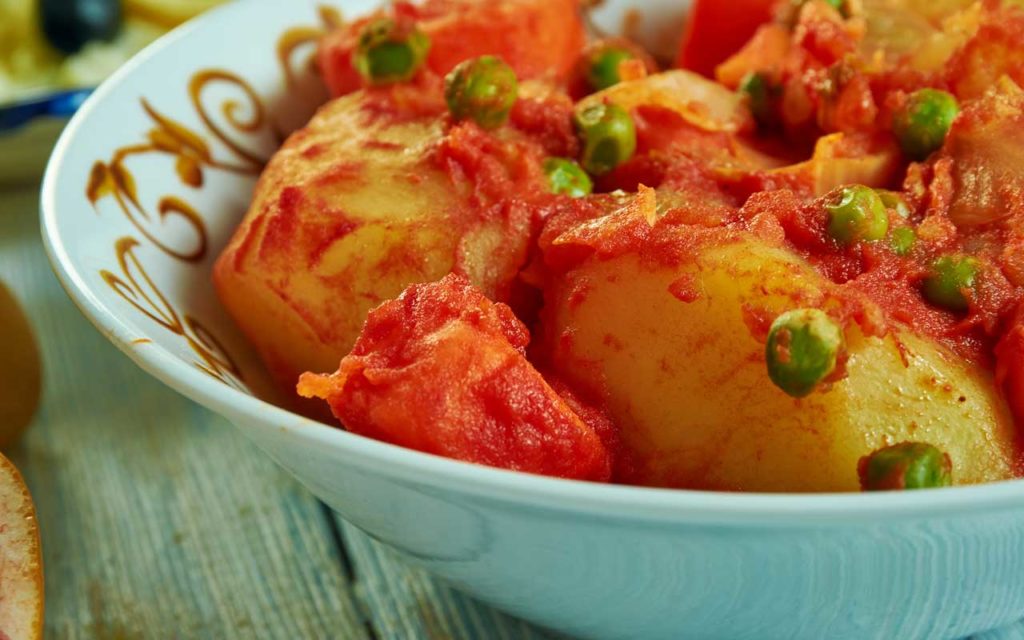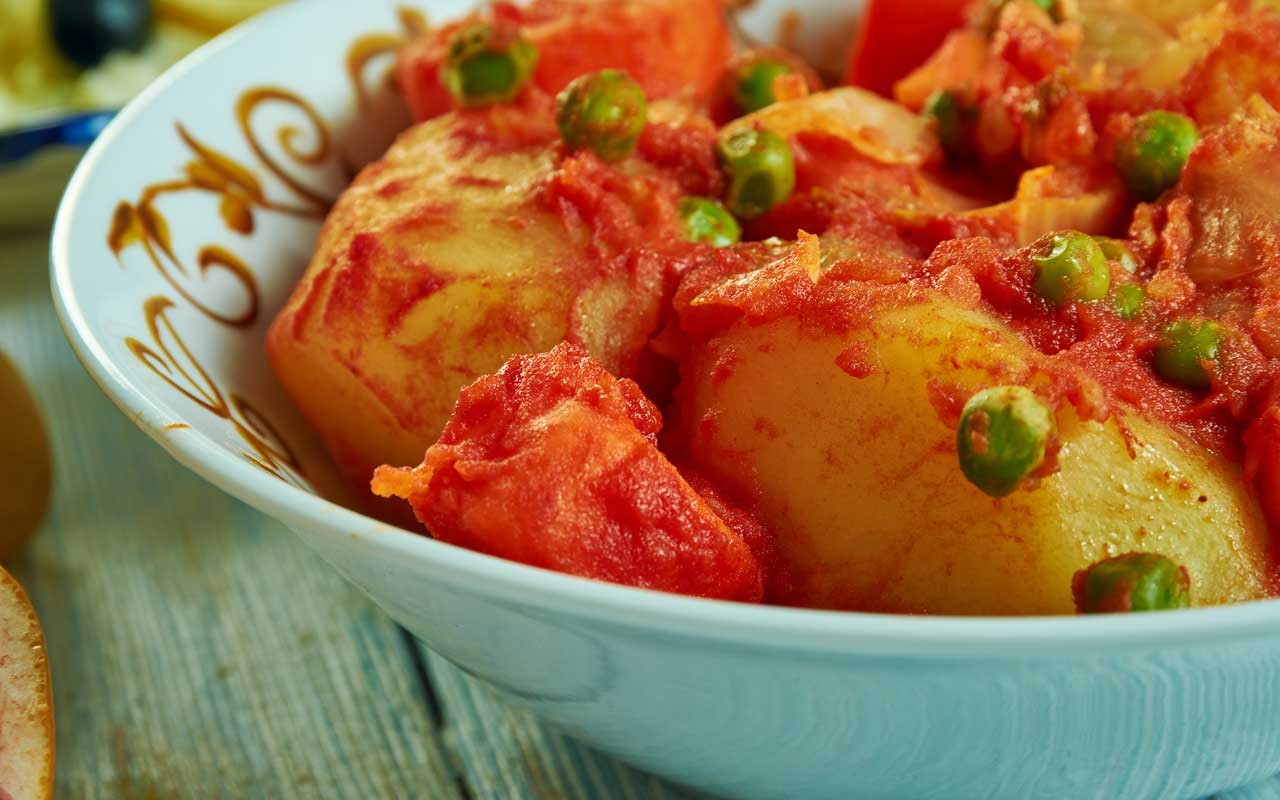 When it comes to simple, easy-to-prepare Algerian foods, few come close to Chtitha Batata.
Also known as Marka Batata and Jwaz Batata, this inexpensive dish may sound simple, but it's very delicious.
It consists of a base of potatoes cooked in a red sauce of onions, tomato puree, paprika, and chickpeas. Meat can also be used in the sauce.
Seasoned with salt, pepper, and cummin, the broth is cooked until thick and then poured over the potatoes.
During the winter months, this is one of the country's favorite meals. It is rich, flavorsome, and so delicious.
10 – Bourek – Filled Puff Pastry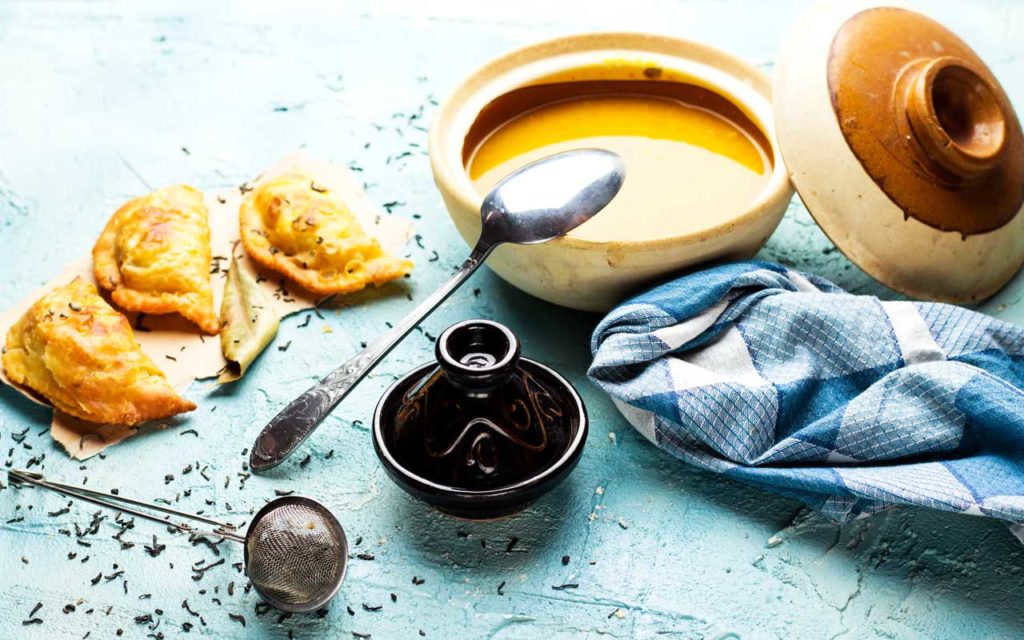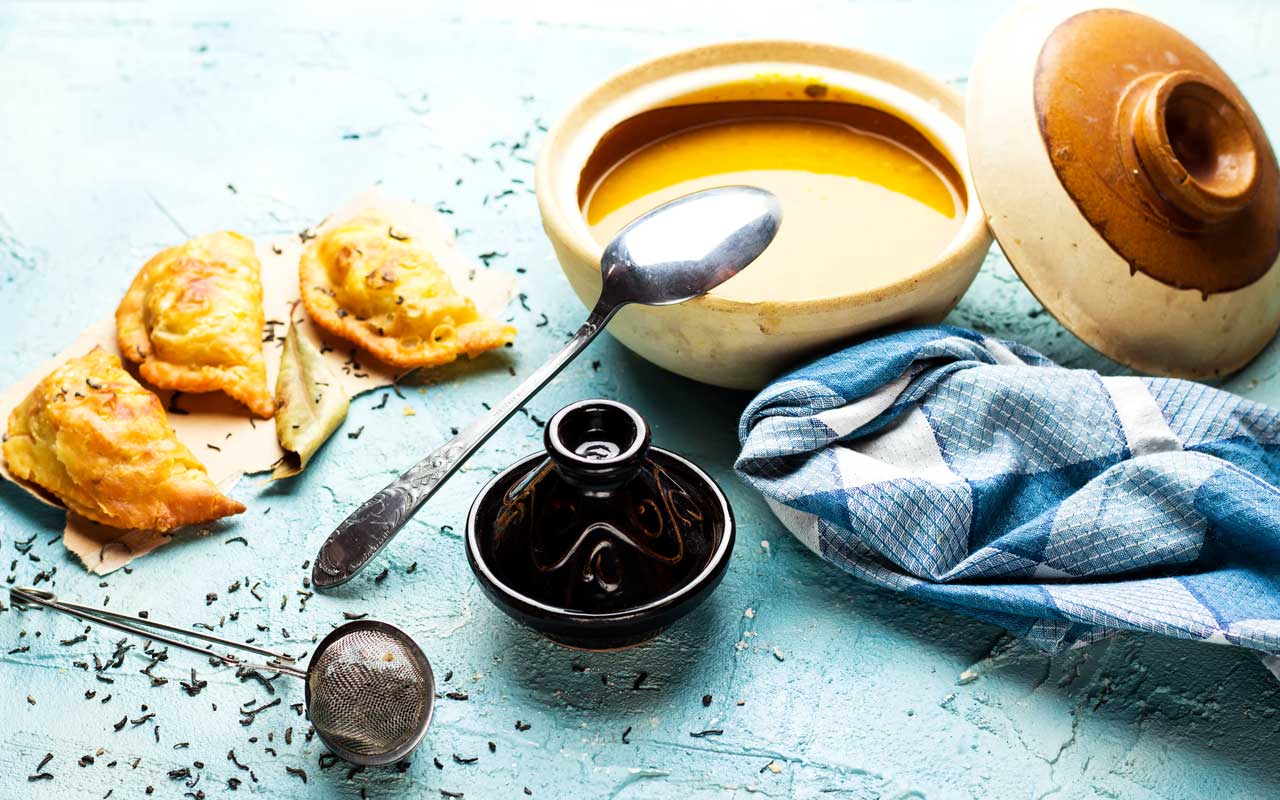 Bourek is a rich and filling Algerian pastry, commonly eaten as an appetizer to various main meals.
Inside each little fried pastry, you can find a range of delicious flavors. These vary from vendor to vendor, and across different regions.
Traditionally, ground lamb or ground beef is used in Bourek fillings, along with onions, potatoes, spices like cinnamon, and other seasonings.
Today, you can find Bourek with fresh shrimp, tuna, cheese, among many other flavors. Through the years, Algerians have adapted the recipe in many ways. Traditionally, egg is also added to the filling.
Bourek's thin, crispy pastry is rich and buttery, while its filling explodes with heat and spices.
It's a truly delicious Algerian food and one that you can enjoy across the country in a whole manner of different ways.
11 – Chakhchoukha – Flatbread Topped with Stew
Chakhchoukha is an ancient Algerian dish that today still holds its value and prestige for many Algerians.
It's made of tiny pieces of torn-up flatbread, known as Rougag, which can be store-bought or made at home. The Rougag is then topped with hot stew.
The stew is mainly cooked with meat (chicken or lamb) and tomatoes, onions, green bell peppers, and chickpeas. Other vegetables such as carrots, turnips or potatoes, can also be added.
Chakhchoukha is usually very spicy. This is due to the addition of certain spices called Rass El Hanout, which is a spice mix that contains a dozen different spices.
It is a little similar to the Indian chicken masala spice mix, and it adds plenty of heat and kick to this hearty Algerian food.
Algerian Desserts
12 – Qalb el Louz – Baked Semolina Almond Dessert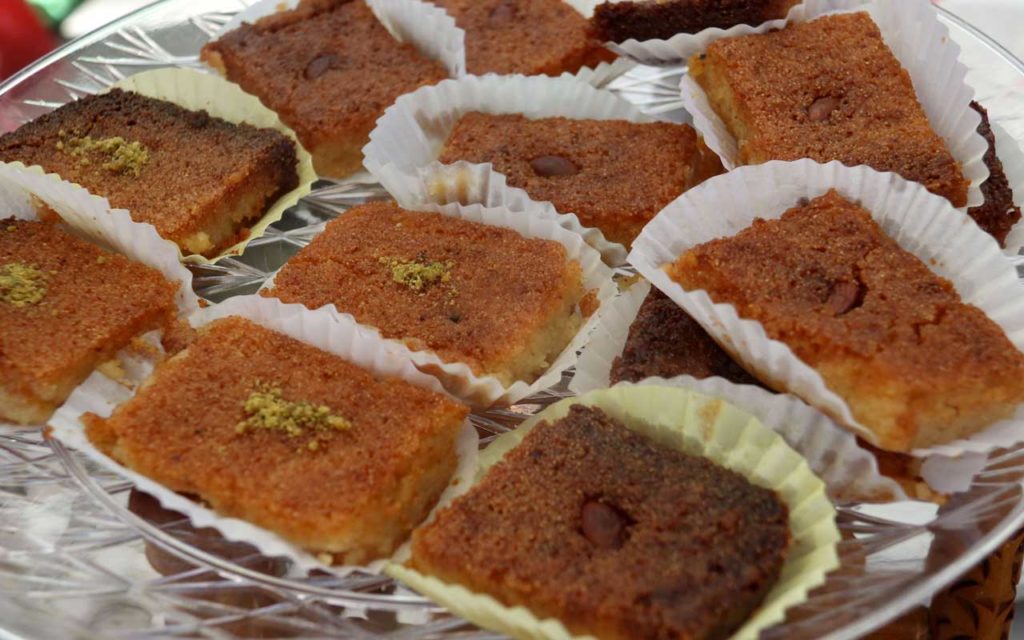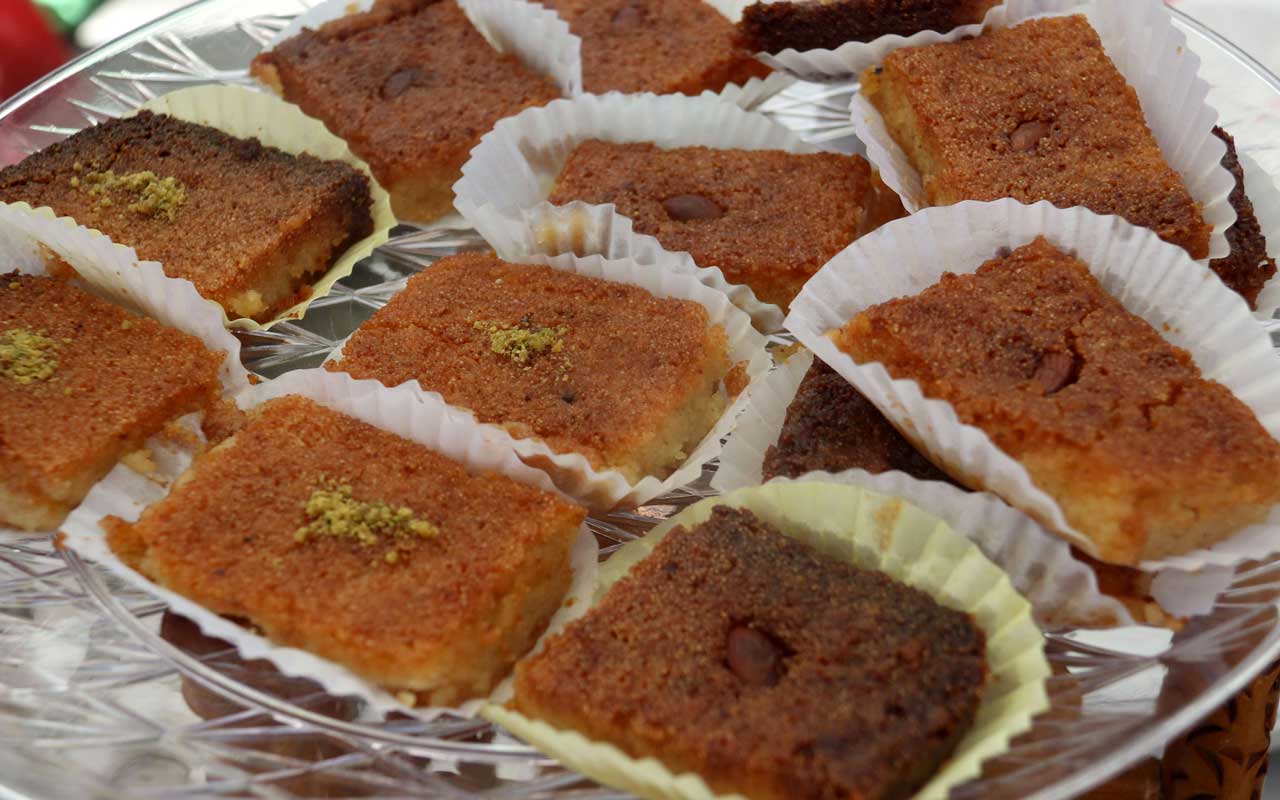 Qalb el Louz is a Ramadan dessert that few Algerians can resist. It is sold and eaten throughout the country.
Qalb el Louz is simple but so delicious. It is made with three simple ingredients: semolina, ground almonds (or peanuts, if you are on a budget), and a syrup of sugar, water, and rose water.
Once the mixture is ready, it is placed in a tray, and finally baked until golden brown. It can be flavored with honey, cinnamon, or cardamom.
Qalb el Louz is very soft and mushy on the inside, yet every mouthful comes with an explosion of sweet and nutty flavors. It's an Algerian treat you simply have to try.
13 – Tamina – Semolina, Honey, and Butter Dessert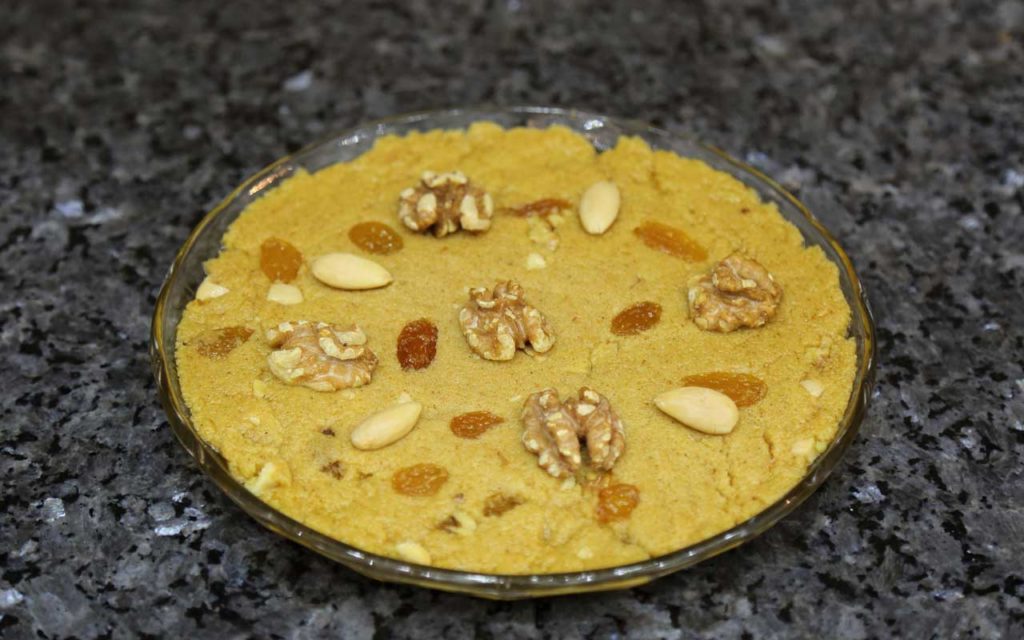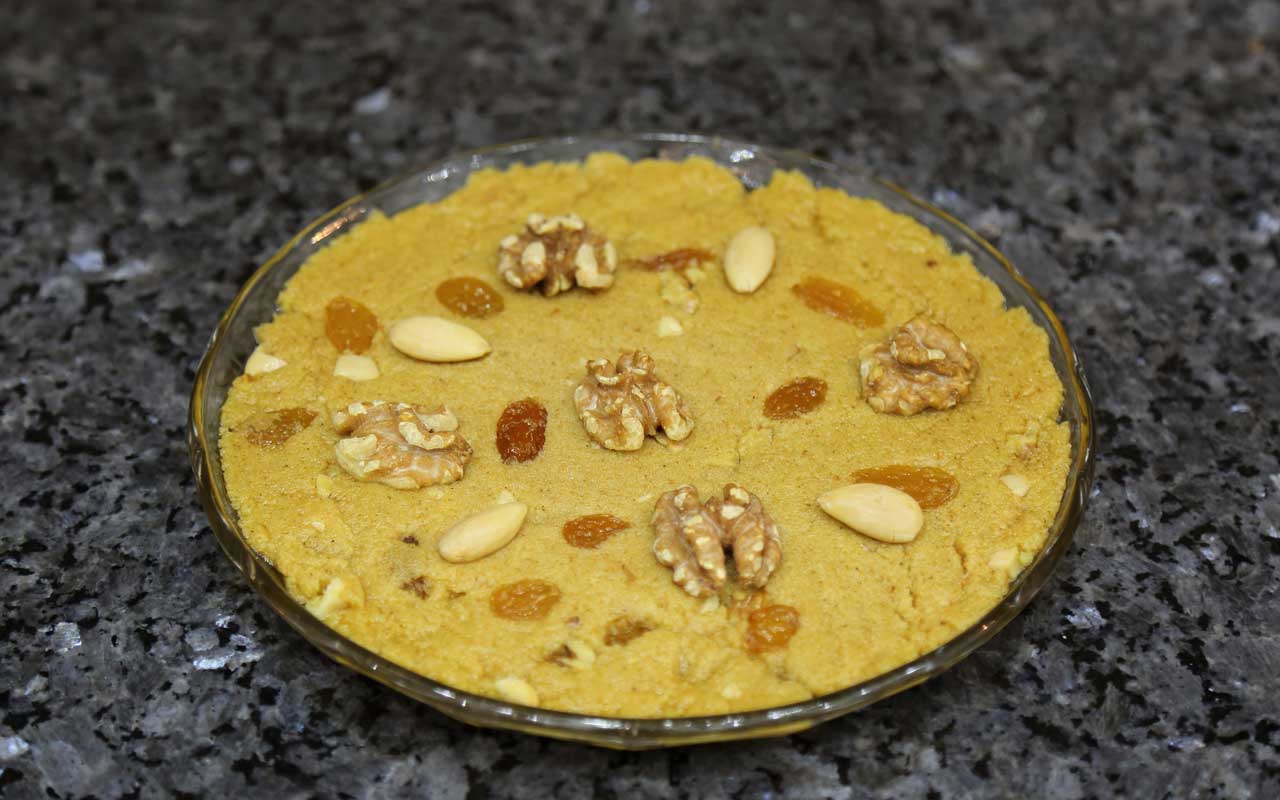 Tamina is an ancient and authentic Algerian recipe. It is prepared to celebrate newborn babies, and also the celebration of Mawlid Nabawi.
Tamina consists of semolina, butter, honey, and a tiny bit of Hror, which is a unique spice for Tamina that can be found in Algerian markets.
I personally like to add Tahini (sesame paste) to this dessert, which gives it an incomparable and exquisite taste.
Try it, and you will be surprised. This beautiful dessert is usually served garnished with cinnamon powder, almonds, hazelnuts, and even pistachios.
14 – Makrout – Fried Semolina Dipped in Honey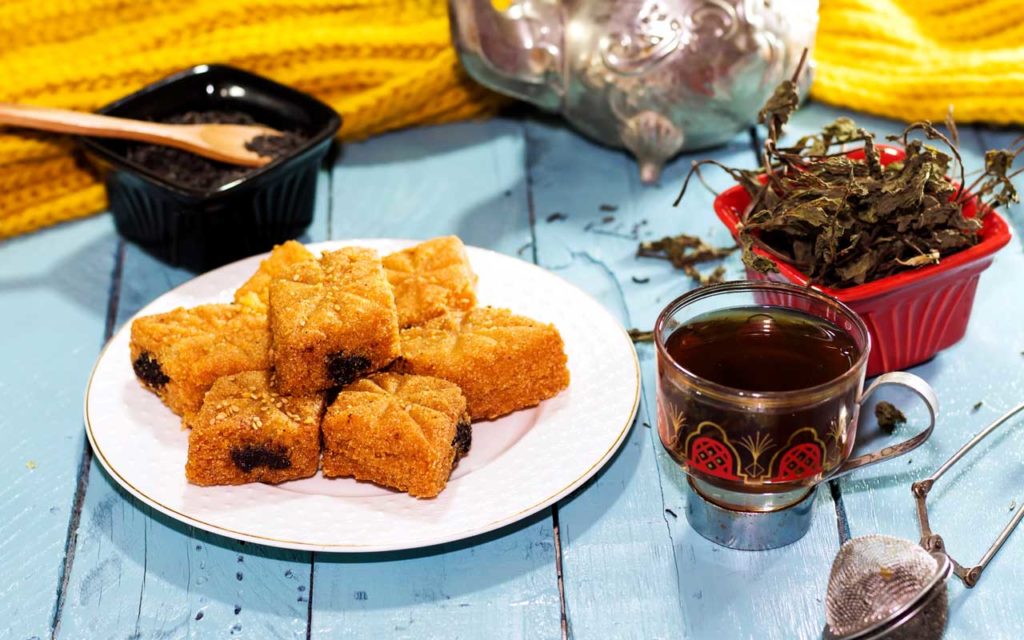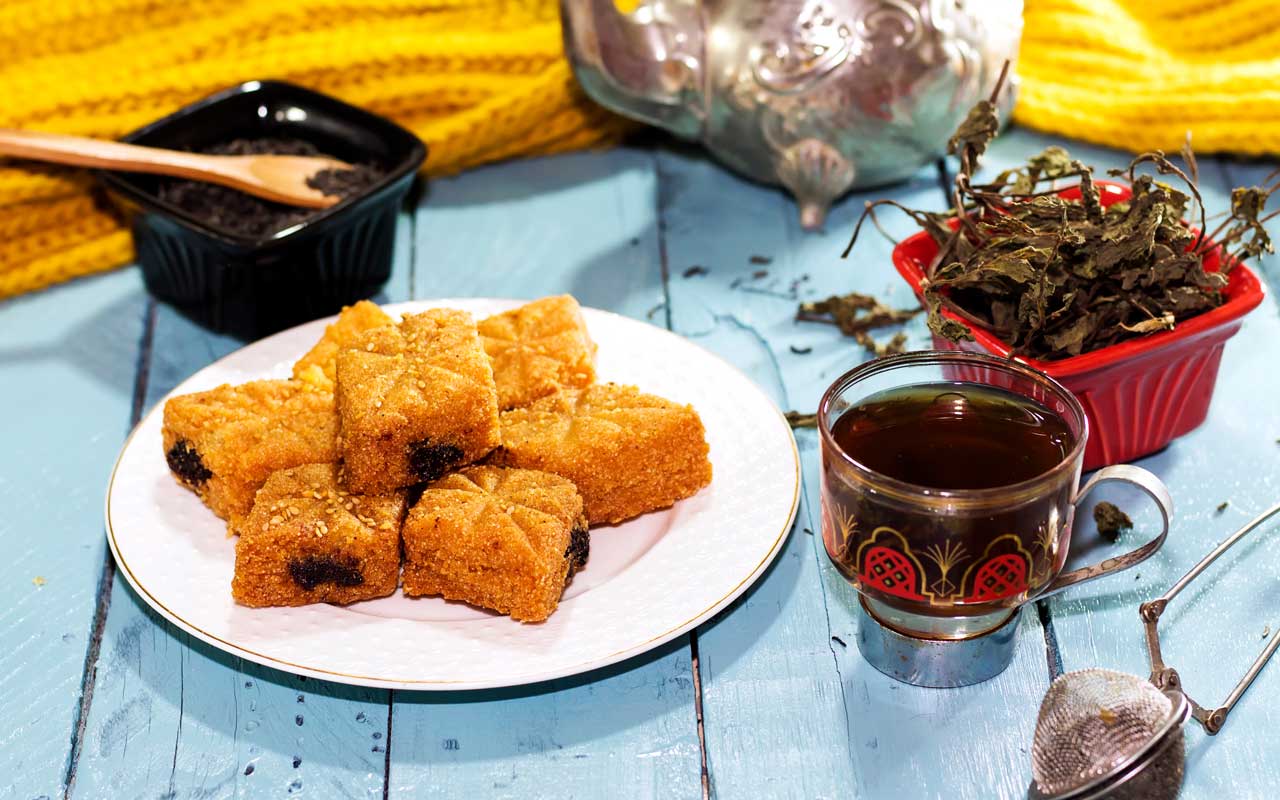 Makrout is a famous Algerian pastry. It is beautiful to behold and utterly delicious to taste.
Its main ingredient is semolina. Depending on the region, you will find Makrout made with either fine, medium, or thicker semolina flour.
Dates, figs, or almonds can all be used in the Makrout recipe. Once the dough has been rolled out, it is deep-fried in oil, then dipped in honey as soon as it's removed from the oil.
The result is an Algerian dessert with a rich and crunchy texture that has plenty of sweet and nutty notes.
Algerian Food Summary
Algerian food is one of North Africa's hidden gems. The range of dishes and spices can open your eyes and palette to a world of previously unknown flavors.
With some authentic recipes dating back to ancient Berber and Roman times, it is no surprise that Algerian food has been able to evolve through the ages.
Being situated in the Mediterranean basin has allowed plenty of iconic flavors to enter Algerian cooking, including olive oil and various spices.
Then, the various European influences, including Sicilian and French, has introduced a range of techniques and textures into the country's food.
Algerian food may not be well-known from a global viewpoint, but that helps make it even more surprising and delightful when you try some of its wonderful dishes.
So, one final time, here's the full list of all Algerian foods covered in this article for reference.
Be sure to have this list of Algerian food handy when you visit so that you can try one or more of these popular and traditional foods.
Couscous – Steamed Semolina with Meat Stew
Tajin Zitoun – Chicken and Olives Dish
Kesra – Simple Flatbread with Olive Oil
Mhajeb – Flatbread with Tomato and Onion Stuffing
Dolma – Various Vegetables Stuffed with Meat
Rechta – Algerian Noodles Served with Broth
Chorba Frik – Crushed Wheat Soup
Harira – Tomato Soup
Chtitha Batata – Potato and Tomatoes Stew
Bourek – Filled Puff Pastry
Chakhchoukha – Flatbread Topped with Stew
Qalb el Louz – Baked Semolina Almond Dessert
Tamina – Semolina, Honey, and Butter Dessert
Makrout – Fried Semolina Dipped in Honey
You Might Also Like to Read
Save and Pin for Later
Want to keep all these delicious Algerian food picks in a safe place? Save this article and pin it to one of your Pinterest food boards. That way, you'll always be able to find these delicious foods.
---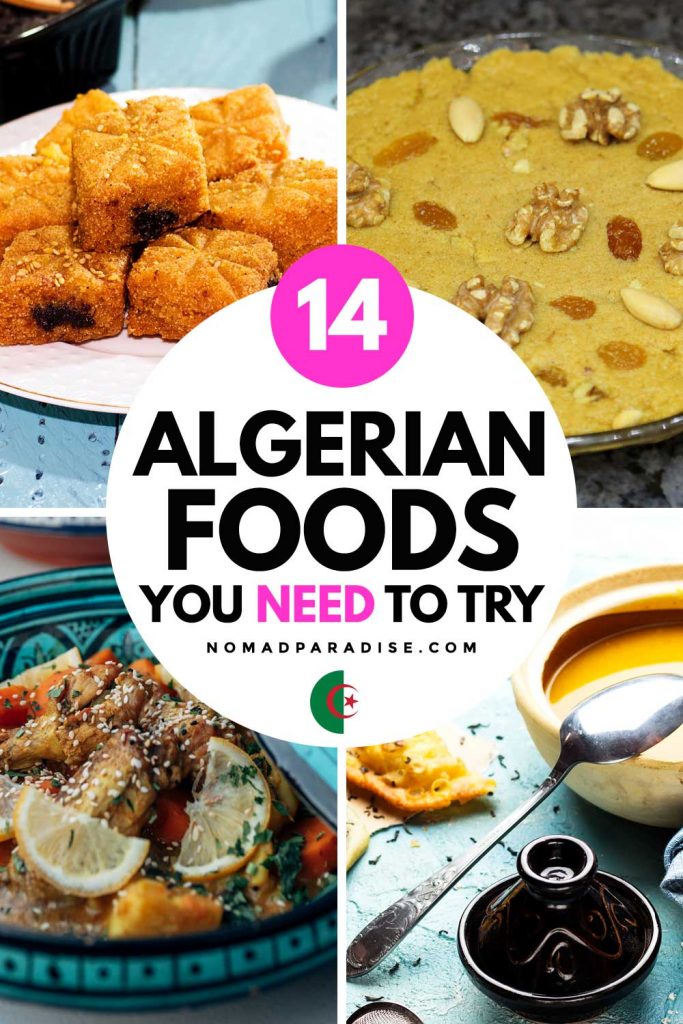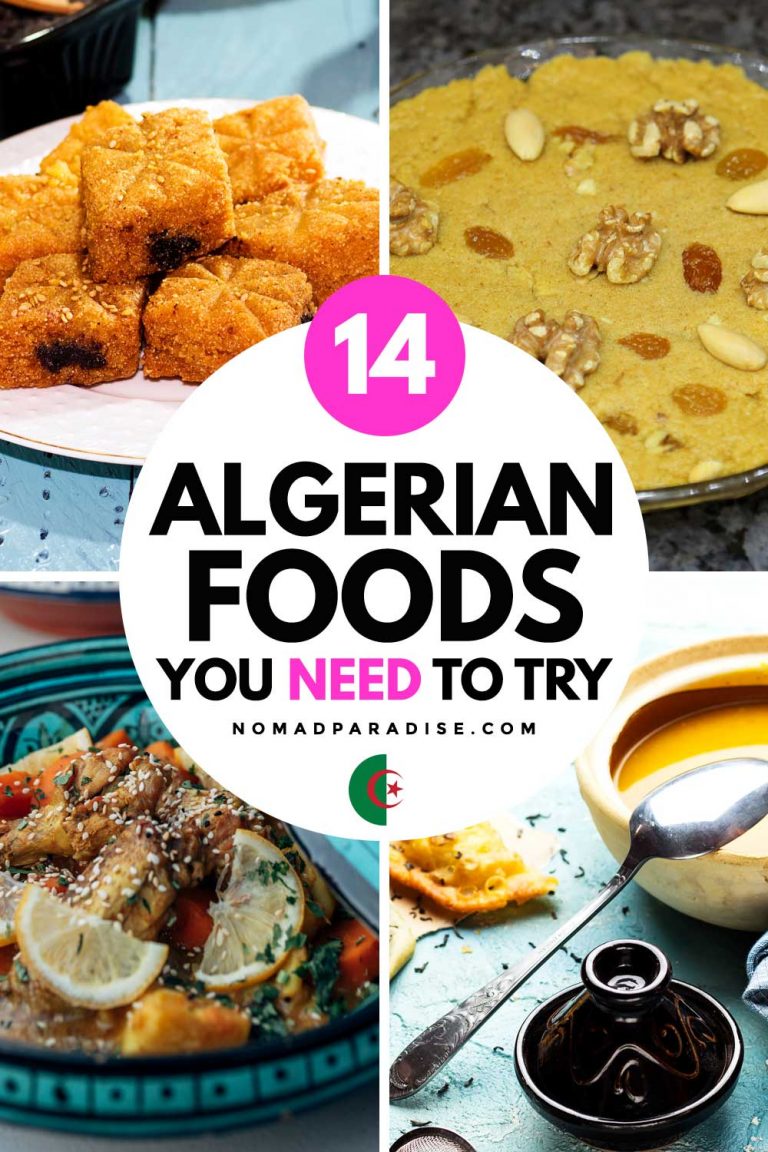 ---
Contributor: Hana Sad Houari is a native Algerian content writer from Algiers. She writes in a number of spaces, including travel and entertainment, and she is keen to share Algeria's unique culture and cuisine with the world through her writing.
Images licensed via Shutterstock