This post may contain affiliate links, meaning if you book or buy something through one of these links, we may earn an affiliate commission at no additional cost to you. Learn more
Experience the heat, spice, and flavor of Turkish cuisine at its purest with these Turkish street foods, and treat both your stomach and senses to a culinary experience quite like no other.
From bustling food markets to street corner stalls, sumptuous food is all around you in Turkey. Take in the sights and the smells, and enjoy the divine flavors, courtesy of these 20 must-try street foods recommended by a local.
Turkish Street Foods
Grab and Eat
1 – Simit (Turkish Bagels)
Simit is a street food classic and is adored by Turks from all walks of life. Regardless of your budget, job, or background, literally, everyone in the country cannot help to stop and take in the mouthwatering aroma when they walk past bakeries that have just prepared a fresh batch of this popular street food.
Simit is essentially a Turkish bagel. It is a ring-shaped piece of crusty bread, topped with sesame seeds or poppy seeds. As you would with bagels, you can cut them in half and spread them with a range of different fillings.
Cream cheese and feta cheese are popular fillings, along with parsley, tomatoes, and various other ingredients. In Turkey, it is common to order them with a side of yogurt, tea, or a fizzy drink.
This hugely popular Turkish street food is how so many Turks start their day on the way to work. If you visit Izmir, Turkey's third most populous city, keep your eye out for "gevrek," literally translating to "crispy," which is very much the crunchier cousin to simit, and just as delicious.
2 – Turşu Suyu (Pickle Juice)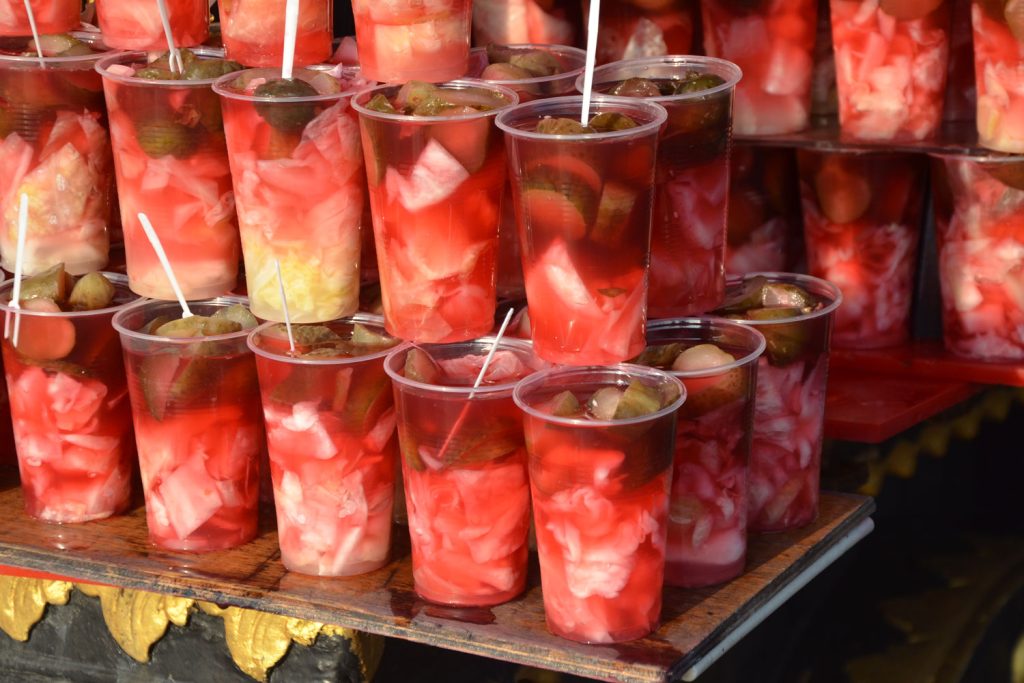 Pickles are a cornerstone of Turkish cuisine, and we Turks eat turnip, beetroot, carrot, garlic, pepper, tomato, and cabbage pickle, among many others.
Hence, although a takeaway cup of pickle juice may sound a little too acidic, I assure you that a gulp of icy cold pickle juice will quench your thirst wonderfully amid the searing heat of the Turkish summer, especially if you're traveling through the Anatolia region.
Pickles in Turkey are made with either lemon juice or vinegar, so be sure to try both and let us know which method is your favorite.
3 – Muzlu Süt (Banana Milk)
Adana is renowned for its delicious kebabs and baking hot temperatures. So much so, the taste of their food is a point of pride for the residents of Adana.
Naturally, in such sizzling heat, people are always looking for ways to cool themselves down. Hence, the creamy beverage of muzlu süt came to be.
This blended beverage of frozen milk, bananas, and sugar is a lusciously creamy and refreshing delight from the moment it touches your lips, and the perfect way to cool down in the Turkish heat.
4 – Kestane (Chestnut Kebabs)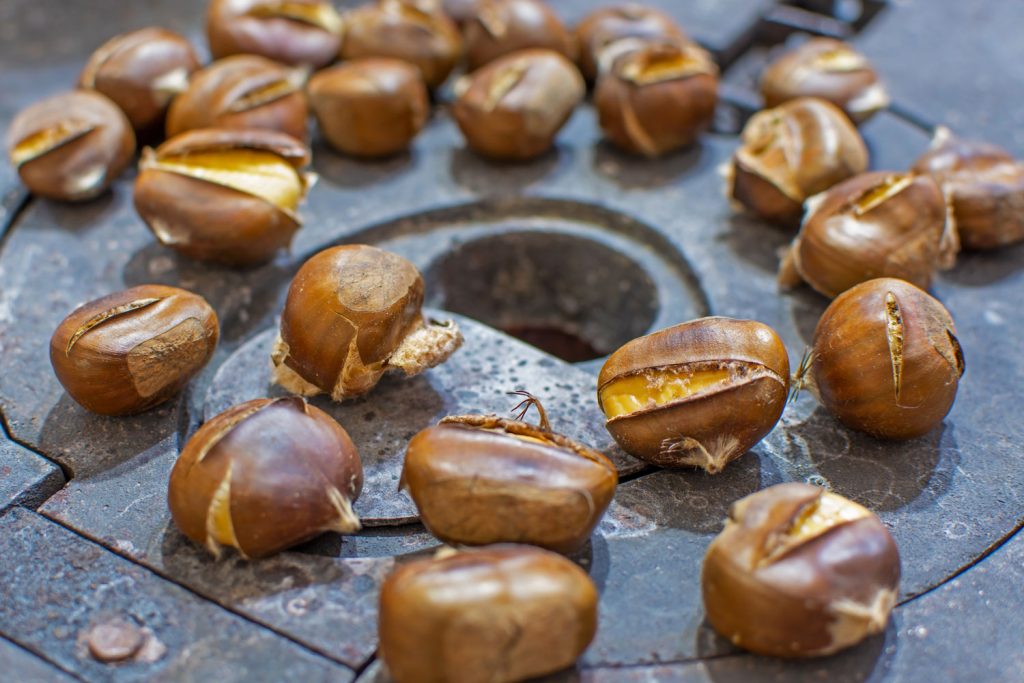 Turkish street food markets have some irresistible aromas, including freshly baked simit and piping hot kokoreç. Kestane, a dish of roasted chestnuts, is very much a delicious food you can add to this list.
This food is iconic, as the sellers always roast the chestnuts in mobile food carts, and served these aromatic delights in small paper bags.
In fact, if I'm walking along and I see someone walking by with one of those paper bags in their hands, I can't help but stop in my tracks and look around to see if I can spot the vendor nearby!
5 – Boyoz (Pastry Buns)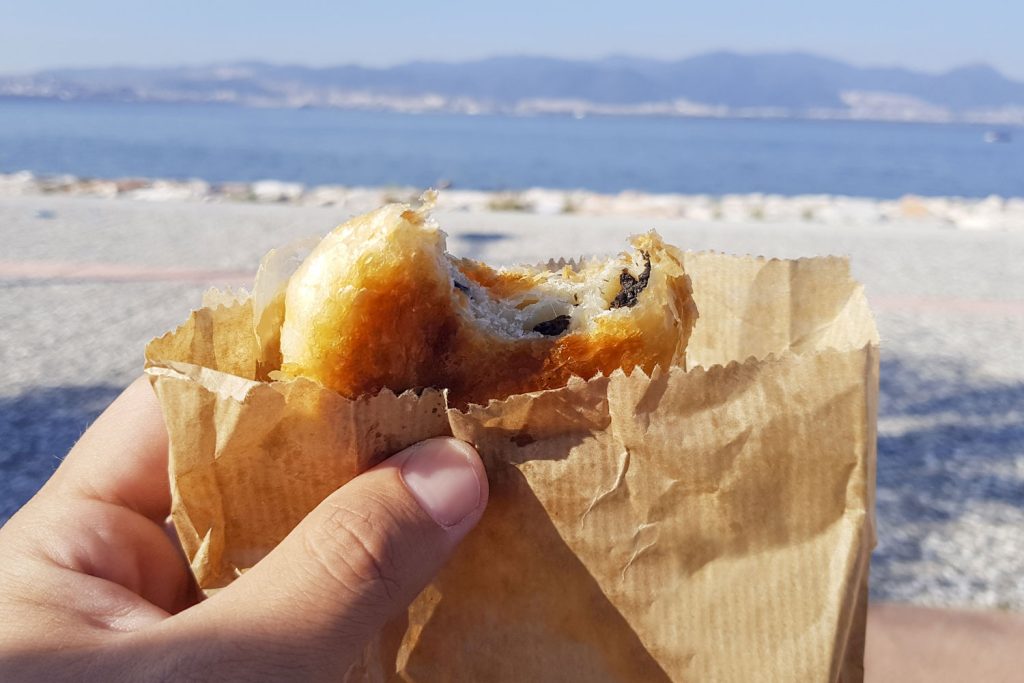 An iconic staple of Izmir, boyoz is one of the must-try pastries in the region. Prepared almost exclusively in Izmir, this hugely popular puff pastry is enjoyed at all times of the day.
Its fluffy, buttery texture sings to the stomach, and it is commonly enjoyed with a side of either boiled or oven-baked eggs.
Many Turks will enjoy boyoz for breakfast with a side of eggs, but this renowned street food is just as popular in the early hours of the morning, as clubbers and students leave the bars and clubs, searching for a delicious snack to chow down on as they make their way home.
6 – Çiğ Köfte (Raw Meatballs)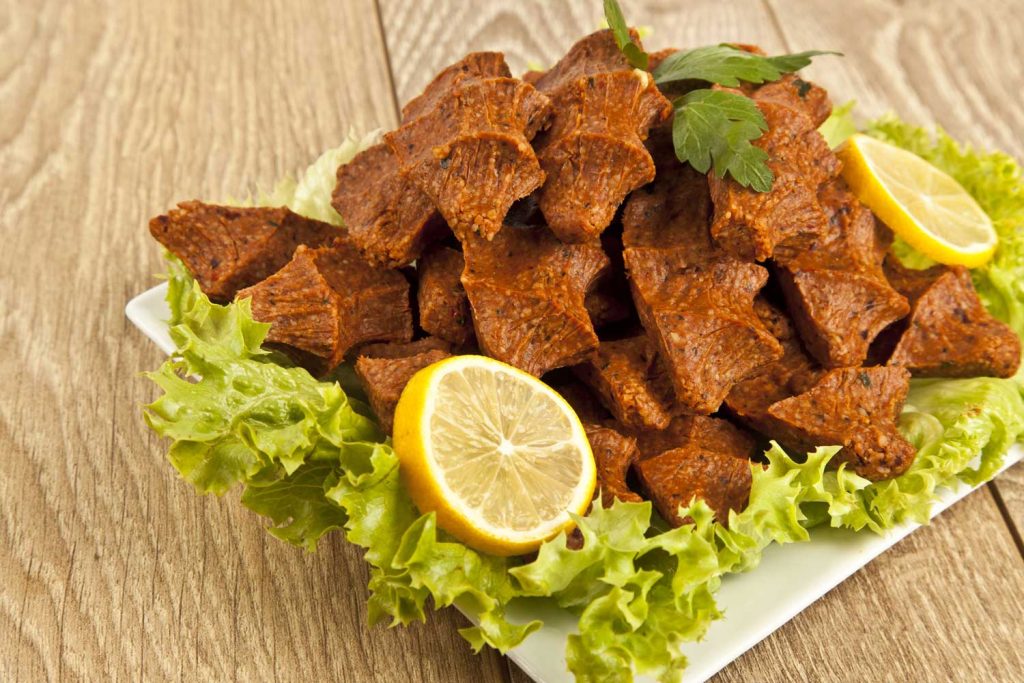 Çiğ köfte was, traditionally, a rich delicacy of raw mince and spices rolled into meatballs. However, due to food regulations, today you are far more likely to come across an imitation dish that uses semolina and bulgur wheat, mixed with the same combination of spices, onion, tomato, and pepper paste.
A hearty and fiery appetizer, this beloved dish can be ordered in a wrap from many street vendors and is a popular side in kebab shops too.
If you visit the deeper Anatolian regions, such as Urfa and Diyarbakır, you can find this dish with scrambled eggs added to the meatballs. Personally, I recommend pairing it with a cup of cold turnip juice for a wonderful combination.
7 – Buzlu Badem (Almonds on Ice)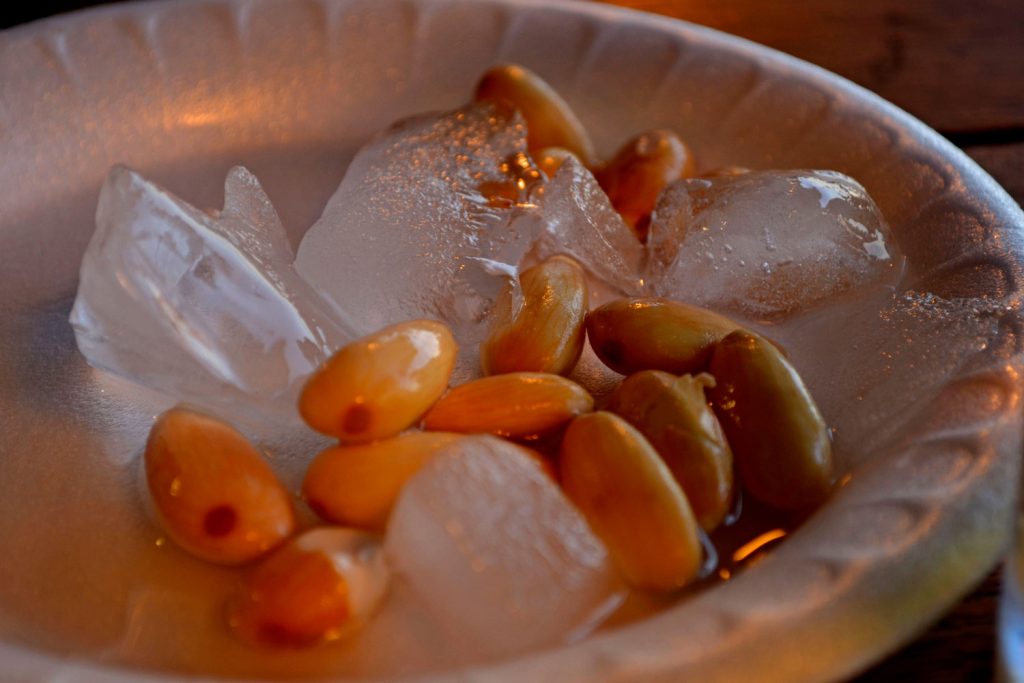 You know you've become an honorary Turk once you've discovered buzlu badem. Local raki drinkers will often order this dish, a tray of almonds over ice, to their table to enjoy with their last glass of raki.
The dish is prepared by simply peeling the almonds and storing them on ice before serving, which gives the almonds and milder flavor and delightfully softer texture.
While buzlu badem can be ordered at luxury restaurants, for true authenticity, you have to try it from bars or street food stalls on the humble streets of Turkish towns and cities.
8 – Midye (Dolma/Tava) (Stuffed/Fried Mussels)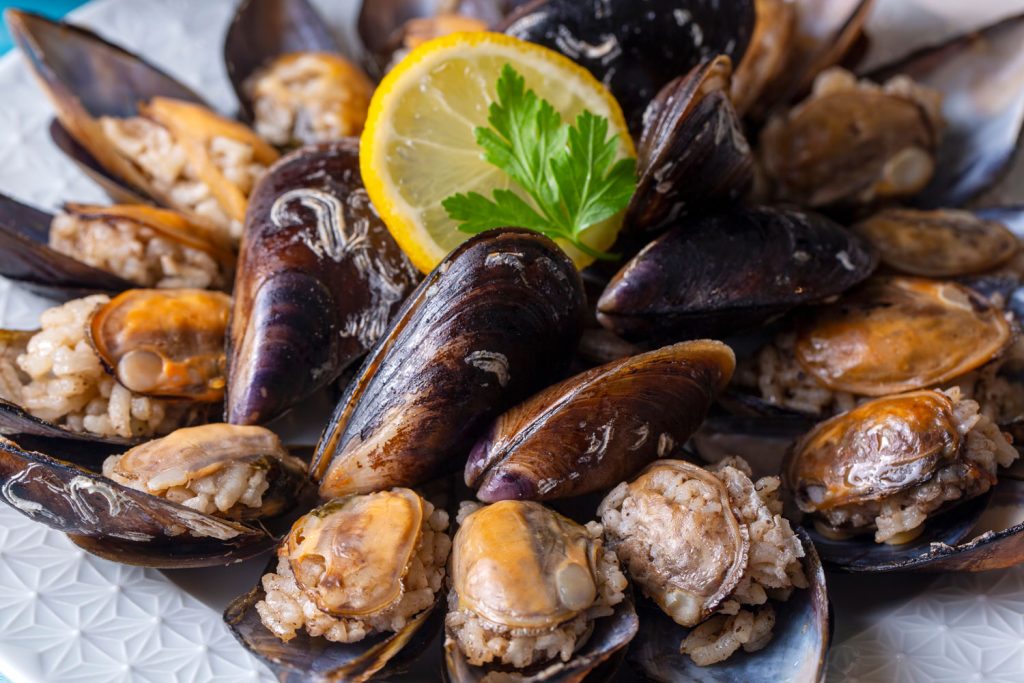 Most Turkish people will tell you to "stop right there!" when talking about mussels. We mean business when it comes to this tender and flavorsome seafood, which is one of our favorite street food choices.
In Turkey, your go-to choices are either rice-stuffed mussels boiled in their shells or deep-fried mussels served with mayonnaise. Both versions are highly popular street foods in Turkey, and if you see a very long line in front of a street shop in Turkey, there's a high chance that is a shop that sells mussels.
This is the perfect street food to accompany a few beers by the sea or a last-minute snack before ending your night in the city.
In fact, the dish is so adored across the country, many Turkish people even like to brag about being able to eat a whole tray of mussels. Would you be up to the challenge?
9 – Boza (Millet Drink)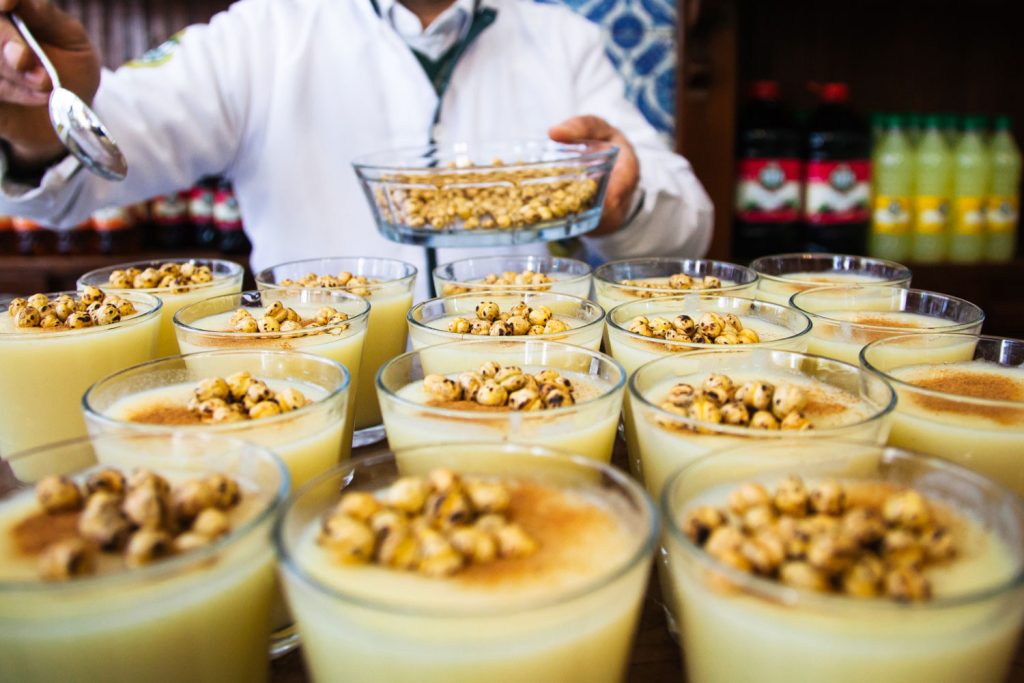 A historic beverage, taking a sip of boza will transport you back in time to the reign of the Ottoman Empire.
Made from fermented corn, fermented wheat, water, and sugar, this hugely popular drink has a wholesome, dense texture and is renowned for its milky color. Cinnamon is its must-have topping, giving it a delicately sweet aroma.
Order a glass of boza, and take a trip in time as you wander the streets of Istanbul as the people of the Ottoman era would have done.
10 – Bardakta Mısır (Corn in a Cup)
Showcasing the simplicity and genius of Turkish street food, fresh cooked sweet corn soaking in butter with salt and various toppings is the perfect on-the-go snack for when you're exploring the cities and towns of Turkey. The best street food is often the simplest, as is proven by this corn-in-a-cup dish.
11 – Bici Bici (Ice with Syrup)
I vividly remember the days when my childhood friends and I would take a break from running around the neighborhood to go order ice pops. In my eyes, nothing was more refreshing than the icy cold texture and indulgently sweet flavor of this classic street food on a hot summer's day.
A simple dish of crushed ice, starch, and usually rose syrup, bici bici is the Turkish version of ice pops. This super light and refreshing street dessert is common in southern Turkey, Adana, and Mersin.
Take a Seat
12 – Döner (Doner Kebab)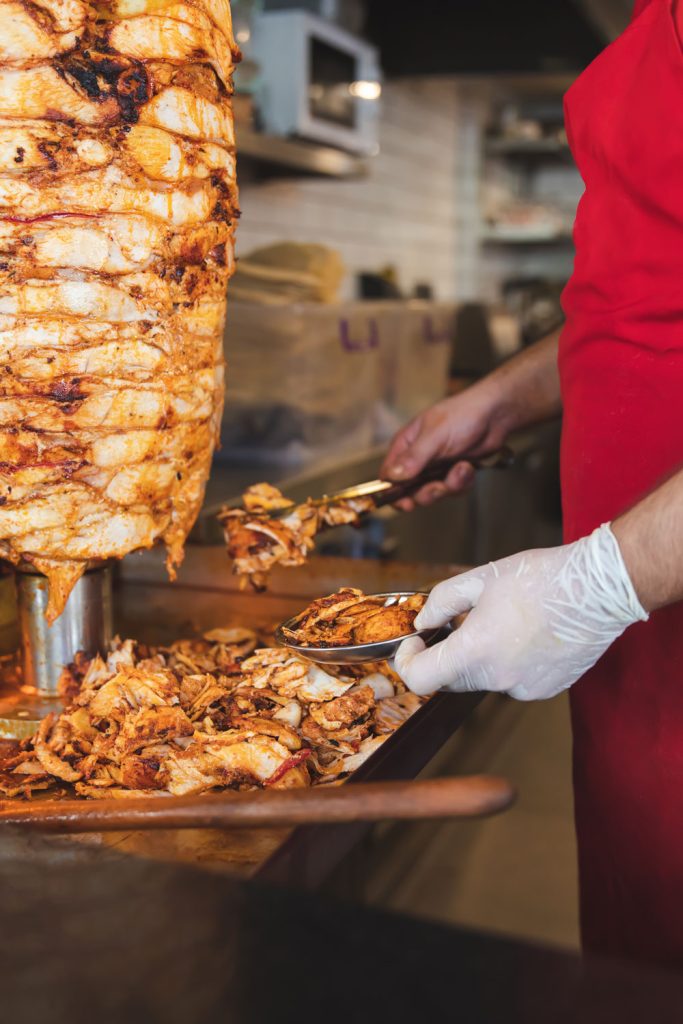 In all honestly, you haven't truly experienced Turkish street food until you've tried Turkish doner kebab! This classic food, popular throughout the Mediterranean, Levant, and North African cuisines, is one of the must-try dishes when wandering the streets of Istanbul and other Turkish cities.
Traditionally, Turkish doner slices are thinly cut, cooked with tail fat over a wood fire, and must have a crunchy exterior.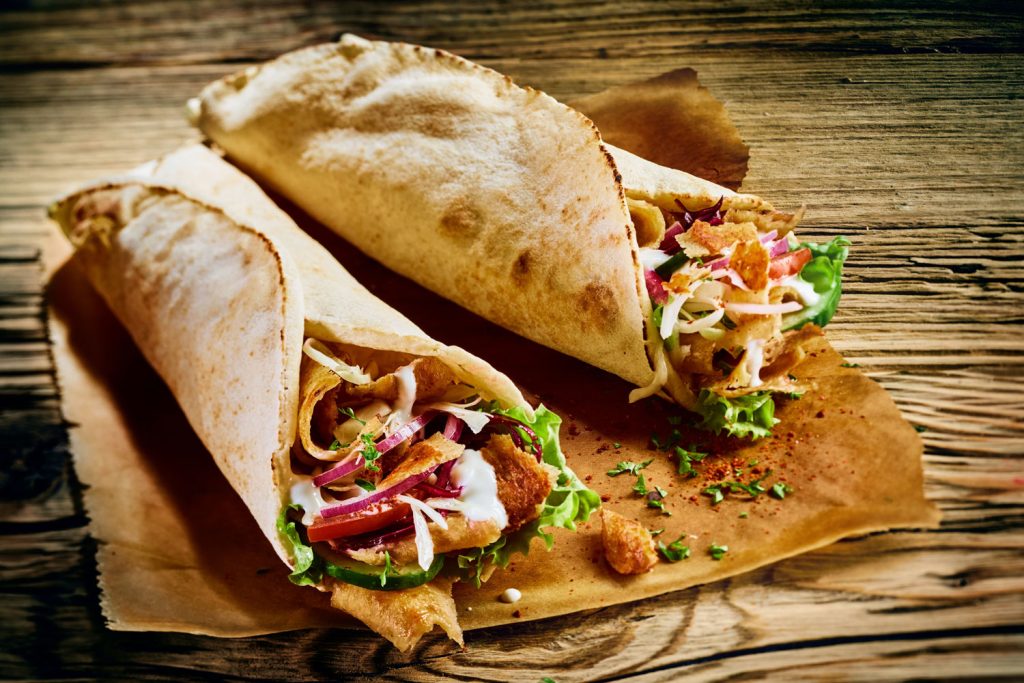 One of my favorite street foods in Turkey is doner wrap with a side of Turkish pickles and a yogurt drink. Although you can find doner anywhere, I suggest you listen to the locals when it comes to finding the perfect doner shop in a specific town or city.
13 – Balık Ekmek (Fish Sandwich)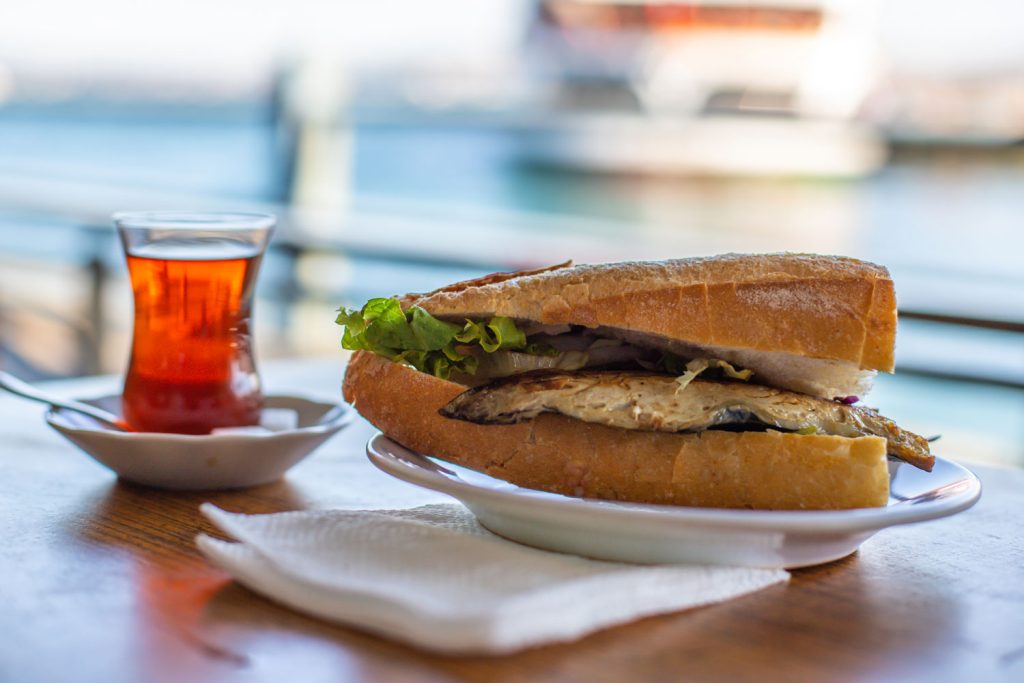 Turkish cuisine is mostly known for its wide range of kebabs, grills, tapas, and desserts. However, unbeknownst to many tourists, fish and seafood are almost as popular as meat in Turkey.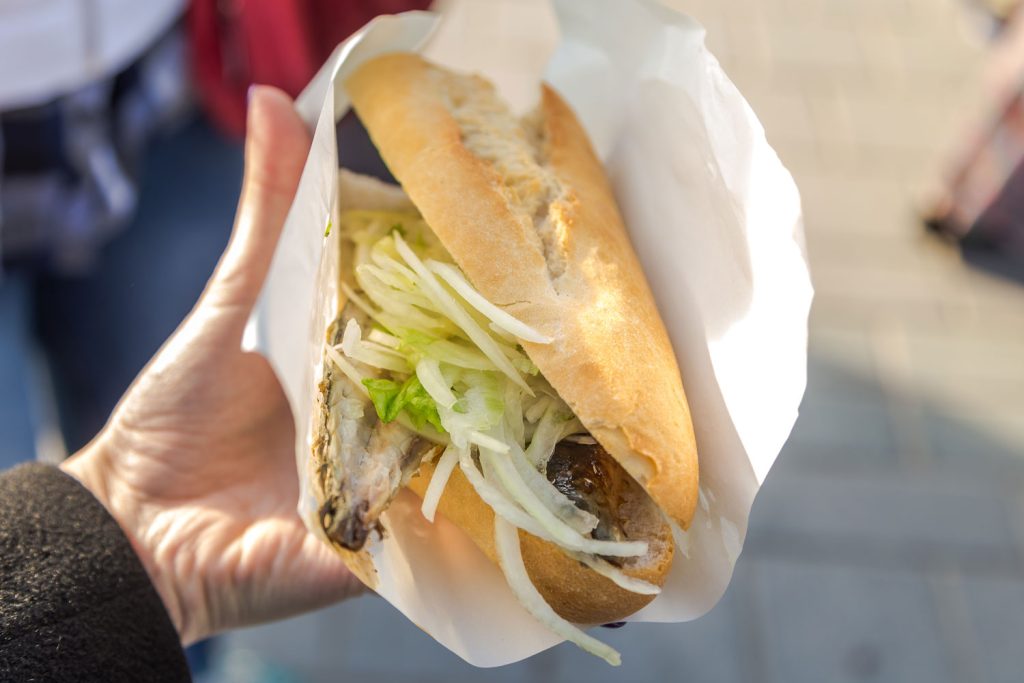 There are many fishmongers, fish markets, vans, and food vendors in the Bosphorus region where you can try grilled fish (such as mackerel) in fresh Turkish bread with lettuce, onions, parsley, and other toppings and vegetables of choice.
You are bound to work up an appetite as you walk along the shore, and a sumptuous sandwich made with salty fresh fish is one of the best ways to end a perfect day exploring Istanbul.
14 – Kokoreç (Grilled Sheep Intestines)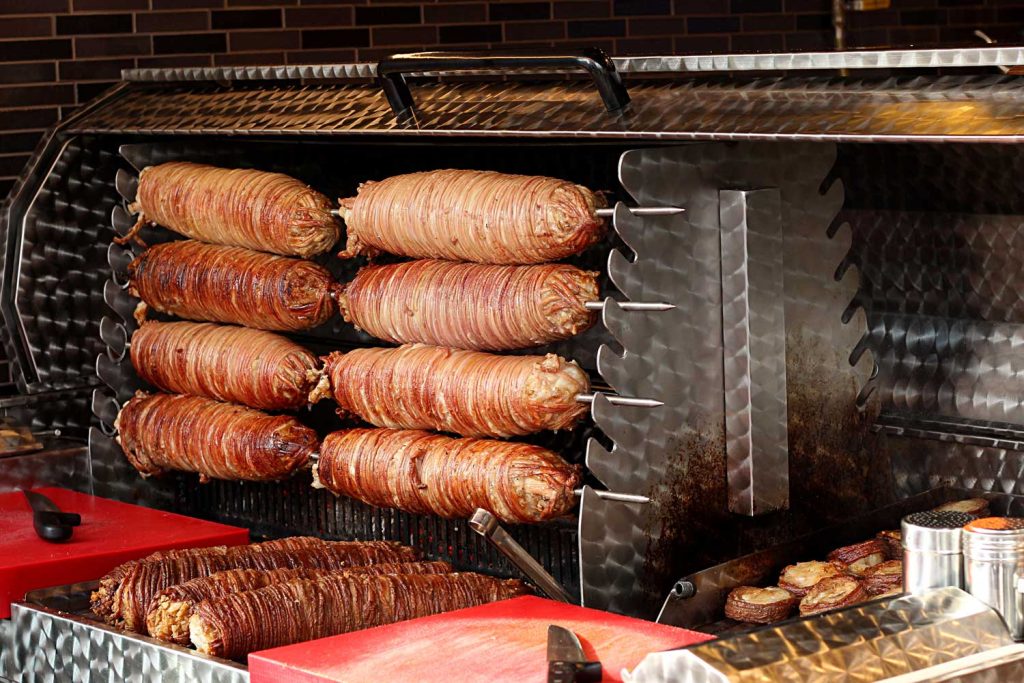 While admittedly, not everyone will initially take to this Turkish delicacy, if you are an adventurous foodie, I urge you to try kokoreç when exploring food markets in the country.
Turkey is one of the few places on Earth where you can try this juicy dish of grilled sheep intestine, either sliced into circular pieces or cubed, served with spices and parsley, depending on what eatery or vendor you are ordering from.
Kokoreç is commonly served in Turkish bread or a wrap with onions, and it is tradition to eat this street food with hot pepper pickles with a cup or glass of yogurt or turnip juice.
15 – Tantuni (Spicy Beef Fry)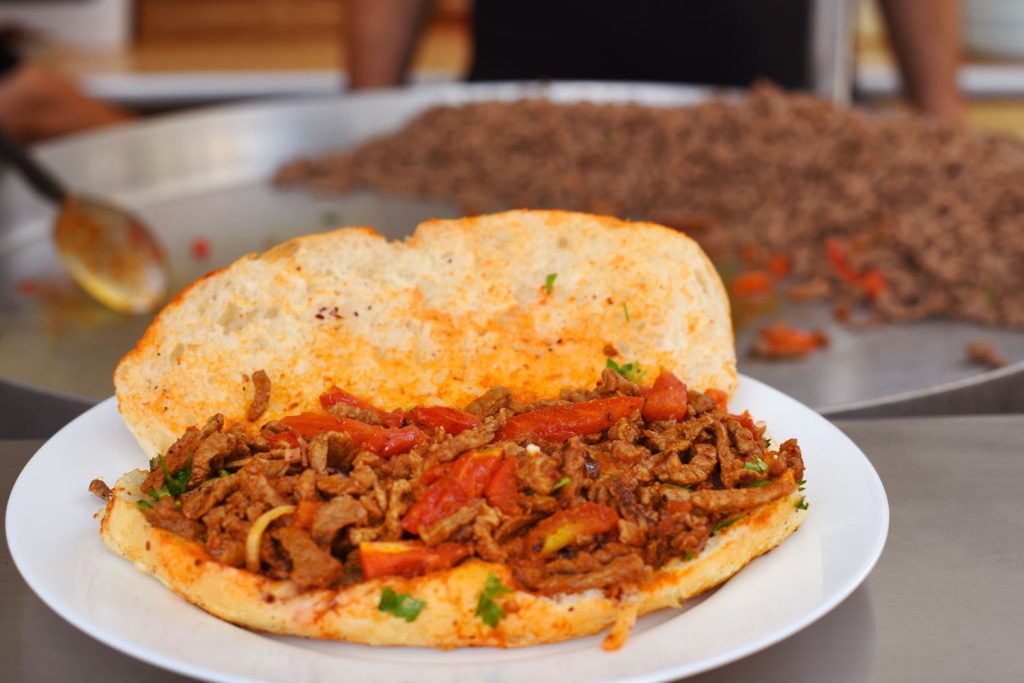 In my humble opinion, if I had to choose an absolute 'must-try' street food from this list, it would be tantuni.
At first glance, this is a simple wrap of chopped beef fry, garlic, spices, onion, and peppers. However, what makes tantuni so special is the fact that the meat used in the dish is so soft and juicy, let so light at the same time.
Many Turkish meat dishes, while delicious, are nearly always very heavy and dense. Tantuni is succulent while refreshing, making it a truly unique street food.
Don't forget to ask for hot pepper pickles on the side. If you're traveling through Mersin, the home of this dish, then you truly are in for a treat.
16 – Nohut Pilav (Rice with Chickpeas)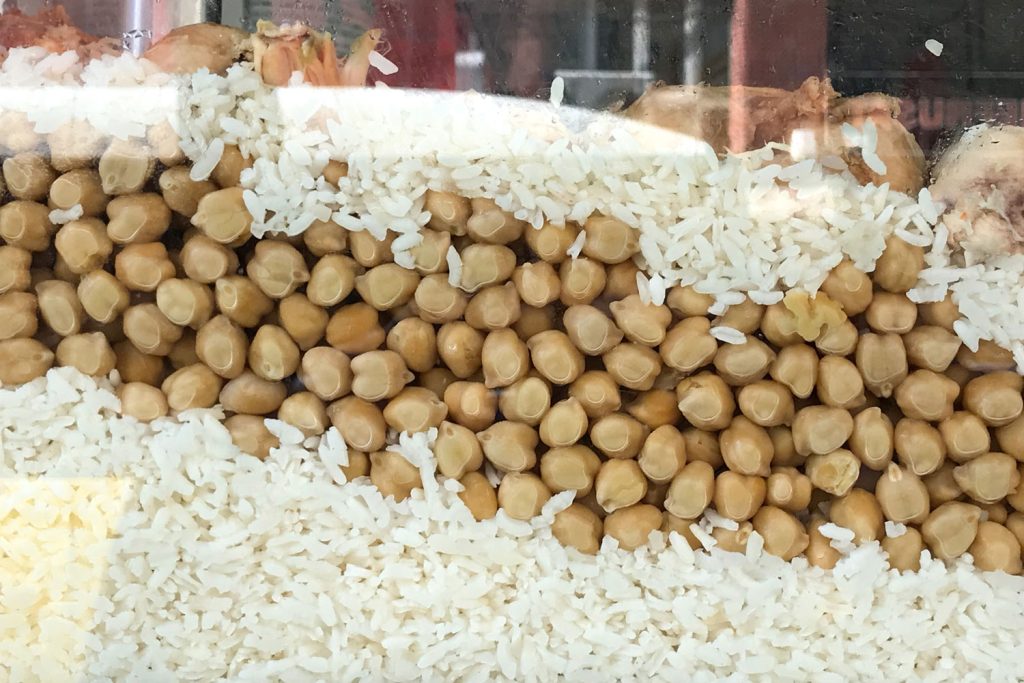 Rice with chickpeas, as it was traditionally sold on the streets, was originally known as the "food for the poor." Today, however, it is a hugely popular street food enjoyed by Turks from all walks of life.
Simple and budget-friendly, nohut pilav is so popular you can find it practically anywhere in Turkey, at any time of the day.
My personal recommendation is rice with chickpeas, topped with shredded chicken, served with a side of yogurt. Long live this delicious street food of the working class!
17 – Tükürük Köfte (Meatballs)
There is an urban legend that street vendors prepare these meatballs as per the traditional recipe, but spit in their palms before rounding the meat into balls to give the meatballs their perfectly spherical shape!
Clearly, we Turks do not believe this myth, as it is one of the popular foods enjoyed at concerts, football matches, and many other events.
Tükürük köfte, essentially meatball sandwiches, consist of freshly cooked meatballs, onions, parsley, and tomatoes, inside two slices of freshly cooked Turkish bread. Each sandwich is wholesome, flavorful, and utterly indulgent!
18 – Kumpir (Jacket Potatoes with Toppings)
Kumpir, or jacket potatoes, can be found just about anywhere in Turkey, and are undoubtedly one of the country's most popular street foods.
With various topping options such as sausage, sweetcorn, peppers, pickles, mayonnaise salad, red cabbage, ketchup, and mayonnaise, among many others, there truly is a kumpir out there to suit all tastes and preferences.
My favorite place to take a break from the hustle of everyday life is Ortaköy in Istanbul. I often go there and watch the sunset over the sea while enjoying kumpir topped with Turkish sausage, which is my personal favorite.
19 – Kumru (Izmir Sandwich)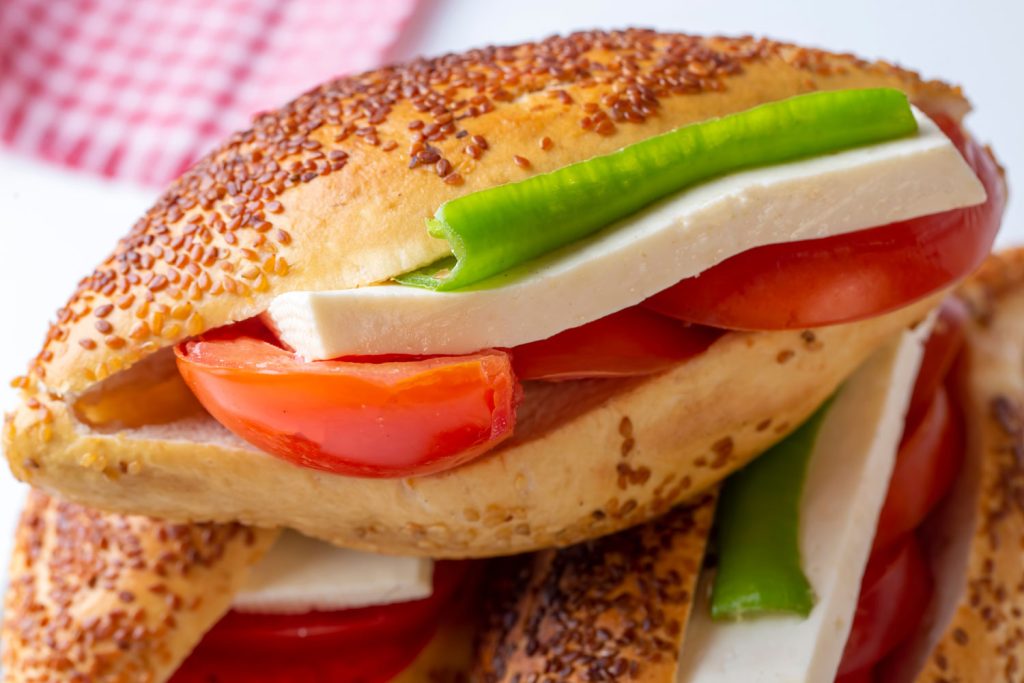 Most people assume that the name of this classic Izmir sandwich is "kumru," when in fact, the name is actually referring to the special bread used to make this sandwich.
One of Izmir's favorite street foods, this delightful sandwich can be enjoyed in a number of ways. Kumru with feta cheese, tomatoes, and fresh peppers is a classic breakfast option, while kumru with sausages, ketchup, and mayonnaise is a great choice for a hearty lunch or main meal.
20 – Islak Hamburger (Turkish Sloppy Joes)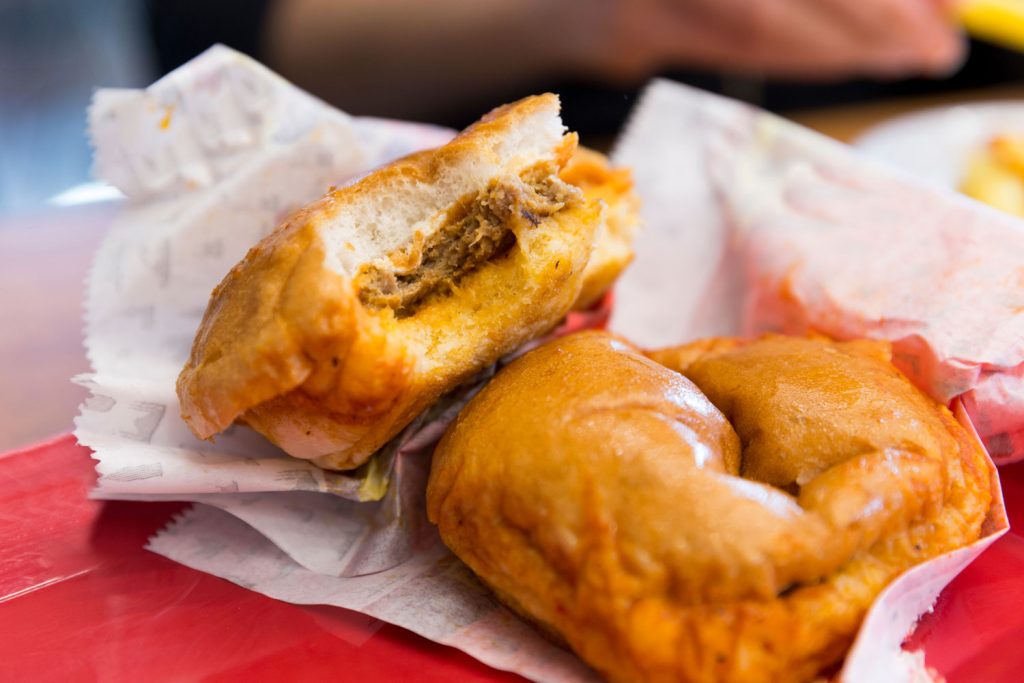 A Turkish take on sloppy joes, Islak hamburgers consist of succulent beef patties, soaked in a special tomato sauce, served in a bun with various toppings.
Relatively new to the Turkish street food scene, it did not take long for moist, indulgent Islak hamburgers to become one of the country's most popular street foods.
Eaten at any time of the day, this dish is particularly popular for clubbers and party-goers to chow down on while waiting for a cab after a fun night out of drinks and dancing.
Turkish Street Food Summary
Street food opens you up to a raw, emotional, and utterly scrumptious side to any country's cuisine, and the same very much goes for Turkey.
Turkish street food embodies all that is so flavorsome and powerful about Turkish cuisine. The heat and spice are abundant, the fusions are plentiful, and the craft is spellbinding.
Turks love all these popular Turkish street foods all year round, and from baked potato to spicy minced meat, sour cream to ice cream, there really is something for everyone when it comes to these beloved foods.
Wherever your travels in Turkey take you, I urge you to visit as many street food markets and food vendors as you can. You will discover some truly magical food that stimulates all the senses, not just taste, and befriend some passionate Turks along the way.
You Might Also Like to Read
Save and Pin for Later
Traveling to Turkey soon? Be sure to keep these street foods on hand to try by saving this article to one of your Pinterest boards.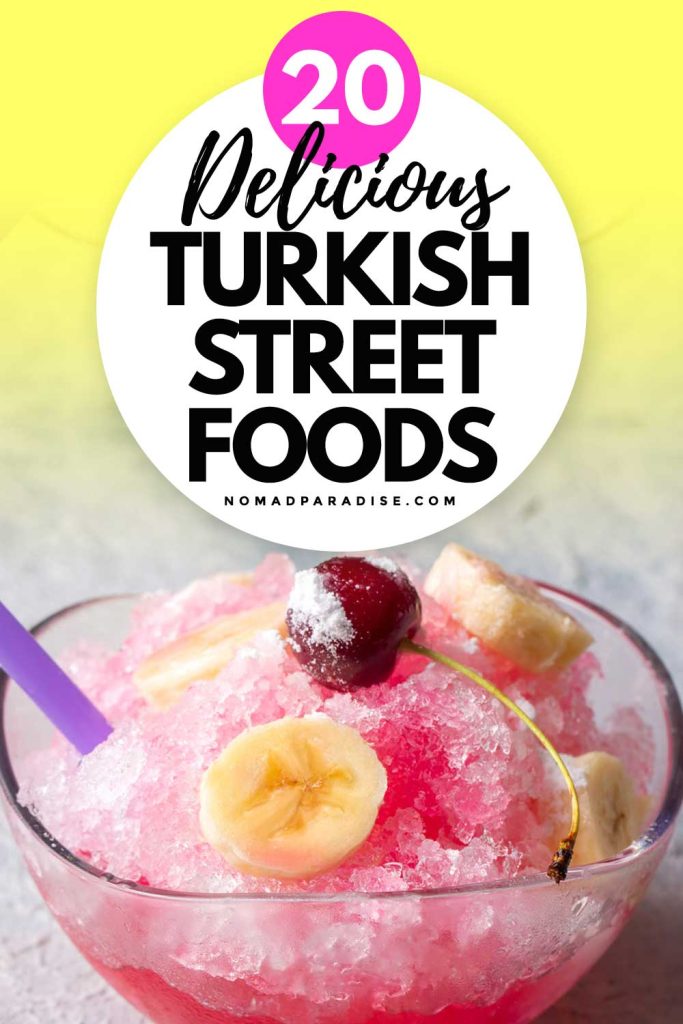 Author: Hazal Erdil is a Turkish translator and writer, with a background in law. She is deeply passionate about Turkish travel, culture, and cuisine.
Images licensed via Shutterstock