This post may contain affiliate links, meaning if you book or buy something through one of these links, we may earn an affiliate commission at no additional cost to you. Learn more
South African food is vibrant, cosmopolitan, and truly unique — just like the country's people and culture.
A mixture of African, Dutch, French, and Malay, among others, have influenced South African cuisine through the decades.
For your next trip to this beautiful country, here's our list of sixteen top South African foods you simply have to try.
South African Foods to Try
1 – Braai (Barbecue)
There's arguably not a more iconic food to start with than South African braai. Braai, simply, is the Afrikaans for barbecue or grill.
But the word 'braai' is far more than the grilling of meat. Braais are a social event deeply rooted in modern South African culture. Braais bring friends and families together.
Traditionally, wood is used to keep the fires burning to cook the meat. But in recent times, modern methods like charcoal fires are also used.
Braais are very similar to potlucks. Invitees will bring their own meat, salads, and other food to the event.
Common braai meats include boerewors (sausages), skewers, lamb, and chicken in marinade. Fish are grilled in the coastal areas.
Befriending a local South African and attending a braai is one of the best things you can do in the country.
Surrounded by great people and delicious food, you'll get to see a very real side of South Africa.
2 – Vetkoek (Fried Donuts Stuffed with Minced Meat)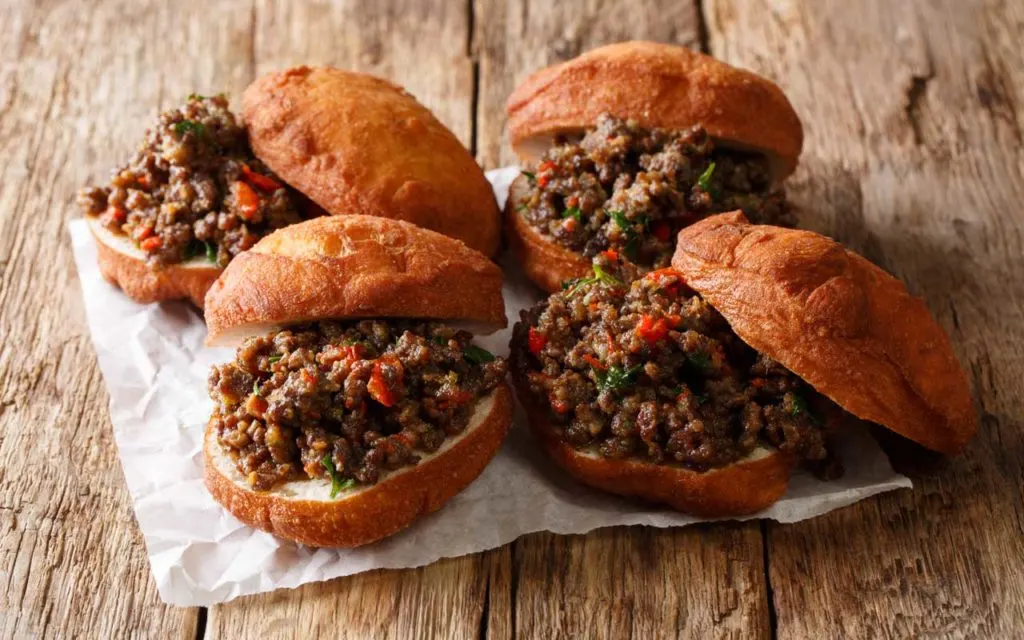 As South African foods go, vetkoek is some of the most wholesome and honest you will try.
Literally meaning 'fat cake' in Afrikaans, vetkoek starts out life as a fried dough cake. This doughy handful of goodness is then shaped and split along the middle.
From there, your choice of fillings is endless. South Africans love to fill them with minced beef, boerewors, or cold meats.
Many will also make them for braais. From there, you can stuff it with one of the many delicious types of meat straight off the grill.
Vetkoek is heavily influenced by the Dutch oliebol. It's a very popular food among the poorest townships and suburbs of South Africa.
This is largely down to how simple they are to make while being very filling. Street vendors and fast food stores sell them by the truckload.
For an honest, local taste of South Africa, hearty vetkoek is an excellent food to start with.
3 – Boerewors (Sausage)
Many cuisines boast some delightfully flavorsome sausages in their beloved list of foods. South African cuisine is no different.
Boerewors is a rich, spicy sausage that originates from both South Africa and Namibia. The name means 'farmer sausage'.
Nine-tenths of Boerewors is meat, while various spices and seasonings, like coriander and nutmeg, make up the other tenth.
This delicious sausage always contains plenty of beef. This is then mixed with either lamb, pork, or both to create a rich, intense flavor.
Boerewors is also renowned for its spiraling shape and is loved by millions across South Africa in a wide range of recipes.
Incredibly, this delicious South African food is also in the record books. In 2014, the longest boerewors ever made, measuring over 5100 ft in length, officially broke the record.
4 – Bobotie
Bobotie is a much-loved South African national dish. Wholesome and hearty, it is a dish rich in flavor.
Remarkably, the dish originates back to Roman times. Ancient Roman chefs would blend and season a combination of tender meats and crunchy nuts, then top it with a layer of milk and egg.
Brought to South Africa by the Dutch, today's recipe is an alluring dish enhanced by spices like curry powder.
Dried fruit is also used to garnish the top. Raisins and apricots help give a final fruity kick to this hearty South African food.
Vegetarian versions of bobotie have been cooked and gained popularity in recent decades. Lentil bobotie is a particular favorite of South Africans.
5 – Potjiekos (Small-Pot Food)
As with braai, potjiekos encompasses a style of cooking rather than a particular recipe.
Literally meaning 'small pot food,' the practice was brought to South Africa by the Dutch through the seventeenth century.
Over time, this cooking method grew in popularity among both natives and settlers across South Africa.
Traditionally, a small, rounded cast iron cauldron is used. This is placed over a wood fire to cook outside for several hours.
So many delicious recipes are cooked potjiekos style. The most common include casseroles and stews full of tender meat and a variety of vegetables.
South African oxtail stew with baby gold potatoes, carrots, and button mushrooms is one of many true potjiekos delicacies. Delicious.
6 – Tomato Bredie (Stew)
Nothing soothes the stomach and soul on a cold evening like a hearty stew. If you visit South Africa off-season, make sure you try tomato bredie.
Malays brought to South Africa first introduced this wonderful recipe to the country. Its Asian influence is very clear to see.
Mutton was traditionally used in the recipe, but today, you'll commonly see it cooked with succulent pieces of South African lamb.
A sip of the bubbling broth will release a number of wondrous flavors the length of your tongue.
Oriental spinach is traditionally used, but juicy tomatoes are a common replacement.
This stew is also blessed with cinnamon, ginger, and chili, while beans, cardamom, and Cape water lilies all play their part in the dish's unique taste.
Loved by people across the country, this is a South African food many instantly fall in love with.
7 – Durban Bunny Chow (Hollowed-out Loaf of Bread Filled with Curry)
Now, here's a truly innovative fusion dish. Bunny Chow was originally cooked by the Durban-based Indian Africans, hence the name.
This culinary delight is made by hollowing out a loaf of white bread. Once hollowed, the loaf is filled with any number of delicious curries.
It is believed Indians working in the sugar cane plantations hollowed out the loaves so that they could carry their lunch to work.
You can find this mouthwatering dish across South Africa. Durban, however, will give you a truly authentic experience.
Curries of all spices and heat levels are used. Bunny chow is then served with grated carrot, salad, and rice.
Utterly fascinating, be sure to keep a lookout for this South African food during your visit.
8 – Traditional Koeksisters (Sticky Donuts)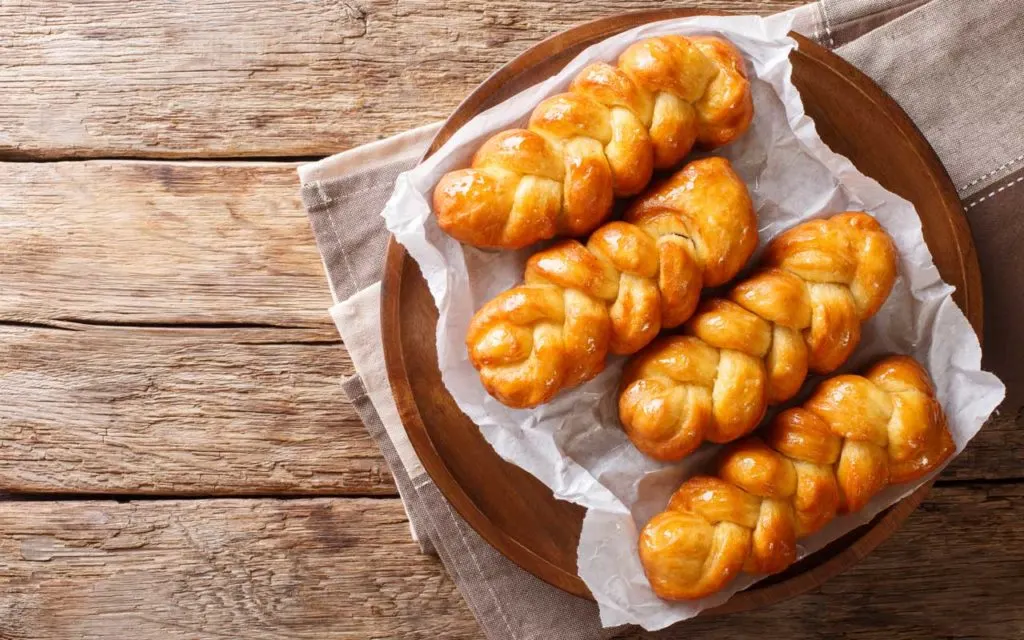 Koeksisters are a sweet treat fit for anyone with a sweet tooth or a love of desserts.
How they're made is fascinating. Firstly, the dough is rolled into rounded strips. The strips are then weaved together and fried in plenty of oil.
Once fried, the sizzling dough is plunged into a large volume of tinglingly cold sugar syrup and lashed with cinnamon, lemon, and ginger.
You're then left with beautiful koeksisters. And that first bite of koeksister takes your breath away.
You can find these delightful treats in bakeries across South Africa. Whether for a sweet taste after dinner or a snack for the road, they're not to be missed!
9 – Biltong
If you're a lover of beef jerky, you'll definitely love the intense taste of biltong.
Back in the seventeenth century, meat was preserved using vinegar and potassium nitrate. Those techniques are still used today. However, the biltong recipe has evolved through the decades.
Biltong comes in a wide range of meats. Sliced beef is common, but if you're feeling more adventurous, native South African meats like tender kudu and ostrich can be eaten as biltong.
Many ingredients help give biltong its powerful taste and crispy texture.
Along with salt and vinegar, pepper, coriander, chili, nutmeg, and a wide range of other seasonings are used.
Great as a snack and for the curious culinary traveler, biltong is a South African food loved by millions.
10 – Pap or Isidudu (Porridge)
Pap has been filling the bellies of African families for generations. It's a truly beloved South African food that brings back childhood memories to many South Africans.
Pap's core ingredient is maize. This crop was first introduced to the country in the sixteenth century.
African farmers were able to produce much higher yields growing maize, and ultimately, it became one of the country's most important foods.
Pap is a warm, soothing starch that acts as an excellent base for meatier and spicier flavors.
Pap is also very simple to make. South Africans simply boil maize meal, stock, and butter to create this wholesome, fluffy porridge.
As mentioned, pap goes well with so many foods. Chakalaka chicken livers, with a spicy, chili-infused sauce, is a true South African favorite.
11 – Gatsby Sandwich
To Capetonians, the word 'Gatsby' conjures up thoughts of something very different from F. Scott Fitzgerald's world-famous novel.
In Cape Town, a 'Gatsby' is a legendary and monstrous sub-style sandwich residents of the Mother City simply cannot get enough of.
The sandwich was first made in the city in 1976. An owner of a recently purchased shop wanted a quick and easy way to feed his construction workers.
So, he got resourceful. He quickly cooked and stuffed some French fries, polony, and pickle into a large loaf of bread, then cut it into four.
One of the workers had recently watched the film 'The Great Gatsby' in the local cinema. He took his first bite and instantly fell in love.
The worker jokingly declared the sandwich was a 'Gatsby smash,' and the shop owner started selling the sandwich once the shop opened.
The Gatsby was a huge hit, and its popularity spread like wildfire through the city.
Little did the shop owner know at the time he was inventing one of South Africa's most beloved fast foods!
Nowadays, Gatsby sandwiches come in all shapes and sizes. One of the most popular recipes pairs French fries with succulent slices of chicken, steak, or polony.
Whether you opt for a quarter, half, or foot long, a Gatsby is a South African food you simply have to try in Cape Town.
12 – Braaibroodjie (Barbecue Sandwich)
Many South Africans will happily admit while braaing meat is the main attraction, they get more excited about grilling braaibroodjies.
Braaibroodjies are thick, hearty grilled sandwiches that are enjoyed by South Africans at all times of the day.
The traditional braaibroodjie recipe is a simple one. Thick slices are cut from a fresh white loaf, and the slices are loaded with cheese.
Slices of tomato and onion are added. Chutney is smothered across each slice, and both are seasoned with salt and pepper.
Once the sandwich is put together, butter is brushed over all sides of the sandwich.
South Africans recommend braaing the sandwich over mild coals. Once the cheese melts and the bread is a crisp golden brown, you are good to go.
South Africans also enjoy a breakfast version. This involves plying open the delicious slices after cooking and sliding in a fried egg.
If you're invited to any braai, be sure to get your hands on one of these mouthwatering sandwiches. It's a truly wonderful South African food.
13 – Sosaties (Kebabs)
Sosaties are another of the delicious meat dishes introduced by the Malay people, originating from the Cape region of South Africa.
The key to the most sumptuous of sosaties is all in the preparation. First, a marinade of chilies, curry leaves, garlic, tamarind juice, and onions is made.
Tender cuts of South African lamb are cubed and then placed in the marinade. The marinade is left to sit overnight to maximize the flavor.
When it's time to cook, sosaties can be fried or grilled. But, as with all South African meat dishes, braaing them takes the flavor to a whole new level.
The lamb is skewered, along with juicy peppers, onions, and dried apricots. Then, the magic happens on the grill. Utterly sumptuous.
14 – Malva Pudding
With all the braaing and spices, you'd be forgiven for thinking South Africans had forgotten about dessert. Not a chance!
Our first stop on the South African dessert tour takes us to the rich taste and spongy texture of Malva pudding.
The key ingredient to any Malva pudding's sweet taste is the apricot jam that's used when baking the pudding.
Jam is added to a creamed base of flour, soda, milk, butter, eggs, and salt. The pudding is poured into a dish and baked until browned.
A delicious, sweet sauce of cream, sugar, butter, and vanilla is then poured over the pudding while it's still piping hot.
Served with some ice-cold ice cream or thick custard, it's a wondrous sweet treat that South Africans across the country love to enjoy.
15 – Melktart
Another South African dessert that brings friends and families together, the melktart has a melt-worthy pastry crust and a moreish custard filling.
The dessert has evolved from the Dutch mattentaart. This cheesecake-like treat was brought to the country by the Dutch in the seventeenth century.
Similar to custard tarts in Portuguese cooking, the key difference in Melktart is a higher ratio of milk to eggs.
This gives you a mouthwatering custard interior that's much lighter than, say, a traditional Portuguese custard tart.
Fused with alluring flavors like cinnamon and almond, a slice of melktart is a perfect dessert to follow an evening of braaied meat.
16 – Peppermint Crisp Tart
No food sums up the array of fusion and influence in South African cuisine quite like the peppermint crisp tart.
A true gem in the crown of South African foods, one bite of peppermint crisp tart releases an explosion of incredible flavors.
This is largely down to the way the tart is assembled. Many layers of goodness make up the classic peppermint crisp tart recipe.
The buttery biscuit crunch and layers of caramel, cream, and mint chocolate all contribute to one mighty South African dessert.
The peppermint crisp tart is similar to a trifle. It's always served cold, and it is magic to the tongue after a day out in the sun.
It's loved by both children and adults throughout the country. It's small but packs a wonderful fusion of flavors. Keep an eye out for this treat in bakeries or at braais.
South African Food Summary
To many foodies, South African cuisine is largely unexplored. I'll admit that, when visiting South Africa, food was not as high on my agenda as the outdoor activities.
But my, was I in for a treat!
The fusion of traditional Afrikaans recipes with European and Malay influences has created a number of truly delicious recipes.
But even more so, the culture of food is one of togetherness. From local braais to gourmet restaurants on the Cape, food is a huge part of South African life.
South African cuisine intrigues and delights on so many levels. It's very much an underrated part of visiting South Africa.
Oh, and get ready for some pretty big portion sizes too!
You Might Also Like to Read
Save and Pin for Later
Want to try some of these scrumptious South African foods when you next visit? Save this article to one of your Pinterest boards. That way, you'll always have access to these foodie delights!
---