This post may contain affiliate links, meaning if you book or buy something through one of these links, we may earn an affiliate commission at no additional cost to you. Learn more
Satisfying the stomach and singing to the soul with such heartiness, warmth, and richness, these Dutch foods play an integral role in both the history and culture of the Netherlands.
An intriguing blend of spices and cosmopolitan influences with seasonal ingredients and simple dishes has curated a cuisine that is very much one of Europe's hidden gems.
Prepare to explore the awe and beauty of the Netherlands through the senses as we discover 17 of the country's most loved and must-try foods.
Dutch Foods
Appetizers & Mains
1 – Kroket and Frikandel
In the Netherlands, chips with mayonnaise are a national treasure! However, for many Dutch people, even the mighty chips and mayonnaise doesn't beat the choice of a delicious kroket or a frikandel.
Essentially, kroket and frikandel are both minced meat hot dogs. Hugely popular snack foods, Dutch people commonly enjoy them with fries, salads, and a range of toppings.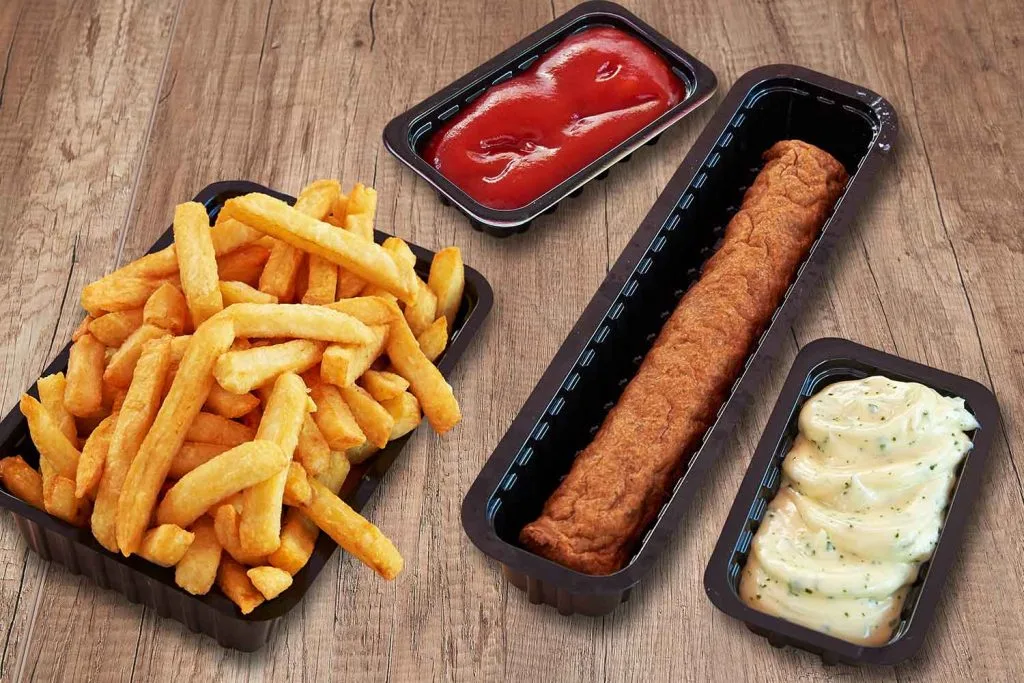 A frikandel is made from chicken, pork, and beef, although you can also find this dish with horse meat, also. A traditional kroket is made from beef, but there is a wide range of variations out there using chicken, potatoes, cheese, and vegetables.
2 – Hutspot
Hutspot is a traditional winter meal in the Netherlands, made from potatoes, onions, carrots, rookworst, and bacon. It is a simple meal that doesn't require too much preparation.
All ingredients can be found pre-packed in the supermarket, making it an ideal go-to option for people looking for quick and hearty food.
The potatoes, onions, carrots, and rookworst are all boiled in a pan together, with bacon added later. Once everything is cooked, the ingredients are mashed together and served smothered in hot gravy.
3 – Boerenkool Stamppot
Another winter favorite in the Netherlands, boerenkool stampoot is a hearty, filling kale hash, made by boiling kale and potatoes and mashing them together.
Once cooked the hash, in a similar vein to hutspot, is commonly served drowned in rich, piping hot gravy.
As you can probably tell, in the Netherlands, we have a knack for making food that is low in effort but very nourishing and comforting!
4 – Erwtensoep
If you've ever talked to a Dutch person about traditional Dutch food, they'll most likely have brought up grandma's Erwtensoep.
The dish is also known as 'snert.' It is a wholesome split pea soup, renowned for its green color. For it to qualify as an authentic erwtensoep, the soup needs to be thick enough for the ladle to stand upright on its own when placed in the soup.
The soup contains rookworst, potatoes, and carrots, and it is often enjoyed with a garlic butter baguette.
This dish is sacred to Dutch people, as they often have the recipe passed down from their grandmothers; hence why it is often called 'grandma's erwtensoep'.
5 – Boterham Hagelslag
Boterham hagelslag is another example of a simple yet delicious Dutch dish. In the Netherlands, eating a warm meal for lunch isn't an everyday thing. Instead, many Dutch opt to have a sandwich (boterham) with cheese, peanut butter, chocolate spread, or ham.
One of the most interesting spreads is hagelslag – little chocolate sprinkles which, in most countries, you'd find on top of ice cream.
In the Netherlands however, you'll often find children and adults eating hagelslag on their bread for breakfast or lunch. Hagelslag is available in milk, pure, and white chocolate flavors. You can also find it in different shapes and sizes.
6 – Poffertjes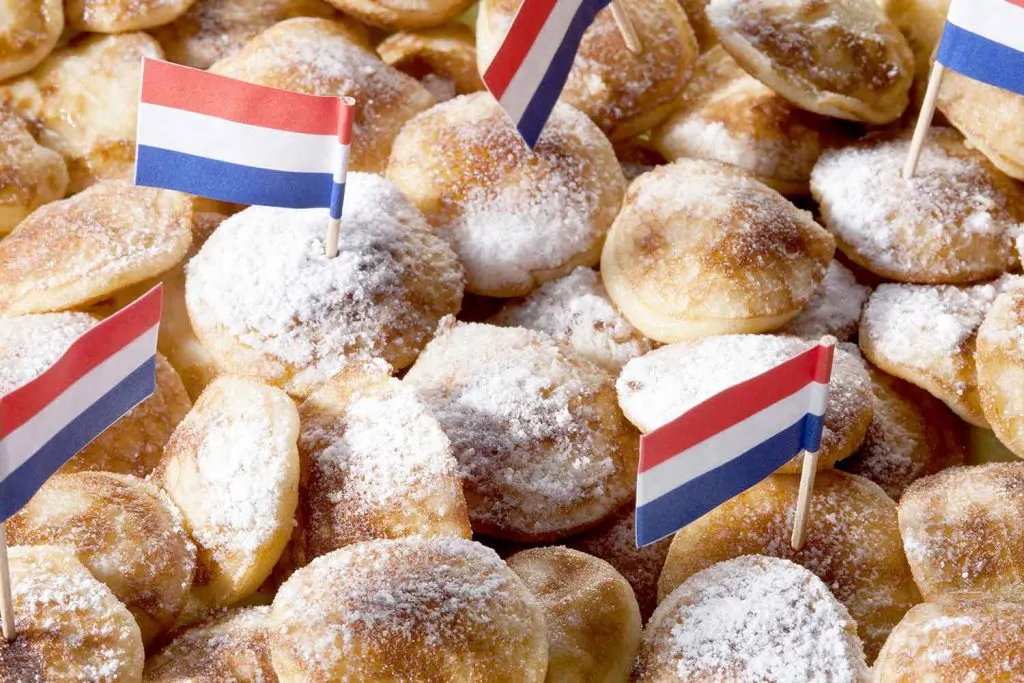 The easiest way to describe poffertjes is similar to a miniature pancake. Poffertjes are small, fluffy, and absolutely delicious. They can be eaten as a side with a hearty meal, but are generally offered as a dessert by many restaurants.
You can commonly choose from a topping of powdered sugar or melted butter, but don't be surprised if you see other toppings being offered too.
Even fast-food chains like New York Pizza and Dominos offer a small portion of poffertjes as a dessert. At festivals and special events in the Netherlands, look out for small stalls selling this delicious treat.
7 – Haring
Haring is extremely popular, but not all Dutch people are fans. Essentially, haring is a herring served raw with some onions and is commonly eaten as a snack.
Dutch people eat the herring with their bare hands, a little like eating a hotdog. In the Netherlands, you'll often find a huge line of people waiting to buy Hollandse Nieuwe – a fresh batch of haring caught during the height of the fishing season.
8 – Huzarensalade
Huzarensalade is a nourishing and filling salad of potatoes, meats such as ham and corned beef, and a range of ingredients and seasonings including peas, paprika, carrots, apple, beetroot, gherkin, pearl onions, and egg, bound together with a generous amount of mayonnaise.
Huzarensalade can be served as an appetizer, side dish, or main meal. Nowadays the grab-and-go versions have a different texture than the original recipes, with a more paste-like consistency. However, this doesn't make them taste any less delicious!
9 – Witlofschotel
This popular baked dish is made from chicory, butter, milk, mustard, and cheese. The chicory is covered with ham and cheese sauce and then baked in the oven.
The dish is then coated with grated cheese and baked whole for a few more minutes. It is a Dutch favorite, simple to prepare, and wonderfully wholesome.
10 – Hachee
Hachee is a traditional Dutch stew. The type of hachee eaten in the Netherlands is typically made up of onions, beef, and stock, although modern day recipes include other vegetables and seasonings.
The stew can be served with potatoes, rice, hutspot, or fries, and is the perfect meal to enjoy during the cold winter months in the Netherlands.
Canned hachee is also available in supermarkets, perfect for camping trips or lazy days. In contrast to many other Dutch dishes, traditionally made hachee can take up to three hours to prepare.
However, once the ingredients are in the pot, you can simply let the stew simmer away on the stove until dinner time. Hachee has become a classic dish in the Netherlands – a 'must try' for sure.
11 – Ontbijtkoek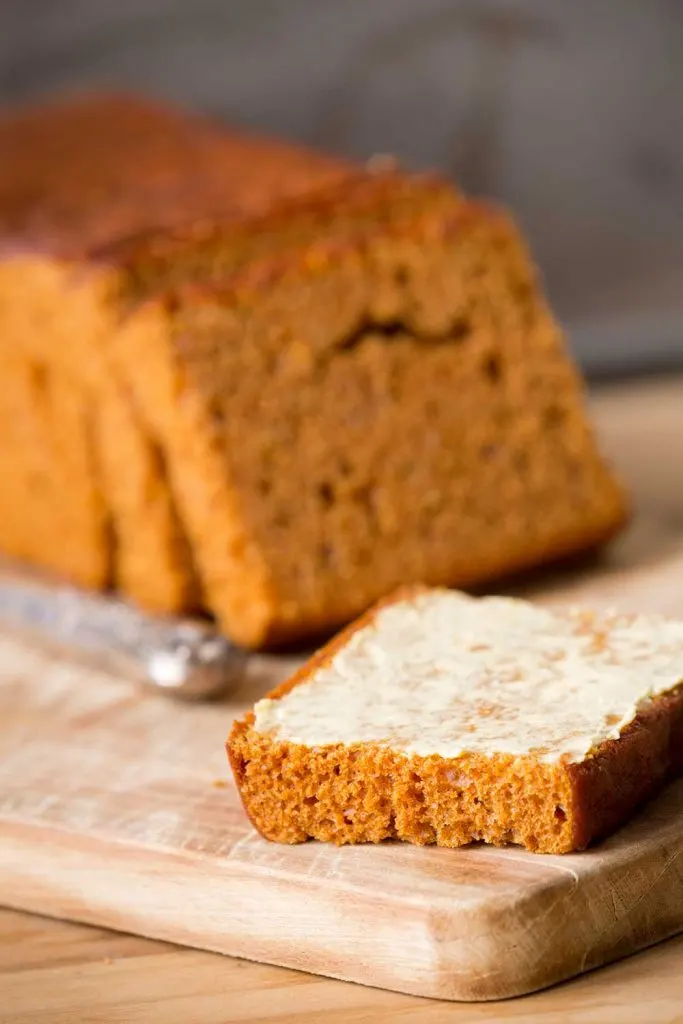 Ontbijtkoek is usually eaten in the morning and translates literally as breakfast (ontbijt) biscuit (koek). However, many agree it's more of a cake than a biscuit, and it is often flavored with a delicious spice combination of cloves, cinnamon, ginger, succade, and nutmeg.
Dutch people traditionally eat ontbijtkoek with a thick layer of butter on top, and it's generally considered a snack due to its sweet taste. Keep in mind that ontbijtkoek can be somewhat dry, so it's wise to keep a glass of water nearby.
Ontbijtkoek is a big part of Dutch culture and is used in many games. One traditional game 'koekhappen' is a big hit at children's birthday parties and during Koningsdag, a Dutch holiday celebrating the birthday of the King.
It involves hanging a slice of ontibijtkoek from a rope, and participants taking it in turns to try and take a bite of the food with their hands behind their back. To make it even more difficult, you can also wear a blindfold!
12 – Bitterballen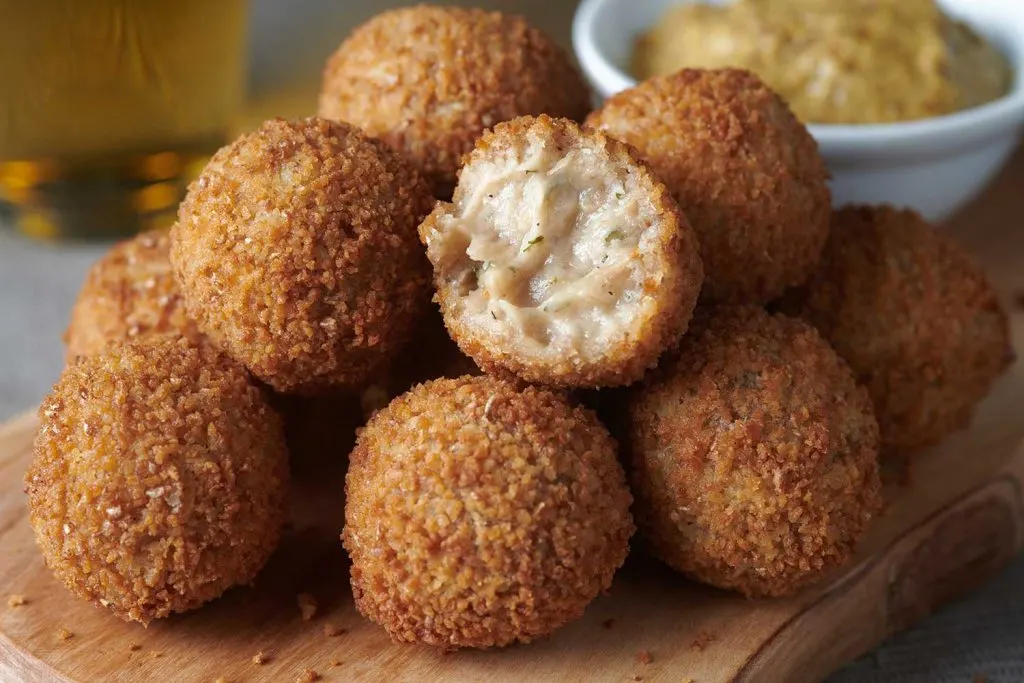 A popular fried snack, bitterballen can be found in restaurants, but they're also available in supermarkets, and even local pubs!
Bitterballen are small balls of ragoût coated with breadcrumbs, creating a nice and crispy outer layer.
Usually, Dutch people eat these in combination with other snacks available at the pub, but they're also hearty enough to enjoy on their own. Bitterballen are especially popular at birthday parties, festivals, and many other events.
13 – Zuurvlees
Zuurvlees isn't popular in all of the Netherlands, but it is especially popular in Limburg. Translated literally, Zuurvlees means 'sour meat'- but on the contrary, it's not sour at all!
Zuurvlees is quite similar to hachee, but there's an important difference. Zuurvlees is made with meat which is first marinated in vinegar.
While you may believe the meat would taste bitter, once marinated the meat is cooked with syrup, herbs, ontbijtkoek, and sugar, adding a beautiful blend of sweetness to the flavor profile.
This classic dish uses traditional Dutch ingredients, which helps create a truly unique taste for the region. For passionate foodies, this is definitely a food to try and find.
Desserts
14 – Oliebollen
Meaning 'oil balls', oliebollen are a beloved Dutch pastry, deep-fried in a similar vein to doughnuts. It is a seasonal food, traditionally eaten to celebrate the end of the year.
These sweet and delicious pastries can be bought in the supermarket, from stalls on the street, and some people even sell them door-to-door.
They are often eaten dusted with powdered sugar, but you can also find special variations with chocolate, custard, and other combinations inside.
The traditional version of oliebollen can be made either with or without raisins in the pastry. It's not common to eat these any other time of the year, making them a special end-of-year treat.
15 – Griesmeelpudding
Traditionally, Dutch people are very fond of their dairy; cheese, milk, yogurt, they love it all!
Griesmeelpudding translates as 'Semolina pudding', and is a wholesome pudding made from semolina cooked with milk, or a mixture of milk and water. This dessert is often served with sugar, cocoa powder, fruit, or syrup.
In the Netherlands, there are many variations of griesmeelpudding, but the most popular version is known for its rich strawberry jam layer at the base.
Once you flip the pudding onto a plate, the jam will spread evenly over the pudding. It is incredibly satisfying to watch, and even more so to taste.
16 – Vla
Another simple yet delicious dessert Dutch people are fond of is vla. A unique Dutch dairy dish, vla has a custard-like consistency and is made from fresh milk.
Vla is available in many different flavors including chocolate, vanilla, or strawberry- but there are also special flavors, such as the traditional Dutch stroopwafel, Dutch apple pie, and many more. Often people will combine a couple of flavors at the same time.
Vla is traditionally a homemade dessert, and you won't generally find it in any restaurant. Befriend a local, and you may be in luck!
17 – Appeltaart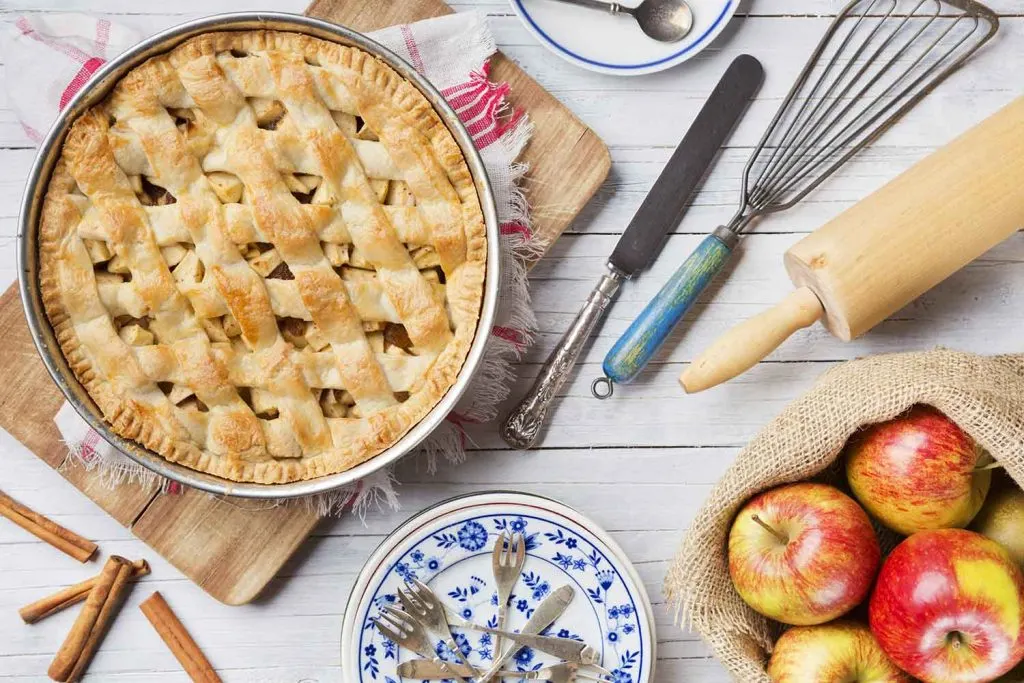 Dutch apple pie, also known as appeltaart, is not the same apple pie other countries are used to. Both the baking process and the ingredients themselves are quite different.
A proper Dutch appeltaart is always made from scratch – and that includes the crust! Once the crust is baked, a springform pan is used, which allows the appeltaart to rise higher than its American cousin.
The filling is what sets the flavor of the appeltaart apart. In the Netherlands, appeltaart typically consists of apples (naturally), goudrenet, raisins, sugar, cinnamon, and a splash of lemon juice. The homemade crust is already sweetened, too.
Unlike many American apple pies, the Dutch appeltaart tends to have a lattice on top. This is brushed with egg wash to give the pie a beautiful golden finish.
Dutch Foods Summary
It's a true shame the Netherlands is not more renowned for its foods, because as this list shows, there is so much creativity, heartiness, and flavor to embrace when exploring the cuisine of this vast and beautiful country.
While similar to many central and northern European cuisines, it is the use of spices in Dutch cooking that helps set it apart from other cuisines in the region.
This unique blend of root vegetable-based resourceful cooking, enhanced with heat and spice, make for a range of dishes that pique your interest, stimulate the senses, and deliver some magical flavor combinations.
The Netherlands has so much to offer, and its food is very much part of that. When you visit, seek out as many of these beloved dishes as you can. It'll definitely be worth it!
You Might Also Like to Read
Save and Pin for Later
Keep this list of Dutch dishes for safekeeping, by saving this article to one of your foodie or international travel Pinterest boards.
Contributor: Sandra Vernon is a freelance content writer from Ridderkerk, Netherlands, who writes in the travel, lifestyle, and business sectors.
Editor: Joseph Manktelow-Pimm is a London-based copywriter and editor.
Images licensed via Shutterstock