This post may contain affiliate links, meaning if you book or buy something through one of these links, we may earn an affiliate commission at no additional cost to you. Learn more
Food is an integral part of Russian culture, so it comes as no surprise that Russian desserts are packed with sweet, hearty ingredients, and decorated beautifully.
From towering, elaborate cakes to bite-sized, gooey treats, if you have a sweet tooth, then Russian cuisine is definitely worth exploring!
Get set for a culinary journey of mouthwatering proportions, as a native writer gives us fascinating insight into 16 traditional Russian desserts you simply have to try.
Russian Desserts
1 – Medovik (Медовик) – Honey Cake
We start our journey through Russian desserts with an iconic cake that has an origin story as eye-opening as its beautiful golden texture: Medovik.
The history of Medovik takes us back to 19th-century Russia, to the Palace of the Russian Emperor, Alexander the First.
His wife, Elizaveta Alexeevna, detested honey, and none of the cooks ever dared to use it in the dishes they cooked for her.
Nevertheless, when a new cook was employed, he decided to 'surprise' the Tsarina, and serve Medovik with tea.
Little did he know about the Lady's preferences, and was informed only when the dessert was already on the table.
To his surprise, the Tsarina adored the fluffy, square-shaped treat, and called in the 'creator' of this masterpiece.
The cook, scared of her reaction, didn't mention the presence of honey in the cake's seven layers until she had finished speaking.
Amazingly, Tsarina decided to generously reward him, by making this dessert a staple on the Emperor's table, every single day!
Related: Russian Honey Cake Medovik Recipe
2 – Ptichye Moloko (Птичье Mолоко) – Chocolate-Covered Milk-Based Soufflé
Ptichye Moloko, often referred to as the Russian "Rafaello", is one of the most well-known delicacies in Russian cuisine.
Meaning 'bird's milk' in English, this is a simple dessert for all ages and occasions. Essentially, it's a soft milk-based soufflé, coated in chocolate, and cut into rectangular shapes to be eaten as bite-sized pieces.
Ptichye Moloko dates back to 1936, where small sweets named "Ptasie Mlechko" were first made in Warsaw, Poland.
During a visit to Czechoslovakia in 1967, the Soviet Minister was so impressed by the dessert, he ordered Russian confectionery factories to try and replicate it.
Unfortunately, as the recipe was not disclosed, it took years of energy and tinkering with the formula before, finally, Ptichye Moloko hit Russian shelves in 1978.
The recipe is very similar to the Russian "Zefir", except it does not contain eggs.
3 – Pechenye Yabloki (Печёные Яблоки) – Oven-Baked Apples
Oven-baked apples are one of Russia's simplest and heart-warming desserts. This dish is baked with various spices, with cinnamon being the most common.
Some people also like to add other sweet ingredients, such as honey, marzipan, or vanilla ice cream.
Russians claim that Christmas simply isn't Christmas without the smell of "Pechenye Yabloki" baking gently in the oven!
To make, cut the tops off of several juicy apples, remove the pips, and sprinkle the insides with some cinnamon powder.
Once ready, place the tops back on the apples, and slide them into a pre-heated oven for 30-40 minutes. Without a doubt, Pechenye Yabloki are best eaten while still warm from the oven.
4 – Tort "Praga" (Торт Прага) – Praga Cake
Praga Cake is a rich and indulgent chocolate sponge cake, consisting of layers of sponge sealed with chocolate custard buttercream.
You may be wondering how the capital city of the Czech Republic, Prague, is related to a Russian dessert.
This delicious chocolate cake was created by Russian Vladimir Guralnik, who fell in love with Prague while studying confectionary arts during his time in Czechoslovakia.
Today, there are many variations of the "Praga" cake recipe, mainly because the original recipe demanded a lot of patience, commitment, and skills from anybody who cooked it.
5 – Konfeti Batonchiki (Конфеты Батончики) – Classic Russian Candy
Konfeti Batonchiki are assorted Russian candies. Just the sight of these sweets will remind most Russians of their childhood.
In 1960, children were pleasantly surprised when they noticed tiny, delicately wrapped granolas on the shops' stalls. They continue to be popular to this day.
The history of these sweets remains a mystery, as nobody can truly say for sure who invented them.
Another reason why these Russian treats became famous very fast, is their decorative and colorful paper wrappers.
Believe it or not, people used to collect the wrappers from these sweets. Some Russians still have huge collections to this day.
6 – Syrniki (Сырники) – Curd-Cheese Pancakes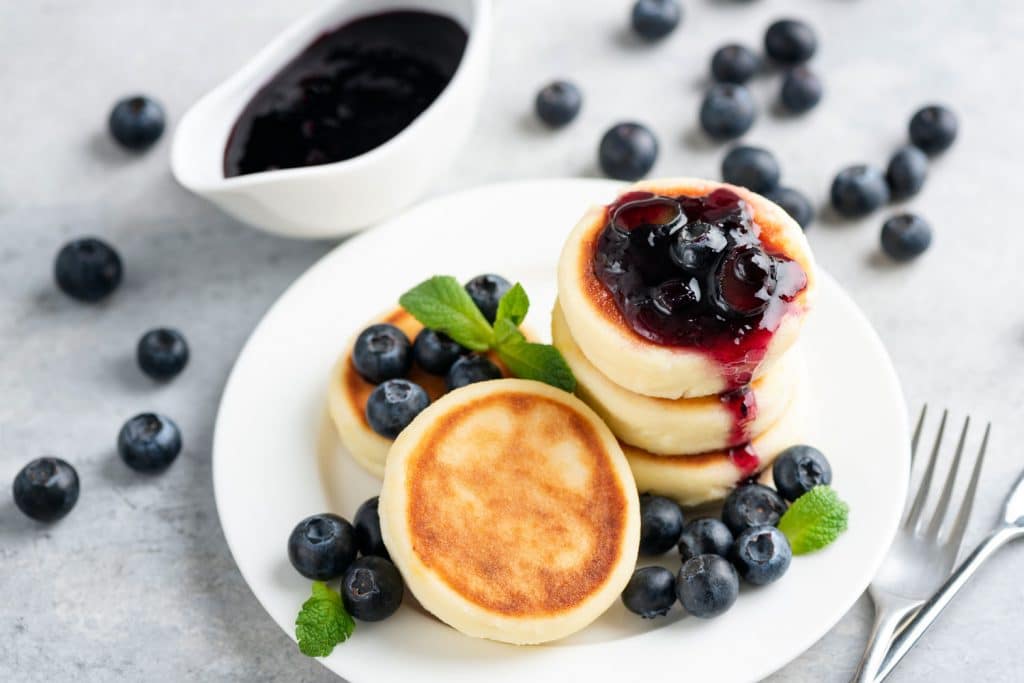 Syrniki, or curd-cheese pancakes, are loved for their fine texture, lightness, and perfectly balanced sweet and savory taste.
It's believed that this dessert came to be due to so many Russian households having excess milk, at a time when refrigerators were not available to buy.
So that the unconsumed milk was not thrown away, many people decided to add flour and curd-cheese to the milk to create a mixture for light, delicate pancakes.
Even though this dessert is offered in almost every café in Russia, it is very easy to make at home.
All you will need is milk, eggs, flour, curd-cheese, sugar, salt, and a pan. Depending on your taste, you can choose to serve them with honey, yogurt, or jam.
7 – Oladyi (Оладьи) – Mini Pancakes
Similar to Syrniki, Oladyi are a popular variation of Russian pancakes. Unlike in Syrniki, no curd cheese is used in Oladyi. They are made with flour, milk, yeast, and sugar.
Oladyi are often enjoyed with homemade jam (Varenie) or sour cream. They are also smaller than conventional pancakes.
Interestingly, this dessert traditionally was a food eaten by peasants, but today has become popular among Russian aristocrats (Dvoryane).
Today, you can find a vast amount of Russian literary works that mention Oladyi. Enjoyed at breakfast or after mains, they are a simple and filling Russian dessert.
8 – Churchkhela (Чурчхела) – Natural Grape and Nut Sweets
Churchkhela is a famous Georgian delicacy, made of grape juice and nuts. The name of this dessert means "cold and hot" (Georgian: "church" and "khel").
This is because strings of almonds or walnuts are first dipped in hot grape juice, then left to cool down.
This process is repeated multiple times, until the thin string of nuts is coated in the sweet, cooled grape juice liquid, creating a thick, delicious smelling roll.
Russians see this dessert as an exotic treat due to its Georgian origins, and it is very popular in the Caucasian regions of Russia.
9 – Tort "Napoleon" (Торт Наполеон) – Napoleon Cake
Popular not only in Russia but throughout Europe, Napoleon Cake is a beautiful cake made of layers of thin puff pastry sheets and rich, delicious cream.
Originally named mille-feuille, meaning a 'thousand layers', the cake was brought to Russia after victory against Napoléon Bonaparte's unsuccessful invasion of present-day Poland in 1812.
Like Medovik, it's made of only a handful of simple ingredients, but the resulting soft, creamy textures and light, sweet flavors are utterly magical.
10 – Tort "Pavlova" (Торт Павлова) – Pavlova Cake
Pavlova is a sweet, fluffy Russian dessert, defined by its meringue base, crispy crust, and light, creamy center.
It's so light, in fact, that an average-sized Pavlova cake, fit to feed 10 people, can weigh as little as 1kg.
It's believed "Pavlova" was created in honor of famous ballerina Anna Matveevna Pavlova, during or after her tours to Australia and New Zealand in the 1920s.
Confectioners decorate the dessert with fruits and berries for sharp, fruity tones, and alluring decadence.
11 – Sharlotka (Классическая Шарлотка) – Apple Cake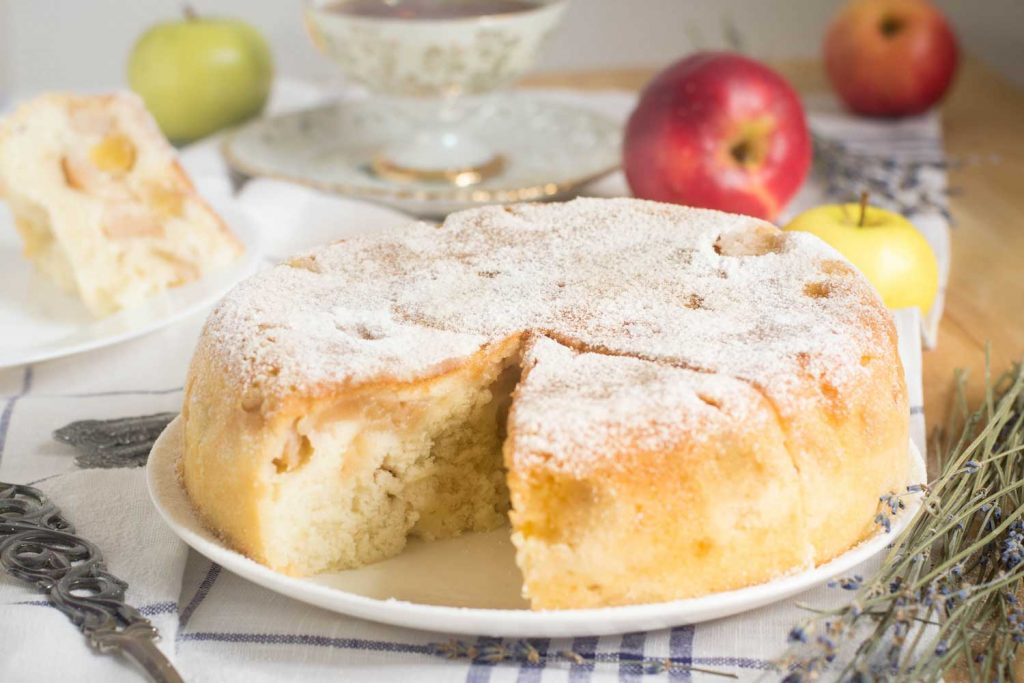 Sharlotka is light and delicious sponge cake, packed with slices of juicy apple.
Unlike a conventional apple pie, that puts as much emphasis on the thick, buttery crust as it does the filling, Sharlotka instead is airy and light.
As the sponge is made from a simple mixture of eggs, sugar, and milk, this cake became very popular in Russia due to its inexpensive ingredients.
12 – Pashalnii Kulichi (Пасхальный Кулич) – Sweet Easter Bread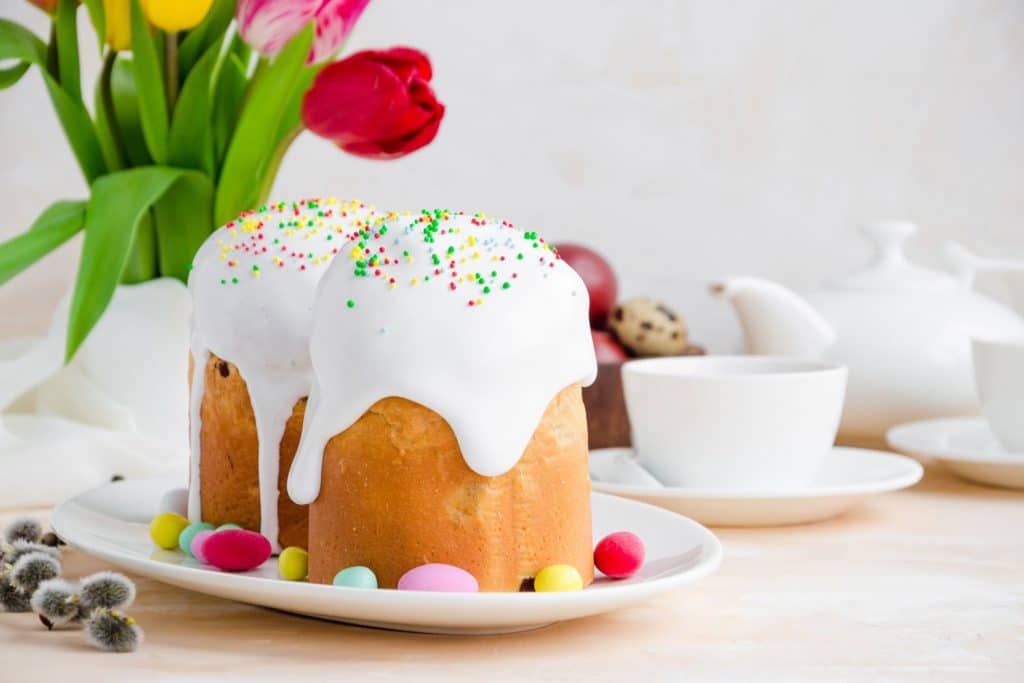 Also called "Paskha" (Russian: Easter), Pashalnii Kulichi is a traditional dessert that is prepared on Good Friday, in time for Easter Sunday.
Paskha is a sweet bread, baked with raisins, and decorated with sweet frosting and chocolate chip sprinkles.
For Russians, the process of making Kulichi is very much sacred. Hence, entire families bake it, spending quality time at home together.
Kulichi can only be consumed after the Church service of the night of Holy Saturday, when the Holy fire is distributed among Christians and Christ has officially 'resurrected'.
13 – Miagkie Plushki s Sakharom (Мягкие Плюшки с Cахаром) – Sweet Mini Pie Buns with Sugar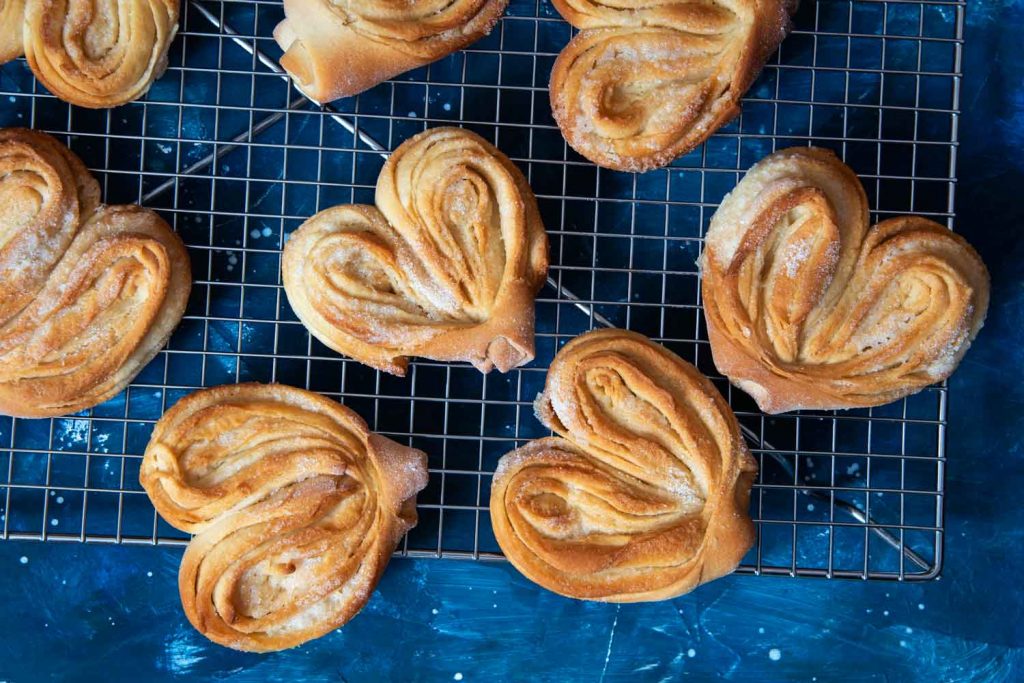 Miagkie Plushki s Sakharom is one of the simplest yet beloved Russian desserts, best served with hot tea from an authentic Russian "Samovar".
To make Plushki at home, mix yeast and sugar with warm milk, and leave the mixture for around 10 minutes.
Once rested, add sifted flour and melted butter to the mixture to create a delicious dough. From there, the fun really begins!
Traditionally, the dough is separated into small pieces, rolled, and cut into heart-shaped buns. Utterly delicious.
14 – Mannik (Манник) – Semolina Cake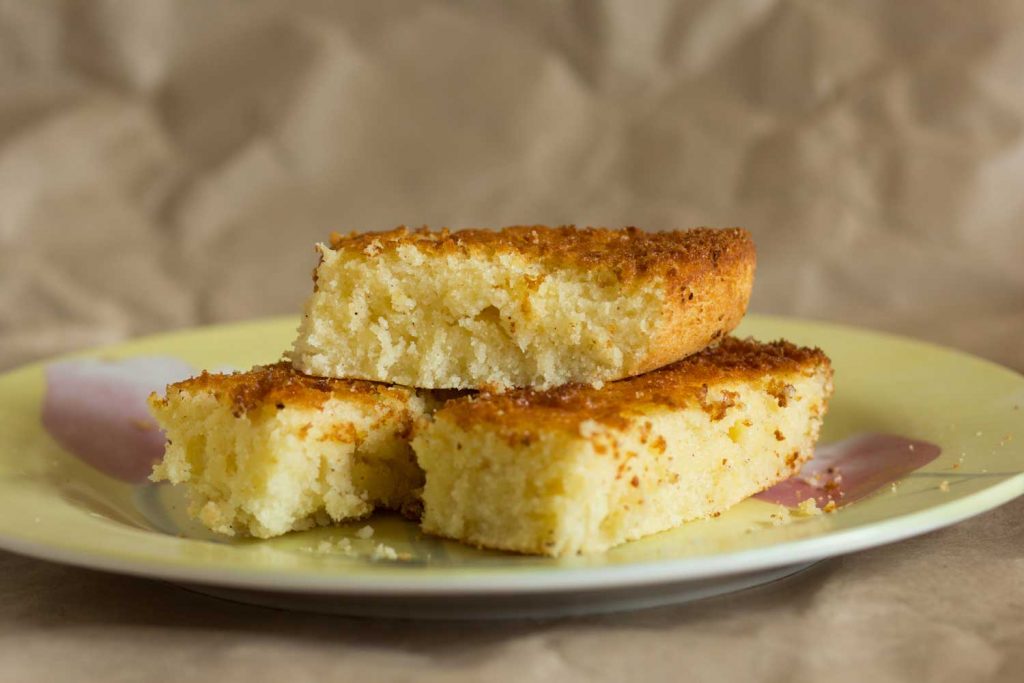 It's believed the very first Mannik was cooked in the 12th century, as this was a period when households started to actively consume semolina and cereal.
Semolina is used in the base of this wholesome cake, along with flour and Kefir. Mannik is very famous among youngsters because it is almost impossible to spoil (as it won't burn easily)!
Since semolina is considered to be rich in nutrients, it is very popular among people who want to treat themselves, but also keep an eye on the number of calories they consume.
15 – Chak-Chak (Чак-чак) – Mini Doughnuts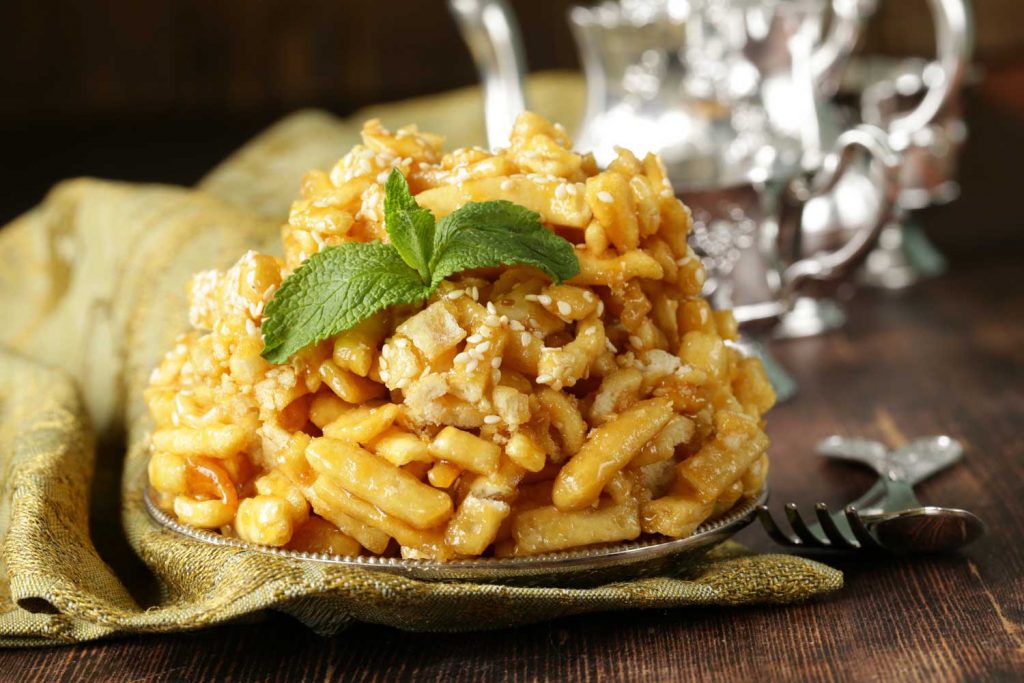 Chak-Chak is a unique and delicious fried honey and almond cake, especially popular in the Tatarstan region of Russia.
Eastern regions of Russia are well-known for their production of high-quality honey, which respectively, becomes one of the main ingredients in many Russian desserts.
Traditionally, Chak-Chak was considered to be a delicacy that was served only on festive or celebratory occasions.
Nowadays, however, no special occasion is needed to try this sweet, aromatic, and mouthwatering dessert.
If you ever have a chance to visit the Eastern republics of Russia, consider it a 'must' to try a portion of freshly made Chak-Chak!
16 – Zefir (Зефир) – Soufflé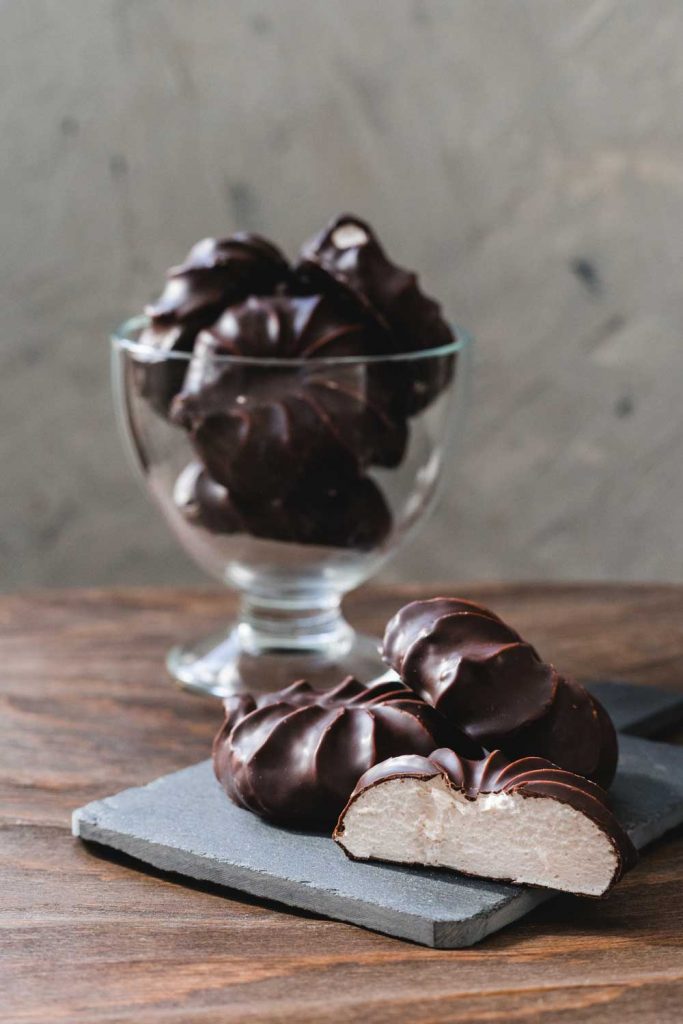 Zefir is an iconic Russian confectionery, made by whipping fruit purée with egg whites, sugar, and various gelling agents like agar.
These miniature semi-spheres are so delicious, and a staple dessert in households across Russia and post-Soviet states.
Zefir comes in many different flavors, the most common being vanilla (white), strawberry (pink), and chocolate-coated vanilla.
Many claim that Zefir's history roots back to as far as Ancient Greece or the Roman Empire.
However, actual Zefir was first made in the 15th century, when a few French confectioners decided to experiment with Russian Pastila and created this fluffy masterpiece!
Russian Desserts Summary
Rich, filling, and beautifully prepared, there is no denying Russian desserts are a mouthwatering treat for anyone who enjoys the sweeter tastes of life.
There's a wide range of Baltic and European influence in Russian desserts, which have led to some truly delicious recipes.
Many of these desserts are packed with rich, creamy, and sweet flavors, wrapped in a variety of layers and textures.
Whether you're traveling in Russia or looking to bring a little Russian sweetness into your own kitchen, don't be shy with these sumptuous desserts. They really are worth the time and effort to find or make.
So, one last time, before we go, here's the full list of all the desserts covered in this article.
Be sure to have this list of Russian desserts handy when you visit so that you can try one or more of these popular and traditional desserts.
Medovik (Медовик) – Honey Cake
Ptichye Moloko (Птичье Mолоко) – Chocolate-Covered Milk-Based Soufflé
Pechenye Yabloki (Печёные Яблоки) – Oven-Baked Apples
Tort "Praga" (Торт Прага) – Praga Cake
Konfeti Batonchiki (Конфеты Батончики) – Classic Russian Candy
Syrniki (Сырники) – Curd-Cheese Pancakes
Oladyi (Оладьи) – Mini PancakesOladyi (Оладьи) – Mini Pancakes
Churchkhela (Чурчхела) – Natural Grape and Nut Sweets
Tort "Napoleon" (Торт Наполеон) – Napoleon Cake
Tort "Pavlova" (Торт Павлова) – Pavlova Cake
Sharlotka (Классическая Шарлотка) – Apple Cake
Pashalnii Kulichi (Пасхальный Кулич) – Sweet Easter Bread
Miagkie Plushki s Sakharom (Мягкие Плюшки с Cахаром) – Sweet Mini Pie Buns with Sugar
Mannik (Манник) – Semolina Cake
Chak-Chak (Чак-чак) – Mini Doughnuts
Zefir (Зефир) – Soufflé
You Might Also Like to Read
Save and Pin for Later
Want to keep all these delicious Russian dessert picks in a safe place? Save this article and pin it to one of your Pinterest boards for later.
---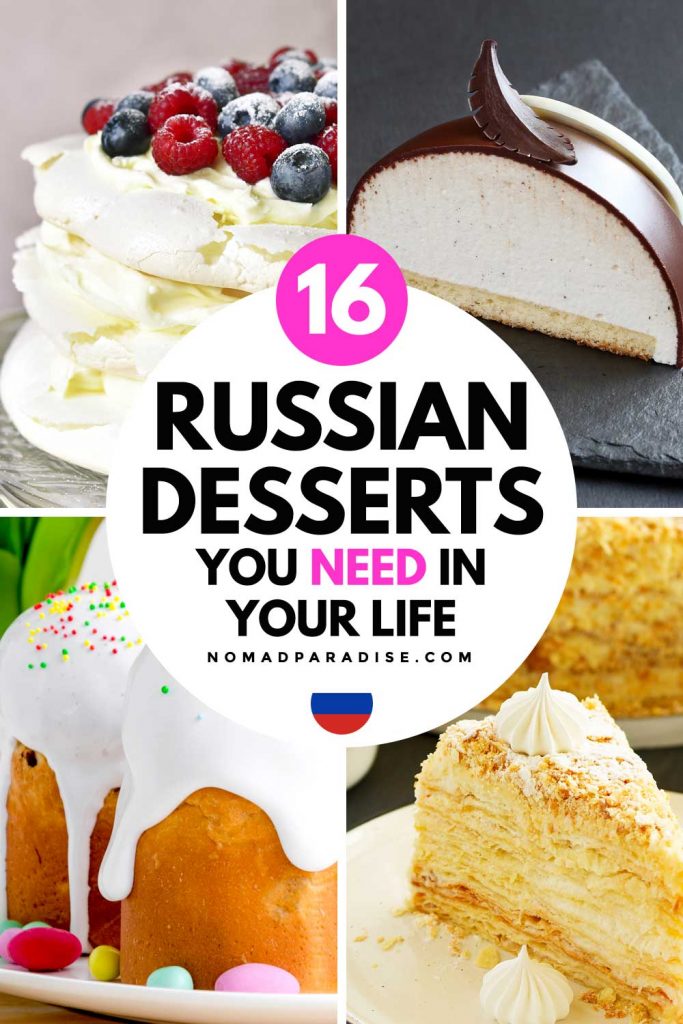 ---
Contributor: Anastasiya Tikhonova is a Russian translator and creative writer, based in Cyprus. When not translating texts, she writes on a number of topics relating to her home country, including Russian food and top destinations.
Images licensed via Shutterstock