This post may contain affiliate links, meaning if you book or buy something through one of these links, we may earn an affiliate commission at no additional cost to you. Learn more
Packed with fresh produce and sumptuous meats and seafood from across the islands, New Zealand foods are testament to the country's unique relationship with Mother Nature.
A mesmeric blend of ancient Maori traditions, fused with British, Asian, and American influence, the dishes of New Zealand are a treat for both curious and casual foodie travelers alike.
So together, guided by the expertise of a local writer, let us take a journey through the awe and beauty of New Zealand, through 16 of its most popular and traditional dishes.
New Zealand Foods To Try
Snacks and Fruit
1 – Marmite
Like a dark streak running through New Zealand society, this yeast-based condiment has a way of dividing people. The crux of the matter is whether kiwi-made Marmite* or Aussie-import Vegemite is the superior spread.
Foreigners may be baffled by the fuss. At first glance, the sticky, dark brown substance is not the most appetizing. Despite the savory taste, it's 100% vegetarian, made from a byproduct of the beer-brewing process.
For those brave enough to try it, New Zealander's traditionally spread it on toast with plenty of butter. Remember, when it comes to Marmite a little goes a long way.
* The kiwi version is different from its British counterpart, which is saltier and with a thinner texture.
2 – Mānuka Honey
The world's most expensive honey has been touted as having near-miraculous health benefits. From antibacterial creams used in hospitals to skin care products promoted by beauty influencers, the applications of this gift from above are plentiful!
It was Māori who were the first to recognize the medicinal benefits of the Mānuka tree, using an extract to treat stomach complaints. The intrepid explorer Captain Cook, seeking a remedy for scurvy, used the leaves to brew New Zealand's first-ever beer.
Not only that – with a rich, earthy flavor and creamy texture, but Mānuka honey is also delicious to boot. In its purest form, this 'liquid gold' can cost up to $1000 per kilo! To avoid paying top dollar, look out for signs on the roadside to buy directly from beekeepers.
3 – Kiwifruit
In New Zealand, the word 'kiwi' may refer to two things: a flightless bird that, for reasons unexplained, is a symbol of our country, or someone who considers themselves a New Zealander. Important note: neither of these is edible, unlike the fuzzy brown fruit we call kiwifruit, which most definitely is!
It may come as a surprise, but these fruits, with furry skin and refreshing, tart flesh, are not native to New Zealand. Originally from China, these fruits have made themselves at home here and have proliferated to the point of being one of the country's most important exports.
Of the various species, the most common is the fuzzy kiwifruit, with rough brown skin and bright green flesh. You may also encounter the smooth-skinned golden kiwifruit, which has a more delicate, sweeter taste.
4 – Feijoa
OK, it's time to let you in on a little secret. Although kiwifruit are generally recognized as being New Zealand's national fruit, there is a lesser-known candidate for this mantle – the feijoa. Why these egg-sized packets of pleasure are not more popular around the world is one of earth's greatest mysteries.
Called the pineapple guava in some countries, the tree originates from temperate areas of South America and is prized for its beauty in gardens the world over. In few places is the fruit as adored as in Aotearoa, however.
The wonderfully aromatic flesh has a slightly grainy texture, somewhat like a pear. The unique taste is a mix between pineapple, guava, and strawberry. Keep your eyes peeled, particularly in the northern half of the country, for these underappreciated treasures during feijoa season – which runs from March to May.
5 – Meat Pie
Walk into any dairy (that's kiwi for convenience store), cafe, or service station, and you're almost guaranteed to encounter a small oven displaying New Zealand's favorite on-the-go-eats.
The classic kiwi pie is a hand-sized pastry packet, typically filled with a rich mixture of meat and gravy.
The traditional flavors are mince, mince & cheese, steak, and steak & cheese. Nowadays, however, you will find an array of fillings, from Thai chicken curry to roast lamb with mint sauce. Vegetarian options are also increasingly common, with options like roast veggie or spinach & feta now occupying the pie warmer.
The beauty of the pie is its versatility. It can be eaten at any time of day, on the go as a snack, or as part of a larger meal. So, don't be shy – as New Zealanders would say, 'get a pie in ya!'
Appetizers
6 – Pāua
You'll find the oval shells littering coastal car parks, decorating buildings, or acting as ashtrays outside pubs and cafes across the country. The iridescent hues have long been treasured by local artisans, but the real prize is what once lived within these shells.
Pāua, native Abalone or sea snails, can be found among the kelp clinging to rocks close to the shoreline. Known as steaks of the sea, these mollusks are highly valued for their firm, meaty flesh and savory flavor.
These sea snails can be prepared in many ways, but they are best enjoyed freshly plucked from the sea and briefly fried in garlic butter. The rich taste, and buttery texture (when properly tenderized), is made complete with a dash of lemon juice. Truly delicious!
7 – Bluff Oysters
Renowned as the finest oysters in the world, these succulent morsels are not only delicious but also packed with vitamins and minerals. Although they grow around the country, those harvested off the southern coast of the South Island, particularly in the frigid waters of Foveaux Strait, are considered the most mouth-watering.
Purists eat them raw with a dash of lemon juice, but they are equally blissful wrapped in batter or combined in a chowder. Of course, fresh is best, so keep in mind that they are gathered only between March and August.
If you really want to celebrate these treasures of the deep, as well as a variety of other kaimoana (seafood), head down to Bluff for the Oyster & Food Festival, held every May.
Bluff oysters are not cheap, going for around $20-$30 for a dozen, but from the first taste we're sure you'll agree – they are worth every penny!
8 – Whitebait Patties
The term 'white gold' could mean any number of things, depending on the context. But in New Zealand it refers to just one thing – whitebait, the juvenile form of three species of native freshwater fish.
Every year in spring, anglers flock to coastal river mouths to siphon as much as they can from the shimmering shoals as they make their way inland. Bemoaned by conservationists and strictly regulated by the government, the delicacy is becoming increasingly rare, not to mention expensive – at times fetching over 100 NZD a kilo.
If you do manage to find whitebait patties, you'll almost always find the matchstick-sized minnows mixed whole with egg (some insist on using only egg whites) and fried in butter.
The resulting fritters are then sprinkled with salt and white pepper and served between two slices of bread. For many New Zealanders, a whitebait pattie is the definition of a guilty pleasure.
9 – Cheese Rolls
For many who venture into the deep south, the humble cheese roll comes as an unexpected delight. Like several New Zealand foods, the dish is not exactly sophisticated, but therein lies the beauty.
Believed to have been first prepared by Scottish colonizers looking for a crunchy accompaniment for their bowl of soup, the recipe is very simple. The dish consists of a slice of white bread, layered with a gooey cheese mixture, rolled, grilled, and finally coated with butter – there's nothing to it, right?
10 – Kina (Sea Urchin)
The king of kaimoana (seafood), the silky smooth roe of this native sea urchin has long been considered a delicacy by Māori. You will find pottles for sale in supermarkets, but the best way to make sure your kina is at its freshest, and therefore most delicious, is to go there and gather it yourself.
Kina can be found at low tide when they resemble rolled-up hedgehogs clinging to the rocks. Once you have your prickly prize onshore, you simply have to crack it open with a hard object, such as a rock.
The five orange-colored tongues around the inside of the shell are what you're after. Simply scoop them out, open them up, and experience the pure essence of the ocean. We'll make a kiwi of you yet!
Mains
11 – Pork and Puha
Sometimes called 'boil-up', this hearty soup, cooked using pork bones, is a quintessential Māori dish. Floating amidst the tasty broth, you'll discover an assortment of root vegetables, such as potato, kamokamo (sweet marrow) or kumara (sweet potato), small dumplings known as doughboys, and of course, puha.
Otherwise known as sow thistle, puha is a close relative to dandelion and has a similar tangy taste to watercress. Native to New Zealand, it can be found growing wild in most areas of the country. This unassuming plant not only adds a sharpness to the soup, but it's also packed with essential nutrients, dietary fiber, and antioxidants.
More common in the North Island, this simple yet tasty soup is often accompanied by 'fry bread'. Pork and puha is a nutritious, warming food for the soul and the perfect remedy for a cold winter's day.
12 – Hāngi
The hāngi, or earth oven, is not just a way of cooking; it is an integral part of Māori culture. There is a lot involved in putting one down, so they are generally reserved for large gatherings. If you have the chance to take part, don't miss out as this is an unforgettable experience.
At the bottom of a pit, rocks, which have been heated through by fire, are covered with wet sacks. The food, traditionally wrapped in leaves and put in flax baskets, is then placed on top. The contents are then covered with more leaves or sacks and buried.
A hāngi is left to cook for around three to four hours. But when the food is dug up, the distinctive earthy taste and the succulent kai (food) is worth every second. Participating in a hāngi is the ideal way to connect with local Māori culture, and a must-do experience in New Zealand.
13 – Fish and Chips
Although New Zealand's national dish is a British inheritance, many would argue it has been perfected down under. With around 15,000 km of coastline offering up the sea's bounty, it's no surprise this is the takeaway of choice. Fish and Chip shops, or 'chippies' as they're known, are a common sight nationwide.
The customary order, as you may be able to guess, is a piece of battered fish and a scoop of piping hot, thick-cut chips. A favorite fish in the south is the buttery soft blue cod, so keep your eyes peeled for it if you head to the south island. Hoki, shark, and gurnard are other chip shop classics.
For true authenticity, take your meal – wrapped in paper to seal in the flavor and heat – to the beach. Fending off swooping seagulls while enjoying your steaming hot serving of fresh fish and chips is a classic kiwi experience!
14 – Roast Lamb
New Zealand's reputation for producing the best lamb in the world is well deserved. With a temperate climate, lots of sunshine, and plenty of rainfall, the lush green grass feeds juicy, plump bleaters by the million.
With the rise of dairy farming, however, the number of sheep in the country is diminishing and there are now only around 25 million. Luckily, with a human population of around 5 million, there's still plenty to go around.
Sunday is traditionally the chosen day to sink your teeth into a succulent lamb roast. Decent roasts are often found at the local pub, traditionally garnished with rosemary and served with a zesty mint sauce. Like steak in Argentina, or pizza in Italy, a trip to New Zealand is not complete without at least a little lamb.
Desserts
15 – Hokey Pokey Ice Cream
New Zealanders eat more ice cream than any other nation on the planet: a whopping 28 liters per person per year! With a booming dairy industry producing some of the best milk-based products in the world, it's easy to understand the locals' love affair with this classic dessert.
As devout devourers of frozen desserts, New Zealanders have become quite inventive with their ice cream flavors. But there is one flavor specifically close to kiwi's hearts (and tongues), and that's Hokey Pokey.
This classic summer treat consists of vanilla ice cream filled with gooey chunks of honeycomb candy. The sensational mix of creamy and crunchy goodness is best savored in a cone. Whatever time of year you visit, be sure to treat yourself to some 'sweet as' Kiwi-ana!
16 – Pavlova
Like certain rock bands, racehorses, and movie stars, the nationality of this sweet summer favorite continues to be an article of contention between Kiwis and their Aussie neighbors.
The traditional dessert, named after a Russian ballerina during her tour of both countries in the 1920s, usually graces the tables of family gatherings in both countries, particularly at Christmas time.
Made from whipped egg white and sugar, Pavlova is essentially a giant meringue lathered in a thick layer of whipped cream and topped with fresh fruit. The perfect 'Pav' should have a slight crunch to the crust, with a fluffy, melt-in-your-mouth feeling.
Because Pavlova doesn't have much of a shelf life and it doesn't survive freezing, it's not all that common in cafes. Hence, don't hesitate to order it if you do see it on the menu.
Despite the controversy, when this delicate delight lands on your taste buds, you'll find its country of origin is the last thing on your mind.
New Zealand Foods Summary
The culinary delights are often not high on peoples' agendas when they visit New Zealand, with the country renowned for its thrill-seeking and jaw-dropping beauty.
But as this summary shows, New Zealand offers a truly unique take on great food, bringing together the wonder of Mother Nature, ancient cooking traditions, and a wide range of influences from cuisines all over the world.
The foods of New Zealand offer a totally different adventure to embark on. There's something for all preferences, and even some incredibly rare foods that can only be tried in the country.
Before your visit, be sure to keep this list of traditional foods handy, so that you can seek them out, and try them at different eateries and restaurants.
You Might Also Like to Read
Save and Pin for Later
Planning a trip to New Zealand in the future? Keep these traditional foods for safekeeping, by saving this article to one of your foodie Pinterest boards.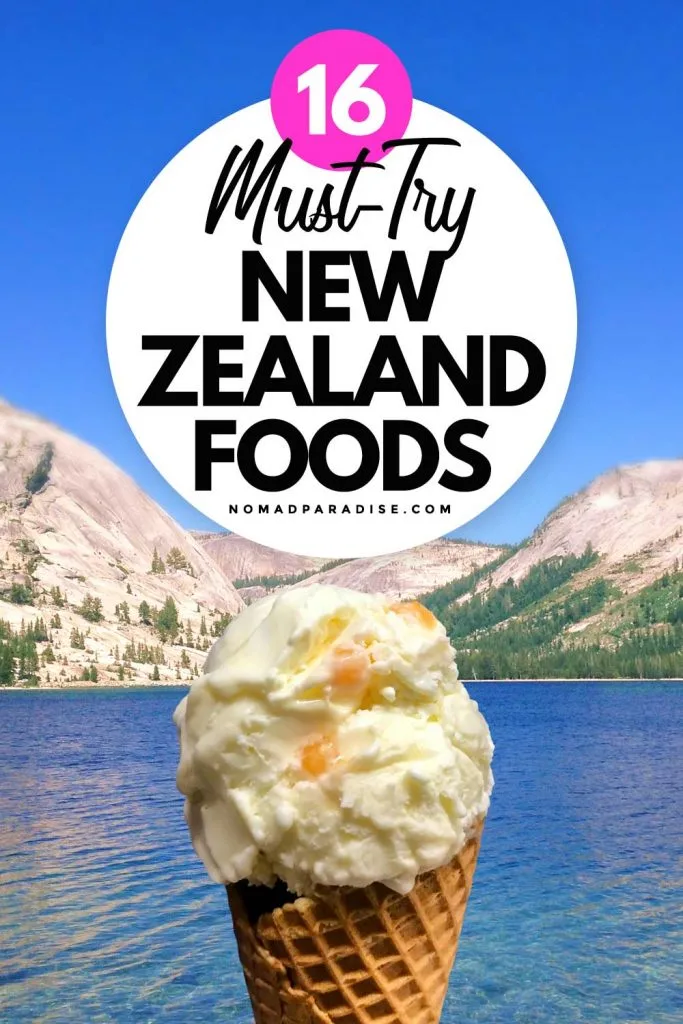 Author: Christopher Cooke is a New Zealand content creator and writer, passionate about sharing New Zealand cuisine, culture, and travel with others through his writing.
Images licensed via Shutterstock