This post may contain affiliate links, meaning if you book or buy something through one of these links, we may earn an affiliate commission at no additional cost to you. Learn more
Open your mind, mouth, and heart to a satisfyingly scrumptious side of one of the most adventure-filled US states with these foods to try in Georgia, and let your senses succumb to their rustic beauty, juicy flavors, and gorge-worthy combinations.
Foods to Try in Georgia, USA
Appetizers
1 – Fried Green Tomatoes
This dish is a delicious Southern classic to kickstart your Georgia tasting tour. They're exactly what they sound like: sliced tomatoes dredged in flour and cornmeal and pan-fried.
While you can make this dish with red tomatoes, green (or unripe) tomatoes are firmer with a tangier, tarter taste that compliments the crunchy, buttery crust.
Even if tomatoes aren't your favorite food, the flavors and textures combine to create a savory dish that's best served with a remoulade or sweet chili sauce.
2 – Boiled Peanuts
Once a fashionable wedding snack in the early 1900s, boiled peanuts are now a Georgia staple you can find everywhere, including gas stations, grocery stores, and roadside produce stands.
This simple snack is made by boiling raw or green peanuts in saltwater for a few hours. While there are a couple of ways to eat them, the consensus seems to be to crack the shell, slurp the saltwater out, then open it and eat the nuts.
3 – Pimento Cheese
This soft, spicy cheese is a Georgia favorite that makes a perfect dip for crackers, veggies, and more – you can even put it on a sandwich!
It was created when Spain sent cans of "pimiento," a red chili pepper, over to the U.S. in the late 1800s and home cooks in the South began experimenting with the recipe. Today, it's a creamy spread made of sharp cheddar, mayo, and those classic peppers to give it a kick.
4 – Biscuits and Gravy
Biscuits and gravy is a hearty dish you'll see at almost every diner in Georgia. This classic comfort meal is created by drenching flaky, buttery biscuits in a delicious gravy. Often the gravy will come with crumbles of sausage to give that extra texture and flavor.
While store-bought biscuits are fine, the best biscuits and gravy start with fluffy, homemade biscuits — the most wonderful smell to wake you up in the morning.
5 – Cornbread
Cornbread is a light, grainy bread made of cornmeal, eggs, flour, and milk. This warm and versatile bread has roots in Native American culture and makes for a great dinner side.
While cornbread is popular in both the North and the South, Southern cornbread is known for being sweet, buttery, and cake-like, different from the crumbly Northern-style. With some popular add-ins like cheese, peppers, and bacon, there's no way to go wrong with this Georgia favorite.
6 – Fried Okra
You might shy away from okra because of its gooey texture, but Georgia's got you covered. As a leading producer of okra in the U.S., it only makes sense that Georgia has found a way to turn this mild, grassy-tasting (and sometimes slimy) vegetable into a delicious dish.
When dredged in cornmeal, flour, egg, and seasoning, then fried, it turns into a crunchy, golden-brown treat. Try dipping them in a creamy mustard remoulade.
7 – Collard Greens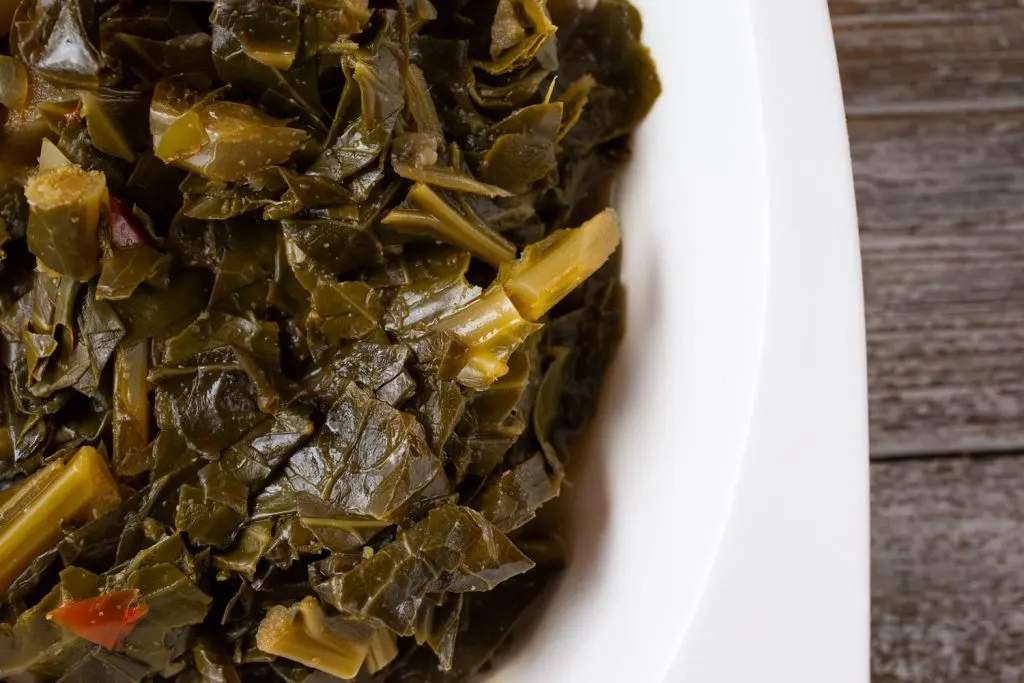 Another Georgia favorite side dish, collard greens are tender and savory, absorbing the mouth-watering flavors of Southern seasoning. The large, waxy leaves are chopped and simmered in chicken broth until soft and tender.
Onion, garlic, ham, bacon, vinegar, hot sauce, and more are often added to amplify the flavor. And after you're done eating the scrumptious, nutrient-rich dish, you can add the leftover broth to other recipes like mashed potatoes or gravy!
Mains
8 – Low-Country Boil
The low country is the region along the coastline of South Carolina and Georgia. Filled with marshes and estuaries where freshwater meets the ocean, it is famous for its ultra-fresh, succulent seafood, which is showcased in low country boil.
Fresh crawfish, shrimp, and crab are boiled and served with sausage, potatoes, and corn to create a dish that highlights those unique Southern flavors. This family-style meal is often served on newspaper pages and is best shared with loved ones.
9 – Chicken and Waffles
Who knew these two foods would go so well together? While it's now a famous Southern comfort food, chicken and waffles got its start in Harlem when supper clubs would combine dinner and breakfast for musicians who arrived late in the night.
The juicy, tender chicken is seasoned and deep-fried, and the crunchy, crispy exterior complements the soft, fluffy waffles. Top it off with some syrup, and you have a delicious combo of sweet and savory.
10 – Shrimp and Grits
With fresh seafood being caught right off the Georgia coast every day, shrimp and grits is a must-try when you visit. It was once the breakfast of fishermen in the low country but is now a staple at fine-dining restaurants.
The shrimp are cooked with bacon, lemon juice, garlic, and green onions and placed on top of a big plate of buttery, creamy grits. The two pair perfectly, with the milder grits highlighting the seasoned punch of the fresh shrimp.
11 – Chili Dogs
These hot dogs topped with meat sauce are immensely loved in Georgia. You can find them all over, but we have to thank The Varsity — a famous Atlanta restaurant chain known for their hot dogs — in particular for popularizing the chili dog.
Along with the signature meat sauce, you can top your chili dog with mustard, onions, cheese, and more. They're sometimes eaten with tortilla chips (to scoop the fallen toppings), but more often with crispy french fries.
12 – Lemon Pepper Wings
While you're in Atlanta, grab yourself some lemon pepper wings — you won't regret it. This Georgia city is known as the lemon pepper capital, the seasoning rising in popularity as a way to tone down the spice of regular hot wings.
The flavor comes from a tasty lemon butter, and when tossed with flour, fried, and topped with fresh ground black pepper, these chicken wings are a satisfying meal that won't leave your mouth burning.
13 – Seafood Gumbo
This soup is another celebration of the coast. It packs shrimp, oyster, and crab with onion, bell pepper, celery, and more, all topped with some flavor-packed Cajun seasoning. The term actually comes from a West African word meaning "okra" — which is also a great addition to your gumbo!
A lot of recipes will also throw in chicken or sausage to add some more heartiness. Serve it over rice or refrigerate; this comfort meal tastes even better the next day.
14 – Brunswick Stew
Hailing from Brunswick, Georgia, this robust stew is tomato-based and flavored with barbecue sauce and cayenne pepper. It was originally made with squirrel, rabbit, and opossum, but don't worry, nowadays you'll find it made with shredded chicken, pork shoulder, or beef.
It's often made in Georgia homes to use up leftover meat and veggies, especially corn, potatoes, and onion. Serve it up with some cornbread or coleslaw for a yummy, filling meal.
15 – Fried Catfish
You'll find fried catfish in a ton of Georgia restaurants. While the meal seems simple, there are tips and tricks to preparing this fish that make it the delicious Southern staple it is.
The filets are soaked in buttermilk to get rid of the muddy flavor, coated in cornmeal, a bit of flour, and seasonings, then fried in hot oil (preferably peanut oil). This moist, mild fish is traditionally eaten with hush puppies, a fried cornmeal dumpling.
16 – Chicken and Dumplings
Speaking of dumplings, this hearty soup is another Georgia favorite you don't want to miss. It starts with a creamy chicken broth base chock-full of diced or shredded chicken and veggies like celery, carrot, and onion.
The dumplings are fluffy, buttery dough balls that you drop into the simmering broth to cook. When they're finished, they turn into scrumptious biscuits that add the perfect texture to this soup.
Desserts
17 – Pralines
Pralines are a sweet treat you can find across Georgia. They are cookie-shaped and made of cream, sugar, butter, and pecans, giving them a slightly crunchy, slightly chewy texture.
When they originated in France in the 17th century, their base was almonds instead of pecans, but the prevalence of pecan trees in the South made the switch an obvious choice. Some pralines have vanilla or cocoa mixed in, but all pralines will have a sweet, buttery, nutty taste.
18 – Peach Cobbler
You didn't think I'd forget peaches, did you? This dessert embodies the sweetness of the Peach State. It is a thick, deep-crust pie filled with butter, sugar, flour, milk, and of course, fresh peaches (with some cinnamon sprinkled in too).
After it's baked, the crust gets crispy and crumbly, a perfect texture to complement the soft, juicy peaches. Make it even sweeter by adding a scoop of vanilla ice cream, and enjoy!
19 – Pecan Pie
As the national leader of pecan production, Georgians take full advantage of their plentiful access to these nut trees, especially for their pecan pie. Its flaky crust is coated in chopped pecans and then filled with a mixture of molasses, brown sugar, butter, vanilla, and eggs.
It is topped with whole pecans and baked. The result is a gooey, buttery custard sandwiched by the crunchy nuts. You can find this sweet treat in restaurants and diners across the South.
20 – Banana Pudding
Banana pudding is a classic in the South. Dolly Parton and Paula Deen have their own recipes for it, and there's even a Banana Pudding Festival held every year in Irwinton, Georgia!
This celebrated dessert starts with a sweet, vanilla custard and is layered with vanilla wafers or ladyfingers (or even Twinkies) and slices of ripe banana. It's topped with whipped cream or meringue to create a beautiful, delicious dessert that's perfect for sharing.
21 – Fried Pie
Georgia is not done celebrating its desserts quite yet — there's also a Fried Pie Festival in Haralson County! Similar to turnovers, fried pies are a pocket of fresh or dried fruit wrapped in flaky dough. Popular fillings are apple, apricot, peach, or a mixture of the three.
The main difference between turnovers and fried pies is that fried pies are smaller and, you guessed it, fried. This creates an extra crunchy crust best topped with sifted powdered sugar.
22 – Coca-Cola Cake
To finish up, we're heading back to Atlanta, where Coca-Cola was created and founded. This moist, chocolatey cake is like a Texas Sheet Cake, but with Coke in both the batter and the frosting.
It's dense and fudgy, and while it doesn't taste exactly like Coke, the soda combines with the chocolate to create a richer, sweeter flavor and add a bit of lift. There's no better way than this to celebrate the Coca-Cola-loving state.
Foods to Try in Georgia, USA Summary
You really will not go hungry when spending time in Georgia (USA)! The vast array of dishes here are all incredibly filling, loaded with flavor, and leave you well and truly satisfied, no matter what time of day it is!
I really hope you've enjoyed this magical tour through the cuisine of this fun, unique, and beautiful state. Food is such a huge part of the culture, heritage, and community activities in Georgia, and if you can, try as many of these dishes as possible when you visit to get the true Georgian experience!
You Might Also Like to Read
Save and Pin for Later
Planning a trip to Georgia soon? Keep these foods for safekeeping by saving this article to one of your Pinterest boards.
Contributor: Madeline Marks is a writer who resides in Savannah, GA. She enjoys blogging, journalism, poetry, and fiction, and when she's not writing, she likes to read and spend time in nature.