This post may contain affiliate links, meaning if you book or buy something through one of these links, we may earn an affiliate commission at no additional cost to you. Learn more
If there's one thing that these tasty French desserts prove, it's that France knows how to treat itself when it comes to afternoon coffee or a sweet post-dinner delight.
French cuisine is abundant with crunchy and fluffy textures, buttery and gooey softness, and rich, tart, and creamy flavors. Whether you're sipping champagne with a view of a moonlit Eiffel Tower or cruising through the rolling fields of Provence, indulgent desserts are never too far away.
With the help of Marie, a French content writer with an extensive culinary background, we've compiled 15 of the country's most iconic sweet dishes for you to try. This really is the tip of a heavily sweetened iceberg, but it is a fantastic place to start.
French Desserts
1. Madeleine de Commercy
Madeleine is known throughout the world thanks to Marcel Proust's famous book "À la recherche du temps perdu – Du côté de chez Swann," published in 1913. While the writer savors this "little pastry shell, so richly sensual under its severe pleating," suddenly, his childhood memories come flooding back.
Madeleine is a small traditional cake originating from Commercy, in Lorraine. It is made from a simple mixture of flour, eggs, sugar, and butter, flavored with lemon. The traditional recipe has remained popular over the centuries.
A symbol of conviviality, Madeleine is often served as a children's afternoon snack. However, grown-ups appreciate Madeleine just as much with their coffee or a "Proustian" tea, but also for dessert, with a fruit salad or a chocolate mousse.
2. Kouign-Amann
Kouign-Amann is the traditional and typical butter cake of Brittany. This specialty is made from bread dough (very) generously buttered and sweetened and then folded in the manner of a puff pastry.
Here again, the ingredients are simple: flour, baker's yeast, butter, and sugar. Originating from Douarnenez in the Brittany region, the recipe quickly spread throughout the world. Today, it is one of the stars of bakeries in Brittany.
3. Teurgoule
This fabulous Norman dessert is traditionally prepared in an enameled stoneware terrine or bowl in which sugar, rice, milk, and often a touch of cinnamon are mixed together.
The gentle cooking process, which can take up to five hours, ensures that this dessert is very soft. It is from this very slow cooking that Teurgoule gets its name because the impatient gourmet, who eats it hot out of the oven, twists his mouth ("se tord la goule" in Norman dialect).
You can easily find this dessert in Normandy, typically at local cheese shops and markets.
4. Œufs à la Neige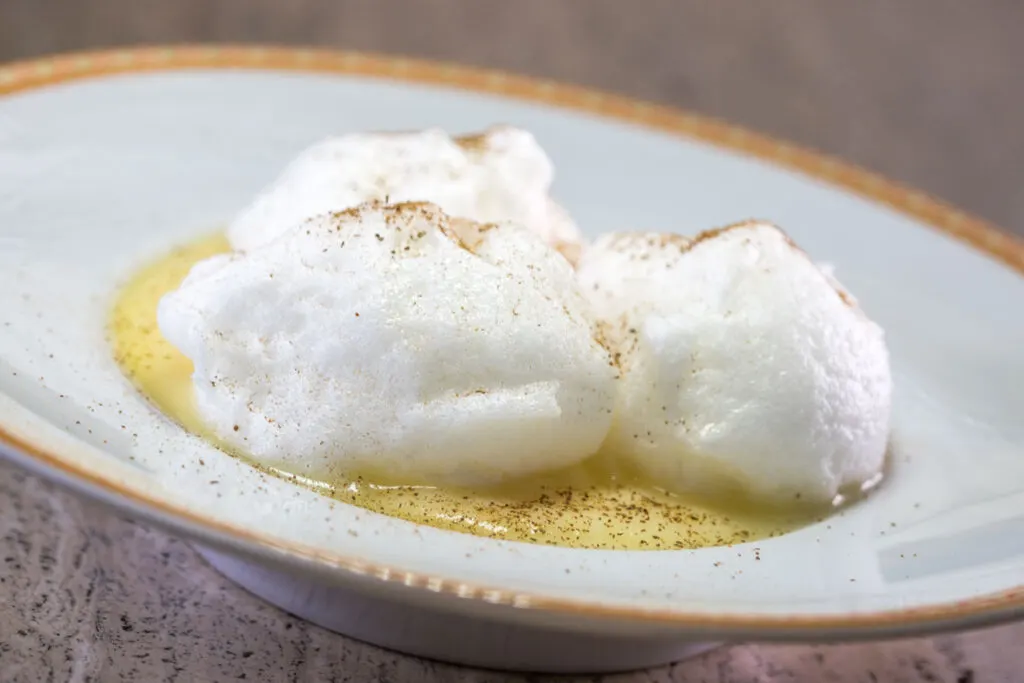 Œufs à la neige, also called îles flottantes, is a classic dish of French cuisine. Îles flottantes is made of sweetened egg whites, whipped and poached, accompanied by Crème anglaise, and usually topped with caramel.
Crème anglaise is traditionally made from a mixture of sugar, egg yolks, and hot milk, deliciously flavored with vanilla.
The delicate stage in the preparation of this dessert is the cooking of the egg whites which, once they have been stiffly beaten, are plunged for a few minutes into simmering milk sweetened with vanilla.
Œufs à la neige is one of the most frequently ordered desserts in French restaurants. You have to try it when you visit.
5. Crème Brulée
Time for another classic French dessert – crème brûlée! The first French reference was published in the 1691 book by the chef François Massialot.
The cream, with its wonderful vanilla flavor, is relatively easy to prepare. It is made of egg yolks, sugar, cream, and caramel. Once the cream has cooled, the top is caramelized, often with a blow torch.
Crème brulée is served for dessert in small ramekins. It can be eaten both hot or cold, but I believe it's best with the crust still warm and wonderfully crisp! Again, this is one of the best-selling desserts in French restaurants, so be sure to give it a try.
And now let's take a little trip to South-East France, namely Provence, with a local specialty – navettes! These are small biscuits traditionally prepared for Candlemas.
Navettes were created in Marseilles over 200 years ago. There are several legends about their origin. Nevertheless, the most popular one attributes the symbolization of the navette to the boat which brought the Saintes-Maries to the Provence coast. This is said to have given its founder the idea of making the biscuit boat-shaped.
Navettes are made of wheat flour, sugar, and eggs and are traditionally flavored with orange blossom water, which gives them their unique flavor. Today, they can be enjoyed infused with various spices.
On Candlemas, every 2nd of February, a procession takes place in Marseilles, from the Abbey of St Victor, the oldest church in the city. The procession ends at the bakery named "Le Four des Navettes," next to the Abbey, where the 232-year-old oven is blessed by the Archbishop of Marseilles.
7. Oreillettes
Let's stay in Provence with oreillettes. This delicious French dessert is popular here but also in other regions of France, such as Languedoc and Aveyron.
Oreillettes are a deep-fried pastry known for their thin and crispy texture. This traditional French specialty, made of flour, eggs, butter, sugar, and orange blossom water, can be eaten hot or cold, usually sprinkled with icing sugar.
Oreillettes are traditionally enjoyed at Carnival time. They are a pure delight if I do say so myself!
8. Croquants
Croquants are almond biscuits. Their fairly hard texture earned them the name of "croquants" (crunchies) or "casse-dents" (tooth breakers).
Croquants are made of flour, sugar, and almonds, and orange blossom is often added as flavoring.
Originally from the South of France, you can find croquants throughout the country. Each variation is a little different from the others, depending on the town you try them in.
It is said that in the 17th century, an innkeeper made these biscuits to sell the surplus of almonds from the almond trees which were abundant in the region at that time.
On your next stay in the South, you should definitely try croquants – especially if you are an almond lover!
9. Poire Belle-Hélène
This is a must-have dessert for brasseries. But where does it come from? In 1864, an operetta from Offenbach named "La Belle Hélène," in reference to Zeus' daughter, was performed in Paris.
The success of this show was such that the brasseries on the Grands Boulevards rushed to rename the dishes on their menu. Many dishes were renamed, such as "tournedos Belle-Hélène", "suprêmes de volaille Belle-Hélène", and the "Poire Belle-Hélène".
Poire Belle-Hélène is a dish of pears poached in sugar syrup, served with a scoop of vanilla ice cream and a chocolate coulis. The latter, a hot mixture of dark chocolate, milk, cream, and butter, is poured over the pears and ice cream. Some like to add whipped cream and flaked almonds to the fish.
Auguste Escoffier, a great name in French cuisine, made this dessert famous by adding it to the menu of European palaces. Today, chefs have no shortage of imagination when it comes to renewing the charms of the Belle-Hélène.
Alain Ducasse, for example, simply slips pastry cream inside the poached pear. This generous and sweet filling brings a sublime roundness to the fruit!
10. Saint-honoré
It is said that Saint-Honoré was created by the Parisian pastry chef Auguste Julien Chiboust in 1840. He named his cake after the rue Saint-Honoré, where his patisserie was located, paying tribute to Saint Honoré, the eighth bishop of Amiens and patron saint of bakers.
The base of this gorgeous dessert may be a shortcrust, puff pastry, or shortbread. It is filled with choux pastry before baking. It is then covered with pastry cream, and its edges with small choux garnished with the same cream. Next, it is topped with some sweet caramel, yummy melted chocolate, or colorful jam.
The final touch is to fill the center of the cake with a deliciously light chiboust cream. It is a pastry cream, lightened with egg whites beaten into a meringue. A simple whipped cream may be used instead.
You can enjoy this fine, typically French dessert flavored with chocolate, coffee, or vanilla.
11. Baba au Rhum
Baba au rhum or rum baba is a "savarin," a soft, airy cake that is saturated with rum-flavored syrup. It is usually round in shape and topped with whipped cream.
To make this original dessert, you will need flour, sugar, butter, eggs, milk, yeast, and of course, rum!
Baba au rhum is a traditional cake that is typically eaten during religious holidays such as Easter or Christmas, but it can be found in French pastry shops all year round.
12. Clafoutis
Clafoutis is a baked French dessert of fruit coming from the Limousin region of France. Its melt-in-the-mouth texture has made the clafoutis a classic of French cuisine!
It is traditionally prepared with cherries. They are not pitted so that their juice does not mix with the batter, and the fruits retain their full flavor. The Montmorency cherry is particularly well suited to the preparation of clafoutis.
The fruits are arranged in a buttered dish and covered with a thick flan-like batter made of flour, sugar, butter, eggs, and milk. The clafoutis is then dusted with powdered sugar. It may be served lukewarm or cold, sometimes with cream.
Nowadays, you can taste many variations of clafoutis using other fruits such as plums, prunes, apples, pears, apricots, or peaches. When other kinds of fruit are used instead of cherries, we should properly name the dessert "flognarde" (or "flaugnarde").
13. Crêpe Suzette
Crêpe Suzette was introduced to the menus of refined French cuisine towards the end of the 19th century. It is said that the chef Auguste Escoffier prepared this dessert in Monte Carlo for the Prince of Wales and future King of England, Edward VII, as a tribute to the actress of the Comédie Française, Suzanne Reichenberg, who was accompanying him.
This classic of Candlemas consists of a crêpe flavored with Grand Marnier (a French liqueur made with cognac and bitter oranges), garnished with mandarin butter, and served hot, sometimes flambéed.
The crêpe batter used for this dessert is a classic crêpe batter made from flour, eggs, milk, and sugar to which Grand Marnier is added. The mandarin butter is a mixture of butter, sugar, mandarin juice and zest, and Grand Marnier. It is generously spread on the crêpe, which is then folded in four and warmed in a fair amount of butter in a pan.
Curaçao can be used instead of Grand Marnier, and orange can replace mandarin. Whatever fruit or liqueur is used, this dessert is irresistible!
14. Macarons
These iconic desserts first appeared in Italy in the 16th century under the name of maccherones. 80 years later, they were imported to France in Saint-Jean-de-Luz and quickly spread throughout the country.
These little almond biscuits can take on any flavor you fancy, from the more typical flavors like chocolate, strawberry, or pistachio, to more innovative ones like passion fruit, rose, or violet. In fact, there are even salted versions to try.
These small, fine, and colorful biscuits are an icon of French patisserie and are renowned throughout the world. Macarons are a must if you visit France, especially Paris.
15. Éclair
The history of the éclair began before 1850 in Lyon. Initially called "petite duchesse" or "pain à la duchesse," this delectable cake is made of choux pastry, pastry cream, and fondant icing.
The delicate choux pastry is made from flour, water, butter, and eggs. For the filling, a pastry cream is made, before the éclair is covered with a sweet fondant icing.
Éclairs have become so popular that today they come in several flavors, such as coffee, caramel, and praline. Some particularly inventive pastry chefs even offer éclairs in strawberry, pistachio, or passion fruit flavors.
Summary
Sampling the desserts of France is an experience in its own right. These dishes radiate beauty and speak to all the senses with their textures, flavors, and arrangement.
These 15 iconic dishes are just the beginning of what France has to offer, but their history, status, and indulgence put them at the summit of the sweeter side of French cuisine.
Try as many as you can on your next trip to France. You'll have ample opportunities to get a little slice, or more, of these delicious treats, no matter where in France your travels take you.
You Might Also Like to Read
Save and Pin for Later
Planning a trip to France soon? Don't miss out on trying any of these desserts by keeping this article for reference, saved to one of your Pinterest boards.
Contributor: Marie Gauci is a bilingual translator, proofreader, and content writer, with a deep passion for French cuisine, travel, and culture.