This post may contain affiliate links, meaning if you book or buy something through one of these links, we may earn an affiliate commission at no additional cost to you. Learn more
Bring the aura and authenticity of a bustling Parisian restaurant into your humble home kitchen with these fantastic French cooking tools and gadgets, and take your French food and cooking to a whole new level.
Whether baking puffy soufflés or tenderizing the beef for your Boeuf Bourguignon, the difference between good and truly memorable French cooking is in the fine details.
These gadgets and equipment, many specifically designed for French dishes and cooking techniques, will help you deliver those iconic textures and flavors that are so sought after.
French Cooking Tools and Gadgets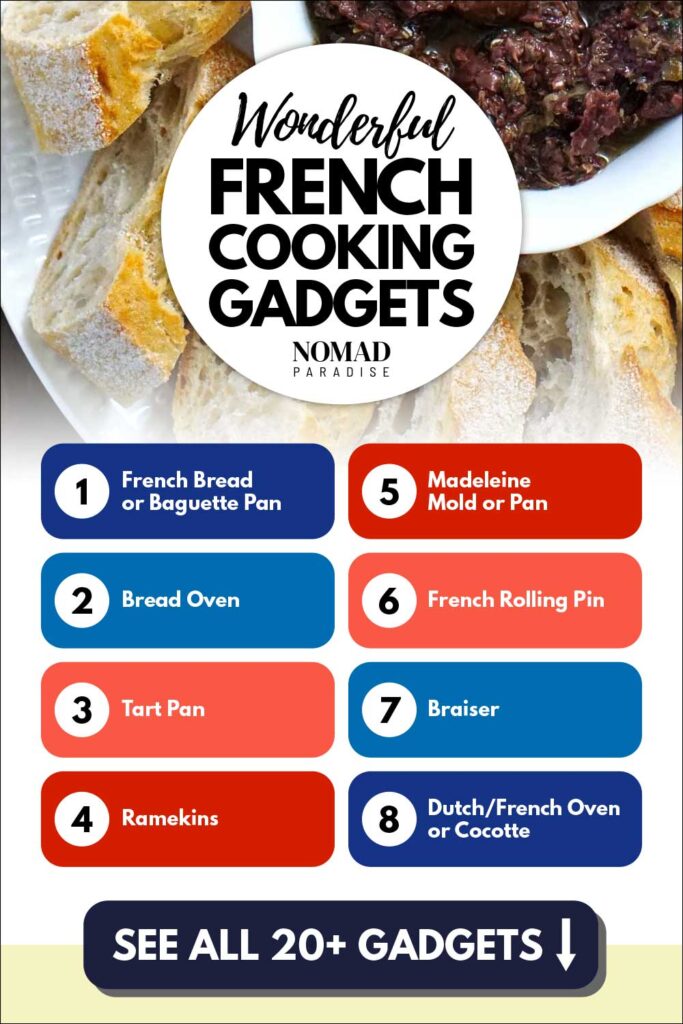 Baking
1 – French Bread / Baguette Pan
Check Price on Amazon
No French meal is complete without a side of warm, soft French baguette with a delightful golden crust. But getting fresh baguettes can be difficult in the evening, with bakeries closed and the best of the morning and afternoon batches all gone.
With a metallic French bread pan, like this one, you can make your very own golden-brown baguette at home, ready for when your dinner guests arrive.
Designed to circulate air freely around the dough for an even bake in the oven, this bread pan will allow you to greet your guests with the sumptuous smell of freshly baked bread, the perfect way to get your dinner party going.
2 – Bread Oven
Check Price on Amazon
If your love for breadmaking truly catches fire, friends and family will beg you to turn your kitchen into a walk-in bakery once you start serving them bread from a bread oven.
Made from cast iron for even heat distribution, with a tight seal for keeping steam locked in, the bread you can make in this style of oven is from another world.
Savor that crisp crust with a delightful crunch, and serve up a loaf of delicious homemade bread for breakfast, as a snack with a thick spread of butter or as a side for your French-themed dinner party.
3 – Tart Pan
Check Price on Amazon
If you're planning to serve a wonderfully soft and earthy quiche Lorraine or delight your guests with a sweet and fruity tarte aux fruits frais, a firm yet buttery soft pastry base is essential for a memorable dish.
A stoneware pan, like this one, has high thermal resistance and absorbs moisture effectively, which stops your pastry from cracking or crumbling.
Whether you need to freeze or bake your base, you can do so with confidence, allowing you to bring an intact, flawlessly formed tart to the dinner table.
4 – Ramekins
Check Price on Amazon
Is there a better way to serve some French classics than in these delightful porcelain ramekins? Whether it's the searing heat of the oven or the sub-zero temperatures of the freezer, these ramekins are here to serve.
Bake some light and airy soufflés, ladle in some hot onion soup, or use them to hold salsas, sauces, and other sides. These porcelain ramekins are durable and multi-purpose, and they can serve your French food and sides with elegance and style.
5 – Madeleine Mold/Pan
Check Price on Amazon
Whether it's for dessert, or a delightful afternoon snack with tea or coffee, a madeleine pan, like this one, gives you the necessary molds to make these buttery golden delights from your home kitchen.
Madeleines are a great way to bring French-inspired class to your gathering or dinner party. Once you've made your batter, spoon it into the beautiful shell-shaped molds and put them in the oven to bake.
Finish them with sugar and some dipping chocolate, and bring them to the table with everyone's hot beverages. More than a few eyes will light up, I can assure you!
6 – French Rolling Pin
Check Price on Amazon
Roll and shape your dough, no matter what you're making, with far more precision and control with a wooden French rolling pin, like this one.
Made from sapele wood and tapered at the ends, dough will not stick to this style of rolling pin. Its smooth, coated surface and narrower shape allow you to roll smooth, uneven dough, be it for cookies, pastries, pizza, bread, or any other delicious treats you're planning to bake.
Cooking
7 – Le Creuset Braiser
Check Price on Amazon
Delivering exquisite taste comes down to the finer details, which is why having a trusted cast iron braiser, like this one from renowned cookware specialists Le Creuset, is always a sound choice to have in the kitchen.
Whether you use a braiser, French oven (see below), or both, will come down to the type of food you are preparing. A cast iron braiser, with its shorter height and wider base, is ideal for tenderizing, roasting, sautéing, and frying meats and vegetables in particular, and dishes that generally use less liquid.
So if you want to get some wonderful brown searing on your pork chops, or make your traditional coq au vin particularly tender and juicy, your durable braiser, which seals in the steam with its lid, should be your go-to.
8 – Le Creuset Cast Iron Dutch/French Oven
Check Price on Amazon
Deeper and taller than a braiser, a classic Dutch oven gives you greater capacity to slow-cook, deep-fry, roast, and even bake an endless array of dishes.
The French oven (also known as Cocotte), brought to market in the early 1900s, improved on the Dutch oven's fearsome durability by adding an enamel coating, greatly improving the pot's stick resistance.
Le Creuset's signature French oven brings the best of both to the fold, giving you an almighty piece of cookware that can seal in flavor and cook everything from stews to pies, casseroles to whole chickens, among many others.
Naturally, both a braiser and a Dutch/French oven would be wonderful additions to your kitchen. But if you have to pick between them, consider the types of dishes you plan to cook. Especially if you have a big family, or like to entertain large groups, the Dutch/French oven can accommodate the numbers.
9 – Copper Cookware (Pans and Pots)
Check Price on Amazon
Copper is renowned for its effective heat distribution. Hence, copper pots and pans can cook anything inside them far more evenly than other materials while preventing sticking and burning.
This gorgeous French Mauviel double-handle pan gives the best of copper and stainless steel in one effective piece of cookware. Its copper exterior allows for fast and even heat distribution while its stainless steel interior helps preserve both the flavor and nutritional elements of the food.
Complete with a lid to seal in the flavor and stainless steel handles that stay cool, allowing you to pick up the pan with ease, you can cook all kinds of meats, casseroles, stews, and dishes in this stylish and effective pot.
10 – Crepe Pan
Check Price on Amazon
Making the perfect crepe is definitely an art. But without the correct equipment, no matter how skilled you are, your crepes are never going to come out flawless every single time.
A crepe pan, like this one, has both a reinforced and textured surface, meaning your crepes will not only brown nicely but can also be flipped and lifted from the surface with ease.
A sturdy, ergonomic handle gives you control to distribute the batter evenly, while keeping cool as the heat intensifies under the body. For crepes, pancakes, and plenty of other dishes, a crepe pan can quickly become an essential tool in your kitchen.
11 – French Onion Soup Bowls
Check Price on Amazon
Planning to serve your dinner guests classic French onion soup for starters? Give them a true French restaurant experience by serving it in a set of stoneware lionhead bowls.
These bowls are deep but not too wide, allowing you to fill them with plenty of soup and less bread. The bowls also keep the soup hotter for longer than other materials, and their handles make it much easier to transport them from the kitchen to the dinner table.
Food Prep
12 – Mandoline
Check Price on Amazon
Want to cut fruit, vegetables, cheese, meats, and other ingredients with the precision and speed of a professional chef? Consider a mandoline, like this one, which can cut in plenty of different ways, from julienne to ripple.
Save drawer space by cutting down on the number of knives needed, and cut with speed and flawless precision courtesy of the different blades.
Note: Mandoline blades are incredibly sharp, so do your research before buying and be very careful when using one.
13 – Laguiole Knives
Check Price on Amazon
A stylish 5-piece Laguiole knife set, like this one, gives you a chef's knife, bread knife, carving knife, paring knife, and utility knife in all, covering nearly all your cutting needs in one beautifully designed set, both for French and other cuisines.
In addition, the set comes with an upright magnetic display, which can house all the knives. Not only does it save drawer space, but you'll also be able to easily find each knife at all times with the display taking pride and place on your kitchen work surface.
14 – Guillotine Slicer
Check Price on Amazon
If you're planning to serve salami as part of a meat and cheese board to your dinner guests, a French guillotine slicer, like this one, will cut through that meat with precision and ease.
In addition to bringing a warm, rustic feel to your kitchen with its beech wood body, you can also use the blade to cut a range of other meats, such as sausage and chorizo, for all kinds of spreads and cold plates.
15 – Cheese Wire
Check Price on Amazon
Cheese is to French cuisine what spices are to Indian cuisine, and any foray into French cooking and dining is going to involve cheeses of all different kinds.
Cutting cheese, however, especially hard cheese, can be a loathsome task, especially if you're serving it to your guests with cold plates, bread, and wine.
A simple yet stylish cheese wire slicer, like this one, can cut through even the hardest of cheeses with ease and precision. Hacking your cheeses will be a thing of the past, and you can even use it to cut foie gras, fruits, vegetables, and blocks of butter, among other things.
Related: 20 French Cheeses You Should Absolutely Gorge on
Serving
16 – Cloche
Check Price on Amazon
Be it French cheeses or desserts like brightly colored macarons, sugar-sprinkled biscuits, or sweet and juicy fruits, serving them covered with a bell dome crystal clear cloche, like this one, adds another layer of stardust to your French-themed dinner party.
A glass bell dome display not only gives you a way to store cheeses, fruits, and sweet treats, but it also brings a welcome dose of elegance to your dining experience. You can arrange the display in a way that emphasizes a certain food, or tells a story about the selected dishes.
Little touches go a long way, and once you've served desserts and treats from a cloche, you'll want to serve absolutely everything from it!
Related: 10 French Pastries You Need to Try
17 – French Olive Wood Cheese Board
Check Price on Amazon
A natural product prolific in cookware and homeware throughout the Mediterranean, a natural olive wood cheese board, like this one, is the perfect serving platter for your hard and soft cheeses come wine and cheese night.
With its gorgeous graining, subtle aromatic qualities, and durability, you'll bring plenty of rustic French farmhouse feel to your evening with this natural board.
18 – Butter Crock/Dish
Check Price on Amazon
Complete with a wooden spreading knife, serve butter for your side of French bread as they do in restaurants with a stoneware butter crock, like this one.
Your guests will love the little touches that elevate their French-inspired dining experience from the comfort of your home.
19 – Escargot Dish and Tong
Check Price on Amazon
If you are truly passionate about delving deep into French cuisine, snail and conch meat will, at some point, tickle your curiosity. If you decide to try cooking snails at home, a stainless steel escargot dish like this one, complete with tongs, is a stylish, effective, and authentic way to serve them to the dinner table.
If such meat isn't your thing, you can also use this sleek set, with twelve compartments, to serve all kinds of sweet and savory snacks, including cakes, pastries, party foods, and mini seafood cocktails, among plenty of others.
Drinks
20 – French Press
Check Price on Amazon
When it's time for dessert, keep things fluently French with a stylish French press to brew fresh hot coffee for your guests.
The French have been making coffee this way for generations, and there's just something a little extra special about brewing a coffee without any gizmos and electronics, taking the time to let those subtle flavors and aromatic qualities come into their own.
This press comes with a patented safety lid to stop spills and a stainless steel filter that extracts the oils and acids from the coffee beans, rather than absorbing them as paper filters do. For authentic coffee that speaks to all the senses, French-style, look no further.
21 – Corkscrew
Check Price on Amazon
Wine and French food go hand-in-hand, so when the time comes to eat, you'll need a stylish yet practice bottle opener on the table to uncork the velvety delicacy that sits in the bottle, waiting to be sipped.
This corkscrew bottle opener, with its stainless steel corkscrew and blades and rosewood handle, is great not only for home use, but also as a gift for anyone who enjoys hosting dinner parties.
French Cooking Tools and Gadgets Summary
French cuisine has always awed and delighted with its glorious flavors and layered textures, and the focus on small details and specific techniques is what sets French food apart from so many other cuisines.
With some, if not all, of these French cooking tools and gadgets in your hands, you will have the necessary equipment to bridge the gap from good to divine French food with plenty of practice.
In addition, you'll be able to treat family, friends, and guests to a memorable evening by setting an eloquently French feel and tone. Dinner parties, celebrations, and even evening meals with family are about to get a whole lot more elegant and exciting!
You Might Also Like to Read
Save and Pin for Later
Ready to level up your French cooking? Keep these tools and cooking gadgets for safekeeping by saving this article to one of your Pinterest boards.