This post may contain affiliate links, meaning if you book or buy something through one of these links, we may earn an affiliate commission at no additional cost to you. Learn more
While French dishes have traveled to many countries across the world, these authentic French foods are, without a doubt, the best way to experience this unique cuisine in its simplest and most sumptuous form.
Wonderful food can be found throughout France, and many of the country's regions have become synonymous with the classic dishes that were first made there. For the purists, our list not only looks at some of the country's most beloved foods but also where best to try them.
So together, guided by a local writer, let's take a geographical culinary tour of France like no other, putting the spotlight on 15 of the country's must-try dishes, in the best places to try them.
French Foods
Appetizers / Sides
Tapenade is a traditional recipe from Provence, created in 1880 in the city of Marseilles. Its name comes from tapenas, the Provençal word for 'capers.'
Tapenade is a scrumptious spread made from black (or green) olives, capers, anchovies, garlic, and extra virgin olive oil. The solid ingredients are crushed using a mortar and pestle, then extra virgin oil is added gradually until a paste-like texture is obtained.
Tapenade is a summer classic in Provence-Côte d'Azur. Enjoy this dish while having a French aperitif in our beautiful Provence, spread on a slice of fresh bread, or as a dip with raw vegetable sticks such as celery, carrot, or cucumber while listening to the lovely song of cicadas!
Read more: Tapenade Recipe
2. Salade Niçoise (Salad from the French City of Nice)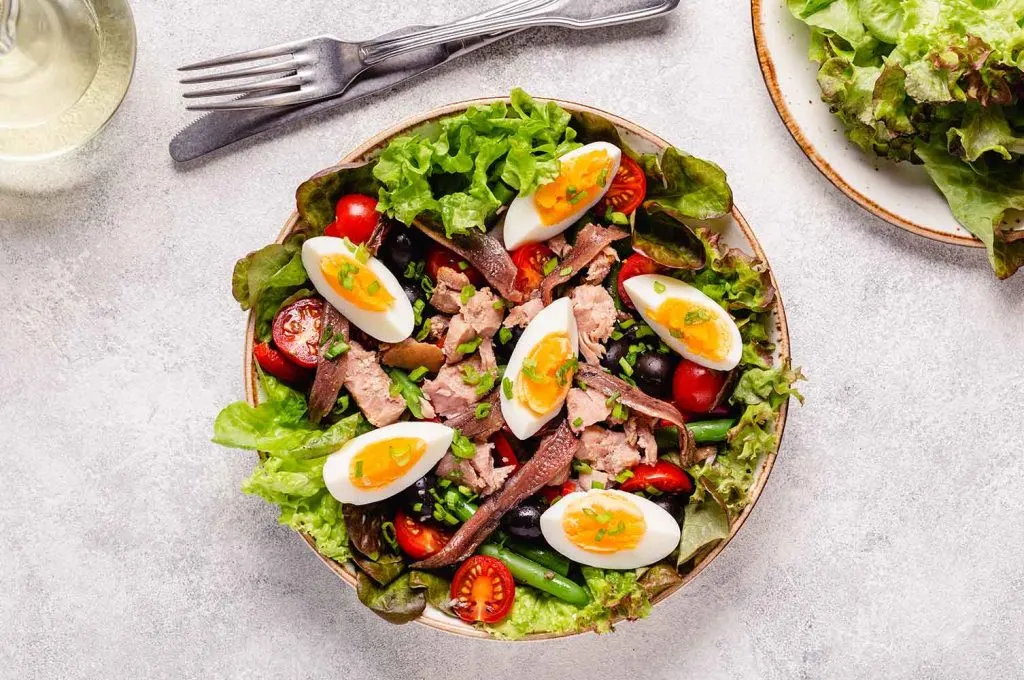 If you have the opportunity to visit the beautiful seaside around the city of Nice, I advise you to try salade niçoise.
Although there are several variations that include cooked green beans and potatoes, the classic salade niçoise is made of fresh tomatoes, hard-boiled eggs, Niçoise olives, and tuna or anchovies, seasoned with extra virgin olive oil.
In other recipes, you may find artichoke hearts, raw red pepper, lettuce leaves, shallots, fresh basil leaves, and other summer raw vegetables.
Salade niçoise is a lovely refreshing and colorful composed salad, ideal as an appetizer or as a main course for a light summer lunch or dinner!
Related: Salad Recipes from Around the World
3. Tourtons du Champsaur (Fried Pastry Filled with Sweet or Savory Purée)
If you are planning a trip to the Hautes-Alpes department, in the Valley of Champsaur, remember to try this local specialty.
Traditionally, tourtons were served at Christmas. Back then, due to its shape, the tourton was known as the 'coussin du petit Jésus,' or 'pillow of little Jesus.'
These savory tourtons are eaten as a starter or as a side dish with meat or fish, and the sweet versions as a dessert.
Traditionally, the dough is made from flour, eggs, butter, and oil. A delicious potato purée and cheese filling completes the savory tourtons, while apple purée lays in wait for those who try the sweet variation. Once filled, these delightful little cushions are deep-fried in oil, before serving.
Personally, my favorite combination is potato and Reblochon (French cheese) tourtons, served with thinly sliced dry-cured ham, salad leaves, and vinaigrette sauce. Delightful!
4. Ratatouille (Provençal Vegetable Stew)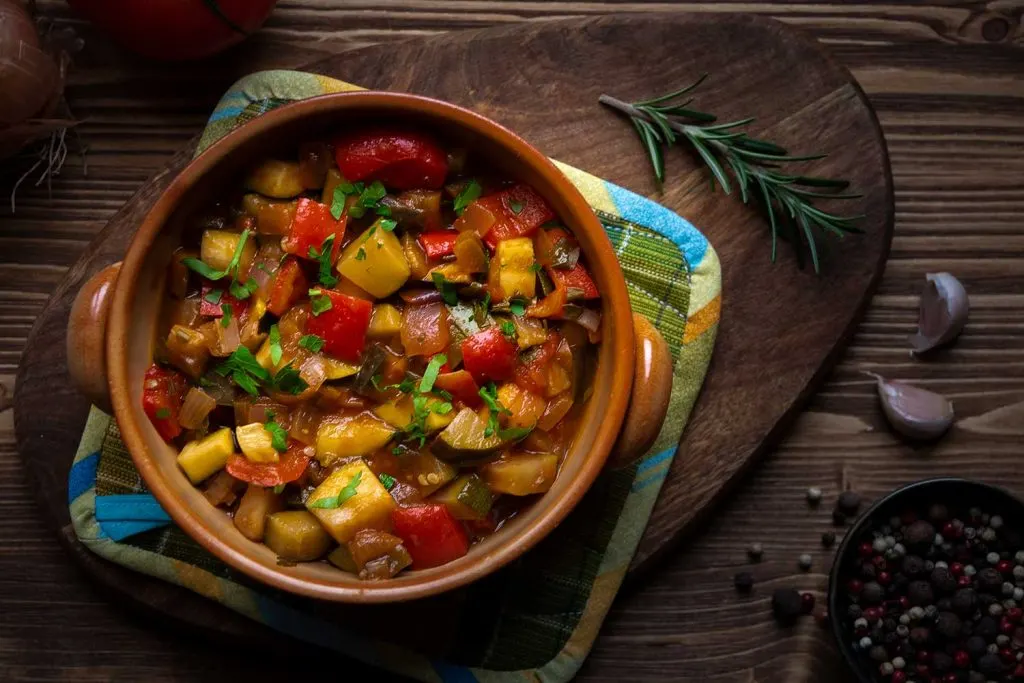 You have probably heard of ratatouille in the famous Pixar animated movie of the same name, but don't be mistaken: the dish portrayed in the cartoon is, in fact, tian, not ratatouille!
Ratatouille is packed with healthy fresh produce, including tomatoes, onions, bell peppers, courgettes, eggplants, extra virgin olive oil, garlic, bay leaf, and thyme, all cooked together on the stove.
After several hours of gentle simmering, the roasted vegetables melt into each other, creating a dish that looks beautiful and tastes divine.
You can pair ratatouille with flank steak, pork chops, lamb, chicken, and even eggs. Rice and ratatouille are also perfect together. Personally, I like ratatouille with a slice of good sourdough bread, freshly toasted.
Whichever way you will have your ratatouille, this tasty summer recipe from Provence will add a splash of sunshine to your plate.
Mains
5. Quiche Lorraine (Savory Tart Named after the Lorraine Region)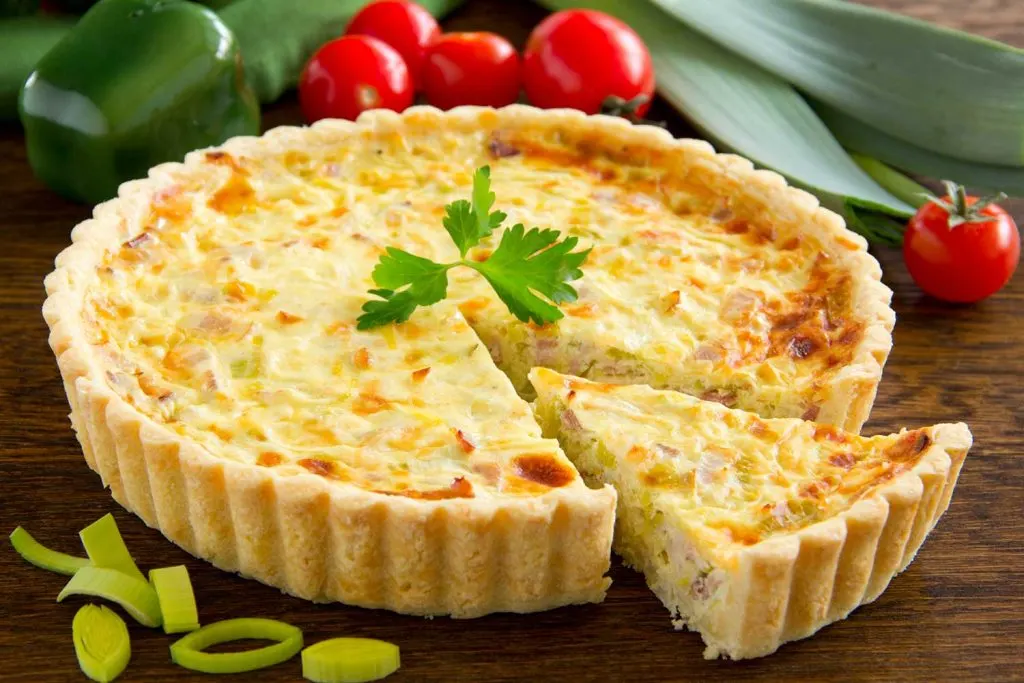 An emblematic specialty of Lorraine adopted by the whole of France, quiche lorraine is a savory tart, golden on the surface, consisting of a shortcrust pastry stuffed with a lardon-studded creamy filling.
The shortcrust pastry used for quiche Lorraine is usually the delicate and deliciously buttery pâte brisée, made of wheat flour, butter, water, and salt. Puff pastry (pâte feuilletée) can also be used and, with its flaky texture, is a perfect fit too.
With its filling of eggs, lardons, nutmeg, milk, and/or cream, quiche lorraine can be served as a starter or main course, and it can be eaten hot or cold, best with a mixed green salad.
While in France, if you want to try a good homemade quiche lorraine, visit your local bakery or caterer.
6. Bouillabaisse (Fish Stew)
Originally, bouillabaisse was a stew prepared by Marseilles fishermen with the bony rockfish, as the fish was so undesirable it was practically unsellable. Nowadays, however, it is the signature dish of the port city of Marseilles.
Bouillabaisse is traditionally prepared with at least three types of local rockfish, typically red rascasse, sea robin, and European conger.
After marinating for several hours in white wine, extra virgin olive oil, garlic, and a mixture of spices, the fish are filleted and thrown into a simmering broth made using tiny rockfish, tomatoes, fennel, a mix of spices, olive oil, and water.
As a starter, the broth is served with slices of crisply toasted baguette, raw garlic cloves, and a typical mayonnaise called rouille, made of olive oil, garlic, saffron, and cayenne pepper. Once that has been devoured, you can enjoy the second course: a simple dish of cooked fish fillets with plenty of delicious broth ladled over the top.
If you are a seafood lover and lucky enough to visit the oldest city in France, you simply have to try bouillabaisse. This is a traditional French dish rich in both flavor, and heritage.
7. Soupe au Pistou (Provençal Vegetable Soup)
Soupe au pistou is a flavorsome summer soup that can be served hot or cold. It is a simple and healthy dish, packed with fresh produce, such as tomatoes, green flat beans, and courgettes, in addition also to white beans, kidney beans, potatoes, and pasta, making it both a nutritious and wholesome main meal.
What makes soupe au pistou special, however, is the basil paste, which is added at the last minute. Garlic cloves and fresh leaves of pistou, the Provençal name for basil, are crushed with a mortar and pestle, then extra virgin olive oil is added until the mixture forms a paste.
Best served sprinkled with grated cheese (Gruyere, Edam, or Parmesan), this hearty soup is a must-try during any stay in Provence.
8. Pot-au-Feu (Vegetable and Beef Stew)
This French national stew contains plenty of healthy vegetables, including carrots, turnips, leeks, celery, and onions. The vegetables are simmered on the stove for several hours together with potatoes, beef cuts (often including a marrowbone), and a seasoning consisting of a bouquet garni, cloves, black pepper, and salt.
As the recipe is not very spicy, pot-au-feu is traditionally served with coarse salt and French Dijon mustard, which, I must say, goes wonderfully with the vegetables, beef, and potatoes.
As for the pot-au-feu broth, it makes a delicious soup, simply enriched with pasta. If you are looking for a hearty dish to warm you up during the winter season, pot-au-feu is definitely for you.
Cheese and Bread
9. French Baguette (Long and Thin Bread)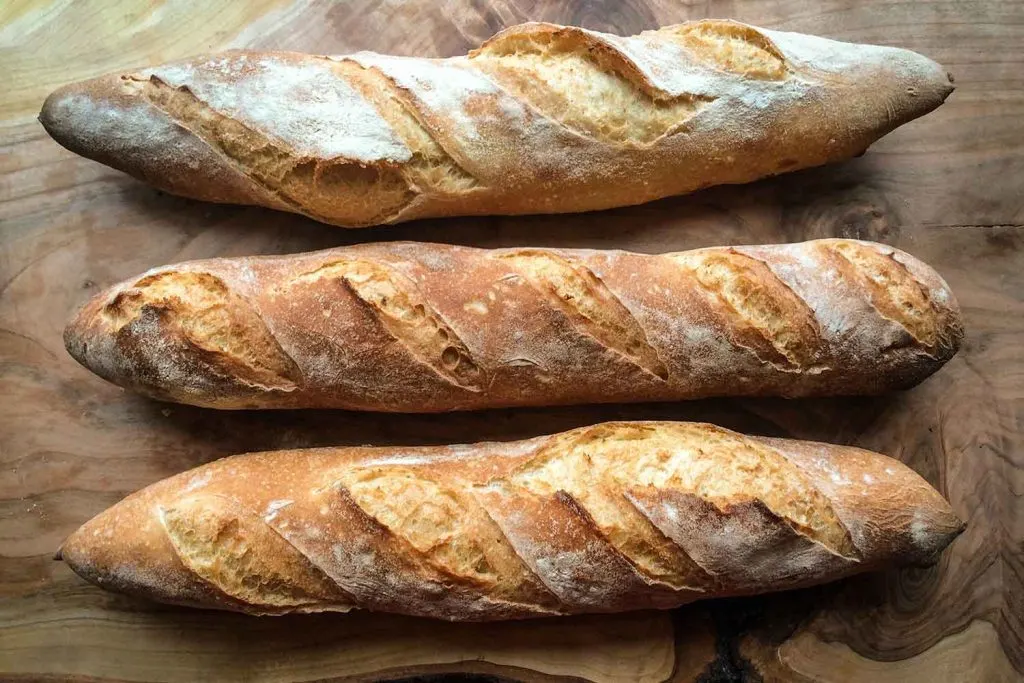 In France, you will see everyone, from elderly ladies to punk rockers, walking down the street, holding a baguette!
This is because the baguette is the national bread in France. You can buy it in any supermarket, but for a better experience, I recommend the local boulangerie.
The crisp, golden crust and the soft, chewy crumb of the freshly baked baguette have helped it become one of the most globally renowned and sought-after types of bread. Its soft feel and mouthwatering aroma make it almost impossible to walk home from the bakery without wanting to take a bite.
Enjoy it in the morning for breakfast, sliced and spread with butter and homemade strawberry or apricot jam. A baguette is also perfect for your sandwiches when you visit our beautiful France, and an absolute must when trying one of the wide range of cheeses in the country.
10. Camembert de Normandie (Cheese from the Normandy Region)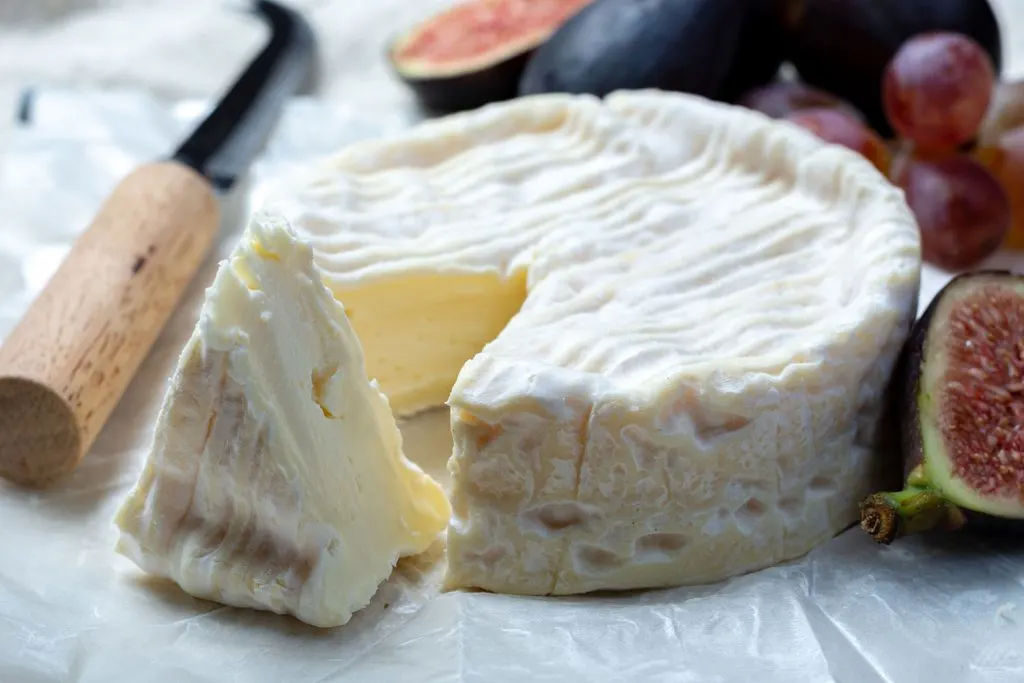 During your stay in France, if you are a cheese lover, you must try camembert de Normandie, the most popular cheese in France, named after the village "Camembert" in the Normandy region.
But don't be misled! Opt for the authentic one and look for the AOC (or AOP) label, which guarantees you a cheese made from raw milk, in the Normandy region, according to strict specifications that make camembert de Normandie so special.
To bring out the full potential of Camembert de Normandie and its creaminess, it is best to choose a bread with a mild flavor and a crisp crust, such as a well-baked baguette, as mentioned above.
Camembert de Normandie is best served with white wine or, for an authentic Norman experience, go for a glass of Norman raw cider (Pays d'Auge AOC, for example).
Related: Best French Cheeses to Try
Desserts
11. Mousse au Chocolat (Chocolate Mousse)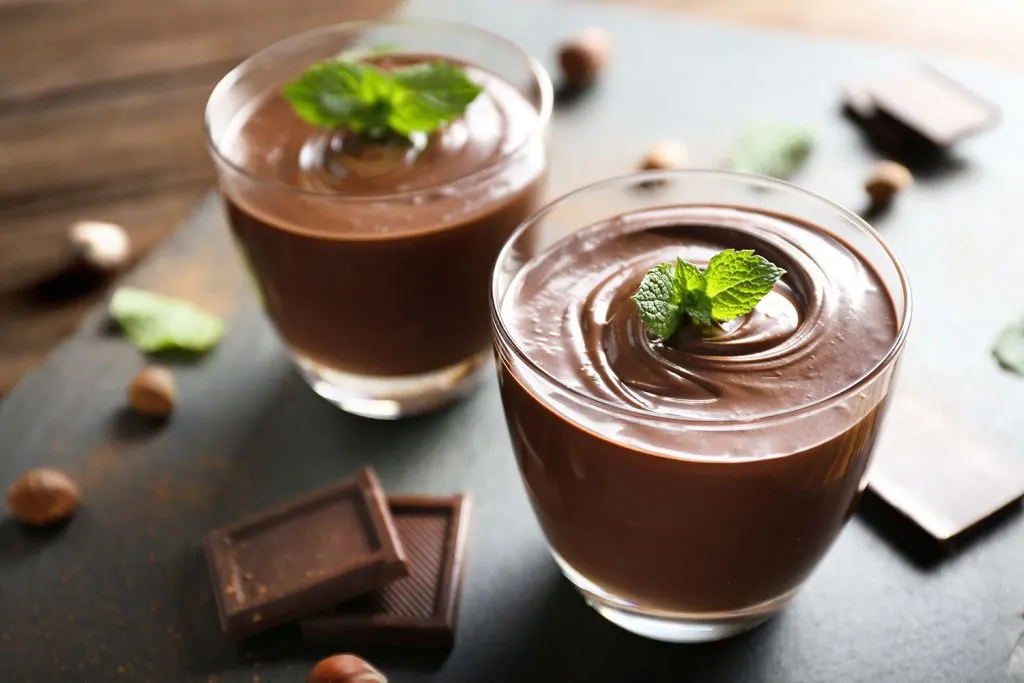 Mousse au chocolat is a mind-blowing chocolate dessert and one of France's most beloved sweet dishes. Chocolate lovers, in particular, will instantly fall for this rich and indulgent dessert, and you'll find it on the dessert menu of nearly all French restaurants.
Although the main ingredient of mousse au chocolat is dark chocolate, creating the illusion of a thick, dense dish, it is, in fact, an incredibly light dessert with an airy texture.
Mousse au chocolat is traditionally made of a mixture of dark chocolate, sugar, butter, eggs, and a pinch of salt. If you have the choice between a light version without butter and a traditional recipe with, without hesitation, choose the one with butter!
Chocolate mousse is so delicious, it can definitely be eaten on its own. But if its chocolatey goodness does sound a little too much, you can order it with fruits that pair well with chocolate, such as pears, raspberries, or cherries.
12. Crème de Marrons (Sweetened Chestnut Purée)
Crème de marrons was created in 1885 in Privas, France. The man behind this recipe was Clément Faugier, who made candied chestnuts in his factory, in south-eastern France. He had the brilliant idea to use the candied chestnuts that were breaking in the process to create a new product: a sweetened chestnut purée.
The traditional ingredients of crème de marrons are chestnuts, sugar, candied chestnuts, glucose syrup, water, and natural vanilla extract.
Crème de marrons is delicious with yogurt, or spread on French crêpes. It is also traditionally used in France as a filling for a Christmas cake in the shape of a log and decorated as such, called Bûche de Noël.
Crème de marrons also goes particularly well with chocolate, so there's no shortage of ways to try this truly sumptuous nutty sweet treat.
13. Crêpes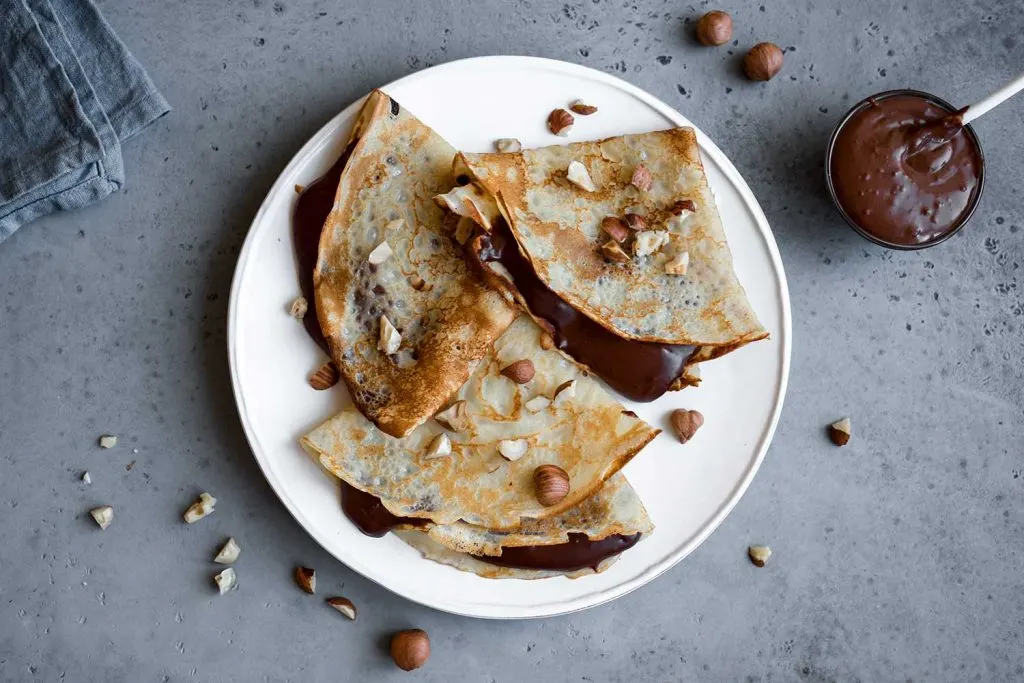 Crêpes, originally from the north-western region of France called Brittany, are now popular throughout the country, and widely served in crêperies.
They are classically made with flour (wheat or buckwheat), eggs, milk, and oil, and cooked in a frying pan. Crêpes can be savory, traditionally filled with ham, cheese, and/or egg, or sweet, usually filled with sugar, jam, or chocolate spread.
France even has its "Day of Crêpes", la Chandeleur, where people gather with family and friends to enjoy crêpes in both their savory and sweet versions.
But in most families, like mine, we do not wait for February 2nd, and instead regularly enjoy crêpes as a main course or as a yummy dessert.
My favorite recipe, you ask? A crêpe filled with delicious crème de marrons, rolled up and covered with whipped cream. Utterly divine!
14. Gâteau des Rois (Provençal King Cake)
If you visit Provence in January, you will probably be invited to share a king cake. In Provence, to celebrate the visit of the Three Kings to the newborn Jesus (Epiphany), gâteau des rois is eaten annually on January 6th, or the first Sunday of January if the 6th is a weekday.
The French love to get together with family, friends, or coworkers throughout the month of January to share this traditional cake.
Gâteau des rois is traditionally a ring-shaped brioche, flavored with orange blossom water, and covered with sugar. It is beautifully decorated with colorful candied fruits representing the gems offered by the Three Kings.
According to tradition, a dried broad bean is hidden in the brioche. The lucky one who finds it becomes the King, gets to wear the crown, and buys the next gâteau des rois!
15. Profiteroles au Chocolat (Cream Puffs with Chocolate Sauce)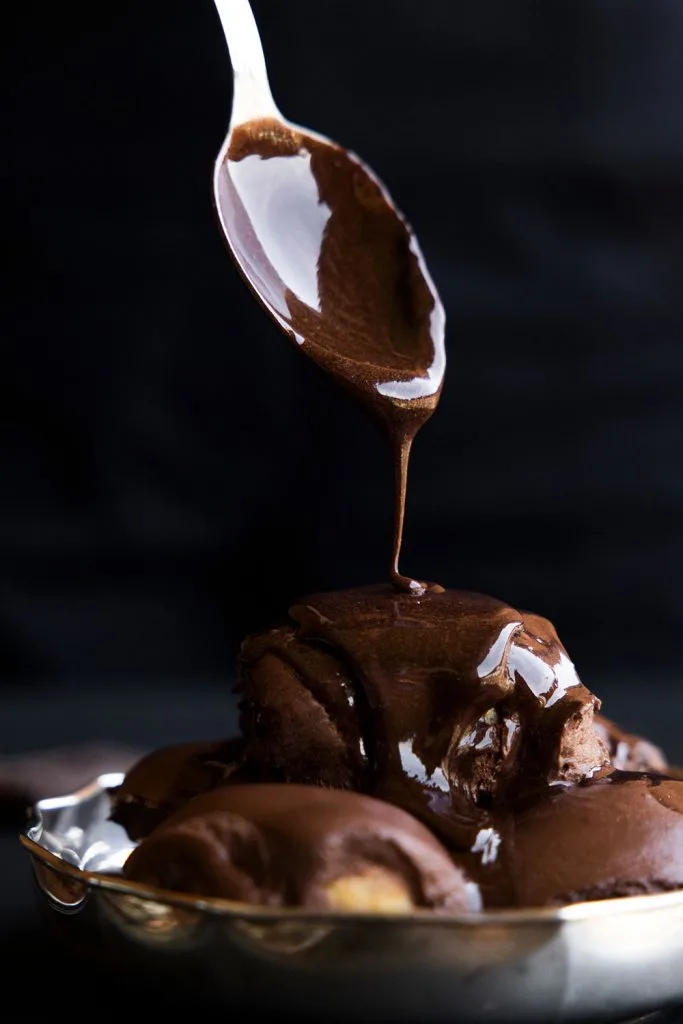 Profiteroles are traditionally delicious French choux pastry balls, filled with sweet pastry cream, and decorated with a yummy chocolate sauce.
Nowadays, the pastry cream can be replaced by vanilla ice cream, which is a real treat for ice cream lovers.
The choux pastry (or pâte à choux), the key ingredient of profiteroles, is made of butter, flour, eggs, and water. No raising agent is used; hence, profiteroles are a very delicate pastry to make.
Pâte à choux is said to have been invented in France by the head chef of the court of Caterina de' Medici, an Italian noblewoman who had come to France to marry French King Henry II.
If you are a chocolate addict like me, this is a dessert that you should definitely try during any trip to France.
Read more: 10 French Pastries You Need To Try in France
French Foods Summary
Few countries can take you on such magical culinary-themed journies quite like France. With so much delicious cheese, wine, bread, and an incredible array of traditional and popular dishes, a lifetime is simply not enough to try all the good, the great, and the life-changing food in France.
If you are in the mentioned reasons, be sure to source out the dishes mentioned. Nothing beats true authenticity quite like ordering from a restaurant or bakery in the very place a certain dish or food was first invented.
But if not, there's still a world of food to enjoy and uncover throughout the country. From the green plains of the north to the sun-kissed cobbles of the south, French cuisine thrives in all corners of the country.
Eat until your heart is content. Drink until you're merry. And be sure to make great food and drink an integral part of any trip to France.
You Might Also Like to Read
Save and Pin for Later
Excited to try these authentic French foods during your next visit to France? Keep this article for future reference by saving it to one of your Pinterest boards.
Contributor: Marie Gauci is an English-to-French translator, proofreader, and writer, passionate about her native French culture, cuisine, and history, and eager to share her insight through her writing.
Images licensed via Shutterstock