This post may contain affiliate links, meaning if you book or buy something through one of these links, we may earn an affiliate commission at no additional cost to you. Learn more
If you're looking to escape the bustle of the Italian capital to recharge and experience something new, these day trips from Rome are perfect for an afternoon or weekend getaway.
Rome is surrounded by ancient ruins, quaint towns, and some truly jaw-dropping natural beauty. With so many of these places accessible via train, bus, or car, there are ample opportunities to leave the city for a little while and experience the region at its most rugged, unique, and staggeringly beautiful.
So grab your pen and your travel planner, and get ready to add some of these wonderful places to your Rome travel itinerary. After all, what's a vacation without even a little adventure?
Day Trips from Rome
1 – Ostia Antica
Just half an hour south of Rome, Ostia Antica is an archaeological site not far from the harbor town of Ostia. The excavated archaeological site features several well-preserved buildings dating back to the 4th century BC, as Ostia Antica is believed to have been Ancient Rome's first colony.
Among the many ancient ruins, the most impressive is undoubtedly the Roman amphitheater. But don't miss out on seeing the ruins of temples, thermal baths, many types of houses and villas, and even a Synagogue, all of which are awe-inspiring to behold.
It only takes around half an hour to reach Ostia Antica by train from Piramide, with the Roma Lido train line that connects the center of Rome to the beach in Ostia. There is an entrance fee, and you can visit during any season, except on Mondays and some holidays.
2 – Albano & Ariccia
The area around Albano Lake is also known as Castelli Romani (Roman Castles), due to the many castles that used to surround the lake.
The main town at the lake is Albano Laziale, although there are several quaint little villages in the surroundings, with beautiful views of the lake and lovely historical centers.
Albano, and the whole Castelli Romani area, has a long history, and a few legends that go back many millennia. According to these legends, in the area near current days Albano, there used to be a city called Alba Longa, the birthplace of Romulus and Remus, the legendary founders of Rome.
The town of Ariccia, right next to Albano, is known for its many restaurants, known as fraschette, where you can try local dishes, in particular porchetta, a sumptuous slow-roasted pork dish seasoned with herbs. For a truly local experience, plan your visit in September so you can attend the Porchetta festival.
Albano Laziale is only 50 minutes away by train from Roma Termini, and you can reach Ariccia in just a 20-minute walk from Albano center.
3 – Castel Gandolfo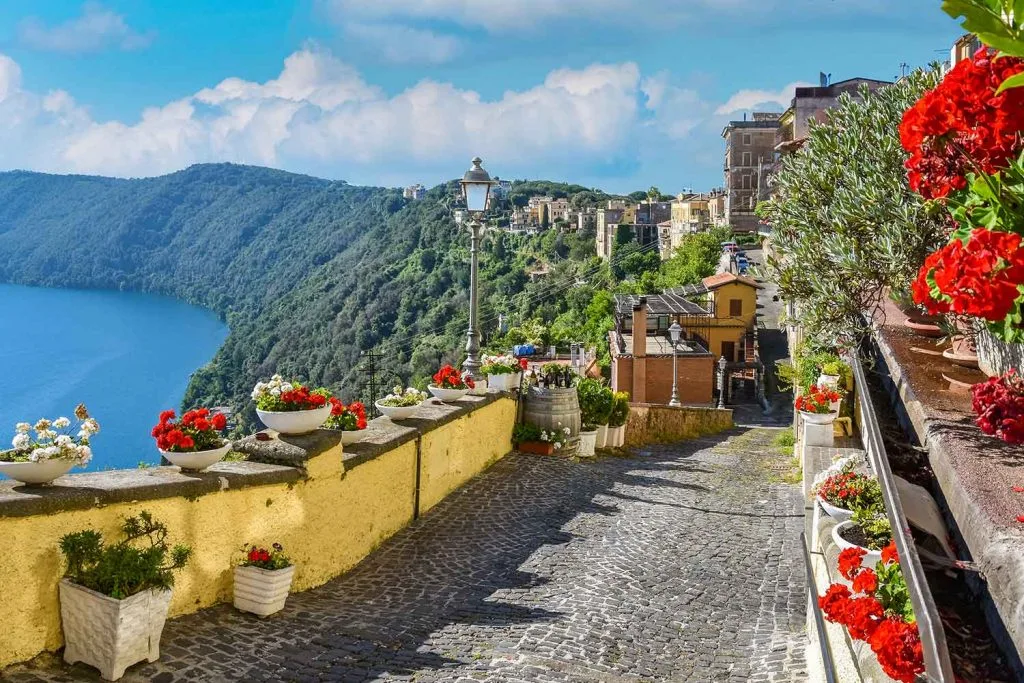 This small village on Albano Lake deserves a special mention, being the site of the Pope's summer residence and retreat. With gorgeous views over the lake and narrow cobblestone alleys, the village is considered one of the most beautiful in Italy.
Furthermore, you can book a visit to the Papal Palace of Castel Gandolfo, which officially became a museum in 2016. In addition to visiting the apartments where the popes traditionally spent their summers for over four centuries, you can also go for a stroll in the Gardens of the Pontifical Villas, where you'll see many beautifully designed and carefully arranged gardens.
Castel Gandolfo is very easy to reach and is a simple 45-minute train ride from Roma Termini. You will need to buy a ticket to visit the Papal Palace and the Pontifical Villas, and you will likely need to book your visit online in advance.
4 – Genzano di Roma
Further south from Albano Lake, on the smaller volcanic Lake Nemi, Genzano di Roma is another of the famous Castelli Romani. With the characteristic old town and views over the lake, Genzano makes for a great day trip if you want to combine a cultural visit with beautiful natural sights.
You can visit the medieval town and Palazzo Sforza-Cesarini, with its beautiful gardens, while there are several hiking trails around the lake that reward you with some stunning views.
In June, the 'Infiorata' takes place, where the entire street of Italo Belardi is covered in a magnificent floral display, composed of thousands of different colored flowers. This festival is without a doubt the best time to visit Genzano di Roma, which is one hour south of Rome by bus from Roma Anagnina (Cotral bus company).
5 – Nemi
Located on the opposite side of the lake from Genzano, Nemi is famous for its wild strawberries, which are used to make anything from delicious strawberry tarts to the famous Fragolino, a sweet liquor served after meals or with dessert.
Near Nemi, there used to be a Roman temple dedicated to the goddess Diana. The temple ruins can still be visited, though very few of them remain nowadays. The town has a small medieval center, with buildings dating back to the 10th century, and its 16th-century castle, Castello Ruspoli, with beautiful Italian Renaissance gardens overlooking the lake, is a must-visit landmark.
The best time to visit Nemi is in late spring when wild strawberries are ripe. The Strawberry Festival usually takes place between the end of May and the beginning of June. You can reach Nemi by bus from nearby Genzano, or you can even go for a short hike around the lake and get there in less than an hour.
6 – Bracciano
Just north of Rome, the area surrounding the volcanic Lake Bracciano is another beautiful region to spend a day outside of the city.
The town of Bracciano can be reached in less than an hour by train from Roma Termini station, and it combines a lovely historical center with stunning views of the lake. In summer, you can even go sunbathing and swimming in the lake.
Towering over the city and offering a beautiful panoramic view of the lake, Castello Orsini-Odescalchi is a medieval castle, and Bracciano's a must-see landmark. The castle has been the setting of several movies and TV shows. It has also been a venue for weddings of famous actors and musicians, including the wedding of Tom Cruise and Katie Holmes.
7 – Tivoli
Less than one hour east of Rome, Tivoli is a tiny town in the Sabine hills. Despite being small, it is home to many noteworthy sites, including two UNESCO World Heritage Sites: the archaeological site Hadrian's Villa, and Villa d'Este. The latter is famous for its terraced Renaissance gardens, fountains, and the halls decorated with frescoes and paintings.
In Tivoli, you can also visit the Roman temple of Vesta, the gorgeous Villa Gregoriana, and the Aniene Falls, just outside the historical center.
A perfect mix of natural sights and beautiful buildings, Tivoli is a great destination if you're looking to explore a place outside of Rome that is accessible and affordable. There are regular train departures from Roma Termini directly to Tivoli.
8 – San Felice Circeo
If you're visiting Rome in the summer, a day trip to San Felice Circeo is a great option for a beach day or even for an afternoon of hiking. About one and a half hours south of Rome, San Felice Circeo is a seaside town at the foot of Mount Circeo.
The name of the promontory comes from Circe, the enchantress and goddess that appears in Homer's Odyssey, and turns his crew into swine. From a distance, it is said that the mountain resembles the profile of Circe.
There are plenty of things to do in San Felice Circeo. You can explore the historical center in the upper town and enjoy the beautiful views of the sea, or you can hike to the top of Mount Circeo and marvel at the panoramic view of the surroundings.
With a far slower pace of life, there are plenty of beaches to visit for a relaxing afternoon of sun, sea, and sand. The nearby town of Sabaudia is also a great option for a beach day, or to visit the beautiful Circeo National Park.
You can reach San Felice Circeo from Rome by Cotral bus, or by train to Priverno Fossanova or Monte San Biagio and then Cotral bus.
9 – Terracina
Another popular summer destination south of Rome is Terracina. Divided between the lower coastal town and the old upper town, Terracina has long sandy beaches lined with restaurants and bars, perfect to enjoy a meal or have a drink after an afternoon of relaxing in the sun.
On Monte Give (Mount Jupiter) you can visit a temple dedicated to Jupiter, the mythological god of sky and thunder, and the tutelary god of the ancient city.
In the old town, you can visit the Cathedral, built on the site of a Roman temple. The columns, along with several other Roman remains, are a sight to behold.
The best time to visit Terracina is in the summer when you can also spend time at the beach, although any time of year is still worth a visit. You can reach Terracina from Rome by Cotral bus, or by taking a train to Monte San Biagio and then catching a bus.
10 – Ponza
When in Rome, why not escape the city and spend a day on a beautiful island? While less famous than Capri and Ischia, Ponza, a charming little island in the Tyrrhenian sea, is very much a gem to discover. It is blessed with crystal clear waters, natural pools, and dramatic cliffs.
Just one day may not be enough to discover everything the island has to offer, but you can certainly visit the colorful harbor and enjoy the beaches and natural pools. The closest and most accessible beach to the harbor is Frontone, while the northern side of the island is definitely worth the bus ride. There you can find the natural pools, the rocky beach La Caletta, and the small, sandy beach Cala Feola.
You can reach Ponza by ferry from either Terracina or Anzio. The closest harbor to Rome is Anzio, one hour away by train.
11 – Gaeta
Gaeta is a seaside town, around halfway between Rome and Naples, with sandy beaches, crystal clear waters, a medieval quarter, and an impressive Aragonese-Angevine Castle towering over the town. Gaeta has a long history, and the old town is filled with Gothic, Baroque, and Renaissance buildings and churches.
The John Cabot seaside promenade, lined with medieval buildings, is also known as Gaeta Medievale. On the opposite side of the promontory, in Parco Monte Orlando, you can visit Montagna Spaccata (The Cracked Mountain), which according to the legend, cracked at three points the moment Jesus died.
Here, you can also visit Grotta del Turco, and see a legendary hand mark on the mountainside, also known as the Turk's hand. Legend has it that a Turkish traveler didn't believe the mountain cracked with Jesus' passing, and when he laid his hand on the rock, it liquified, leaving the outline of his right hand imprinted in the mountain.
If you're intrigued by medieval architecture, crave laying out on sandy beaches, and love a good legend from a tour guide, Gaeta is only one hour and a half by train from Rome.
12 – Sperlonga
Not far from Gaeta, Sperlonga is another must-see seaside town and a beautiful destination to visit during the summer months.
While much smaller than Gaeta, Sperlonga has a gorgeous old town on top of a hill, lined with white houses, with narrow alleys that give you glimpses of the sea from above.
The main reason to visit Sperlonga is for the beautiful sandy beaches and blue waters, so the best time to visit is from May to September.
The town is fairly easy to reach. There is a train from Roma Termini to Fondi-Sperlonga that takes a little over one hour, and from there a short bus trip will get you to the center of Sperlonga.
13 – Norma and Gardens of Ninfa
If you'd love to see a Monet painting come to life, you should visit the Gardens of Ninfa, near the town of Norma, in the Monti Lepini range.
The town is also known for the archaeological park Antica Norba, but its main attraction is undoubtedly Ninfa. The gardens were created among the ruins of an old medieval city, and now what remains of old towers and buildings has blended with nature into some truly beautiful sights. In spring and summer, the gardens show their best colors as flowers bloom, and everything is bright and colorful.
Unfortunately, it's not very easy to reach the Gardens of Ninfa via public transport. Your options are to either rent a car or take a train to Latina and from there a bus to Norma. From Norma to the Gardens of Ninfa there are only a couple of buses during the day, so you may have to call a cab. It's also important to book your visit in advance, as the gardens are not always open to the public.
14 – Viterbo
Viterbo is an ancient city north of Rome with a well-preserved medieval center enclosed within city walls dating back to the 11th century. There are many sights worth seeing in Viterbo, most notably the Papal Palace. Viterbo used to be a part of the Papal States and was chosen as a residence by popes before becoming a free commune. The Papal Palace to this day remains an important and impressive building, towering over the city.
Other must-see sights are San Lorenzo Cathedral, the medieval patrician house Palazzo degli Alessandri, and the neighborhood of San Pellegrino, which is a part of the medieval center. During the San Pellegrino in Fiore Festival, between April and May, the neighborhood is filled with floral ornaments, like something out of a fairytale. This is definitely a good time to visit the city.
You can get to Viterbo by train from Roma Ostiense or Roma Termini in under two hours. If you have some time to spare, you can also make a stop in Bagnaia, just outside Viterbo, to visit the wonderful Mannerist Garden Villa Lante.
15 – Montefiascone & Lago di Bolsena
Just north of Viterbo, Montefiascone is a small, rustic town, famous for its Cathedral that boasts one of the largest domes in Italy, and for the ruins of an old Papal summer residence, Rocca dei Papi. The town is built on a hill near Lake Bolsena that you can reach in a one-hour hike from the town center.
You can even combine your visit to Montefiascone with a trip to Bolsena, on the north-eastern shore of the lake. The towns are connected by frequent bus rides. You can get to Montefiascone by train from Roma Termini, with a change in either Orte or Attigliano-Bomarzo. The trip takes around one hour and a half, but the station is a bit far from the town center, so you'll need to take a bus.
16 – Rieti
According to the legend, the ancient town of Rieti was founded by a divinity named Rea, sometime around the 9th century BC. What is certain, is that Rieti dates back to before the foundation of Rome, hence there is much history to be discovered here. While only a few ancient ruins remain, there are many medieval buildings to marvel at in the old town, including Rieti Cathedral.
In Piazza San Rufo, you'll find Italy's belly button. A small round monument marks the spot that represents the exact center of Italy. This title is however also claimed by another town, Narni, therefore causing a rivalry between the two.
Whether it's the center of Italy or not, Rieti is a charming town more than worth visiting. You can get there by train in two and a half hours, changing trains in Terni, or by Cotral bus from Roma Tiburtina.
17 – Ronciglione & Lago di Vico
In between the lakes Bracciano and Bolsena, there is a smaller lake, Vico, formed in a volcanic caldera. The lake is part of a protected area in the Lazio region, and Ronciglione is one of the main towns nestled within the surroundings.
The town is famous for its charming medieval center and its carnival, considered among the most beautiful in Italy. During the festivities, there are several events, from the traditional costume parade to the hussars' ride around town, dressed in 19th-century costumes and the 'empty race' of horses left to run without riders.
If you wish to witness the renowned Ronciglione Carnival, you should visit the town in late February. To get there, you can catch a Cotral bus from Rome Saxa Rubra station, or you can go to Viterbo by train and then catch a bus.
18 – Civita di Bagnoregio
Just outside the town of Bagnoregio, north of Rome, Civita di Bagnoregio is a hilltop village also known as 'The City in the Clouds', because when the fog sets, the village appears as if it were floating on the clouds.
Civita di Bagnoregio is also referred to as 'The Dying City' due to the progressive erosion of the hill that is standing on. For this reason, currently, only 11 people live in the village.
Civita di Bagnoregio can only be accessed by a pedestrian bridge, and with the increase in tourism, the town introduced an entrance fee for visiting.
Despite this unusual entrance fee, Civita di Bagnoregio is very much worth a day trip from Rome. Due to its isolation, the old town preserves its medieval charm and because no cars can access it, it will make you feel like you traveled back in time, to the Italy of many centuries ago.
Day Trips from Rome Summary
Rome is a beautiful city. It's full of wonder, history, and energy, and is undoubtedly one of Europe's most beloved and exciting cities to visit.
But so much more of what Rome has to offer lies beyond the bounds of the city. From historic villages to ancient ruins, breathtaking valleys to golden beaches, so much beauty and awe lie a short car or train ride away.
Add something new to your travel itinerary. Once or two, get away from the bustle of Rome, and experience raw nature, ancient history, and unique culture unlike anywhere else in Rome.
These day trips from Rome are special places in their own right. And they'll help make your visit to the Italian capital memorable in so many ways.
You Might Also Like to Read
Save and Pin for Later
Get inspired to visit some of the beauty, history, and wonders that are a train or car ride from Rome, and keep this article for safekeeping by saving it to one of your Pinterest boards.
Author: Roxana Fanaru is a Romanian-born journalist and content writer, who has lived in Rome for the best part of twenty years. Passionate about world travel and cuisine, she also writes in fashion and lifestyle and has worked for a number of publications over the years.
Images licensed via Shutterstock