This post may contain affiliate links, meaning if you book or buy something through one of these links, we may earn an affiliate commission at no additional cost to you. Learn more
From the Tuscan hills to the shores that line the Ionian Sea, these glorious Italian breads have been eaten by Italians in so many different ways for centuries.
With the expert guidance of Roxana, a writer and food expert who has lived in Rome for over two decades, we have put the spotlight on 27 of the country's most beloved breads and how best to try them.
Whether you love a thick crust with lots of crunch, a satisfyingly soft crumb soaked in olive oil, or something a little different, there is an Italian bread out there for everyone to fall in love with.
Italian Breads
Bread Loaves
1. Ciabatta
Ciabatta is probably the most popular bread type outside of Italy. This elongated, flat bread loaf was created in Adria, a small town in northeast Italy.
The creator of the Ciabatta took inspiration from the French baguette. To create this innovative bread, he conceived a flour type with high water absorption.
The ciabatta is a soft bread, known for the many holes in the crumb. Although it was born as a long bread loaf, you can also find it in smaller sizes used for sandwiches. Fill it with cold cuts and cheese for a delicious panino.
2. Treccia
Treccia means "braid," and it refers to the shape of this bread loaf. The fluffy white bread was traditionally served on important occasions since its elaborate and elegant shape gave that extra touch to a festive table.
You can find this bread type throughout Italy. Olive oil is added to this bread loaf to give it a shiny appearance. The treccia may be simple or sprinkled with sesame or other seeds. You can eat it as a side or for fluffy sandwiches.
3. Pane di Altamura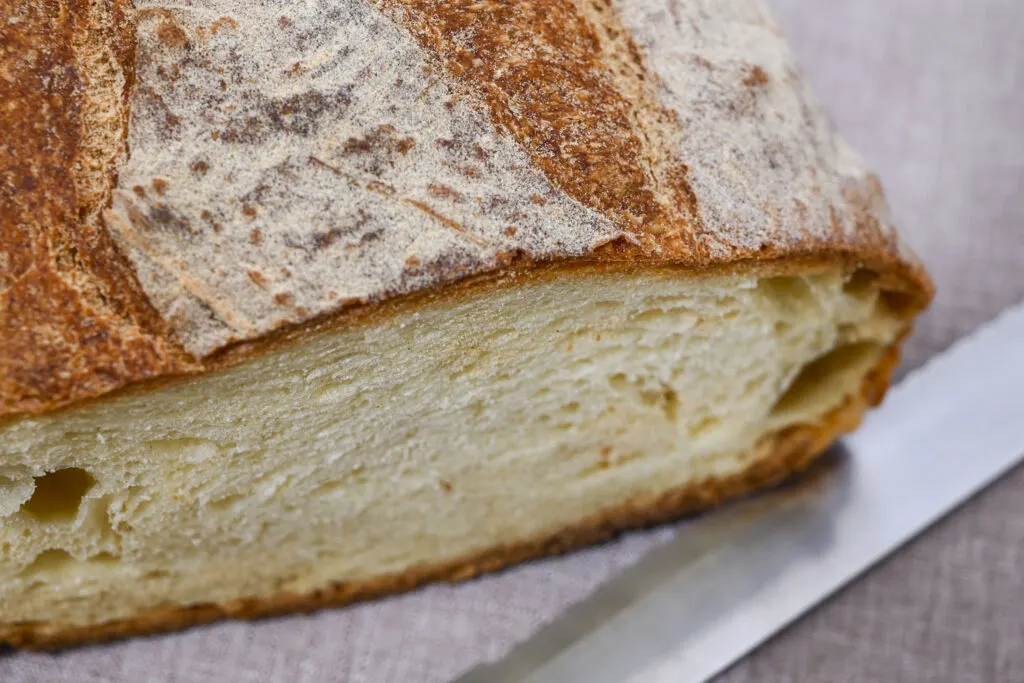 The bread of Altamura is one of the most popular bread types in Italy. The bread loaf is originally from the town of Altamura, in Puglia. In 2003, the bread of Altamura earned the protected designation of origin (PDO).
This bread type has a precise recipe and strict production rules to meet the standards. It is still baked in traditional wood ovens. The bread has a thick, crunchy crust and a soft, yellow crumb.
4. Pane di Matera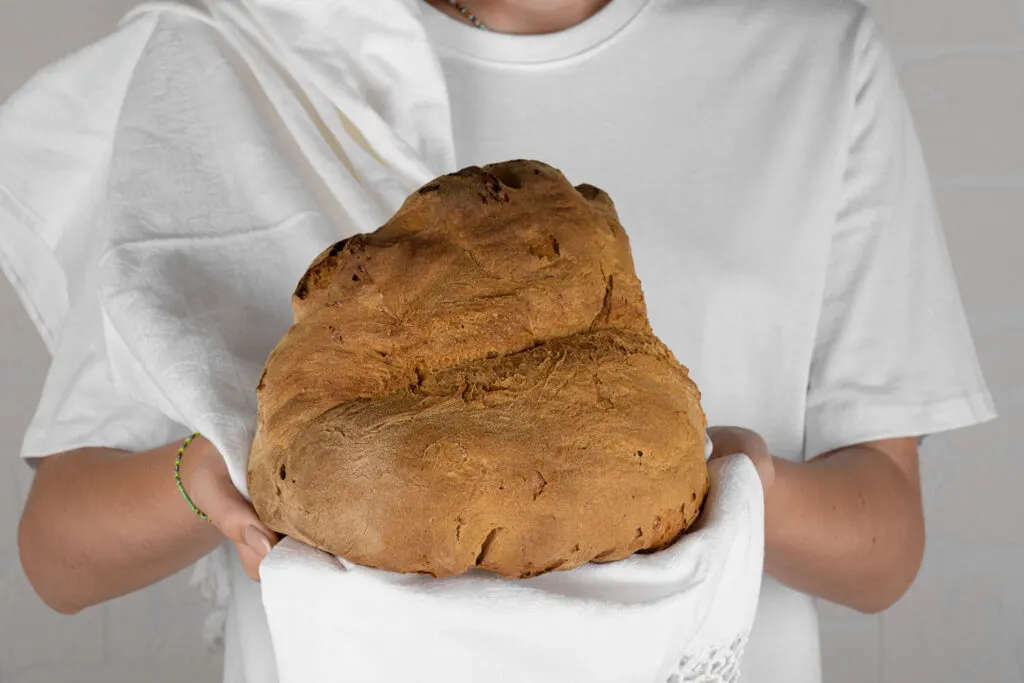 The bread of Matera, a beautiful town in the Basilicata region of Italy, earned the protected geographical indication in 2008. This unique bread type has a long history, likely dating to the Middle Ages, if not further back.
The bread follows a specific preparation process that includes a long leavening time and the exclusive use of sourdough. The bread is baked in wooden ovens. The result is a pretty deformed but tasty yellow bread with a crunchy crust.
5. Pane Sciocco
Pane sciocco is a funny name for bread, given that sciocco in Italian means silly. However, this adjective refers to the lack of salt in this bread. The two most famous types of pane sciocco are the one from Terni, a city in Umbria, and Tuscany. The Tuscan variety, Pane Toscano, has a protected designation of origin.
This bread comes in the shape of a long bread loaf with a crunchy, brown crust. The reason for the lack of salt in this bread is unknown, but there are many hypotheses.
Some believe the bread was unsalted because Tuscan cuisine was already very savory. According to others, the reason is the high price and tax on salt during medieval times.
6. Pan Barbarià
The name of this bread came from the flour type used to prepare it, called "imbarbarita," meaning "barbarized".
The flour was a mix of rye and wheat, which were cultivated together in the valleys around Cuneo, the place of origin of this bread. Because this mix could vary a lot at each harvest, the flour was defined as barbarized, hence the Pan Barbarià.
The flour mix gives a darker color to this bread loaf, which is still baked in wooden ovens. You'll find this bread type in many bakeries in Cuneo and its surroundings.
7. Pitta
Pitta is a traditional bread from Calabria, in the south of Italy. The bread comes in the shape of a big doughnut but is slightly flattened and ideal for sandwiches.
If you visit Calabria, you'll come across the pitta ripiena, which means "stuffed bread." Two popular versions are pitta china, filled with grilled peppers and potatoes, and pitta a riggitana, with tuna, eggs, and onions. Try also the sweet version, with dried fruits and honey.
8. Pane Nero (Pane di Segale)
Rye bread is widespread in Italy's northern regions, particularly Alto Adige, Piedmont, and Lombardy. The bread is also known as "black bread" due to its dark color. Rye is mostly used in northern regions because of its higher resistance to low temperatures.
Originally, rye bread was peasant food, baked only a few times per year and stored in dark places for conservation. Rye bread usually comes in the shape of a round loaf, but you may also find small bread rolls. Eat it with a heartwarming soup or use it for sandwiches.
9. Pane Cafone (dei Camaldoli)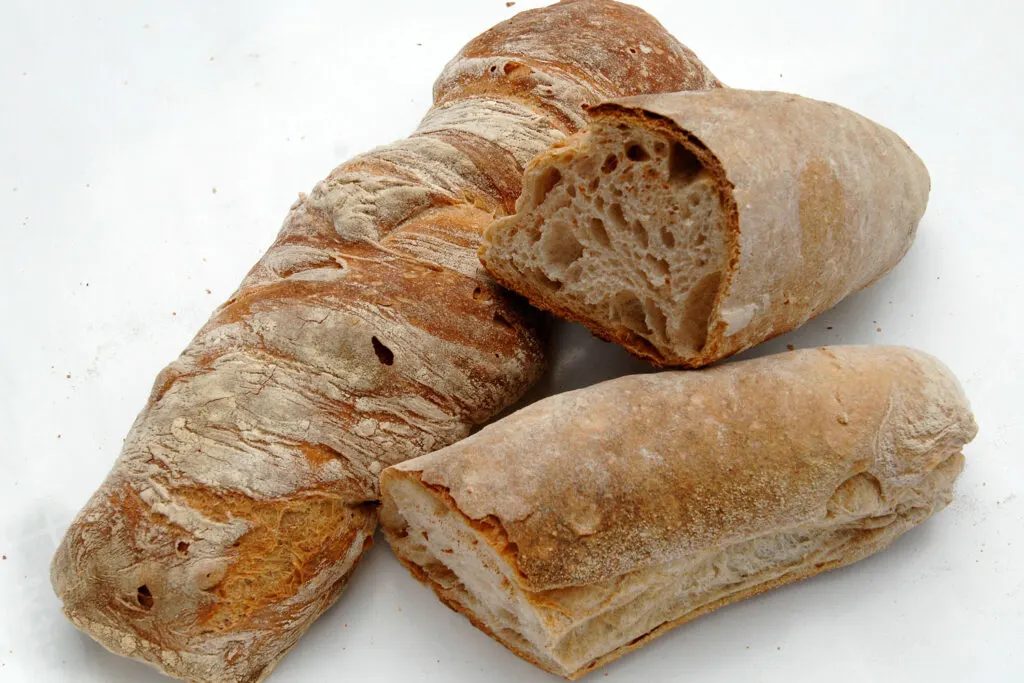 Pane cafone translates to peasant bread, although the word cafone also means impolite. The pane cafone has ancient origins and is typical of Neapolitan cuisine, in particular, the Camaldoli hill in the northwest of the city, which gives the bread its name.
A special ingredient in this bread type is brewer's yeast. The bread dough must be kneaded for a long time and left to rise for several hours before baking. A loaf of pane cafone can weigh up to four kilos.
10. Miseria
Miseria, which translates to "poverty," is a peasant bread originally from Parma, specifically the small town of Busseto. A long incision is made across the round bread loaf, giving it a butterfly shape after the baking.
A bread loaf weighing more than half a kilo is called "gran miseria." The bread has a thin, light brown crust and a white, fluffy crumb. In Parma and its surroundings, the bread is served with a variety of cold cuts.
Bread Rolls
11. Rosetta (or Michetta)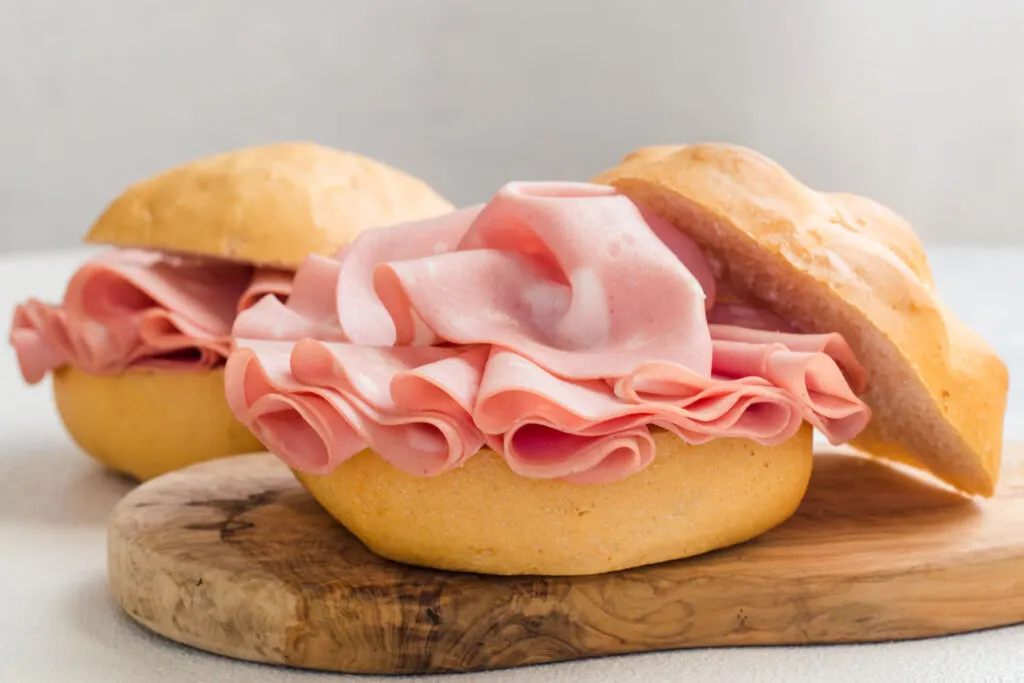 Rosetta is one of the most popular bread rolls in Italy, easy to recognize from its unique shape, similar to a rose. Despite being very popular in Rome, the rosetta was born in Milan with the name of michetta. Back then, the typical bread in Rome was the ciriola.
After making its way to Rome, the rosetta became a staple of Roman food, in particular street food. The best way to eat a rosetta is to stuff it with mortadella. The bread roll is nearly empty inside, with very little crumb, which leaves more space to stuff with cold cuts and other ingredients.
Related: Foods to try in Rome
12. Ciriola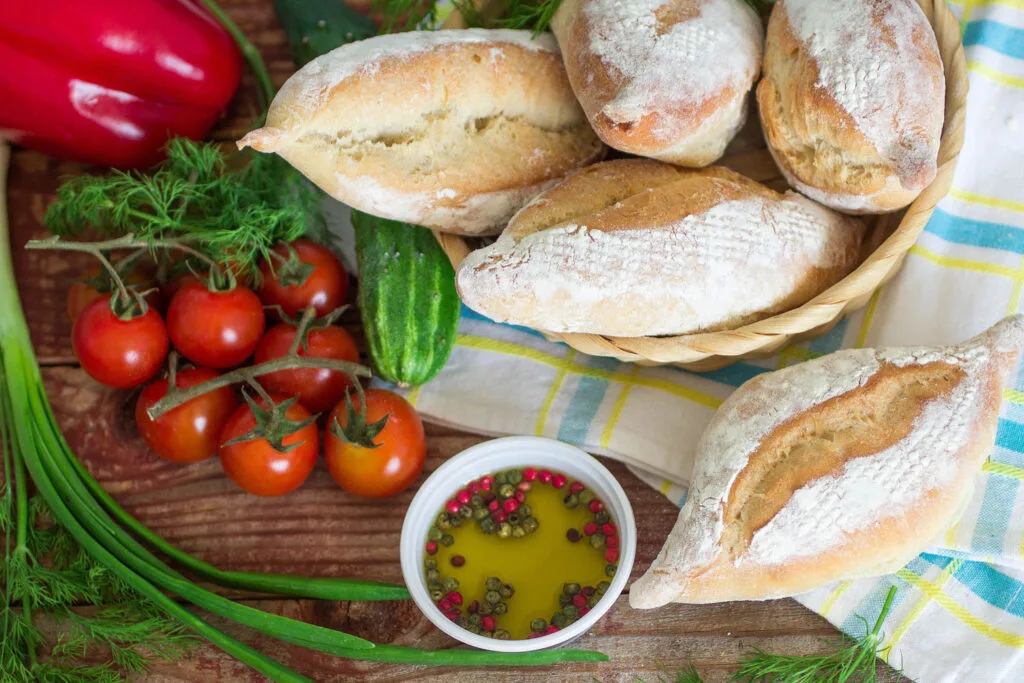 A popular bread in the Lazio region, the ciriola is a small, slightly elongated bread roll with a crunchy crust. This was the historical bread in Rome, perfect for sandwiches.
Although mortadella was the preferred filling for the ciriola, the versatile bread type could be filled with various ingredients, from porchetta to omelet.
The downside of the ciriola is that it has a short conservation time. You must eat the bread rolls the day they were baked, or they get chewy.
13. Muffuletta
The muffuletta is a round bread roll typical of Palermo. The small bread roll is sprinkled with sesame, fennel, or anise seeds. The muffuletta is a staple of Palermo's street food but is widespread across Sicily.
A common way to serve the muffuletta is sliced into two, seasoned with olive oil, black pepper, and hot pepper, and filled with anchovies. Ricotta or caciocavallo cheese is also often added. Other typical fillings for the muffuletta include panelle (chickpea flour fritters) and spleen.
Did you know that in Louisiana, United States, they use this Sicilian muffuletta bread to make muffulettas with cold cuts like mortadella, ham, and salami, and olive salad? Read more in our Louisiana foods round-up.
14. Mafalda
Mafalda is another popular Sicilian bread roll, prepared with durum wheat flour and sprinkled with sesame seeds. This bread type is easily recognized from its shape, a sort of double S with a long strip across. Some say it resembles a snake.
The soft bread roll is very versatile. You can eat it with anything from cheese to cold cuts and even Nutella. Enter any bakery across Sicily, and you'll likely find the mafalda.
Related: Sicilian Foods You Need to Try
15. Puccia
Puccia is a soft round bread roll from Salento, in the south of Puglia. The puccia was originally filled with whatever vegetables were in season, such as tomatoes, eggplant, bell peppers, and zucchini. A slice of cheese was also usually added.
Nowadays, puccia is mainly a fast food. The delicious sandwich is filled with local ingredients that now include cold cuts or other types of meat. The best places to try the puccia are Lecce and Taranto, but you'll find it all over the Puglia region.
16. Tigella (Crescentina)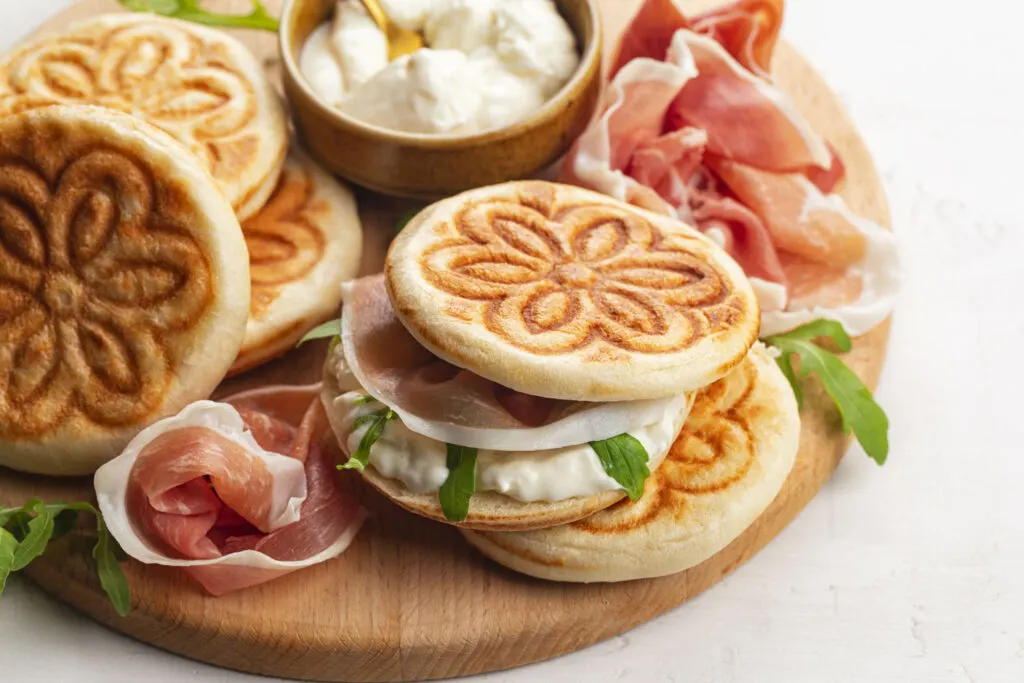 Tigella is known as crescentina in its place of origin, the province of Modena in the Italian region of Emilia-Romagna. In the rest of Italy, it's commonly called tigella. The round bread roll was traditionally stuffed with a pesto made with lard, garlic, and rosemary. Parmesan and rabbit or boar meat were also popular ingredients.
The tigella or crescentina is now a popular street food in Emilia-Romagna, filled with various cold cuts. Being smaller than traditional sandwich bread, you'll want to get a few of them to be satisfied.
Dry Bread
17. Schiacciatina
This thin and crunchy bread type is typical of Mantova, a town in Lombardy. The basic version of the schiacciatina is made with flour, water, brewer's yeast, lard, salt, and olive oil. Variations can include rosemary, onion, or fried pork lard.
The schiacciatina was born as a snack for farmers to bring to work in the fields. Even nowadays, the most common way to eat the schiacciatine is as a snack, ideally with a glass of white wine. This dry bread is also sold packaged in supermarkets.
18. Grissino
The grissino is a long, crunchy bread stick original from Torino. The ingredients of the grissino are simple: flour, water, dough, and salt.
The grissino was invented in the late 17th century for the then-young Victor Amadeus II, future King of Sicily and Sardinia.
The highly digestible breadsticks were an immediate success and continue to be to this day. Nowadays, however, more ingredients are added to the dough, such as olive oil, rosemary, sesame, and hot pepper.
19. Fresella
The origins of the fresella date to the 10th century BCE, when Phoenicians carried this bread on their long trips. The dry bread was softened with seawater and seasoned with olive oil.
To make the fresella, small bread rolls are baked in the oven, taken out, sliced into halves, and then baked a second time until dry. The fresella must be soaked in cold water before seasoning it.
The most popular way to serve the fresella is with fresh, chopped tomatoes, oregano, salt, and olive oil. Garlic is often rubbed on the fresella before soaking it.
Flatbread
20. Piadina
The piadina is among the most popular street foods in Italy. Originally from the Emilia-Romagna region, in particular Forlì, Cesena, Ravenna, and Rimini, the piadina is a thin, round flatbread, similar to the Middle Eastern and Arab pita.
The piadina is widespread all over Italy. The flatbread is folded in half and filled with various ingredients, including cold cuts, cheeses, and vegetables. You'll also find piadina in a sweet variety with Nutella.
21. Crescia
The crescia is a type of flatbread common throughout the regions of Marche and Umbria. The origins of this flatbread, quite similar to the piadina, are thought to date back to when the Byzantine army was stationed in this area between the 6th and 8th centuries.
Unlike the piadina, which remains soft, the crescia is crunchier. The flatbread is often grilled and ideally served warm with vegetables and cold cuts. Although the crescia is usually round, you may also find a square version in some Italian cities.
22. Pane Carasau
Pane carasau is a type of bread from the island of Sardinia. The thin and round flatbread is baked twice to make it crunchy. The second baking phase is called carasadura in Sardinian, hence the name pane carasau.
The most popular recipe with pane carasau is called pane frattau. The thin slices of pane carasau are soaked in vegetable broth and layered with tomato sauce and pecorino cheese. A poached egg is usually added on top.
Other Bread Types
23. Casatiello
The casatiello is a traditional Neapolitan bread prepared during the Easter period. The bread comes in the shape of a big doughnut, very tall and filled with pieces of cheese, salami, and ham. The name casatiello comes from the word "caso," Neapolitan for "cheese."
The most curious part of the casatiello is that it has four whole eggs stuck on top. The eggs, still inside their shells, are added raw to the dough before baking it in the oven.
Related: 21 Italian Meats to Try (Salumi Guide)
24. Coppia Ferrarese
Probably the most unique type of bread in Italy, coppia Ferraresa comes in the shape of two long and thin loaves, similar to baguettes, and attached in the middle to form a sort of X. As you can imagine, this bread type was invented in the city of Ferrara.
The bread has a thin, crumbly crust and a dense, soft crumb. The addition of lard in the dough helps keep the bread fresh for longer, although it's better eaten within a day from baking. Try it wrapped in a slice of prosciutto.
25. Focaccia Genovese
Focaccia Genovese is the classic focaccia, fluffy and covered in olive oil. Before baking it, the dough is brushed with a mixture of olive oil, water, and coarse salt to obtain the typical soft texture. Focaccia Genovese is usually prepared in big rectangular shapes and cut into smaller squares.
Variations of the classic focaccia are topped with rosemary, olives, or white onions. Focaccia is so tasty that you can eat it on its own, with a glass of wine. Another great way to eat this delicious bread type is with slices of cheese and cured meats.
26. Focaccia Barese
Despite sharing the name, the focaccia barese has little to do with the Genovese one. In Bari and surroundings, the focaccia is round and comes topped with halves of cherry tomatoes, oregano, and often olives.
The dough of the focaccia barese contains boiled potato, which makes it even more fluffy. Finally, the dough is covered in abundant olive oil before baking in a wooden oven. This special bread is a delicious snack on its own, even better if hot out of the oven.
27. Gnocco Fritto
Lastly, the gnocco fritto is a specialty of the Emilia-Romagna cuisine, widespread across the entire region but mostly in Modena, Parma, and Reggio Emilia. The original recipe from Modena is made with flour type 00, sparkling water, salt, and lard.
This special bread type is cut in a diamond shape and fried in lard. The gnocco fritto is served as an appetizer with cold cuts. Gnocco fritto is also a popular street food served at local fairs and other street celebrations.
Summary
There is no denying the integral importance of bread in Italian cuisine. Once you start delving a little deeper into regional cuisines, however, you realize how much versatility, creativity, and flavor there is when it comes to Italian bread.
This curated list covers many of the country's iconic breads, but there are even more to try for those looking for culinary adventures.
When you visit Italy, head to bakeries, street food stalls, and local restaurants and see how many of these baked delights you can try!
You Might Also Like to Read
Save and Pin for Later
Planning a trip to Italy soon? Keep these delicious Italian breads for safekeeping by saving this article to one of your foodie travel Pinterest boards.
Contributor: Roxana Fanaru is a journalist and writer who has lived in Rome for nearly two decades. She is deeply passionate about Italian cuisine, culture, and travel and writes for a number of publications.