This post may contain affiliate links, meaning if you book or buy something through one of these links, we may earn an affiliate commission at no additional cost to you. Learn more
From the ash-buried slopes of Etna to famous scenes from The Godfather, Sicily is an island of beauty and awe, and Sicilian food is no different.
The common misconception is that Italian food is the cuisine of Sicily. This could not be further from the truth.
While Italy no doubt has influence, the foods of Sicily are an eclectic, breathtaking fusion of Arabic, Mediterranean, and African flavors.
I spent a summer in Sicily and fell in love with so many of its foods. So much so, under the expert guidance of a Sicilian food tour operator, it's only fitting that we take a culinary journey through Sicilian cuisine.
Here are 14 traditional Sicilian foods, from appetizers to desserts, that you simply have to try.
Popular and Traditional Sicilian Food
1 – Arancini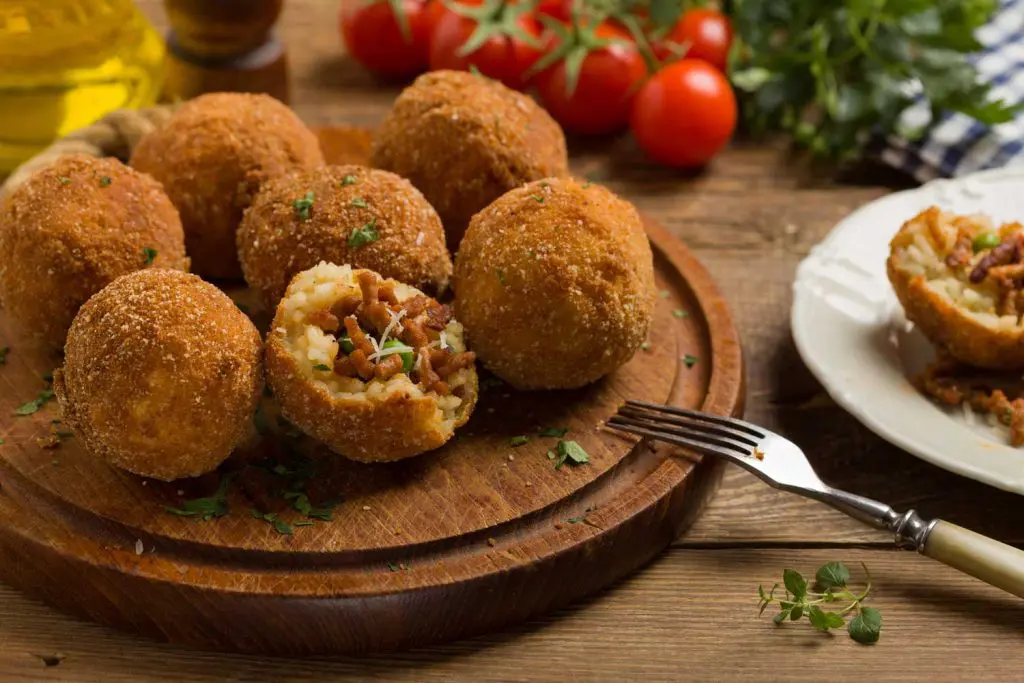 We start with one of Sicily's most culturally and historically important foods: arancini.
Arancini are hearty and rich bite-sized snacks, consisting of rice balls, packed with various ingredients, and deep-fried in a coating of bread crumbs.
The fried bread crumb coating gives arancini its iconic gold-orange color. Hence the name 'arancini', which loosely translates to 'little orange.'
When it comes to your chosen filling, the choices are endless. Some of the most popular arancini fillings include rich ragu sauce, melted caciocavallo cheese and peas, and mozzarella and ham.
These ball-shaped snacks explode with flavor. They were first introduced to Sicily under Arab rule in the 10th century. They were the perfect food for hunters, away for days at a time, to carry with them.
And it's easy to understand why after trying them. Despite being small, arancini are incredibly rich and filling.
So many times in Palermo, walking home from work, I would pick up a couple of arancini for dinner. One was more than enough to fill my stomach!
2 – Capunata
Mediterranean cuisines are renowned for their use of eggplant. In Sicily, eggplant takes center stage in this sweet and savory appetizer.
Caponata (or 'Capunata' in Sicilian) fuses fried eggplant pieces and other vegetables, such as celery, with classic Mediterranean staples olive oil and capers, in a sweet and savory agrodolce sauce.
Agrodolce sauce is native to Italian cuisine. It's made by reducing sweet and savory pairings, such as vinegar and sugar, to create a strong, acidic sauce for various dishes.
Caponata, classed as a salad, is packed with strong flavors. It has saltiness, a rich, oily texture, and injections of sweetness and crispiness from the sugar and eggplant.
It can be eaten on its own, but truly comes to life when spread on focaccia or flatbread. It's a unique and delicious Sicilian dish, and it's easy to find on the island.
3 – Parmigiana di Melanzane
Eggplant is the star of the show once again in Parmigiana di Melanzane, a delicious baked Sicilian dish.
Parmigiana di Melanzane consists of layers of pan-fried, thinly cut eggplant slices, with layers of tomato sauce and various cheeses, baked in a dish or tray.
Many different kinds of cheeses are used. Some Sicilians like harder, grated cheeses between layers. Others prefer the softer, thicker texture of cheeses like mozzarella.
The origin of Parmigiana di Melanzane is a fiercely debated topic. Sicilians believe it originates from the south of the island, in Campania.
Italians, however, believe the dish is from Naples. While its true origin may always remain unclear, one thing is very much definitive: this is one tasty dish!
So much so, many variations have become popular internationally. These include versions with zucchini, and meat versions using breaded veal or chicken cutlets.
4 – Pasta alla Norma
With heavy Italian influence in Sicilian food, it's no surprise that Pasta alla Norma is one of the island's most iconic dishes.
Traditionally, macaroni pasta is used in this dish. Macaroni is thinner and shorter than other kinds of pasta, which allows the other flavors to flourish with every bite.
Pasta alla Norma doesn't use a base sauce. Instead, the juices from fried eggplant, tomato, and olive oil, help coat the macaroni in richness.
It's topped with grated ricotta and basil, and it pairs wonderfully with a crisp, Italian wine. Despite being a simple dish, Pasta alla Norma is alive with intense flavor.
There's sweetness and sharpness from the eggplant and tomato. There's richness and saltiness from the oil. And then the cheese brings it all together.
Why 'Norma'? It's believed the dish is named after Italian writer Nino Martogolio's glowing review, describing it as 'the real "Norma"', a type of Italian opera.
5 – Pasta con le Sarde
Pasta con le Sarde is a rich, salty pasta dish, defined by its main ingredients of sardines and anchovies.
Sardines are popular throughout Mediterranean cuisine, with the Mediterranean Sea home to millions of shoals of these rich, oily fish.
Bucatini, macaroni, and spaghetti are popularly used in the dish. The anchovies and sardines are cooked with olive oil and chopped onions, in an intense, flavorful mixture.
To enhance the flavor and add some kick, other ingredients like fennel, saffron, and raisins are also added.
Finally, once the pasta and mixture have been plated, the dish is topped with breadcrumbs before serving.
Pasta with sardines originates from Palermo, the capital city. While I lived there, I walked past so many restaurants serving this dish.
It's warm and comforting, yet every bite introduces your palate to a different dash of saltiness, spice, or sweetness, from the various ingredients.
6 – Sfincione
No visit to a heavily Italian-influenced cuisine would be complete without pizza. However, Sicily has a very unique take on one of the world's most beloved foods.
Sfincione, while many variations exist, commonly consists of a focaccia bread base, loaded with many toppings.
While traditional Italian pizzas are circular, Sfincione is usually rectangular and cut into squares, rather than triangular slices.
When it comes to toppings, as with Italian pizza, the world is your oyster. You can find it with classic combinations like tomatoes and cheese, or more daring flavors, like onion and anchovies.
Sfincione is more of a grab-and-go food, rather than a sit-in restaurant meal. In Palermo's food markets, there are so many vendors selling it.
The use of focaccia bread gives it a softer, heartier bite, rather than the crispiness of an Italian stonebaked pizza. It's closer to a deep-pan pizza in texture.
7 – Pane con Panelle
Street food is hugely popular on the streets of Palermo and Catania, with Pane con Panelle being one of the must-try foods.
Panelle are fried Sicilian chickpea fritters. The fritters are made from chickpea flour, mixed with water, herbs, and seasonings, fried in canola oil.
Panelle is often fried as a big sheet, and then it's cut into rectangular strips before serving.
You can eat Panelle on its own, but it's popular to order it in a crusty bread bun or roll to-go.
Wander the streets of Palermo on the weekend, and you'll see hundreds of people, beers, and drinks in hand, queuing up to get Pane con Panelle.
The fritters are crispy, filling, and with a generous shake of salt, absolutely delicious.
I feel Sicilians feel the same way about Panelle as Brits do a big, greasy bag of heavily salted chips!
8 – Pani ca' Meusa
We couldn't leave the mains and savory section without including one of Sicily's most unique delicacies: Pani ca' Meusa.
Originating from times when no part of the animal could be wasted, fried beef spleen sandwiches are a popular stop of many of Sicily's street food tours.
The spleen is cooked in a large vat in plenty of juices. When it's ready, you can watch the food vendor or chef strain the spleen, before stacking it inside a thick, crusty bread roll.
Beef spleen has a thick, chewy texture, similar to liver. It's not for everyone, but it has a unique and fascinating taste, that's for sure!
Note: In Palermo, I'd highly recommend Streaty's food tours. The guides are passionate and so knowledgeable about Sicilian cuisine and culture. Their insight was great in helping me write this article.
Sicilian Desserts & Drinks
9 – Brioche con Gelato
Yes, you read that correctly. Sicilian gelato brioche buns are a thing, and they are so delicious!
In Sicilian towns and cities, you will never be too far from a gelato shop. Head to the counter, order a brioche con gelato, and watch the magic happen.
What's more mind-boggling is this is a very popular Sicilian breakfast. Who'd have thought a sweet brioche bun, stuffed with a big dollop of gelato, could taste so good?
Gelato in Sicily comes in so many flavors. If you want to stick to the classics, nut-flavored ice creams, like hazelnut or pistachio, are a great choice.
As the cream soaks into the sweet, soft bread, you'll know exactly what heaven tastes like!
10 – Cannoli
Cannoli are one of Sicily's most beloved desserts. You can't miss bakeries and markets selling this sweet and savory pastry at all hours of the day.
A Sicilian cannolo is a sheet of fried pastry dough, twisted into a hollowed tube shape, and filled with creamy ricotta.
Once the dough has set and is filled with ricotta, cannoli are decorated with various fruits and nuts, then finished with a showering of powdered sugar.
The taste of these rich pastries is utterly divine. The fried dough gives you a sweet and crunchy hit before the creaminess of the ricotta oozes across your tastebuds.
Cannoli come in many forms and flavors. Some infuse the dough with sweet ingredients, like chocolate, or decorate them with nuts, berries, and other sweet flavors.
Historically, cannoli are believed to have been served during the Christian season of Carnival in Sicily, as a symbol of fertility.
Today, they are an absolutely must-try dessert in Sicily. Coffee shop cannoli are always tasty, but the most incredible flavors come from local bakeries.
11 – Granita Siciliana
Especially during the summer months, Sicily can get really hot! Those baking North African winds can be unforgiving at times.
I honestly don't believe there's a better way to cool down in Sicily than with a glass of sweet, ice-cold granita, accompanied by an ocean view.
Granita falls somewhere between a sorbet, snow cone, and Italian ice. It's essentially a glass of sweetened, flavored ice shavings.
It originates from Sicily, and its texture varies depending on where you buy it. In Palermo, for example, granita is thicker and chunkier.
In the south, however, they use the gelato machines to make granita, creating a smoother texture.
In whatever form, this is always a Sicilian dessert drink that you have to try. It's breathtakingly refreshing, and available in a range of different flavors, from berries to coffee.
12 – Cassata Siciliana
Somewhat a cousin to cannoli, cassata is another decadent and delicious Sicilian dessert that's filled with creamy ricotta cheese.
Cassata, structurally, is a sponge cake. The sponge cake base is soaked in fruit juices, or sweet liqueur, depending on the baker.
The inside of the sponge cake is packed to the brim with rich, creamy ricotta, in a similar vein to cannoli.
Once set, cassata are covered in marzipan and colored icing, commonly green, and decorated with fruit and nuts.
The spongy texture, paired with the creamy ricotta, is a majestic combination. The fruit and the icing then balance the savory notes with sharpness and sweetness.
13 – Aperitivo
Ordering Aperitivo is one of the must-try culinary experiences in Sicily. At most bars and restaurants across Sicily, you can order Aperitivo.
Apéritifs are (nearly always) alcoholic drinks you order before eating a main meal.
These drinks are commonly dry alcoholic drinks, to help you develop an appetite for a big, hearty meal.
In Sicily, aperitivo is often only available during happy hours, or a short period of time in the late afternoon, or early evening.
Sit down at a restaurant, ask for aperitivo, and you'll be given a selection of drinks. Common drinks include Aperol Spritz, Prosecco, and dry white wines.
Very often, for a set price, your drinks will be served with a range of delicious nibbles and sides, somewhat tapas-style.
The beauty of aperitivo is that, in many places, not only will they have discount deals on aperitivo, the plates of food they bring out are substantial.
Platters of cured meats, cheeses, breads, and olives are common, along with nuts, crackers, and various other yummy foods.
Mondello is a beautiful beach town, around twenty minutes out of Palermo. Many of the restaurants that line the beach serve aperitivo, and it's a wonderful place to eat and drink.
Related: Italian Cheeses You Need in Your Life
14 – Aperol Spritz
Lastly, whether it be with aperitivo or as a cocktail, you definitely need to try a refreshing glass of Aperol Spritz.
Aperol itself is a classic apéritif. Made with rhubarb and gentian, it has a warm orange color and crisp, bitter taste.
Aperol Spritz is made with 3 parts Prosecco and 2 parts Aperol, and finished with a dash of soda water, a wedge of juicy orange, and plenty of ice.
It's a refreshing drink, with plenty of flavors. There's bitterness, sweetness, fizz, and fruitness, all swirling within each and every sip.
Sicilian Food Summary
Sicilian food blew my mind during my time in Palermo. Sicily is famous for so many things, but its unique cuisine is largely unknown outside of the Mediterranean.
There's such an explosive mixture of different cultures and cuisines in Sicilian food. If you're expecting a carbon copy of Italian food, you're in for a welcome surprise.
Italian influence brings classic grain-based foods to the table. African influence adds plenty of heat and spice. The Mediterranean climate allows for ripe vegetables, juicy fruits, and delicious seafood.
All of these factors combine to create dishes and textures you'd never believe you'd ever find on this small, rustic island.
So before we leave Sicily, one final time here's the full list of all the foods covered in this article.
Be sure to have this list of Sicilian foods handy when you visit so that you can try one or more of these popular dishes.
Arancini
Capunata
Parmigiana di Melanzane
Pasta alla Norma
Pasta con le Sarde
Sfincione
Pane con Panelle
Pani ca' Meusa (Spleen Sandwich)
Brioche con Gelato
Cannoli
Granita Siciliana
Cassata Siciliana
Aperitivo
Aperol Spritz
You Might Also Like to Read
Save and Pin for Later
Want some of these delicious Sicilian foods in your life? Save this article to one of your Pinterest boards, ready for when you visit Sicily or decide to cook some recipes at home.
---
---
Author: Dale Johnson is a content designer, writer, strategist, and full-time digital nomad as of 2016. He has spent several months living in Palermo, Sicily, and fully immersed himself in the island's unique cuisine.
Contributor: Streaty Food Tours
Images licensed via Shutterstock