This post may contain affiliate links, meaning if you book or buy something through one of these links, we may earn an affiliate commission at no additional cost to you. Learn more
With Greek, Turkish, and Italian influences, among others, there's no doubt that Cypriot food is comforting and delicious.
The climate of this famous Mediterranean island also allows for some truly fresh and flavorful ingredients to be used in Cypriot cuisine.
So, prepare yourself for succulent meats and plenty of fusions as we take a closer look at eighteen rich and tasty foods to try in Cyprus.
17 Traditional Cypriot Foods You Will Love
Out of all their traditional foods, the Cypriots are most proud of their very own Halloumi cheese.
Its soft texture and white color match the juicy anticipations of anybody who will be enjoying it with wine or eating it with watermelon.
Halloumi is almost always served in traditional taverns as an appetizer, either raw or grilled.
Also, it is served as a snack along with almonds, dried apricots, and olive bread dipped in virgin olive oil in wineries (during wine degustation).
Even though halloumi is rich in fat, it is considered to be a healthier alternative to regular yellow cheese such as Edam or Gouda because it is made without preservatives and lasts for a much shorter period of time.
Don't worry if you see pieces of green weeds on the cheese's surface, locals love adding mint when making halloumi!
Read More: Halloumi Recipe
2 – Kleftiko (Roasted Lamb Meat)
'Ofton Kleftiko' is a traditional dish cooked from lamb leg meat. It is marinated in olive oil, lemon, garlic, and onion.
It's cooked in baking paper in order to save the rich aromas and liquids of the juicy meat.
Kleftiko is sometimes cooked in portable white ovens with or without potatoes, and sold on the streets as an alternative to sandwiches or 'Souvlakia.'
One of the undoubted advantages of Kleftiko meat is that it is way healthier than barbecued meat because it is not cooked on an open flame.
It is common to see the elderly enjoy "Kleftiko" instead of "Souvla" because many elderly people in Cyprus believe lamb meat reduces the risk of heart and artery disease.
'Souvlaki' or Souvla is a true blessing for anyone who is a fan of barbecued meat.
Usually grilled outdoors for special occasions (bank and Greek Orthodox holidays), small (Souvlaki), and/or big (Souvla) chunks of meat are marinated the night before the 'big' day.
Meat is grilled on an open flame while family members and close friends gather.
While waiting for the souvlaki, people usually drink Ouzo (local liquor) or Zivania (traditional Cypriot spirit), and dance Sirtaki or Zembekiko.
Souvlaki can also be eaten in local 'fast-food' restaurants, where you can buy a portion of souvlaki in pita bread with salad, yogurt spread ('tzatziki'), and fried potatoes.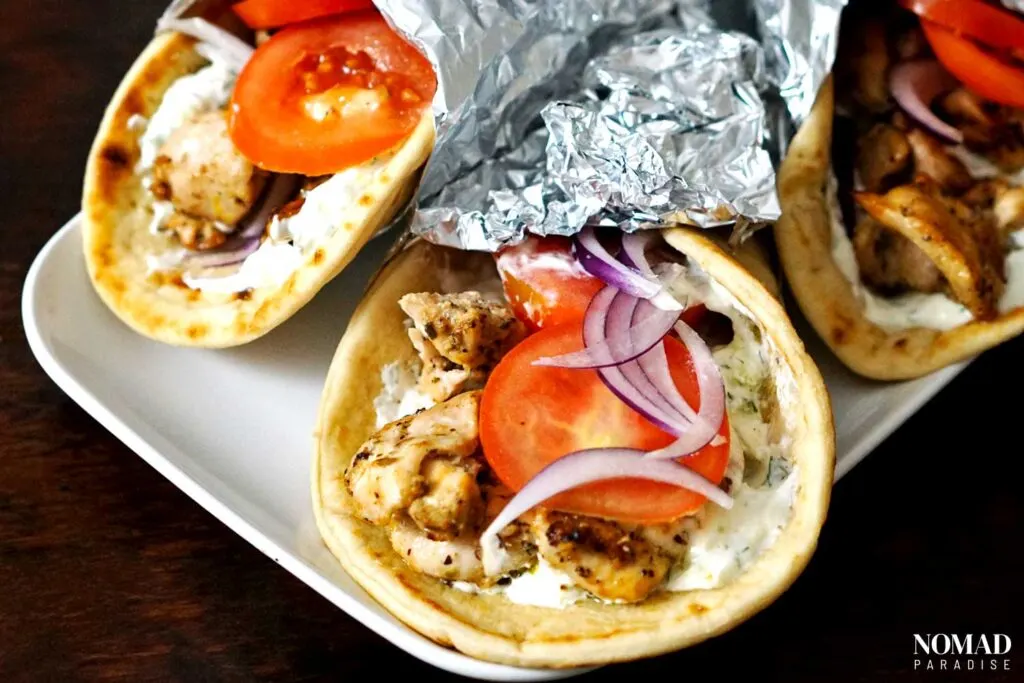 If you visit Cyprus, be prepared to make a lot of new friends who will invite you to taste the best souvlaki or souvla in town.
Read more: Chicken Souvlaki Recipe
4 – Tarhana (Dried Mixture of Yogurt, Milk and Wheat)
Unlike all the other foods, 'Tarhana' or Trahanas cannot be consumed on its own.
Usually, Trahanas is used to make soup ('Trahanosoupa'), which is considered to be one of the healthiest foods in the Mediterranean region due to its positive effect on the digestive system.
The soup consists of trahanas, halloumi cheese, and milk.
Trahanas are usually made at the end of the summer so that the light breeze and moderate warmth allow the tiny pebbles of flour, wheat, and bulgur to dry and form small chunks.
Trahanas is arguably one of the world's oldest fast foods because it can be stored and used anytime to create a breakfast porridge or a base for soups in as little as just 5-10 minutes.
5 – Moussaka (Eggplant Filled with Meat and Potato)
Moussaka is as sacred to the Cypriots as lasagna is to the Italians. It is a main dish that mainly consists of eggplants, beef (or lamb) meat, spices, and cheese.
All the ingredients are carefully layered over the oven base, topped with Béchamel sauce, and baked until golden.
It is very important to peel the eggplants and sprinkle them with salt before starting to cook moussaka.
This way, the salt neutralizes the bitter taste and allows the eggplant to become milder and creamier when cooked.
Sometimes, locals also add tomato sauce in order to make the meat softer and juicier.
Read more: Moussaka Recipe
6 – Sheftalies (Meatballs)
Another popular Cypriot, 'sheftalies' can become your all-time favorite dish if you eat it the right way.
This aromatic mixture of spices and minced meat is wrapped in omentum and cooked on a barbeque grill rack.
You can eat your 'sheftalies' stuffed in pita bread with salad, lemon, and dips like 'tzatziki,' 'hummus,' or 'tahini salad.'
Another option is to eat the meatballs with a side of pickles and baked vegetables. The word "sheftalia" comes from Turkish, and it literally means 'peach'.
This is not surprising because 'Sheftalies' do look like juicy peaches and taste best when they are fresh!
7 – Koupepia (Grape Leaves Stuffed with Minced Meat)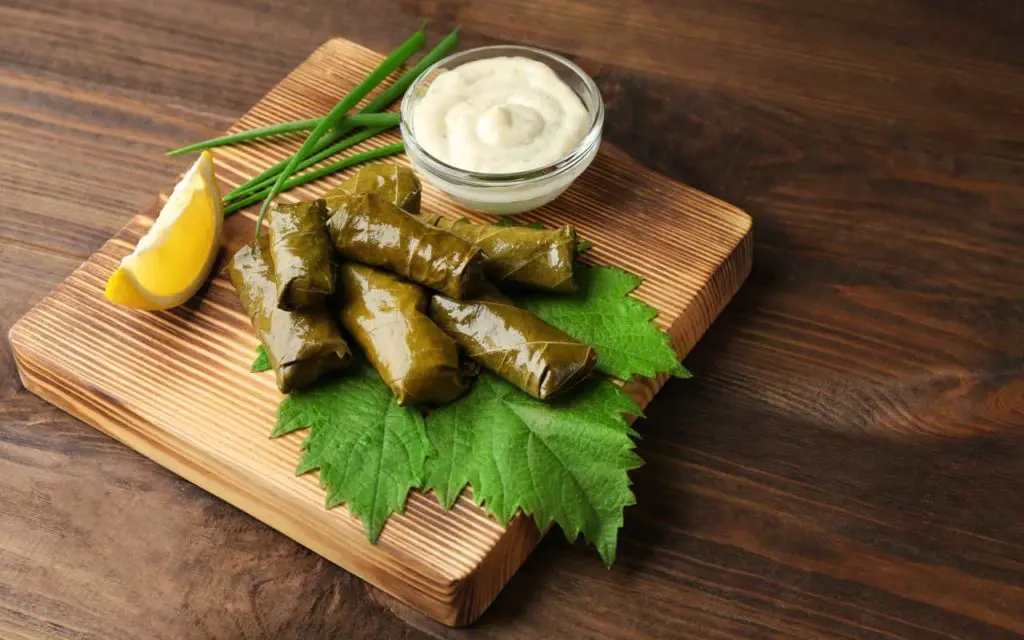 Similar to the 'Dolma,' 'Koupepia' is a must-have in a meat meze as its mouth-watering smell cannot leave you indifferent.
A mixture of minced meat, onion, rice, and spices is stuffed in fresh grape leaves and cooked in an oven with water and virgin olive oil.
Apart from koupepia, you can be also offered 'gemista' (from Greek: "stuffed"), which is an alternative to those who may not like grape leaves.
Gemista consists of the same stuffing ingredients, but the ingredients are stuffed in hollowed-out tomatoes, peppers, or other similar vegetables.
If you visit a wine village up in the mountains, be sure to try 'koupepia' with white yogurt and finish off your meal with a sip of delicious, homemade wine.
Related: Stuffed Grape Leaves Recipe
8 – Louvi (Beans)
Traditionally, all sorts of greens and beans are considered to be 'life-savers' during periods of fasting (Wednesdays, Fridays, and the "Greek Lent").
'Louvi' or black-eyed beans can be cooked with cabbage and/or taro potatoes, spices, and onions.
Occasionally, louvi can be served with tuna fish. One of the exceptional advantages of louvi is that it is very easy to make.
It also does not make your stomach feel 'heavy", and it contains a lot of protein.
Furthermore, during summertime, when temperatures hit above 40 degrees Celsius, louvi can substitute meat and supply you with enough energy to be able to function effectively throughout the day.
9 – Pilafi Pourgouri (Cooked Bulgur)
'Pilafi Pourgouri' can be used to make a variety of breakfast dishes and side dishes.
One way to make breakfast from pourgouri is to boil it with semi-skimmed milk so that it blends into a mild porridge. After that, sugar or honey may be added.
A very popular recipe amongst Cypriots is to cook "Pourgouri" with tomato puree, onions, and chopped macaroni and serve it as a side dish with souvlakia, shieftalies, or seafood.
One portion of "pourgouri'" (1 cup cooked bulgur) contains about 150 calories and 8 grams of fiber, so it is a great option for those who want to keep up with their nutrition plans on holiday!
10 – Makaoronia Tou Fournou (Oven-Baked Pasta)
Cypriot Pastitsio or 'Makaronia tou Fournou' can be easily confused with 'Moussaka', so keep an eye on the Béchamel sauce (it is whiter and puffier in the Pastitio).
Pastitio is cooked by neatly layering out the ingredients: macaroni, minced meat with spices, and Béchamel sauce.
Then, this masterpiece is sprinkled with halloumi cheese and put straight into the oven.
It can be served as a side dish (in a meat meze) or as a main dish during weekdays.
Children adore this Cypriot baked pasta dish due to its soft texture, rich smell, and delicious taste!
11 – Loukoumades (Honey Dough Balls)
Just like every Mediterranean nation, Cyprus must have the 'cherry' on the top of the pie!
After enjoying a mouth-watering portion of 'souvlaki' or 'sheftalies' during a local celebration or an outdoor festival, you will be thrilled to try out these golden honey dumplings.
Their history goes back to the First Olympic Games of 776 B.C. when these fluffy honey 'donuts' were served to the winners.
Unlike 'baklava,' Loukoumades are deep-fried in oil and served hot.
In order to preserve their juicy taste and round form, make them in batches and eat them fresh!
12 – Stifado (Red Wine Beef Stew)
Are you craving wine, but you are the driver? Then this dish is exactly what you need! Small chunks of meat that will literally melt in your mouth, stifado is a must-have dish on the local table.
Cooked with peeled potatoes, spices, red wine, and cognac, 'stifado' will impress you with its soft texture and notes of "Maratheftiko" wine. At the very end, the chef will add a bay leaf and leave it for some time so that the dish absorbs the aromas.
Stifado is served in clay pots, which are designed to store the temperature of the food that will warm not only your stomach but your heart too!
13 – Tzatziki or Talatouri (Yoghurt Spread)
Being one of the most famous spreads in Cyprus, 'tzatziki' will win a special place in your heart for its light and creamy taste.
The spread is made out of white Greek yogurt, cucumbers, mint, olive oil, and a little bit of garlic.
It is usually served with bread as an appetizer in local taverns, and it can be a perfect companion for your souvlaki or sheftalies if you don't like salad.
Also, it is fairly low in calories (one tablespoon contains about 15 calories), which makes it a great alternative to halloumi cheese if you spread it on bread.
In villages, people sometimes refer to it as "talatouri" so be sure to use this term if somebody doesn't understand "tzatziki."
Read more: Tzatziki (with Dill) Recipe and Talatouri (with Mint) Recipe
14 – Baklava (Sweet Filo Pastry)
One of the all-time favorites, 'baklava' is a sweet dessert served at the end of a meal with Cypriot coffee or tea.
It is made from a few layers of phyllo dough and crushed nuts (mostly pistachios), which are bonded with honey and/or syrup.
The first baklava recipe goes back to Roman times, and it is a famous dessert in the Middle-Eastern countries. Each country has its unique way of cooking Baklava.
For example, Cyprus is known to add lemon juice and cinnamon to their recipe in order to enhance the rich scent of the treat.
Read more: Baklava Recipe
15 – Kotopoulo me Kolokassi (Chicken with Taro Potatoes)
Due to the heavy consumption of pork, Cypriots sometimes cook chicken and Taro potatoes in the oven in order to give their stomachs a rest.
The combination of chicken and Taro potatoes is considered to be very healthy due to the high content of protein, vitamins, and fiber.
Chicken is marinated with spices and put on an oven platter with a full lemon (which is known to soften the white meat).
An alternative way to cook chicken (if you only cook the chicken breast) could be to fry it on a saucepan until golden.
Taro potatoes are peeled and sliced (approx. one and a half cm thick) and cooked on a pan with celery, onion, and tomatoes (or tomato puree).
Just like 'tzatziki,' 'tirokafteri' (from Greek: cheesy and spicy) is a spread served as an appetizer with bread in local taverns.
It is made from feta cheese, garlic, yogurt, chili peppers, and olive oil.
It is a great alternative for vegetarians or those who don't like 'lountza' (local pork ham) but would want a snack to keep them full.
Unlike some other spreads, tirokafteri is not preferred as often because of the presence of chili pepper and/or chili flakes.
For a unique experience, "tirokafteri" should be enjoyed with a slice of bread and a shot of Zivania before the main dish.
17 – Taramosalata (Smoked Spread)
One of the most unusual yet delicious spreads is Taramosalata, which is made from 'Tarama' and Cod's roe. 'Tarama' is a sauce like mayonnaise, but it does not contain any eggs.
Taramosalata can have either a pink or white color, depending on the type of fish caviar (roe) used.
The spread is made out of virgin olive oil, lemon juice, almonds, and bread (or potatoes).
Just like Tirokafteri, it is served as a part of Greek Meze with bread, and it can serve as a great appetizer if you try it with a shot of Ouzo.
During the Greek Lent (40-day fasting period before Easter), Orthodox Christians are allowed to consume seafood (with no blood), and taramosalata becomes a frequent guest of the Cypriot table.
Foods to Try in Cyprus Summary
A world of ripe, fresh ingredients and Mediterranean fusions await you when you dine in Cyprus.
It's no surprise that Cypriot foods are so tasty when you consider the famous cuisines that surround this beautiful island.
Greece, just across the sea, is known and loved for its kebabs, sauces, and innovative meat dishes.
Again, just across the water, you also have Arabic influence. Bread and wine-making have been happening in the Levant region for thousands of years.
And finally, world-famous Italian cuisine has also found its way over to Cyprus, in the form of delicious bread, pizza, and pasta.
For a real treat, be sure to visit some of the food markets in Cyprus. The vibrant, juicy fruit and vegetables make for some wonderful cooking.
All the stapes of Mediterranean cuisine are ever-present in the foods of Cyprus. This makes for a truly underrated cuisine.
Being surrounded by so many world-famous cuisines, like Greek and Italian, has meant Cypriot foods have largely gone under the radar.
Cyprus is more than a holiday-maker's island. When you visit, step away from the heavy tourist spots and see our local bakeries and restaurants.
The food of Cyprus is prepared with so much love and passion. There are so many great dishes to discover and fall in love with.
You Might Also like to Read
Save and Pin for Later
Want to keep all of these delicious Cypriot foods in a safe place? Save this article to one of your food or travel boards on Pinterest. That way, you'll also be able to find this amazing list of foods to try in Cyprus.
---
---
Author: Anastasiya Tikhonova is a writer and translator who has lived in Cyprus for several years. Anastasiya writes about all things Cypriot culture, and she is fluent in three languages.