This post may contain affiliate links, meaning if you book or buy something through one of these links, we may earn an affiliate commission at no additional cost to you. Learn more
Saddle up because we're about to embark on a culinary adventure that is truly mouthwatering! Our curated list of the most popular pizzas to try in Italy/types of Italian pizza promises crunch, sweetness, spice, and endless amounts of gooey, oozy, cheesy goodness!
We've worked closely with Roxana, a Rome-based writer and passionate foodie, to bring you a rundown of 25 of Italy's most beloved and iconic pizzas.
All of these mouthwatering favorites have a special place in Italian cuisine and collectively show why pizza is one of the most yearned-for dishes not only in Italy but all over the world.
Types of Italian Pizza
1. Margherita
By far the most popular pizza in Italy, the Margherita may be simple, but that doesn't make it any less delicious. The pizza is topped with tomato sauce, mozzarella, a few basil leaves, and a drizzle of olive oil. If you want a safe choice, Margherita is the option for you. simple
The origins of this pizza date to the late 19th century, when Neapolitan cook Raffaele Esposito created the Pizza Margherita to honor Queen Margherita of Savoy. You can still eat a delicious pizza Margherita in its birthplace, Pizzeria Brandi, in the heart of Naples.
2. Bufalina
The Bufalina is a slight variation of the classic Margherita, with the addition of the mozzarella di bufala campana. This mozzarella has a protected designation of origin and is traditional in the Campania region, particularly Caserta and Salerno.
The most common way of serving this pizza type is to bake a Margherita and place a fresh, whole mozzarella at the center. Try this pizza anywhere in Campania or Neapolitan pizza restaurants around Italy.
3. Diavola
If you're up for something spicy, the Diavola is your best choice. You may know this as the Pepperoni Pizza in the US. This is, in fact, a very similar recipe, except the type of hot salami is a bit different.
Fun fact: peperoni (with one p) are bell peppers in Italian, which can be misleading for Italians visiting the US.
Diavola is a creation of the same Neapolitan cook who created pizza Margherita, Raffaele Esposito. The pizza is essentially a Margherita topped with slices of spicy salami.
4. Quattro Formaggi
One of Italy's most famous pizza toppings is the quattro formaggi, or four cheeses. There are two main variations of this pizza, one with tomato sauce, also known as rossa, and one without, called bianca. This is a general rule for all pizzas, and you'll often find them divided on the menu as "pizze rosse" and "pizze bianche."
Back to our four cheeses, this pizza topping contains, unsurprisingly, four types of cheese: mozzarella, gorgonzola, fontina, and parmigiano Reggiano. The last two cheese types may vary, with alternatives including pecorino, ricotta, robiola, taleggio, provolone, caciocavallo, or stracchino.
5. Capricciosa
The Pizza Capricciosa is among the most widespread varieties in Italy, common in most pizza restaurants across the country. The topping includes tomato sauce, mozzarella, ham, mushrooms, green and black olives, artichokes, and sometimes eggs.
If you're looking for a rich, tasty pizza with many different ingredients, try Pizza Capricciosa. This pizza recipe was invented in 1937 at the Capricciosa restaurant in Rome, hence the name, which translates to capricious.
The ingredients on the Capricciosa are all mixed together, which distinguishes it from a similar pizza, the Quattro Stagioni.
6. Quattro Stagioni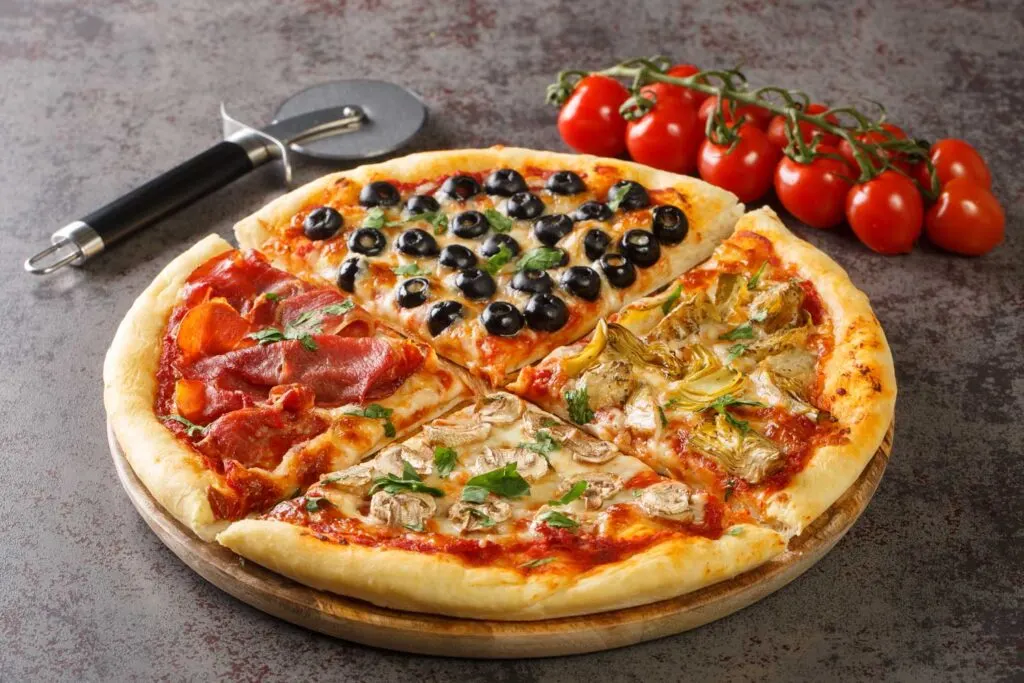 Like the Capricciosa, the Quattro Stagioni is a pizza topped with a variety of ingredients, except they are placed separately into four distinct quarters, hence the name Four Seasons. While you'll find variations to the original ingredients, the placement is always in four quarters.
The pizza base usually contains tomato sauce and mozzarella, although you may also order it white (without tomato sauce). Each pizza quarter is topped with one ingredient recalling a different season.
Mushrooms represent autumn, ham (and often olives) represent winter, tomatoes and basil recall summer, and artichokes symbolize spring.
7. Marinara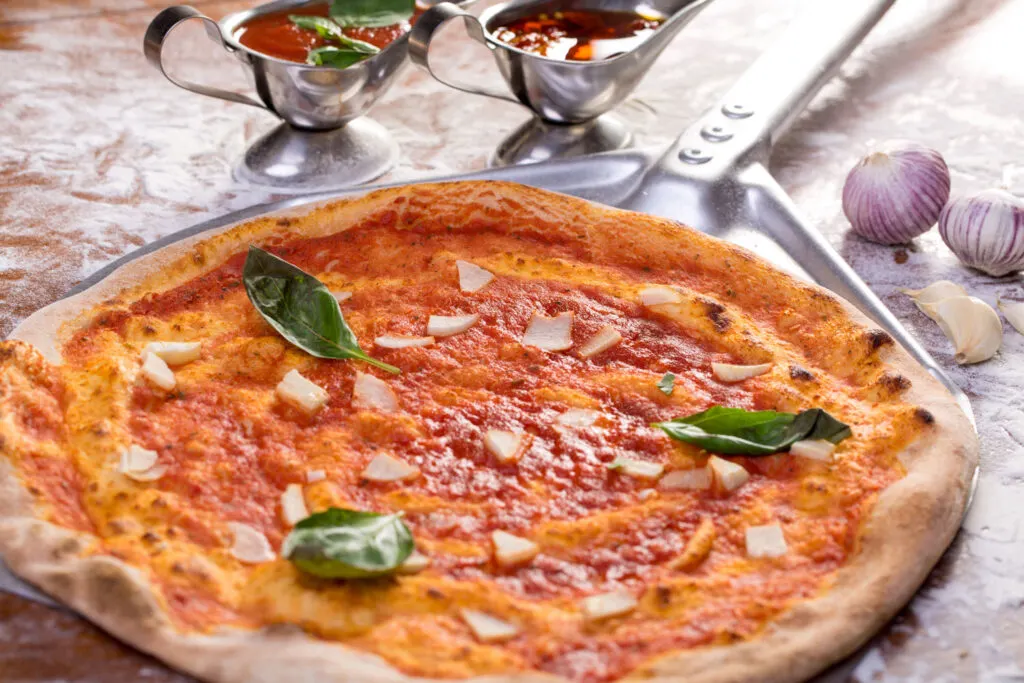 Pizza Marinara is among the most popular pizza types in Southern Italy, second only to the Bufalina. This is arguably the simplest pizza you can get, topped with only tomato sauce, garlic, oregano, and olive oil. Despite having such few ingredients, you'll be surprised how tasty this pizza can be.
When Pizza Marinara first appeared in the late 18th century, it had no tomato sauce. This ingredient was only introduced in the 1970s.
Originally, the Pizza Marinara was the food choice of fishermen returning from sea and was topped with anchovies, capers, oregano, olives, and olive oil. Although most ingredients disappeared in favor of tomato sauce, the pizza remained known as Marinara.
8. Boscaiola
Boscaiola is a name you'll find associated with many dishes in Italy, from pizza to various pasta recipes. Usually, these dishes contain mushrooms and some type of meat, such as ham or sausage.
The pizza Boscaiola is topped with mozzarella, mushrooms, and little bits of sausage. Although the classic topping has no tomato sauce, you may also order it as a "pizza rossa." This hearty pizza is ideal if you feel like having a filling, heartwarming meal.
9. Caprese
Like the Caprese salad, the Caprese pizza is topped with slices of mozzarella, beefsteak tomato, olive oil, and basil leaves. In the original recipe, the pizza base is baked and subsequently topped with fresh ingredients. However, you may find some variations of this pizza containing tomato sauce and melted mozzarella.
This pizza is ideal on warm summer days when you're looking for a refreshing and lighter meal. The pizza Caprese is also vegetarian-friendly.
10. Napoletana
This pizza type is known by different names across Italy. In its place of origin, Naples, it's called pizza alla Romana (Rome-style), while in the rest of Italy, it's known as Napoletana or Pizza Napoli. The recipe can also vary slightly.
The original Pizza alla Romana, born in Naples, is topped with tomato sauce, anchovies, oregano, olive oils, and capers as an optional ingredient. Outside of Naples, the pizza also contains mozzarella cheese. What distinguishes this pizza type from others is the presence of salted anchovies.
11. Funghi
Pizza Funghi is nothing other than a pizza Margherita topped with mushrooms, although you may also find it as a pizza bianca without tomato sauce. The most common type of mushroom for pizza topping is champignon.
A refined and often more expensive option is the one with funghi porcini (boletus mushrooms). A popular combination is mushrooms and sausage, but you may also find them paired with truffles or speck.
12. Prosciutto e Funghi
A very popular variation of the pizza ai funghi is prosciutto e funghi. This pizza can be with mozzarella and tomato sauce (rossa) or just mozzarella (bianca). The pizza topping contains pieces of ham and mushrooms, usually champignons.
While mushrooms are added to the pizza before placing it in the oven, the prosciutto cotto (ham) is usually placed on top of the pizza after baking to maintain its freshness.
13. Fiori di Zucca
Fiori di zucca are squash blossoms, also known as zucchini flowers. These edible flowers are a popular ingredient in Italian cuisine and something you can rarely find in supermarkets due to their perishable nature.
The pizza ai Fiori di zucca is "bianca," meaning it is only topped with squash blossoms and mozzarella cheese. A popular variation contains slices of salted anchovies, but you can always ask it without them if you're looking for the vegetarian option.
14. Ortolana
Ortolana is one of the most popular vegetarian pizzas, often called Pizza Vegetariana. The word "ortolana" is the female version of the greengrocer and recalls the variety of veggies you'll find on top of this tasty pizza.
Mozzarella cheese is a must, along with vegetables that can vary depending on the location and season. Popular toppings include tomatoes, bell peppers, eggplant, and zucchini. Some variations may include onions and mushrooms. The vegetables are added raw or grilled.
15. Salsiccia
Sausage is a very common topping for Italian pizza. The most popular option is a simple Margherita with little bits of sausage. If you like meat and you're looking for a simple upgrade to your classic pizza, order the pizza alla salsiccia.
The variety of sausage used on the pizza depends on the Italian region you're visiting, but it's usually a kind of fresh sausage crumbled into little pieces. You may also have this pizza without the tomato sauce.
16. Patate e Salsiccia
Patate e salsiccia is an delicious, heartwarming variety of the simpler pizza alla salsiccia. Aside from the fresh sausage bits, this pizza is topped with pieces of potato.
Aside from these two ingredients, this pizza contains the ever-present mozzarella cheese but no tomato sauce, although you may ask for this variation.
Potatoes can be prepared in different ways before adding them to the pizza. They may be very thinly sliced and placed raw or pre-boiled and cut into small bits or thicker slices. Oregano or rosemary are often sprinkled on top.
17. Salsiccia e Friarielli
Another variety of pizza containing sausage is salsiccia e friarielli, particularly widespread in the Campania region, where friarielli are cultivated. Friarielli, in English rapini or broccoli rabe, is a cruciferous vegetable spread in the Mediterranean, especially in Southern Italy.
The combination of sausage and friarielli is very popular in Naples and its surroundings, where these ingredients are a staple in street food like pizza and panini.
The classic version of this pizza is the usual open-faced one topped with friarielli, sausage, and mozzarella or provolone. An alternative often made at home consists of a stuffed pizza.
18. Crudo
Another simple yet delicious pizza you should try in Italy is the one with cured ham or prosciutto crudo. Like many pizza types, this too consists of a classic Margherita with a layer of thin prosciutto slices added after baking.
If you like parmesan, thin parmesan flakes are a popular addition to this pizza. These two ingredients are always added after taking the pizza out of the oven to preserve their taste and texture.
19. Salmone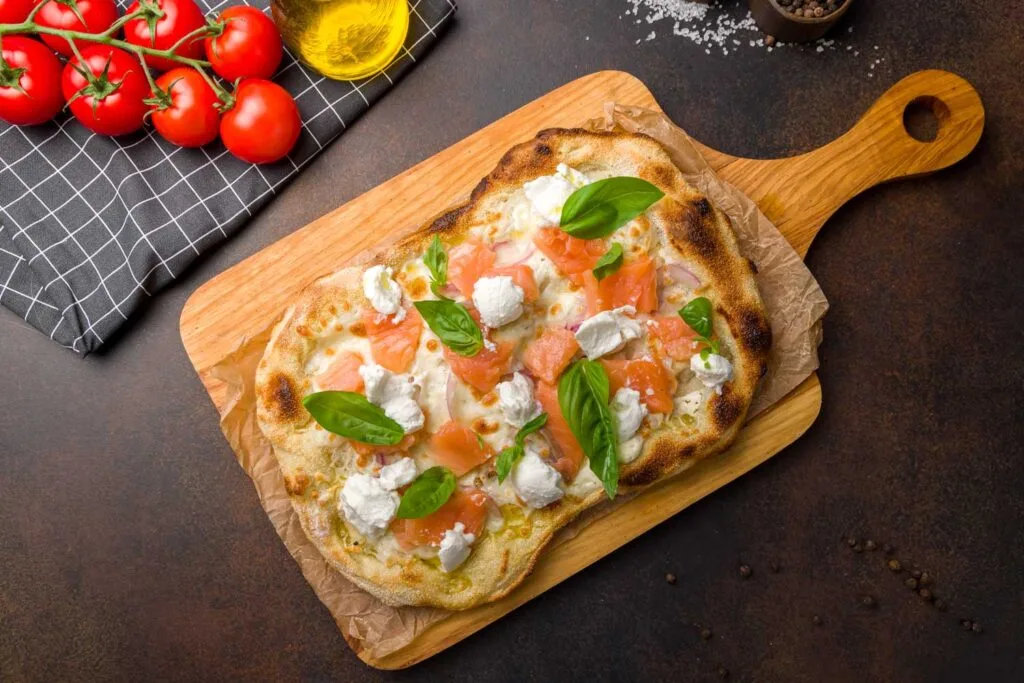 Moving on to the fish and seafood pizzas, smoked salmon is one of the most popular pizza toppings. The most basic variation of this pizza is with mozzarella cheese and slices of smoked salmon. However, many vegetables pair well with salmon.
More elaborate varieties may contain zucchini, asparagus, arugula, fresh cheese, or burrata. Most of the time, the smoked salmon is added after baking the pizza. For a fresh, summery pizza, try the variety with burrata and arugula.
20. Tonno e Cipolle
This pizza may not be for everyone's taste, but it remains a staple of Italian cuisine. The original recipe is with tomato sauce, but you may also find the one without it (bianca).
Aside from the optional tomato, the pizza is topped with mozzarella cheese, red onion rings, and canned tuna. While some may not like raw onions, this pizza is definitely flavorful.
21. Frutti di Mare (Pescatora)
Another popular seafood pizza is the Pescatora or Pizza ai frutti di mare. This pizza variety is common in restaurants specializing in seafood and fish, so you won't find it in most pizza places.
The Pescatora is topped with the usual tomato sauce, mozzarella, and olive oil with the addition of seafood, usually clams, mussels, prawns, baby squids, and langoustines (Norway lobster).
The seafood is added to the pizza fresh to be cooked in the oven. This pizza can be a little complicated to eat, but delicious if you love seafood.
22. Mari e Monti
Italians usually don't mix fish and meat, but an exception is in order for this pizza type, whose name translates to "seas and mountains." The sea ingredient is seafood, specifically clams and mussels, while the mountain element is the mushroom.
Some prepare this pizza with just mussels and mushrooms, while others add more seafood, including clams, prawns, squid, and calamari. The ingredients that never vary are tomato sauce, mozzarella, and mushrooms. Fresh parsley is often sprinkled on top.
23. Pizza e Fichi
A curious pizza type is Pizza e Fichi, combining figs with cured ham (prosciutto crudo). The combination of sweet and savory is not unusual in Italian cuisine, and prosciutto is also commonly paired with melon. If you're looking for a fresh pizza for the summer, this one is perfect.
On this pizza, slices of savory prosciutto are combined with the sweet taste of figs, creating a unique flavor combination.
This pizza variety is commonly known as Pizza e Fichi (pizza and figs), but the prosciutto is always present. This pizza topping usually has mozzarella and no tomato sauce, but you may also find it as a pizza rossa.
24. Carbonara
Inspired by the popular Roman pasta, this pizza topping has the same ingredients you'll find in a Carbonara: egg, pecorino, guanciale, black pepper, and the addition of mozzarella, which is almost always present.
You're more likely to find this specific pizza in Rome, the home of the Carbonara. If you like the pasta dish, you'll enjoy the pizza too.
25. Bresaola e Rucola (Valtellina)
Finally, one last fresh and summery pizza to try in Italy is the Valtellina or Valtellinese, often called Pizza Bresaola e Rucola from its main ingredients. Bresaola is a dark red cured meat made from beef that has been air-dried and aged for two to three months.
This pizza can be with or without tomato sauce, with the usual mozzarella cheese added before baking, and topped once out of the oven with thin slices of bresaola, arugula, and optional parmesan flakes.
Summary
Pizza really is a dish for the ages. It brings smiles and satisfied stomaches to millions of people all over the world every single day.
To experience pizza in its birthplace, in so many different forms and combinations, really is something both an avid pizza-lover and a curious foodie can find a lot of time for on their trip to Italy.
This selection is only the beginning of what Italian pizza can offer, but the combinations, fresh ingredients, and a smidge of Italian magic on this list give you so much to get excited about!
You Might Also Like to Read
Save and Pin for Later
Planning a trip to Italy? Keep these must-try pizzas for safekeeping by saving this article to one of your boards.
Contributor: Roxana Fanaru is a journalist and writer who has lived in Rome for nearly two decades. She is deeply passionate about Italian cuisine, culture, and travel and writes for a number of publications.