This post may contain affiliate links, meaning if you book or buy something through one of these links, we may earn an affiliate commission at no additional cost to you. Learn more
Rich in flavor and infused with plenty of Latin American passion, Uruguayan desserts are a real treat for both natives and tourists alike.
Uruguayan cuisine has plenty of European influence. This combined with sweet, fresh Latin American ingredients has helped create some truly yummy dishes.
Gear up for a mouthwatering culinary adventure, as a native Uruguayan writer takes us through 15 popular Uruguayan desserts that, quite simply, you need in your life!
Popular Uruguayan Desserts
1 – Alfajores de Maicena (Cornstarch Shortbread Cookies)
Alfajores de maicena are a classic Uruguayan sweet treat. They are ideal for an afternoon break at school or work, accompanied by a cappuccino or a cup of tea.
These mouthwatering biscuits are synonymous with dulce de leche in Uruguay.
In other Latin American countries, you can find them with a mousse filling, or even fruits.
Alfajores are must-have pastries at any bakery or supermarket. They are wildly popular across Uruguay.
The alfajor de maicena consists of two cornstarch cookies, with a light and crumbly texture. The middle is filled with rich dulce de leche, and desiccated coconut is sprinkled over the top to finish.
Nowadays, there are versions made with gluten-free flour. Some recipes also use vegetable spread, instead of plain flour, or butter.
2 – Postre Massini (Massini Cake)
Simplicity is the key ingredient to this delicious Uruguayan dessert. It first became popular in Uruguay during the 1950s, courtesy of the now-famous Carrera pastry shop.
Founded by a Spanish immigrant and located in the capital city, Montevideo, the pastry shop became very popular, very quickly.
Postre Massini was one of its hallmark dishes, and its popularity spread through Montevideo like wildfire.
Although it originates from Italy, Carrera's recipe for the Massini cake remains a well-kept family secret.
Postre Massini is a soft sponge cake, filled with sweet cream, and topped with flamed yolk. Recent versions add chocolate to the sweet cream filling or even cognac.
3 – Volcán de Dulce de Leche (Dulce de Leche Lava Cake)
Some say when they first saw this milk caramel lava cake, it felt like love at first sight!
This delicious Uruguayan dessert was first created in 1981 in France by French chef Michel Bras. It consisted of a small chocolate sponge cake, with chocolate sauce on the inside.
Quickly, the chocolate sauce was replaced with dulce de leche. From there, it became a very popular dessert.
Volcán de Dulce de Leche is a small but mightly impressive dessert. It often steals the show at weddings, banquets, and birthdays.
Its milk caramel inside will take your breath away. No doubt, this is one of Uruguay's most delicious desserts.
4 – Salchichón de Chocolate (Chocolate Salami)
Salchichón de chocolate is a classic dessert at birthdays parties, as kids absolutely love it.
It derives its name from looking similar to the popular Italian sausage. But that's very much where the comparison ends.
Salchichón de chocolate is made from smashed Marie biscuits, dark chocolate or cocoa powder, butter, eggs, and sugar.
It's a simple recipe, but its smooth texture and rich, chocolatey taste make it an Uruguayan treat you simply have to try.
The salchichón de chocolate is a typical dish of both Italian and Uruguayan cuisine, also a traditional dessert in Portugal at Christmas or Easter time.
5 – Torta de Manzana (Apple Pie)
Apple pie is one of the most popular desserts in the world. Uruguay's version is known as torta de manzana, or tarta de manzana invertida, which translates to 'inverted apple pie'.
The classic preparation of a tarta de manzana invertida consists of preparing layers of sliced, caramelized apples in a pie and placing the dough on top.
Once baked, the texture of this pie is completely different from the classic American apple pie. It's sweet, filling, and an Uruguayan dessert you need to try.
6 – Flan de Dulce de Leche (Dulce de Leche Flan)
A restaurant staple, the Uruguayan flan is characterized by being served with a generous portion of dulce de leche.
This sweet treat consists of a light custard base and caramel topping, with eggs as the main ingredient in the recipe.
A number of variations to the original recipe exist, though the authentic preparation uses a whopping 12 eggs!
It seems like a lot – and it probably is – but in that case, we are talking of a cake-size flan to share with family and friends.
On the menu, you will often find flan mixto (mixed flan), which is served with whipped cream and dulce de leche as well.
It's a delicious Uruguayan dessert and a real family treat that many in Uruguay enjoy together.
7 – Budín de Pan (Bread Pudding)
Bread Pudding is an old friend of global gastronomy, a dish born in times when wasting any leftovers was simply not an option.
These days, some recipes are far from the dessert's austere origins, which date back to the 11th century.
Furthermore, each country has developed its own version of the classic bread pudding.
A range of ingredients is used to flavor Budín de Pan. These include cloves, cinnamon, and vanilla extract, among others.
It is a dessert that can be served hot or at room temperature. People often add whipped cream, raisins, or orange zest to it, to enhance the flavor.
If you are looking to taste one of the most popular desserts in the local restaurants when visiting Uruguay, I would recommend the traditionally homemade budín de pan, served with dulce de leche and caramel on top.
8 – Zapallo en Almíbar (Candied Squash)
Legend says this Uruguayan dessert has the power to make you happy. If you enjoy a homemade dessert, chances are the legend might be true for you.
In the countryside, this is the kind of dessert grandparents make for their grandchildren.
To have it available year-round, they prepare the cubed squash in sweet syrup ahead of time and store it in a jar.
A crunchy and soft texture is key when talking about zapallo en almíbar.
The recipe for this delicious candied squash includes squash, cloves, anise, cinnamon stick, water, and sugar, resulting in a flavorful dish.
In Uruguay, the type of squash that best suits this typical dessert of the local gastronomy is known as 'kabutia or criollo.'
This is due to its sweet taste, texture, and intense orange color.
To top it all off, this delicious dessert is often served with ice cream. It's one of the desserts of Uruguay you simply must try.
9 – Pionono (Roll Cake)
Pionono is a sheet of sponge cake that is filled with whipped cream, dulce de leche, chocolate, or fruits.
Once filled, it's rolled to form a cylinder-like shape. Finally, it's served cut into delicious slices.
There is also a savory version of this dish. It is filled with ham, cheese, tuna, or chicken, among other delicious fillings.
This is a dessert popular in many other Latin American countries as well.
However, you may be surprised to find out that its origins likely date back to 1897 in Spain, where the owner of a famous bakery, Ceferino González, created the dessert as a tribute to Pope Pius IX.
10 – Churros (Churros and Dulce de Leche)
Churros are an irresistible dessert, popular throughout Uruguay. These long thin-shaped fried pastries are eaten as a dessert, and at breakfast.
The recipe for churros is not too complicated. The main ingredients you will need are flour, baking powder, oil, and boiling water.
Churros are very popular in many Latin American and European countries, and the recipes often vary according to the different traditions and flavors.
In Uruguay, the yerba mate tea is a perfect match for any churro; other countries traditionally serve them with melted chocolate or caramel sauce.
There are different types of churros. Some are filled with chocolate, cream, or dulce de leche.
Others are coated in sugar or cinnamon sugar, and the traditional non-filled churro.
In any case, the secret to a good churro is for it to be crispy on the outside and fluffy on the inside.
11 – Polvito Uruguayo (Biscuit and Milk Toffee Cream Dessert)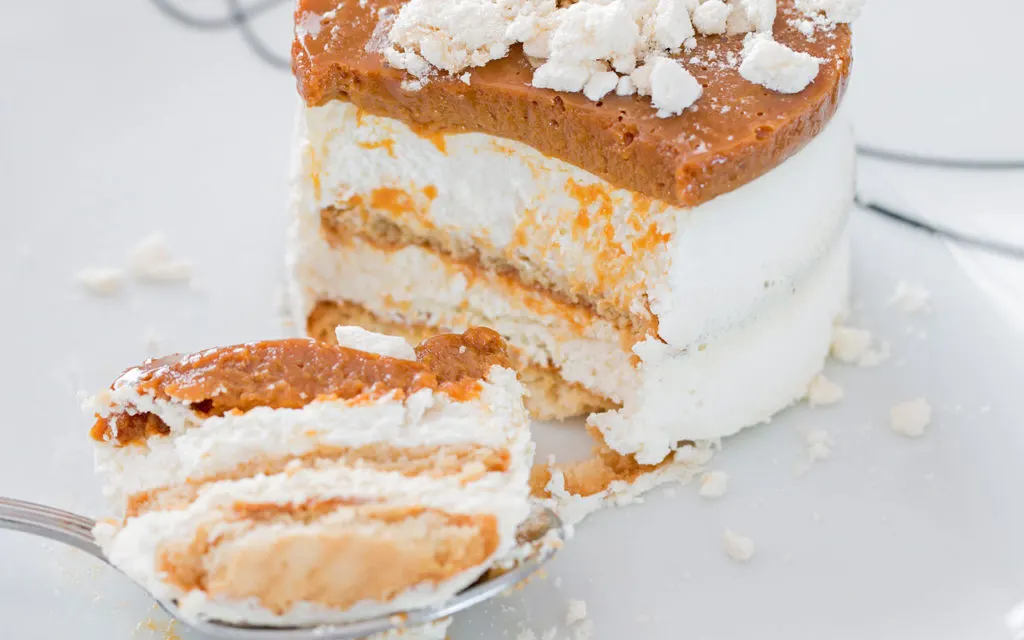 Polvito Uruguayo is a dessert that transcended borders; it was created by an Uruguayan woman, Susana Elisa Lanús Berrutti, when she was on vacation on the Spanish island of Gran Canaria.
Her son happened to be opening a restaurant there, so he asked Susana to make a dessert for the menu.
She intended to make the chaja cake (#15 on this list of desserts), but in the process, she brought to life a dessert of her own.
The result was an instant success, becoming a much-loved Uruguayan dessert. It's also popular in the Canary Islands as well.
It is traditionally prepared in individual servings, although the recipe can be adapted to serve as a whole cake.
The main ingredient is dulce de leche. This delicious cake also includes digestive biscuits, crunchy meringue, cream, and butter.
Once you taste the polvito Uruguayo, you might not be able to stop craving it. It's an Uruguayan dessert that's so rich and creamy.
12 – Panqueques Rellenos (Stuffed Pancakes/Crepes)
Everybody loves crepes, right? Well, perhaps not everyone, but they are extremely popular all over the world.
Different cultures, centuries, and a variety of names later, what distinguishes the Uruguayan panqueques from other pancakes and crepes is the dulce de leche.
Preparing the batter is not very different from other recipes around the world, and the main ingredients are flour, eggs, milk, and butter.
After making the crepes, they are then topped with dulce de leche and rolled like cylinders.
While dulce de leche remains the most popular and traditional filing for this dessert in Uruguay, apple filling is a close second.
13 – Isla Flotante (Floating Island)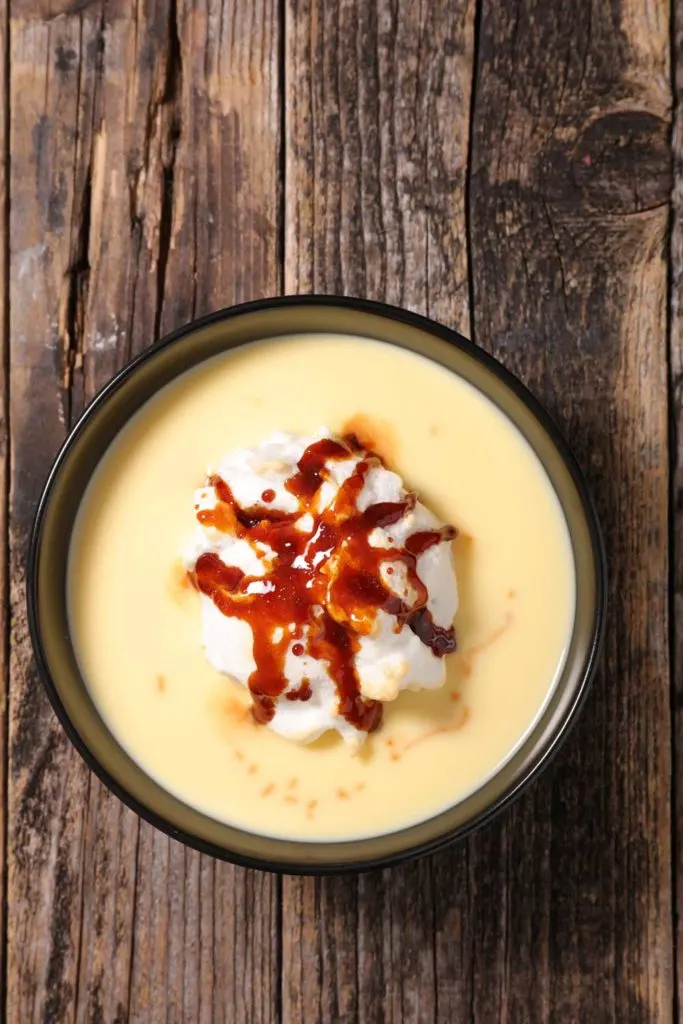 A must-have in any Uruguayan restaurant menu, the floating island is famous for its light consistency, literally melting in the mouth.
It is a recipe of European origin, created by the famous French chef Auguste Escoffier in the early 20th century.
This classic dessert is simple to prepare, and it's great for just about any occasion.
It consists of baked meringue, a caramel topping, and dulce de leche.
The original version is served with crème anglaise, popular in many french desserts, while the local cuisine uses dulce de leche, which is a star ingredient in most local desserts.
Modern versions add chocolate sauce, fresh berries, lemon curd, or even toasted almonds.
14 – Dulce de Membrillo (Quince Paste)
The membrillo (which translates to "quince") is a fruit that is commonly used in the form of jam or sweets, incorporated into recipes of traditional pastries found in South America.
The traditional way to eat dulce de membrillo is served on top of a slice of cheese. This simple and delicious dessert is known as "Martín Fierro."
15 – Chajá (Chaja Cake)
Orlando Castellano is the mastermind behind this authentic Uruguayan dessert.
Made in Uruguay at his pastry shop, Las Familias, in the city of Paysandu, the dessert is one of Uruguay's most traditional dishes.
The chaja has been part of the local gastronomy since 1927. The classic version is made with meringue, sponge cake, chantilly cream, and peach.
Having evolved over the years, these days, the cake can be found in a range of flavors. These include strawberry, dulce de leche, and chocolate.
The original recipe is a secret only Castellano's family knows. In 2017, the fourth generation of the family started the Chaja Bistro franchise in the country.
It has been a big success, aiming to expand to other countries in Latin America where the dessert is well known.
The Chaja is offered to consumers in its traditional individual size, or as a pie. It is a truly unique and delicious Uruguayan cake and a classic dish of Uruguayan food and cuisine.
Uruguayan Desserts Summary
Uruguayan desserts are full of vibrance and richness. They are decadent, while also delivering rich and delightful flavors.
Whether you're visiting Uruguay, or want to bring some of the Uruguayan cuisine into your home, you have to try some, if not all of these desserts. They are divine.
Finally, before we leave Uruguay, here's the full list of all the Uruguayan desserts we looked at in this article.
Be sure to have this list of Uruguayan desserts handy when you visit so that you can try one or more of these popular and traditional foods.
Alfajores de Maicena (Cornstarch Shortbread Cookies)
Postre Massini (Massini Cake)
Volcán de Dulce de Leche (Dulce de Leche Lava Cake)
Salchichón de Chocolate (Chocolate Salami)
Torta de Manzana (Apple Pie)
Flan de Dulce de Leche (Dulce de Leche Flan)
Budín de Pan (Bread Pudding)
Zapallo en Almíbar (Candied Squash)
Pionono (Roll Cake)
Churros (Churros and Dulce de Leche)
Polvito Uruguayo (Biscuit and Milk Toffee Cream Dessert)
Panqueques Rellenos (Filled Pancakes)
Isla Flotante (Floating Island)
Dulce de Membrillo (Quince Paste)
Chajá (Chaja Cake)
You Might Also Like to Read
Save and Pin for Later
Want to keep the list of all these delicious Uruguayan desserts in a safe place? Save this article and pin it to one of your Pinterest boards for later.
---
---
Contributor: Cecilia Demartini hails from Maldonado, Uruguay. She is a creative writer who writes about Uruguayan culture and cuisine, among other topics.
Images licensed via Shutterstock