This post may contain affiliate links, meaning if you book or buy something through one of these links, we may earn an affiliate commission at no additional cost to you. Learn more
Rife with Latin American and European influence, Uruguayan food is one of the most delicious and diverse cuisines in South America.
Rich meats, buttery pastries, and refreshing salads all await in this sun-kissed country. And being so close to Argentina means meat lovers are in for a treat.
Courtesy of a native Uruguayan, here are 15 popular foods you simply have to try in this beautiful country.
15 Traditional and Popular Uruguayan Foods to Try
1 – The Chivito / "Little goat sandwich"
The excellence of Uruguayan meat is recognized worldwide, and the quality of beef is essential to prepare this national classic. Its name means "little goat."
This standout dish of the local cuisine dates back to 1944. The sandwich called by Anthony Bourdain "The Everest of steak sandwiches" is indeed a generous meal, often cut and shared into two, three, or even four servings.
Its variety of ingredients includes bread, grilled beef (churrasco), lettuce, ham, cheese, tomato, a fried egg, and sometimes bacon or cooked onions, traditionally accompanied by french fries.
When visiting Uruguay, don't forget to have a taste of the famous Chivito, a 100% Uruguayan dish.
2 – The Mate / "Herb infusion"
Famous football players like Lionel Messi, Luis Suarez, or Antoine Griezmann, are often seen with their mate drink in hand (a gourd cured), either upon arrival to training or at a press conference.
The mate is an infusion made of Yerba Mate, which offers a variety of flavors and is rich in caffeine.
The mate is to Uruguayans what coffee is to Colombians, except for the fact that the country does not grow it.
The taste is bitter, and that is why some people choose to add sugar on top.
To prepare the mate, you carefully pour the yerba into the gourd, and then you pour the hot water. Then the mate is ready to be served, and people drink it via a metal straw (called 'bombilla').
In Uruguay, it is common to see people going everywhere with their mate, a trademark of the local culture.
3 – The Asado / "Barbecue"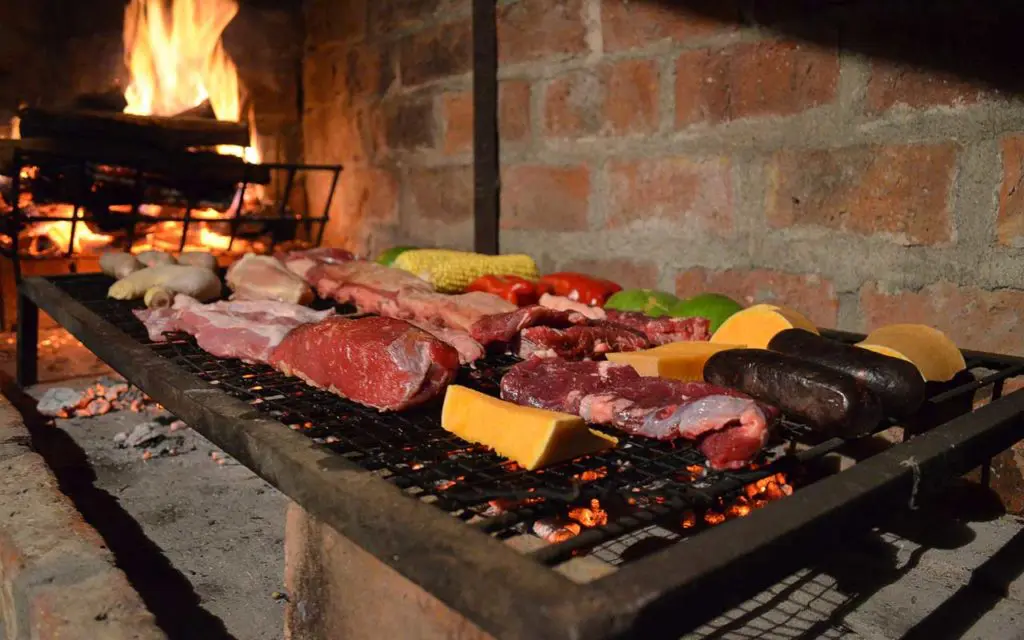 Most traditional restaurants in Uruguay use large iron grills, nationally known as parrillas, to cook meat, sausages (chorizos), blood sausages (morcillas), sweetbreads, chitterlings, chicken breasts, and vegetables (potatoes, bell pepper, unions), all protagonists of a well-served asado.
The tradition dates back to the times of the gauchos (local cowboys) and has become a gastronomic trademark in Uruguayan and Argentinian culture.
Uruguayans like to gather family and friends around the table, particularly on Sundays, and there is no better way to do it than preparing an asado.
This meal is served, accompanied by salads, provolone cheese, and bread.
In Uruguay, on any festive occasion, people will cook and serve asado.
4 – Dulce de Leche / "Milk Caramel"
Decades have gone by since Argentinians and Uruguayans started debating the origins of the dulce de leche, with each country claiming it as their own invention.
This delicate sweet is a classic in both cultures, the only ones to call it by the same name while in other South American countries, such as Venezuela, it goes by the name of Arequipe.
The ingredients of the traditional recipe are milk, vanilla, sugar, and sodium bicarbonate, as it varies, so does the consistency, texture, flavor, and color of the product.
Dulce de leche made in Uruguay is not always easy to find abroad, which means it's common to see tourists who fall in love with this delicacy buying the sweet before going back home.
Since 1995, on October 11, the "World Dulce de Leche Day" is celebrated worldwide.
5 – Tortas Fritas / "Fried cakes"
When it is raining, Uruguayans know it is time for tortas fritas, and nothing suits it better than the mate, a tradition associated with the gauchos (cowboys) that worked in the field for long periods and have few alternatives available. Legend says that in the past, people used to collect rainwater to use in the dough of the tortas fritas.
The tortas fritas are easy and quick to prepare. The basic ingredients to prepare this snack are wheat flour, lard or butter, warm water, and salt. After shaping them, tortas fritas are then fried in lard or oil. The shape of a torta frita resembles that of a donut, only bigger and flat.
They can be sweet (by adding sugar, jam, or dulce de leche) or salty. And they can also be served hot or cold.
A quick tip from locals is to not drink cold water right after eating tortas fritas as it may upset the stomach due to the lard contained in them.
6 – Chaja / "Cake Chaja"
This dessert was created in Uruguay by Orlando Castellano back in 1927.
To this date, the exact recipe has been kept secret generation after generation, including by those who work in the factory where the dessert is made and exported to other countries.
Following the same artisanal process, the cake keeps its tradition intact.
The name Chaja belongs to a bird (crested screamer), native from South America, often seen in Uruguayan lands. The bird's way of singing (very similar to the sound of the name itself) inspired the name of the cake.
The classic ingredients for this cake include peaches in syrup, chantilly cream, layers of sponge cake, and meringue. Nowadays, the cake can be found in a range of flavors, including strawberry, dulce de leche, and chocolate.
Its texture is smooth, and the lightness will make you ask for another slice.
7 – Fainá / "Chickpea Flatbread"
Uruguay is a land of immigrants, mostly from Spain, France, and Italy.
The faina is a recipe imported in Uruguayn cuisine by the Italians in 1915.
Originally from Piedmont, northwest Italy, the Guido brothers brought with them their traditions, including the Italian cuisine with the recipe of the "Farinata" that in Uruguay became known as faina.
They created the first mill (Molino Guido) for the production of chickpea flour in Uruguay, becoming famous for the quality and excellence of their products (they also processed peas, lentils, and rice).
The ingredients for the basic recipe include chickpea flour, olive oil, water, salt, and pepper.
It is traditionally served in slices to eat with pizza, locally called "pizza a caballo" (horse-backed pizza). It means a slice of regular pizza is topped with a thin slice of faina.
The texture of the faina is crunchy and thin. Some people prefer to eat it without the pizza, so they add a dash of pepper on top, and the result is unique.
8 – Martin Fierro / "Cheese Dessert"
The dessert is named after a famous character from Argentinian author José Hernández who was exiled to Uruguay for many years.
Hernandez's favorite dessert was called Vigilante and consisted of a slice of sweet-potato paste and a slice of cheese (queso colonia is the preferred local cheese).
The Uruguayan version of the dessert substituted the sweet-potato paste with quince paste, and it didn't take long for the author to become a fan.
This dessert is so simple that no recipe is required. You can prepare it with any kind of cheese, and the quince paste can also be substituted by quince paste (dulce de membrillo in Uruguay).
The bittersweet taste of this simple dessert makes it even more delicious.
9 – Queso Colonia / "Colonia Cheese"
The Colonia cheese is the favorite amongst Uruguayans. Therefore it's no wonder that it is the most sold cheese in the country.
It originated in Colonia, a region of the country where immigrants from Switzerland established themselves in the 19th century. Swiss immigrants brought the art of making cheese, and they found the best milk in Uruguay to prepare the cheese.
Thus, Colonia cheese was born. Made with cow's milk, it is cooked, pressed, and left to mature for four to twelve months.
The uniform texture and soft flavor make it ideal to add it to salads or as an appetizer accompanied by excellent wine.
To recognize a good Colonia cheese, it must have round or oval "eyes" that range between 5 to 30 millimeters, a light yellow color, and the flavor should be neither very spicy nor very salty.
10 – Empanada criolla / "Empanada creole"
You don't have to be a chef to prepare a delicious empanada creole, but the outcome might make you feel like one.
In a mix of Spanish and Italian traditions, the empanada has become a classic in the Argentinian and Uruguayan cuisines.
There are plenty of empanadas recipes and a diversity of flavors.
The Uruguayan version is the empanada Criolla (creole), whose main ingredient is diced meat. The filling also includes onions, boiled eggs, salt, black pepper, parsley, and ground pepper.
For the dough, you will need flour, salt, baking powder, water, and animal fat.
Once the empanadas are assembled, they are fried or baked in the oven.
The empanada can be served as a starter or as a main dish accompanied by salad and red wine.
11 – Salsa Caruso / "Caruso Sauce"
Considered part of the Uruguayan national heritage, the Caruso sauce was created in 1950 in Montevideo, at the restaurant Mario y Alberto.
Italian chef Raimondo Monti is the man behind this culinary creation.
He named the sauce after the famous tenor Enrico Caruso who visited Uruguay in 1915.
Today, the sauce born in Uruguay is known worldwide; ideal for pasta, the Caruso sauce certainly reflects the gastronomic essence that characterizes Italian cuisine.
The ingredients to prepare this exquisite sauce are milk cream, butter, onions, champignons, grated cheese, flour, meat extract, and chopped ham.
The "Cappellettis a la Caruso" is a classic of the national cuisine that no visitor or local resists.
Flavors have the power to make us travel in time to a moment, a place, or a person.
This dessert is typical of Latin American cuisine. In Uruguay, it often transports us to the kitchen of our grandmothers preparing this simple and tasty homemade dessert.
This delight is easy to prepare. Some prefer it hot, others cold, but either way, cinnamon is one of the ingredients to first "awake" our senses.
The traditional recipe in Uruguay consists of white rice, milk, yolks, vanilla, cinnamon, and sugar.
Cook the rice with the milk, half of the sugar, and the vanilla for around 10-15 minutes. Then, add the yolks and the rest of the sugar.
Let it rest and serve in small portions, adding cinnamon on top.
A special tip is to add a spoon of dulce de leche when it is still warm.
Read more: Arroz con Leche Recipe
13 – Bizcochos / "Pastries"
Breakfast is different in every country. In Uruguay, the bizcochos (pastries), have all of the attention in the mornings.
To prepare them, it can take some time. But if you are in Uruguay, don't worry – there's always a bakery around the corner where to buy a bag full of these small pastries, a perfect match to a cup of coffee, the mate, or tea.
Bizcochos come in different sizes and shapes, salt or sweet, as you prefer.
The origins are presumed to be from both French and Spanish bakers who immigrated to Uruguay.
Some bizcochos are prepared with fillings of dulce de leche, cream, or jam.
The plain bizcocho is called Cruasán, a version of the famous French Croissant.
The bizcochos are also a classic snack in the afternoon for Uruguayans.
There are many stories about who created this slightly spicy sauce, a classic of the Uruguayan gastronomy, none with historical evidence.
In the land where, on average, a person eats 57 kilos of beef a year, chimichurri became the perfect accompaniment for the asado, although the sauce is present in many dishes of the local cuisine.
It is a great salad dressing, and it also goes well with appetizers (on top of bread slices or toast), with poultry dishes, and in fish marinades.
The traditional ingredients are parsley, garlic, oregano, oil, water, salt, pepper, and vinegar.
The secret is to use fresh herbs instead of dried ones. You chop the herbs finely and then add the oil, vinegar, and warm water. Leave it to rest for a couple of hours in the refrigerator. The outcome will be an authentic, tasty chimichurri sauce.
In Uruguay, the sauce is sold in supermarkets and butcheries, usually as fresh as homemade.
The fresh chimichurri is best if used within 48 hours.
Read more: Chimichurri Recipe
15 – "Pastafrola" / Quince Pie
Originally from Italy, where the pie is filled with chocolate or jam, the Uruguayan version of this dessert, the Pastafrola, is prepared with dulce de membrillo (guava).
The fruit membrillo is highly used by bakeries as a filling to bizcochos, cakes, and the flavorful pastafrola.
The membrillo is very popular in Uruguay amongst kids, and it's a great source of vitamins, fibers, and minerals (potassium, magnesium, calcium, and iron).
The shape of the pastafrola is circular and resembles an American pie, with thin-striped lattices covering partially the filling.
A new local version substitutes the dulce de membrillo for dulce de leche, but this afternoon dessert, ideal to accompany the mate or the café con leche (coffee with milk), is truly unique in its membrillo flavor, a must-have when visiting the country.
Read more: 15 Popular Uruguayan Desserts You Need to Try
Uruguayan Food Summary
That was quite the culinary adventure through the beauty of Uruguay. There's so much great food to enjoy in this country.
Naturally, sharing a border with Argentina has meant Argentinian cuisine has had a big influence in Uruguay, particularly when it comes to meat.
Some of the world's most tender meats come from the Patagonia region. These meats have made their way across the border to Uruguay.
And then there's a heavy European influence. This starts with Spanish food, due to the Spanish invasion, centuries ago.
But delve deeper, and you'll regularly find Italian, Portuguese, and German influences, among others, in many of the top Uruguayan foods.
This combination of rice meats and fresh produce, along with renowned European recipes, makes for some utterly magical dishes.
For many Europeans, Uruguay feels like a home from home. Throw into the mix a range of fresh and delicious seafood, and it's clear that Uruguayan cuisine offers something for everyone.
Uruguayan food, as with many Latin American countries, is deeply rooted in the culture. Food brings families together. It marks celebrations.
From cozy little restaurants to large asados with hundreds of people, great food will never elude you in Uruguay.
Before we go, one final time, here's the full list of all foods covered in the article.
Be sure to have this list of Uruguayan food handy when you visit so that you can try one or more of these popular and traditional foods.
The Chivito / "Little goat sandwich"
The Mate / "Herb infusion"
The Asado / "Barbecue"
Dulce de Leche / "Milk Caramel"
Tortas Fritas / "Fried cakes"
Chaja / "Cake Chaja"
Fainá / "Chickpea Flatbread"
Martin Fierro / "Cheese Dessert"
Queso Colonia / "Colonia Cheese"
Empanada criolla / "Empanada creole"
Salsa Caruso / "Caruso Sauce"
Arroz con Leche / "Rice with milk"
Bizcochos / "Pastries"
"Chimichurri" / Chimichurri sauce
"Pastafrola" / Quince Pie
You Might Also Like to Read
Save and Pin for Later
Keen to try some of these Uruguayan foods? Save this article to one of your Pinterest boards, and come back to explore these foods again when the time is right.
Author: Cecilia Demartini hails from Maldonado. She is a passionate translator and creative writer, keen to spread the word about Uruguay's unique cuisine and wonderful landscape.
Images licensed via Shutterstock