This post may contain affiliate links, meaning if you book or buy something through one of these links, we may earn an affiliate commission at no additional cost to you. Learn more
Succulent meats, tender seafood, and wild forest produce all play their role in making Canadian food some of the most breathtakingly fresh and delicious you will try on the North American continent.
Canada has a unique relationship with Mother Nature, helping define a cuisine that offers freshness, wonder, and flavor by the bucket load.
A trip to the rolling mountains and bustling cities of this beautiful country is simply not complete without trying at least some, if not all, of these classic Canadian dishes.
Courtesy of a local writer, let us embark on a culinary adventure like no other and discover 16 of Canada's most popular and traditional foods that you simply must try.
Popular & Traditional Canadian Foods
1 – Bloody Caesar Cocktail
Created by bartender Walter Chell in Calgary, Alberta in 1969, the Bloody Caesar is Canada's National Drink. Walter developed this Canadian version of the American Bloody Mary over several months, using his regular customers as tasters. The 'Caesar' came from his Italian ancestry, and the 'Bloody' came later, when a customer said, "That's a bloody good Caesar!"
As with many alcoholic beverages, the recipes vary widely, but the basic Caesar cocktail is:
in a highball glass with ice and rimmed with celery salt and seasoning,
add 1 – 2 ounces vodka (you change things up a bit with tequila or rum!),
a pinch of horseradish,
2 dashes of Tabasco,
2 dashes of Worcestershire,
and Clamato juice.
Now the garnishes. This is where the real creativity comes in. The classic Caesar started its life with the usual stalk of celery and wedge of lime, but then things went a little crazy. Someone added three olives on a cocktail pick, and then someone else added a pickled green bean, a cucumber slice, a strip of bacon, and even a prawn!
But the strangest garnish, or not, was the mini-hamburger slider on a skewer accompanied by three onion rings on another skewer!
Whether it be at brunch, lunch, mid-afternoon (some swear by the Caesar as the go-to cure for overindulging the night before), or whatever the time of day, the Bloody Caesar is refreshingly Canadian.
2 – Smoked Salmon Candy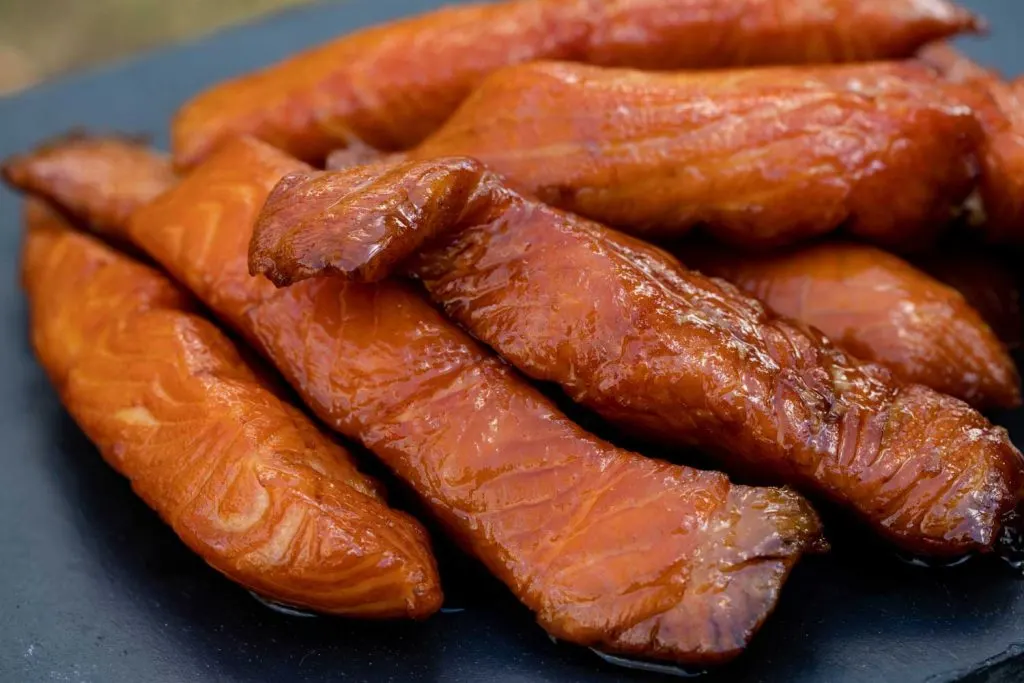 The First Nations on the Pacific Coast lived in a land of bountiful plenty. From forests of deer and elk, berries, and greens to lakes filled with seafood, fresh food was in abundance.
Traditionally, to keep salmon over the winter months, the first settlers cured it in brine and cold-smoked it over alder to a partially jerk-like consistency.
Nowadays, smoked salmon candy is marinated in maple syrup and brown sugar for plenty of sweetness. Before smoking, the salmon is filleted and either cut into strips or, more commonly, into one-inch cubes.
This traditional Canadian dish is the perfect snack and was a primary food source for the Indigenous peoples of the Pacific Northwest Coast for centuries.
3 – Fiddlehead Fern Salad
Foraged from the rich forest floor or wetland stream banks, the young furled fronds of the ostrich fern are a Northeastern seasonal delicacy. Their emergence marks the end of winter and the beginning of spring.
Fiddlehead ferns resemble the scroll end of a violin, and the plant is rich in vitamins, minerals, and antioxidants. Picking time lasts for only two weeks, and because some ferns are poisonous, it's best left to the experts.
Like so many other foods, the preparation and serving of these unique greens is varied, but there are basic rules: rinse, boil, or sauté and blanch first, in an ice bath. Then, let your imagination run.
Fiddleheads are commonly steamed and served as a side dish with a hollandaise sauce or simply lemon juice and melted butter. But if it's a salad we want, then after the required prep, toss in a berry vinaigrette, mix with pine nuts or pecans, red onions, cherry tomatoes, blueberries, or cranberries, and top with goat cheese.
This forest treat tastes like woodsy asparagus with a spinach flavor. To complete that unique forest taste, simply add morel mushrooms.
4 – Split Pea Soup
This hearty warming soup most likely came to Canadian shores with the first explorers. They would keep non-perishable goods, like dried legumes, on board to feed themselves throughout long ocean voyages.
Once landed, these early settlers, or habitants, would combine the staple soup ingredients with fresh vegetables and meats discovered ashore.
This slow-cooked soup, often served with crusty homemade bread, was a meal by itself, helping these early families survive the harsh Canadian winters.
A ham hock is used to first make the broth with thyme, a bay leaf, and other seasonings. The tender meat is pulled from the bone, then vegetables and yellow split peas added to the broth, with already caramelized onions and garlic, and slow-cooked.
This delicious Canadian dish calls for comfortable days inside when the winter winds are fierce outside. Throw another log on the fire, wrap the Hudson's Bay blanket over your lap, and turn a page on Canadian history!
5 – Bannock
An original version of this simple bread of unleavened barley or oatmeal, cooked on a griddle, came to Canadian shores with Scottish fur traders in the eighteenth century.
It was also an important food for most Indigenous cultures throughout North America in pre-colonial times. These native communities used ground corn and various roots and plant bulbs in cooking pits.
Fried in fat or oven-baked, bannock is simple, quick, and carbohydrate-rich. Despite the political history of colonization, bannock is representative of a strong Indigenous culture, and First Nations restaurants and cafes serve this wholesome Canadian food along with regional native dishes.
6 – Poutine
This Québécois cultural dish of french fries with cheese curds and gravy started as a rural fast food in the 1950s, served in small diners, pubs, and hockey arenas. In the 90s, the truck-stop classic was elevated to fine dining in Montréal restaurants – from street food to haute cuisine. This messy plate still lives in both worlds.
At its basic, poutine is medium-sized, twice deep-fried chips, that are crispy on the outside and soft inside. The fries are topped with fresh white cheddar cheese curds that squeak when chewed, lightly seasoned chicken, and beef gravy.
Like any other comfort food passed down through generations, poutine's many recipes vary greatly from family kitchens to high-end bistros. Quebec's much-loved junk food is messy, fatty, and a little guilty, but utterly irresistible!
7 – Maritime Lobster Roll
In Canada, it is said the juicy winter lobster is the meatiest and makes the best seafood sandwich. But no matter what time of the year you try the maritime lobster roll, it is always a fresh and filling seafood treat, not to be missed.
Traditionally, the chunks of fresh lobster meat from the tail, claws, and knuckles are boiled for ten minutes until bright red, then scooped out. Mixed with finely diced celery, homemade mayonnaise, and a squeeze of lemon juice, you have lobster meat fit for a king.
The ingredients used vary from table to truck to kitchen, with vendors and chefs adding minced onion, chilies, pickled veggies, and even fiddleheads, with plenty of salt and pepper, before serving.
The most delicious lobster rolls are served in a freshly baked and lightly toasted artisanal or hot dog bun, with a romaine lettuce base. The lobster mixture is finally garnished with chives or parsley and a wedge of lemon. Served with a cold Pilsner or local craft beer, you cannot go wrong!
8 – Montreal Smoked Meat
Montreal smoked meat plays the starring role in an iconic Canadian sandwich. The curing process was created in Ottoman Empire Turkey and brought to North America by Romanian Jews. Quite the journey, I'm sure you'll agree.
Then known as pastrama, hence the New York pastrami, Montreal smoked meat is a kosher salt and coriander/black pepper spice-rubbed beef brisket, which is cured and smoked for up to ten days, carefully watched, and turned regularly. Once smoked, it is finally steamed for several hours, before being sandwich-ready.
The juicy and flavourful sliced brisket is piled high between thin pieces of rye bread with lots of yellow mustard, and a kosher dill pickle on the side. To call this sandwich indulgent would be an understatement!
This Canadian classic, which can be found in all Jewish delis, especially the famous Schwartz's in Montréal, is usually served with Cott's Cherry Cola, but a pint of Molson's Export Ale is pretty good company too.
9 – Pacific Spot Prawns
Wild British Columbia spot prawns are harvested seasonally for only eight weeks, starting in May off the West Coast of Canada. They are abundant and sustainable, with an annual haul of 2400 metric tonnes fished annually.
Local chefs made the spot prawn a celebrity by featuring it on their menus, and now there is even an annual festival in Vancouver celebrating this delicious seafood.
Easy to prepare, Pacific spot prawns can be cooked on the barbecue until they turn pink, or sautéd in a pan with butter, garlic, chopped parsley, and a splash of wine. Served with melted butter and a crusty baguette, they are so tender and flavorsome.
Pacific spot prawns are also divine in lemon pasta and pair wonderfully with a crisp Viognier or Chardonnay.
10 – Perogies
This is a perfect example of how the multicultural mix in Canada has influenced the national cuisine. A large influx of Polish and Ukrainian immigrants between the two World Wars settled largely in the prairies, and brought the crescent-shaped dumpling with them. Canada, in fact, has the third largest Ukrainian population in the world… who knew?
These 'Prairie Pillows', filled with potato and cheese and served with sour cream, are another transplanted food that in time became an integral part of Canadian cuisine
You can find perogies in the frozen food section of every grocery and supermarket across the country. One company in the prairie province of Manitoba produces more than a million every year!
Pinched by hand in family kitchens or machine-made in factories, perogies can be pan-fried in butter, boiled, or boiled then sautéd.
They can be filled with potatoes, spinach, broccoli, bacon, mushrooms, various meats, and even fruits and berries. Serve with caramelized onions, chopped bacon, sautéed cabbage, and garlic for mouth-watering results.
A glass of Sauvignon Blanc or a Merlot goes well with this rich meal.
Related:
11 – Bison Burger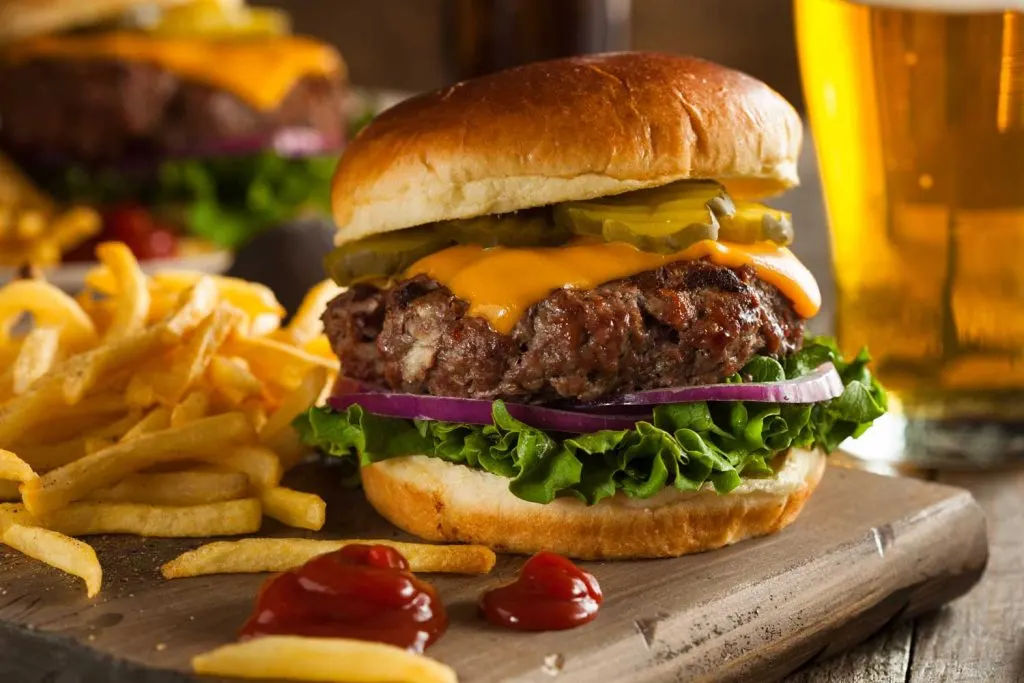 Prairie bison takes center stage in this beloved Canadian dish. Best cooked in a little unsalted butter in a cast iron pan until it forms a delicious crust, it is leaner than beef, and a healthy alternative. The unbelievable flavor raises this burger to new North American heights.
Add caramelized onions, cheddar cheese, horseradish aioli or Dijon mustard, lettuce, tomato, and serve with French fries or salad, and you have a must-try Canadian burger.
12 – Caribou Stew
A hearty dish from Nunavut in the far North, the staple 'food of the land' is a true wild meat. Caribou is a species of migratory deer, native to sub-Arctic regions, and the indigenous peoples of the north have depended on the Caribou for food, clothing, shelter, and transportation for thousands of years.
Caribou stew is a slow-cooked stew, similar to boeuf bourguignon in its ingredients. It is a hearty dish of caribou meat, potatoes, carrots, root winter vegetables, tomato paste, bay leaves, thyme, and of course, red wine.
Folk tales say in colonial times Caribou blood was mixed with alcohol and drunk by hunters and loggers to counter the cold weather. We, however, should probably stick with a malty ale or red wine!
13 – Alberta Beef Steak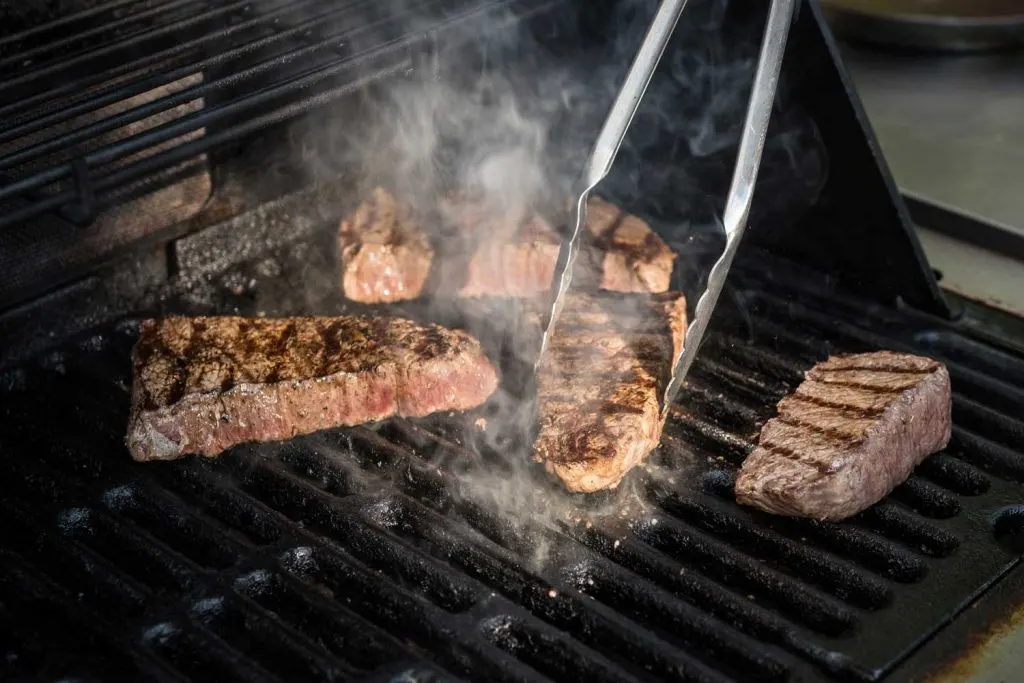 Alberta is Canadian cattle country, home to some of the largest ranches in the world. Against a backdrop of the majestic Rocky Mountains, the cattle industry is tied to Alberta's economy and culture.
The ranching practices are fervently sustainable, and the cattle are ethically raised and antibiotic-free. Because of Alberta cattle ranches, you can enjoy richly flavored sirloin and t-bone steaks, both on the backyard grill and in fine-dining restaurants across Canada.
Served with a fresh garden salad or old-fashioned with mashed potatoes and heirloom vegetables, there are few steaks in the world that come close!
14 – Beaver Tails
This popular Canadian dessert is a deep-fried dough pastry, crispy on the outside and soft on the inside, covered in cinnamon sugar. It is a dish synonymous with afternoon skates on frozen ponds and snack stands at ice hockey games.
Beaver Tails are made of whole wheat flour, hand-pulled to look like the broad flat tail of Canada's emblematic mascot.
Originally the recipe was handed down through a German-Canadian family and known as keekla, or 'little cake'. Sometime in the 1970s, the family's young daughter caught the resemblance to the beaver, and as they say, the rest is history.
Essentially an unleaved donut/bannock hybrid, grandparents traditionally covered the 'tail' with butter and jam or honey, before serving it to their grandchildren.
The Beaver Tail has come a long way since, now topped with all kinds of goodies, including whipped cream, Nutella and banana, fruit pie fillings, peanut butter, and even cake icing and smarties!
15 – Nanaimo Bars
Here is another iconic Canadian classic dessert, this time from Vancouver Island. This favorite confection is similar to fudge, but the combination of ingredients makes it stand out from all competition.
The legendary no-bake treat consists of three layers: a nut (walnuts, pecans, or almonds) and coconut/graham wafer crumb base, custard in the middle, and a layer of chocolate ganache on top.
Unconfirmed sources for the 'chocolate square' place the Namino bar's birth in the 1930s, but newspaper recipes started appearing in the 1950s.
Nanaimo bars are made from unsalted butter, sugar, cocoa powder, graham crackers, nuts, shredded coconut, heavy cream, custard powder, and semi-sweet chocolate. Most Canadians recommend you keep them refrigerated and cut the bar into 3 or 4-inch squares before serving.
There are as many varieties and recipes for this dessert as there are trees in the forest, but there is only one Nanaimo Bar. In fact, it was even featured on a Canada Post stamp!
16 – Ice Wine
This cold-temperature dessert wine has a high sugar content. It is processed from frozen vine grapes in British Columbia and the Niagara Peninsula in Ontario, the major wine-producing regions in Canada.
In fact, Canada is the world's largest producer of ice wines. Originating in Germany in the mid-1800s (Eiswein), the cool climate wine varieties most commonly used are Cabernet Franc, Gewurztraminer, Riesling, and Chenin Blanc.
The grapes are hand-picked at -7 degrees Celsius (20 degrees Fahrenheit) and take three to six months to ferment. Ice wines require four times as many grapes as other wines, and only 10 – 20% of the liquid pressed is used.
As a result, they are expensive to make and expensive to buy – over $50 for a 375 ml bottle, in fact.
Because of their acidity, ice wines pair best with high-fat content foods like cheeses, ice cream, pana cotta, cheesecake, and chocolate mousse.
Aged ice wines have flavors of molasses, maple, and hazelnut. It is an incredibly rich and indulgent beverage and one you simply have to try.
Canadian Foods Summary
Canada is a country of awe and beauty, and the foods of Canada very much back this up. From the shimmering lakes to the luscious forests, so much fresh meat and produce makes its way into Canadian cuisine.
Our cross-country tour gives you a fascinating array of foods to try, no matter where in Canada your journey takes you. From salty-fresh Atlantic seafood to dishes brought over by settlers centuries ago, there is so much great food in Canada to get excited about.
Delve into Canadian cuisine, open your mind and palate to new styles and flavors, and be sure to ask for traditional dishes at restaurants and eateries. You won't be disappointed!
You Might Also Like to Read
Save and Pin for Later
Eager to try these delicious Canadian foods when you next visit? Keep this article for safekeeping, by saving it to one of your international or foodie travel Pinterest boards.
Author: GW Willis-Brannigan is a script, article, and blog writer, with over forty years' experience as a production designer. Hailing from Vancouver, he is deeply passionate about Canadian culture and history and has written for several publications to date.