Some posts on this site contain affiliate links, meaning if you book or buy something through one of these links, we may earn an affiliate commission at no additional cost to you. Learn more
Are you looking to treat your partner to an unforgettable trip in 2020 to one of the world's most romantic destinations? Maybe you're looking for a delightful secret escape for Valentine's Day, a summer of loving, or a cozy winter retreat to escape the bleak weather. Whatever your intentions, rest assured we have a wonderful selection of top romantic destinations lovebirds from all over the globe will be gracing in 2020.
Plenty of advice online will rehash old favorites. As gorgeous and memorable as Paris, Rome, and the Maldives are, we've all seen them more times in Romcoms and commercials than we care to remember.
As the tourism industry continues to boom into the new decade, more hidden gems than ever before are popping onto the radar of holiday-makers and frequent travelers. Many of these places are truly breathtaking to behold, due to the fact they've been out of the limelight, and not completely overrun by their respective tourism industries.
So, pour yourself a cup of steaming coffee or a glass of crisp, chilled wine and brace yourself for a showering of wanderlust, as I take you across the globe to take a look at 14 of the most romantic destinations you and your partner simply must visit in 2020. In no particular order:
1 – Ubud, Bali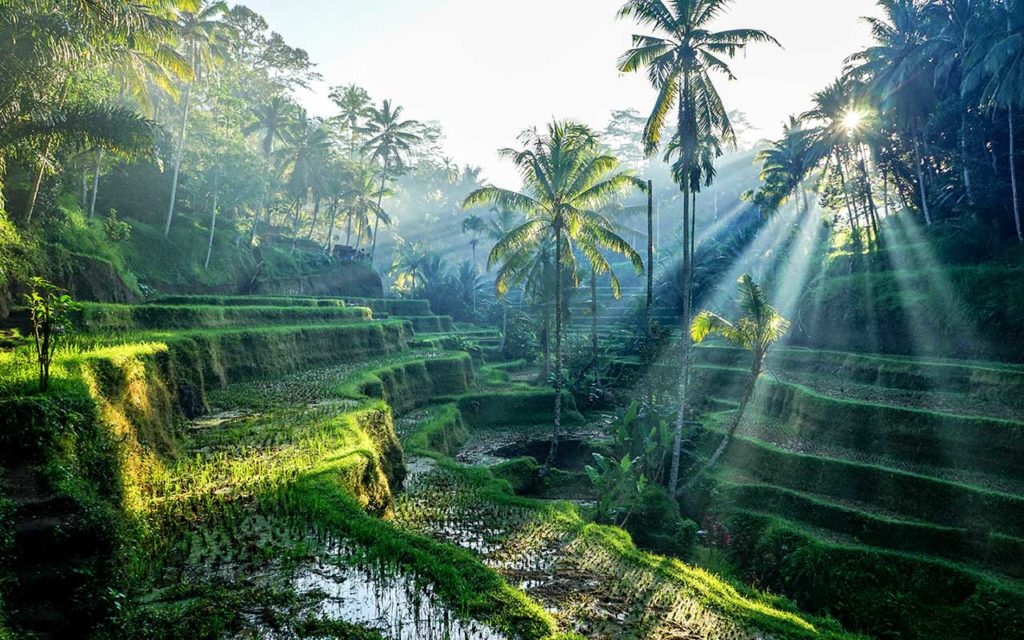 Between the decadent leaves of the palm trees shading the heart of Indonesia's very own paradise island, lies Ubud. If you're looking for a peaceful little place to escape the stresses and strains of everyday life with your loved one, a world of delight and zen await you in Ubud.
Connect with your inner self amid Ubud's thriving yoga and meditation community. Rent a scooter, and together ride along the sweeping single-track roads through a tropical kaleidoscope of color time has left behind. Visit the famous Monkey Forest, and watch families of cute, mischievous bundles of joy frolic and play as you wander through the greenery.
If you're looking to connect deeply with nature, be sure to take the sunrise hike to the summit of nearby Mt Batur. When that morning sun beams its way through the lilac mist, you'll struggle to get your breath back. Afterward, treat yourselves by bathing in the hot springs. And if sipping from coconuts and dining on smoothie bowls doesn't have you and your partner relaxed enough, be sure to get a massage from one of the many parlous. Let those muscles gasp as firm fingers knead the stress from within.
Come the end of your trip, you won't be able to stop gazing into each other's eyes. Ubud is a romantic destination you simply cannot miss out on.
2 – Buenos Aires, Argentina
From the tranquility of Southeast Asia, we scale the Pacific, to the heat and passion of South America. Argentina's capital Buenos Aires is renowned as a city of love, and it stands tall and proud at the summit of the world's most romantic destinations.
This sprawling metropolis of a city, home to some 15 million people, burns with flames of passion and sensuality from top to bottom. Dance the tango with your significant other at one of the city's many tango and milonga bars. Sip some of the most flavourful wine and dine on some of the most succulent steak your taste buds will ever have the pleasure of tasting. Buenos Aires is a city with a big appetite for the finger tastes in life, that's for sure!
Awe at the architectural beauty of the El Ateneo Grand Splendid bookshop, along with a whole host of other fascinating buildings and landmarks. And be sure to stroll through the beautiful parks and art-splashed streets of Palermo, where the beauty never ends.
At night, Buenos Aires comes to life. Argentineans live life by the rhythm of the night. Hold your partner tightly and dance long into the night as the streets come to life, the bars pack to the rafters, and the passion burns brightly. Buenos Aires is a city that urges you to throw your stresses to the wind and live, intimately, in the moment. To stare into your lover's eyes, and feel overcome with emotion as you appreciate the here and now, there's no other city quite like it.
3 – Valencia, Spain
Spain's third-largest city may not be as well known as Barcelona and Madrid, but when it comes to romance, few places in Europe can come close to this gorgeous coastal city that strikes a glorious balance between nature and architecture.
Whereas both Madrid and Barcelona have become meccas for financial and tech investment, Valencia has funneled its investment more toward the arts and creativity. The means large swathes of the city have maintained their cozy, narrow-street feel, while buildings such as the Oceanografic are some of the most stunningly beautiful pieces of architecture man has ever built.
Spend the warm evenings sipping cocktails and eating delicious tapas at the foot of the golden sands that kiss the edges of the Mediterranean Sea. Walk for hours through the green and vibrant Turia Park, that runs through the heart of the city, and splendor at the architecture as you amble by. Watch a vibrant and passionate Flamenco show, and enjoy some of the most tender seafood the Spanish coast has to offer.
As romantic destinations go, Valencia gives you a little taste of everything, without the hassle and chaos of a densely populated city.
4 – Bath, United Kingdom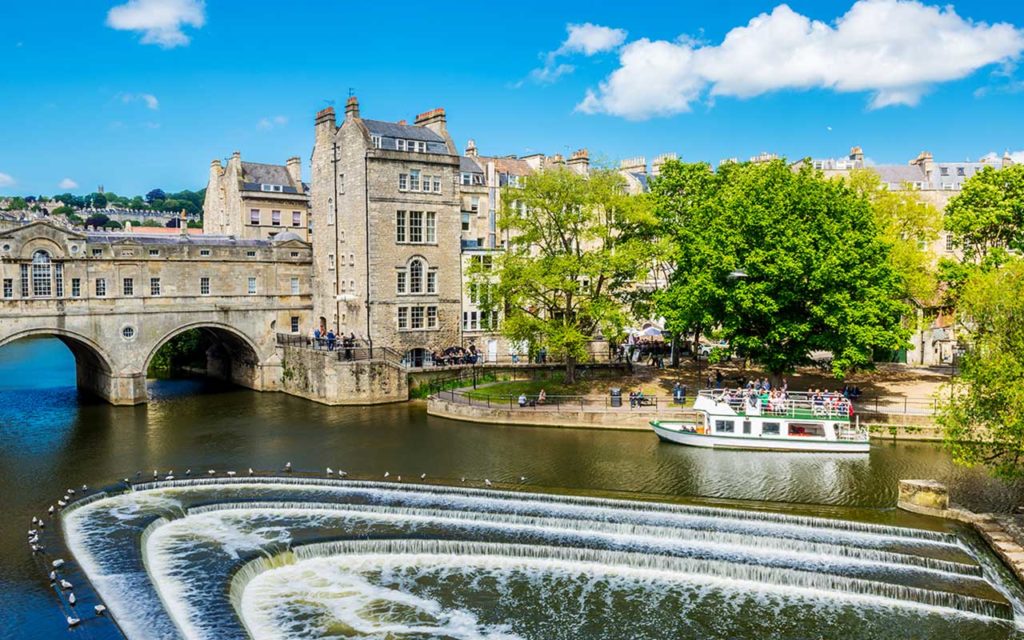 One of the UK's most underrated cities, Bath is a delicate, gloriously beautiful city packed to the brim with nature and intrigue. Located in the southwest of the country, it's surrounded by apple orchards and sweeping countryside for miles on end. If you enjoy drinking fruity cider, you and your partner will instantly fall in love with Bath.
Named after the baths built by the Romans in 70AD, Bath is a city steeped in as much jaw-dropping beauty as fascinating history. Laws mean all construction in the city must use limestone from the surrounding quarries, giving the city its unmissable off-white appearance.
Relax with your loved one in the Thermal Bath Spa, built atop of the thermal springs the Romans first constructed their famous baths, millennia ago. Gaze at the hypnotic waters that thunder along the Weir. Take a romantic stroll along the canals that meander their way peacefully through the city, and enjoy a wide range of hearty food, craft ales, and sweet ciders, in public houses that have stood for decades, even centuries.
And, if you do manage to wander outside of the city, the world-famous Stonehenge, ironically, is only a stone's throw away! Bath is a romantic destination that oozes all the charm, heritage, and awe you could ever want from a trip to Great Britain.
5 – Porto, Portugal
Famous for its grand bridges and delicious port wine, Porto is one of the world's most romantic places that's very much going through its own period of transformation, after much focus on Lisbon in the south.
But where Lisbon is a large, sprawling city, with highways circling the major districts, Porto feels far more homely, and in touch with its glorious past. The cobbled streets intertwine, locals laugh and drink together on the streets, and the city's eclectic fusion of contemporary and traditional architecture is truly a sight to behold.
Take a boat out onto the River Duoro, and marvel at the wonders of the old town. Stroll through the bustle and beauty, across the famous Dom Luís I Bridge, down to the markets and vendors at Gaia. And be sure to take a tour through the glorious port wine cellars.
If your taste buds are feeling particularly in tune with the taste of delicious wine, be sure to visit one of the vineyards in the stunningly beautiful Duoro Valley. There truly is something for everything amid the charm and electricity of a fun and vibrant city that's still grounded by it's trading port roots.
Looking for things to do in Porto? Be sure to check out our article of the top things to do in Porto!
6 – Hoi An, Vietnam
Nestled between the luscious green rice fields along the central east coast of Vietnam, you'll find one the country's hidden gems: Hoi An. This picturesque, fun-filled Vietnamese town is one of the most romantic destinations you'll ever visit.
Away from the noise and the chaos of Vietnam's major cities in the north and south, Hoi An is a small, colorful little settlement that's defined by the soothing river running through it. It shimmers beautifully beneath the lantern light at night, and is the perfect spot for you and your significant other to spend time watching the boats sail by and listening to the bustle of the market under moonlight.
Take a bike ride through the sweeping fields and immerse in the beauty that surrounds you. Marvel at the spectacle of the lanterns that run along the river and through the markets, brightly illuminating everything around them. Enjoy a wide range of mouthwatering Vietnamese food from passionate locals at the markets, and let your mind unwind in one of the many spas dotted throughout the town.
Vietnam's very own hidden gem is a place that ignites romance, and somewhere you'll never want to leave. From markets to spas, countryside to coastline, there's so much beauty to embrace.
7 – Komodo National Park, Indonesia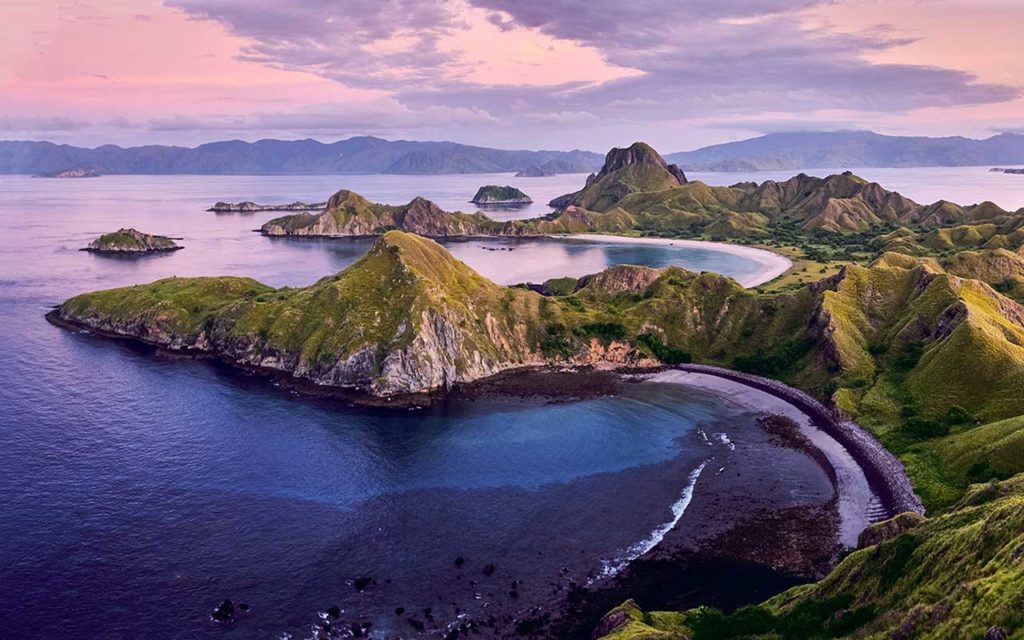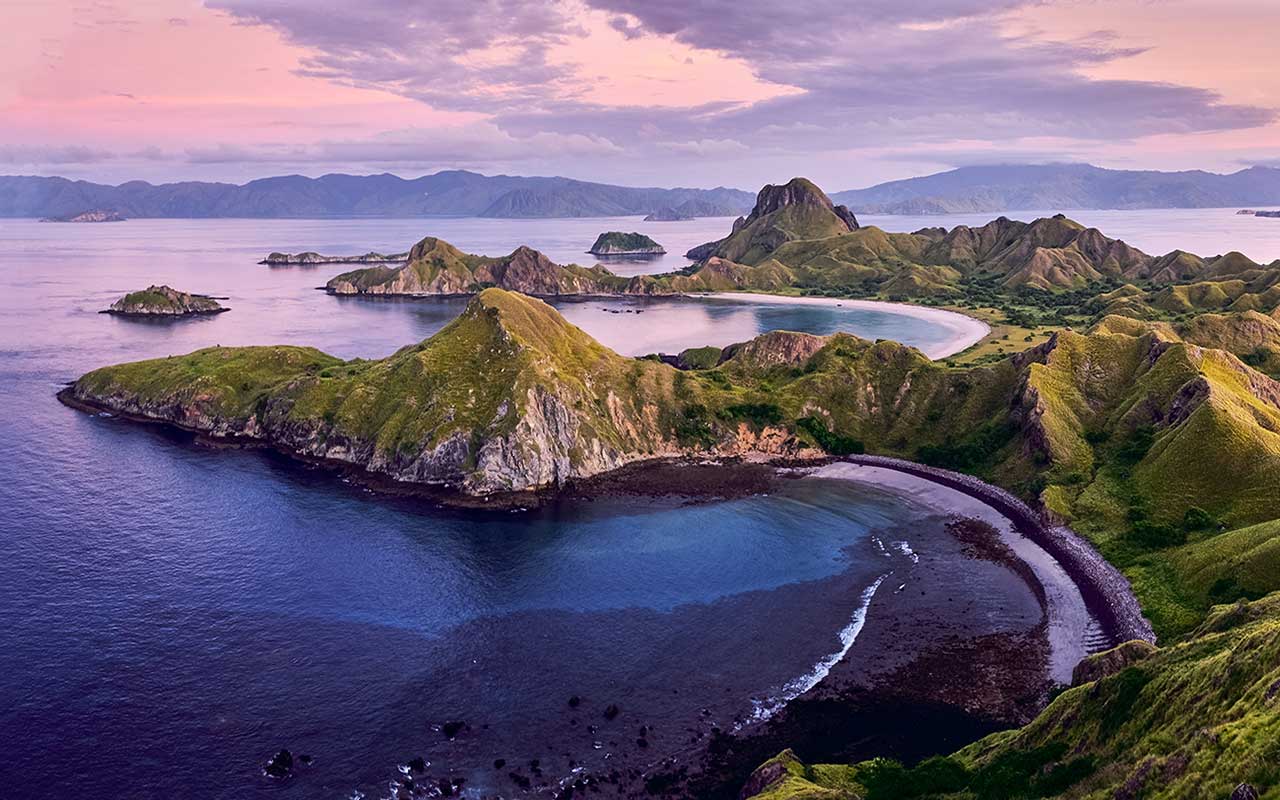 One of the 'New 7 Wonders of Nature,' Komodo National Park is very much the jewel in Indonesia's crown of natural beauty.
Situated on the west coast of the East Nusa Tenggara island, Komodo National Park is made up of several islands, including Komodo, Padar, and Rinca, each flush with green beauty and trimmed with miles of glistening coastline.
Due to the area's national park status and lack of inhabitation, the government has gone to great lengths to keep the area clean and protected. Boat rides are the best and most glorious ways to see the islands, and a whole host of delights await you beneath the waters and within the mountains.
Grace the elegant shores of the dazzling Pink Beach, and enjoy the peace and tranquility of a beach largely untouched by man. Snorkel in the crystal blue waters around the islands, and see a host of colorful coral and emblazoned fish. Trek along the peaceful trails to the summits of one of the hundreds of hills and mountain peaks, and gasp at the sheer awe of the view. And be sure to visit Komodo with your expert guides to behold an animal so unbelievable you'll think you've accidentally wandered through the gates of Jurassic Park: the Komodo dragon!
For a nature-filled, awe-inspiring getaway with your partner, hosted by some of the world's most accommodating and gracious peoples, you'll have a hard time topping the splendor of Komodo National Park.
8 – West Wales, United Kingdom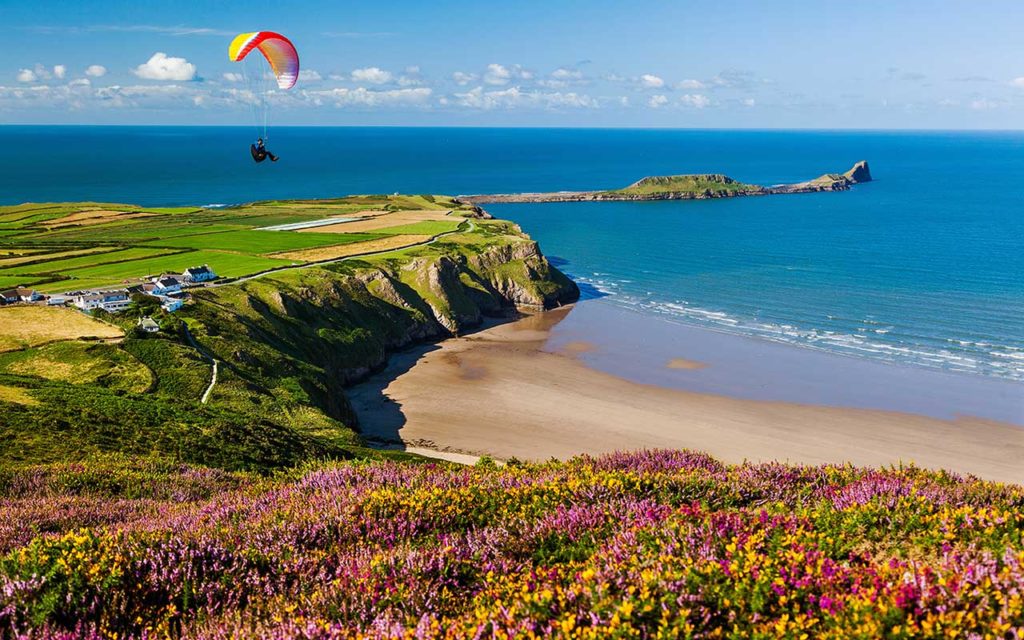 To the west of London and England peacefully sits the nation of Wales. Steeped in history and beautiful countryside, West Wales, with its untouched beaches, rugged countryside, and historical architecture, is the perfect romantic destination for you and your partner.
Wander between the medieval castle walls and Victorian cobbled alleys in coastal towns far and wide. Visit forts and castles, and learn tales of courage and stories of times gone by. Let the soft sand soothe your toes as you explore the sprawling beaches of the glorious Welsh coastline. And enjoy a traditional and delicious fish and chips overlooking all this beauty.
Carmarthen Castle, the Blue Lagoon, and Pembrokeshire National Park are just some of the hundreds of fascinating landmarks and sweeping countryside on offer. Book yourself a cozy cottage, hire a car, and let yourself fall in love all over again amid some of the world's most beautiful nature.
9 – Cape Peninsula, South Africa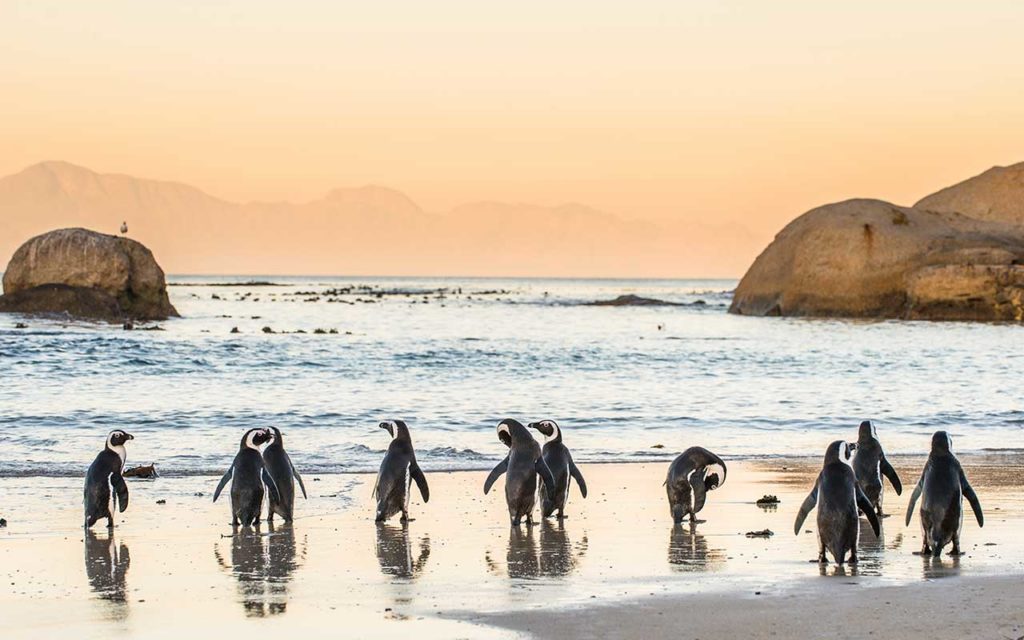 While Cape Town will always be a must-see city, the surrounding coast and Cape Peninsula, in my humble opinion, is where the real magic of South Africa happens. If you and your partner are animal lovers, you'll never want to leave this romantic destination.
With the glorious Table Mountain in your rearview mirror, rent a car and follow the west coast down to the tip of the peninsula. See whales and dolphins swimming through the crisp ocean waves in spring. Awe at the powerful, rugged landscape all around you. Rest your weary heads and enjoy a hearty meal at many of the small towns along the way. And squeal with delight when you see the cutest penguins at Boulders Beach for the very first time.
The Cape is a magical part of South Africa, rich in beauty, nature, and a mecca for a wide range of animal species. If you visit, it has all the ingredients to be one of the most romantic, memorable trips you ever take.
10 – Prague, Czech Republic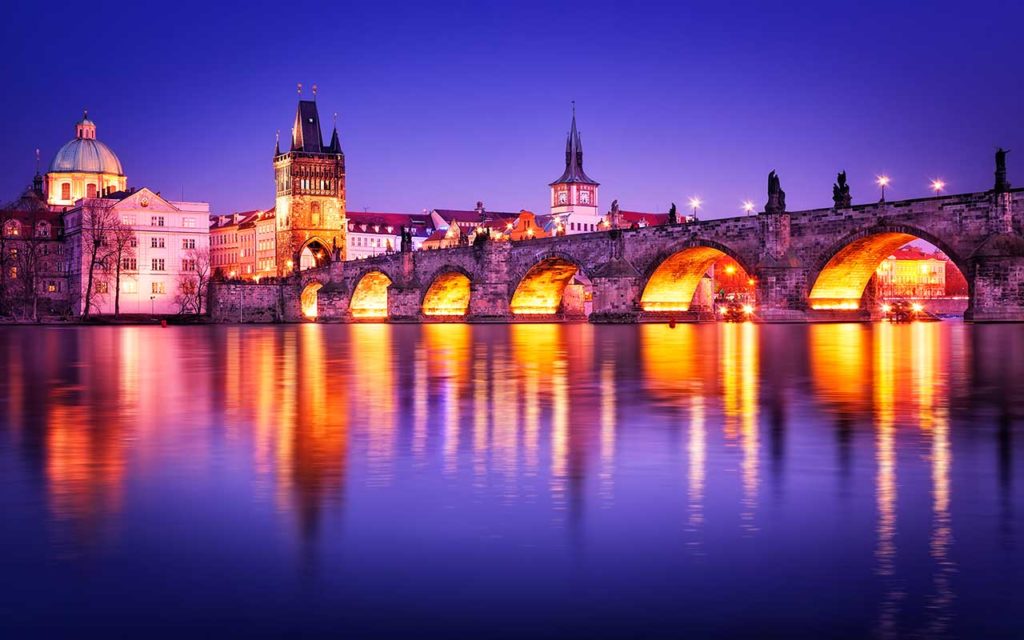 Delightful walks along the river, colorful, dainty architecture, and charm by the bucket all await you in Prague. The capital city of the Czech Republic, this city is full of arts, culture, and delicious food and drink. In the heat of summer or the snow-capped spires of winter, it's one of those romantic destinations you'll make lasting memories from.
Take a romantic cruise along the Vltava, and take in the sights and sounds. See the Prague Castle in all its glory. Enjoy plenty of bratwurst and beer at the markets in the Old Town Square, and learn new things at one of the city's many fun and quirky museums. From art nouveau, Apple computers, and even sex toys, there's plenty to see!
You won't fail to be drawn in by the city's liveliness and charm. And at night, there's plenty of great food and lively drinking establishments to spend a romantic evening with your partner. A whirlwind of romance awaits you and your loved one in one of Europe's most diverse and spectacular cities.
11 – Gibraltar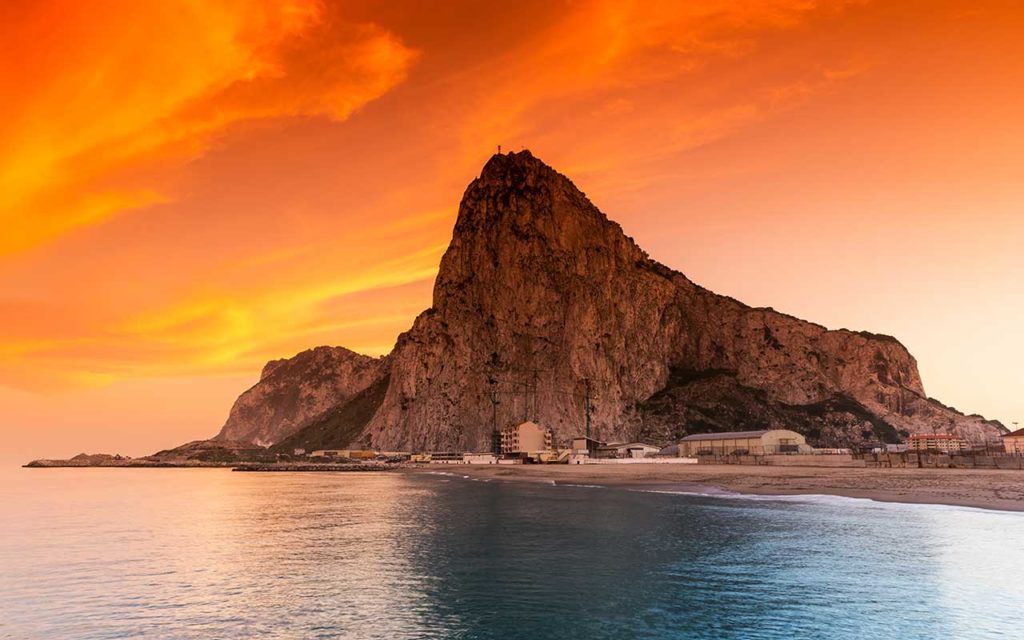 Located on the southern tip of the Iberian peninsula, bordered on the north by Spain, few would have thought during wartime that this British overseas territory and trading port could go on and become one of the world's most romantic destinations.
Gibraltar is a very popular eloping destination, and it is where my beloved wife and I tied the knot together. Many celebrities, both British and from all over the world, have come here to commit themselves to their loved ones. But aside from its attractiveness as an eloping destination, what really makes Gibraltar so romantic is its diverse landscape.
To your north lay the rolling, sunbaked hills of the Spanish countryside. To the south, you'll see the shimmering shores of the African border. And all around you bubbles a crazy crossbreed of Spanish coast and countryside, with lashings of British influence.
The must-see thing to do is head to the top of the Gibraltar rock with your loved one. Take a romantic cable car ride, or walk hand in hand through along the meandering paths to the summit. Watch the ships sail through the Gibraltar Strait by night with a glass of bubbly in hand. Explore the gardens and architecture of this wonderful place. See the monkeys, and take a day trip across to Morocco.
12 – Siena, Italy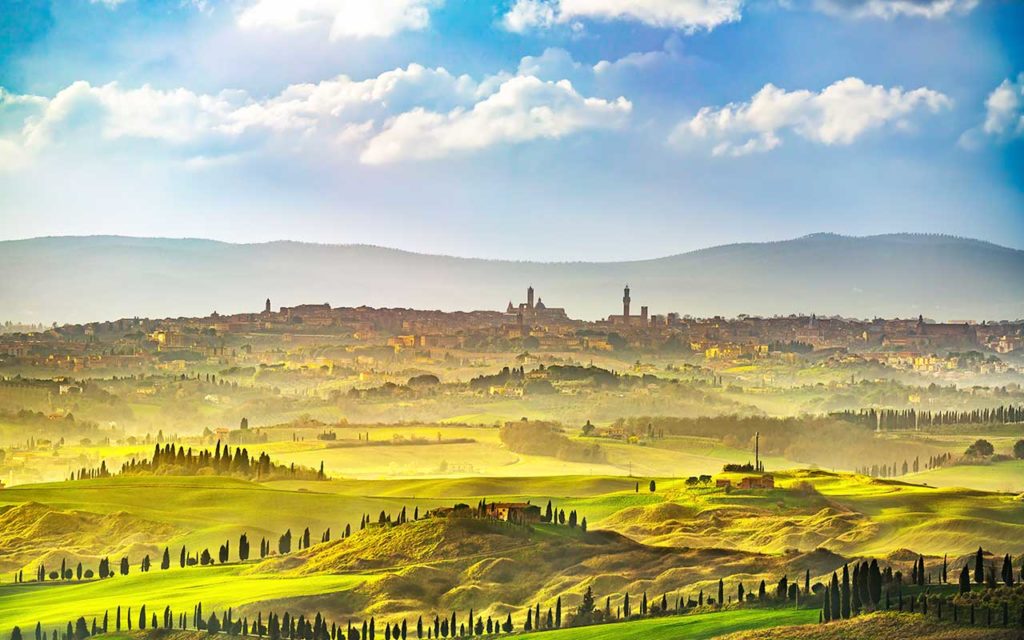 South of Florence and north of Rome, this little known medieval fort town awaits. Rome and Florence may be where all the brochures tell you to go. But if you want an authentic, charming Italian experience, Siena is tough to beat. As romantic destinations go, you'll be hard-pressed to find much better in Italy.
Between the medieval fort walls, lose yourself in a town that time has passed by. Go to the top of the cathedral and hold your loved one tightly, as you look out over the city. Relax at the city square at night and watch Italian culture in full swing. Enjoy salty-fresh seafood and red wine to die for. And, for a spot of nature, take a wander through the neighboring hills and countryside, hand in hand, under the sun.
If you fly into Rome or Pisa, you can take the train through some glorious Italian countryside to get to this beautiful little place. It's a trip back in time with your loved one, and a place flush with romantic moments.
13 – Iceland
Like a geography text come to life, Iceland is one of the most unique places you'll ever visit. With its stunning landscape, tranquil atmosphere, and cozy atmosphere, it's definitely also one of the most romantic.
You'll want to base yourself out of Reykjavik, the capital city. But this gorgeous little city will just be the beginning of your romantic adventure. Bathe in the milky waters of the Blue Lagoon. Take a guided tour through the south of the island to see magnificent glaciers and geysers. Visit one of the hundreds of truly beautiful waterfalls. And come home at the end of it all to a hearty meal and a cold beer or crisp wine at a warm and friendly bar. The Icelandic people are some of the friendliest you'll ever meet.
Iceland will take your breath away. Its sheer beauty will leave you and your lover with a lifetime of memories.
14 – Jeju Island, South Korea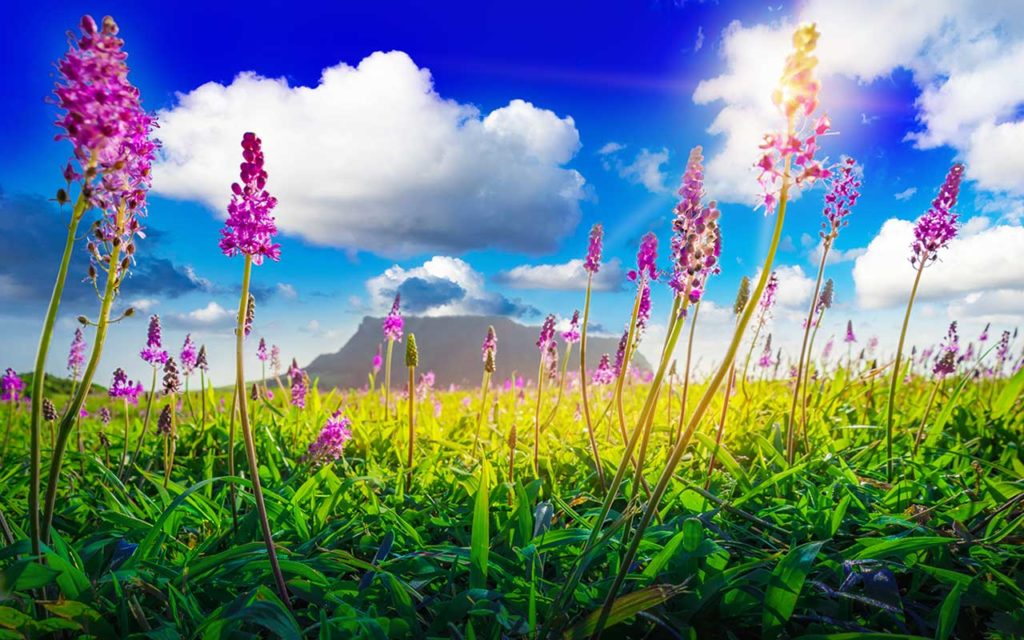 There's a reason this tiny little island off the coast of South Korea is known as the 'Hawaii of Asia.' Its glistening coastline attracts Asian honeymooners from all over the continent.
You will need to know a bit of Korean or have someone to help translate for you. But if you're keen for an outdoor adventure like no other, this hidden gem at the meeting point of the Yellow and East China Sea has all the hallmarks of one of the world's most romantic destinations.
Visit the golden beaches and watch the divers from the shore. Relax in the warm, crystal waters, and play some volleyball with locals and ex-pats. Enjoy a whole world of traditional Korean cuisine, including their famous barbecue pork. Follow the sweeping coastline and walk behind the thundering waterfalls. And, if you bring your hiking boots, scale to the peak of Hallasan, South Korea's tallest mountain, and marvel at the beauty. For culture seekers and nature lovers alike, Jeju has all the ingredients for a truly romantic getaway.
Romantic Destinations Summary
I hope our list of fourteen of the most romantic destinations to visit in 2020 has inspired you to book your next trip or vacation. There are some truly memorable places on this list. When life gets a little overwhelming, we all deserve a romantic getaway to unwind with our most beloved.
So, don't dwell and think ahead to the future. Start the year off in style by booking one of these romantic destinations for your next adventure!
One final time, here's the list of all romantic destinations for 2020 we covered:
1 – Ubud, Bali
2 – Buenos Aires, Argentina
3 – Valencia, Spain
4 – Bath, United Kingdom
5 – Porto, Portugal
6 – Hoi An, Vietnam
7 – Komodo National Park, Indonesia
8 – West Wales, United Kingdom
9 – Cape Peninsula, South Africa
10 – Prague, Czech Republic
11 – Gibraltar, Spain
12 – Siena, Italy
13 – Iceland
14 – Jeju Island, South Korea
You Might Also Like to Read
Save and Pin This List of Romantic Places for Later
Want to keep these wonderful romantic destinations in a safe place for when you book your trip? Save this pin to one of your boards for safekeeping.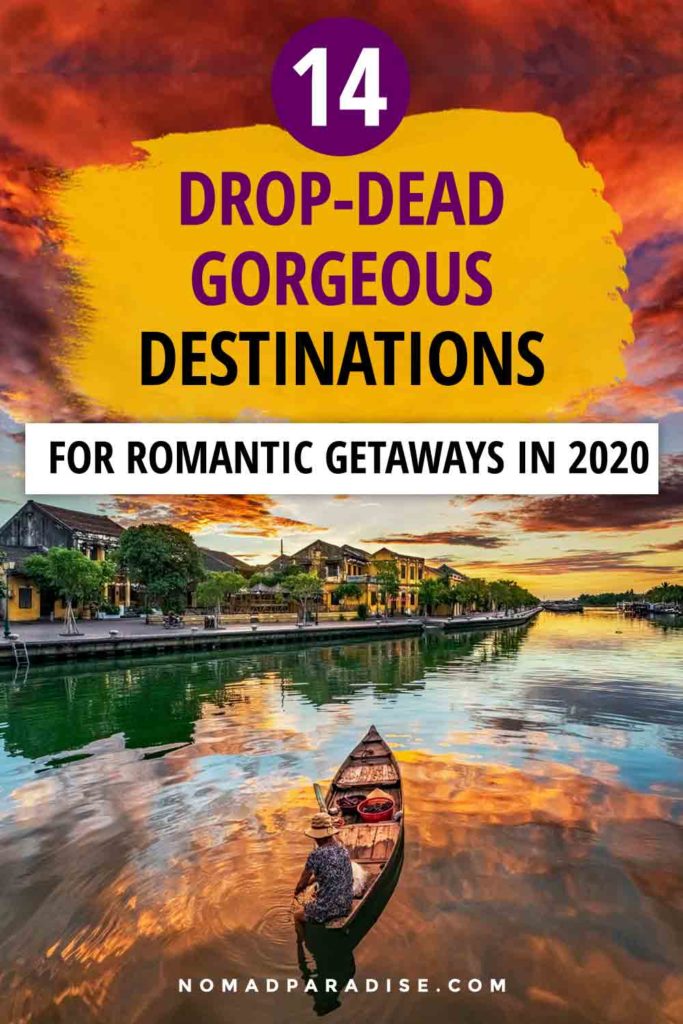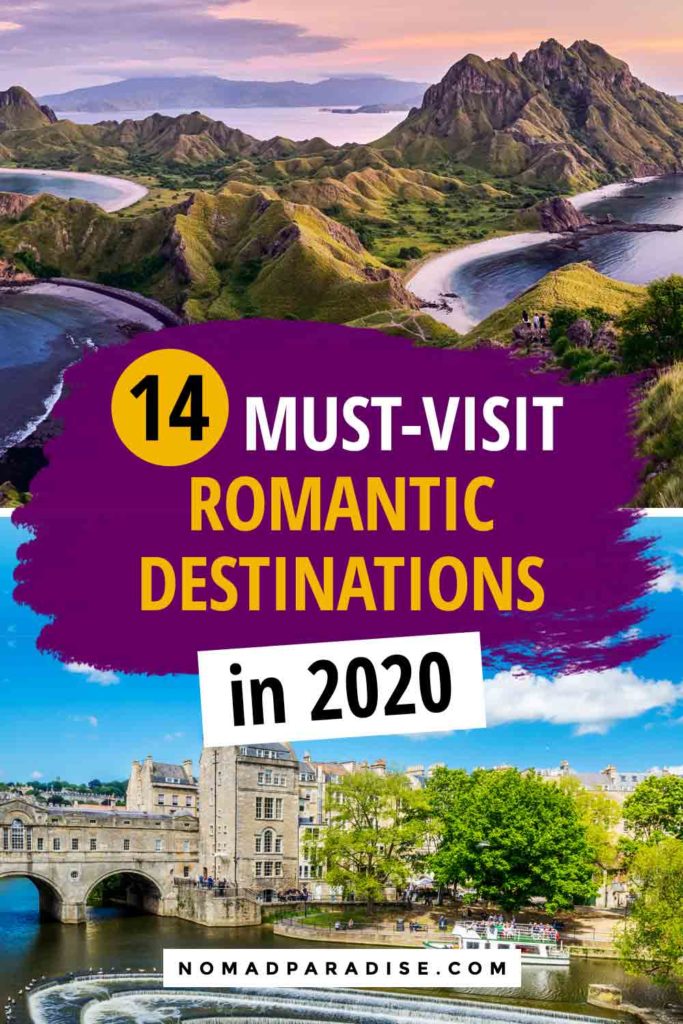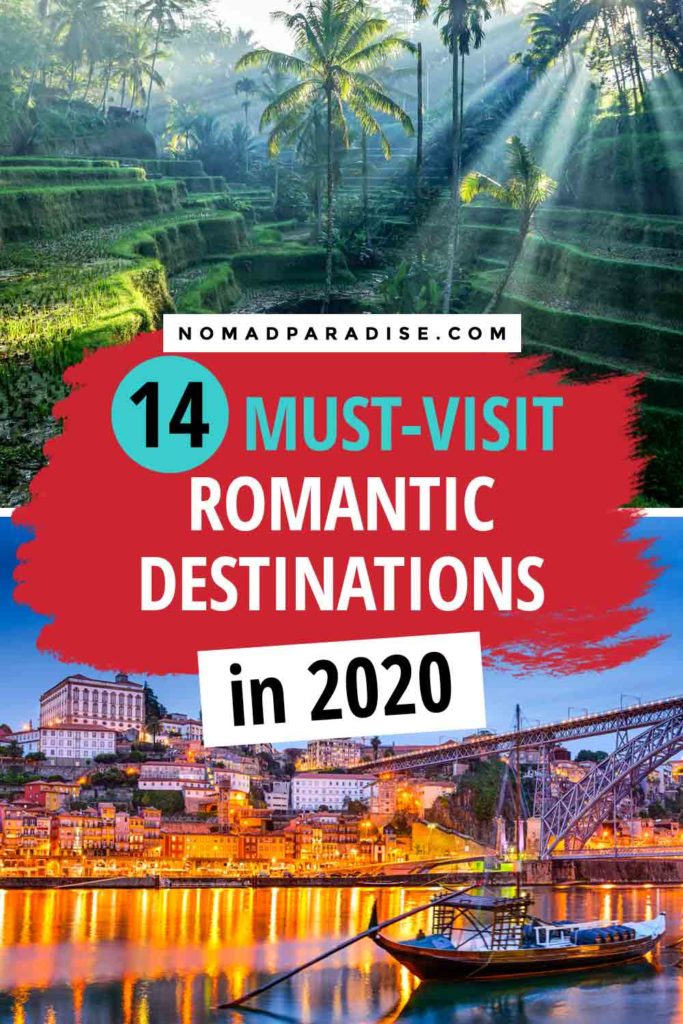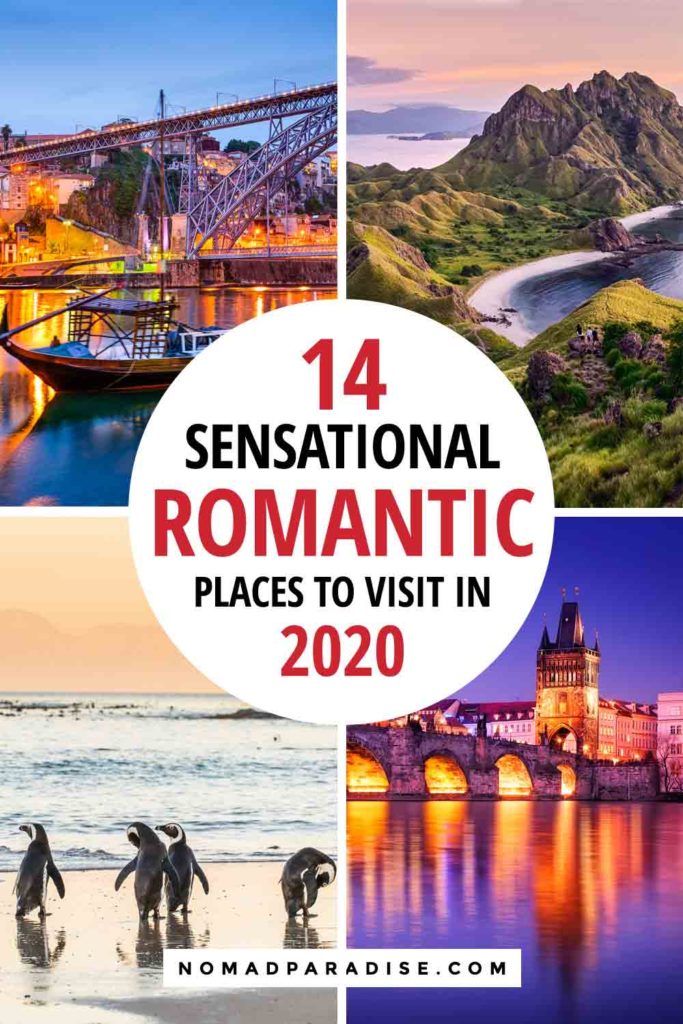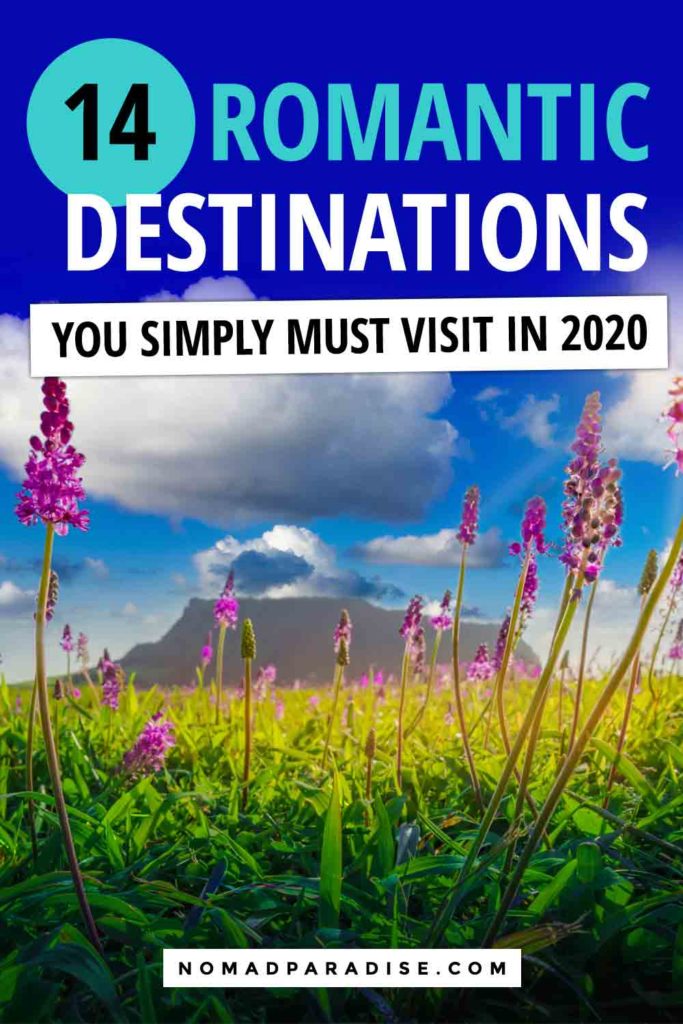 ---
Images licensed from Shutterstock