This post may contain affiliate links, meaning if you book or buy something through one of these links, we may earn an affiliate commission at no additional cost to you. Learn more
As millions of travelers bring more luggage onto planes, underseat luggage is rapidly becoming a very wise investment. Nowadays, it's incredibly common for overhead compartments to fill even before all passengers have boarded the plane and taken their seats.
This can be a very stressful and potentially expensive situation to be in. Often, our expensive tech and valuables are kept in our carry-on luggage. With nowhere near the bulk or protection a suitcase can offer, being asked to stow your carry-on luggage with checked luggage can have disastrous consequences.
To combat this problem, many travel gear brands have brought carry-on luggage to the market with plane seat dimensions in mind. From conventional bags to wheeled luggage, there's a wide range of luggage designed to slot perfectly into that compact, cozy little space in front of your feet.
Our guide, as well as looking a little deeper into dimensions and requirements, takes a closer look at five of the best underseat luggage pieces on the market. Because, let's face it, the problem of overpacked overhead compartments is not going away any time soon. Why join the fight for overhead space when you can avoid it altogether?
Best Underseat Luggage
Top Pick
Check Price on Amazon
For a smart choice that gives you the ease of maneuvering a wheeled carry-on with the compact yet spacious design of a multi-compartment tote bag, Perry Ellis' 9-pocket underseat rolling tote is definitely worth taking a closer look at.
Quick Picks
If you don't have time to read through this article, that's absolutely no problem. Use our list of quick picks to identify the best underseat luggage on the market, and click through to take a closer look at the specs.
Underseat Luggage Considerations
What Luggage Dimensions Will Fit Beneath an Airplane Seat?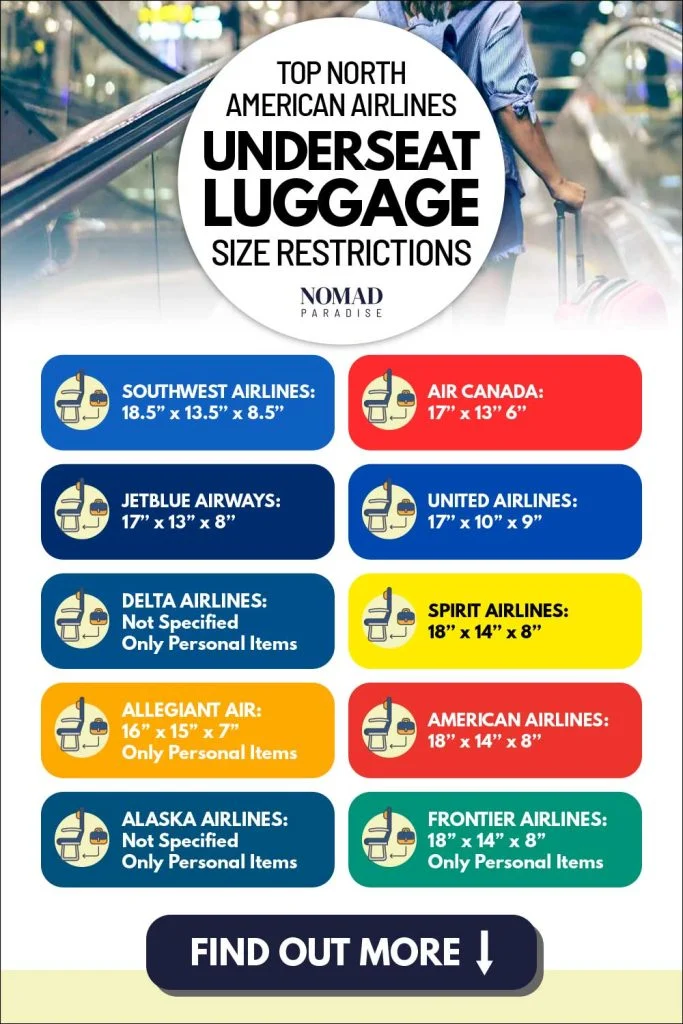 Naturally, this is the million-dollar (well, not quite that much, but you know what I mean) question. Unfortunately, it's very difficult to give a definitive answer. The reason being is, quite simply, different aircraft are different sizes. A Boeing 747 is a larger vessel than an Airbus and is naturally designed to hold more passengers for longer periods of time. Add to that the fact airlines operate different policies when it comes to luggage size, and it's difficult to know.
However, we can work with rough estimates. The first thing to note is that a maximum carry-on size specified by an airline does not mean that size will fit beneath their seats. Delta, for example, has a carry-on limit of 22" x 14" x 9", but the width of their seats is 20".
This information will be available to find on a specific airline's website, so be sure to do your research accordingly. For a general rule of thumb, 18" x 14" x 8" are dimensions that are searched for commonly. This is American's underseat dimensions policy. I've seen airlines go lower at 17" x 13" x 8", and many go larger. Some won't disclose their seat size, as they'd prefer you stow in the overhead compartment.
It's worth noting the middle seat commonly will have a little more room than the side seats. Searching for the plane type and model, rather than the airline, is a much better way to find out the capacity of the area beneath the seat. Airlines all operate different policies, but all use the same vessels.
What is the Difference Between a Personal Item and Carry-On?
Again, this depends on the airline, but the key difference is the dimensions. The dimensions of personal items will be smaller than carry-on. However, as mentioned above, the maximum dimensions for a carry-on will often exceed the space available underneath an airline's plane seat.
If you forgo carry-on, some airlines will allow you a larger personal item. Again, you will have to check with the specific airline. One thing is certain, however: if you bring both a large personal item and a carry-on, no matter what the dimensions, one will still have to go in the overhead compartment. Be mindful of this.
What Counts as a Personal Item Bag?
While this varies from airline to airline, as a general rule of thumb most airlines will consider a briefcase, purse, or laptop bag as a personal item. If below certain dimensions, airlines can also include backpacks, duffel bags, and totes in this list.
This is where you need to be careful. Some airlines will let you stow any type of luggage under the seat so long as it fits certain dimensions, whereas others only let you stow what they deem 'personal items' under the seat and all other luggage, no matter what the dimensions, still need to go into the overhead compartment.
Do your research accordingly, and try to avoid turning up with both a carry-on and underseat luggage because one could be rejected as a personal item and then have to be stowed as checked luggage.
Best Underseat Luggage Picks
Now that we're clued up a little more on the dimensions and requirements we're working with, let's delve into product selection. We have five underseat luggage picks to take an in-depth look at.
Best Overall Underseat Luggage
1 – Perry Ellis Men's Excess 9-Pocket Underseat Rolling Tote Bag
Check Price on Amazon
Let's start with a piece of underseat luggage that scores well across the board. If you don't prefer a certain type of carry-on or bag and simply want a stylish, well-designed piece of luggage that can be stored under the seat in front of you, then Perry Ellis' rolling tote is an excellent choice.
Dimensions and weight
This well-designed bag has almost everything that a traveler could wish for. At 15" x 8" x 15" (LxWxH), it is small enough to fit under the seats of most airlines, and the weight of just 5 pounds ensures the bag itself won't eat up too much of your carry-on baggage allowance.
Space and compartments
It is surprisingly roomy for such a small bag. The main compartment can easily fit a medium-sized jacket and some daytime clothes with enough room to spare for a professional camera. There are nine total pockets on the bag for smaller items, such as your documents, toiletries, books, and chargers. Three of them can be accessed without opening the main compartment, and the rest will require opening the bag.
All of the pockets are closed with a zipper, so you don't need to worry about any of your items falling out by accident. The inner pockets are transparent, which makes it easy to quickly locate anything you need without having to dig through the items and make a huge mess inside.
One thing to keep in mind with this bag is that none of the additional compartments besides the main one can comfortably store a standard 15'' laptop, so taking a laptop bag with you may prove to be necessary. Anything else, such as tablets, should fit inside without any problem, and the bag offers enough space for all your basic necessities.
Materials and features
When it comes to moving the bag around, there are two main options. The first is a handle found on the top of the bag that can be a good option if you're packing very light. If you don't want to be carrying the bag around with you, there are two fixed wheels at the bottom and a telescopic handle that make moving the bag around easier, even when it is full to the brink with items.
Some people prefer bags with spinner wheels, but fixed wheels have shown to be perfectly adequate for bags of this size in my experience. The handle is 24'' long, and that may be a bit short if you're very tall, but it should be long enough for most people. The bag is made out of very durable polyester that will ensure not only the safety of your items but the longevity of the product as well.
Best Underseat Backpack
2 – Hynes Eagle 38L Flight Approved Carry-On Backpack
Check Price on Amazon
When many of us think of carry-on luggage, we often overlook backpacks for wheeled luggage. If you're preference, however, is for a carry-on that comfortably straps over your shoulders, Hynes Eagle has a great backpack for your carry-on needs.
Dimensions and weight
This is the kind of backpack that I would love to take with me on a long journey. At 13" x 7.9" x 19.7" (LxWxH), it will fit both your back and the space under the seat in front of you on any IATA flight without any problems. It is also very light, just like you would expect from a good travel backpack, and it weighs just 1.76 pounds.
Space and compartments
The approximate volume of the backpack is 38 liters. It features a spacious main compartment accompanied by several zipper-closed pockets both inside and on the outside of the backpack.
The large front organizer pocket will easily fit your phone, cables, and a standard 15'' laptop or even some slimmer 17'' laptops, which basically eliminates the need for carrying a dedicated laptop bag with you. The main compartment will easily fit quite a bit of clothes and maybe even a pair of shoes, depending on how you pack. There are two adjustable tie-down straps inside that you can use to prevent your items from shifting around.
Materials and features
The backpack is made out of durable and water-repelling polyester, so you can be assured that it will keep your items safe. There are quite a few neat features on this backpack that make it easy to adapt to your body and your needs.
The first are the compression straps found on the side that you can use in conjunction with the inner tie-down straps to hold your items in place. There is an adjustable sternum strap on the front to make carrying the backpack around more comfortable.
Speaking of carrying, you can take this backpack with you on your back or use one of the two handles found on the top or the side of the backpack. If you decide to use the handles, you can easily disconnect the backpack straps and hide them so they don't get in the way or get caught on something.
This is one of the most versatile backpacks out there, and one every traveler should consider the next time they're shopping for a backpack that can easily be brought on the plane with you.
Best Wheeled Underseat Luggage
3 – Steve Madden Luggage Wheeled Under Seat Bag
Check Price on Amazon
A common choice for carry-on luggage. Wheeled carry-ons largely operate like small suitcases. Complete with handles, often retractable, the difference with wheeled luggage, compared to spinner wheeled luggage, is that the wheels are concealed. They'll often be attached on the underside and partially hidden. This means the wheels are more protected and less likely to be damaged. However, they do give you less mobility than the popular spinner wheel design.
If this is more you're jam, we're going to head over to designer brand Steve Madden to see what piece of underseat marvel they've conjured up for us.
Dimensions and weight
This underseat luggage is just a bit smaller than the first item on our list at 15" x 9" x 14" (LxWxH), and they both weigh exactly the same at 5 pounds. As such, this case should fit carry-on dimensions of your airline, and the weight of the bag won't take up too much of your carry-on limit.
Space and compartments
Six zipper-closed pockets can be accessed without opening the bag itself, and the inside features a roomy main compartment with a few additional pockets. The pockets found inside have transparent walls that make it easier to locate the exact item you need, and all of the pockets inside are closed with zippers as well.
The main compartment is roomy enough to fit enough clothes for several days, but you may have problems with comfortably fitting in a standard 15'' laptop. It would probably be a good idea to carry your laptop around in a dedicated bag and fill the suitcase with other items. All of the pockets are easily accessible, and you should have no trouble finding what you need when you need it.
Materials and features
The material used for the construction of the bag is polyester, and the manufacturer offers a 5-year warranty on the bag, which is a testament to its durability. There is a handle on the top if you need to carry the suitcase in your hand, but most of the time, you will be dragging it behind you.
Two wheels can be found on the bottom of the suitcase to help you with this, along with a 24'' telescopic handle. This should be enough for most people, and you shouldn't have any issues with the length of the handle unless you're over 6'6''. The suitcase is very well made overall, and the quality is reflected in the price.
If you're in the market for a well-made and highly durable suitcase, there are few options as good as this suitcase out there. Its durable design should give you plenty of mileage.
Best Spinner Wheel Underseat Luggage
4 – Travelpro Maxlite 4 Spinner Under Seat Bag
Check Price on Amazon
Spinner wheel luggage has grown immensely in popularity over the last couple of decades. Naturally, this design has transcended down to smaller, carry-on luggage. Spinner wheel luggage is defined by the open four-wheel set, attached to the corners rather than more centrally.
The wheels will have up to a 360-degree range of motion, which allows you to push them via the extended handle in an upright position. This luggage is far more versatile and easier to move through crowded airports, and also much easier on your back, shoulders, and wrists. The exposed wheel design, however, does make them more susceptible to damage if the wheels clatter into hard surfaces or other luggage. Fortunately, if you want the combination of spinner wheel luggage compact enough to fit under your seat, Travelpro has just the luggage for you.
Dimensions and weight
At 15.7" x 8" x 19.7" (LxWxH), it is a bit bigger than the previous items on this list, but it should fit the regulations of most airlines. At just 4 pounds, it is also lighter than the previous bags on the list.
Space and compartments
There is one compartment accessible from the outside in addition to the main compartment. It is located at the front of the bag, and it is quite roomy. This makes it the perfect place to store toiletries and some other smaller items. The main compartment can easily hold your laptop and enough clothes for a few days if you pack smart.
Materials and features
The bag is made from 100% polyester, and the material is fairly durable, but the mobility department is where this suitcase really shines. There is a handle on the top of the suitcase in case you need to carry it in your hand, but you will mostly be utilizing the wheels.
Speaking of which, the suitcase has four spinner wheels that will help you move around and easily avoid other people or things even when you're in a rush. A fairly long telescopic handle will help you easily steer the suitcase even if you are a very tall individual.
There is also a special compartment for the telescopic handle that you can close with a zipper if you don't want to use it. The 360-degree spinner wheels are very responsive to changes in direction, and the handle makes the suitcase very easy to handle in any situation.
Best Lightweight Underseat Luggage
5 – Travelpro 18" Lightweight Under Seat Tote Bag
Check Price on Amazon
Lastly, if you're looking for a piece of underseat luggage that's very lightweight and not on wheels, Travelpro has an excellent underseat tote bag that could be the answer for you.
Dimensions and weight
This lightweight bag definitely earns that attribute as it weighs only 1.6 pounds, which makes it the lightest item on our list and lighter even than the Hynes Eagle backpack featured at #2. In terms of size, this tote bag measures 18" x 9" x 11" (LxWxH), and it is roomier than it may appear to be at first glance.
Space and compartments
Besides the main compartment, the bag features four pockets that can be accessed from the outside, two of which are closed with zippers. The inside of the bag features a roomy main compartment alongside one additional zipper-closed pocket with a meshed wall that is ideal for storing toiletries.
The total volume of the bag is 28 liters, which will be enough to pack enough clothes for a few days.
Materials and features
The material of this bag is a true thing of beauty. The polyester fabric it is made out of is not only very durable, but it is also stain-resistant and water-repellant thanks to the Duraguard coating. This will ensure that your items are well-protected and that your bag won't degrade in looks anytime soon, so it is not a huge surprise to see that the bag comes with a limited lifetime warranty.
When it comes to the carrying options for this bag, you can pick from one of three alternatives. The first is to use the handle found at the top of the bag to carry it in your hand. The second is to use the shoulder strap that comes with a sliding pad, which makes carrying it around for longer periods of time more comfortable.
If you don't want to use the shoulder strap, you can easily remove it so that it doesn't get in the way. Finally, you can use the strap on the back of the bag to attach it to the telescopic handle of a larger suitcase with wheels.
Regardless of your preference, this is an excellent choice for travelers looking for a very light bag that will provide superb protection for the items packed inside.
Best Underseat Luggage Summary
As more people continue to fly than ever before, the need for underseat luggage is only going to become more prominent. For peace of mind, in case you are one of the unfortunate few who are asked to stow your carry-on luggage with the checked baggage, these bags and carry-ons are more than worth the investment.
Before I leave you to voyage on your merry way, here is one final look at the underseat luggage we took a closer look at in this article:
You Might Also Like to Read
Save and Pin for Later
Keen to purchase underseat luggage at a later date? Why not save this article to one of your Pinterest boards, so that you can revisit and find your perfect underseat luggage closer to your vacation?