This post may contain affiliate links, meaning if you book or buy something through one of these links, we may earn an affiliate commission at no additional cost to you. Learn more
A waterproof backpack or water-resistant backpack can save your valuable luggage and electronics from irreversible damage.
However, may on the market claim to sell a waterproof backpack or water-resistant backpack, only for the reviews to state otherwise.
When looking for a waterproof backpack or water-resistant backpack, it's important to understand the reasons why you need your backpack to be waterproof.
For days of hiking in challenging conditions, a 100% waterproof backpack is going to be ideal compared to a water-resistant backpack.
Likewise, if you need only to protect your laptop and electronics, a heavy-duty waterproof dry bag isn't going to be practical.
Whether you're looking for a waterproof backpack, water-resistant backpack, or waterproof cover for your backpack, our list of the 15 best waterproof backpacks and water-resistant backpacks will cover you for a wide range of needs.
So, without any further ado, let's dive right in, excuse the pun!
Quick Picks
Don't have time to read this article? Then don't worry. Here are some quick picks to get you to the right waterproof backpack, without having to spend a long time reading everything in the article:
Things to Consider Before Buying a Waterproof Backpack
The Difference Between Waterproof and Water-Resistant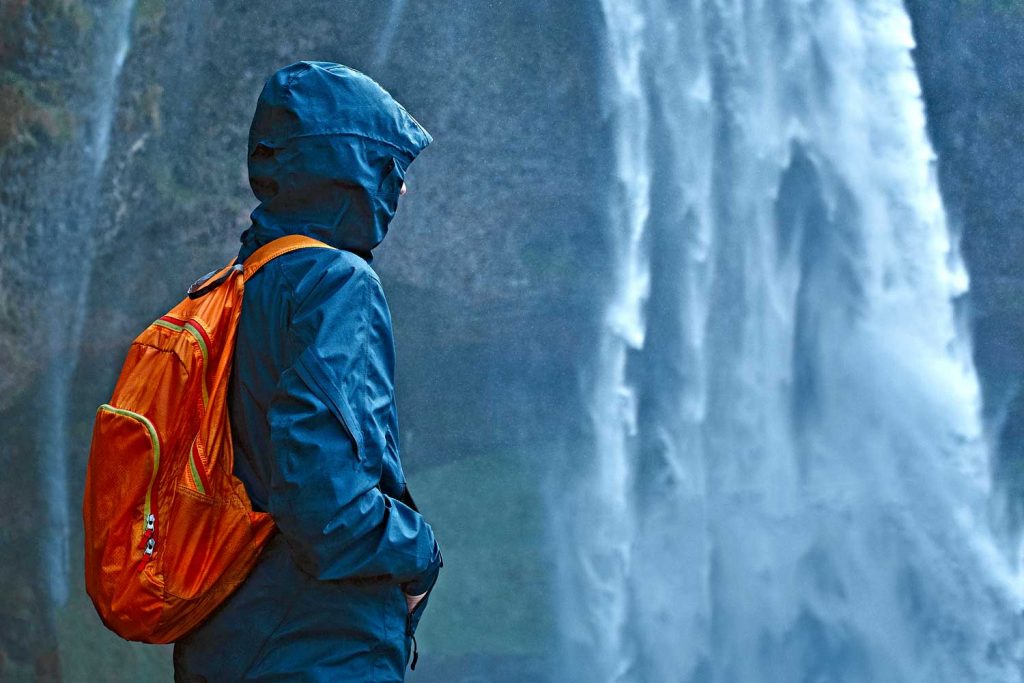 Understanding the difference between a waterproof backpack and a water-resistant backpack is imperative to finding a backpack that does exactly what you need it to do.
Many companies online will claim that their backpack is 'waterproof,' only then for the product reviews to state otherwise.
Likewise, you may only need a water-resistant backpack to keep your laptop dry while commuting in the rain, yet may end up buying a 100% waterproof dry bag. Perfect for hiking, but not so much for carrying a laptop!
At a higher level, a good rule of thumb is to ask yourself whether you need to submerge the backpack underwater fully.
If yes, you most definitely need a waterproof backpack. If not, a water-resistant backpack should work for you.
Water-resistant backpacks will keep heavy rain and other precipitation out of the bag, but would not be able to stop water coming in if they were fully submerged.
Also, some backpacks may be 'waterproof,' but only for up to ten minutes, for example.
If a backpack says it's waterproof', the best thing to do is, firstly, read the product description and then, more importantly, read the reviews.
Some backpacks may also be listed as 'waterproof,' but in fact, have a small waterproof pouch inside the backpack, so look out for this.
What Does the L Mean in Backpack Description?
Particularly for hiking or outdoor backpacks, you'll often see the size measured in L, rather than " (inches). L stands for liters, but it does not mean how much water a backpack can hold.
Quite simply, L means the backpack's volume in liters – the total amount it can hold at maximum capacity.
It's a little harder to visualize, but the larger the L, the more 'room' inside the bag at full capacity.
The Best Waterproof and Water Resistant Backpack Picks
Now that we're clued up on the features of waterproof backpacks and what to look out for let's delve into my list of top picks.
The Best 100% Waterproof Backpacks
Let's start the list with backpacks that are, unquestionably, 100% waterproof.
Due to this requirement, you'll find that these backpacks are something of a backpack/dry bag crossbreed. However, they still work as conventional backpacks.
Their functions, style, and storage features, as a result of this, will be a little limited.
But you can guarantee they have been designed for water-based outdoor activities, where the bag will consistently come into contact with, or be fully submerged beneath the water.
1 – Earth Pak 35L or 55L Heavy Duty Roll-Top Waterproof Backpack
Check Price on Amazon
An excellent backpack from Earth Pak, this waterproof backpack has a roll-top closure strip at the top, to make sure water stays out and keeps your valuables inside dry.
All you have to do is fold the top section 3 or 4 times, buckle it up, and away you go.
You get two choices of size. 35L in itself gives you a good amount of storage space, but if you want to carry a lot of items, the 55L gives you almost twice as much volume to store your belongings inside.
The backpack has also been designed with a few handy additional storage features, such as a built-in zippered pocket and mesh compartment on the inside.
It's also very comfortable to carry, despite how expanded it can get. Both the shoulder straps and back panel are padded heavily, which stops unwanted bulges and items from digging into your skin.
The heavy-duty waist belt is a welcome relief and helps take the strain off your back and shoulders.
It packs well in your luggage, and with five colors to pick from, it is an excellent choice if you need a waterproof backpack that does what it says on the tin.
2 – IDryBag Waterproof 20L Floating Dry Bag Backpack
Check Price on Amazon
Consisting of meticulously crafted heavy-duty 500D vinyl-coated polyester, not even the most torrid of waves or rapid of downpours are seeping into IDryBag's 20L backpack.
The seams are woven watertight, and the backpack is incredibly durable, so it won't tear in even the most rugged of conditions.
At 20L, it has a smaller capacity than the Earth Pak, but that still gives you more than enough room for everything you need on a multi-day hike.
It comes equipped with several splash-proof pockets, meaning you can store valuables along the length and width of the backpack without opening the main compartment.
The zippers are splash-proof but not waterproof once unzipped, so if you have electronics, make sure to stow them in the main compartment.
With a top handle and two straps, it can be carried by your side or on your back. It also comes fitted with a reflective strip, so that you can be seen in the dark. An excellent choice if you plan to hike and stay overnight.
3 – Aqua Quest Himal 25L Waterproof Dry Bag Backpack
Check Price on Amazon
Never mind water; not even snow, sand, or dirt are getting beyond the seal of Aqua Quest's Himal 25L waterproof backpack.
You even get complete protection for temporary submersion, if you happen to drop the bag in a body of water for a very short time.
Its an incredibly lightweight bag at 1.1lb, so carrying it around for prolonged periods of time won't be an issue. Plus, it comes with fully adjustable shoulder straps and a great waist strap.
The air-mesh back panel was designed with total comfort in mind, so you'll have no issue with the bag digging into your skin or the grooves of your back.
At full capacity, you get a roomy 25L. You also get a very handy front pocket, which gives you dimensions of 11" x 7" x 2.5" to store extra items in.
Your backpack is also protected by a two-year warranty, so if you have any problems, you can jump straight on the phone and have one of their team get you sorted with a replacement.
It comes in three colors: black, blue, and awesome camouflage design.
The Best Waterproof Hiking Backpacks
My 100% waterproof picks are excellent choices for hiking, but by design, they're heavy-duty and can be larger than a standard backpack.
The next backpacks we're going to look at bridge the gap between a backpack you can easily take hiking or on other outdoor activities, but could also very easily be used for everyday use.
Essentially, these waterproof backpacks are lighter, stylish, and a great choice if you want to take something out for a few hours, but don't need to carry essentials for multi-day hikes or overnight packing.
4 – FFZM Ultra Light Outdoor Travel Waterproof Backpack
Check Price on Amazon
If you need a waterproof backpack that's durable, lightweight, and still oozes class and quality, FFZM have you covered with their ultralight outdoor waterproof backpack.
Made of tear-resistant, high-quality 600D Oxford polyester, this backpack is as strong as an ox and will keep the water out in even the most vicious of downpours.
The stress points have even been reinforced to extend the backpack's lifespan, which is a welcome feature.
Organisationally, there's a reason this backpack works for not just outdoor activities, but also as a standard, everyday use backpack.
Along with the main compartment, you also get an easily-accessible outer pocket, a zippered front pocket, two internal zip pockets, and two side pockets to stow water bottles and the like.
The mesh padded shoulder straps will have your shoulders sighing with relief, and at 0.5lb, its an incredibly ultra-lightweight bag.
The FFZM Ultra is the perfect companion to keep your things safe and dry on a long hike.
5 – Venture Pal 40L Lightweight Water Resistant Hiking Backpack
Check Price on Amazon
At 40L, Venture Pal has brought a very sizeable waterproof backpack to the market compared to its impressive weight of only 0.7lbs.
Made of strong, water-resistant nylon fabric, the backpack will hold up against even the most torrential of rain.
The heavy-duty metal zippers and enhanced hold at focal stress points mean the backpack can go through some rigorous activities without any danger of tears or breaking.
It is also very comfortable to wear, with breathable mesh shoulder straps and sponge padding along the underside of the straps.
It also has a chest clip, to help distribute the weight on those long, non-stop hikes.
In addition to the sizeable 40L, you also get a front zipped pocket, two side pockets, and a separator and zipped pocket on the inside. There's plenty of options to keep your belongings organized, safe, and dry.
Plus, with sixteen gorgeous colors and designs to pick from, and a 30-day money-back guarantee, Venture Pal truly are living up to the 'pal' in their name! An excellent choice for the traveler who does plenty of outdoor activities.
6 – Hikpro 20L Lightweight Water Resistant Backpack
Check Price on Amazon
If you like your backpacks featherlight and incredibly compact, look no further than Hikpro's lightweight, water-resistant backpack for travelers and hikers.
With a generous 20L to play with for its size, you also get three zippered pockets, main, front, and inside, and two side pockets.
Its made from water-resistant nylon material, meaning the contents of the bag will keep bone dry for 40 minutes to one hour in non-stop rain.
And, with its breathable mesh shoulder straps, which are easily adjustable, you'll have no problem carrying this little trooper of a backpack on your travels with you, without any discomfort or pain.
Double fabric at the base and Bartack reinforcement in no fewer than fourteen stress points on the bag mean this lightweight backpack will stay your trusted companion for years into the future.
An excellent choice of a water-resistant backpack if you want something that folds up small for your luggage, is lightweight, and very durable.
The Best Waterproof Laptop and Camera Backpacks
Now that we've explored the outdoor options let's look at backpacks that are designed for commuters, college kids, and a traveler that needs to work.
These laptops, although multi-purpose, will be more water-resistant than waterproof.
They will still protect your valuable equipment from rain, spillage, and other conditions, but wouldn't hold up too well if you were hiking for days on end, or doing plenty of water-based activities.
These backpacks will have plenty of storage options, too, as they're designed to carry a range of different items, from laptops through to pens.
7 – Bopai 15" Super Slim Waterproof Laptop Backpack
Check Price on Amazon
For a traveler who works, keeping your tech and gear safe is the number one priority. A damaged laptop or camera in another country can set you back weeks, and cause plenty of stress and lost revenue in the process.
These backpack picks, while multi-purpose, have been designed with carrying laptops, cameras, and other fragile, expensive gear in mind. Oh, and as always, they have, in the very least, a water-resistant exterior.
Super lightweight and insanely slim, Bopai's 15" waterproof laptop backpack is a great purchase for a traveler looking to keep their laptop safe from the elements as they move from city to city.
Its soft flannel opening can comfortably stow a laptop of up to 15" while keeping the laptop safe between its padded walls.
Design-wise, it's very innovative. Not only does it come with an invisible anti-theft design courtesy of a hidden double zipper, but it also slides neatly over a large suitcase handle with its back panel design.
You also get a hidden zip pocket for your wallet and phone for good measure.
But best of all, its microfiber leather and ballistic nylon exterior is waterproof and will keep your laptop safe from unforeseen spillages or torrential downpours.
A great addition if you're looking for a backpack to hold your laptop specifically.
8 – Matein Water-Resistant Laptop Backpack
Check Price on Amazon
Need something with more space than the Bopai? Courtesy of Matein, you get a separate laptop compartment for laptops up to 15.6", a spacious secondary compartment for your electronics, front compartment, two side mesh pockets, and a key fob hook, all in one!
Your back, shoulders, and hands will have plenty of support with the ventilated padding straps, airflow back panel, and foam strapped top handle.
Inside, you also get plenty of padding to keep your trusted laptop and belongings safe.
Its slim design allows it to be slid over the top of luggage handles, and you also get a built-in USB charging cable, which can be a life-saving feature in those dreaded dead battery moments.
Lastly, its durable polyester fabric exterior and metal zippers keep the seal tight and rain or heavy precipitation out. Your laptop will be safe and dry, as too will be your belongings.
9 – Gysan Lightweight Water-Resistant Bookbag
Check Price on Amazon
You'd be crazy not to check out Gysan's lightweight and multi-purpose water-resistant backpack offering to the market.
Cute and stylish to behold, you get 11.8" x 16.9" x 6.3" of spacious, quality water-resistant nylon coated backpack to store your beloved laptop, camera, and other electronics.
The main compartment with a double zipper, two front pockets, one vertical pocket, and two slip pockets and pen holders inside, give you plenty of capacity.
Padded straps and bottom stop the backpack digging into your back and bones, and it's very lightweight and comfortable to carry.
You can fit a laptop of up to 15" inside, and it comes in twelve glorious color options. Durable and featherlight, you can also use this backpack for outdoor activities.
Its water-resistant nylon fabric is also very durable and can handle some of the more extreme of Mother Nature's elements with aplomb. A great little purchase for the busy traveler.
The Best High-End and Top Brand Waterproof Backpacks
If you're a traveler, who likes to travel with luxurious, quality, renowned brand products and gear, particularly if you work as an influencer for brands or sponsors, the name attached to your gear is going to be very important.
Many of us also have our favorites when it comes to buying travel gear. If I had a penny for every time I've seen as Osprey backpack on my travels, I'd be a rich man by now!
Finding trusted waterproof and water-resistant backpacks from designer and high-end brands on the market, surprisingly, is no mean feat.
A lot of the time, these brands opt to use more expensive materials and elaborate designs in their products, which often means compromising on the waterproof or water-resistant options.
Some will also claim they are waterproof or water-resistant, but a trip to the reviews section will reveal otherwise.
Regardless, I have identified three picks from some of the world's most renowned outdoor and travel brands that do have a waterproof or water-resistant feature to their backpack.
10 – Patagonia Black Hole 25L Waterproof Backpack
Check Price on Amazon
Our first stop on the tour takes us to industry leaders Patagonia, and their striking, 'we mean business' 25L black hole backpack.
With a sizeable 2L and 17.7" x 14.2" x 9.4" of capacity at your disposal, you have ample room for all your travel gear, and then some.
At 1.6lbs, it's a durable, heavy-duty backpack that will hold up against even the most difficult of terrain.
Inside, you get an eye-opening amount of padding that will protect even the most delicate of electronics. You get a sizeable main compartment, with added side pockets, and a padded front pocket.
Everything inside will be protected with more resistance than a fiercely loyal guard dog.
It has a vented back and padded straps, making it easy and comfortable to carry, even at its size and capacity, and the elastic pockets are a welcome addition for water bottles.
This is a lean, mean waterproof backpack to serve a variety of purposes for a busy traveler.
11 – Herschel Pop Quiz Water Resistant Backpack
Check Price on Amazon
Next up, we come to the market disrupters of style Hershel, and their gorgeous, compact, water-resistant pop quiz backpack.
More organized than a VA on overtime, you get an array of great features. These include a media pocket, with an internal headphone port, and a built-in laptop sleeve, durable and padded, to hold your trusted laptop.
Stunning to look at and even more comfortable to wear, you get plenty of give with the backpack's adjustable straps and padded back and base.
The backpack is made from 100% polyester, and it's soft against the skin, but also stern and water-resistant for those times you get stuck out in the rain.
The top pocket, perfect for holding a phone or small tech, is also a great little feature.
Oozing with that vintage Herschel feel, you get a choice of nineteen colors and designs.
A great backpack if you're trying to find a half-way point between style and substance. Herschel have you covered, and then some with this water-resistant backpack.
12 – The North Face Women's Vault Water Resistant Backpack
Check Price on Amazon
Lastly, we turn to The North Face and their stylish, well-designed Vault water-resistant backpack.
Composed of sturdy 600D polyester, you get a backpack that can handle a little rough and tumble, while also keeping your valuables dry against heavy precipitation or spillages for those hand-over-mouth moments.
At 26.5L, there's ample room to store your valuables, with plenty of top-notch organization. You get the main compartment, a front zippered pocket, a sleeve in the main compartment, and two side mesh pockets.
The straps, injection-molded, feel great against the shoulders and skin, and the addition of the chest strap allows you to distribute the weight without putting your back under enormous stress.
With thirteen colors to choose from, this is a great choice of water-resistant backpack for any frequent female traveler.
The Best Waterproof Backpack Covers
Replacing your backpack entirely, however, isn't just the only way to get your hands on a waterproof backpack.
Waterproof backpack covers, which fit around your standard backpack, are a more compact, cheaper option if you love your current backpack and don't want to part with it.
Let's take a look at three of the best on the market.
13 – Gryps Waterproof Backpack Rain Cover
Check Price on Amazon
A great waterproof cover made from a silver-coating lined 190T polyester fabric, your backpack will be guarded by one tough, heavy-duty barrier.
The fabric excels at keeping out water and is also UV-resistant and tear-resistant, so you can easily take this cover on hikes without worrying about any damage to the material.
The rain cover uses its elastic rim and buckle straps to cocoon around your backpack, and stay firm and tight at all times.
You'll never feel the cover against your back, and with its tight grip, strong winds or moving straps won't pull it off your backpack.
Easy to assemble within seconds, it comes in a choice of ten colors and is an excellent way to keep your beloved travel backpack dry and protected, without having to replace it with a brand new backpack.
14 – Canami Waterproof Backpack Rain Cover
Check Price on Amazon
Like a Roman shield to the infantry that is your travel backpack, Canami's waterproof backpack rain cover gives you incredible levels of protection.
Made from an impressive 300D waterproof Oxford fabric, it's smooth yet durable as it wraps around your bag.
The cover will protect your backpack from rain, snow, dust, rain, and scratches.
It offers up to 5000mm of rain resistance, so it is a great addition to your travel backpack if you're planning on hiking in particularly wet climates.
Plus, it's cross buckle strap, and elastic rim allows it to fit tight, sternly, yet snuggly over your backpack, with no issue of wind or rain pulling it off.
It comes in two sizes, Medium at 30-40L, or Large at 45-55L, so you have a waterproof cover for even the largest of travel backpacks.
You get a choice of four colors, and the covers high visibility reflective strip is a fantastic edition if you're planning on hiking or outdoor activities in the dark.
An excellent, sturdy backpack rain cover that offers a wide range of protection.
15 – Osprey Ultralight Rain Cover
Check Price on Amazon
And last, but certainly not least, the industry-leading, tried and trusted Osprey complete my list with their ultralight rain cover.
A stylish, durable bag to behold, you get the choice of Medium, Large, or XL, covering you from 30L – 110L of waterproof backpack.
Made from tear-resistant 40D rip-stop nylon, you'll have no problem taking this waterproof rain cover through difficult terrain or very wet conditions.
The cover folds up small enough to fit into the palm of your hand, so it is very light and easy to travel with when not being used.
And, with its full-wrap clinch attachment, you'll have no issue with the cover pulling off your backpack due to rain, wind, or strap movement.
It also comes with reflective graphics and a blinker light attachment, so you can wear this cover under the darkness of night safe in the knowledge you'll be visible to those around you.
This is a great addition for any traveler who wants to keep their backpack safe and dry.
Waterproof and Water-Resistant Backpack Summary
With fifteen of the best waterproof backpacks, water-resistant backpacks, and waterproof covers listed above, you should have no trouble finding the right backpack or cover to keep your valuables dry and free of damage.
Just remember, think long and hard about the key reasons you need to buy a waterproof backpack.
A water-resistant backpack may suffice, depending on the type of travel you're looking to do.
But if you're going out into the wilderness, where the weather and conditions can be very wet, be sure to look at how waterproof each rucksack or backpack is.
Looking for More Inspiration?
If you're still keen to add to your travel gear, or to buy complementary products for your brand new waterproof backpack, be sure to check out some our other articles:
Save and Pin for Later
Already planning to purchase a waterproof backpack, but not right now? Pin this article to one of your Pinterest boards, to keep it in a safe place ready for when you're looking to get yourself a waterproof backpack.
---
---
Author: Dale Johnson is a full-time digital nomad and content creator, hailing from the UK. He is passionate about the latest travel gear and tech, and is always looking to bolster and improve his nomadic setup and attire.
Images licensed by Shutterstock