This post may contain affiliate links, meaning if you book or buy something through one of these links, we may earn an affiliate commission at no additional cost to you. Learn more
North Macedonia is a small, underrated, and under-explored country in the Balkan Peninsula, Europe. Rich in Ottoman and Roman heritage and breathtaking natural sights, this country is a blend of the past and the brand new.
If you're keen to learn more about this fascinating place, then you're very much in safe hands. Our expert guide Milena Lavoza, native Macedonian and travel writer, has helped us compile an expert North Macedonia travel guide of everything you need to about this wonderful country.
From breathtaking places to visit, to whether Macedonia is credit card friendly, we cover the bases, and then some. Happy travels!
Why Should You Visit Macedonia?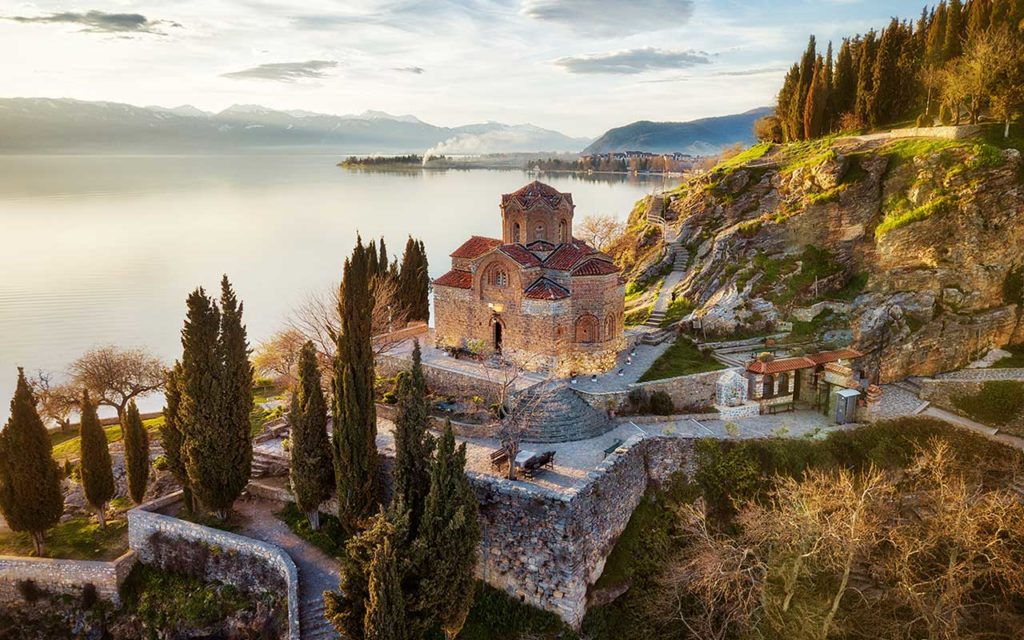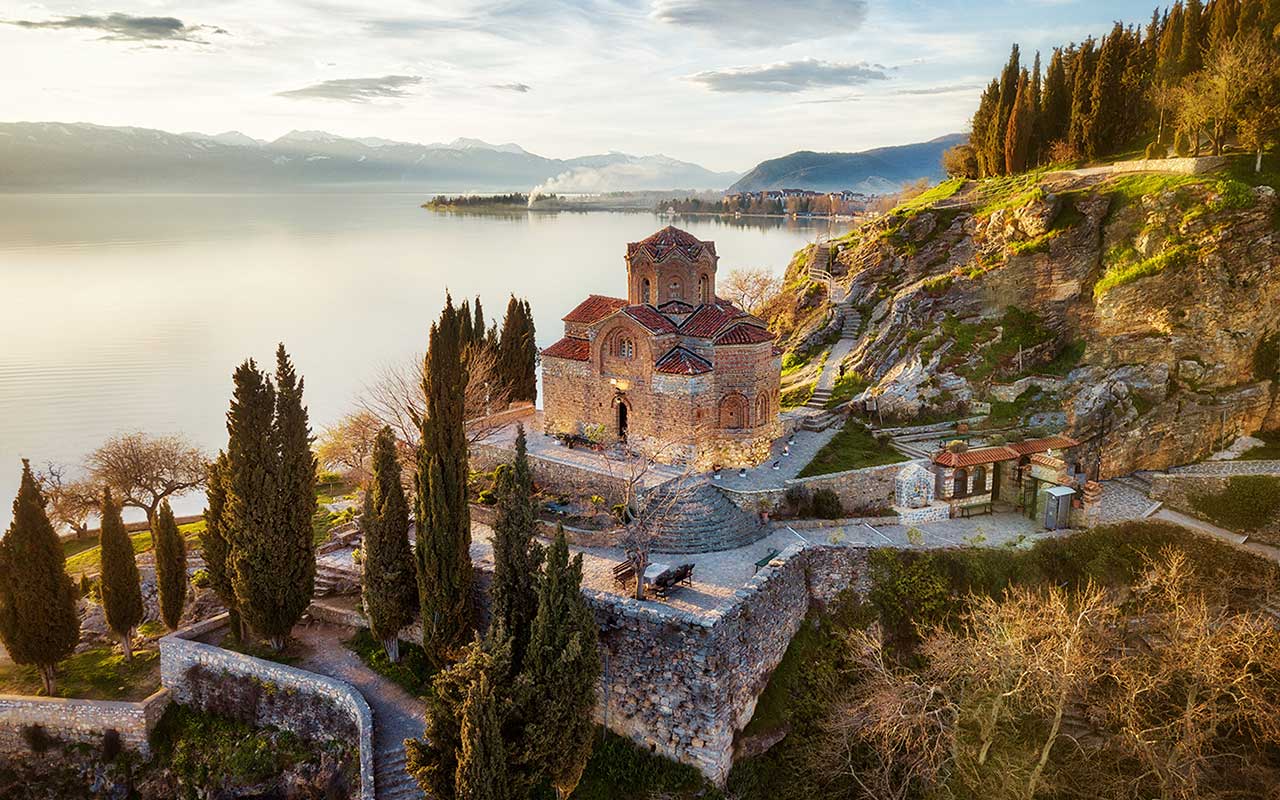 North Macedonia has so much to offer. It's rich in shimmering lakes, picturesque valleys, untouched mountain massifs, national parks, traditional village cottages, and other spectacular natural beauties that make it perfect for outdoor enthusiasts.
It's an old country with a rich history and around 1,000 churches and monasteries. Experts believe the foundation of three Macedonian monasteries include parts of the cross on which Jesus Christ was crucified. It's the home country of Mother Theresa and Alexander the Great.
Perhaps the simplest but the most satisfying thing about North Macedonia is the delicious cuisine, including traditional, mouth-watering dishes served in local traditional restaurants called kafanas. For tourists, the cost of living in Macedonia is very inexpensive, so enjoying quality food at an astoundingly low price is not uncommon.
Recommend read: Macedonian Food – 15 Traditional Dishes as Recommended by a Local
Macedonian wines are also of high quality. Locals have been producing wine since the 13th century BC. There's also the national alcoholic beverage 'rakija', which is a real one-of-a-kind experience. Overall, it's a foodie's heaven.
Macedonia Naming Dispute
North Macedonia, or the Republic of North Macedonia, used to be Macedonia, or the Republic of Macedonia until February 2019. The name dispute between the country and its southern neighbor Greece was because the Republic of Macedonia was using the same name as a neighboring part in northern Greece.
The issue escalated so much that inflamed tensions between the two countries. In June 2018, an agreement was reached to rename the country, but the official renaming was in February 2019. One thing's for sure: a lot of people from both countries weren't happy, especially nationalists.
Interesting Facts About Macedonia
Here are a few interesting facts about this small but beautiful country:
It's home to Cave Vrelo – the deepest underwater cave in the world, located on the Treska River. It's believed to be around 330 feet deep, and it was nominated as one of the seven world wonders.
The Cyrillic alphabet was developed here in the 9th century by two Macedonian brothers, St Cyril and St Methodius.
The total population of North Macedonia is around 2 million, and one quarter lives in the capital city Skopje.
North Macedonia was part of the powerful Yugoslavia or SFRY together with five other countries until the 1980s when the country broke up and led to Yugoslavian Wars. North Macedonia was the only country which gained independence peacefully.
The 4th world's oldest astronomic observatory Kokino is located here.
It has one of the oldest and deepest natural lakes in Europe – Ohrid.
Mother Theresa was born here, and today there's a memorial house dedicated to her in the capital city, built on the very spot where she was baptized.
It's a country with plenty of mountains and mountain peaks, or more precisely, 34 peaks with a height of over 2,000 meters.
The capital city was rebuilt several times due to wars in the past and devastating earthquakes.
The capital Skopje has one of the tallest crosses in the world – The Millennium Cross built as a symbol for 2,000 years of Christianity in the country. It's located on the top of Vodno mountain.
Is Macedonia Safe?
This small country is safe, and if there's any crime, it's either opportunistic or petty. It's improbable someone tries pickpocketing, but still possible, like in any other country. However, locals are there to help as soon as they hear shouting.
Cities are calm and welcoming, and the locals are friendly and willing to help you in any way. Generally, there's nothing too drastic going on in this country, so you have no reason to fear visiting.
Can You Drink the Tap Water in Macedonia?
Generally, the locals drink the tap water. In fact, there are numerous public fountains around cities and villages. It's chlorinated, so locals can drink it without worrying about any contamination.
Still, bottled water is recommended for new visitors just for a few weeks until their bodies get immunity against small, insignificant strains of local bacteria. If you're visiting this country for the first time, it might be best to stick to bottled water, just to be on the safe side.
What is the Currency in Macedonia?
The currency of this country is the Macedonian denar. The Cyrillic version of the currency symbol is ден, and the international and official symbol is MKD. Frequently used banknotes are 10 denars, 100 denars, 200 denars, 500 denars, 1000 denars, and 2000 denars.
For example, with a 100 denar banknote, you can buy breakfast and soda. Frequently used coins are 1 denar, 2 denars, 5 denars, 10 denars, and 50 denars. With a 50 denar coin, you can buy the common breakfast burek, or two bus tickets. The annual inflation of MKD is 0.2%.
Besides Denars, another accepted currency is the Euro (1 Euro is about 61.50 Denars). However, you can't use it to buy goods in supermarkets, grocery stores, shops, or pharmacies. Normal purchases are priced in the national currency. You can use euros to pay long taxi rides, hotel rooms, car rental, or petrol station purchases.
When it comes to USD or pound sterling, you can only exchange them for denars in one of the many money changers found in any city.
Keep in mind that you can't change Macedonian Denars outside of the country, so make sure you change any money back to USD, Euro, or any other currency before leaving.
Are Credit Cards Widely Accepted in Macedonia?
Yes, you can use Visa, American Express, MasterCard/EuroCard, Diners, and other established international credit cards in most shops, hotels, and restaurants. There are plenty of ATMs in every city to withdraw money with extremely low commission rates.
Also, there are many exchange booths and banks to change money, so don't change it on the street. If you have euros, you can even change them in most petrol stations across the country, with a slightly higher commission rate.
How Much Does Travel in Macedonia Cost?
One of the best things about visiting this beautiful country is that it's an incredibly affordable place to travel. A tasty meal in a restaurant won't cost you more than $7, and a night in a double room, not more than $25.
If the cost of a room per night is $30, it probably comes with breakfast. In the off-season, you can save up to $10 per night, but you may have to bargain for this discount. You can find a private room at about $15 near the center of the capital, and a dorm bed for around $6.
The food and drink here are very affordable. A cup of coffee in local bars costs around $1 and a pizza around $4.5. A bottle of water in supermarkets costs around 20MKD or less than $0.5, and an ice-cream around $1.
An average lunch at a restaurant costs around 300MKD or less than $7. The same goes for an average dinner.
The transportation in North Macedonia is also cheap, including taxis and car rentals. Usually, renting a car for five days costs around $100-120, and a local bus ticket is around 35MKD or $0.4. It's a small country, so the price for bus and train tickets for an intercity network is inexpensive.
What is the Tipping Culture in Macedonia?
Generally, Macedonians don't have a tipping culture, mostly because of their low wages. Even though you won't find a service charge on your restaurant or coffee shop bill, you can still tip if you get exceptional service.
Nowadays, people start to be more aware of the importance of tipping, so there's a slight increase in the tipping culture when locals visit traditional restaurants or kafanas.
Hotel staff, tour guides, and taxi drivers don't expect a tip, but you can tip 5 to 10% of the cost if you really enjoyed the service. Still, as a tourist, you are neither expected nor obliged to leave a tip, although that can be a significant addition to the locals' low wages. It's up to you.
How Much English Do People Speak in Macedonia?
English is the most popular foreign language spoken in this country. Youngsters are excellent in English, but not so much the elderly. Still, you'll have no trouble communicating in English with locals in most restaurants, hotels, coffee bars, or institutions.
However, older people working in supermarkets or grocery stores may not understand English, but any customer or employee who knows the language will be happy to assists you or the cashier.
Useful Phrases to Know in Macedonia
Even though you can use English in most parts of the country, knowing some local phrases is always a good idea. Here are some useful phrases to keep in mind:
Zdravo (Здраво) – Hi/Hello.
Moze da prasam nesto? (Може да прашам нешто) – Can I ask you something?
Zboruvate angliski? (Зборувате англиски?) – Do you speak English?
Blagodaram/Fala (Благодарам/Фала) – Thank you/Thanks.
Izvini (Извини) – Sorry.
Moeto ime e Marija (Моето име е Марија) – My name is Maria.
Kako se vikas? (Како се викаш?) – What's your name?
Milo mi e sto te zapoznav (Мило ми е што те запознав) – Nice to meet you.
Ubav den (Убав ден) – Have a nice day.
Ne znam (Не знам) – I don't know.
Ne razbiram (Не разбирам) – I don't understand.
Te molam povtori (Те молам повтори) – Please say that again.
Ve molam (Ве молам) – Please.
Kolku cini ova? (Колку чини ова?) – How much is this?
Vikni policija (Викни полиција) – Call the police.
Cao (Чао) – Bye.
Transportation / How to Get Around in Macedonia?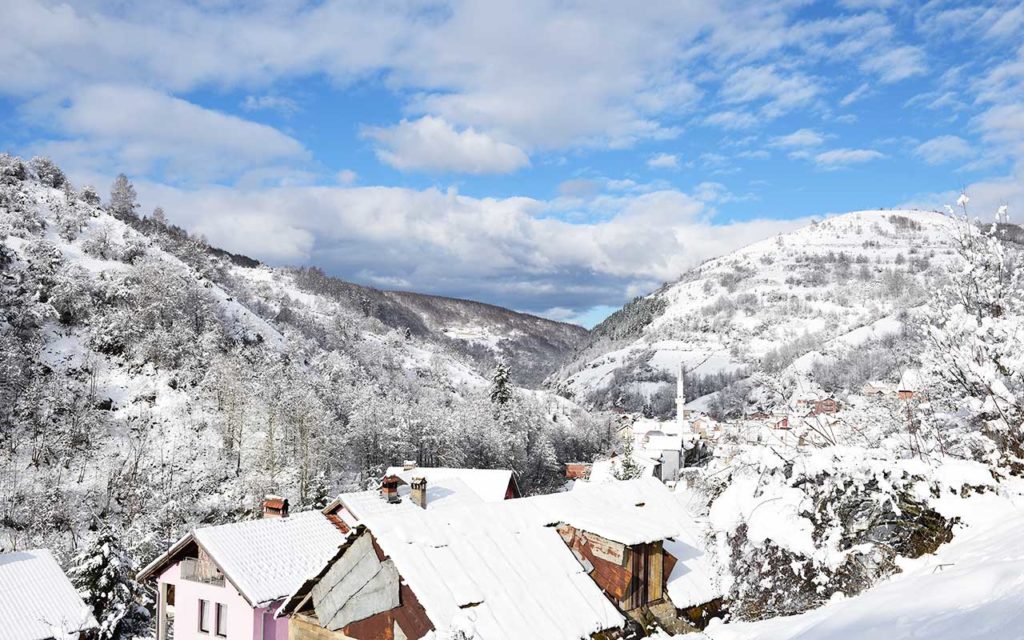 The territory of North Macedonia is small (25,713 km2), so you can travel by bus or train or go by car, and you'll arrive at your destination in under 4 hours.
For fast and affordable transportation around a city, you can use a taxi. However, make sure you use a registered taxi company to avoid scams.
The well-developed railroad system in the country allows you to travel from one city to another for a low price. You can also travel by bus as there are frequent services to most cities in Macedonia, again for an affordable price.
There are public inter-city buses in the capital of Macedonia, Skopje, that can take you from one to another part of the city. You can't purchase a bus ticket from the driver, but use a bus pass called Скопска purchased in a kiosk and put credit on it.
A lot of tourists have a problem finding a kiosk that sells these bus passes, although there are many across the city, so it's best to ask a local for the nearest one in the area.
Renting a car is a good option, especially if you arrive by plane since the airport is outside the city of Skopje. However, it's considerably more expensive than public transportation. The capital is a big city, so renting a car will allow you to see all the places worth visiting.
Some of the best car rental companies in Macedonia are:
Hertz Macedonia
MIDA rent-a-car
ABC logistics
You can also use Rentalcars.com to book a car.
Is Wifi Widely Available, or Should You Get a Data Sim?
Even though most hotels, restaurants, and coffee bars in the capital and other larger cities in Macedonia offer wifi, the Internet connection is often poor. If you're traveling to smaller cities, don't be surprised if you can't find wifi anywhere.
Therefore, if you need the Internet, it's best to get a sim card from Lycamobile, ONE, or A1 mobile provider shops which offer great deals for a low price.
Manners and Customs That You Should Be Aware Of
Youngsters in Macedonia show respect to the old. Female friends tend to kiss on the cheek when meeting and leaving, while male friends shake hands. Friends are very close to one another, so normal physical contact is common.
A guest entering a home is supposed to remove their shoes, and someone entering a room shakes hands with each person that's already there. Hosts tend to offer a cup of Turkish coffee, some meze, and rakija to their guests.
Avoid talking about politics, recent historical past, and ethnic differences.
Best Cities to Visit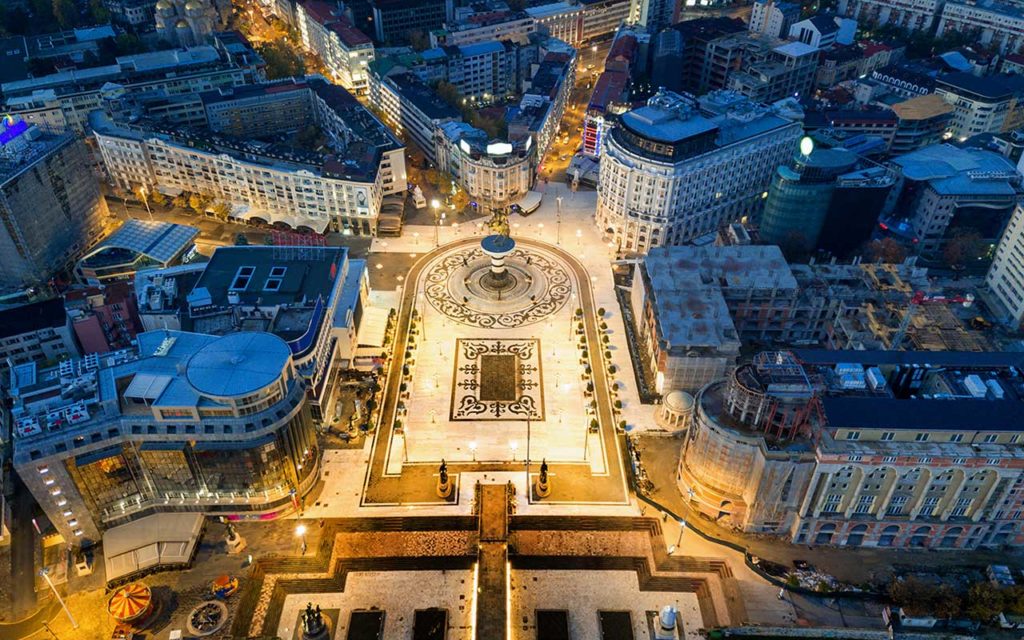 Skopje, the capital city, naturally is a great starting point. But there are several cities and towns in the country worth visiting.
Recommended read: Best Things to Do in Skopje
Best Places to See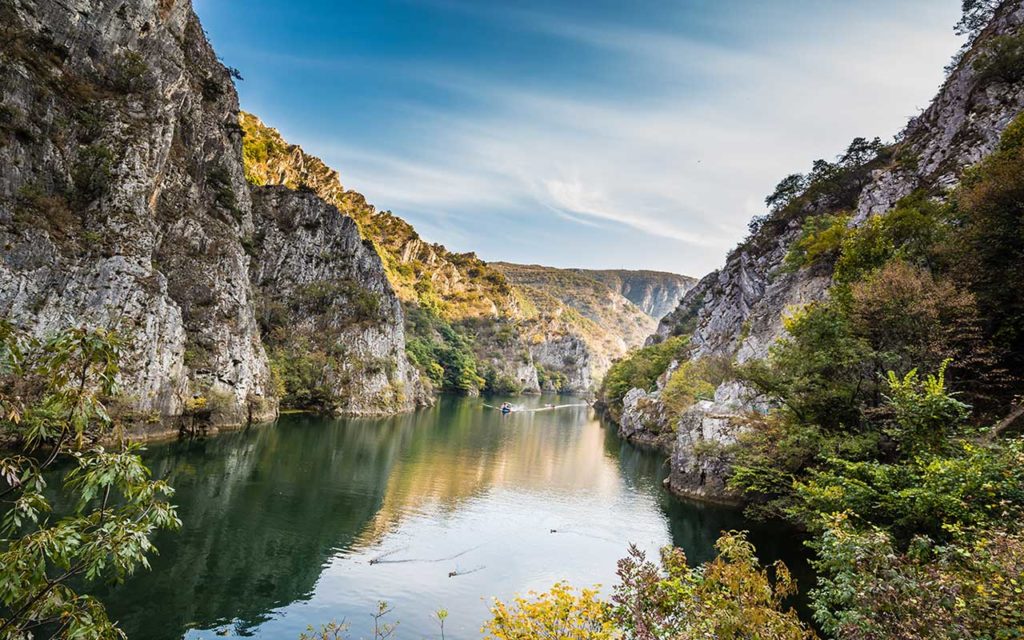 Matka Canyon
Trpeica
Marbe Lake
The Bay of Bones
Kokino Observatory
Stobi Archeological Site
Pelister National Park
Galicica National Park
Monastery of St Naum
Old Turkish Bazaar
Unique Experiences in Macedonia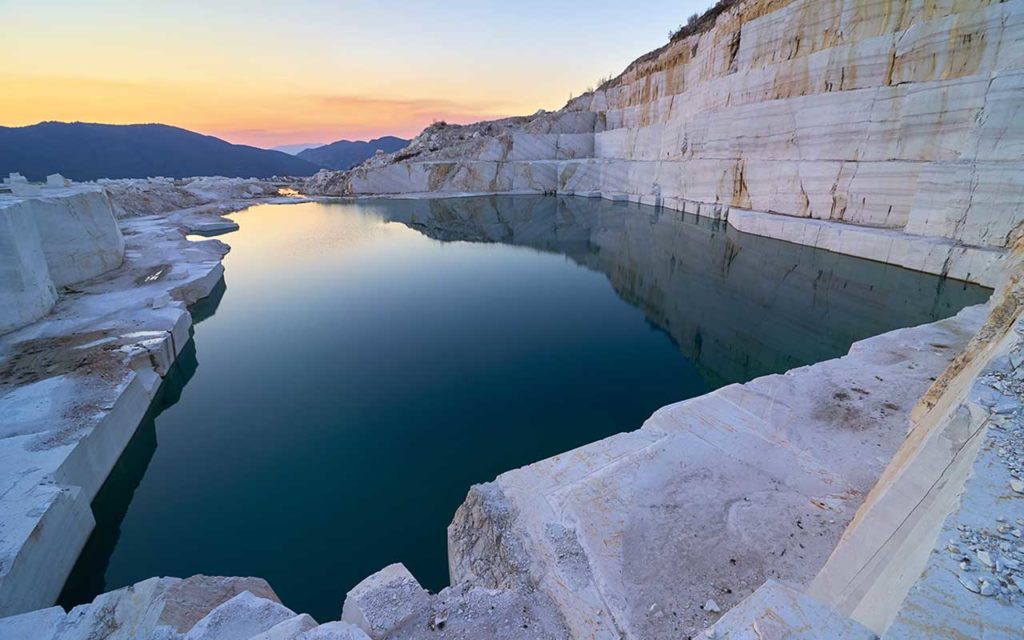 Exploring Vrelo & 300 Other Caves
Kayaking & Rock Climbing at Matka Canyon
Hiking the Hills of Mavrovo National Park
Visiting 100s of Churches & Monasteries in Ohrid
Paragliding the Thermals of Krusevo
Swim in the Marble Lake
Beholding the Painted Mosque in Tetovo
Tasting Delicious Traditional Food
Book tours and activities at GetYourGuide.
North Macedonia Travel Summary
If you're looking for a beautiful, unique, and inexpensive experience rife with outdoor activities and plenty of beauty, look no further than North Macedonia. There is so much to do in this wonderful country for both tourists, nature lovers, and adrenaline junkies alike.
The country has come a long way in a short space of time, and is already on the radar as an 'up-and-coming' destination on many high authority travel websites. We hope our Macedonia travel guide has inspired you to grace this beautiful place!
Looking to book your trip to North Macedonia?
Check out the following services for your trip:
You Might Also Like to Read
Save and Pin for Later
If you've found our guide to Macedonia travel really useful and want to revisit it for a future trip, remember to pin it to one of your Pinterest boards for safekeeping.
---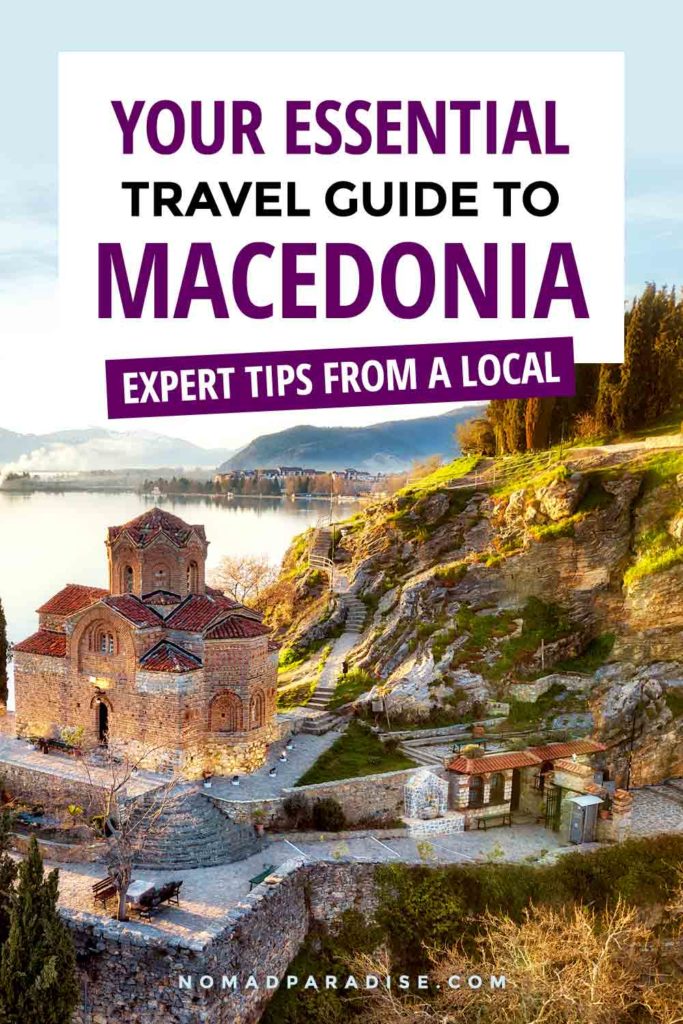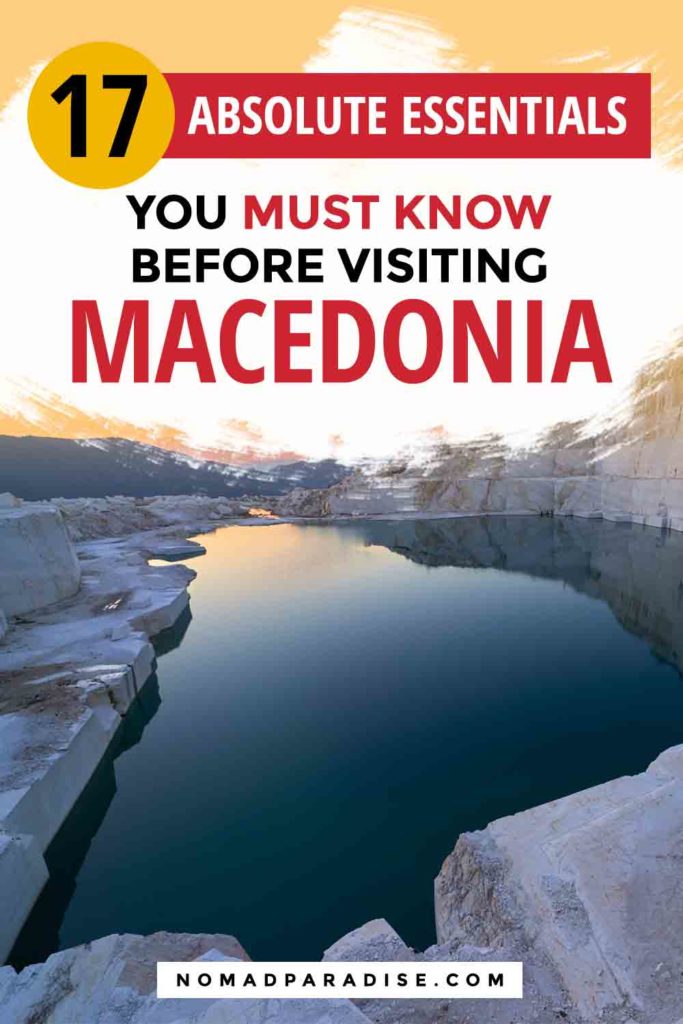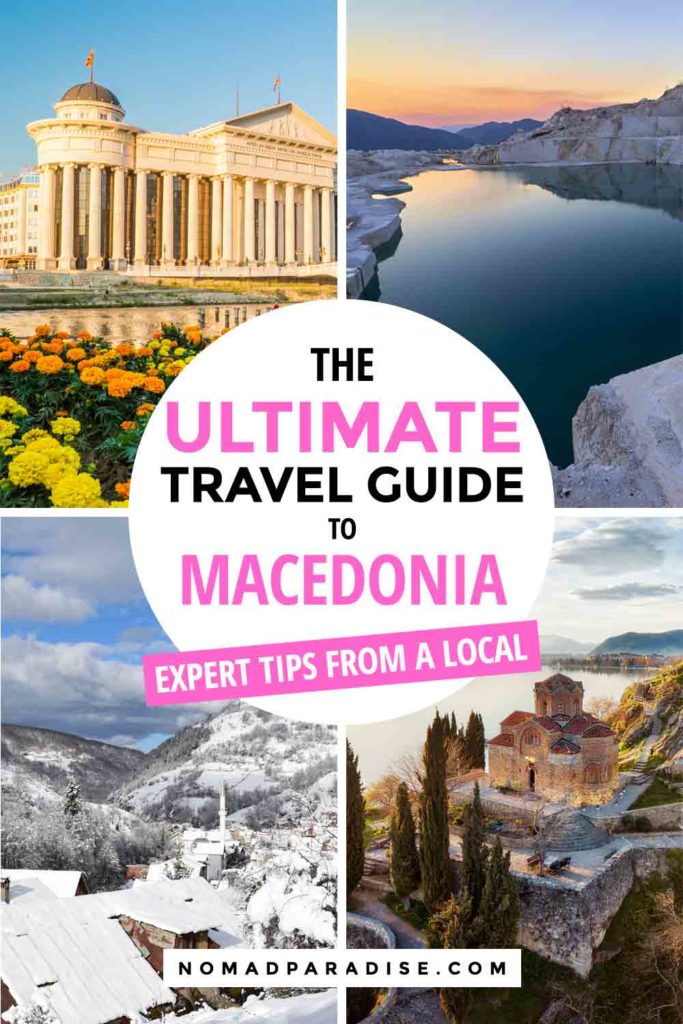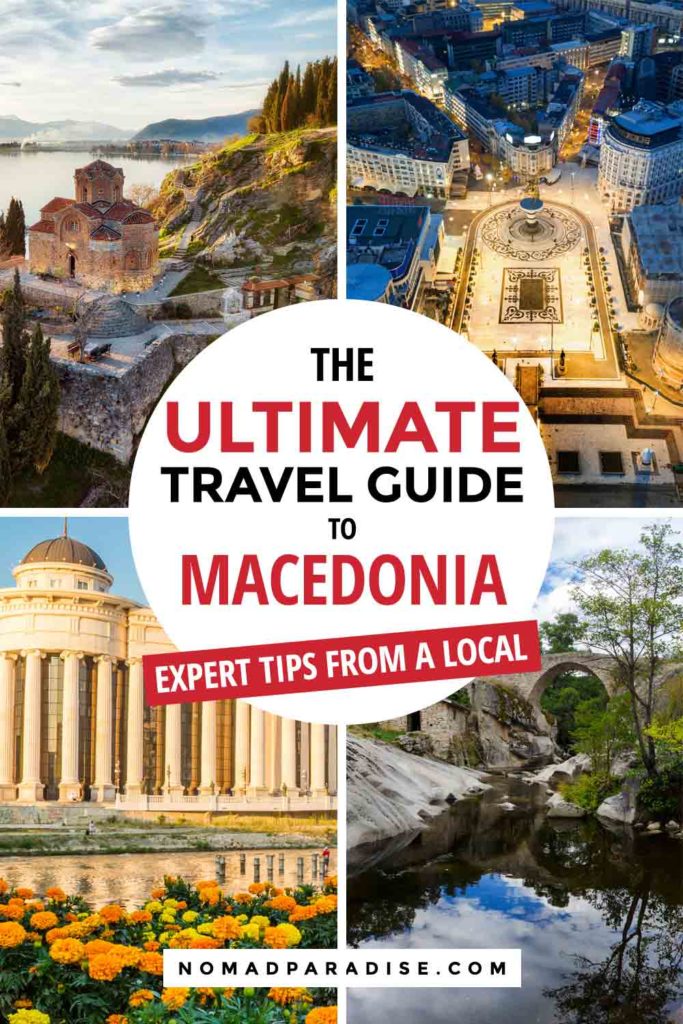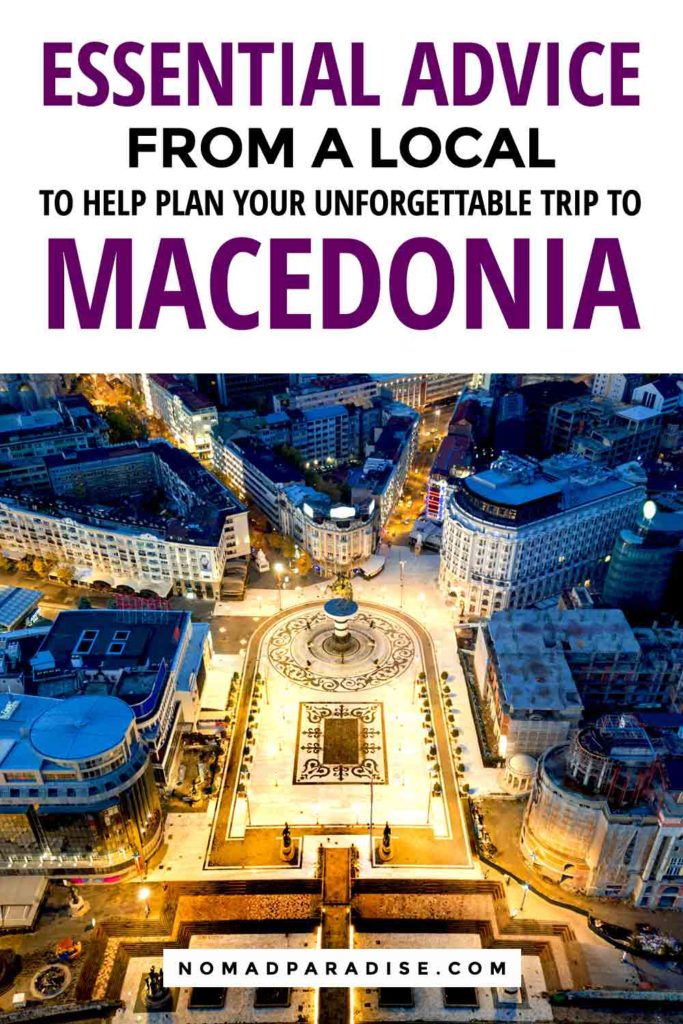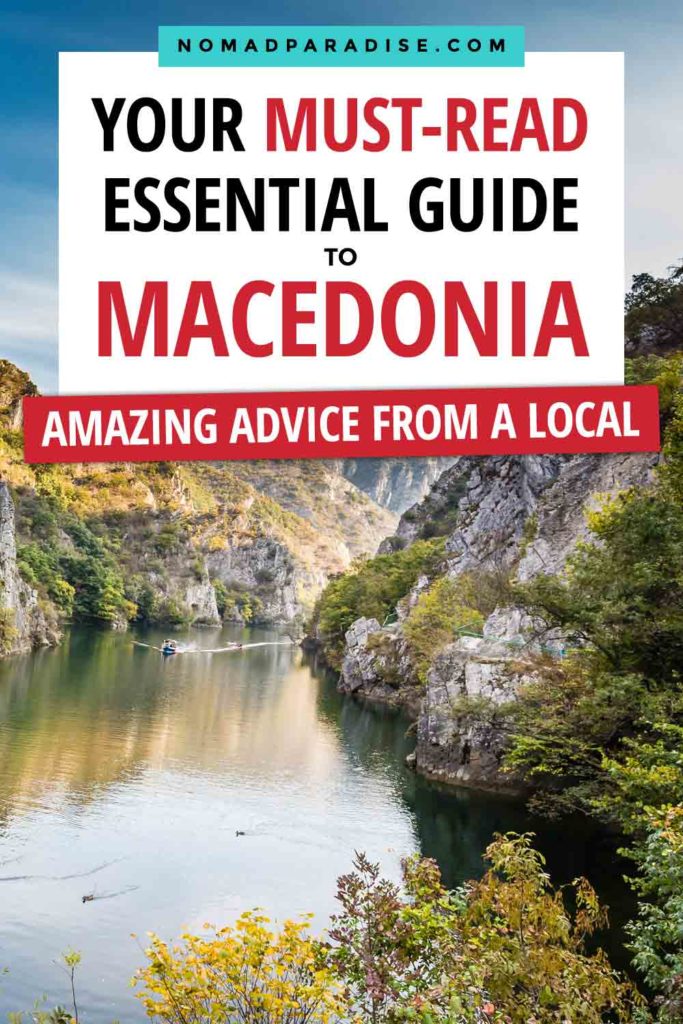 Contributor: Milena Lazova is a content writer and creator from North Macedonia. She is passionate about North Macedonian culture, sharing her insight and knowledge through her writing.
Images licensed via Shutterstock