This post may contain affiliate links, meaning if you book or buy something through one of these links, we may earn an affiliate commission at no additional cost to you. Learn more
Looking for the best tools for booking accommodations online for your next trip? You've most certainly come to the right place.
It's never been easier to book everything you need for your upcoming trip online. But, with so much choice, knowing which websites and tools to trust can be overwhelming.
So let us do the leg work for you, as we take a closer look at 11 of the best tools and websites for booking accommodations online.
Best Tools for Booking Accommodations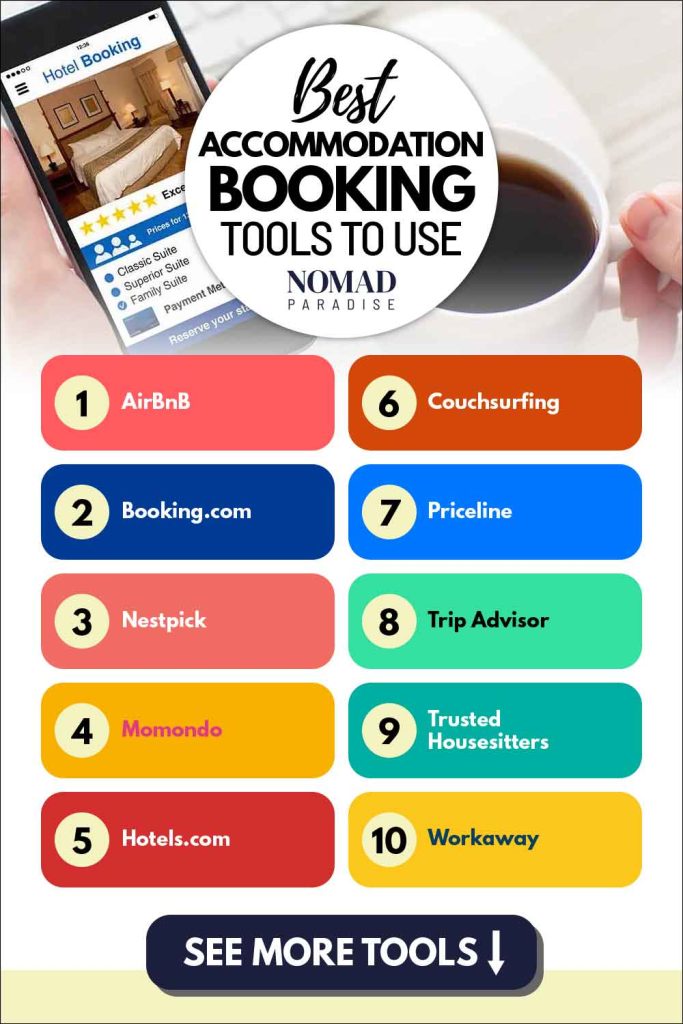 Introduction
Remember a time where high-rise, concrete hotels with a pool and a holiday rep were pretty much your only option when finding a place to stay on your travels?
Okay, I guess it wasn't all that bad. At least happy hour went on for most of the day!
Fortunately, we've moved on a great deal since the 80s and 90s. With the growth of the internet, and the types of experience available to us increasing by the minute, there's never been more choice when it comes to finding a home-from-home in your chosen destination.
Now, hotels are just the tip of the iceberg. And accommodation has very much become a part of the travel experience, not just a place to rest your weary head and keep your luggage.
Whatever your budget or needs, there is a wide range of booking services online that will help you find the perfect accommodation.
We've listed our top-rated services below, while giving insight into what to expect, and the type of traveler that would benefit most from their listings.
Best Tools and Websites for Booking Accommodations
Get up to $50 off
The revolutionary service that allows homeowners to rent out their pads to wide-eyed travelers.
Needing little introduction, AirBnB changed the way many of us find accommodation while traveling.
Locals list anything from spare rooms to entire apartments for rent on a nightly basis. Plus, the website's comprehensive five-star rating system, as with eBay's in the 00s, means poor accommodation is few and far between.
If your stay is under three months, and you'd like more of a local's experience, Airbnb should be the first place you search.
---
One of the first booking websites, and a prolific aggregator, Booking.com is renowned for finding you great deals on hotels and other accommodations for all budgets.
Where booking.com excels is in the sheer number of accommodations it covers. You set your destinations, check in and out, and they'll return a list of options, ranked by your preference.
Their review system is prolific, so you'll instantly know if a place is worth the price.
Booking.com is best for short term stays, and they'll even run searches for flights and rentals too.
---
Nestpick aggregate a wide range of websites that specialize in longer-term rentals, generally from one month onwards.
If you're looking for comfortable, furnished apartments for mid-to-long term rentals, this is your best to start.
You'll make no bookings through the site, but they make it clear where the listing has come from.
Perfect if you're a student on placement, nomad at a slower pace or relocating and don't want to live out of hotels in the short term.
Proceed, however, with caution, as longer term rentals rarely operate under a 'buy now online' model. Often, you'll need to meet the landlord directly, pay deposits, and sign leases.
---
The funkier, full travel aggregator service is a worthwhile alternative to the likes of Booking.com, with great insights via their travel blog.
Although flights are their main focus, their accommodation and hotels search is mightily impressive, and they'll even list competitor prices next to their price.
Through their travel blog, Inspiration, you can get some great ideas about upcoming places and what to do in many locations.
Agoda
An aggregator of great accommodation deals, that splits its search between hotels, if you want luxury, and homes and apartments, if you want more of a local experience.
'Agoda Homes' is how they do this, which gives you a selection of apartments and local homes listed specifically on their website.
With options such as 'homestays' and 'family friendly,' their focus is on finding you the right type of accommodation, rather than just great deals. In addition, they'll also help you find flights and transfers.
---
Aggregators of hotels and accommodation worldwide, their reward system is a great reason to book with them.
Book ten nights with them, and you get a free night. Their listings put great emphasis on value, their reviews versus price per night, but they're known for finding very competitive rates.
They do search for other types of accommodation, but hotels are, obviously, still their forte.
---
If you're on a tight budget and want to get to know local people, then Couchsurfing will be right up your street.
Here, local residents list their properties for travelers to stay, free of charge, often offering up couches or floor space.
The Couchsurfing community is incredibly strong, and in exchange for the favor hosts, generally, want to chat and spend time with you.
It's not for everyone, but if you really want to get to know a place, interact with real locals, and want to save a lot of money, it's a great way to do so.
The website's messaging app allows you to get to know the host first before you decide to stay with them. Be sure to be thorough here, as you want to make sure you and your host are like-minded and will get along well, before committing.
---
As the name suggests, aggregator Priceline's key focus is on finding you the best-discounted rates for accommodations and travel-related purchases.
Priceline prefers you to bundle everything, from accommodation to transfers, in order to get the best deals.
They also have a best price guarantee policy, where they'll refund you 100% of your fee if you can find a lower price.
Covering all budgets, if location and specifics are less your focus, and getting great discounts are, Priceline is a great place to search for your accommodation.
---
Known worldwide as the to-go for accommodation and hospitality service reviews, their comprehensive search of hotels and resorts goes hand in hand with their vast pool of information.
Search a city, and in addition to hotel and resort listings, they'll also list competitors' prices, their reviews and a wide list of accompanying information, from restaurants to eat at through to things to see in the area.
If you don't want to do much research and love everything laid out for you, Trip Advisor has you covered, and then some.
---
Animal lovers rejoice: here, you can find beautiful homes to stay in exchange for looking after the owner's beloved pets.
Requiring an annual membership of $119.00, once you're a member, you have access to thousands of potential homes to stay worldwide.
A little time needs to be invested, as you'll need to create an engaging, trustworthy profile to give owners confidence in accepting you.
Due to the nature of the exchange, the listings are far more prolific in the likes of the UK and US, and few and far between in the likes of South America and Asia.
People are letting strangers into their homes to look after their beloved pets, which understandably is not everyone's cup of tea.
However, a vast selection of countries have listings, and this can be a great way to travel cheaply, saving $1000s on accommodations.
If you're willing to stay in more rural areas and, essentially, be at home for the bulk of your stay, this could be a great and inexpensive choice for you.
---
An international hospitality service that allows you to offer your time in unpaid labor in return for a place to stay and food on the table.
Volunteers, or "Workawayers," are expected to contribute a pre-agreed amount of time per day, a minimum of five hours, in exchange for lodging and food, which is provided by their host.
There are some truly wonderful opportunities in the program, particularly if you like being in rural areas and engaging with nature.
You'll need to invest some time on your profile and applications, as your host will want to make sure they're taking a willing participant under their wing.
If you're keen to get a real cultural experience, are traveling on a tight budget, and are passionate about sustainable travel, there should be plenty here to get you excited.
---
Pretty much what it says on the tin: the world's most comprehensive selection of hostels on the internet, ready to book with a couple of clicks.
The website works exactly like other aggregators, but only covers listed hostels. With 35,000 listed from 180 countries and counting, there will always be options if you're traveling on a very tight budget.
Key information is listed, such as the number of guests to a room, and often you can reserve and pay at the counter, rather than online.
They also operate a rating system too, so you'll know what the general consensus is from other travelers.
If you're operating on a small budget, looking for the best nightlife, and want to always be around people, this should be the first place to look.
Best Tools for Booking Accommodations Summary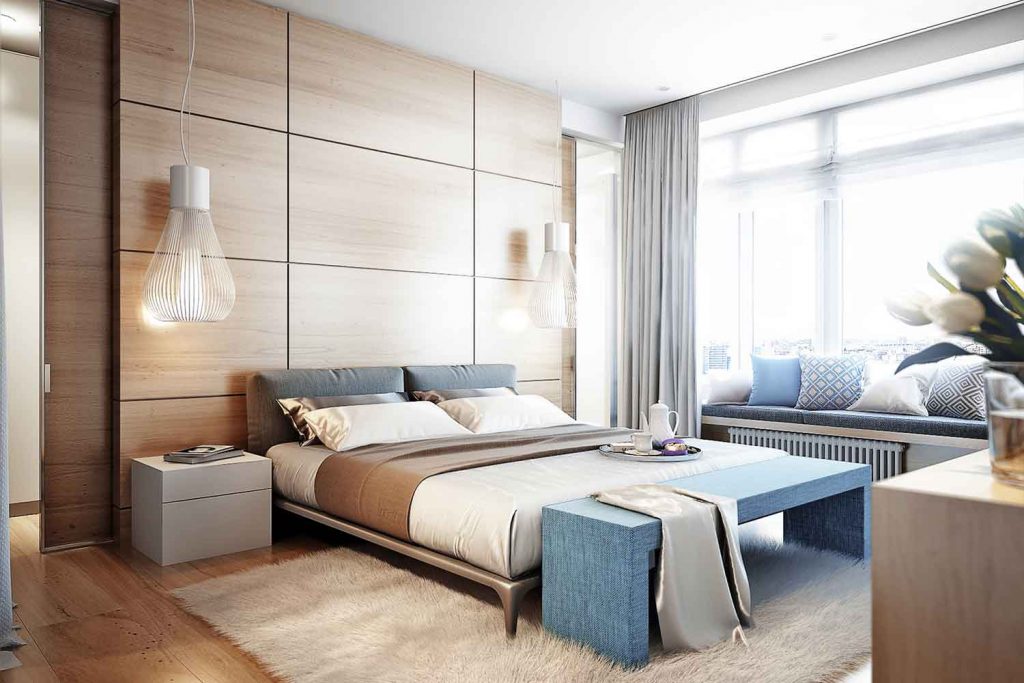 Choice is always a good thing. Whether you're looking for a luxurious getaway, or a unique travel experience, there are plenty of options when it comes to laying your head down on the pillow at night.
As with most online bookings, it is always worth getting prices from at least two services. That way, you can shop around for the best deal.
With a little patience and know-how, you'll be amazed at the great deals you can get online.
Websites like AirBnB give you access to some truly incredible apartments, villas, and other accommodations, that give you unique experiences in various cities.
Other websites like Workaway allow you to trade your time and skill for some utterly unique travel experiences, without having to worry about money.
Wherever your next trip takes you, use these tools and websites to help you find comfortable and affordable places to stay throughout your trip.
Who knows what amazing accommodations and great deals await you? Good luck!
You Might Also Like to Read
Save and Pin for Later
Planning a trip in the near future? Keep this handy list of booking tools in a safe place, by pinning this article to one of your Pinterest boards.
---
---
Author: Dale Johnson is a content writer, creator, and full time digital nomad. Since 2016, he has lived in and visited over 30 countries and counting.
Images licensed by Shutterstock